काठमाडौंमा स्वागत छ
WELCOME TO KATHMANDU
Before going to Nepal, I'd been told that this country has some very friendly people – that show a genuine interest in who you are and where you're from. And that was the case already in the taxi on the way from the airport to the city.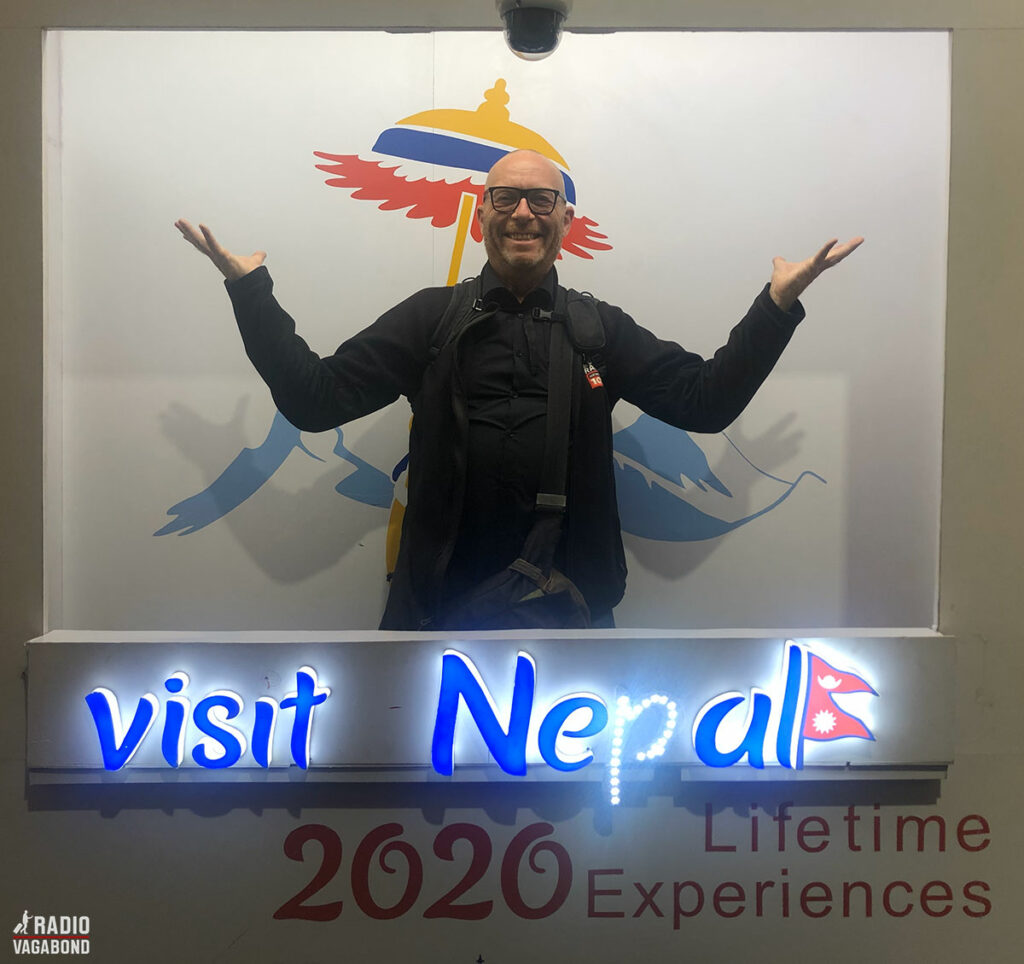 In the car with Basu Rimal, he asked a lot about where I was from and what it was like there. He told me that he had been to Scandinavia.
"I've been to Norway and Finland, but not Denmark yet. Scandinavia is really nice, I really liked it but it's very cold."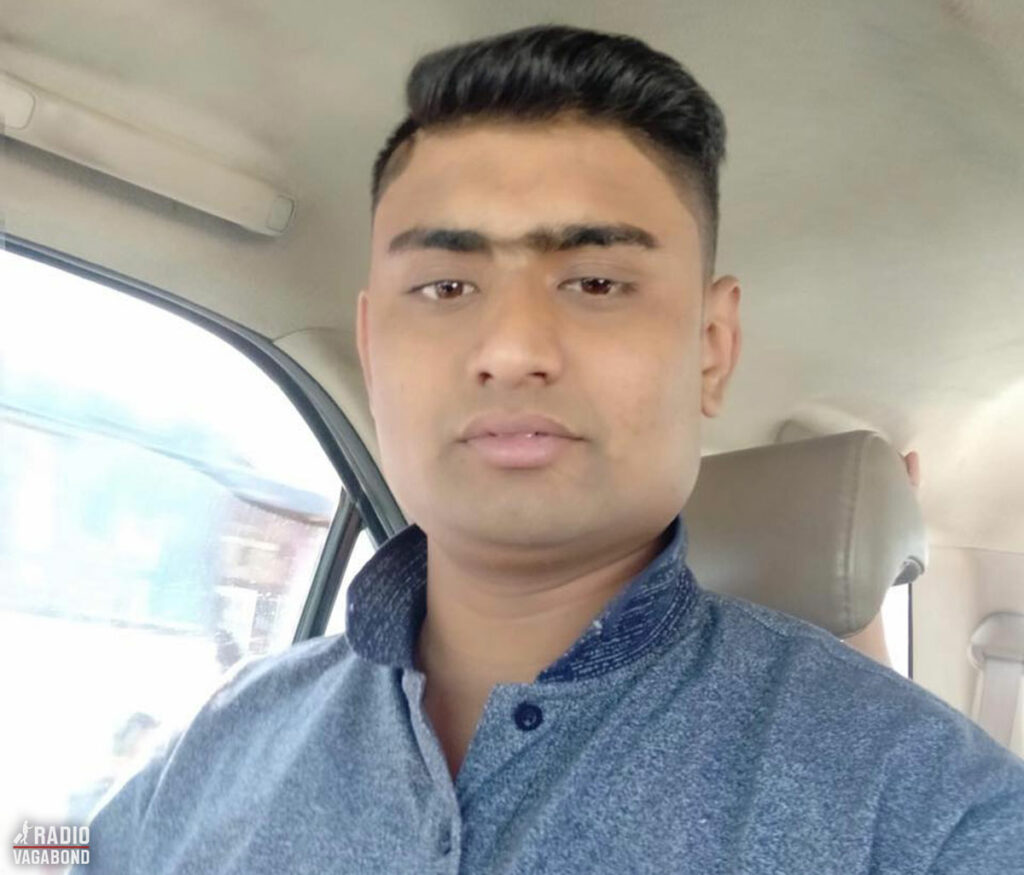 YOU DECIDED ON NEPAL
In last week's episode, I asked you where we should go. And there was a big majority in the votes that said that we should go to Nepal. Thank you all for being so active in saying your opinion on The Radio Vagabond on Facebook.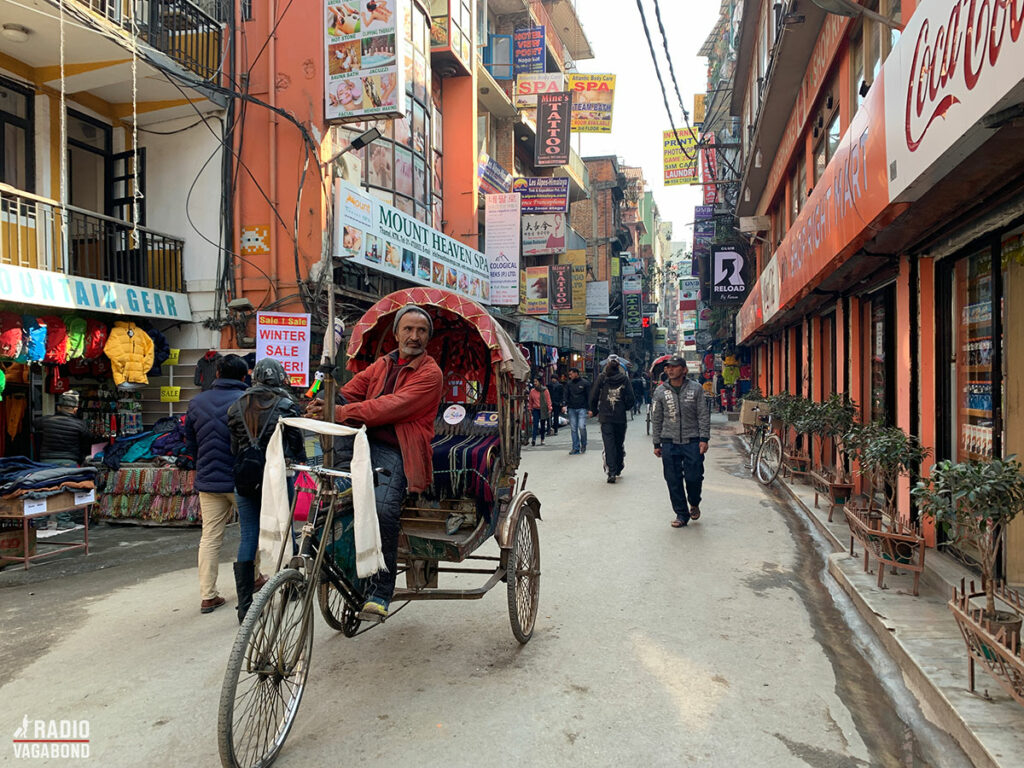 I'm here with a good friend from Denmark, and we're staying in a guest house called Ambassador Garden Home in a vibrant lively area called Thamel in the heart of Kathmandu.
Thamel have the biggest tourist market in Nepal and the biggest business hub with a ton of guest houses, restaurants, shops, and bookstores.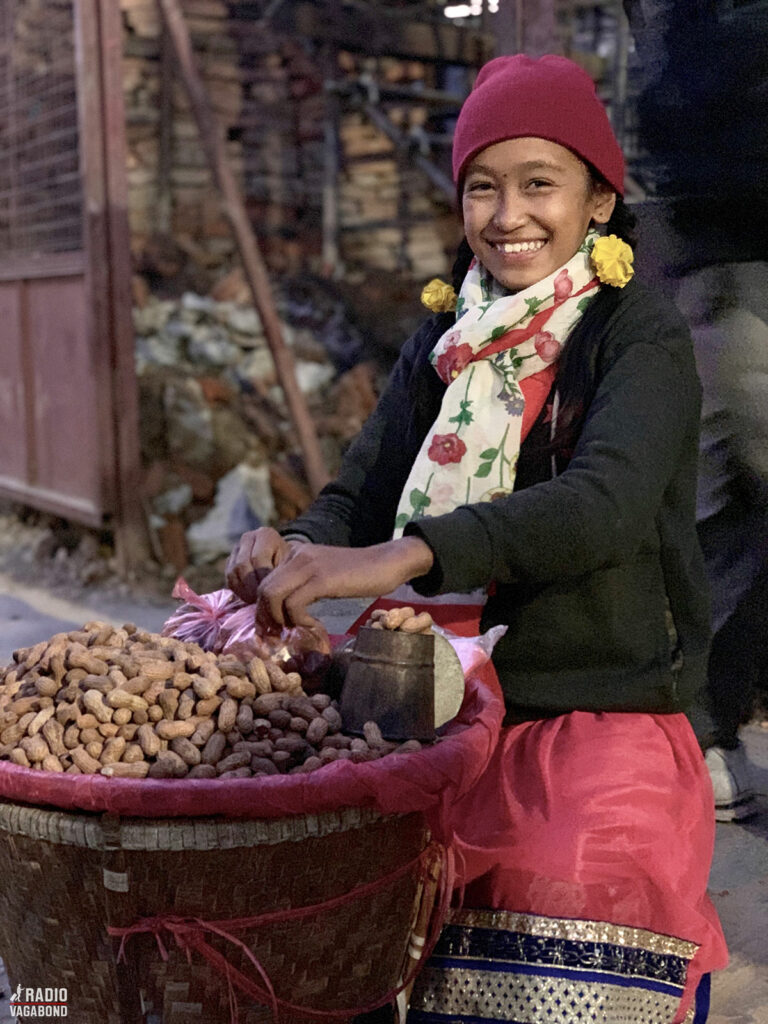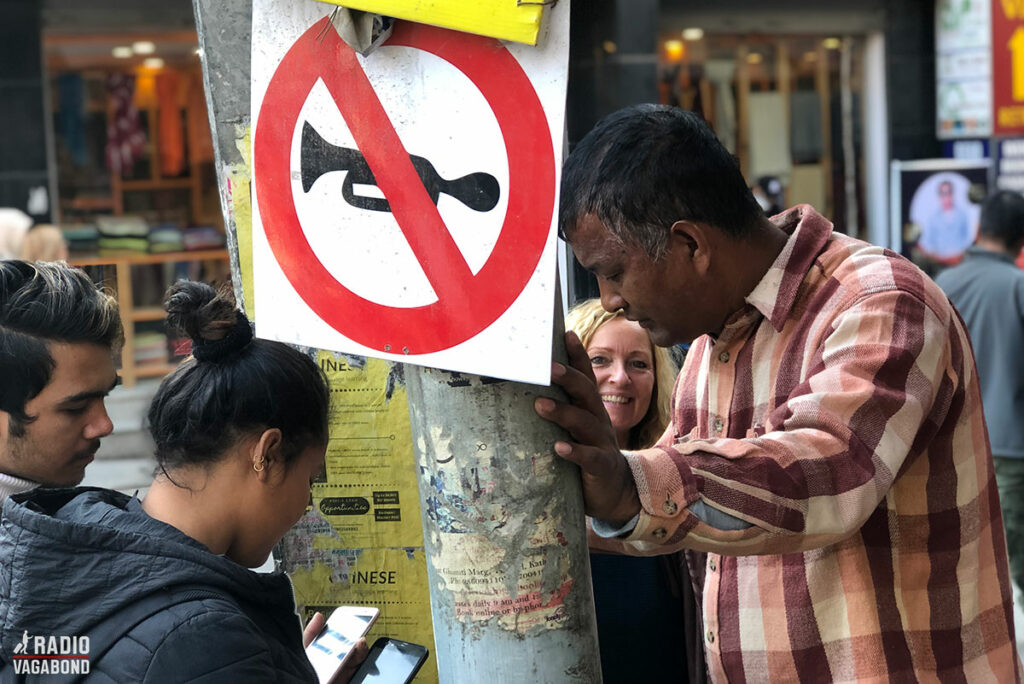 LANGUAGE IN NEPAL
Nepal has 122 major languages. Nepali is the most common spoken by 78% of the population either as first or second language and has official language status. But the other 121 languages are all recognized national languages.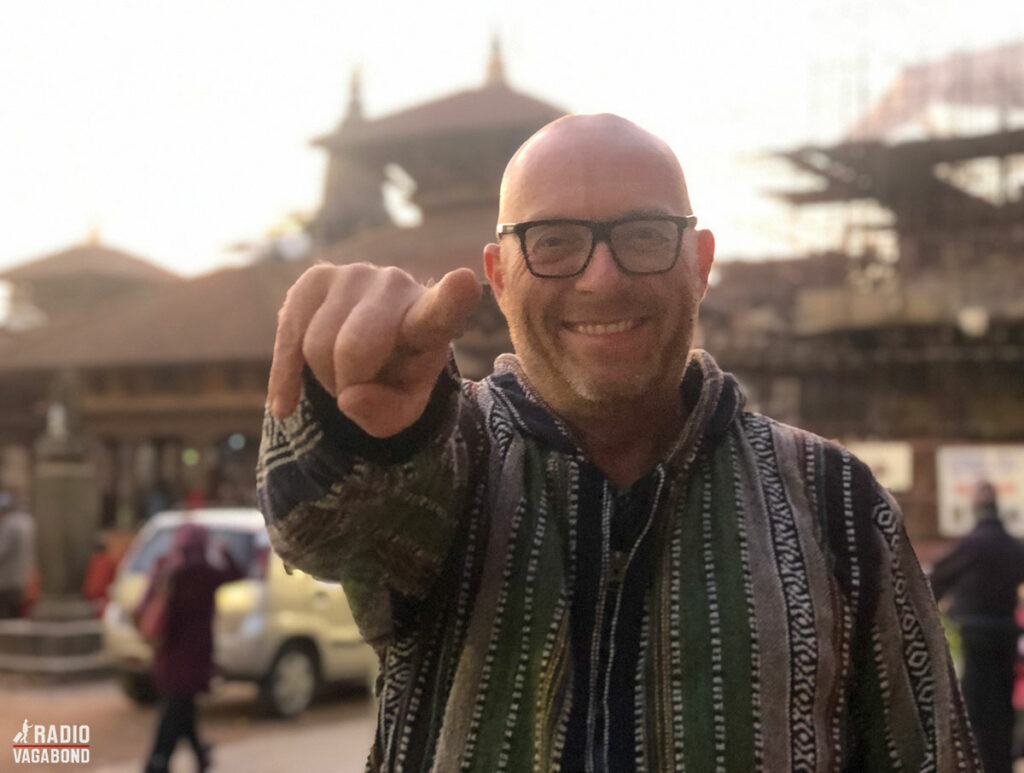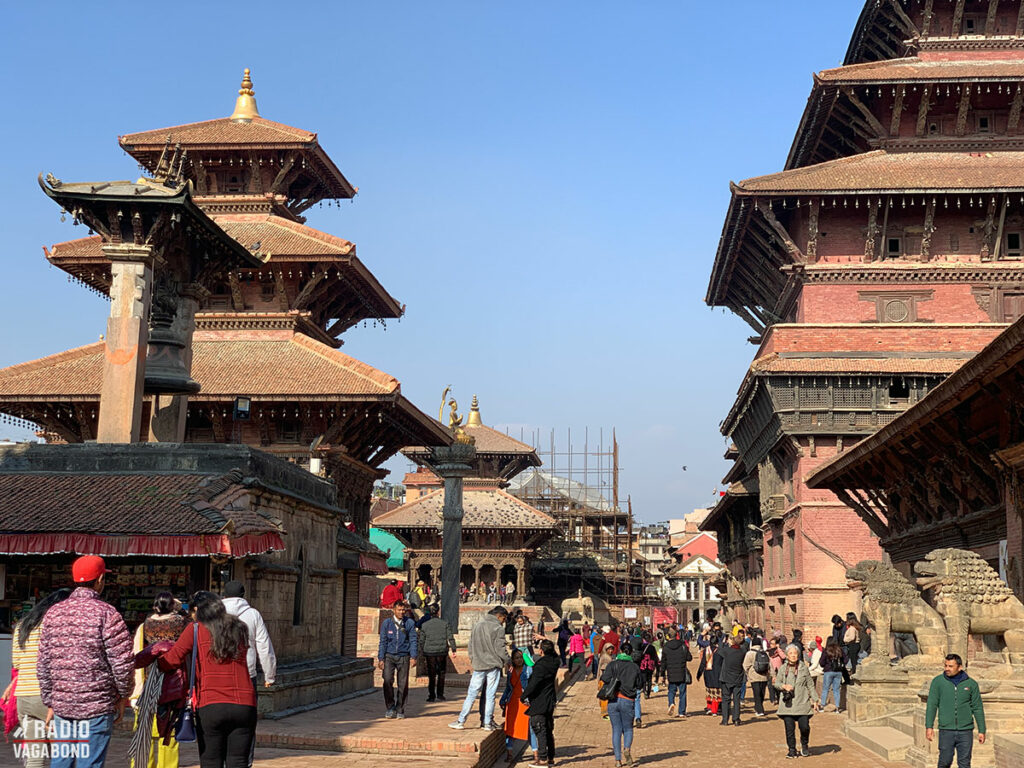 The Durbar Square is a marvel of Newar architecture. The square floor is tiled with red bricks. There are many temples in the area. There is also a bell beside the main temples. It's a stunning and lively area.
NEPAL EARTHQUAKE
The earthquake struck near the city of Kathmandu in central Nepal. About 9,000 people were killed, many thousands more were injured, and more than 600,000 structures in Kathmandu and other nearby towns were either damaged or destroyed.
The initial shock registered a magnitude of 7.8, with the epicentre only around 77 km (48 miles) northwest of Kathmandu. And two large aftershocks, with magnitudes 6.6 and 6.7, shook the region within one day of the main quake.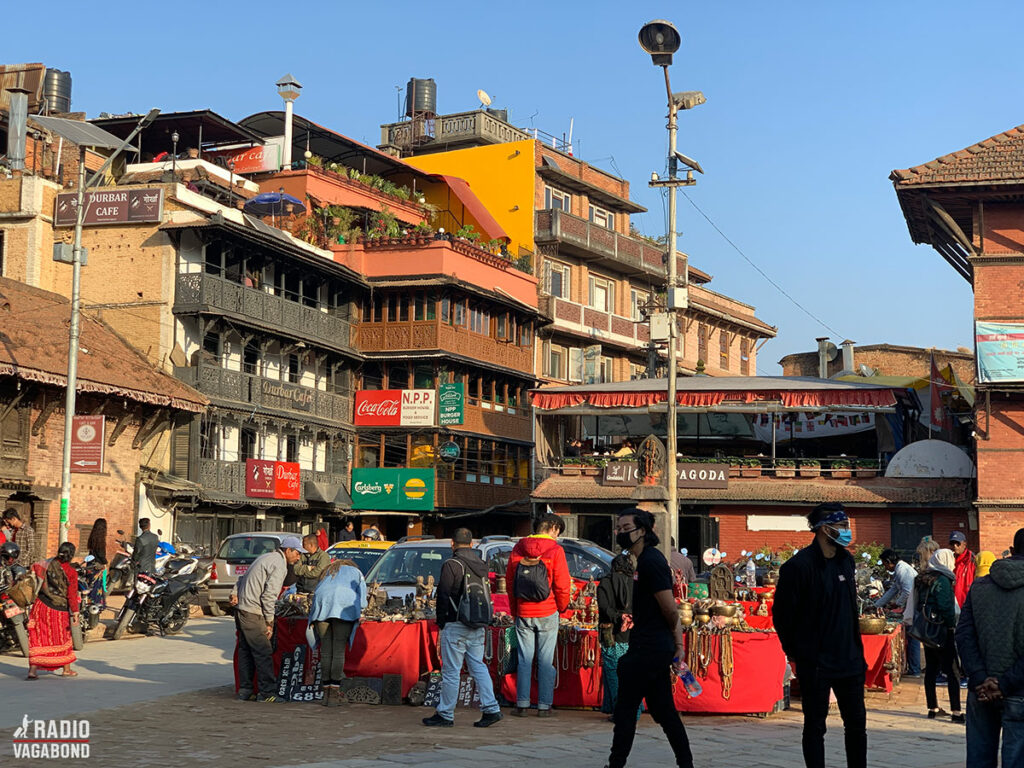 7 INTERESTING FACTS ANOUT KATHMANDU
1. Big City in the Valley
Kathmandu is the capital city and largest city of Nepal with a population of 1.5 million in the city, and 3 million in its wider urban areas across the Kathmandu Valley.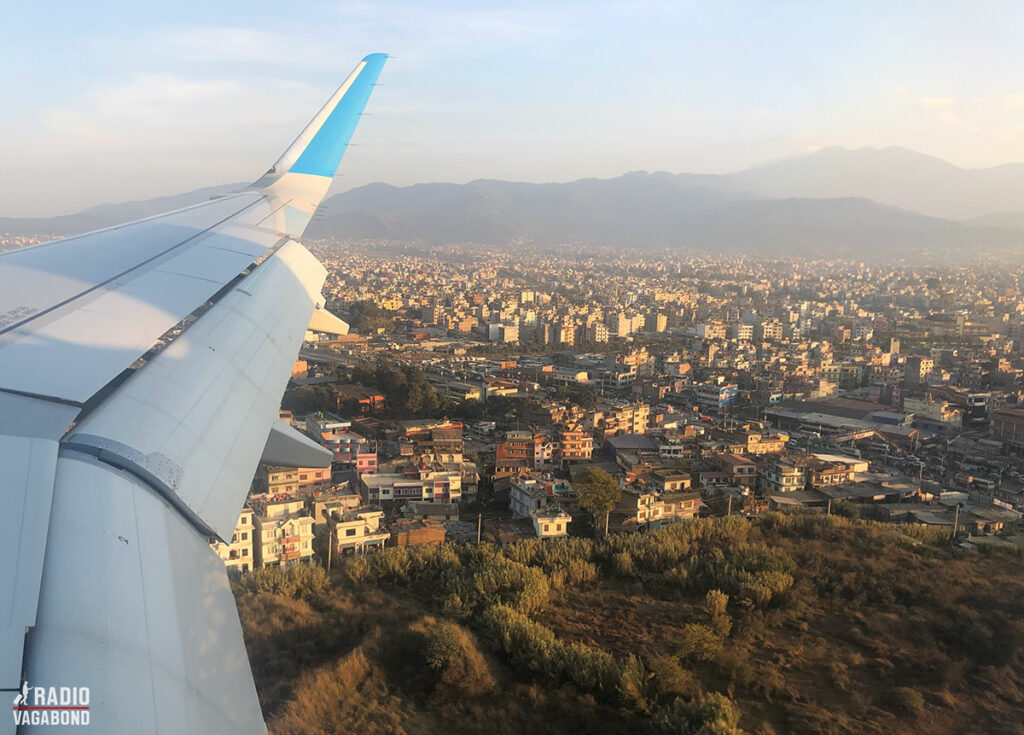 2. Kathmandu is the 17th highest capital in the world
Last week we were in La Paz, Bolivia – the highest capital in the world, and Kathmandu is also up there. Standing at approximately 1,400 meters (4,600 feet) above sea level it's number 17 on the list.
3. City of Glory
Kathmandu is known as Kantipur which means the city of glory. The rich ancient culture and diverse religion make this city as the city of glory.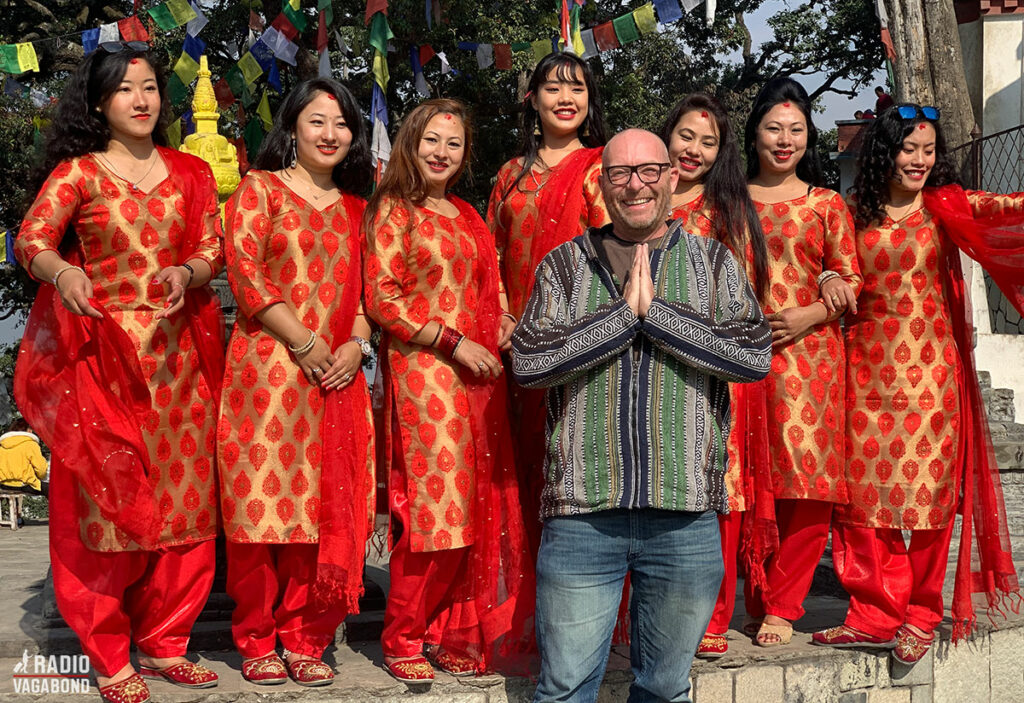 4. UNESCO Hot Spot
Kathmandu valley is full of cultures and heritage sites. It has seven UNESCO World Heritage sites. The Kathmandu Valley itself was accorded the status of a World Heritage Site in 1979.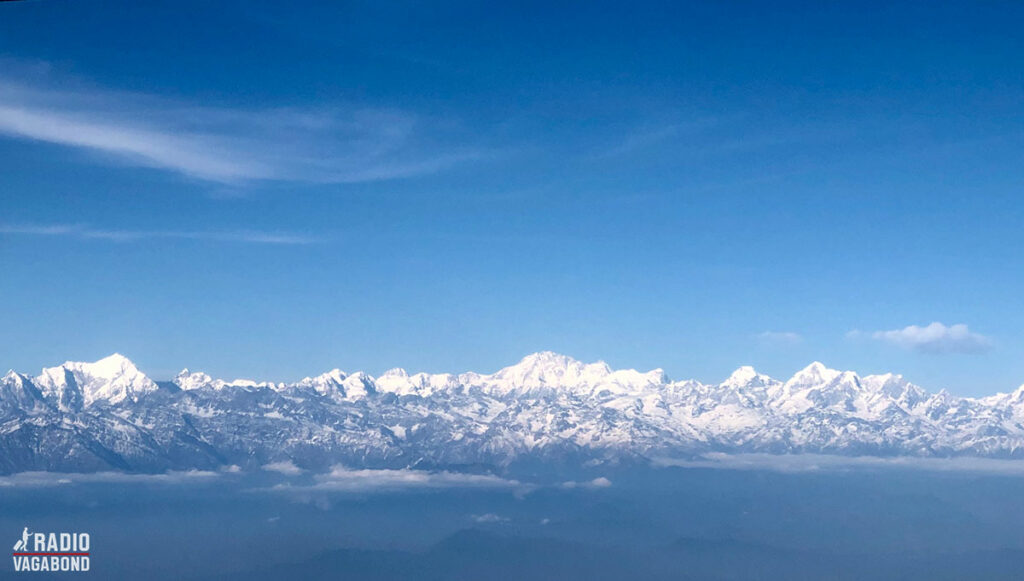 5. The World's Biggest Mountain is Close
Mt. Everest is 240 km away from Kathmandu and is seen from Kathmandu valley.
6. Never a Colony
Even though this country lies in between the two big countries India and China, which was ruled by the British, Nepal was never a colony and never ruled by any foreigners and other countries.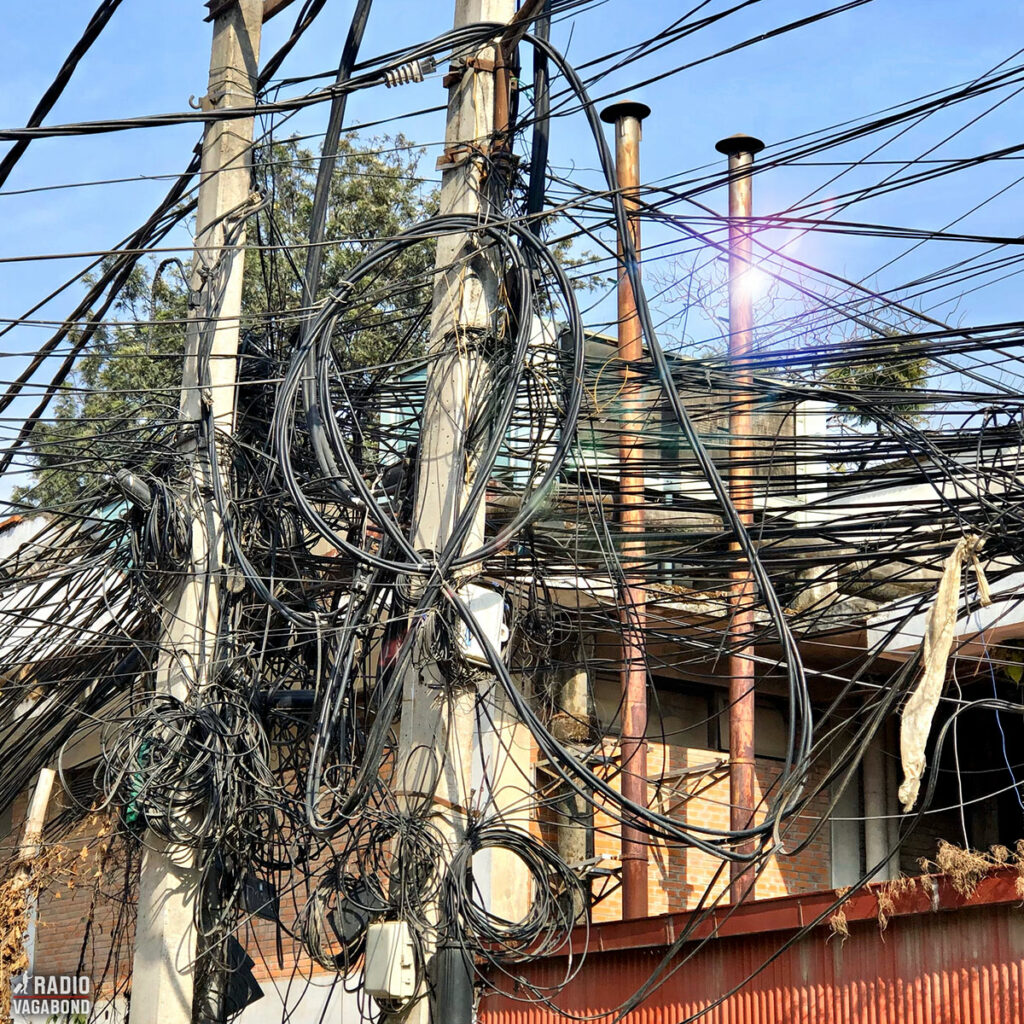 7. Kingdom
Nepal was a kingdom ruled by the Shah family 1768 to 2008. The beginning of the end for the kingdom was when the Crown Prince killed his father the king, his mother, brother, sister, and many other members of his family in 2001.
ROYAL MASSACRE
I'm visiting the place where it all happened. Narayanhiti Palace is now a museum and used to be the royal palace. This is where most of the royal family got killed by the Crown Prince on the 1st of June 2001.
Here's how the official story goes:
The Royal family gathered on a Friday, as they usually did on Fridays for a family evening. The king, the queen, their kids and a few cousins and close friends. In total 24 people were invited.
After dinner, the Crown Prince Dipendra was in the pool room playing pool alone while drinking whiskey and smoking a cigar containing a mixture of hashish … as he often did.
When his brother Prince Niranjan and other family members noticed that he was starting to sway back and forth and had difficulty standing, they suggested that he went to bed.
While he was in the bedroom, he made several phone calls to his girlfriend, Devyani Rana. She later said that she noticed that his voice sounded a little weak and very slurry, so she called his assistant and asked him to go and check on him to make sure he was okay.
He and another assistant went into Dipendra's bedroom and found him lying on the floor. They helped him undress and then he went into the bathroom and started throwing up.
He then turned to his assistants and asked them to leave the room and called his girlfriend one last time and said to her:
"I'm going to bed. Goodnight, we'll talk tomorrow."
But he didn't go to bed. After this call, he put on an army uniform, and armed himself to the teeth with an MP5 machine gun, an M16 assault rifle, and a Glock pistol. And left the bedroom.
He then started walking back to the pool room where the family and friends were chatting and having drinks. At this time, his father King Birendra, was sitting at the pool table, entertaining the guests with a story. 
Dipendra reached the pool room and stood at the door. First fired one shot from the machine gun toward the ceiling. Conversation stopped and they all looked towards the door in disbelief.
WHAT ARE YOU DOING, SON?
Dipendra then pointed the gun at his father, the King and shot and wounded him. Witnesses later told that the King just looked at him and said, "What are you doing, son?" – before he fell to the floor.
Dipendra then opened fire again and killed half of his family in that one room.
His mother and his brother managed to escape into the palace grounds. But Dipendra followed them and shot them dead too.
In the massacre, he killed his father, his mother, his younger brother, his sister, and other close members of his family. In total nine members of the royal family was killed, and five others wounded.
At the end, Dipendra turned the gun on himself. He didn't die intently and while coma at the hospital, he was crowned king – according to rules of succession. But died in hospital three days after the massacre without regaining consciousness. 
WHY DID HE DO IT?
No one really knows why he did this. Some say that he wanted to depose his father and install himself as king – bringing the monarchy back to absolute rule. Others say that he was put up to this by his uncle, the king's younger brother, who wanted to be king himself.
Some say that he was angry at his family because they wouldn't let him marry the woman that he loved – Devyani Rani who was a member of a riveling dynasty.
And then… some say that he didn't pull the trigger.
He was described as an always smiling gentleman and a modernist who would be for democracy in Nepal.
Much controversy and conspiracies surround the circumstances of the massacre. Even today. Many questions remain unresolved.
Questions like the apparent lack of security at the event; the absence of the Prince Gyanendra, Dipendra's uncle who succeeded him. Also, the fact that Dipendra's self-inflicted head-wound was located at his left temple, despite him being right-handed.
And the fact that the investigation only lasted for two weeks and wasn't very thorough. It didn't involve any major forensic analysis – despite an offer by Scotland Yard to carry one out.
But according to a government-appointed inquiry team the Crown Prince Dipendra was named as perpetrator of the massacre.
Here is a video from Journeyman Pictures where surviving family members tell their eyewitness accounts of what happened.
NARAYANHITI PALACE MUSEUM
The visit to the Narayanhiti Palace Museum was absolutely fascinating!
It feels like walking through the history of Shah dynasty of Nepal. Everything inside the palace makes you seem royal. Larger than life pictures and paintings of Royals of Nepal, and lots and lots of mirrors can be found on every place you look.
You will get a lot of steps walking through each and every part of the museum and I encourage you to do so if you want the best experience.
Entrance fee was 500 Nepalese Rupee (bit more than 4 USD, bit less than 4 Euro).
You must hand in cameras and phones as photography is strictly prohibited. So, I don't have any pictures from the visit. They also told me that I couldn't bring my microphone – even though it was clearly not a camera.
So, since I don't have any pictures from the visit, you'll have to go yourself when you're in Kathmandu, and don't forget to look for the bullet holes!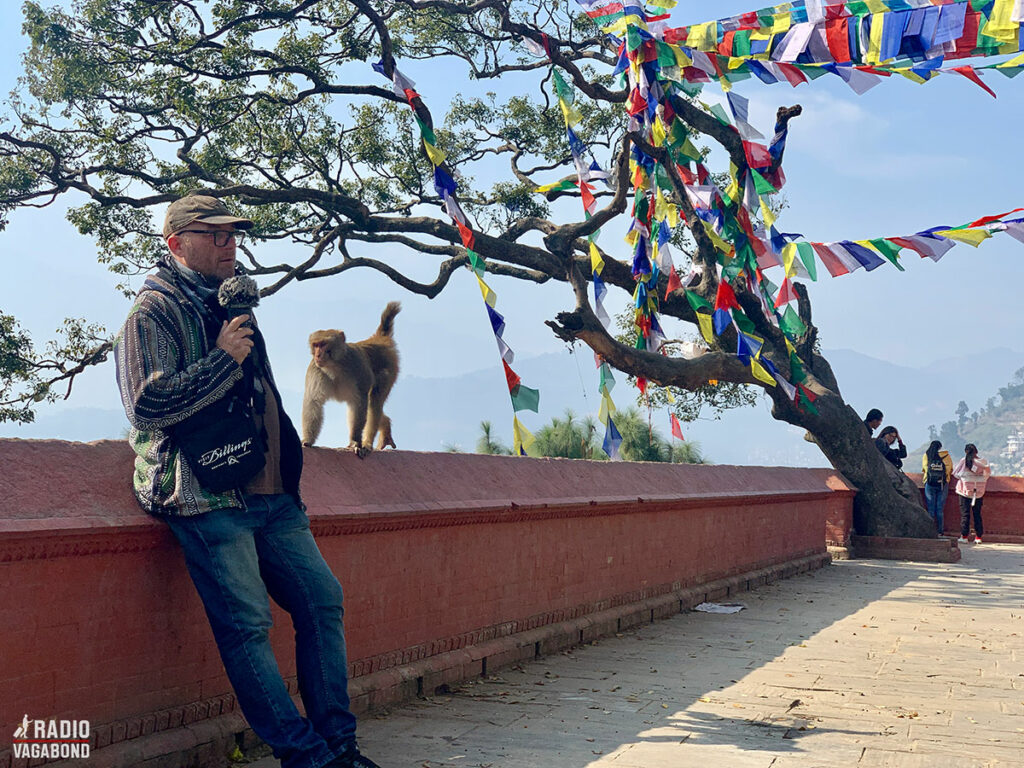 WEATHER IN NEPAL
What about the weather in Kathmandu? Well, the wet season is warm, muggy, and partly cloudy and the dry season is comfortable and mostly clear.
I'm here in December – in what is called "The cool season" and normally lasts for two months, from early December. And I could feel it was a bit chilly when I arrived.
In Nepal, there are different climates according to altitude: the sub-tropical climate with a rainy season in the southern flat strip, the temperate climate in the low mountains, and finally, the cold mountain climate in the peaks of the Himalayas.
In the summer monsoon from June to early October they get a lot of rain.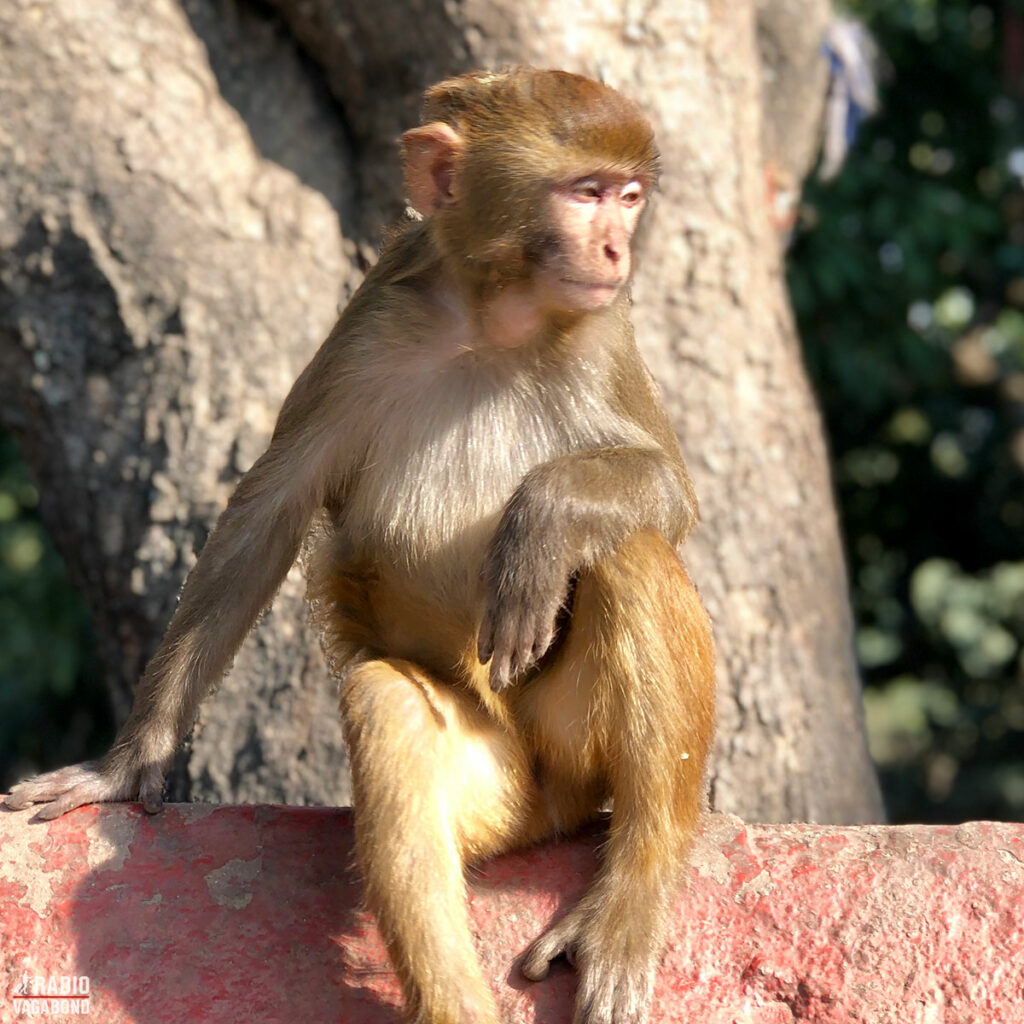 SWAYAMBHUNATH STUPA – MONKEY TEMPLE
The Swayambhunath Stupa (also called Monkey Temple) is one of most interesting places in the Kathmandu Valley, when it comes to architecture. And when they call it The Monkey Temple, there's a reason for that. Hundreds, if not thousands of monkeys run around here. And they are not shy. 
As you can see in the main photo of this episode, a monkey walked past me and pushed me a bit as I was doing some recordings while leaning against a wall.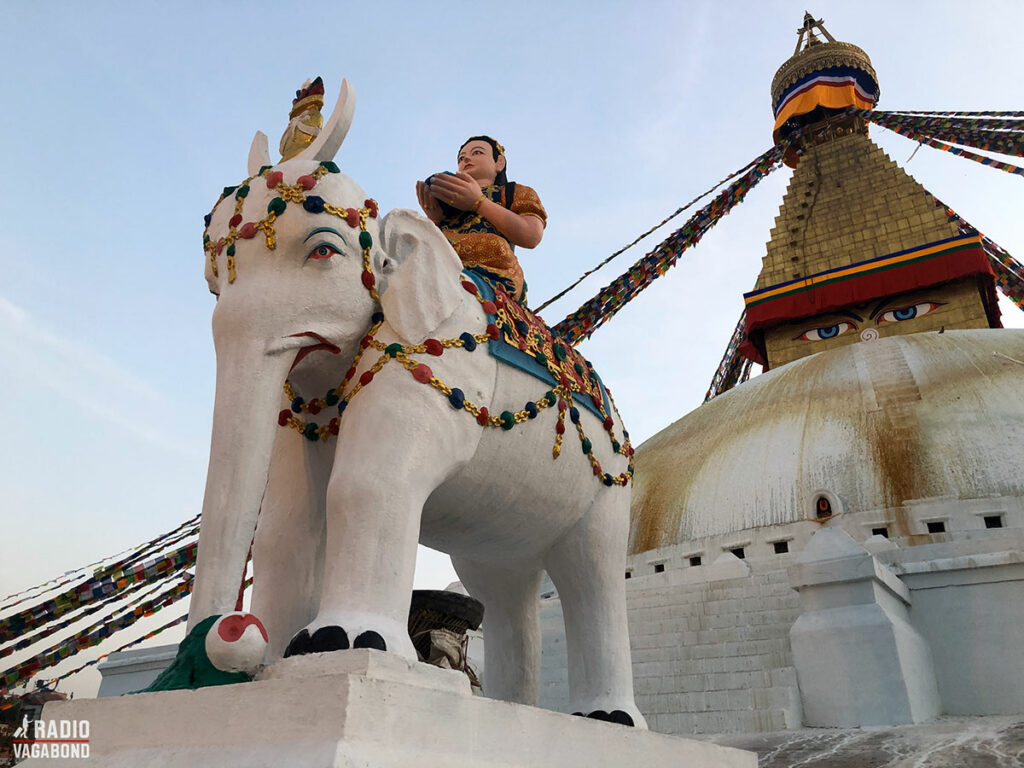 The Stupa itself is a perfectly proportioned monument in the middle that rises through a whitewashed dome to a gilded spire, from where four iconic faces of the Buddha look out across the valley in different directions.
Above the stupa are thousands of prayer flags, with mantras, which are said to be carried to heaven by the Wind Horse.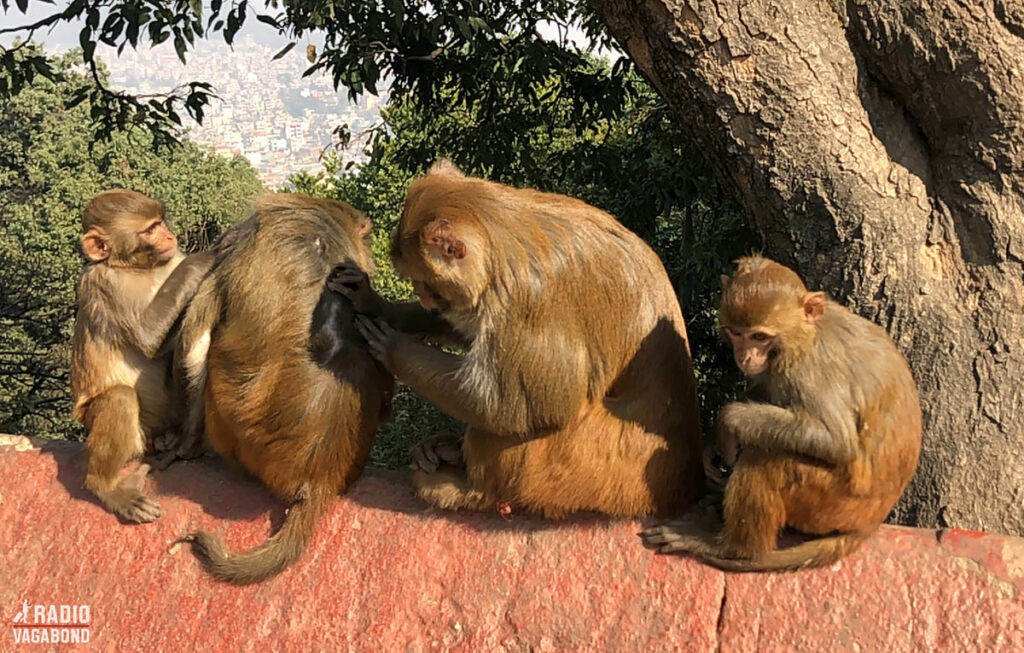 The site was also shaken severely by the 2015 earthquake, but the main stupa only got superficial damage.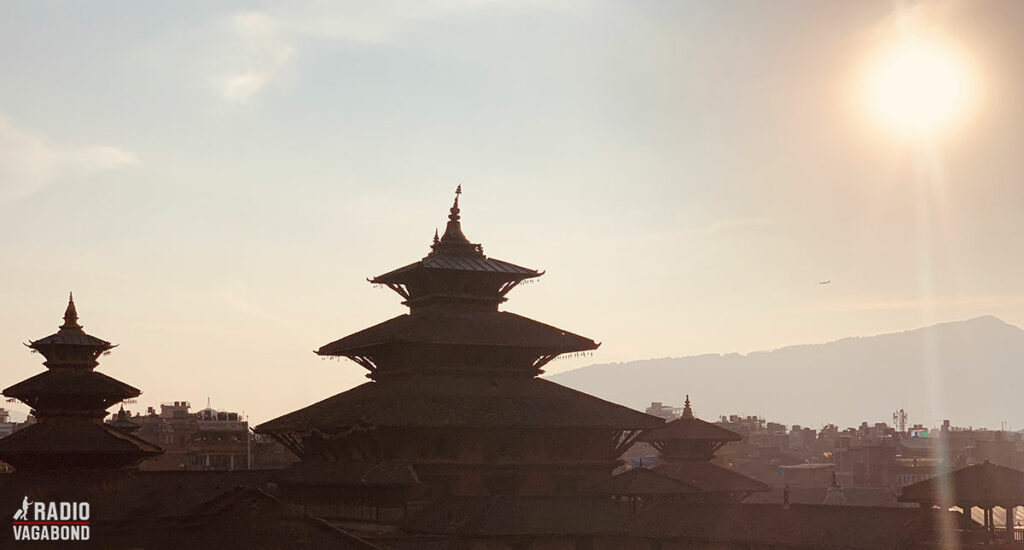 I'LL BE BACK
My three-day visit to Kathmandu was coming to an end. Sitting in the airport I knew one thing: I'm doing an "Arnold" when I say that I'll be back.
And this is not something, I say every time I leave a place (but often). In this case it's something, I know for sure. And when I do, I want to find a nice little quiet place in the mountains and stay longer. I want to be able to wake up and have my morning coffee with a stunning view. And spend some time getting close to the wonderful people of this country.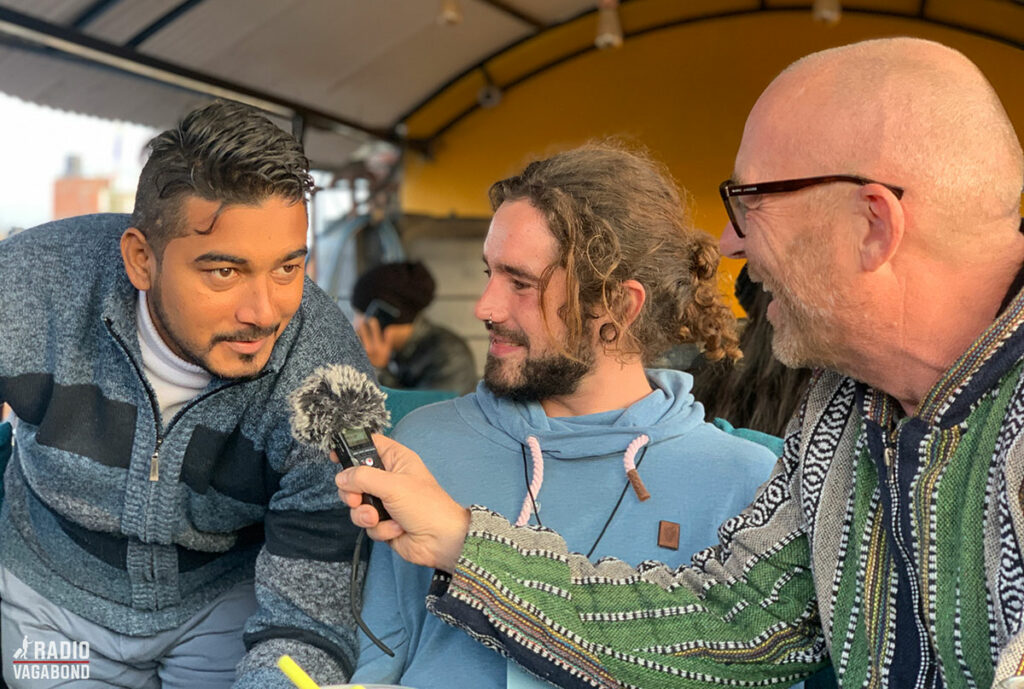 And get some quality time with the people I already met, like Basu, and most of all someone, you didn't hear speak in this episode: Ajay. He appears briefly in the interview episode, I made here with another traveller, Robin when I was here. Robin is this young German backpacker, who met Ajay on a previous trip. Ajay was his tuk-tuk driver, he invited Robin home to meet his family and this time Robin was back.
Ajay lives a bit away from Kathmandu and took time off from work to show us around his capital city. Since then, I've been in regular contact with Ajay, and he is one of the reasons, I really want to come back here.
My name is Palle Bo, and I gotta keep moving. See you.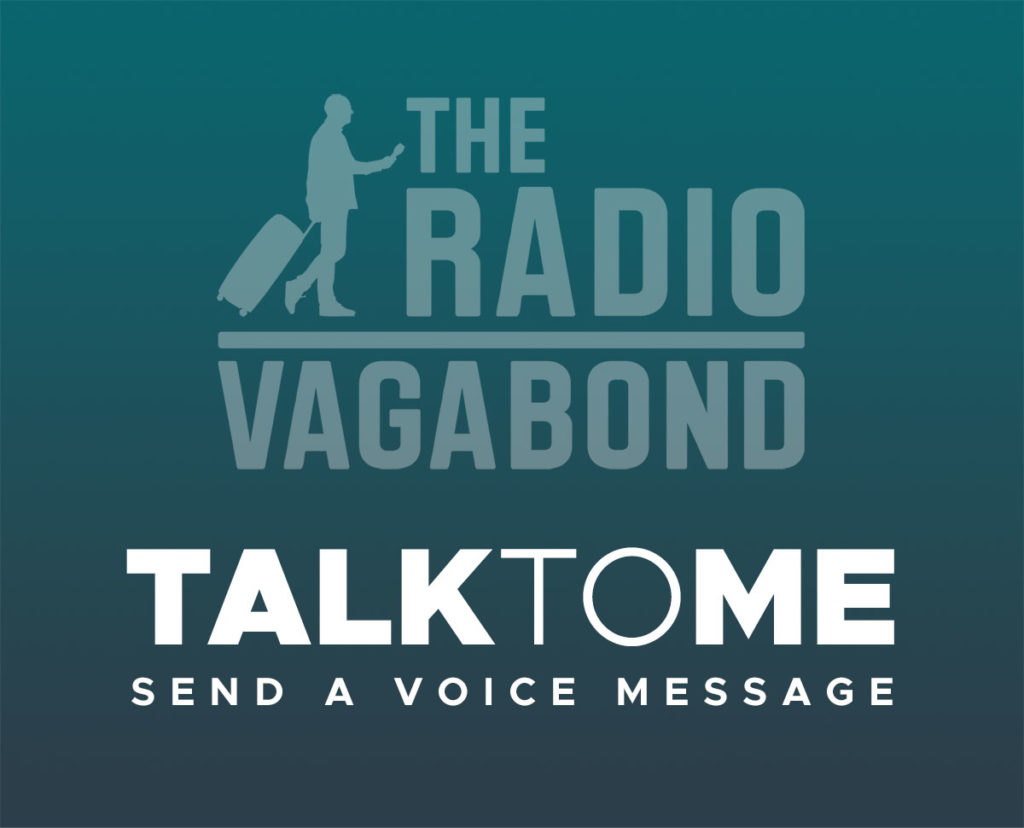 Either way, I would love to hear from you. It's so nice to know who's on the other end of this.
SPONSOR
A special thank you to my sponsor, Hotels25.com, who always provide me with the best, most affordable accommodation wherever I am in the world.
Hotels25 scans for prices on the biggest and best travel sites (like Booking.com, Hotels.com, Agoda and Expedia) in seconds. It finds deals from across the web and put them in one place. Then you just compare your options for the same hotel, apartment, hostel or home and choose where you book.
When you book with Hotels25, you get access to 5,000,000 hotel deals. And it's "best price guaranteed."