Uma recepção calorosa de Rio
My first Sunday morning in Rio gave me the quintessential Brazilian experience: chilling on a packed Copacabana beach listening to traditional samba music performed by a group of local friends sitting around a breakfast table.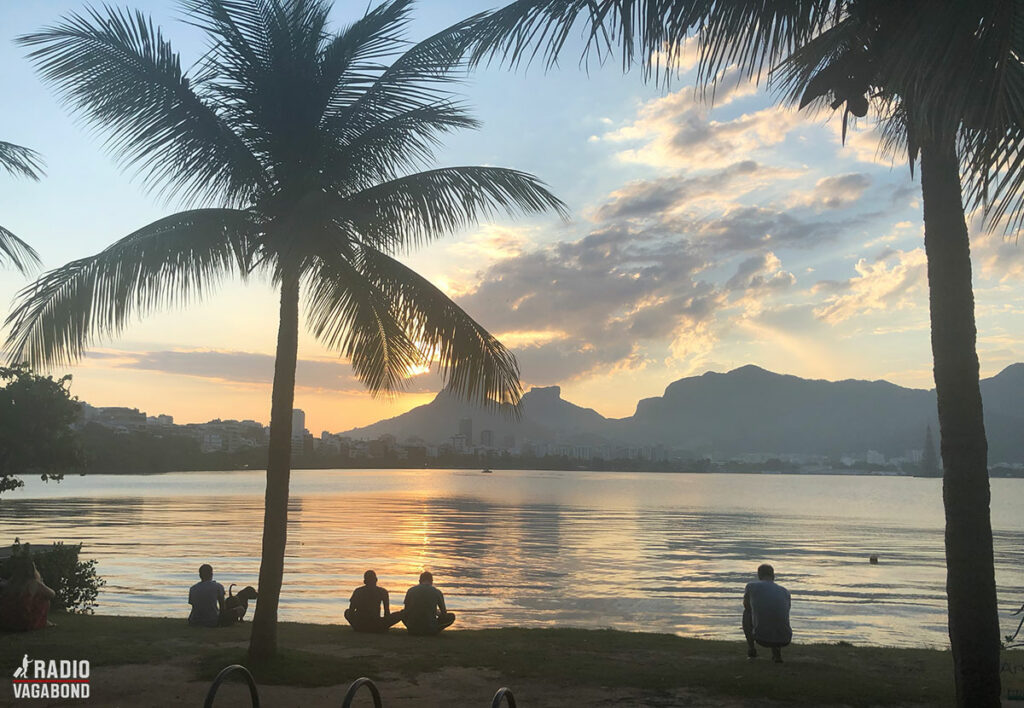 It didn't seem like these people were an organised band, and they weren't doing it to make money from tips. I just got the feeling that they were doing it for the love of samba. How can you not have a smile on your face when you find yourself experiencing this beauty on the world's most iconic beach only a few minutes' walk from where you stay? What a city!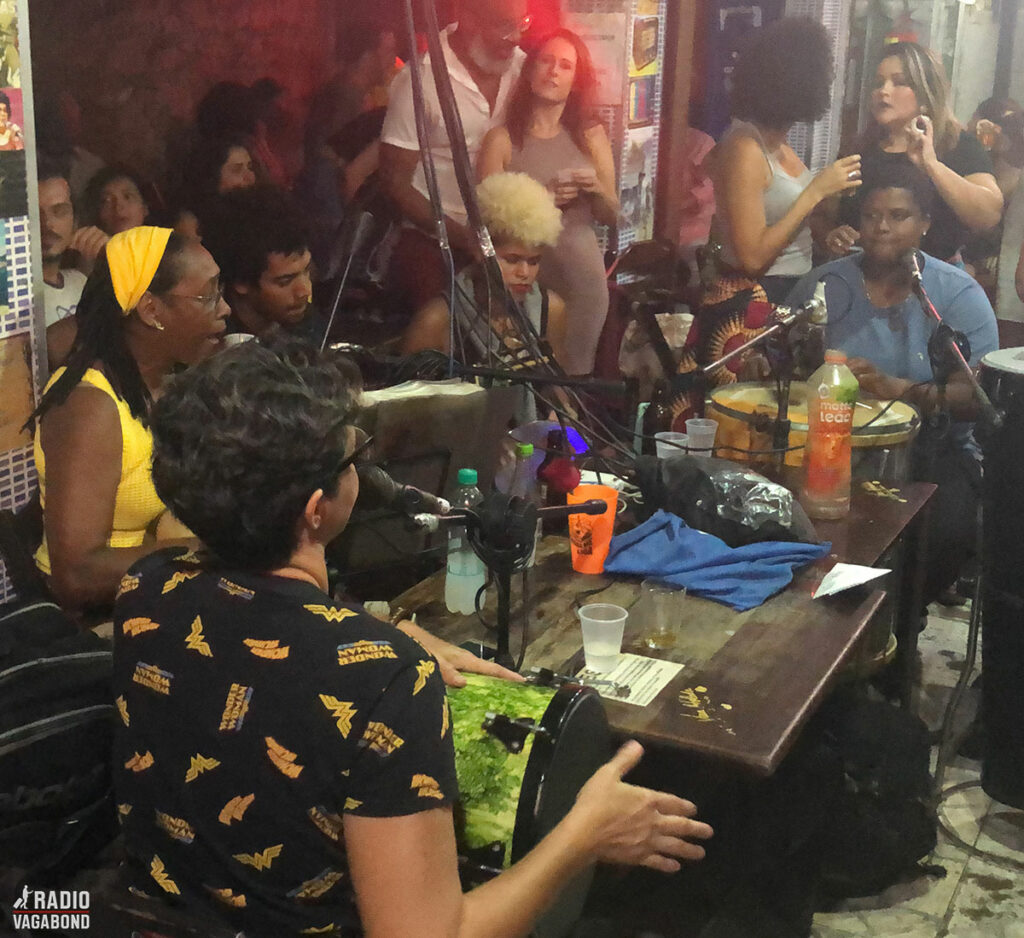 The night before, I also got to hear some Brazilian samba. I teamed up with a friend of mine, Shannon from Los Angeles, and asked some locals where we could find a unique samba experience.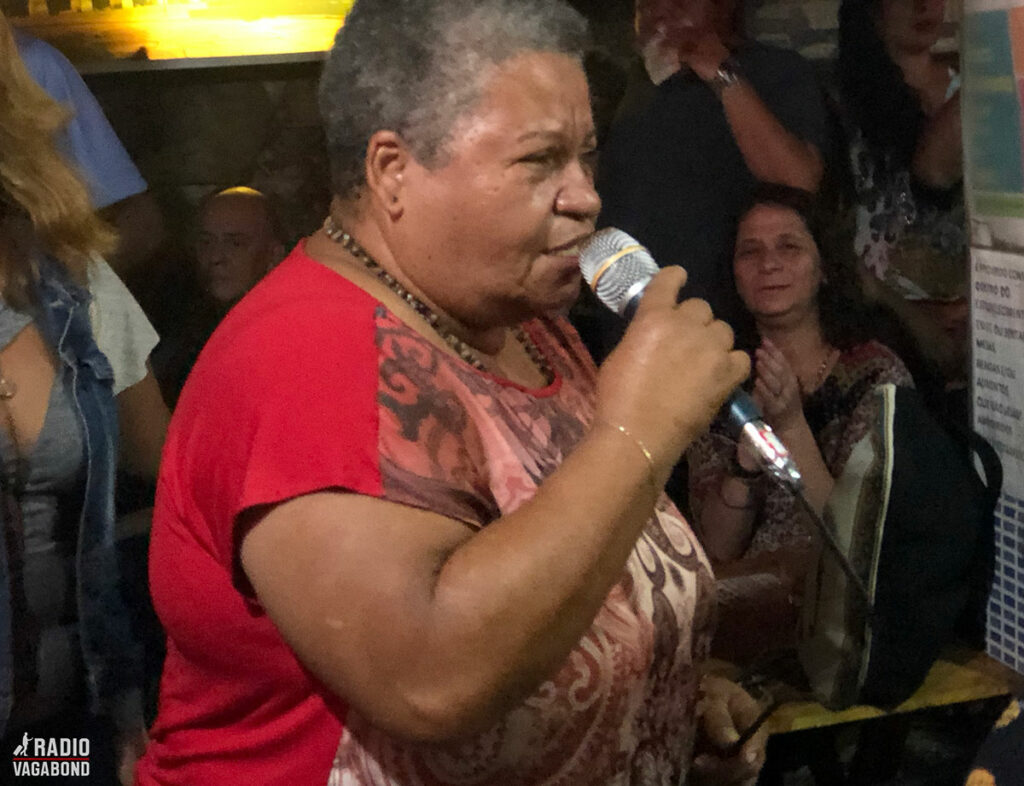 We were given insiders information on where to find a tiny samba bar known only to locals. When we arrived, we couldn't believe just how authentic this place was.
It was a small bar – kinda like a bodega. The band was not on a stage; they were just sitting around a table with their instruments and drinks. The place was packed, and we were standing around their table in a circle. It was a truly unique experience.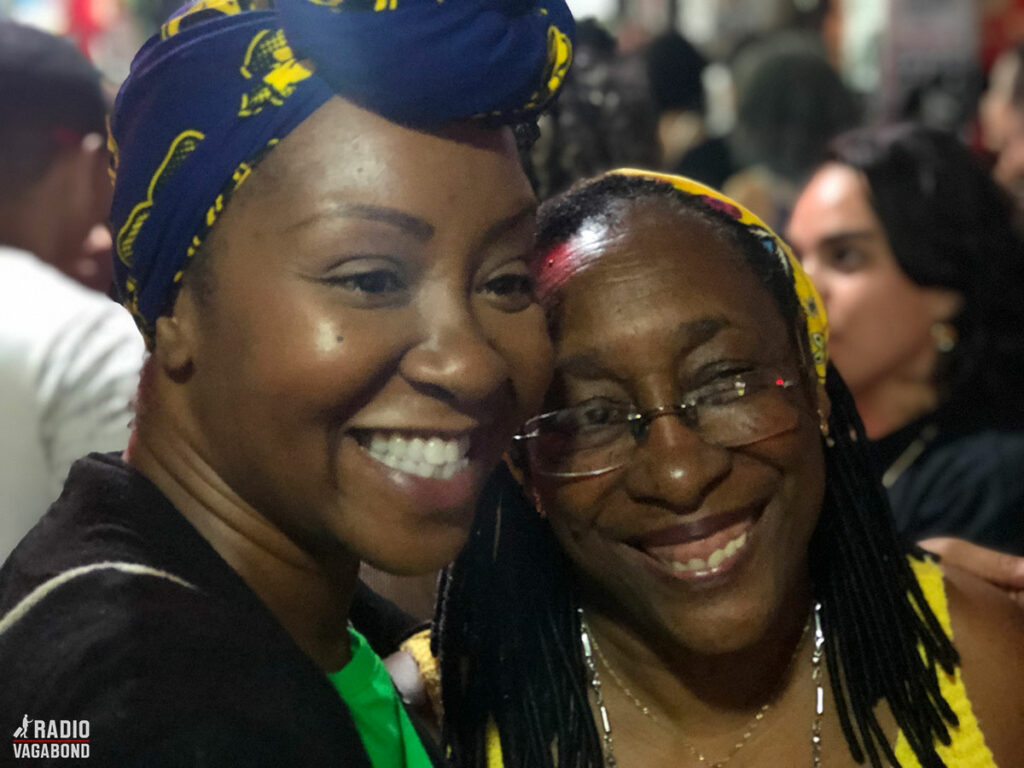 After the band put down their instruments in favour of their drinks, we stepped outside onto the street and walked a bit until we came across another very local place where they had a karaoke night.
It didn't have any windows, so people walking by could hear the not-so-great 'singers' attempting their versions of famous songs.
Shannon's face lit up, and with a big smile, she said, "Hey Palle, let's go in and get a drink".
Professional singer doing karaoke
The thing is, Shannon "Sangin' Diva" Pearson is a professional singer.
She began her professional career at the age of 15, doing studio work around Los Angeles.
Over the years, she's had the privilege of sharing the stage as a backing singer for artists like Natalie Cole, George Duke, Stanley Clark, Al Jarreau, Patti Labelle, Chaka Khan, Evelyn Champagne King, Sean "P-diddy" Combs, Kelis, Leona Lewis, Katy Perry, and many others.
She's also appeared on TV shows like Saturday Night Live, Jimmy Kimmel, America's Got Talent, and even How I Met Your Mother.
As a solo artist, she's performed all over the world as Sangindiva Shannon. And now this singing diva was about to have her Brazilian debut in a not-so-fancy little karaoke bar in Rio de Janeiro. The people in there had no idea what was about to happen. 
Shannon was almost jumping in her seat and smiled like a kid in a candy store when she was flipping through the song folder to pick a song. She then went up to the lady controlling the show and pointed at a song.
When it was her turn, we all sensed that this was a professional from the second she was handed the microphone. She connected instantly with the sleepy people in the room with her presence. She then belted out a loud "Hello from Los Angeles California!". And then the music started: Whitney Houston's I Wanna Dance with Somebody.
Unlike other karaoke singers, she was not looking at the screen for the lyrics. She was looking at the audience, dancing and spinning around.
The people on the street stopped and looked in awe of what was going on. It was like they were looking and thinking, "Wait a minute, didn't Whitney pass away a long time ago?".
We ended up staying there for hours, and Shannon kept going back on stage again and again…
Check out Shannon's outstanding performance above.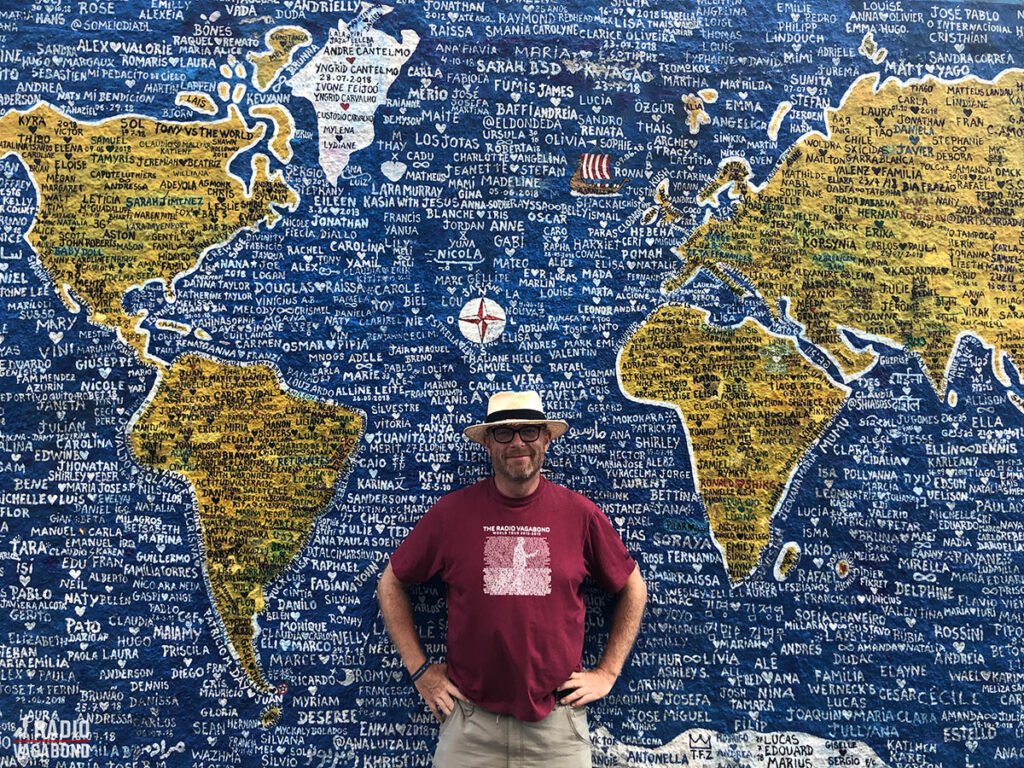 ESCADARIA SELARÓN OR

SELARÓN

STEPS
The following day, I met up with Shannon on Copacabana beach, and we were both still high on the musical experience from the night before. We strolled along the beachside, taking in the sights and sounds of this splendid place. We then slowly headed to the next beach over, Ipanema.
We found ourselves at the 'hippy market', a lovely little flea market kitted out with artsy items such as musical instruments, brightly coloured shirts, hats, and curiosities.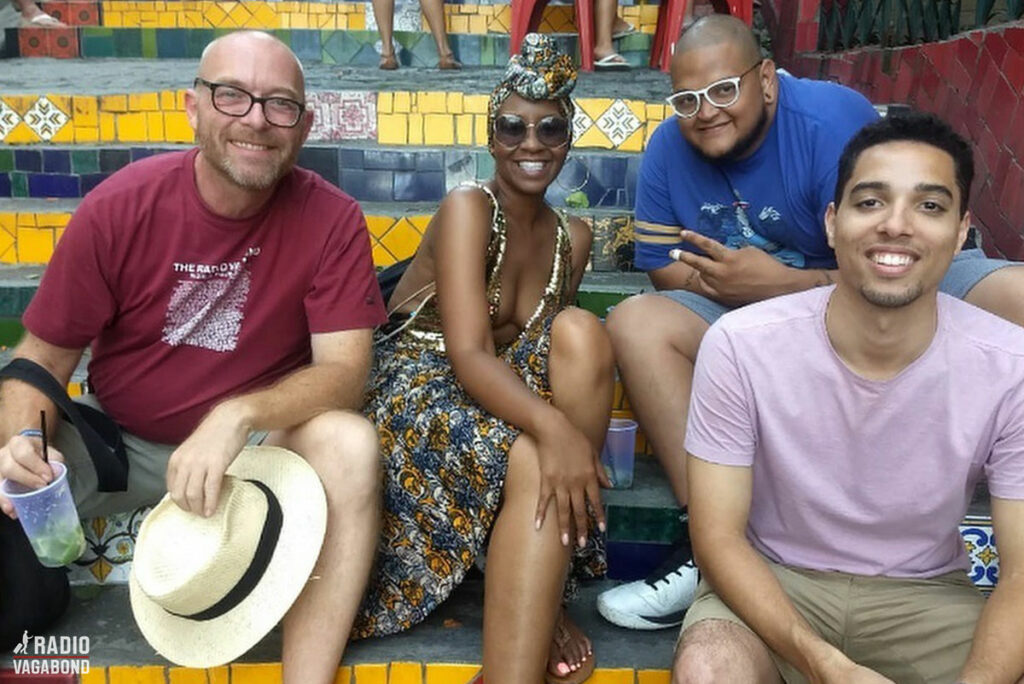 We then headed up to Escadaria Selarón, also known as the Selarón Steps – a world-famous steps attraction in Rio de Janeiro and the work of Chilean-born artist Jorge Selarón who claimed it as his "tribute to the Brazilian people".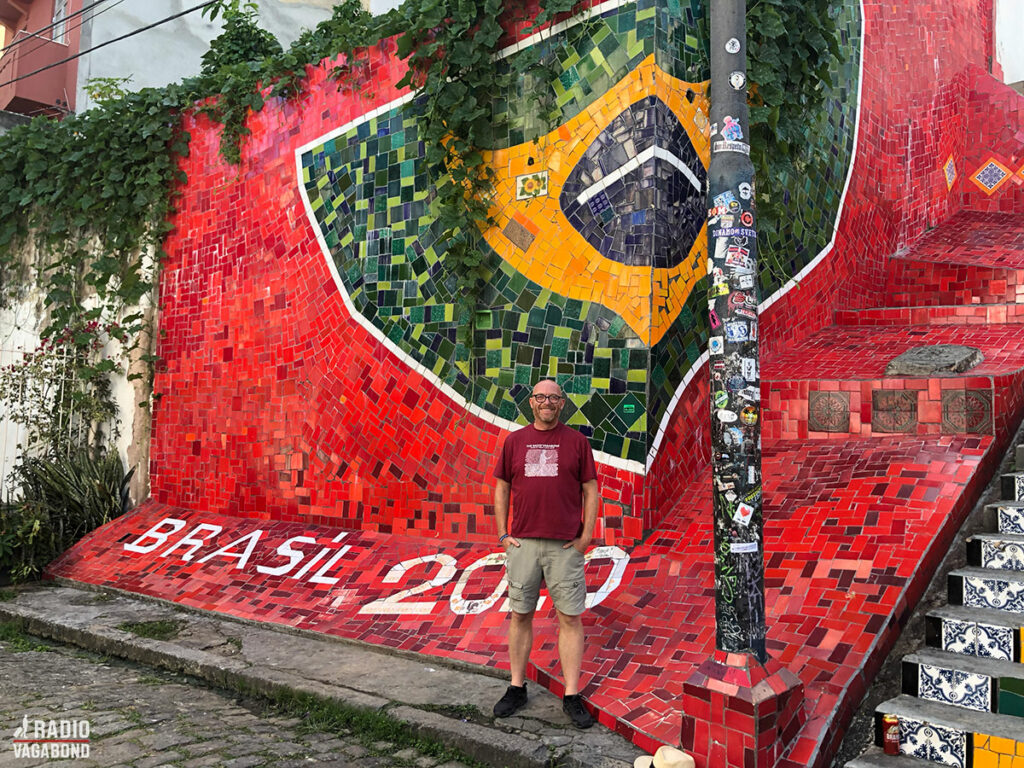 In 1990, Selarón began renovating the steps that ran along the front of his house. At first, neighbours mocked him for his choice of colours as he covered the steps in fragments of blue, green and yellow tiles – the colours of the Brazilian flag.
It started as a side-project to his main passion, painting, but it soon became an obsession.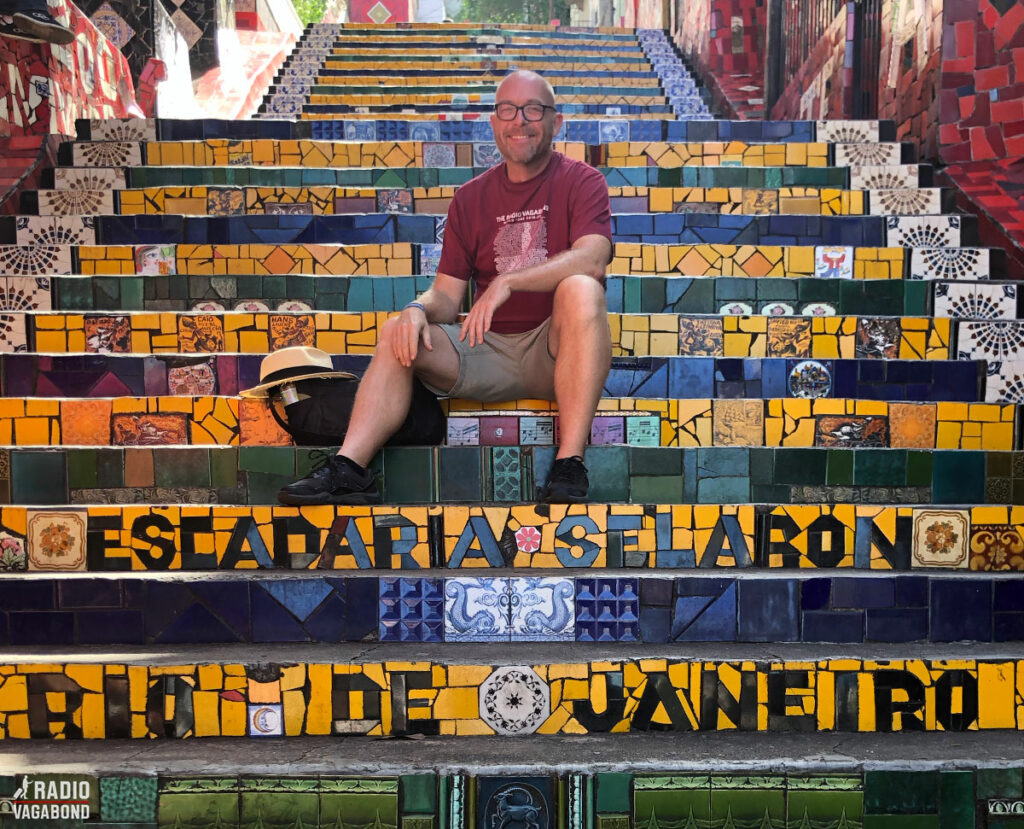 He was constantly running out of money for the project, so he sold paintings to fund his work. It was long and exhausting work, but he continued on and eventually covered the entire set of steps in tiles, ceramics and mirrors.
There are 215 steps, measuring 125 metres long, covered in more than 2000 tiles collected from over 60 countries around the world.
It is considered an iconic tourist attraction of Rio de Janeiro, with travellers from across the globe visiting it every day. The steps have been featured in many famous magazines, newspapers, travel shows, documentaries, commercials, and music videos. 
National Geographic Channel, American Express, Coca-Cola, Kellogg's Corn Flakes, Time and Playboy are just some of the media outlets that have featured the iconic steps. The steps have also been featured in many music videos, such as Snoop Dogg and Pharrell Williams'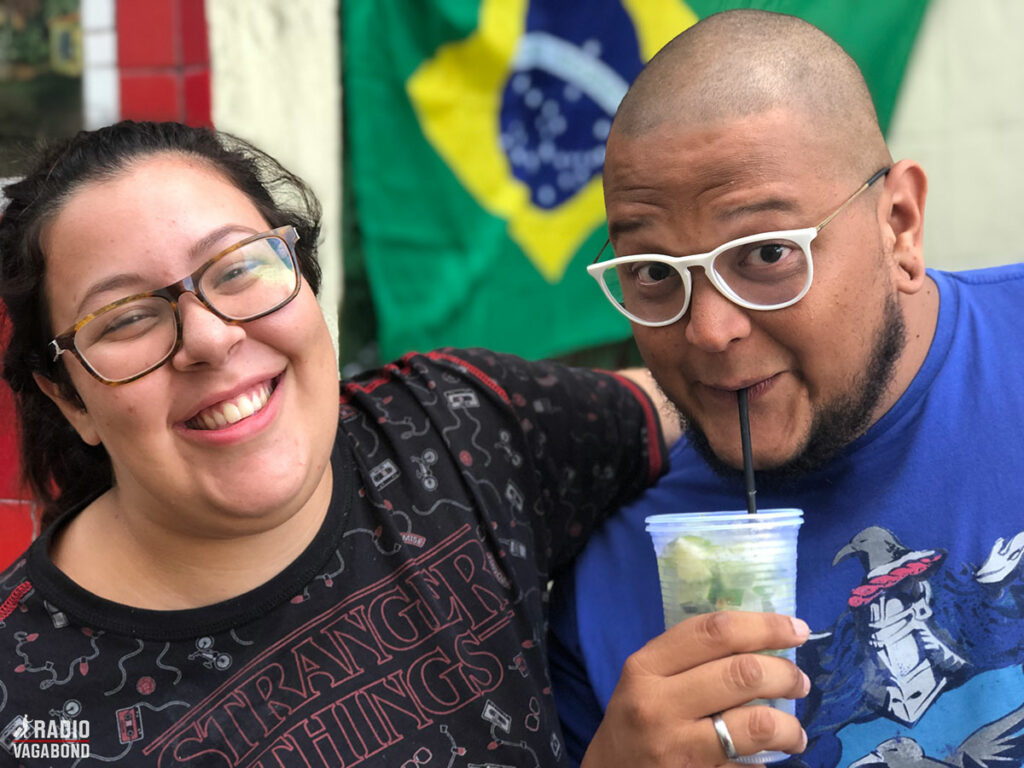 Snoop and Pharrell are not here today, but halfway up the steps, we met a young local couple with hip-hop names: Biggie and Dou. They were relaxing at a pop-up bar that was selling the iconic Brazilian drink, Caipirinha.  
"There are so many amazing things to experience when living in Rio. Us locals are very warm and inviting. The stories are true: we listen to samba and dance every day of our lives. Plus, we give the best warm hugs."
I sampled a Brazilian hug from Dou, and they weren't wrong.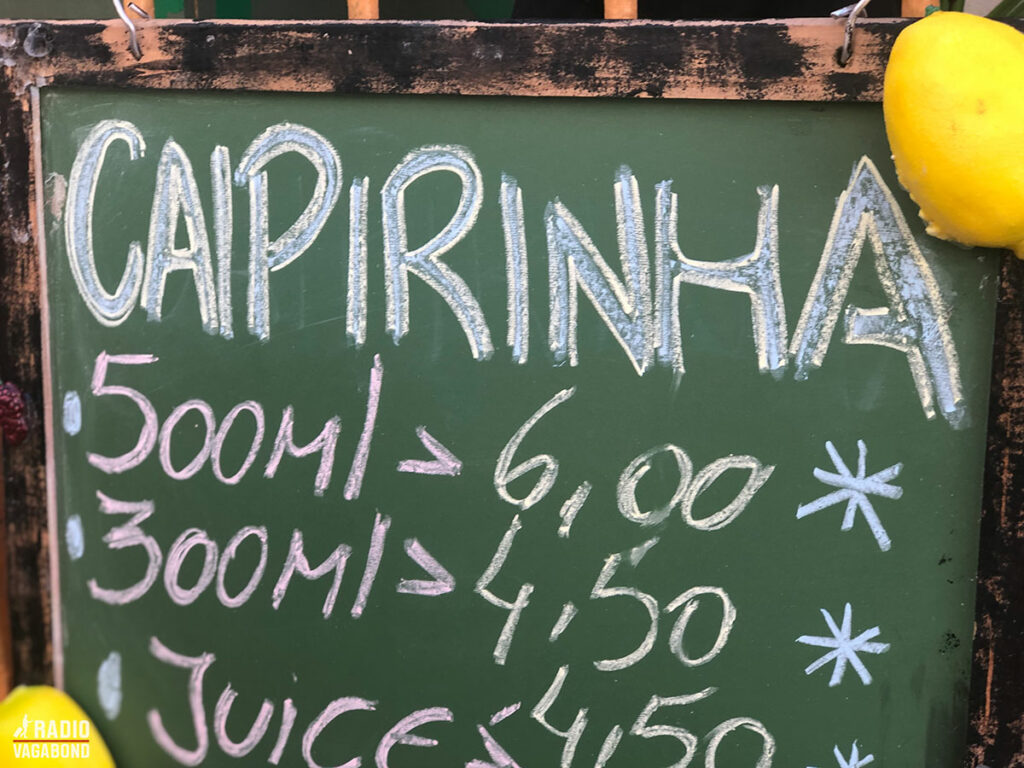 When I asked about the crime aspect of the city, they said that it is like any city in the world: as locals, there are certain places to avoid at night. Using common sense, they said, is key.
Shannon and I ended up having quite a few Caipirinhas. It was a fun weekend with a friend I met on Nomad Cruise 7: a two-week "floating conference at sea" from Spain to Brazil.
I hopped on a cruise ship in Spain with 500 other digital nomads and aspiring entrepreneurs from 42 countries for a two-week networking conference across the Atlantic. I met up with old friends from previous Nomad Cruises and made new friends along the way.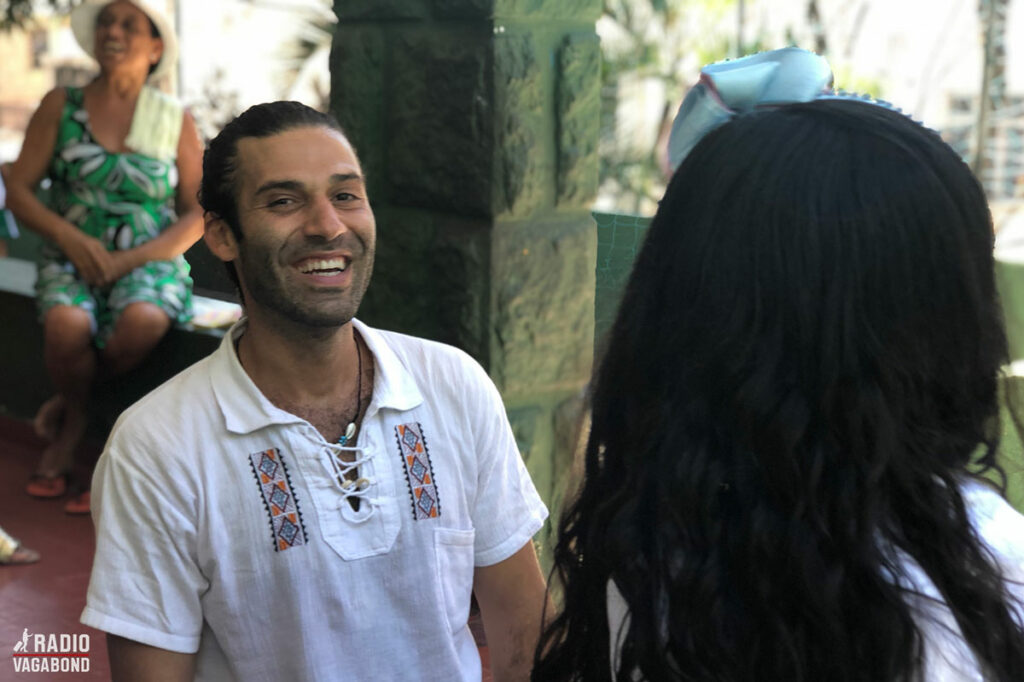 On Nomad Cruise 7, I met Tarek Kholoussy, founder of Nomads Giving Back, who has a corporate background in Wall Street. He was working for Goldman Sachs when he decided to get out of the rat race and become a digital nomad.
On the cruise, Tarek gave a talk about his journey and goals: one of which was to create a social enterprise. At the end of his talk, he publicly announced the launch of Nomads Giving Back.
A few days after we set foot on land, I pulled Tarek aside in a café in Porto de Galinhas on the east coast of Brazil for a chat. This was before I arrived in Rio.
DITCHING CORPORATE FOR SOCIAL
Tarek told me he always had a passion for social causes thanks to his entrepreneurial heart, but his background had always been corporate. He joined Nomad Cruise to pitch his Nomads Giving Back concept to the nomad community: to inspire nomads and travellers to give back to the communities they visit. 
From his inspiring talk, he was met with overwhelming support from the nomad community, including the founder of Nomad Cruise, Johannes Voelkner, who suggested they collaborate. 
"Every digital nomad realises just how amazing our lives are having the opportunity to travel the world and experience things many will never the chance to. And it becomes more meaningful when we are able to engage with local communities we travel to uplift and help develop. The aim is to make this global world feel like a close-knit community helping each other along the way."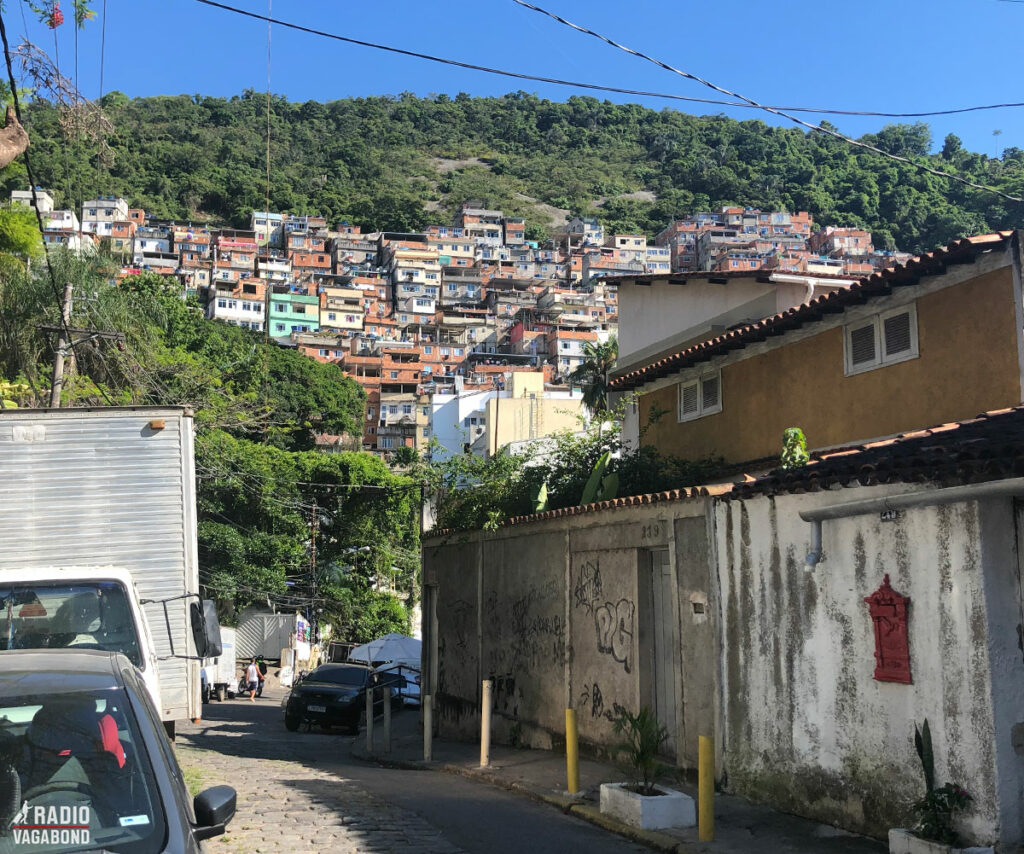 BACK IN RIO WITH NOMADS GIVING BACK
Jumping back to the present in Rio, I met up again with Tarek who found the first project here for Nomads Giving Back. They teamed up with the philanthropic organisation/school Solar Meninos de Luz situated in a favela close to Copacabana.
Tarek tells me that the idea for this first NGB-program is inspired by the power of the Nomad Cruise conference, where attendees learn how to improve their digital marketing skills (among many other things). Tarek and the Nomads Giving Back team decided to use some of the funds collected at the fundraising dinner on the ship to create a digital skills program for students who would not otherwise have access to it.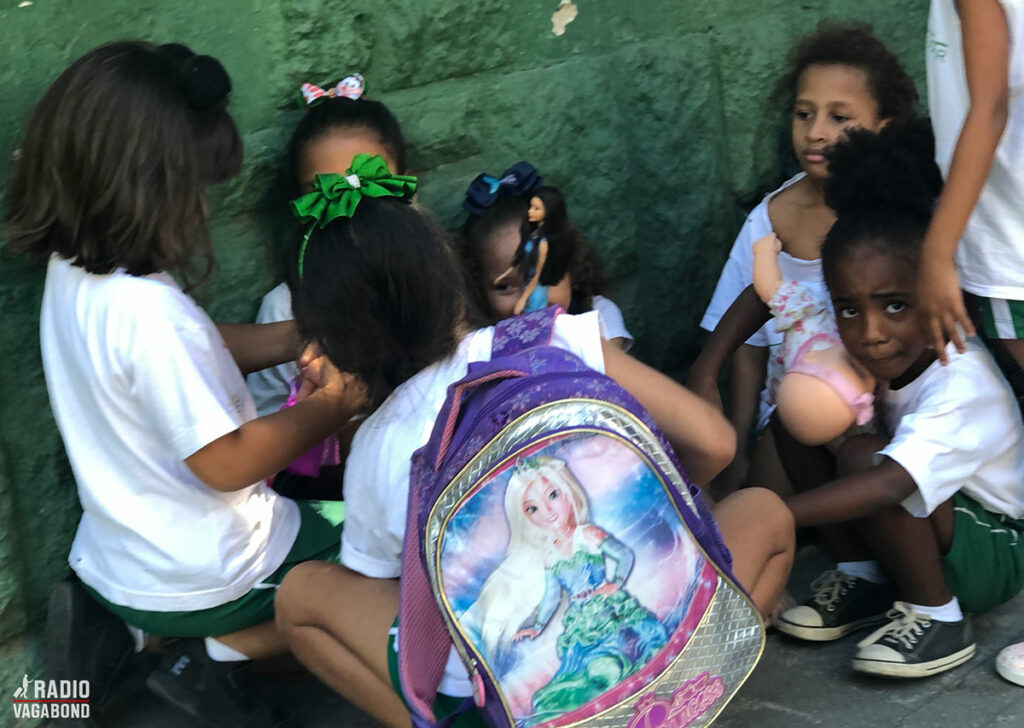 Many digital nomads earn their income from digital skills, and Tarek and the team sought to pay it forward by channelling donations to advance digital skill learning among disadvantaged youth here in Rio de Janeiro.
Tarek and I caught up again to talk more about the new project. We both realised how fortunate we are to live a nomadic lifestyle and how much we have always wanted to give back to the communities we visit.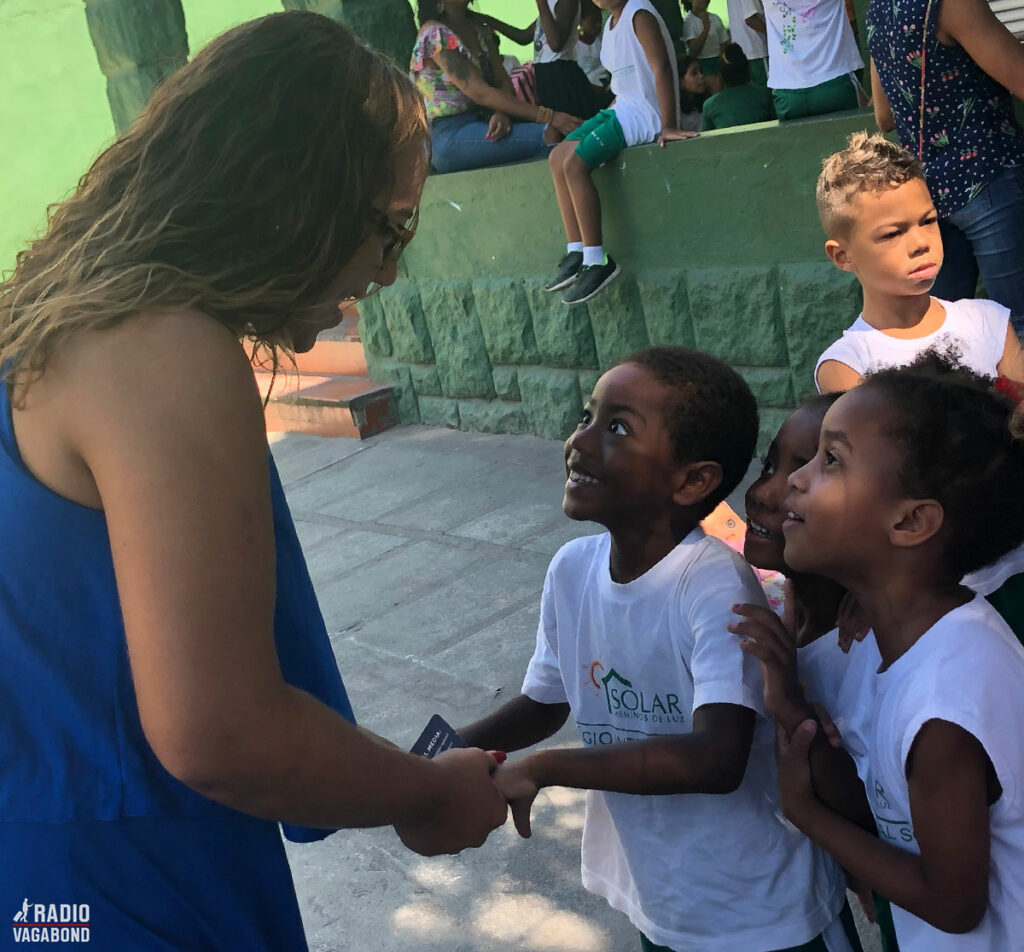 "Digital nomads are mostly entrepreneurs working light without the backing of large corporations, so we don't have deep pockets. But there are so many other ways we can give back that doesn't require loads of money. Being a nomad is about freedom of choice, and part of that is defining what is important to you. For instance, in one night at the charity dinner on Nomad Cruise 7, we raised thousands of Euros."
Tarek Kholoussy, Nomads Giving Back Founder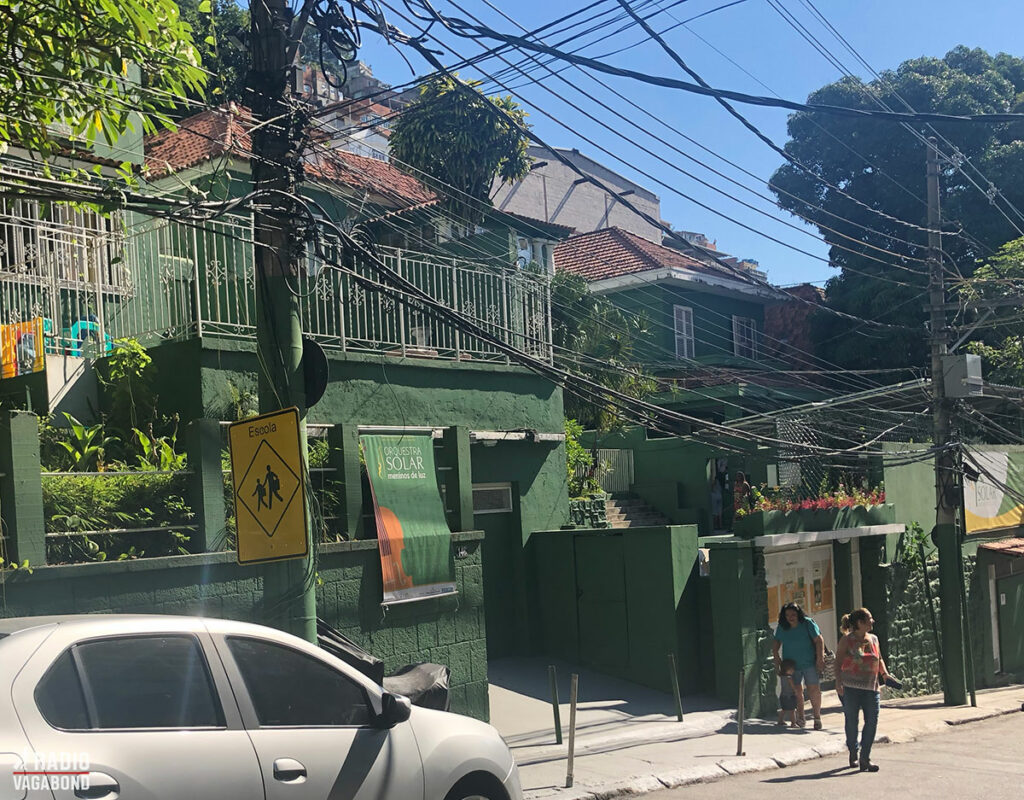 "Over and above, nomads are volunteering to help with their skills and talents: like the website and branding and business development. This shows the power of the nomad community and the power connecting through the same principles and values."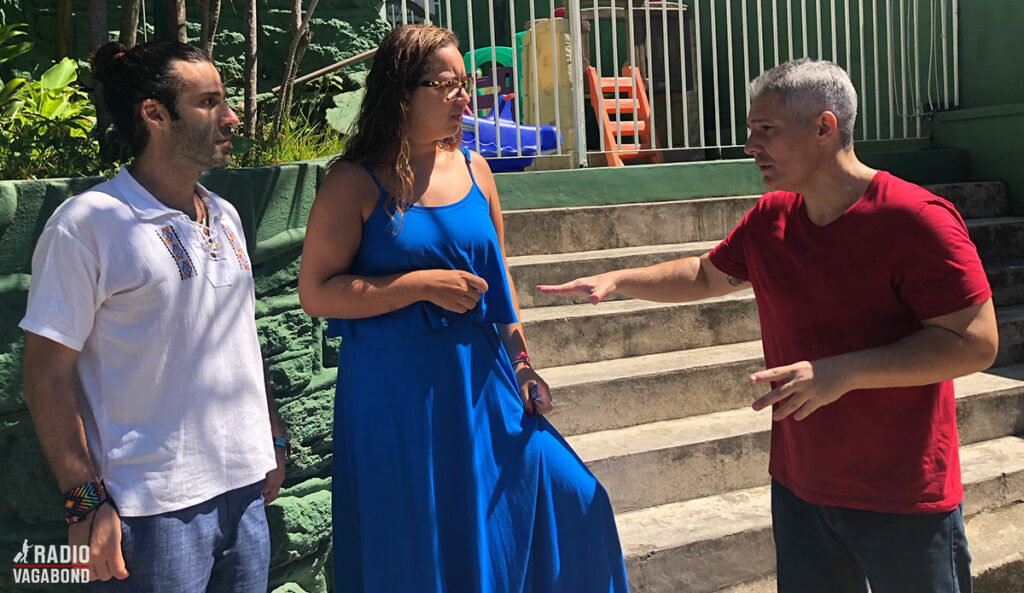 Solar Meninos de Luz has spent nearly 40 years serving their local community. We were given a tour by Manu, a former student of the school and the perfect ambassador for the program. In fact, she came here when she was only three months old.
"We have been here for 27 years doing a great job at educating the local community, with a holistic approach. We have 420 students, 115 volunteers, and 113 employees working in the school. We also provide over 1,200 meals every day as students arrive at 7am and leave at 6pm, so we provide 3 meals to each student every day. It is a lot of hard work but we love what we do here."
Manu tells us that the school relies on public and private funds and donations to keep the facilities running.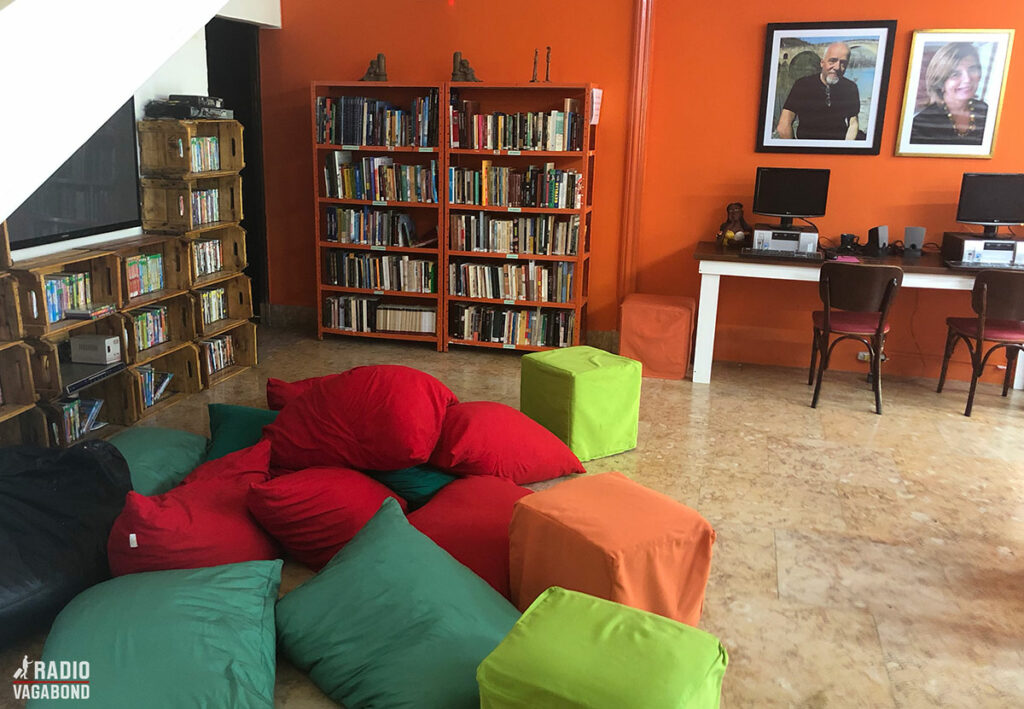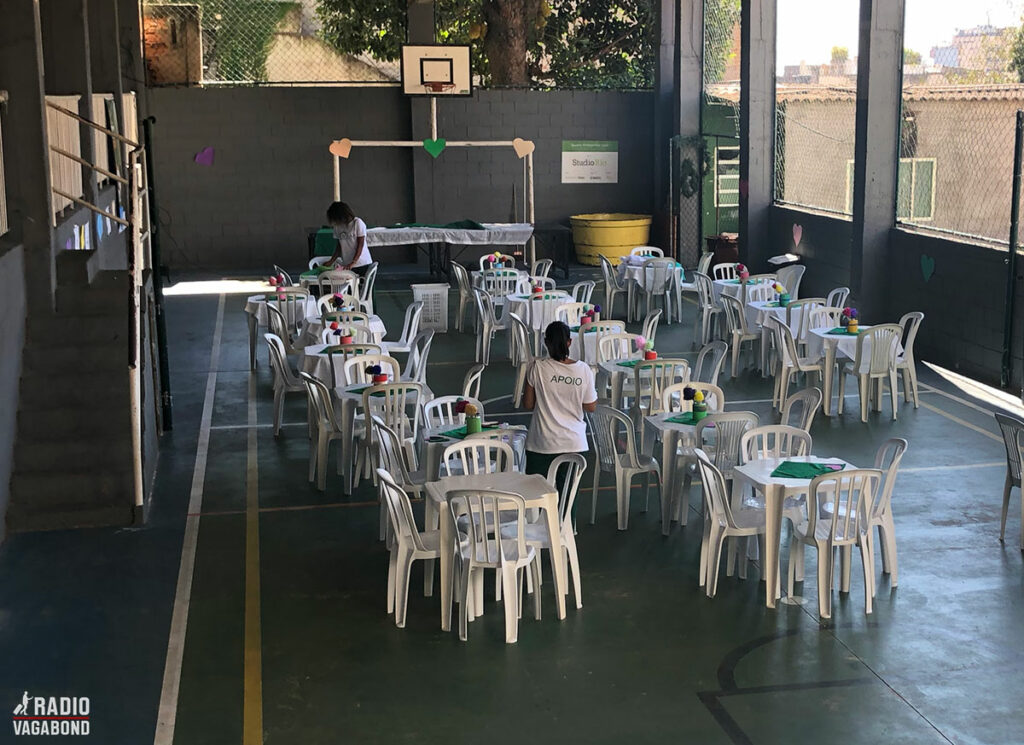 We walked around the school and met some of the students. We were then treated to a nativity themed music and dance performance by the students. It was really great and so lovely to see the kids singing and dancing. Then an adult choir came onto the stage and gave an incredible performance.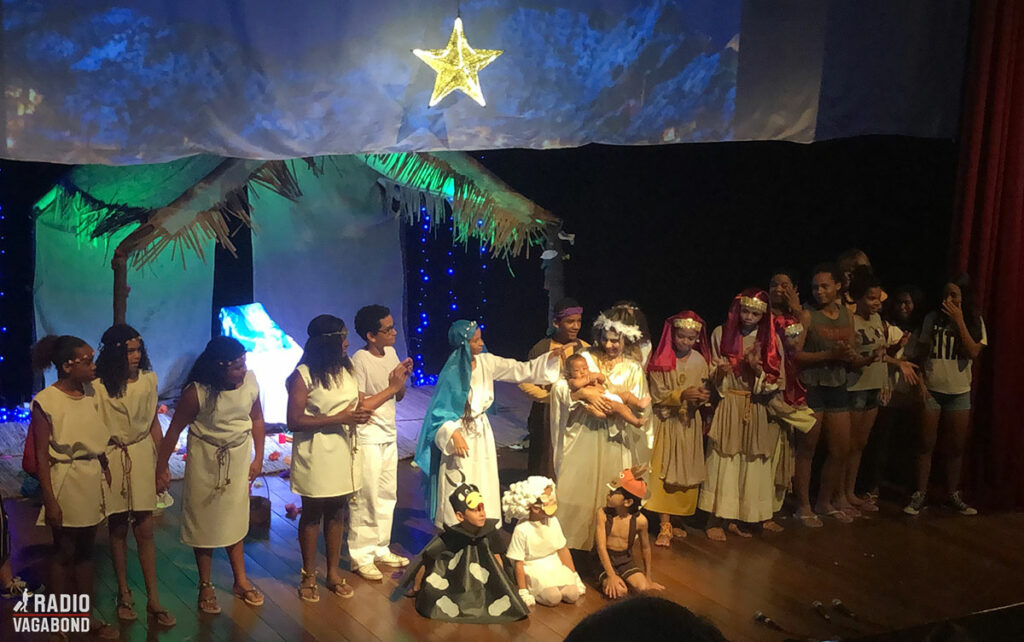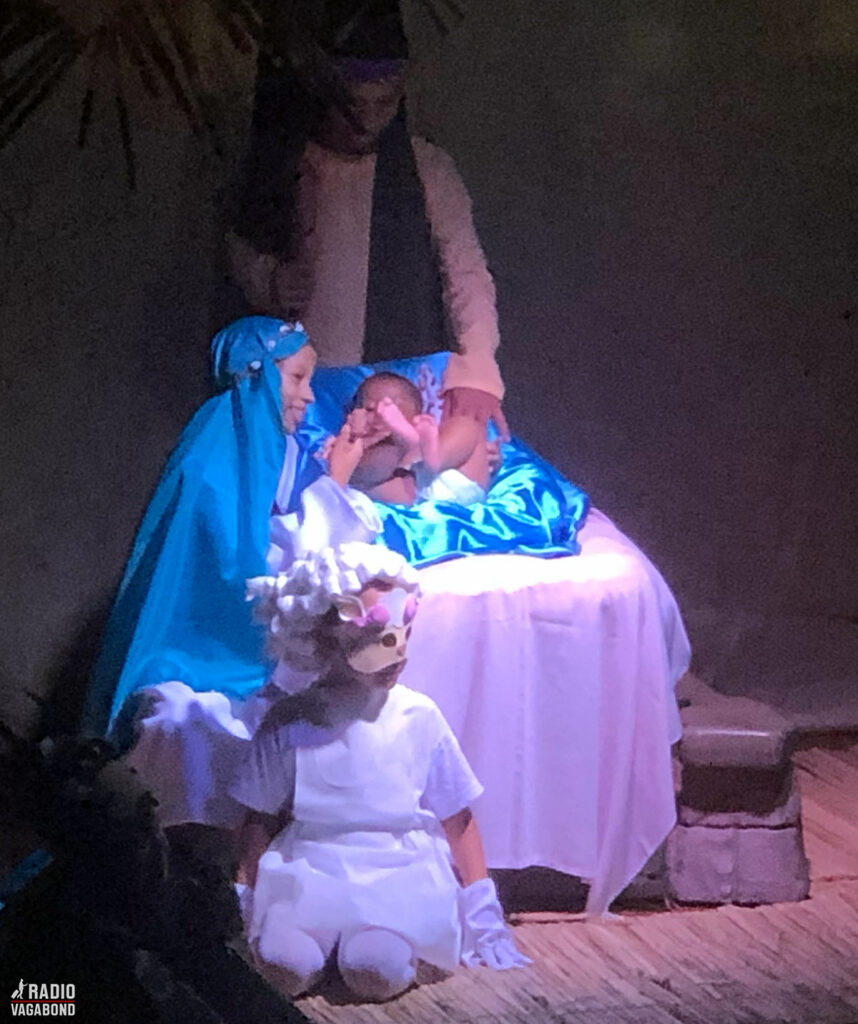 MORE ABOUT SOLAR MENINOS DE LUZ
In walking distance from Solar Meninos de Luz is the Copacabana Palace, one of Brazil's biggest and most luxurious hotels. It was the location of a fundraising event I was attending for the project.
The luxury of the place is quite the contrast to the favela up the road. But that is both the charm and complexity of this historical city.
Solar Meninos de Luz is a philanthropic organisation that promotes education, sports, arts and culture, basic healthcare, and professional training support. It was founded 34 years ago and have assisted over 5,000 locals.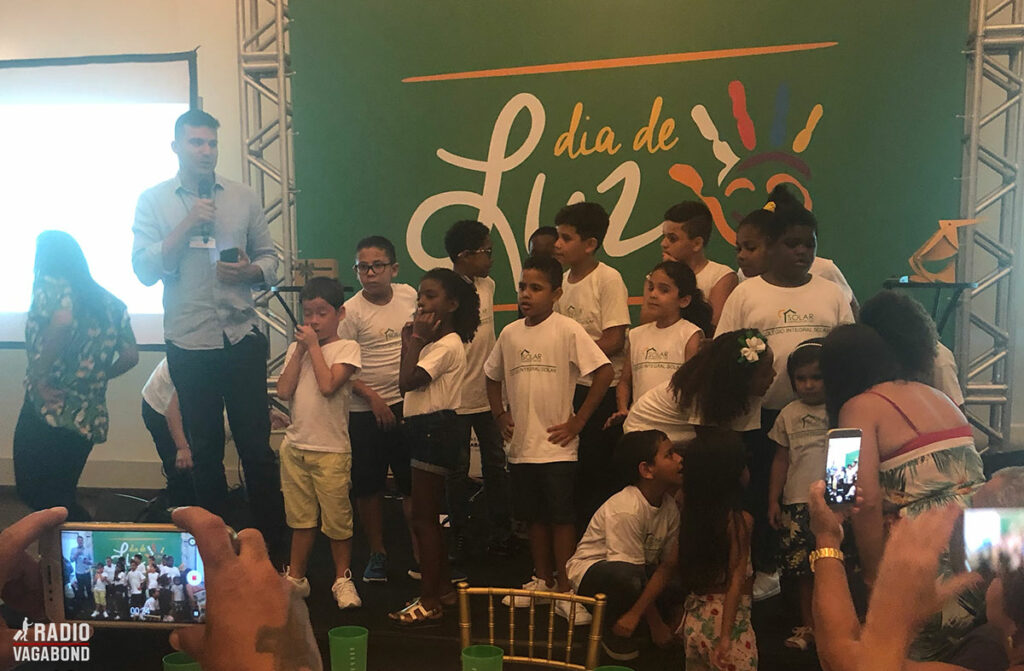 Famous Brazilian author Paolo Cohelo who wrote The Alchemist (1988) and The Pilgrimage (1987), among many others, is a major long-time sponsor of the school. He donated his villa, which is now part of the campus and serves as the library.
After months of planning, the Digital Skills Program officially launched a few months later. Nomads Giving Back were able to teach things like content marketing, SEO, and Facebook, Instagram, and LinkedIn Marketing.
The 14 students learned how to think strategically, generate their leads, promote their personal brand, effectively use each social media platform, and much more. Upon completion, they were able to implement what they learned to start and grow their own business or better prepare themselves for job opportunities.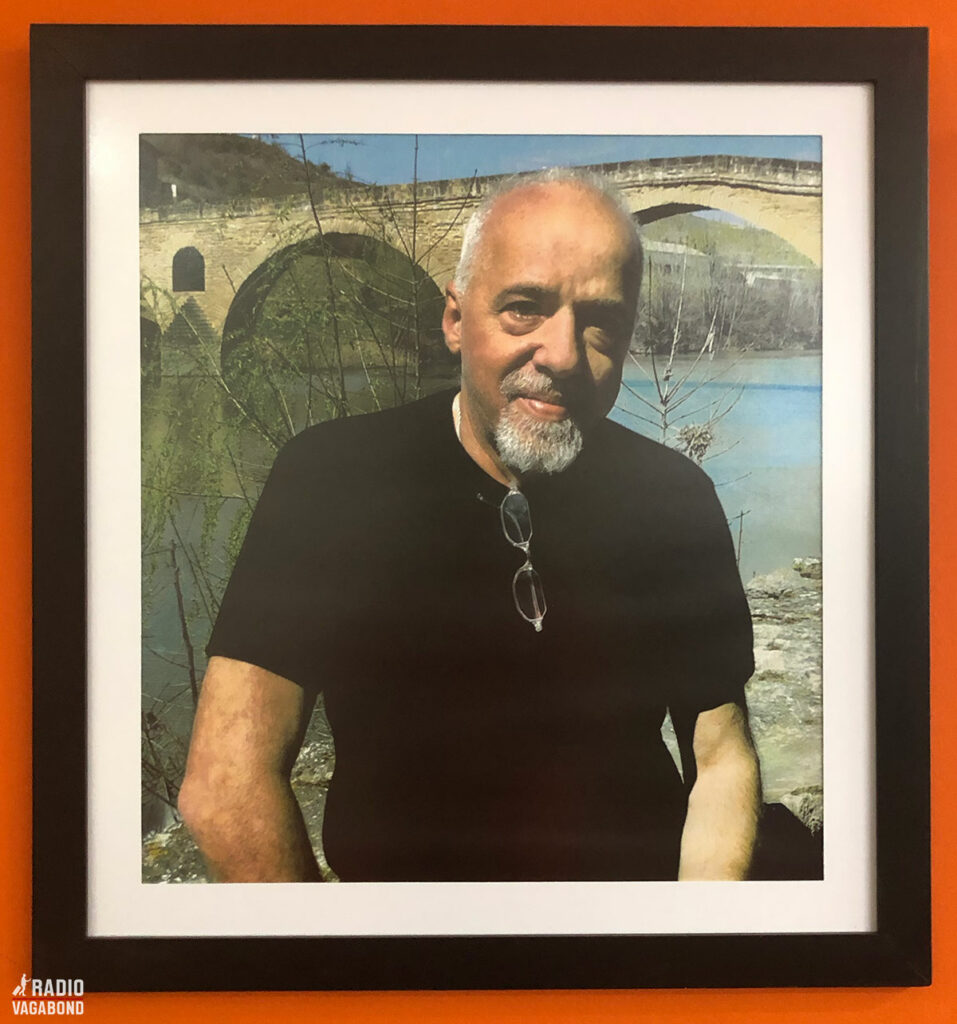 Out of nowhere, I received a call from my bank back in Denmark informing me of suspicious activity on my Mastercard. Apparently, some dick in the USA tried to draw $400 from my account. So, my Mastercard was blocked for security purposes, but thankfully your dapper Danish vagabond travels with a spare Visa, so my samba-licious adventures could continue.
I later found out that my card was copied by someone moving close to me with some kind of electronic device that copied all the info of the wireless function on my card. Maybe it happened at the market on Sunday, where I was close to a lot of people.
Since then, I've gotten a new wallet where my cards are protected in a metal case.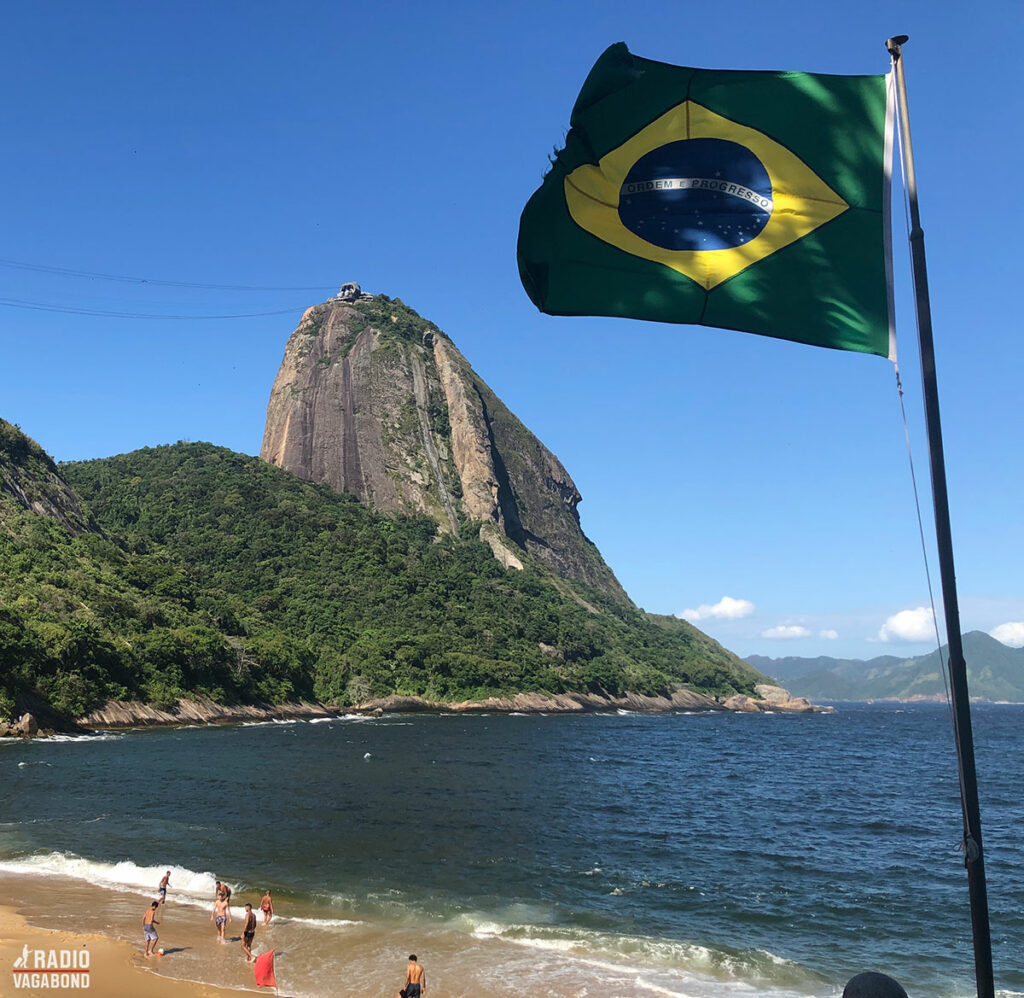 Sugarloaf Mountain is one of Rio's most iconic attractions. It is a beautiful peak that rises 396 meters high and presents a bird's eye view of Rio de Janeiro from the mouth of Guanabara Bay.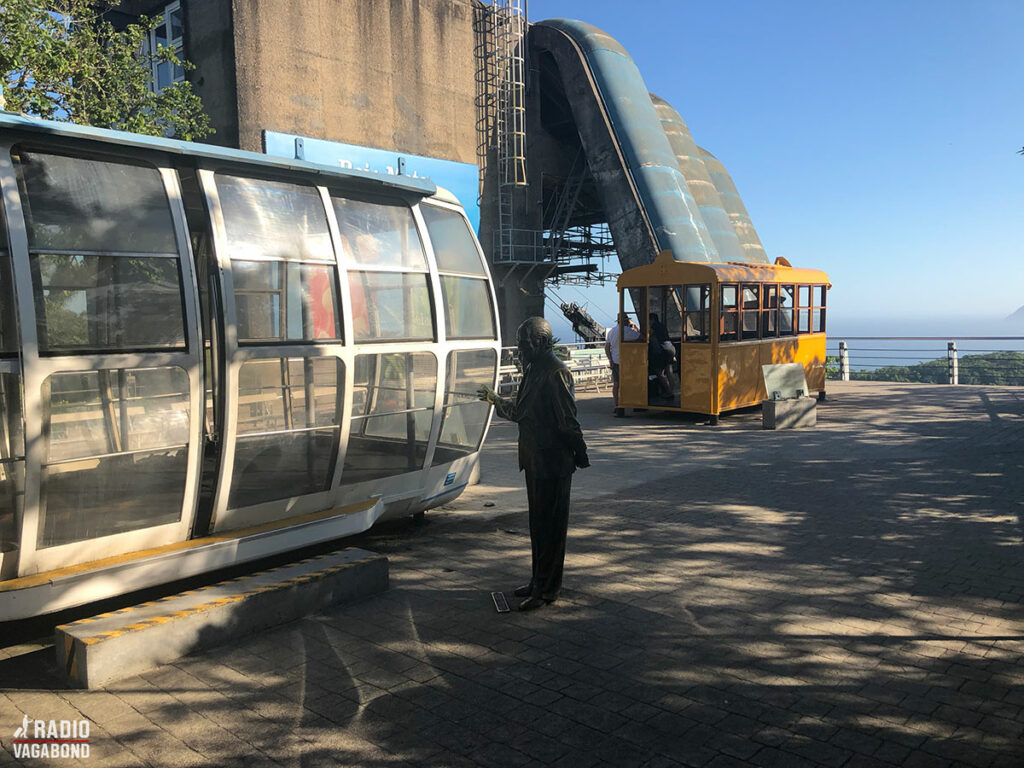 The cable car trip up is a sensation, and the panoramic views from the peak are absolutely breath-taking. The original cable car was built in 1912 and then rebuilt in the '70s and again in 2008.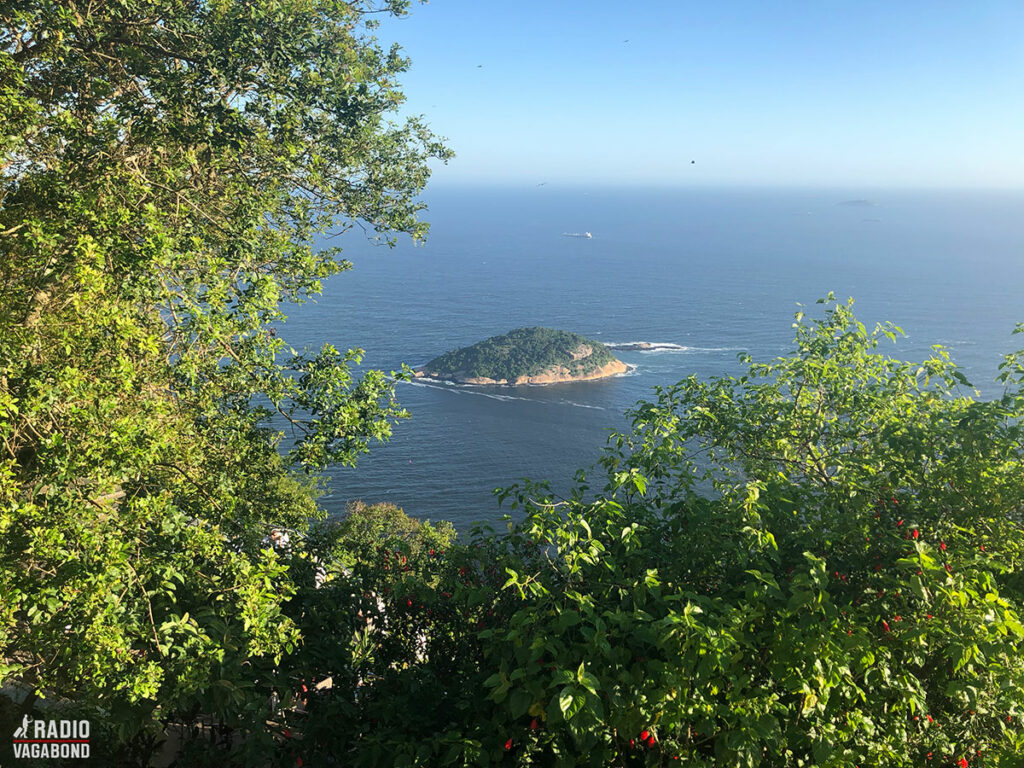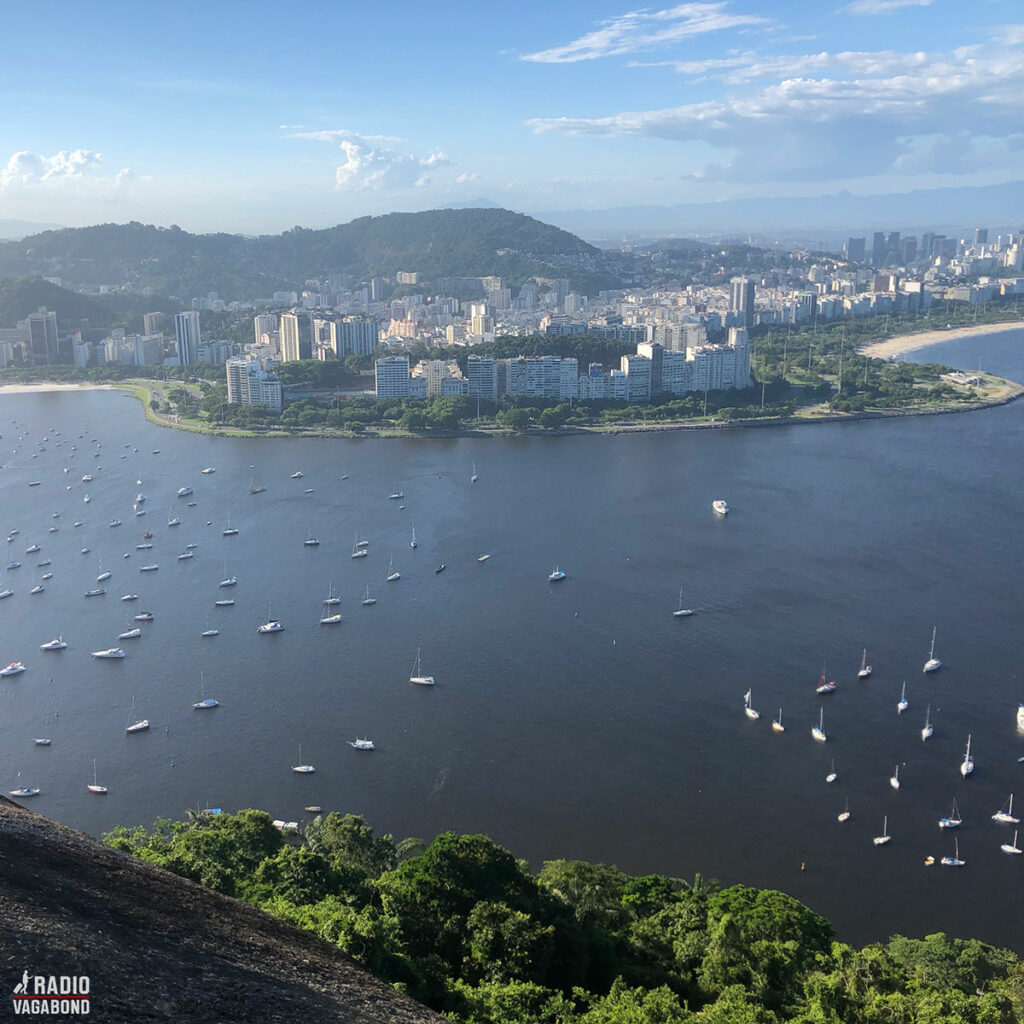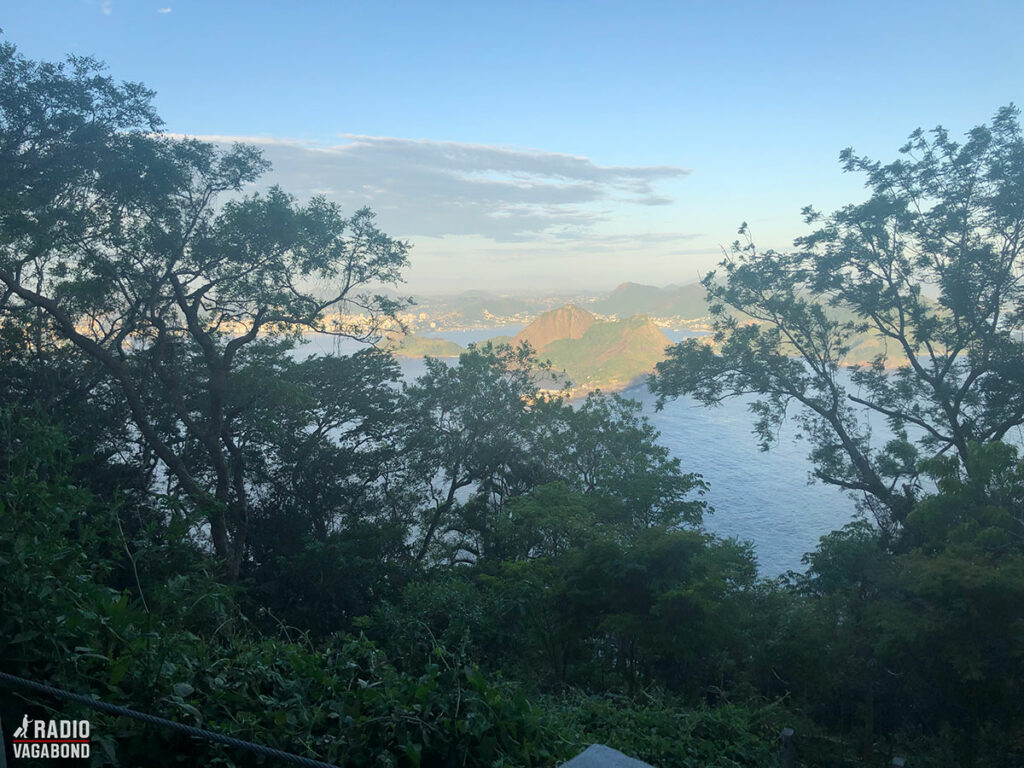 I planned to meet up with a few digital nomads for a hike on one of the hills. Then, we planned to catch the cable car to Sugarloaf Mountain to enjoy the sunset.
We made it to the summit just in time to watch the sunset. And boy, was the hike worth it.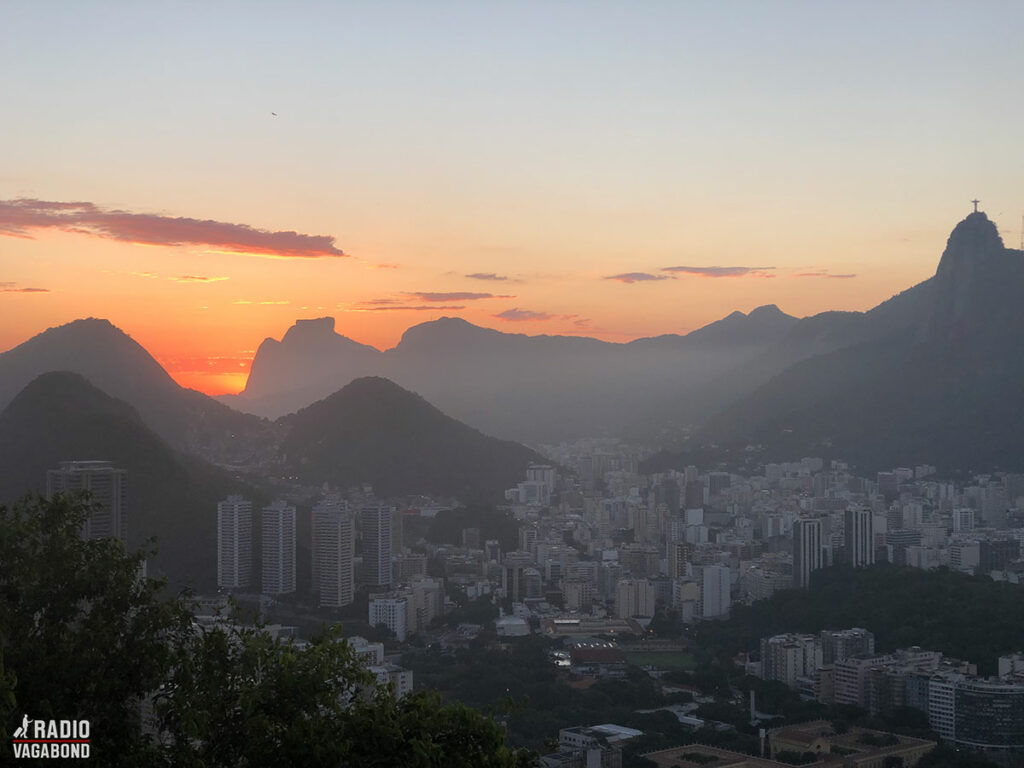 And as the sun was setting with a stunning view of Rio de Janeiro, it's also time to let the sun go down on this episode.
My name is Palle Bo, and I gotta keep moving. See ya.
FLASHBACK EPISODES WITH TAREK
You should also go back to the archive and listen to the two episodes I recorded with Tarek to learn more about his story. It's genuinely fascinating. 
SUPPORT SOLAR MENINOS DE LUZ
If you would like to help support the continuous education and development of the youth in Rio de Janeiro, visit their website to find out more.
SUPPORT NOMADS GIVING BACK
Join the community of nomads giving back by visiting their website to find out how you start your giving back journey today.
COVID-19 TRAVEL/TOURISM RULES FOR BRAZIL
This episode was recorded when Brazil was open for travel. For the latest COVID-19 travel restrictions and tourist regulations, please visit the 
Brazilian government's official website
. Make sure Brazil is open for tourism before booking your trip.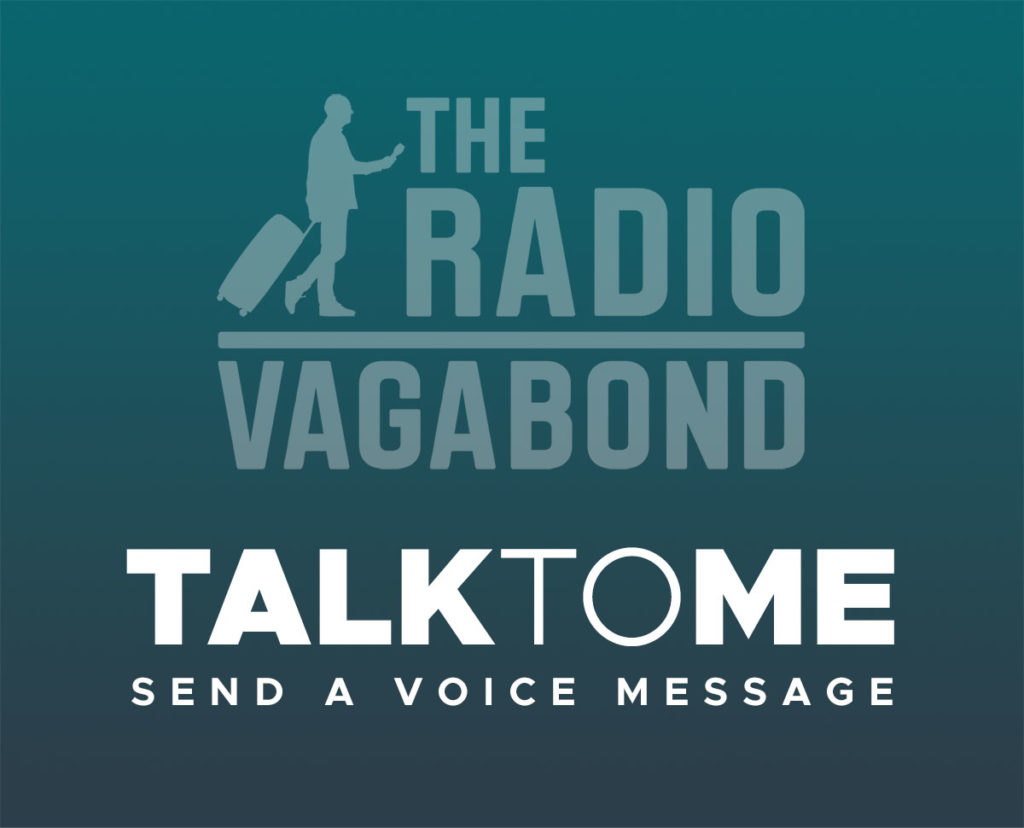 Either way, I would love to hear from you. It's so nice to know who's on the other end of this.
SPONSOR
A special thank you to my sponsor, Hotels25.com, who always provide me with the best, most affordable accommodation wherever I am in the world.
Hotels25 scans for prices on the biggest and best travel sites (like Booking.com, Hotels.com, Agoda and Expedia) in seconds. It finds deals from across the web and put them in one place. Then you just compare your options for the same hotel, apartment, hostel or home and choose where you book.
When you book with Hotels25, you get access to 5,000,000 hotel deals. And it's "best price guaranteed."