SUNRISE ON THE BEACH
Welcome to an episode from Sri Lanka. This is a rerun and a mix of two of my episodes from here. I visited the island in 2019, just before the pandemic shot the world (and Sri Lanka) down. Now that everything is slowly opening again, I wanted to remind you of the beauties of this country and its people.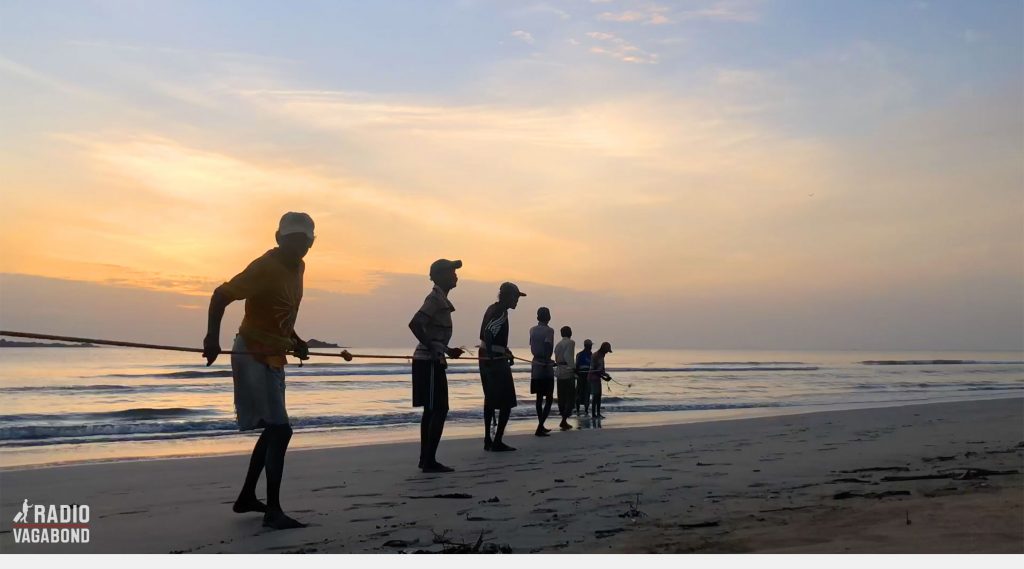 As you're joining us in this episode, we're staying at a hotel called Pigeon Island Beach Resort at the eastern part of the island. It's literally on the beach just north of Trincomalee.
The next morning I got up at 5 am so I could go to the beach facing east and record a time-lapse as the sun was rising. Much to my dislike, eleven young men were walking into my shot. Then I realized that they were pulling a rope. They were dragging a net full of fish out of the water, and I went over there and helped them pull it for a while.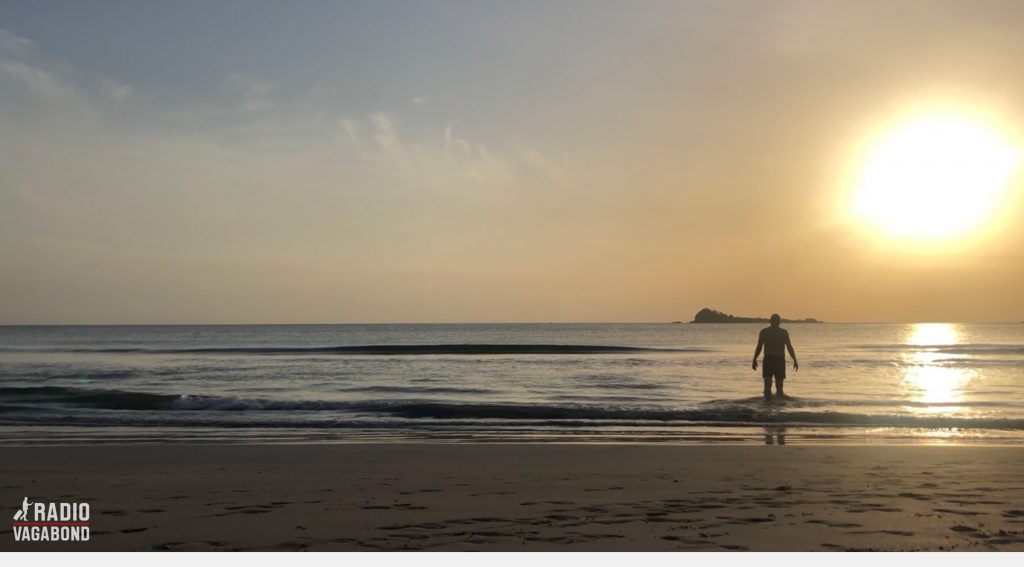 Someone later told me that when tourists do that, they share a few of the fish with the people that have helped them. I didn't stay to the very end, so I never got my fish, because I needed to go and get ready for the next day of exploring.
I want to go back and spend at least a week at Pigeon Island Beach Resort. Especially when I saw that they have a Scuba Diving Centre, and it's just been too long since I've been scuba diving. But the itinerary didn't give me time for that, so I guess that gives me another reason to come back to Sri Lanka.
The highest point in Sri Lanka is Mount Pedro, reaching 2,524 meters above sea level.
With over 400 waterfalls, Sri Lanka has perhaps the largest number of waterfalls of any country in the world, in comparison to its size. Bambarakanda Falls is the tallest waterfall in the country, with a height of 263 meters.
There are 22 national parks and 8 UNESCO World Heritage Sites in Sri Lanka.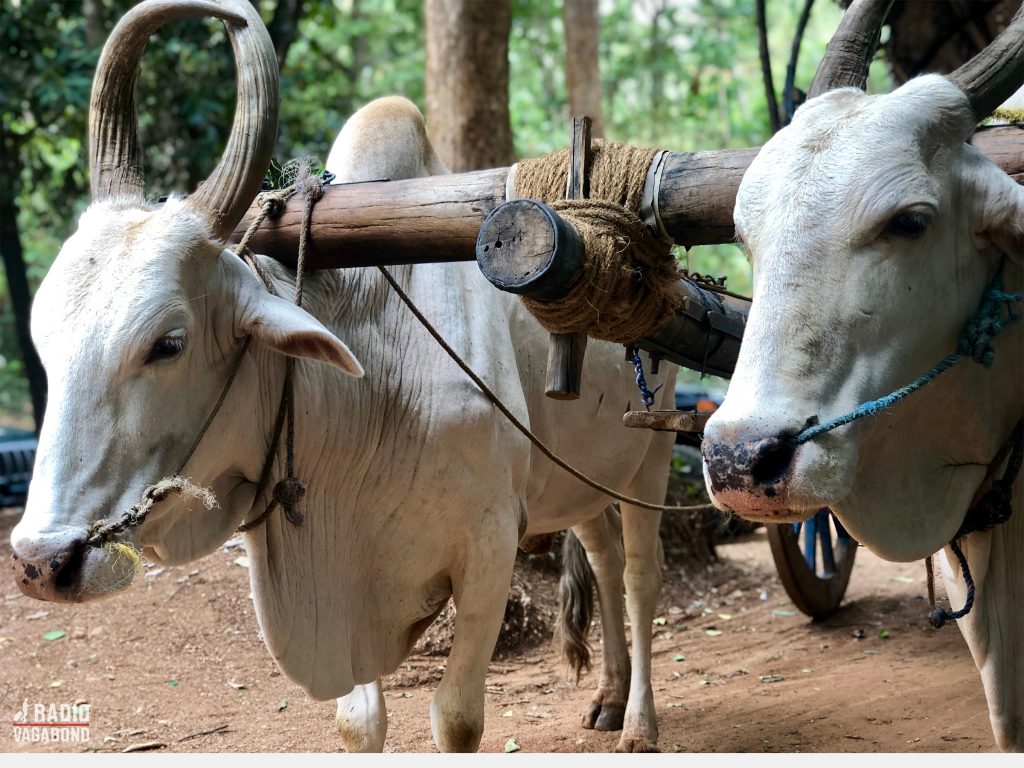 CONTROLLING BULLS IN A FORREST
It was time to head down to Habarana 100 km (62 miles) southwest of Trincomalee. This is where we're staying tonight and also where we're going into nature.
When we get close to Habarana, we leave the paved road and on a dirt road get to a small clearing in the forest.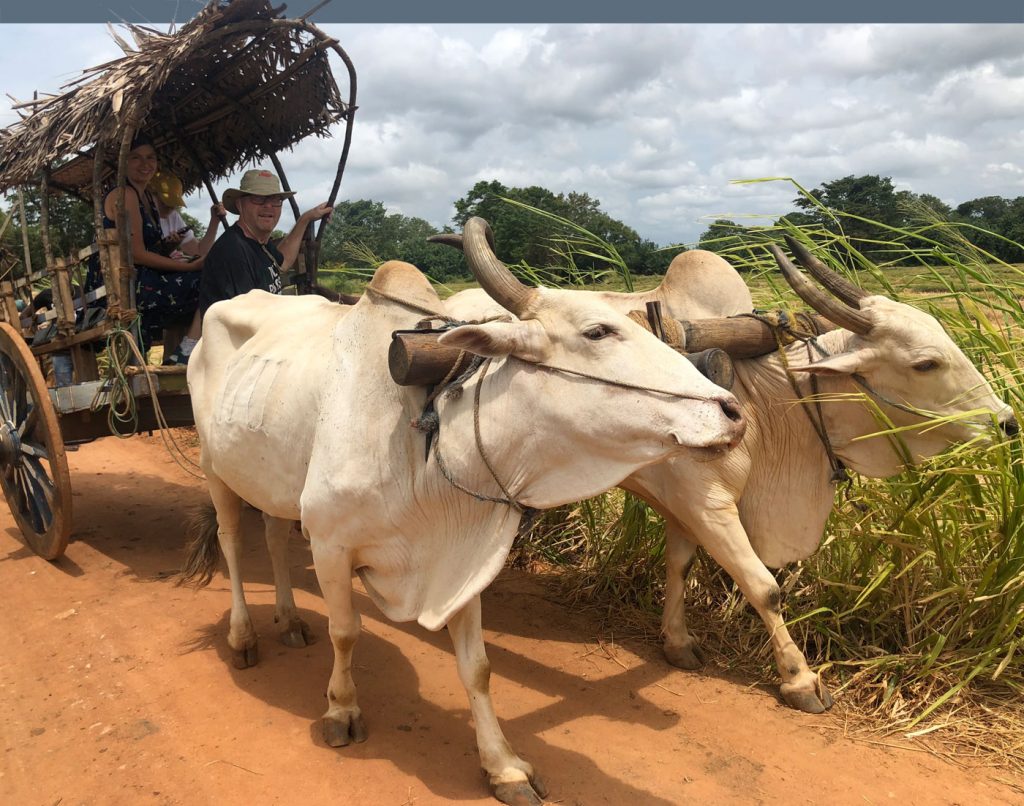 We about to go deep into the forest on small Bullock Carts. Four people in each cart with two white bulls dragging us.
I was in front with the guy steering the cart and controlling the bulls. He had commands for left, right, stop, and go faster.
The bulls seemed quite lazy, but he was sitting right behind them, and if he swung his leg just a little bit, he would give them a gentle kick in the balls. And that would make them go fast.
Halfway he gave me control of the cart and jumped off. So, there I was, controlling a bullock cart on a dirt road in a forest in Sri Lanka. Now that was a first for me.
And no, I didn't kick any balls.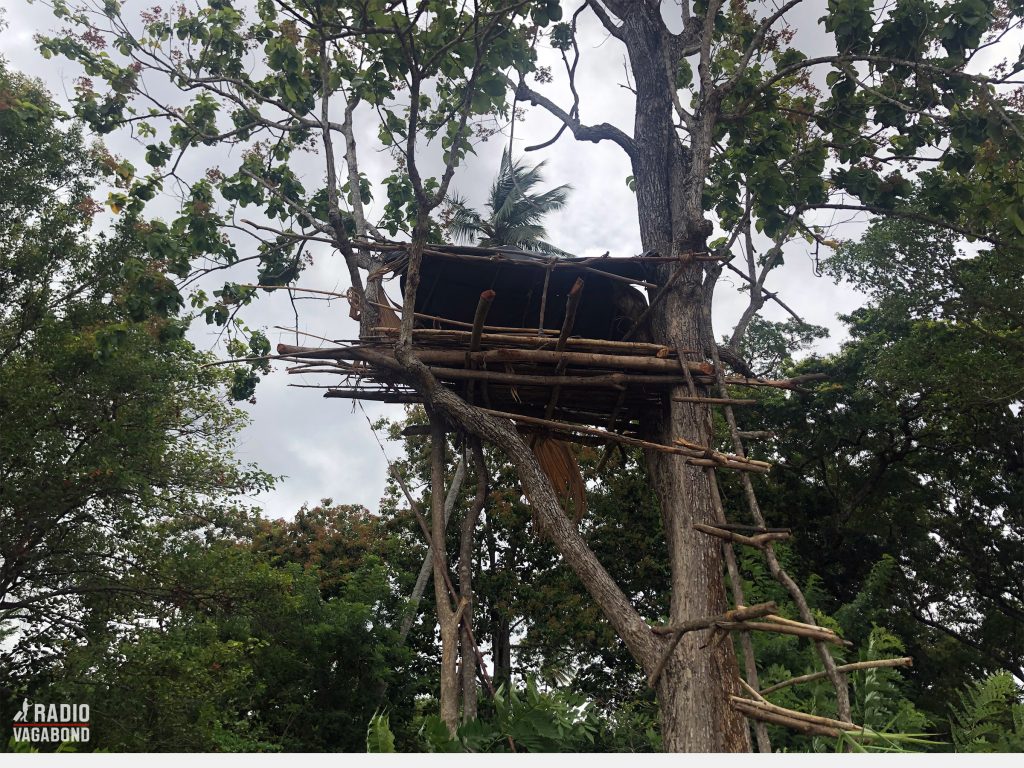 WATCH TOWER AT THE RICE FIELDS
We still had a bit of a walk to do before reaching our destination. On the way, we saw a tree hut close to a rice field. This hut is used for keeping guard at night and scaring animals that might away with firecrackers and drums.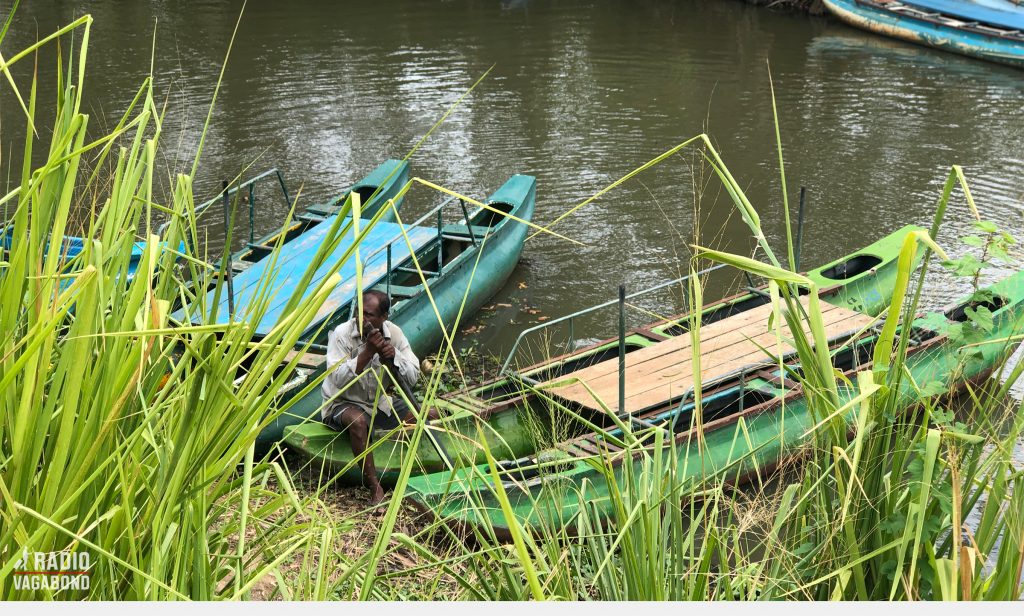 We crossed the river in a double-paired canoe – kind of a catamaran that they use for fishing.
The river wasn't that wide because it's dry season right now. In the wet season, the water level will rise a couple of meters and makes the river much wider.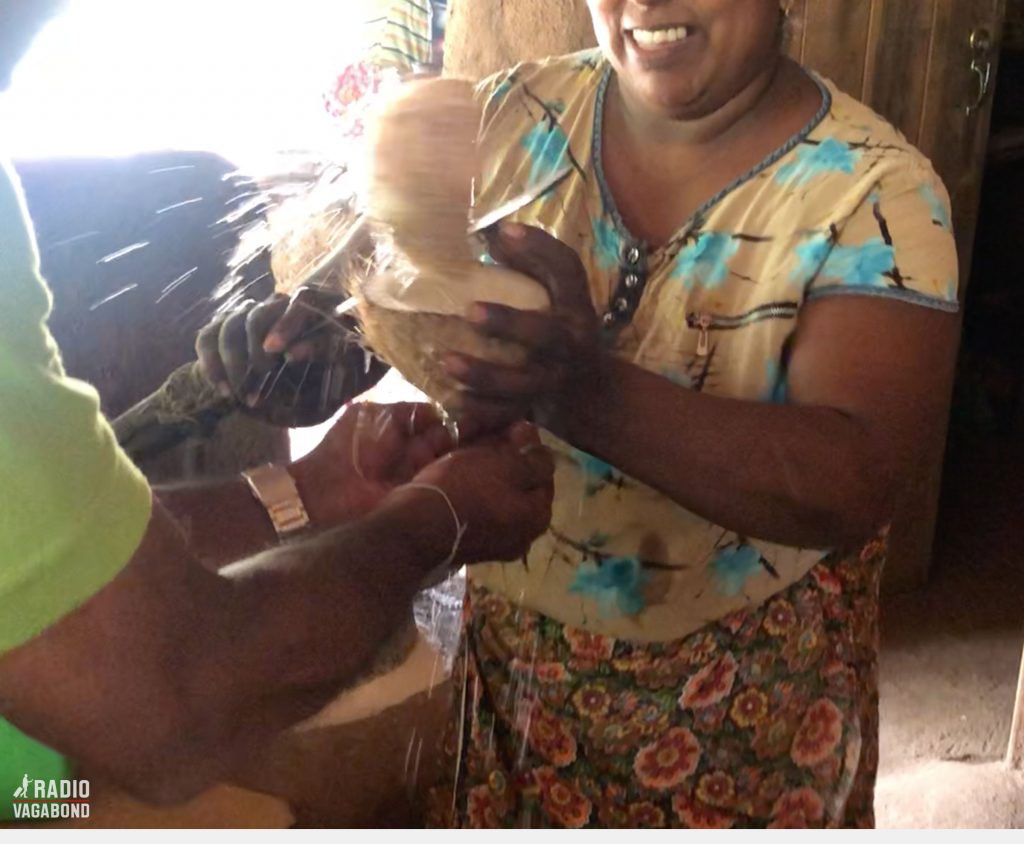 AUTHENTIC VILLAGE EXPERIENCE
We're heading towards the small village where we will experience a traditional authentic Village Lunch and get a local cooking demonstration. We also go on an elephant safari and see herds of elephants in the wild.
And then after a bit more walking, we got to a small house with a grass roof. Inside was a smiling Sri Lankan woman about to cut a coconut in half with a big knife. 
I get to taste a bit of the coconut milk, and then she starts grinding the inside of the coconut. She's using a piece of metal at the end of a stick she's sitting on. The desiccated coconut falls on a banana leave.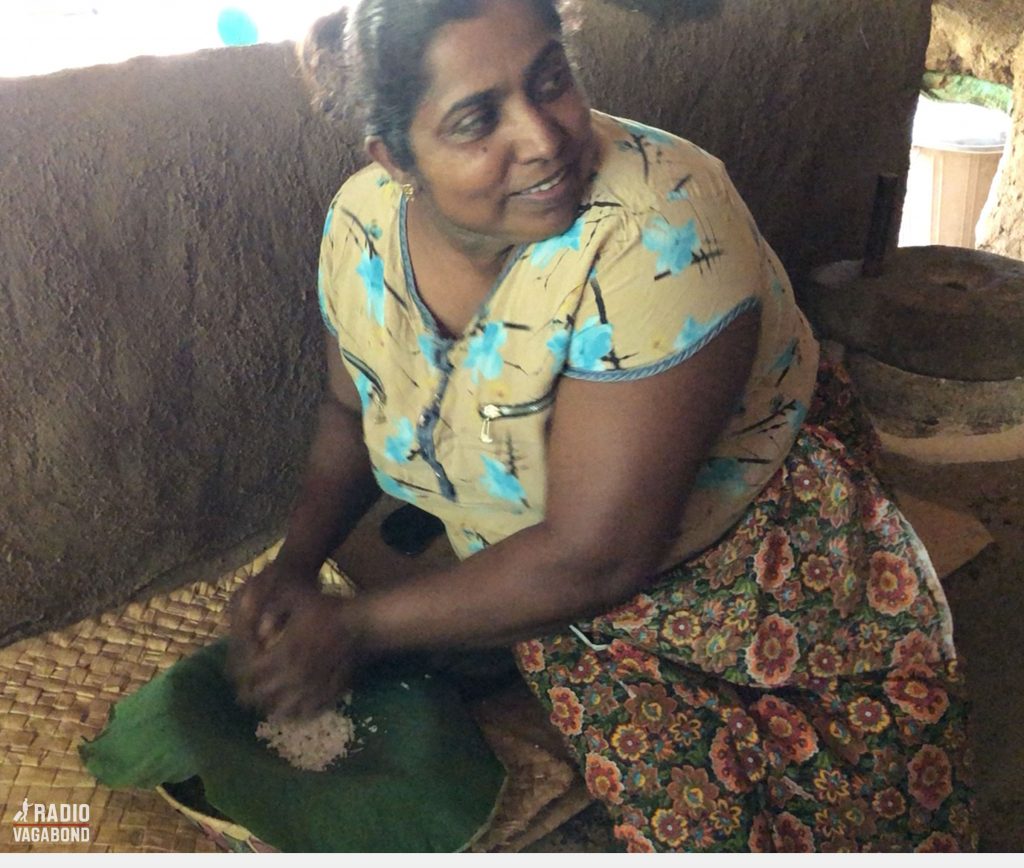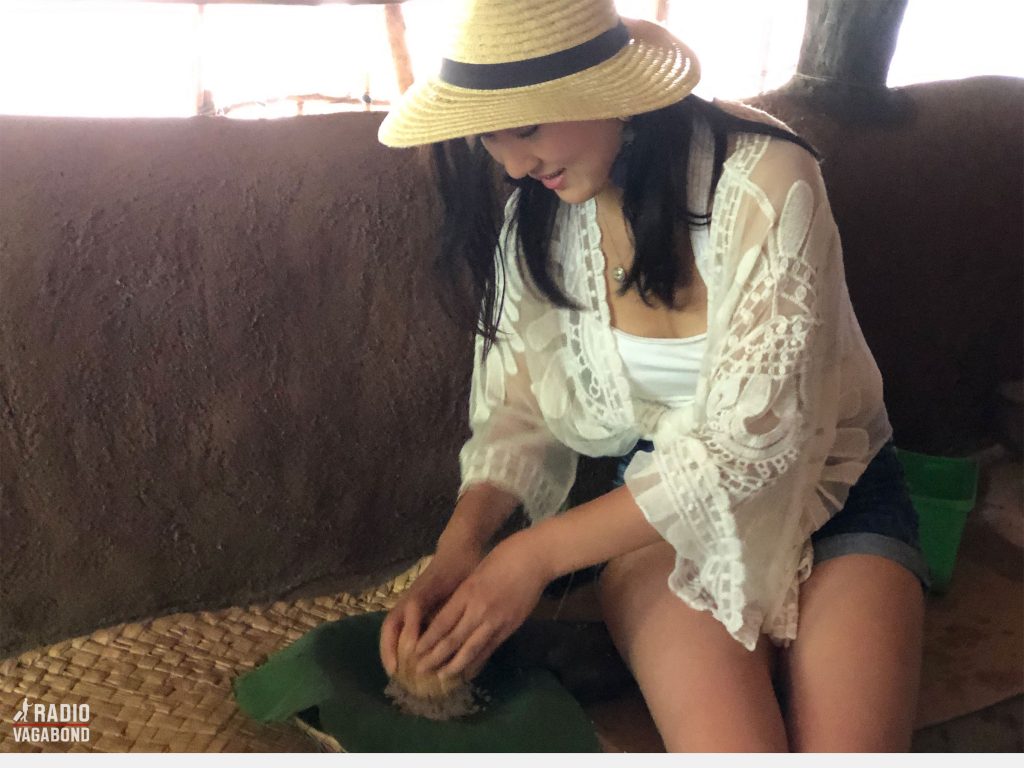 Viola tries to do the same.
It looks so easy, and yet we can see that she was very skillful. She has done this a million times before. Especially after Joanna and Viola from the group tried to do it, we realized that they just didn't have the same touch. 

We go outside where there's a big rock. Here she puts some chili and salt and starts rubbing with another stone the size of a loaf of bread. She adds the desiccated coconut, onion, and lemon, and rubs some more. This coconut paste was scooped back to the banana leave and was to be a little part of the meal that awaits us.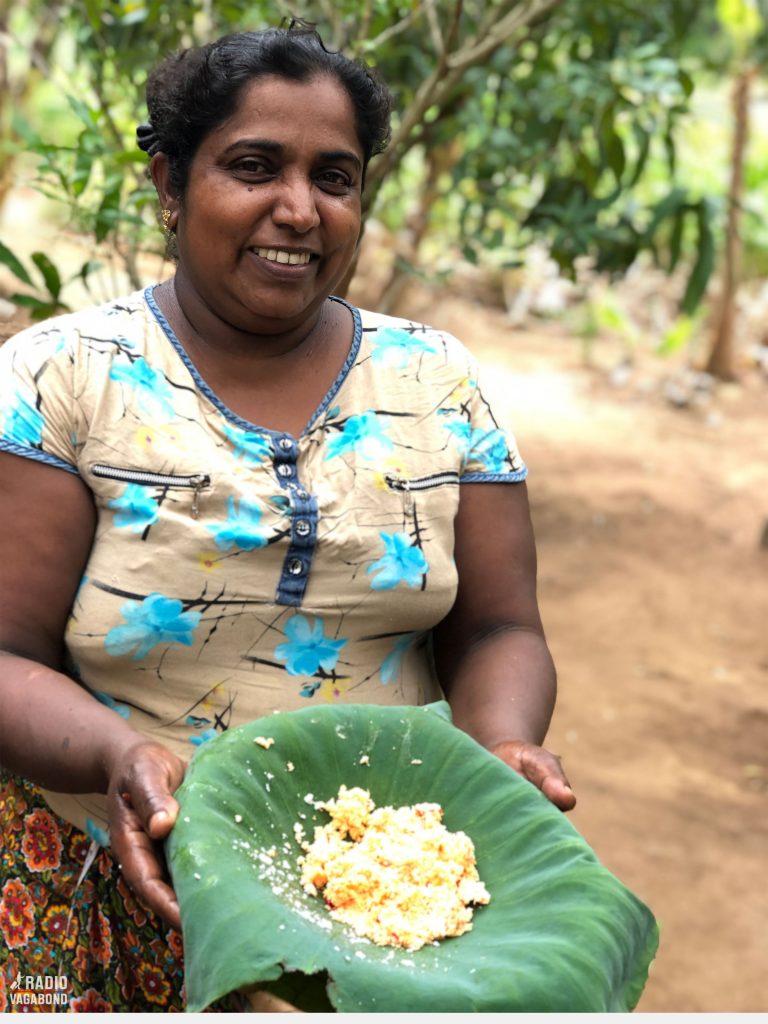 This coconut paste was to be a little part of the meal that awaits us. The rice and the chicken drum stick curry had been cooked over a fire outside the hut. And there was so much delicious food on this authentic Sri Lankan buffet that we were eating with our hands. 
There was so much delicious food on this authentic Sri Lankan buffet that we were eating with our hands.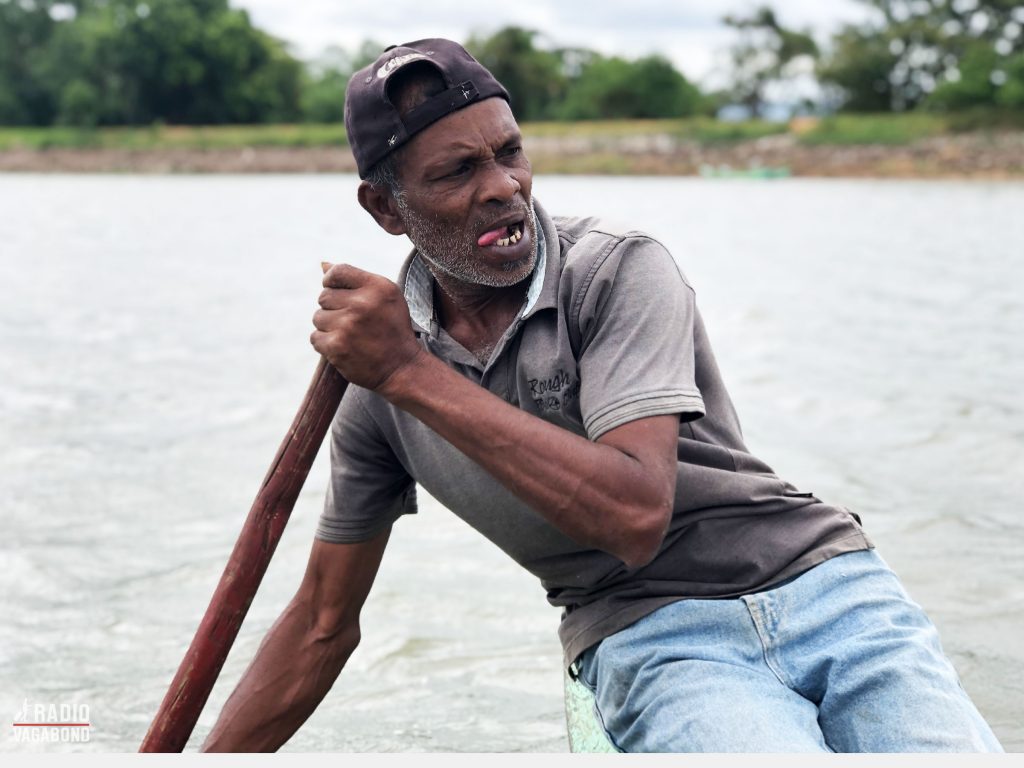 On the way back to the bus, we sailed a bit more in the catamaran canoes, following the river to a lake. Visiting this small village in the forest, having the authentic Sri Lankan lunch prepared like it's been done for centuries in a small hut with a grass roof, eating with our hands was truly an experience.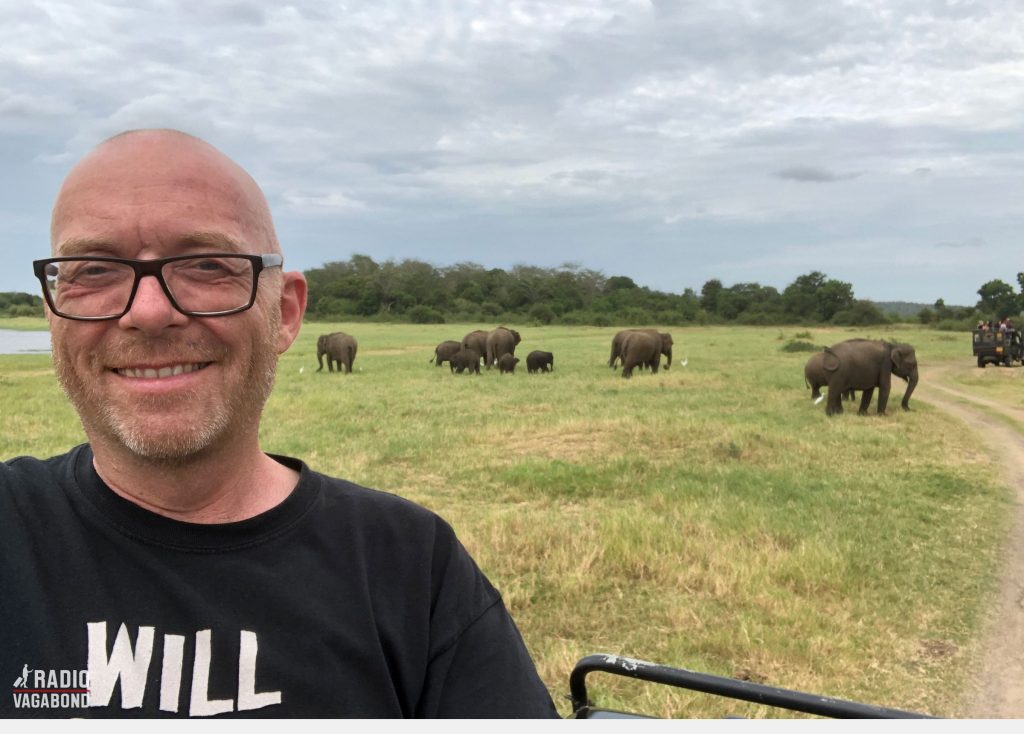 ELEPHANT SAFARI
But the afternoon was about to get even better: We were going on an elephant safari. For the next couple of hours, we were driving around a big area where close to one hundred elephants were roaming freely – like they are supposed to. 

We're in Minneriya National Park, best known for its large herds of Elephants – generally well over 100 elephants at a time nearby area of the Minneriya reservoir. It's situated in the south-central area of the island and comprises of grasslands, thorny scrubs, and many valuable species of trees.



Apart from elephants, species of deer, wild boar, water buffalo, and jackals are some of the wild animals found, along with a variety of avifauna that abounds the park.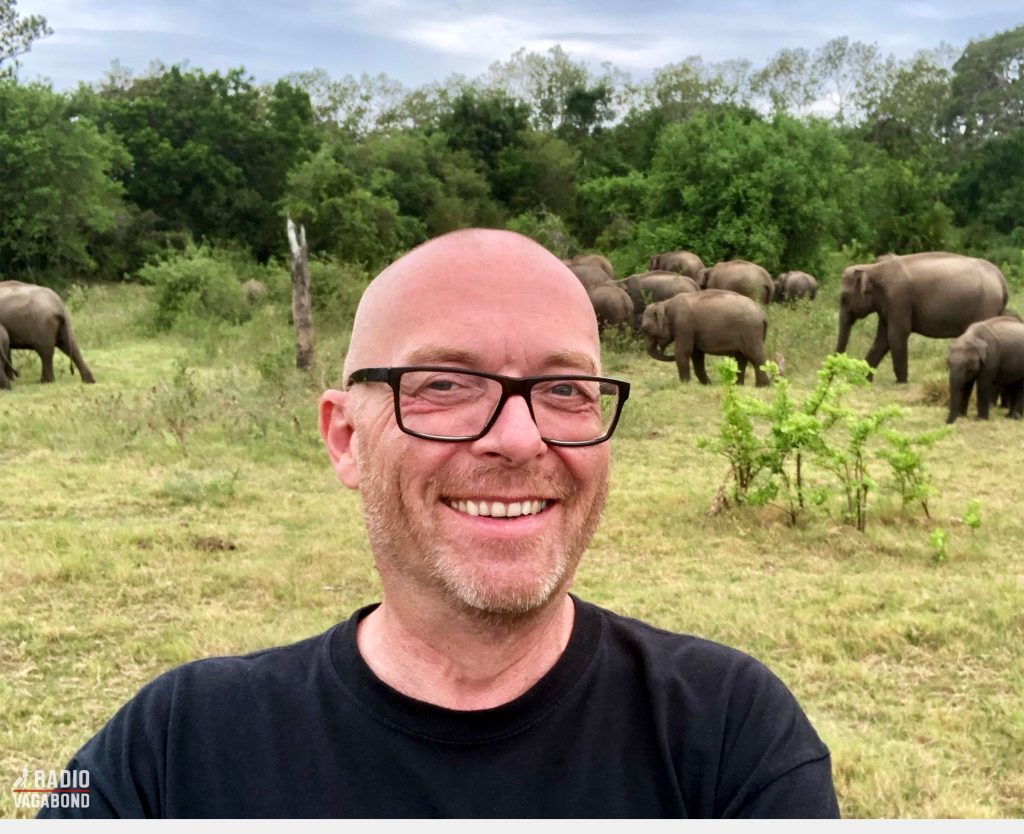 PALLE ON THE SOAPBOX:
DON'T RIDE ELEPHANTS 
If you've followed me for a while, and especially heard my episode from Chiang Mai in Thailand, you will know how I feel about elephant riding. 
You should never ever do that. The elephant back is not built for it, and it's just plain cruel to do so, in my opinion. 
A guy from the company that did the village experience and the elephant safari gave me his business card when we were having lunch. I noticed that it said "Elephant Riding" on the card, and I asked one of our guides if this was something they still do.
He went and asked him and got back to me and said that they stopped doing this more than a year ago. They just had more business cards. To me, that was a valid explanation, and I understood. I accepted that, so we went on the elephant safari.
As I'm editing this episode, I visit this company's website and see that they still have Elephant Riding on the site. If they have stopped it, and of course I expect that they did, I find it weird that they didn't remove those pages from the website. That's why I won't mention the name of the company here – as I usually would until I know for sure that they have stopped elephant riding.
If you go to Sri Lanka – and please do because this is a fantastic country; do the elephant safari, do the village experience, but do your best to make sure that you don't do it with a company that does elephant riding. Be responsible as a traveler. 
It might be a cultural thing, and I do respect the Sri Lankan culture and that they have to make money off the tourists, but I simply can't support something that is cruel to animals. So I would never go riding elephants, I wouldn't go to bullfighting or go swimming with dolphins (like I did in the Bahamas before I knew better). 
All this is my own genuine opinion.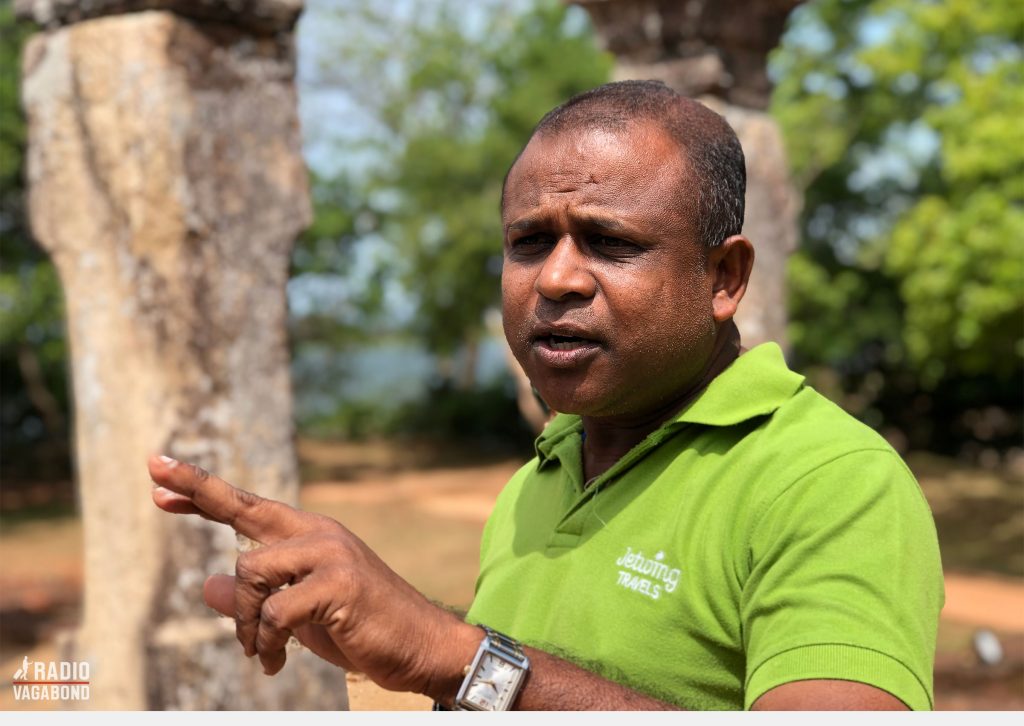 THE ANCIENT CITY OF POLONNARUWE
The next day we start at another place here in Sri Lanka with a name that's difficult to say but worth visiting. The Ancient City of Polonnaruwa is a UNESCO World Heritage Site and the second most ancient of Sri Lanka's kingdoms. 
The Chola dynasty first established Polonnaruwa as their capital in the year 993. Today the ancient city of Polonnaruwa remains one of the best planned archaeological relic cities in the country, standing testimony to the discipline and greatness of the Kingdom's first rulers. And as a fun fact, it was used as a backdrop to the Duran Duran music video Save a Prayer in 1982. It's a beautiful place that also holds some beautiful statues.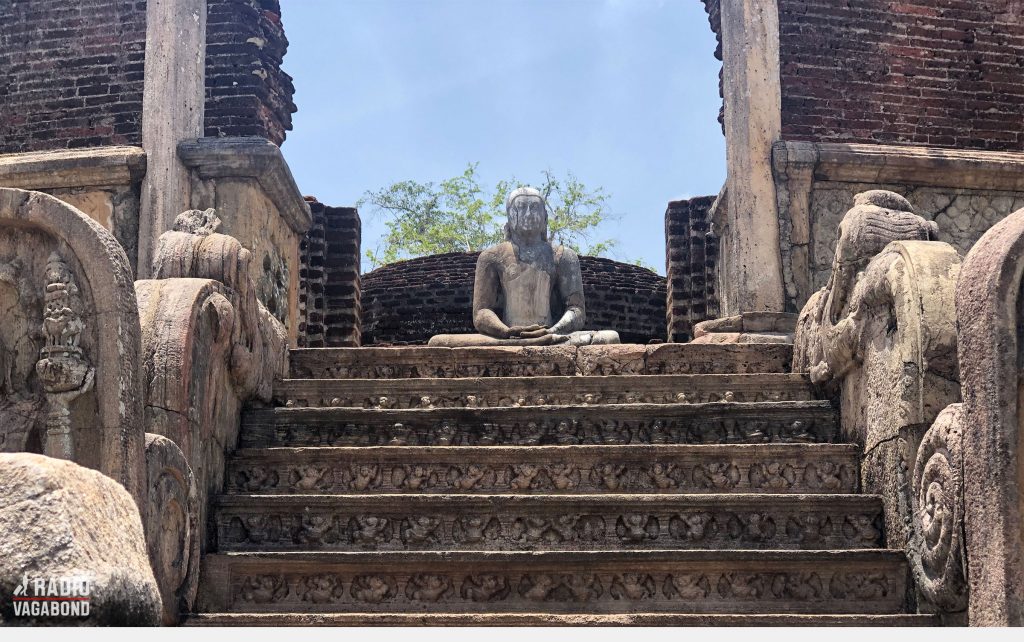 SURPRISE AT HOTEL SIGIRIYA 
The next day we were going to lunch when some surprising turned up in the outskirts of a forest. 
The lunch was to be had Hotel Sigiriya – with a magnificent view of the iconic Sigiriya rock, that we were going to climb in the afternoon. And boy, were we in for a surprise.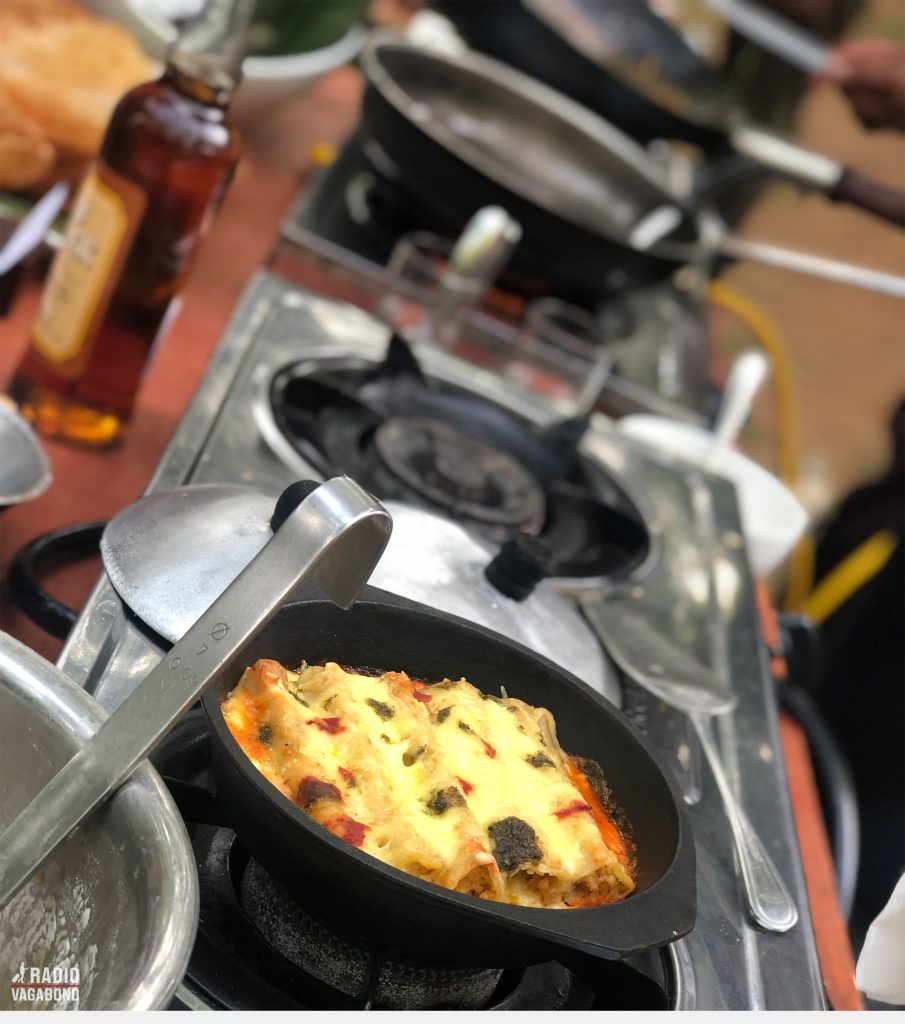 First, we stop at the edge of a forest with several tuk-tuks are waiting for us, decorated with flowers and balloons.  
After a short drive, we get to a luxury hotel and are greeted by local musicians and dancers that take us to the back of the garden, passing the pool area. We are greeted by local musicians and dancers that take us to the back of the garden.
Here we could experience how they prepare the traditional food that we were having for lunch. It's in the style of a traditional Sri Lankan village that we saw earlier.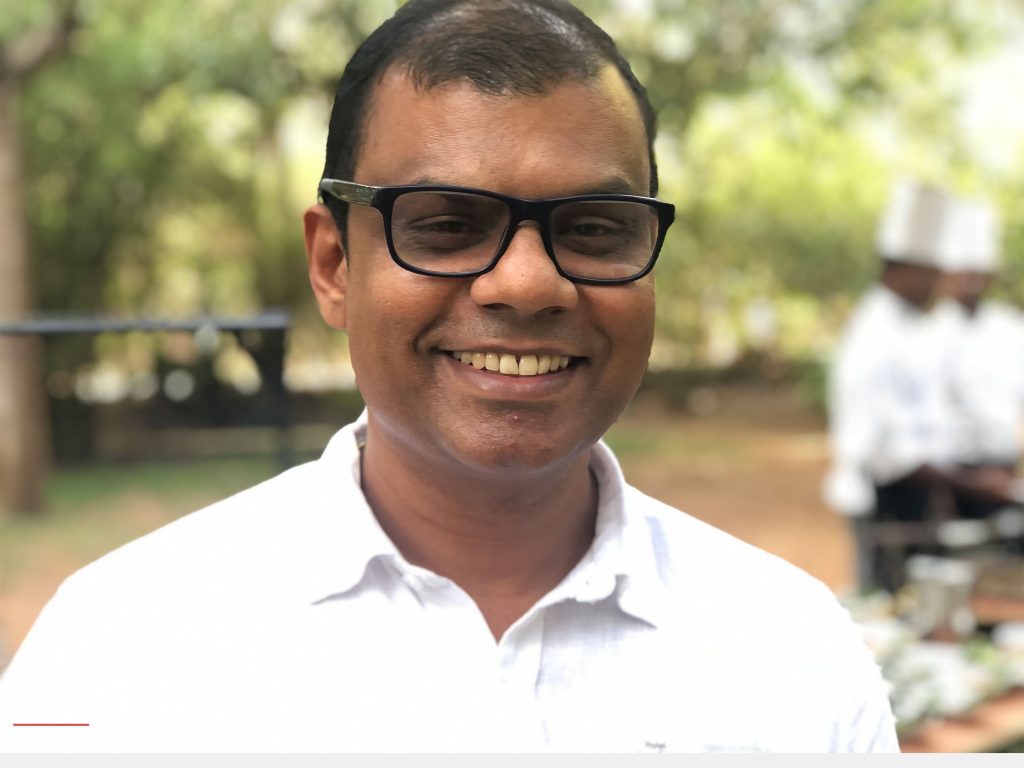 I asked the general manager of the hotel, Suresh, to explain where we are.
"We're in the center of the Cultural Triangle, at Hotel Sigiriya, with a nice pool area, where you can see the Sigiriya Rock while you're dipping."  
He tells me that 90% of people visiting Sri Lanka come to this part of the island, even though it's not near the coastline. They come for hiking, bird watching, and to see the Sigiriya Rock. Also, it's quite normal to see elephants crossing the road here.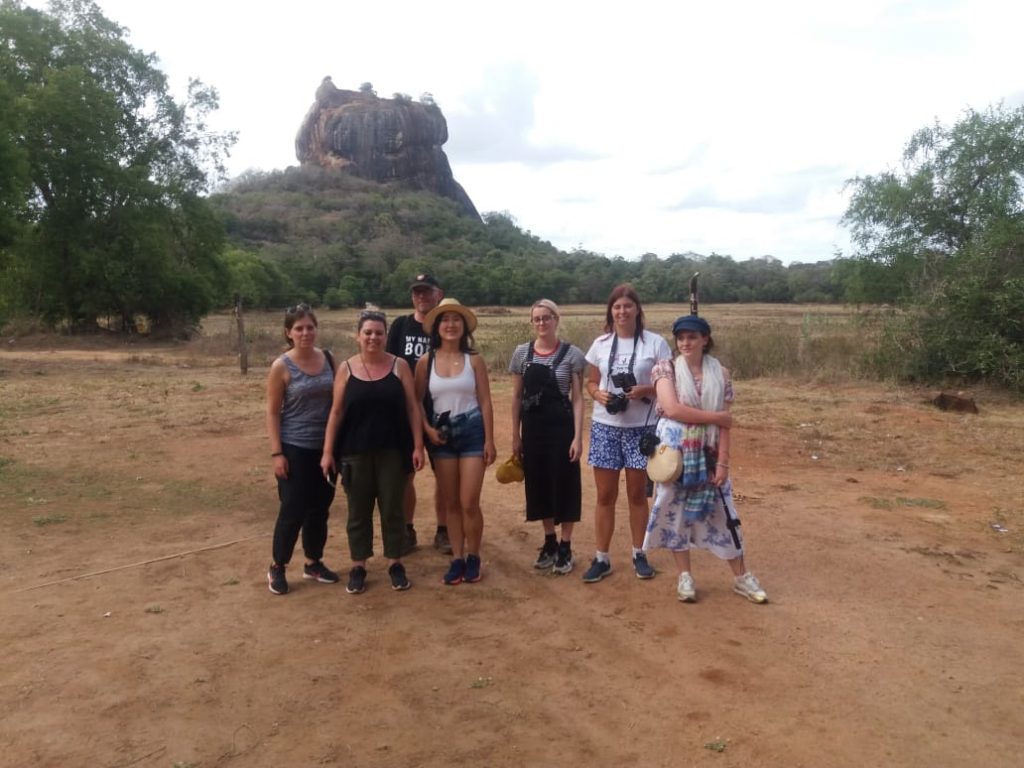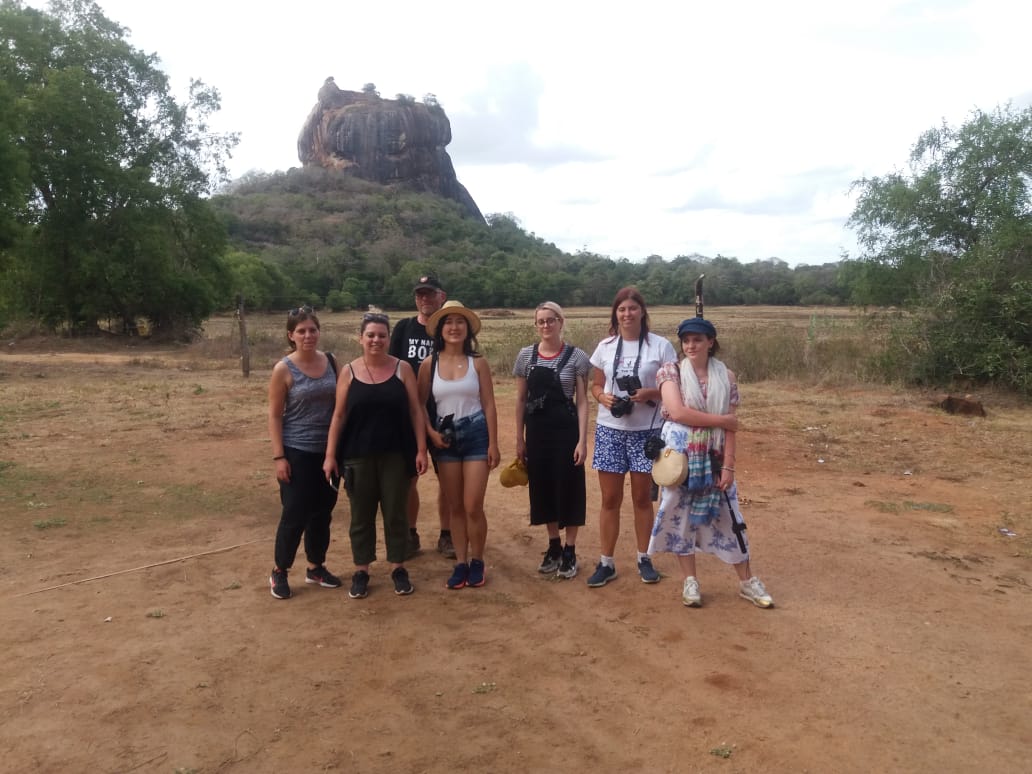 CLIMBING SIGIRIYA ROCK 
In the afternoon, we were hiking up to the top of Sigiriya Rock – also a UNESCO World Heritage Site. It holds an ancient rock fortress and is nearly 200 meters (660 ft) high.
This unique Rock Fortress or "castle in the sky" is a massive monolith of red stone. It got the name Sigiriya or in English: "Lion Rock" because the entrance to the climb to the summit is reached between the paws of a lion. It was a bit tough but so worth it to get up there.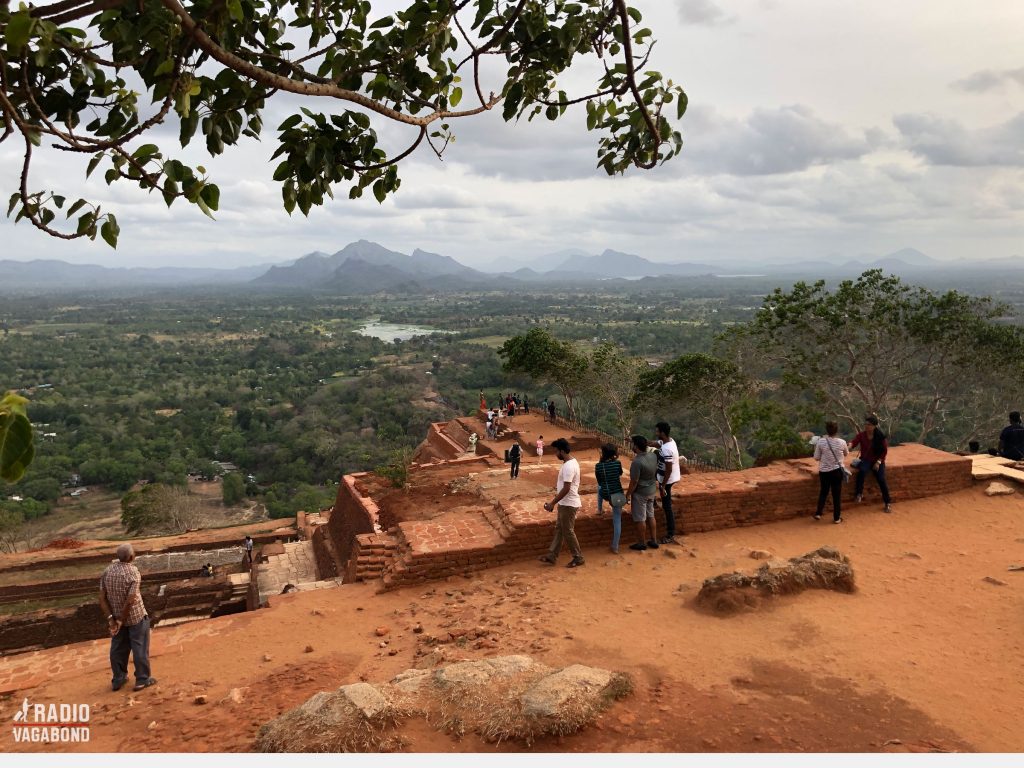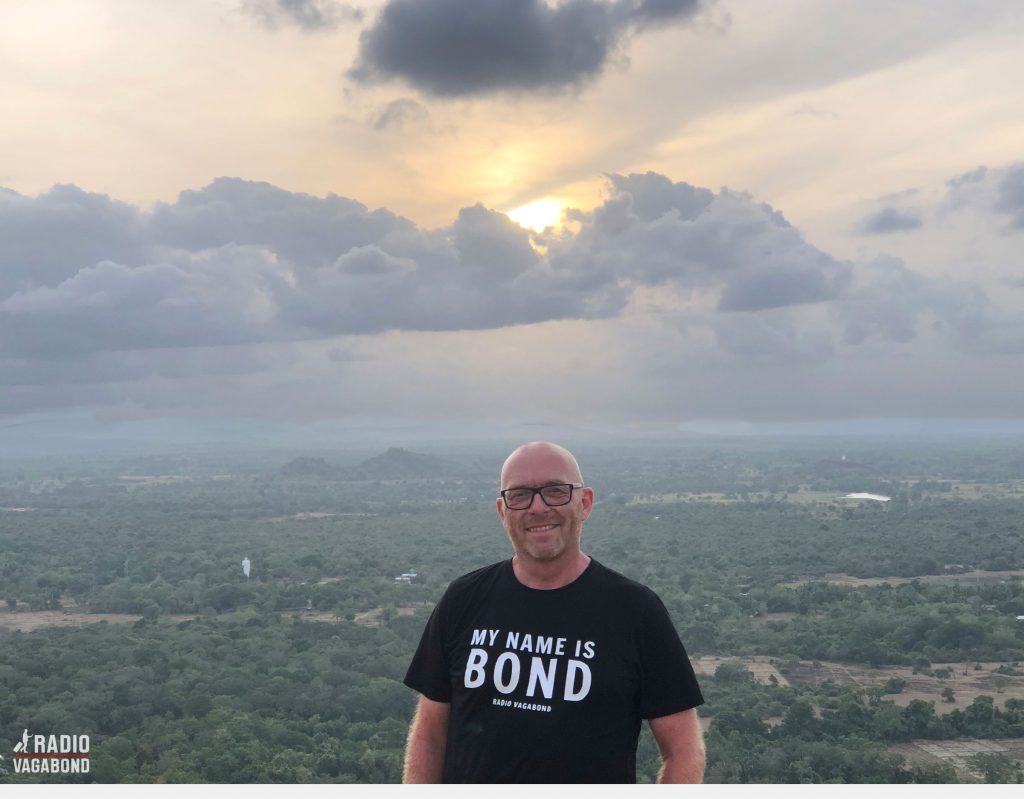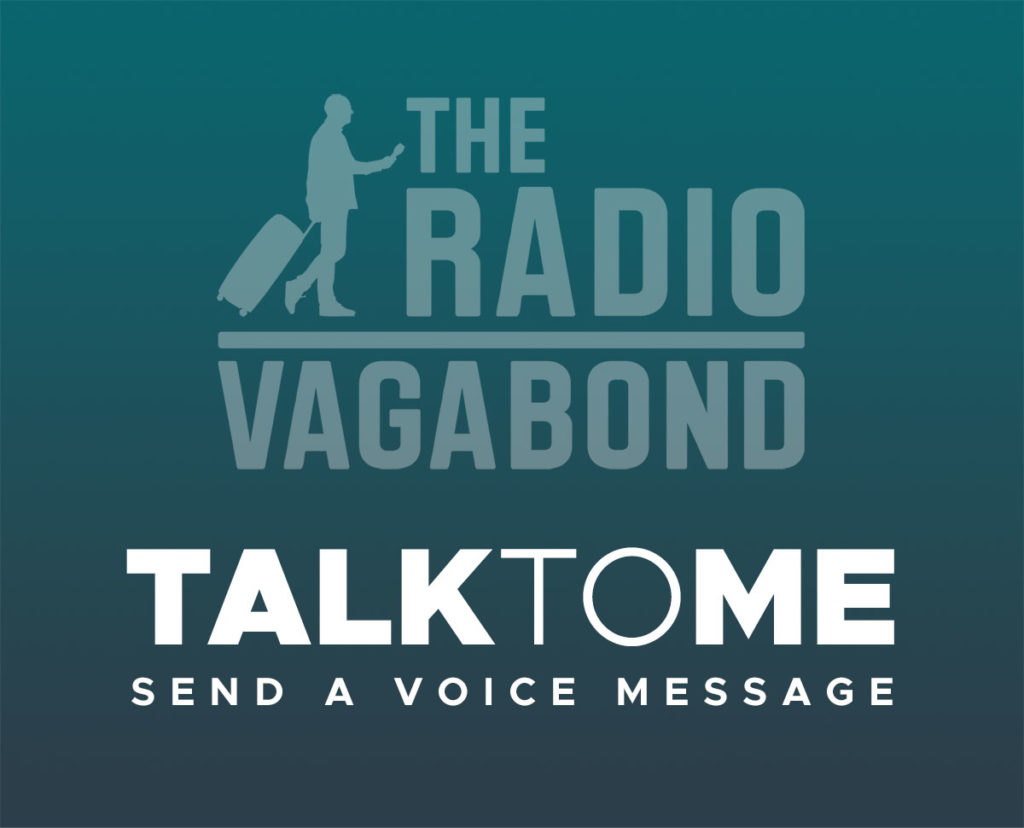 Either way, I would love to hear from you. It's so nice to know who's on the other end of this.
SPONSOR
A special thank you to my sponsor, Hotels25.com, who always provide me with the best, most affordable accommodation wherever I am in the world.
Hotels25 scans for prices on the biggest and best travel sites (like Booking.com, Hotels.com, Agoda and Expedia) in seconds. It finds deals from across the web and put them in one place. Then you just compare your options for the same hotel, apartment, hostel or home and choose where you book.
When you book with Hotels25, you get access to 5,000,000 hotel deals. And it's "best price guaranteed."
DISCLAIMER:
This trip was made possible by Sri Lanka Tourism, but the content is with my own direction and genuine opinions.