Before I tell you about drinking the world's most expensive coffee made from beans that have passed through a cat and pooped out, let's kick off this week's episode with an Balinese language lesson.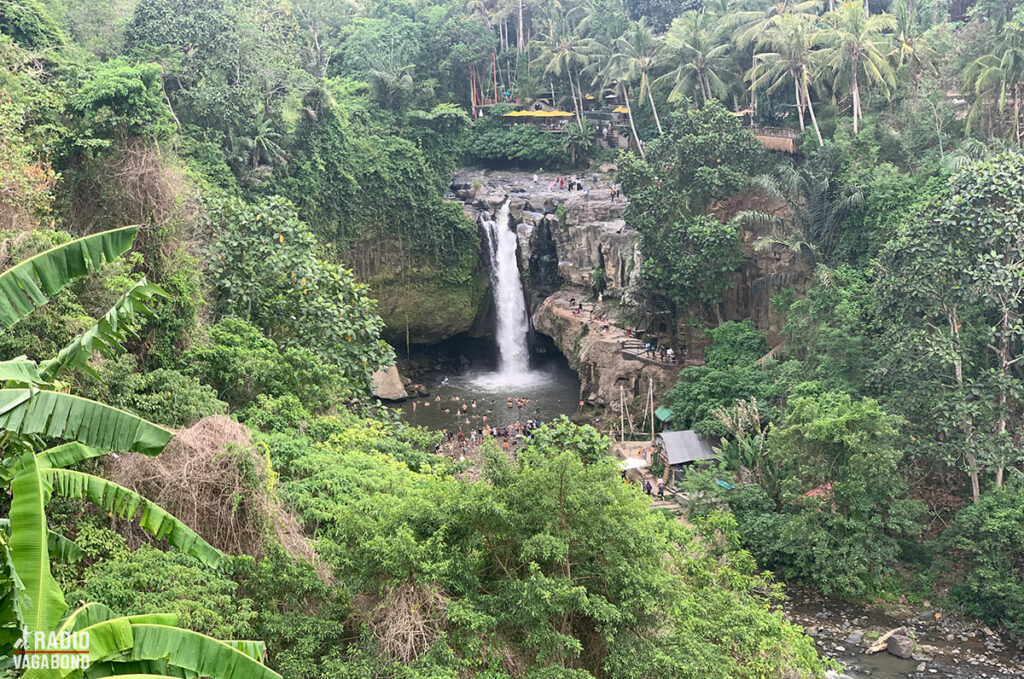 I always try to learn a few words and phrases when I visit a new place. For today's The Radio Vagabond language school lesson, we'll learn essential Balinese phrases:
Hello: Om suastiastu 
Good morning: Rahajeng semeng
My name is Palle: Wastan tiang Palle
Thank you: Suksuma
Bali is an island province in Indonesia, so obviously, they speak Indonesian, but they also have their own language – Balinese.
Despite practising the basics above, I still managed to mess up suksuma (thank you) when I met Putu, our local guide. Luckily for me, Putu was a good guy and didn't make me feel silly.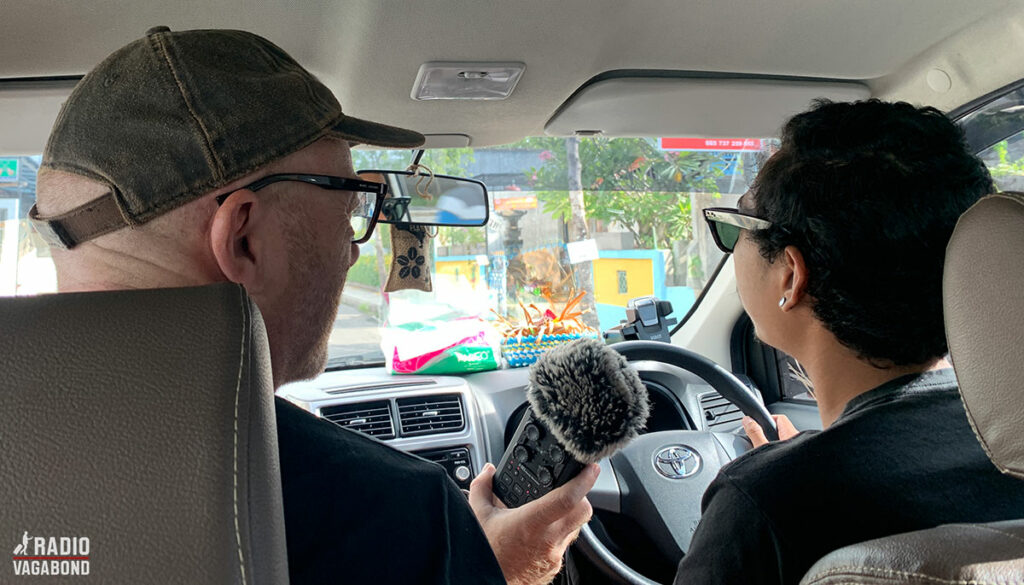 FUN WITH NAMES
Putu explained a few funny things regarding people's names on the island of Bali. In general, Balinese people name their children depending on the order they are born, and the names are the same for both males and females:
The firstborn child is named Wayan, Putu, or Gede.
The second is named Made or Kadek.
The third child goes by Nyoman or Komang.
And the fourth is named Ketut – like the old wise Balinese man in Eat, Pray, Love (which translates to" little banana")
So, what do they call their fifth child, you may ask? Well, they simply start over again and name him or her Wayan, Putu or Gede.
Anyway, together with a few friends, we asked Putu (a firstborn) to take us around to some interesting places in Bali. But before we explore, let's learn more about this beautiful island.
7 INTERESTING FACTS ABOUT BALI
Bali is a small, well-known beautiful island in Indonesia (Southeast Asia). The capital, Denpasar, is the island's largest city and home to the international airport. But the most well-known Balinese places are probably Ubud (in the centre of the island) and the beach town of Canggu (on the western part of the island). Both are hotspots for digital nomads like me.
2. HINDUISM IN A MUSLIM COUNTRY
Bali is the only Hindu-majority province in Muslim-majority Indonesia. 86.9% of the population are devoted to Balinese Hinduism.
3. BALI IS A SMALL ISLAND
Bali is 95 miles (153 km) from east to west and only 69 miles (112 km) from north to south. It has a population of 4.3 million people.
4. TOURISM IS VERY IMPORTANT
Pre-Covid, they had almost 6.3 million tourists stop by every year. Tourism is the beating heart of their economy, as around 80% of the island's economy depends on tourism. As you can imagine, it's been a tough couple of years for Bali during COVID. The 6.3 million visitors in 2019 dropped to less than 1.1 million in 2020.
5. NEW YEAR'S EVE IS QUIET
Unlike almost everywhere else in the world, there are no big parties on New Year's Eve in Bali. The day is called Nyepi, and it's a day of silence and meditation. The whole island shuts down, and no work, travelling, or even noise is allowed. When I heard this, I thought, "What…? That's what I experienced as I (sort of) remember a big New Year's Eve party here". That's because Nyepi is not celebrated on December 31st but mainly in March.
6. BABIES NEVER TOUCH THE GROUND
In their first few months, Balinese babies are thought to be connected to the spirits and to stay connected, and they should not touch the ground. When they are about three months old, the infants finally touch the ground, and their family holds a big celebration to mark the occasion.
7. THEY ONLY HAVE TWO SEASONS
It's moderate throughout the year, and Bali has only two seasons: the dry season (April to October) and the wet season (October to April).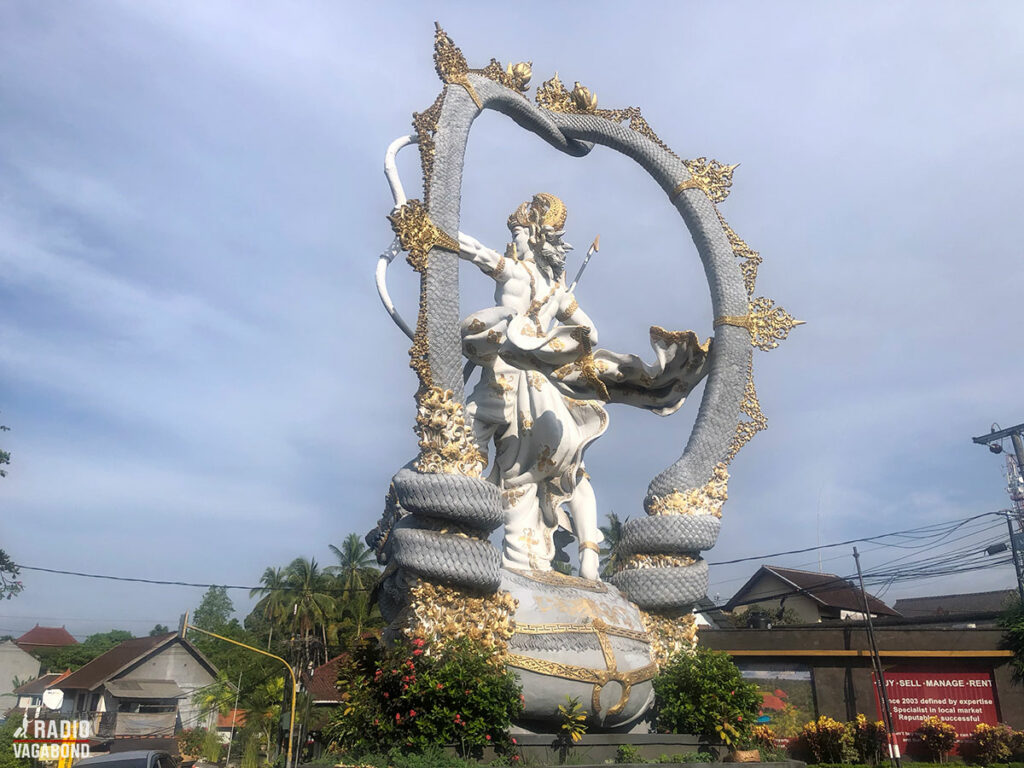 Putu picked us up in Canggu. He had a great sightseeing adventure in store for us, including a visit to the cat poop cafe (well, not really, but kind of). More on this later.
On the way to the coffee farm, we passed the cultural centre of the island: Ubud.
We drove past the famous Ajuna Statue, which Putu explains is part of the Hindu religion. We talk about how tolerance is a major part of the island culture.
Back in the car, we chatted more about the funny name situation on the island, and Putu decided to tell a joke. 
Let me set it up: Four people get on a plane. One is from Paris, one is from Denmark, and the other two are from Bali, named Putu and Made.
"The Parisian drops her perfume but doesn't mind because there is a lot of perfume in Paris. Then, the Danish drops his chocolate but also doesn't mind because there is a lot of chocolate in Denmark (apparently). Then, Made drops Putu out the window, but doesn't mind because there are many Putu's in Bali…"
I love Balinese humour, even though I don't always totally understand it. Like, when Ketut told a joke to Julia Roberts in Eat Pray Love… that Ketut cannot fly on an airplane because Ketut has no teeth.
Julia Roberts seemed to get the joke. Somebody, please write to me and explain that joke to me.
Speaking of jokes, a few cat poop jokes coming up:
COFFEE LUWAK (AKA CAT POOP COFFEE)
We eventually made it to the coffee plantation that makes the world's most expensive coffee: Coffee Luwak – or Kopi luwak.
It is made from partially digested coffee cherries that have been eaten and pooped out by a shy cat-like creature called the Asian palm civet.
Then, hard-working coffee farmers go through the cat poop and dig out the coffee which they use to make Kopi Luwak. No wonder it's the most expensive coffee in the world.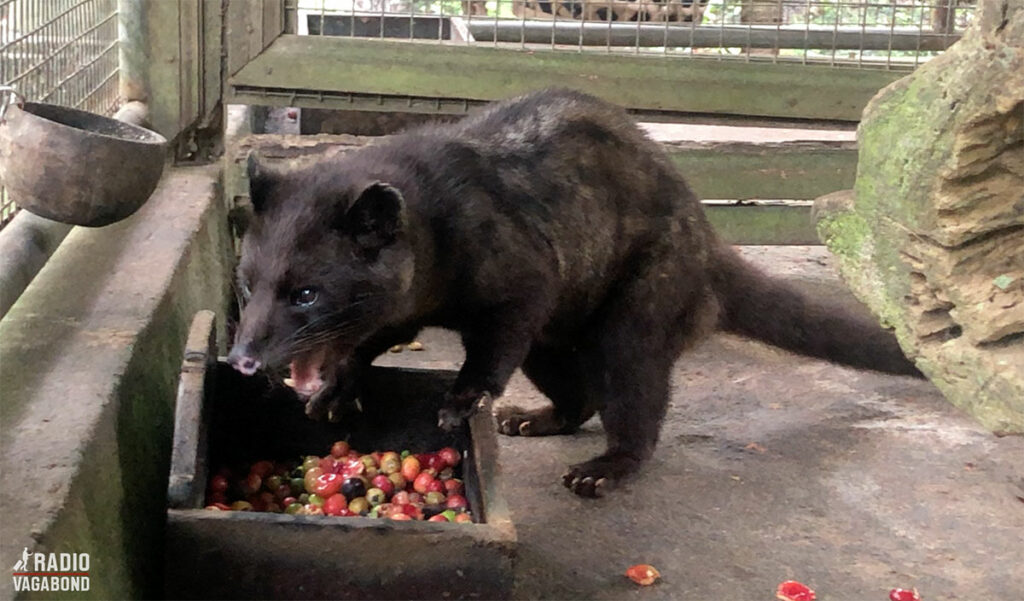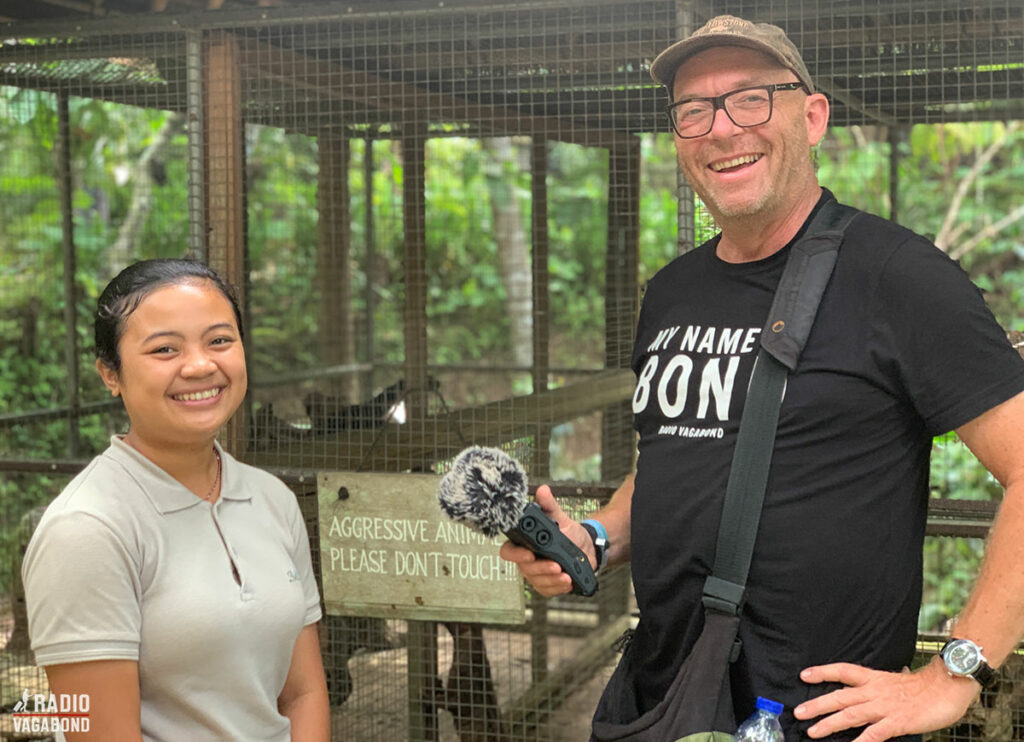 At the plantation, we met our female guide, who is probably called Putu or Kadek but goes by the name Monica, who tells us more about how the Luwak Coffee is made.
"They eat any kind of coffee bean, as long as the quality is good. They don't chew the bean, so it passes through in its entirety."
As she was talking about the process, I couldn't help wondering how in the world they thought of taking coffee beans out of cat poop and use them to make coffee. Even thought, I REALLY want my coffee in the morning, there are limits.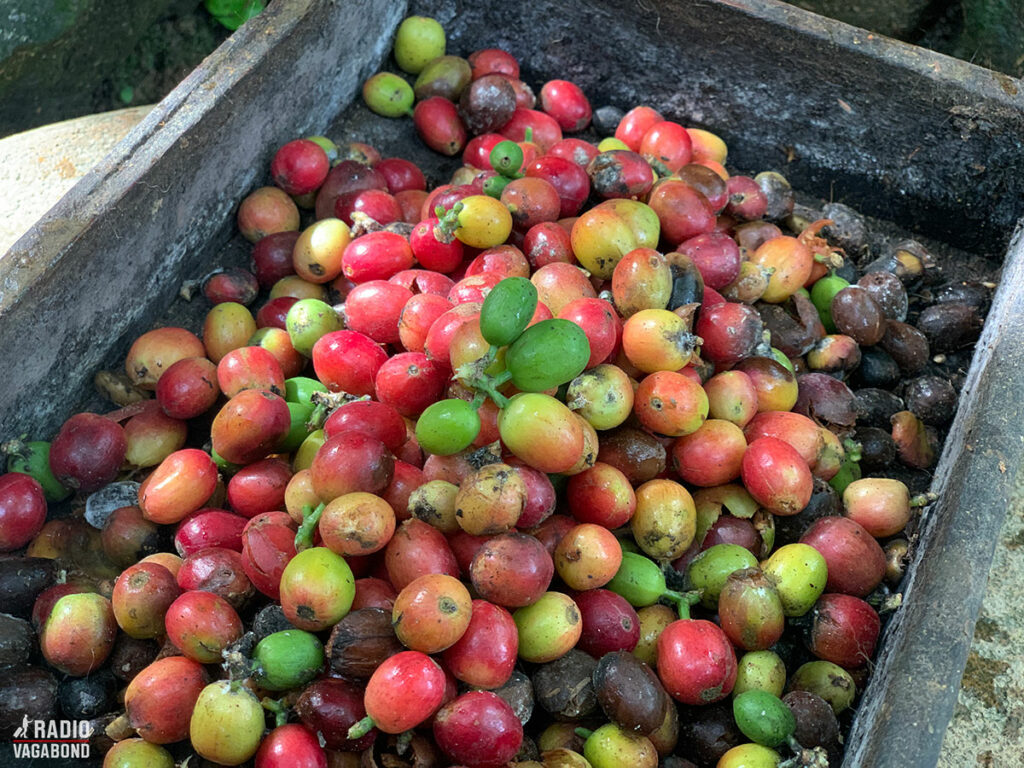 "They eat any kind of coffee bean, as long as the quality is good. They don't chew the bean, so it passes through in its entirety."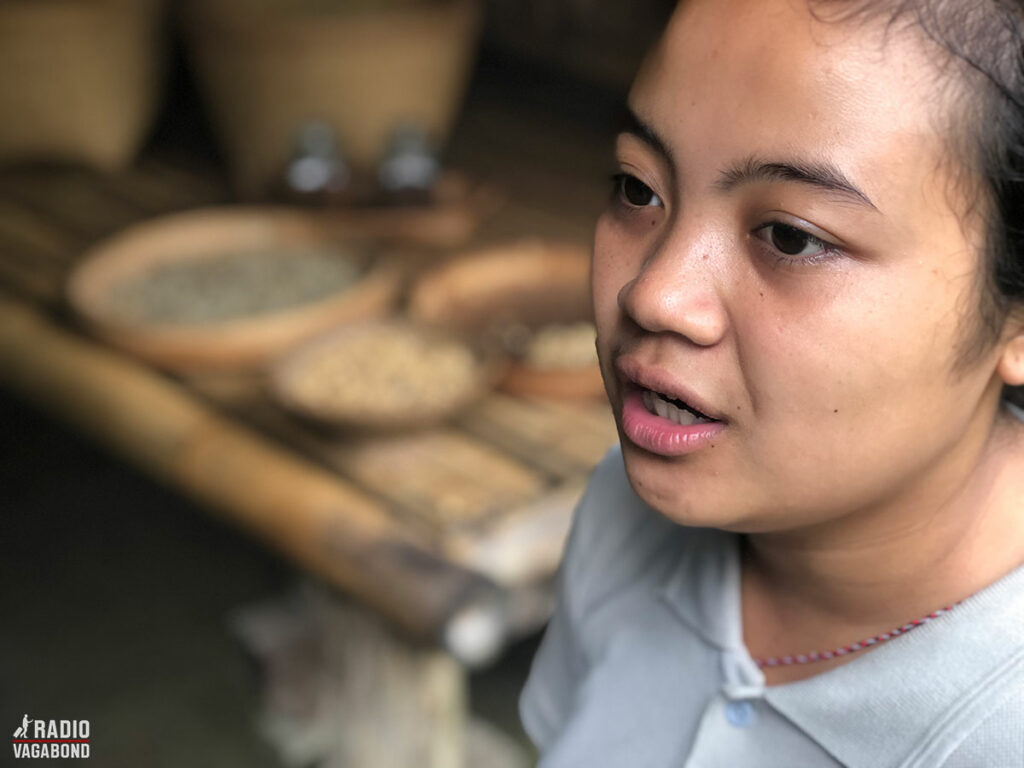 As she was talking about the process, I couldn't help wondering how in the world they thought of taking coffee beans out of cat poop and use them to make coffee. Even thought, I REALLY want my coffee in the morning, there are limits.
"The first time this process was accidentally discovered was in Sumatra in the early 18th Century. The farmers realised that a lot of their coffee beans were disappearing, and they soon found them again in the poop of the Asian palm civets roaming the grounds. The farmers used the poop beans to make coffee and discovered that it had a unique taste thanks to the intervention by the civets."
The part of the coffee plantation that is open to the public has a cage with a few Asian palm civets, a beautiful café area with a stunning view, and a few coffee plants.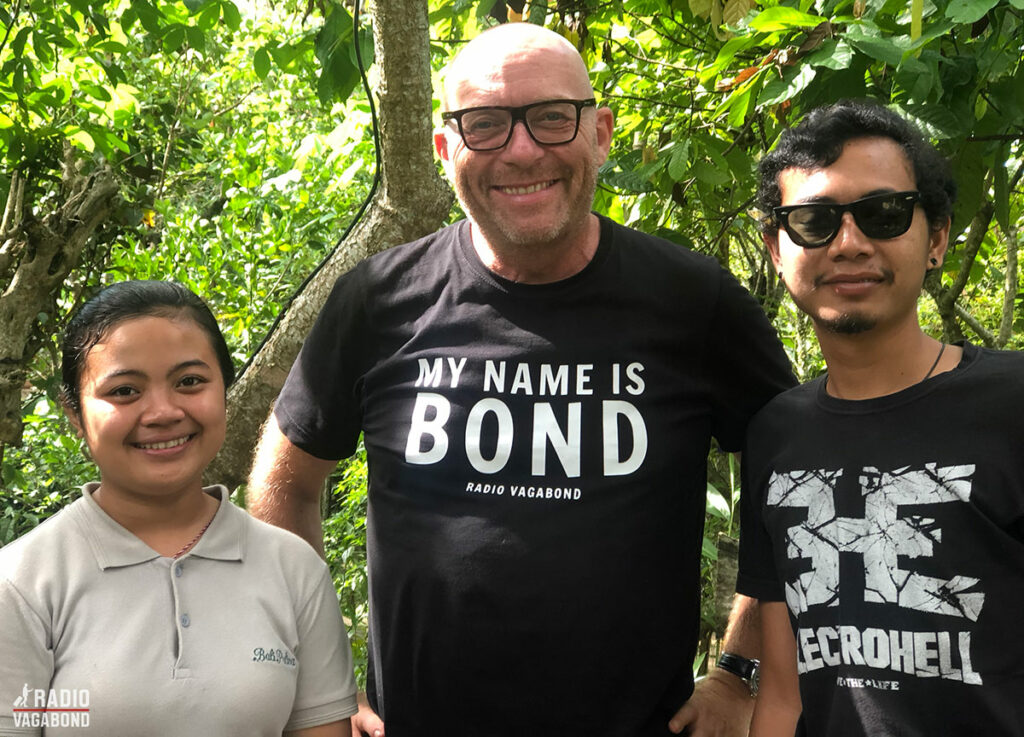 Monica tells us that there is a bigger area outside this part with many more plants and that they harvest every six months. But Luwak Coffee is not seasonal and is available all year round. She then takes us on a tour of the plantation where we ate fresh coffee beans (from the plant, from the plant, I promise…).
"We clean the beans three times and then roast them. In the roasting process, the soft skin of the beans burns away, leaving the quality bean. Each roast takes about 45mins per kilogram".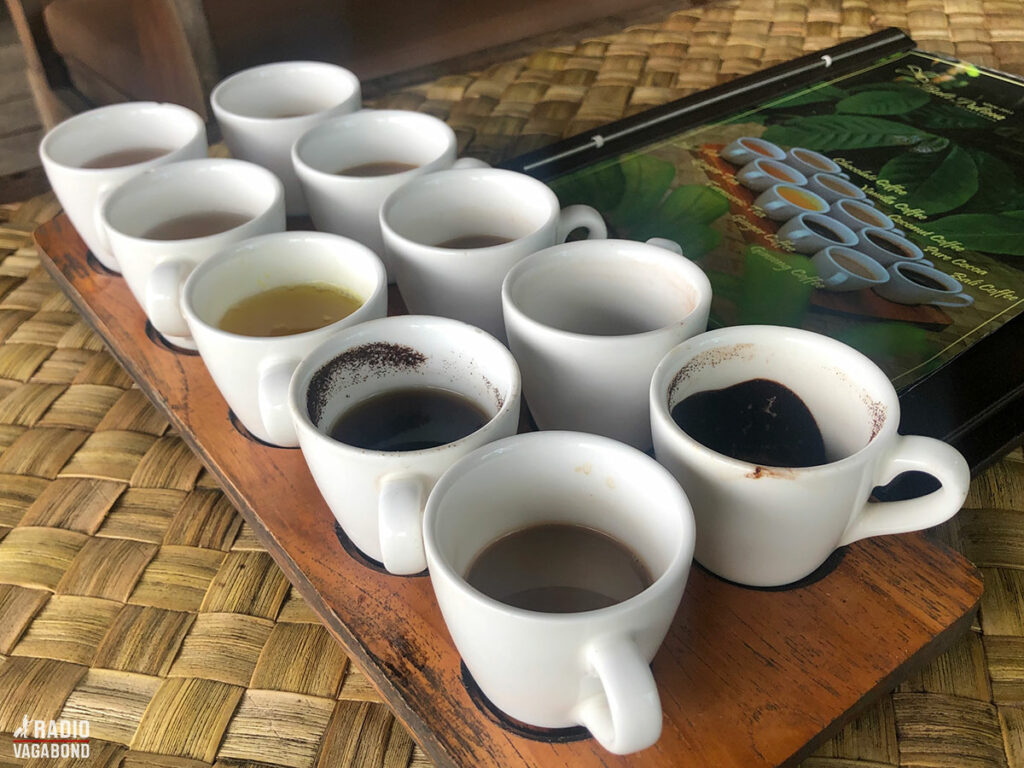 After we toured the farm, we were served ten small cups of coffee. One of them was the very special and super expensive Luwak Coffee. Is it as good as the price tag indicates?
Yes! It was really good… even if the beans had been inside a cat a few hours prior, probably.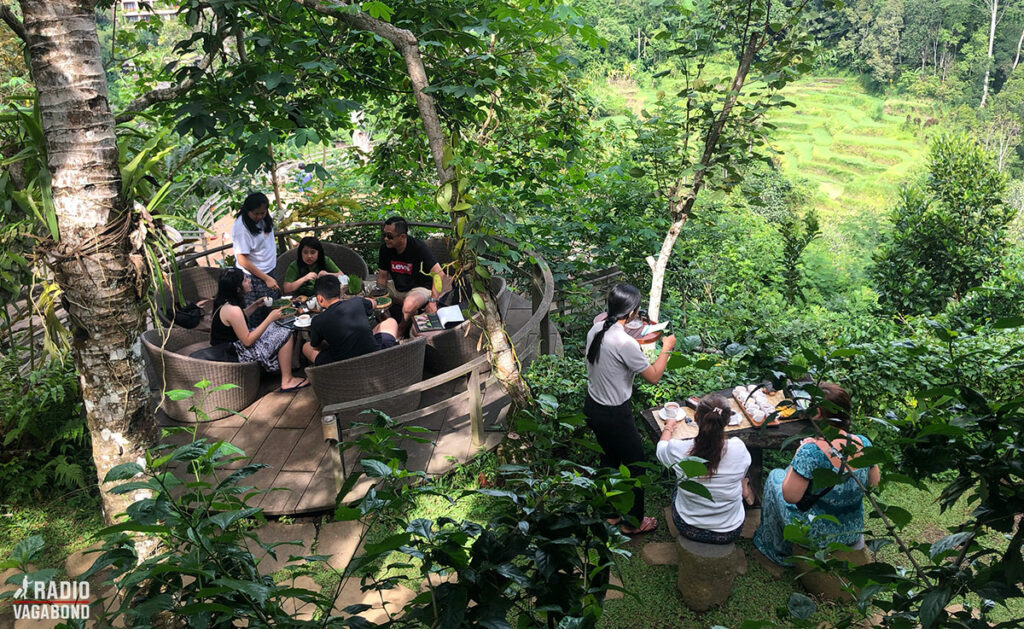 PURIFIED IN HOLY (BUT MAYBE DIRTY) WATER
Our next stop was the Hindu Balinese water temple called Tirta Empul Temple – in Balinese: Pura Tirta Empul.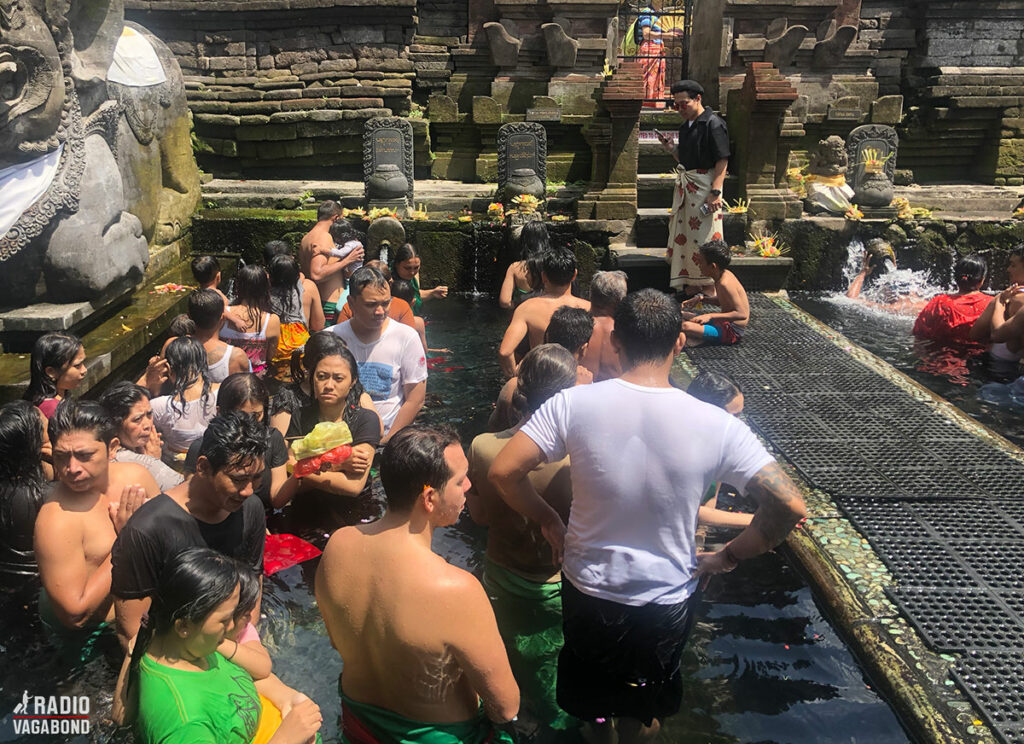 Tirta Empul means 'Holy Spring' in Balinese. The temple compound consists of a bathing structure, famous for its spring water that Balinese Hindus consider holy, so they go here for ritual purification. Putu explains:
"People come here for healing. There are 14 different water streams, and each has a different function. Like, one is for the heart, the other for the skin, etc. You must go through each water stream in order. Before entering the water, you must pray and bless your body for healing. Once you are in the water, you must give a gift of a flower to the statues." 
There are so many people lined up to go in the holy water. For most of the time, Tirta Empul is believed to be a source of clean water for ritual bathing. But, according to a report in 2017, authorities were investigating reports of water pollution and health risk at the Tirta Empul Temple.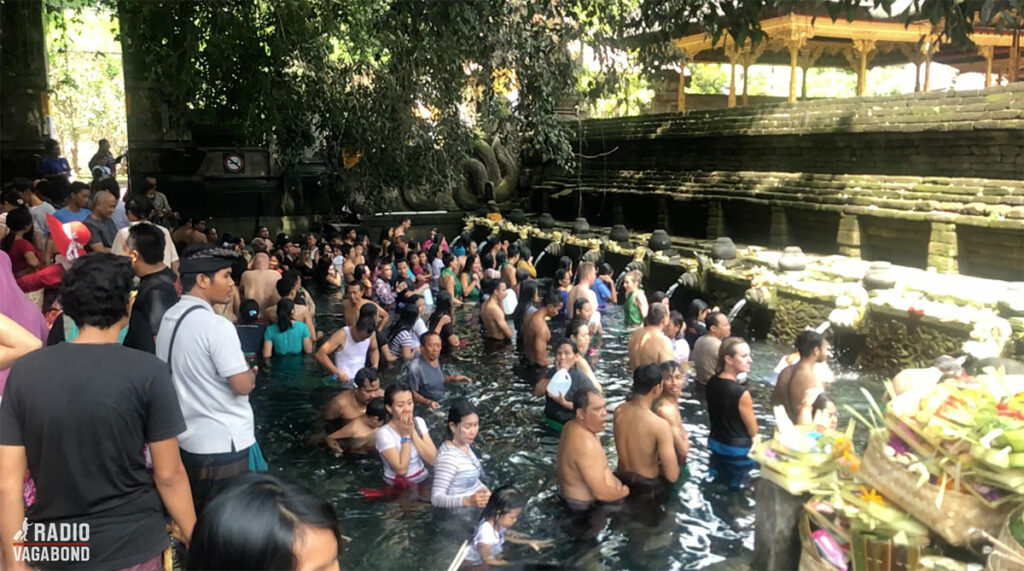 So, if you go in, try not to drink any of the water.
Until the next time, my name is Palle Bo, and I gotta keep moving. See you. 
If you want to hear more from Bali, go back and listen to episode 184 where I spent a few days at an amazing place called Fivelements Resort.
If you like this podcast, I'm sure you will love the podcast called Far from Home. It's by Scott Gurian – a New Yorker who travels around the world to some far-away places totally off the beaten path. Like when he went to a wedding in Kazakhstan. Listen here.
TRAVEL

and TOURISM RULES FOR BALI 
For the latest COVID-19 travel restrictions and tourist regulations, please visit Bali's official tourism website. Make sure Bali is open for tourism before booking your trip.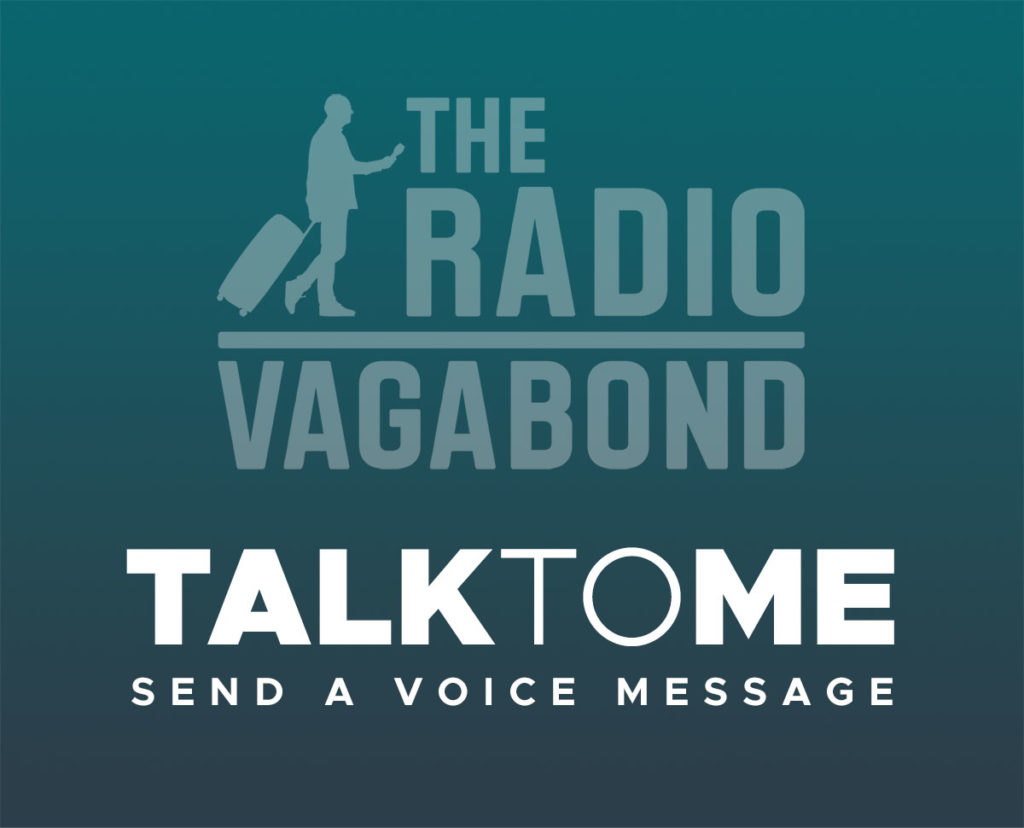 Either way, I would love to hear from you. It's so nice to know who's on the other end of this.
SPONSOR
A special thank you to my sponsor, Hotels25.com, who always provide me with the best, most affordable accommodation wherever I am in the world.
Hotels25 scans for prices on the biggest and best travel sites (like Booking.com, Hotels.com, Agoda and Expedia) in seconds. It finds deals from across the web and put them in one place. Then you just compare your options for the same hotel, apartment, hostel or home and choose where you book.
When you book with Hotels25, you get access to 5,000,000 hotel deals. And it's "best price guaranteed."