In this episode, I visit one of the most visited and touristy places in Mexico: Cancún on the Caribbean coast of the country because, why not?
Let's get into the fiesta spirit and kick off with a classic pub quiz question: what's closer to Cuba: Key West, Florida, or Cancún? If you look at a map, Cancún appears the closest to Cuba, right? Wrong. In fact, Key West is 151 km (94 miles) from the closest coast of Cuba, and Cancún comes in 2nd place at 206 km (128 miles). Now drink!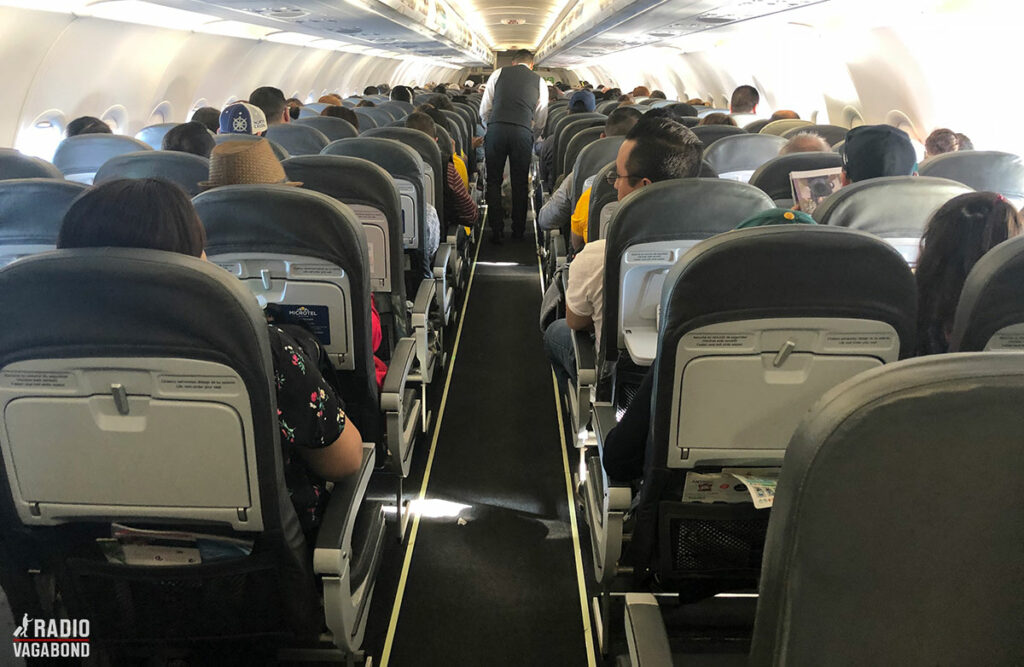 After nearly missing my flight to Cancún due to the airport flight gate being in Spanish, I soon found myself in the air sipping on a travel-sized Cuba Libre to get into the vibe. After a little while, I looked out the window to see my next destination: a beautiful white sandy coastline with palm trees met with a crystal-clear ocean. The excitement was real.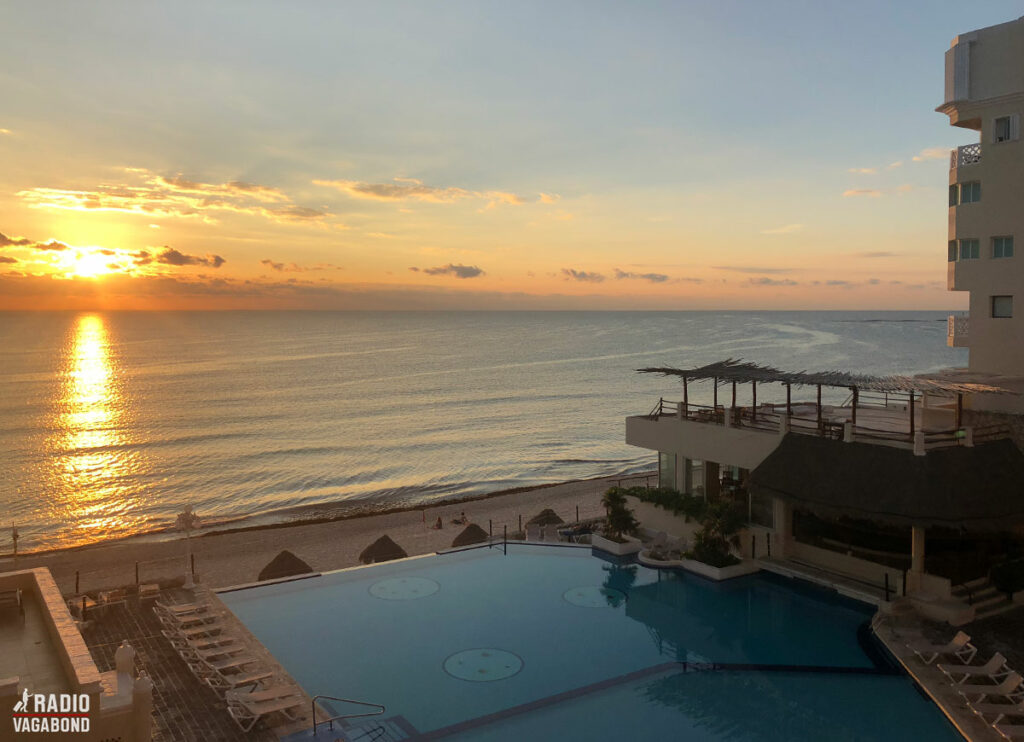 The first two items on my list of things to do in Cancún were to visit a local art museum and go scuba diving. The only issue I had was to decide which to do first (#firstworldproblems). Being in complete holiday relax mode, I struggled to make up my mind so I decided to do both — at the same time.
But first…
7 SURPRISING FACTS ABOUT CANCÚN
1. You Won't Burn Your Feet on the Beach
You know how you burn your feet when you walk on a tropical beach without sandals somewhere in the world? Well, not here in Cancún. The 14-mile-long shimmering white sand beach is actually not made out of sand as we know it. It's actually crushed coral, meaning it will naturally feel cool underneath bare feet – no matter how hot the weather.
2. Only Three People Lived Here
Cancún is a major tourist destination that attracts a whopping 700,000 people every year, which is almost as many people as locals. Today, Cancún has a population of around 888,797 people. But this has not always been the case. In 1970, the official population was only 3. Not 300 or 3,000. No, only 3 people, and they were the caretakers of a coconut plantation. Now, it's completely different. The city currently has 4,674 hotels and around 30,000 hotel rooms.
3. Cancún Has a Huge Mexican Flag
If you're in the buzzing hotel zone, you will notice an enormous Mexican flag – or as they call it here, gran Bandera Mexicana. It's made out of the same material used to make parachutes (probably to make it lighter, but it's still quite heavy). The flag itself weighs 228 kg (503 pounds) and took 40 soldiers to raise up a 105-meter (344ft) flagpole. This is something you can see in other places in Mexico, as it's part of a program which started in 1999, called "banderas monumentales", Spanish for "monumental flags". They're a collection of tall flagpoles located throughout Mexico.
4. The Beach Was Destroyed 
When Hurricane Wilma hit Cancún in 2005, it wrecked 8 miles of its beautiful beaches. And Cancún without a beach isn't really much of a tourist attraction, so it underwent a major beach restoration project from 2009 to 2010. They added 1.3 billion gallons of white sand – scooped up from the seabed to the coast at the cost of around $70 million U.S. dollars.
5. Turtles Lay Eggs on the Beach
Each May, thousands of turtles return to their original home here in Cancún to lay eggs on the beaches, and their nests are located right in the heart of the Hotel Zone. Thankfully, the hotel owners, employees, and even visitors help to ensure the eggs are protected and safe from harm. So, if you happen to go in May, areas of the beach are closed to tourists so that the turtles can go about their business in peace. 
6. Swim with Tons of Whale Sharks
Between May and September, literally tons of whale sharks visit waters just off Cancún. They are absolutely massive – some of them the size of a bus, but they're completely harmless and will happily let you join them for a swim.
7. Second Biggest Barrier Reef 
We all know Australia's famous Great Barrier Reef as the biggest coral structure in the world. But number two is right here: the Maya Barrier Reef is the second-largest coral reef in the world, and one of Cancún's major attractions boasting stunning marine life, swaying corals, and crystal-clear turquoise waters. Great for snorkelling and scuba diving.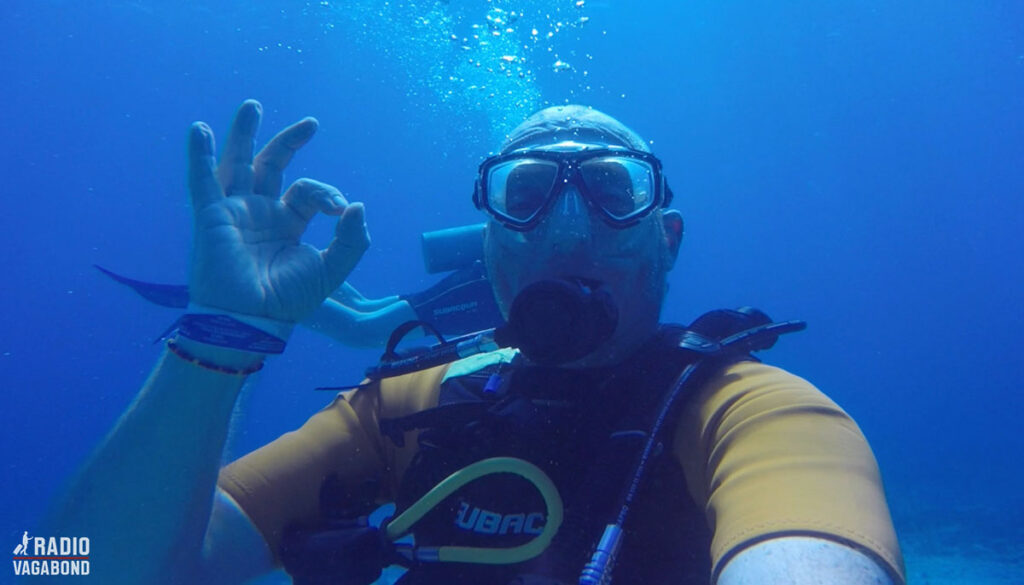 CANCÚN'S UNDERWATER SCULPTURE MUSEUM
And speaking of scuba diving, as soon as I arrived, I planned a scuba trip and combined it with a visit to a museum. It's really two birds, one stone type situation.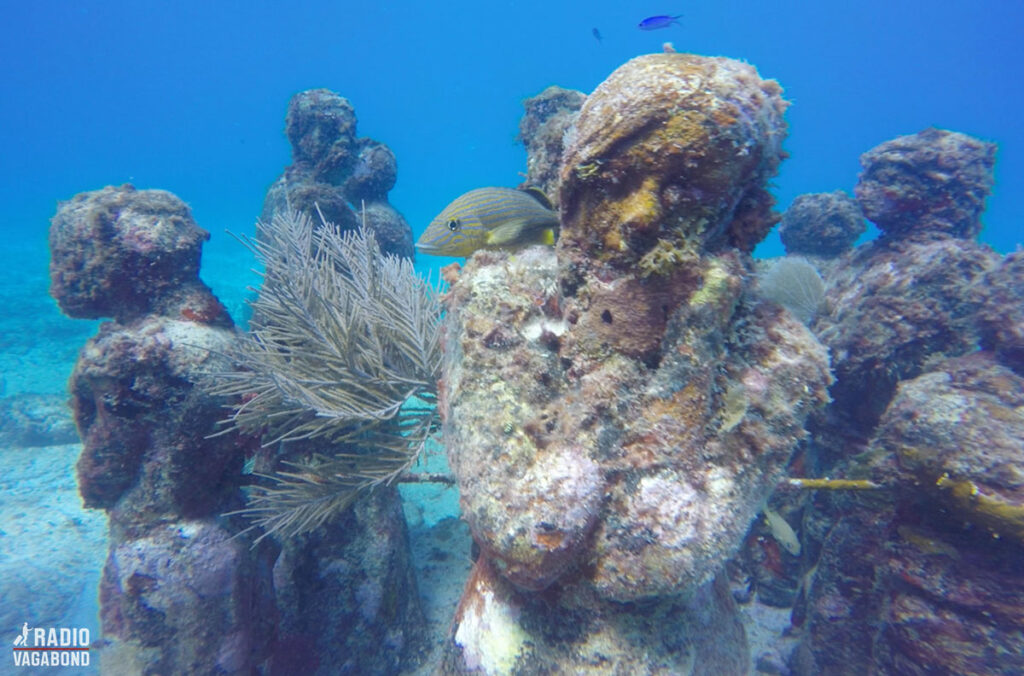 Thanks to the hands of British sculptor

 
Jason deCaires Taylor
and five talented Mexican sculptors, the famous

 
Cancún Underwater Museum
displays a series of breathtaking sculptures in the ocean located between Cancún and Isla Mujeres.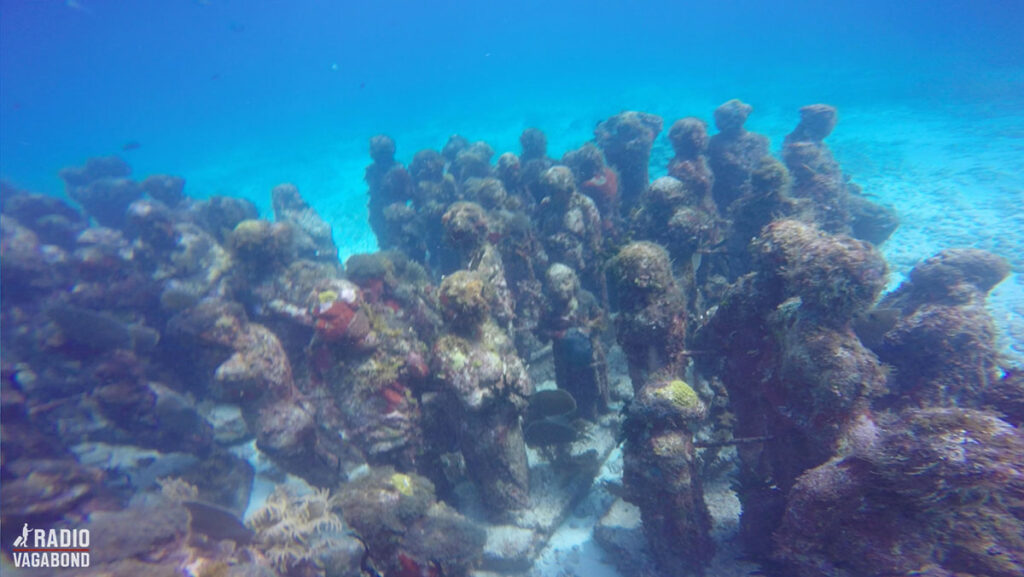 The underwater museum consists of over 500 life-size sculptures, making it one of the largest, and most incredible, underwater artificial art attractions in the world.
While registering at the dive centre, I got a chance to chat with some of the other divers who are about to enjoy this incredible experience with me. Some of them hadn't done much research beforehand and didn't really know exactly what they were about to experience.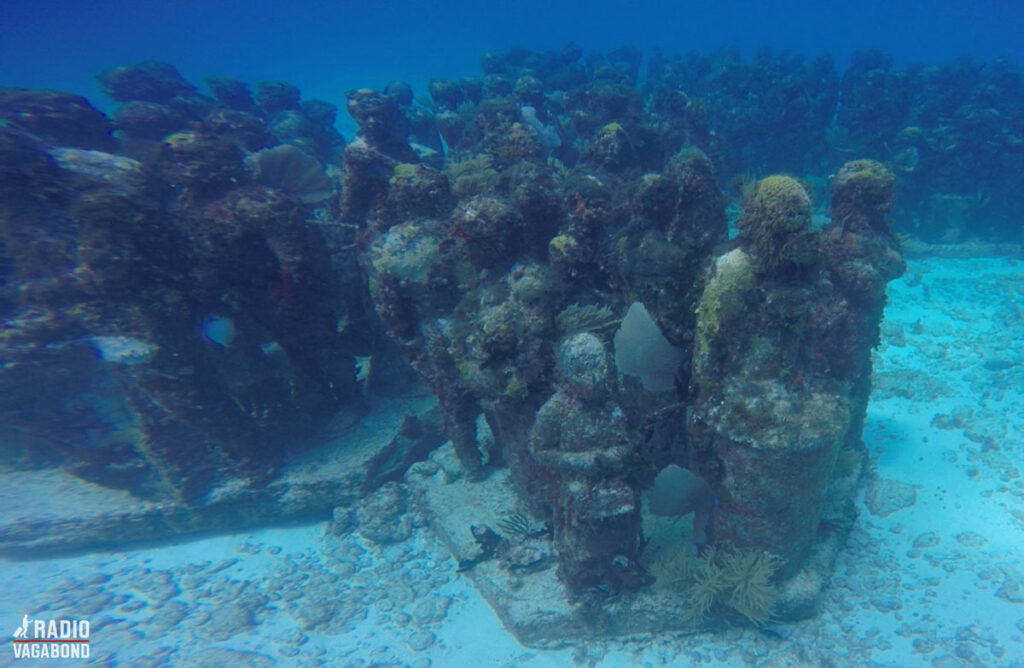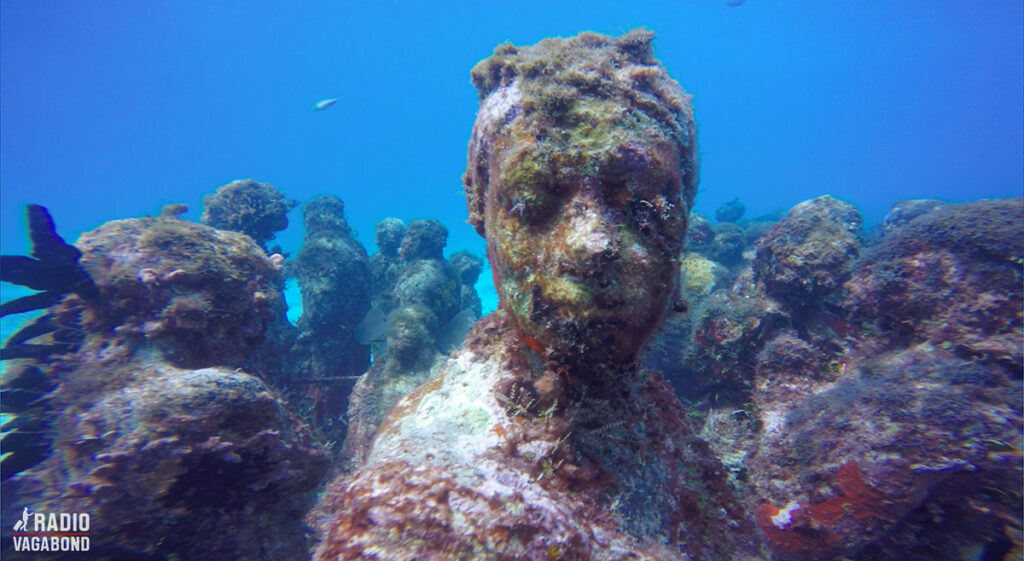 The Cancún Underwater Museum holds an interesting blend of sculptures ranging from people standing in a circle looking at the sky and a group of men with their heads buried in the sand to two sculptures of actual VW Beetle cars. Perhaps the most impressive is a group of nearly 450 human-size statues standing together in a big group. It was so weird and almost eerie swimming around that.   
Many of the sculptures have beautiful coral growing on them, and it was actually the objective of the project to save the nearby coral reefs by providing an alternative destination for divers.
To place the sculptures on the ocean floor, they had a special lift made so none would be damaged during the move. A forty-ton crane was placed on a commercial ferry in order to lower the sculptures. Some are so heavy that they had to be lifted into the water using lift bags.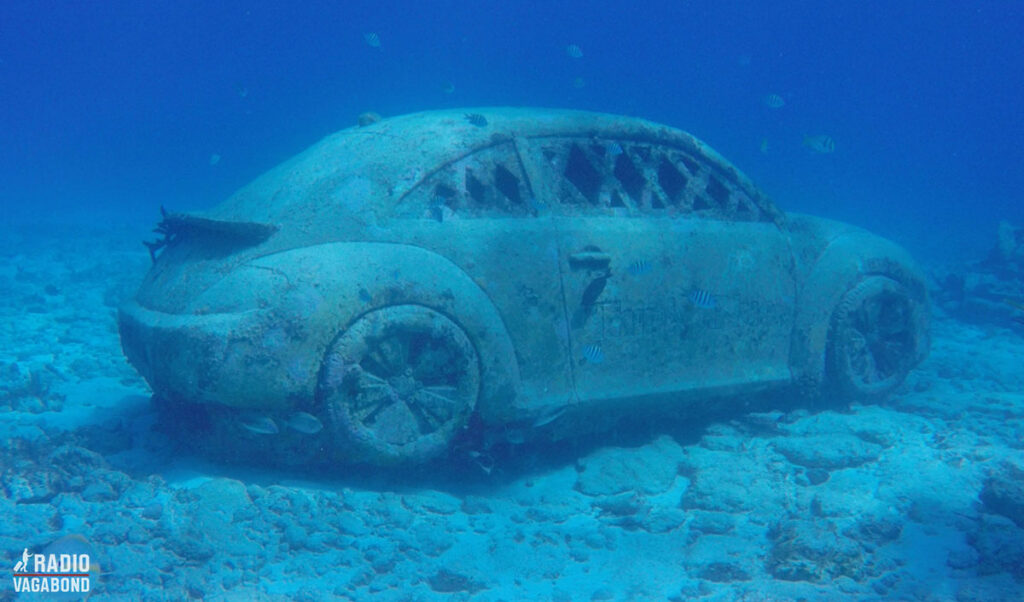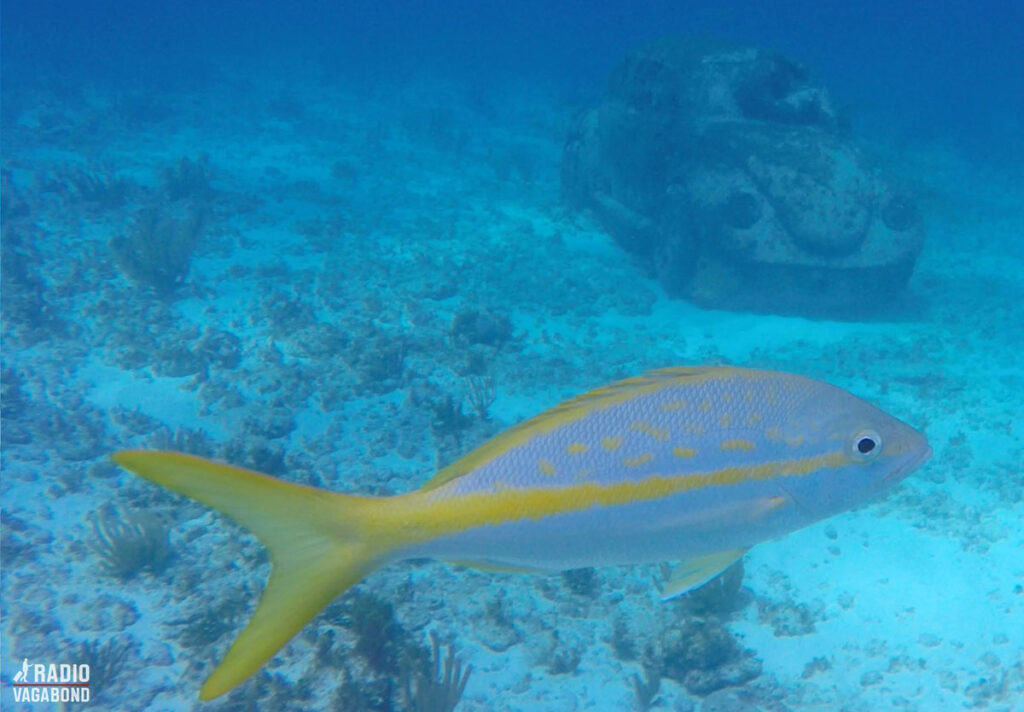 The sculptures are created with pH-neutral marine concrete and are created above ground and cleaned before being taken underwater so they do not have any chemicals on them that may harm the water, marine life, or reef.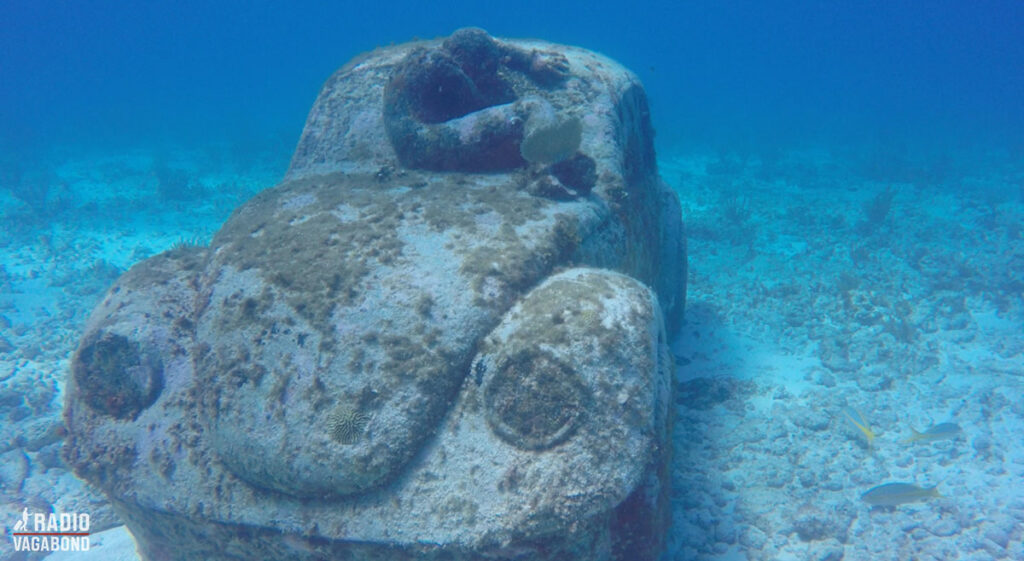 It is truly remarkable and a must-see if you're a diver. If not, you can still see a lot from snorkelling or going on a glass-bottom boat tour.
But scuba diving is the best way to experience the museum. As I was gliding through the water, I found myself deeply transfixed by the well-thought-out themes. The real-life-like sculptures made it the most surreal diving experience I've ever had.
Isla Mujeres (The Island of Women) is a wonderful place to visit when you're in Cancún. This sleepy but vibrant little island has become quite popular in the past few years, and it makes for a great day trip. It's only a 20-minute ferry ride from Cancún – over the Underwater Museum.
A few days after my dive, I took the ferry to the island with a good friend of mine who flew in from Denmark to join me for a few days. And right off the ferry, we ran into one of the locals, José, who was trying to sell us a trip of two. And naturally at a "special price for you, my friends"…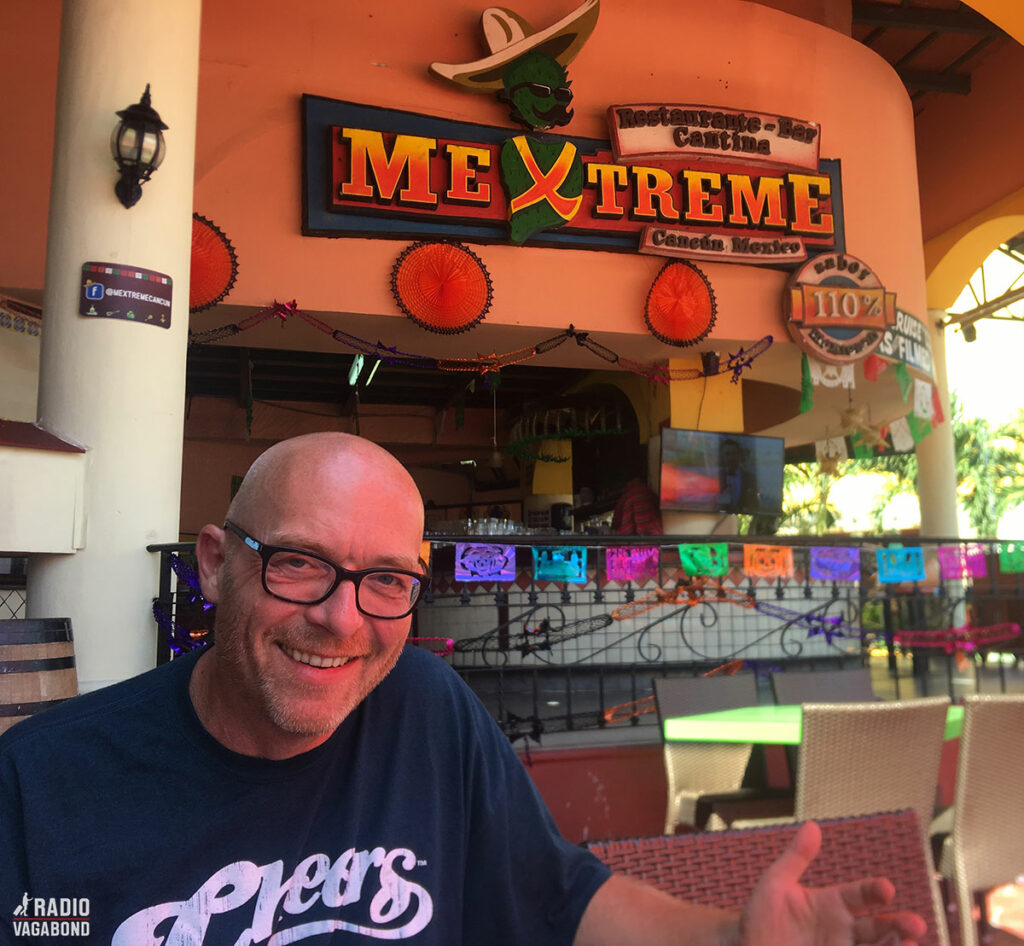 After breakfast, we went back to José and bought one of his packages that took us snorkelling for a few hours that only cost $20 each (advertised for $35). You can do the same: get off the ferry and then just speak to José. If you can't find him in the crowd of people, just visit TripAdvisor to find a bunch of activities to do on the island.
Isla Mujeres is a beautiful, peaceful paradise and is more laid-back and tranquil than Cancún. The island is only 8 km (5 miles) long and half a mile wide at its widest point. The colourful downtown area, known as 'Centro' is four by six blocks – perfect for exploring by foot.
It's small but that doesn't mean there isn't plenty to do. You can fill your day with water sports, shopping, exploring, and making new friends in the special atmosphere that is Isla Mujeres.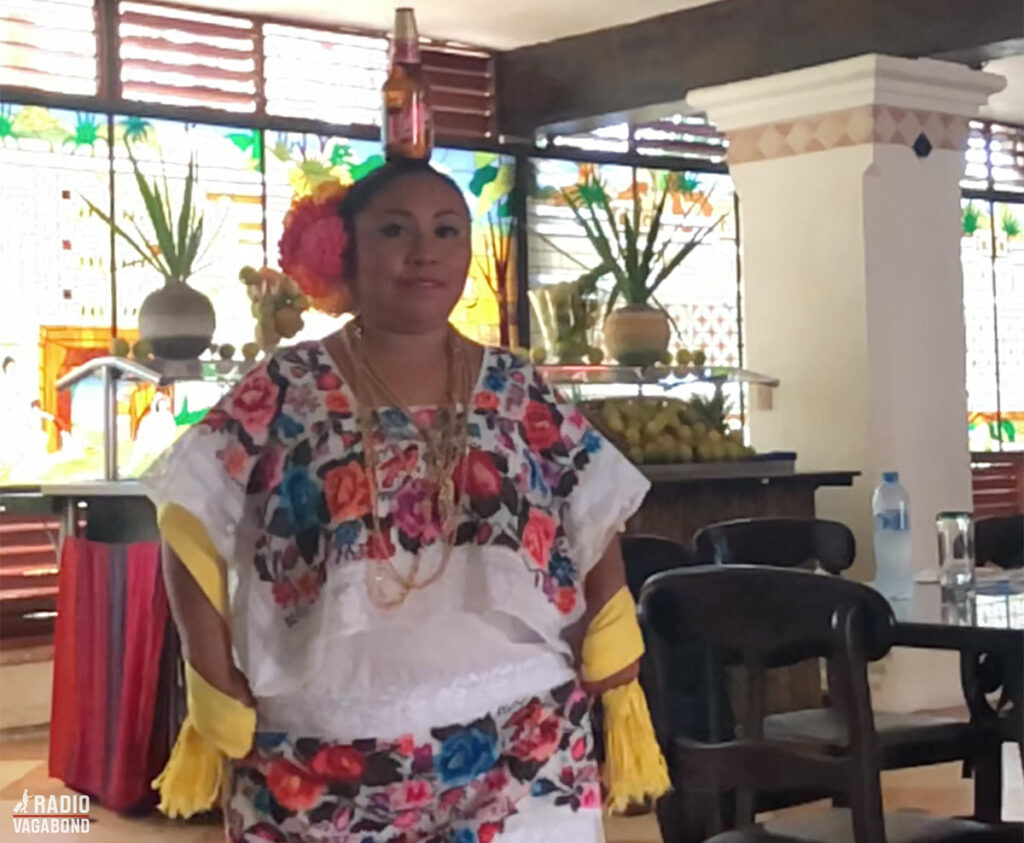 After returning to Cancún, we planned a trip to visit another must-see site in the area. But before we could get going, I needed to rent a car. This is usually a straightforward process, but not here. I booked and paid for the car hire online and when I got to the rental agency there was some kind of mixup. Apparently, I had to pay more than what I had already paid online…
They wanted about the same one more time for insurance that I didn't need or want. I was at the agency for almost an hour and a half, but finally, I succeeded and the next day we headed west to Chichen Itza with the wonderful sounds of Mexican radio commercials blasting on the radio. On the way, we were flagged over by a local entrepreneur who sold us a great package that included free parking, a buffet lunch, and tickets to the temples which allowed us to skip the queues.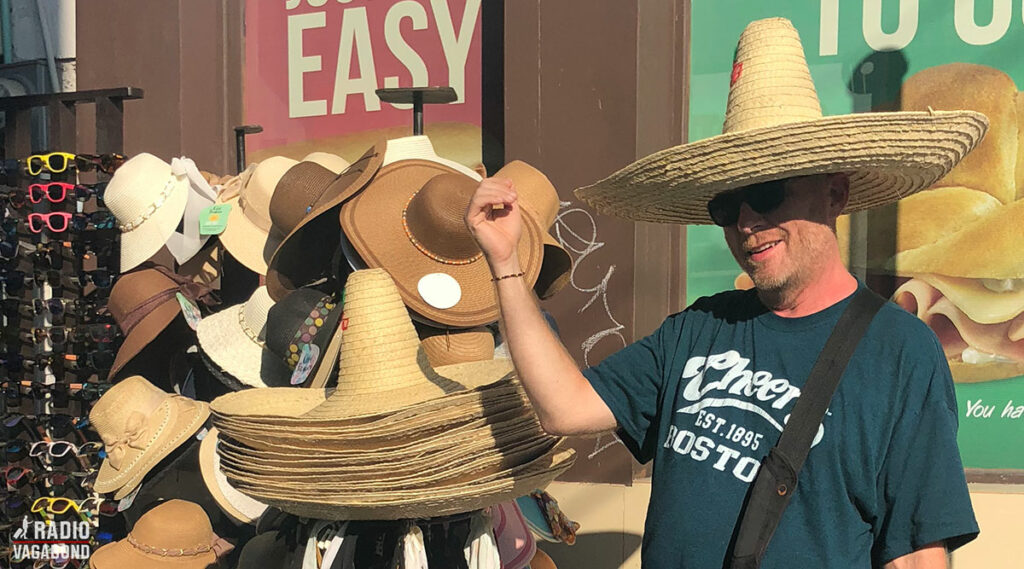 VISITING MAYAN RUINS CHICHEN ITZA
Chichen Itza is one of the most visited archaeological sites in Mexico and welcomes over 2.5 million visitors each year. You can reach it by car, bus, or on different tours. It's just 200km (120 miles) west of Cancún.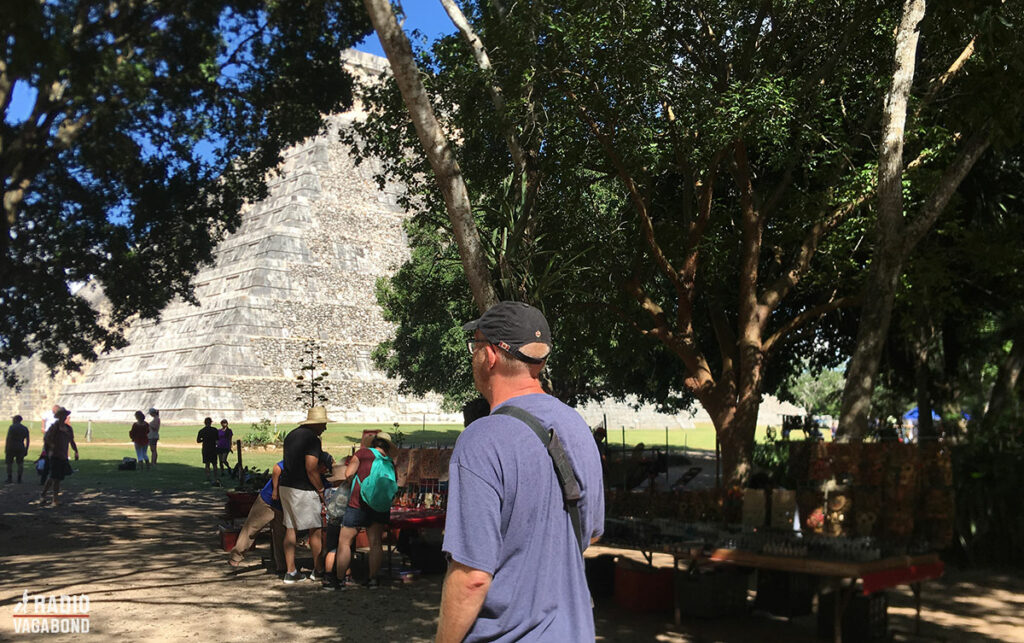 Chichen Itza translates to "At the brim of the well where the Wise Men of the Water Live" in Mayan and was regarded as one of the most important city-states in pre-Hispanic America.
It's a well-known archaeological site and even more so after being selected as one of the New 7 Wonders of the World in 2007. Chichen Itza is divided into two parts, Old Chichen and Chichen Itza, where you can find a total of 26 Mayan Ruins to see on the Mayan Site.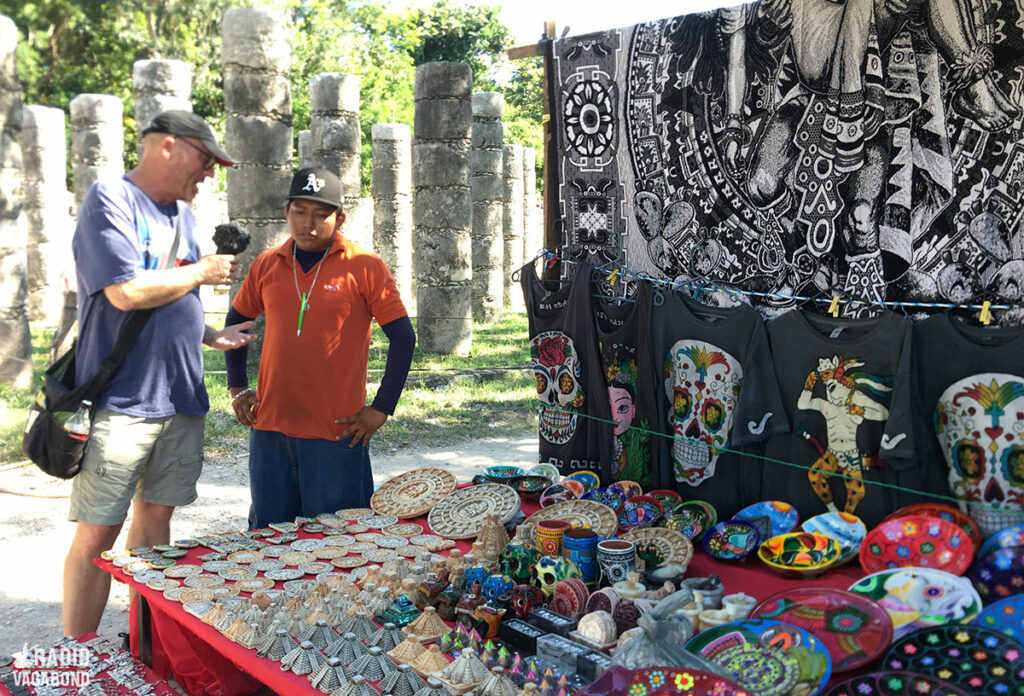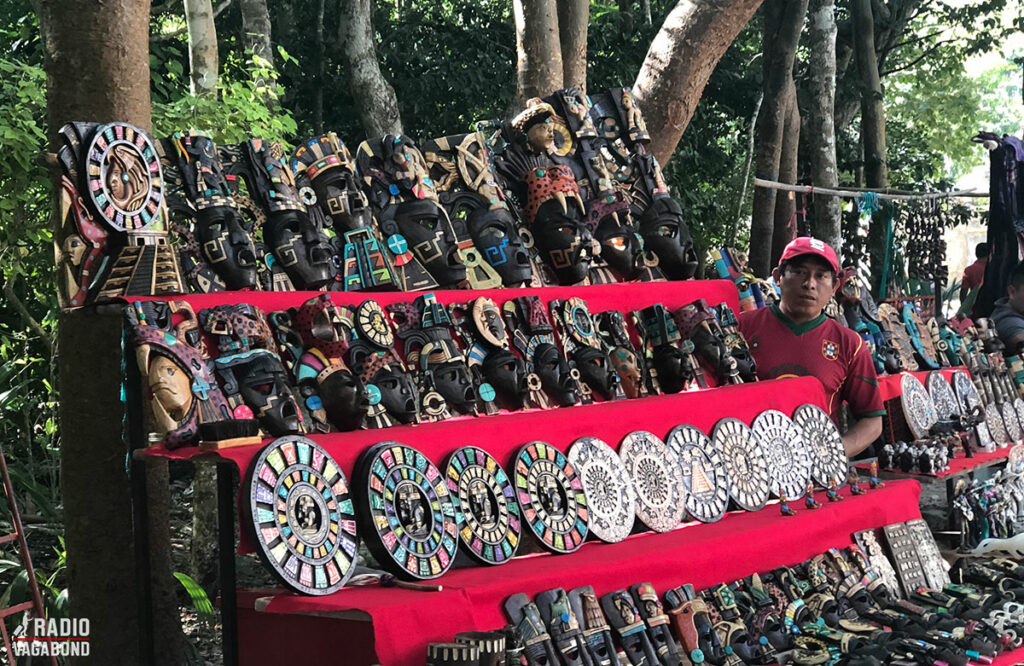 Chichen Itza was a large pre-Columbian city built by the Maya people of the Terminal Classic period that dates back to years 600–900AD. It was one of the largest Maya cities and it may have had the most diverse population in the Maya world. And that's probably why you see so many different architectural styles at the site.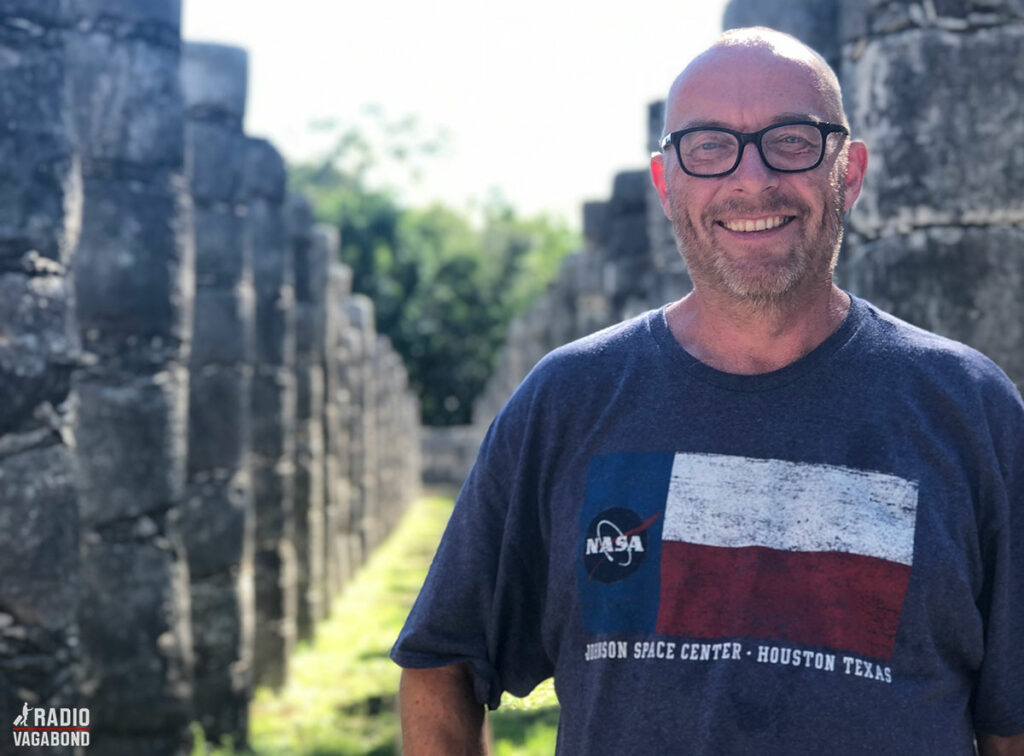 The Big Pyramid or El Castillo is the most astonishing Mayan Ruin or building inside the Archaeological Site. This temple dominates the centre. Walking around the pyramid, I noticed the amazing way sound travels up and down the pyramid. If you clap in a specific direction, the sound travels back to you in an interesting way. Of course, I recorded it so remember to listen to the podcast – if you haven't already.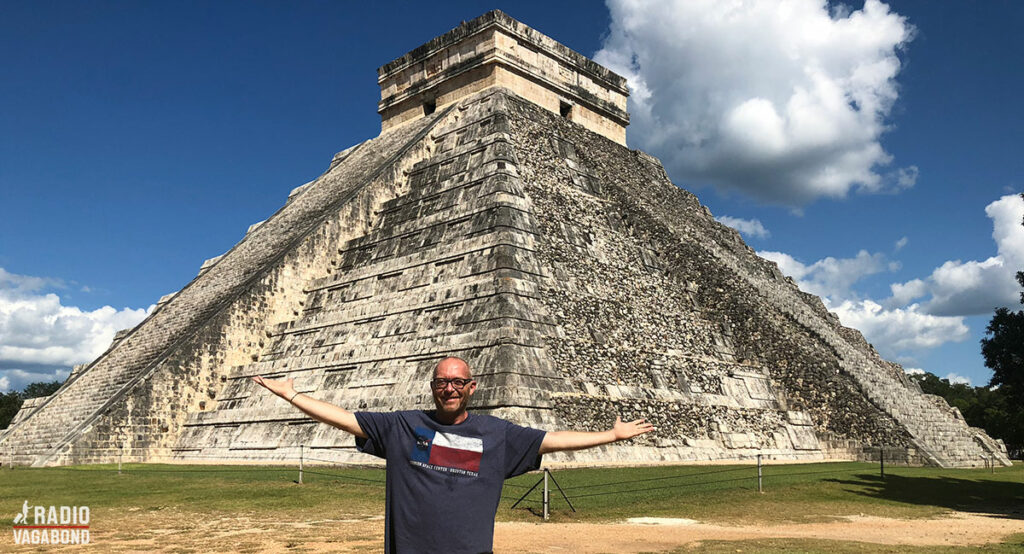 General Admission to this UNESCO World Heritage site is $27 for adults and $4 for children. But it might be worth spending a bit more on a guided tour. Or you can do like I did: before you get to the site, stop your car and listen to what the salespeople have to say. It might just be a good deal.
IS CANCÚN TOO AMERICANIZED?
I've heard people say that Cancún isn't really Mexico and that it's too overrun by American tourists. And actually, also a lot of Europeans. Yes, Cancún is infamous for being "Americanized" but if you ask the locals, it's really just another face of Mexico.
Mexico is a proud and very diverse country, so don't let people tell you that it is "not the real Mexico", because it is. It's just as real as any other part of the country.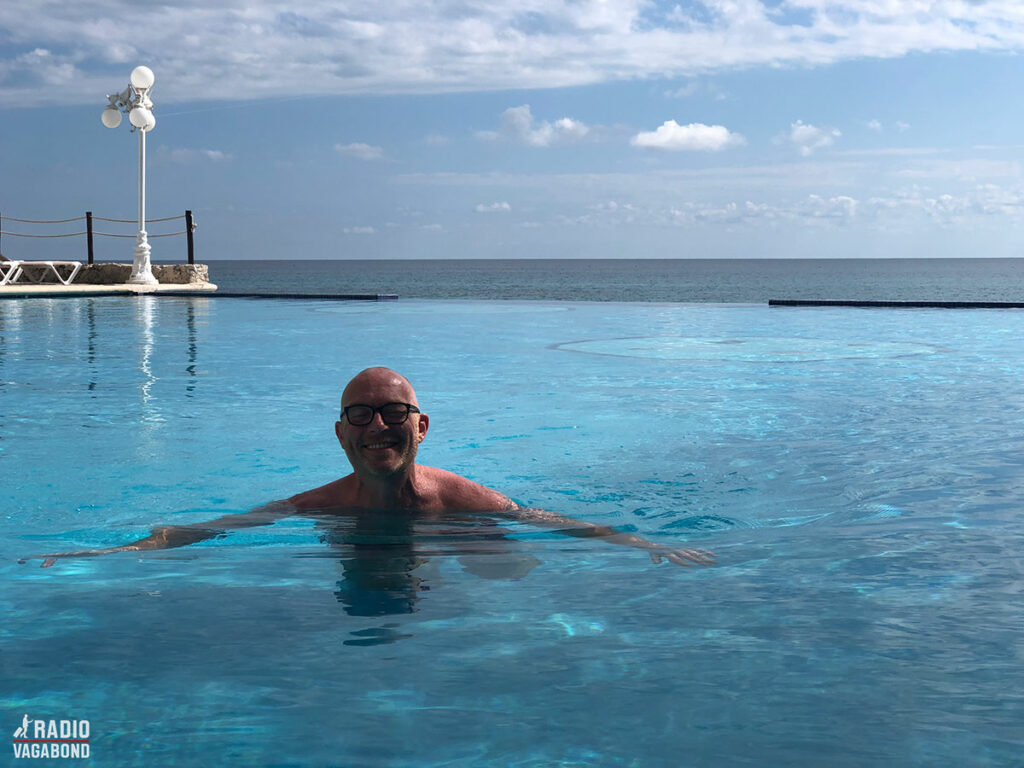 I spent some time in Monterrey without that many tourists, and then I came here and saw a totally different side of the country. And I'm so glad I got to experience both. But there's so much more I want to see here, so I plan to return soon.
Next stop Florida
Next, I'm heading to Naples. No, not Italy. I'm going to Naples, Florida and then I plan to visit Key West, Miami, and then Orlando. And maybe a few other places too. That's coming up in the final episode of this season…
My name is Palle Bo, and I gotta keep moving. See ya.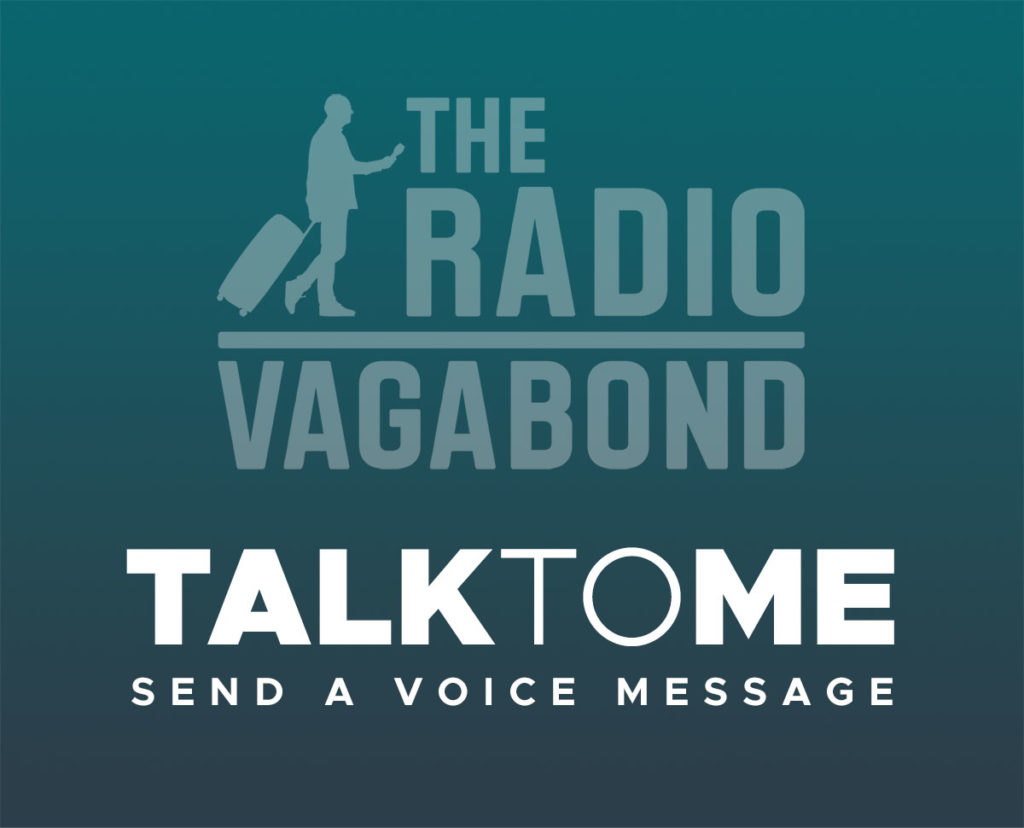 Either way, I would love to hear from you. It's so nice to know who's on the other end of this.
SPONSOR
A special thank you to my sponsor, Hotels25.com, who always provide me with the best, most affordable accommodation wherever I am in the world.
Hotels25 scans for prices on the biggest and best travel sites (like Booking.com, Hotels.com, Agoda and Expedia) in seconds. It finds deals from across the web and put them in one place. Then you just compare your options for the same hotel, apartment, hostel or home and choose where you book.
When you book with Hotels25, you get access to 5,000,000 hotel deals. And it's "best price guaranteed."