Bonjour, en route pour le Québec
After my fun sojourn through the world of Ben and Jerry's, I find myself heading north through Vermont. My visit through all six states of New England had been enthralling. However, it was time to set my sights on a new country with two distinct languages and a melting pot of cultures. Canada. 
As I was getting closer to the border of Canada, I pulled over at a rest stop on the side of the road to send a few messages before the American Sim card I had been using would lose signal. I generally travel with two phones, one with my Danish number and one with a local number from wherever I find myself at the time, so I can get online easily in whichever country I'm calling home for that week or month. 
As I concentrated deeply on the task at hand, I heard a knock on the car window. As I looked up, I saw a policeman who asked for my passport and license, and then he went back to his patrol car, explaining to me that it was simply a routine check.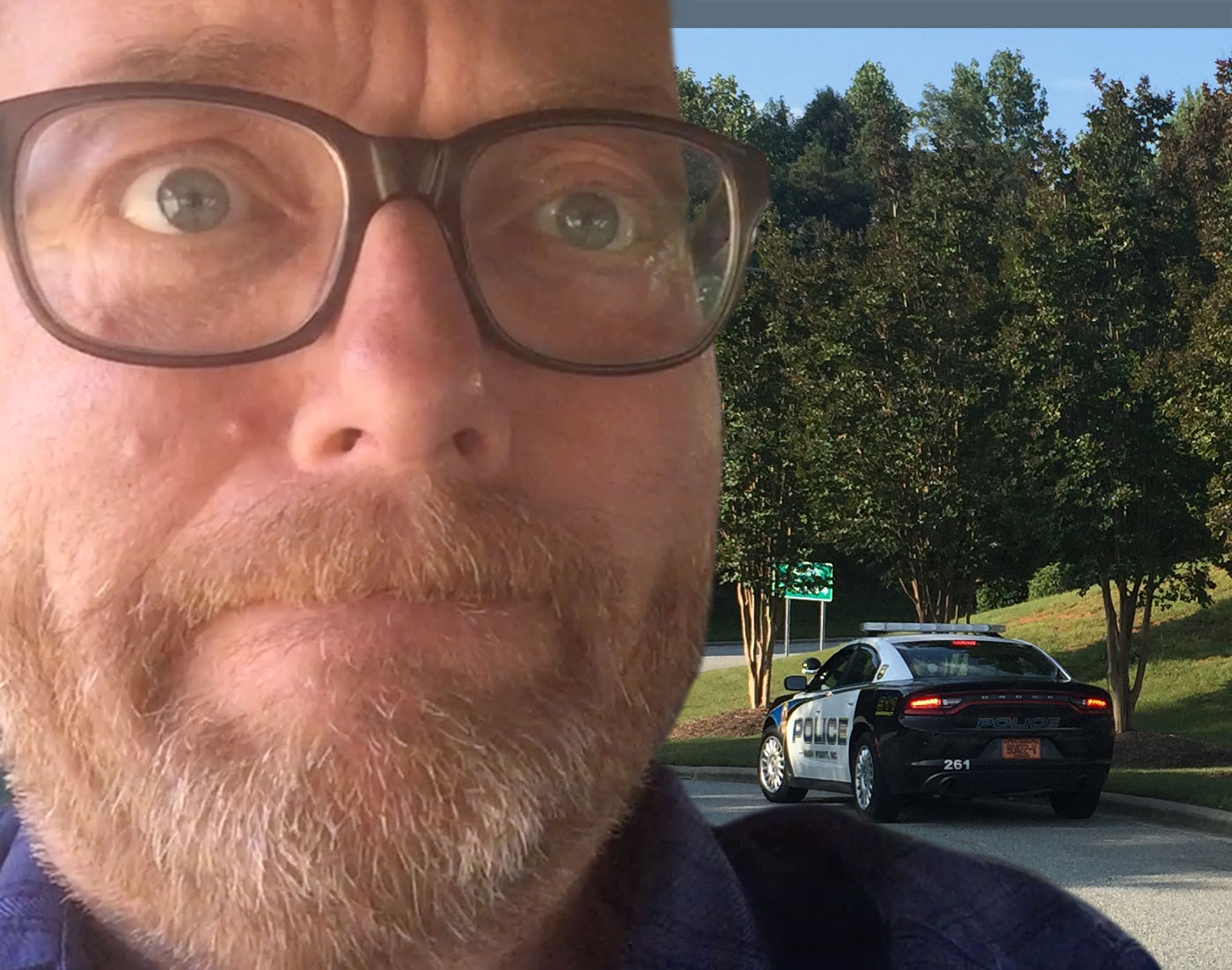 Upon his return, he asked me about where I was heading and what my plans were going forward. I must say any run-in with the police in the States can make you feel a little nervous. But after I had explained what I did and that I was a full-time traveller that hosted a podcast about my travels around the world, he wished me well and promised to listen to the podcast. Yeah, a new listener!
Just as I was about to put the car in gear, he asked, "Do you know there's a duty-free here?" and with a moment's pause, he continued, "Do you drink?" Probably a bit quick on the trigger when speaking to an officer of the law, I replied, "I do". He explained that everything was cheaper at the store and that I should stock up before going over. Before saying our last goodbyes, we spoke briefly about the Dominican Republic, where he had been born, and I explained that it was on the list of places to go. I arrived at the Canadian border, and after answering a few standard questions, I was ushered on through.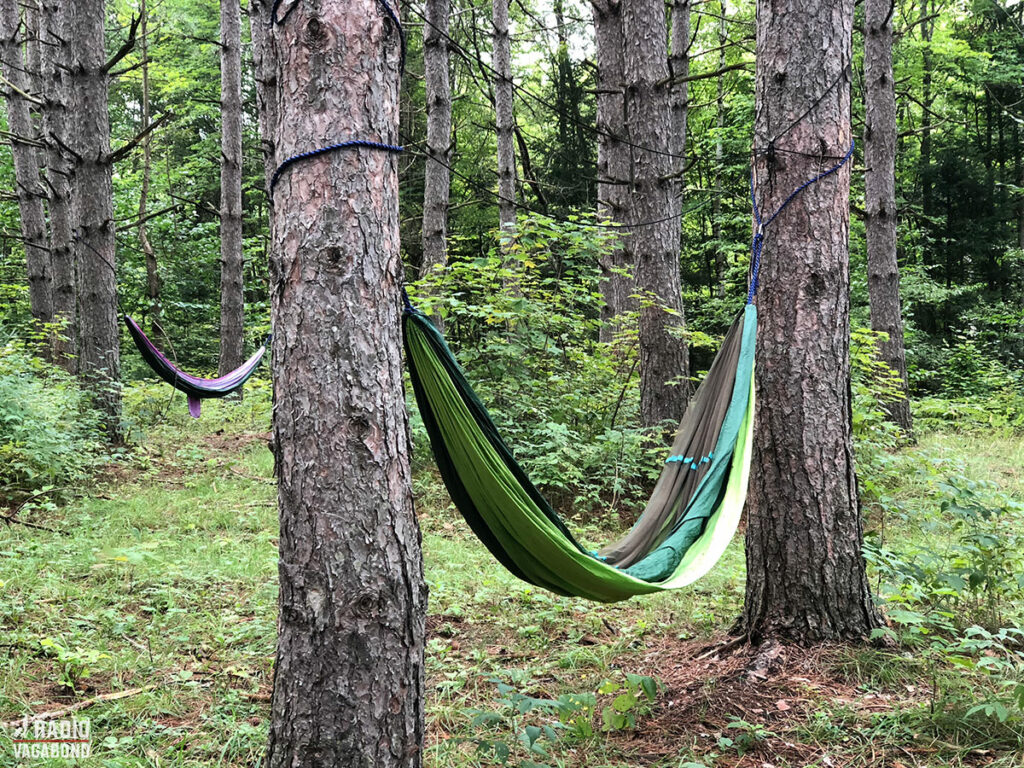 I entered Canada on the French-speaking Quebec, and I was on my way to a unique spot in the Bromont Mountains, where I met Patricia. She's been a clinical nurse for 25 years and a college teacher for almost ten years; she has a bachelor's degree in health science and received training in therapeutic riding.
Welcome to the Garden of Eden
Patricia has caring coded into her DNA, and she also has a passion for horses. So mid-career, she decided to combine the two, and she bought a ranch close to Bromont, and it's named Jardins d'Eden – the Gardens of Eden.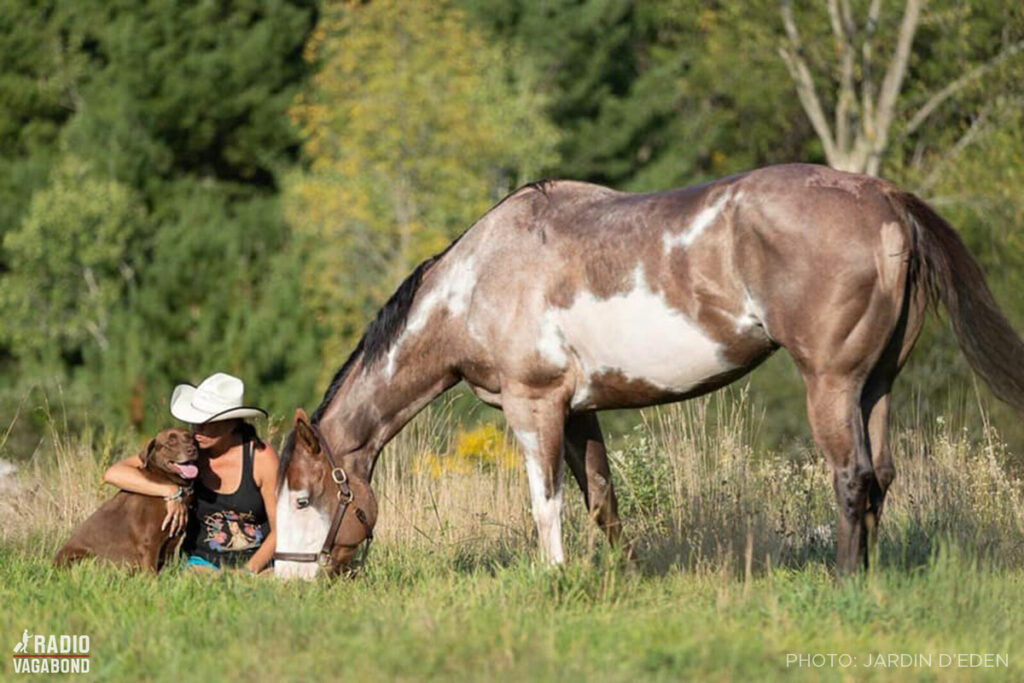 I had the opportunity to walk around with Patricia and ask her about the spectacular surroundings I now found myself in. It truly was amazing, and I couldn't wait to hear more. Patricia began to explain that this was her dream. When she was younger, a farm close to her home had horses, and when she was looking for a little peace, she would go to the field and watch the horses. 
She's used horses in her therapy and teaching for many, many years. So when her daughter went to university, she decided to buy her ranch because she wanted to share her love of horses with other people.
"I retired from my career of 25 years, and I adopted and cared for horses who were no longer able to race or perform in dressage," said Patricia, "It's a sanctuary for horses and for people."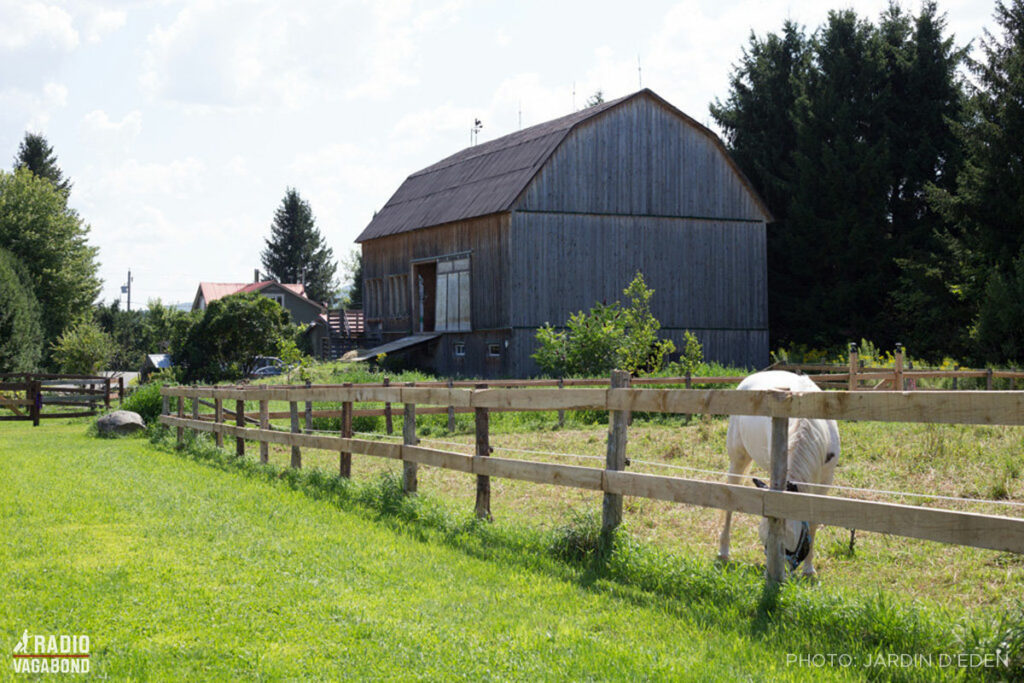 Taking in people with mental and physical illnesses, Patricia shares her ranch of retired horses with them to ease their suffering and help them heal. 
I asked Patricia what had prompted this career and life change, as I could see it was a big decision, and I was curious to know why she'd decided to create this magnificent sanctuary. To put it into perspective, Patricia was running the therapeutic centre, hosting Airbnbs and the facilities even offer massage and Reiki. She explained to me that the trappings of modern society like cars and 'things' would leave you feeling empty, and spending time with horses and offering therapy and healing to others provide her with a good life balance. "Since making the decision, I have felt calmer and more serenity than I have ever before", Patricia explained.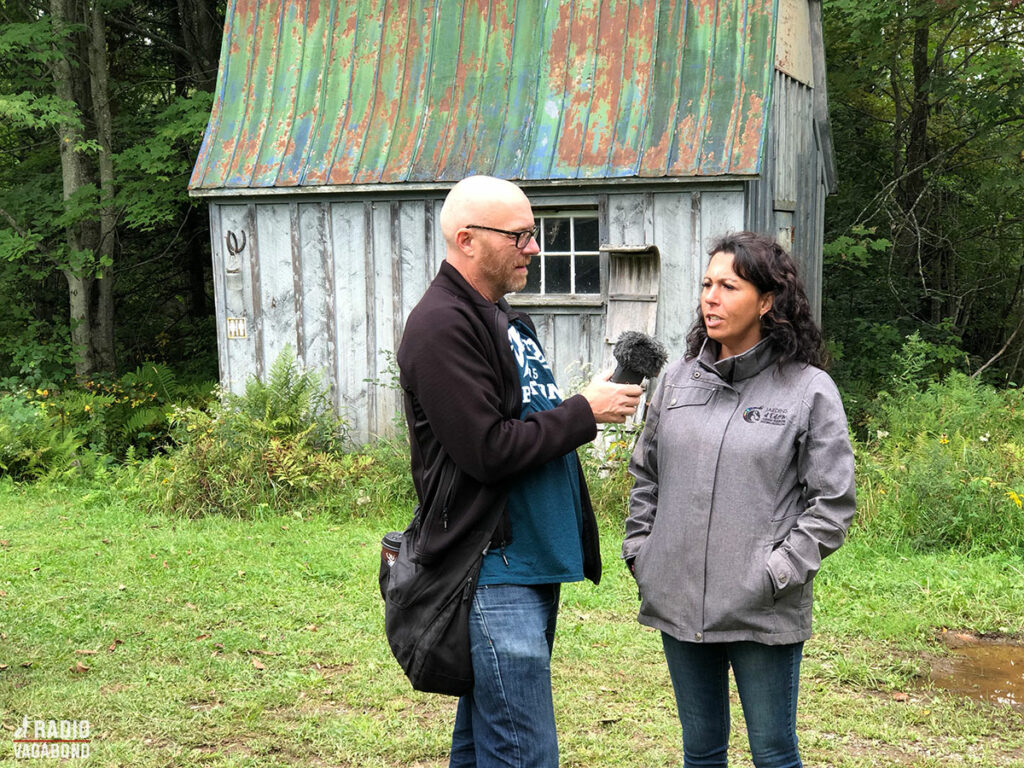 The place is located on a century-old estate and rests on the backdrop of the Bromont Mountain, a lake and a river. The landscape is vast, and you can feel the peace that accompanies this pocket of natural perfection. 
Patricia took me on a short walk into the forest to a very old small building she calls The Sugar Shack. It has no electricity or running water so you can forget about WiFi or signal for your cell phone. Those who visit here can look forward to being totally off the grid. A little something, I believe we all need now and then.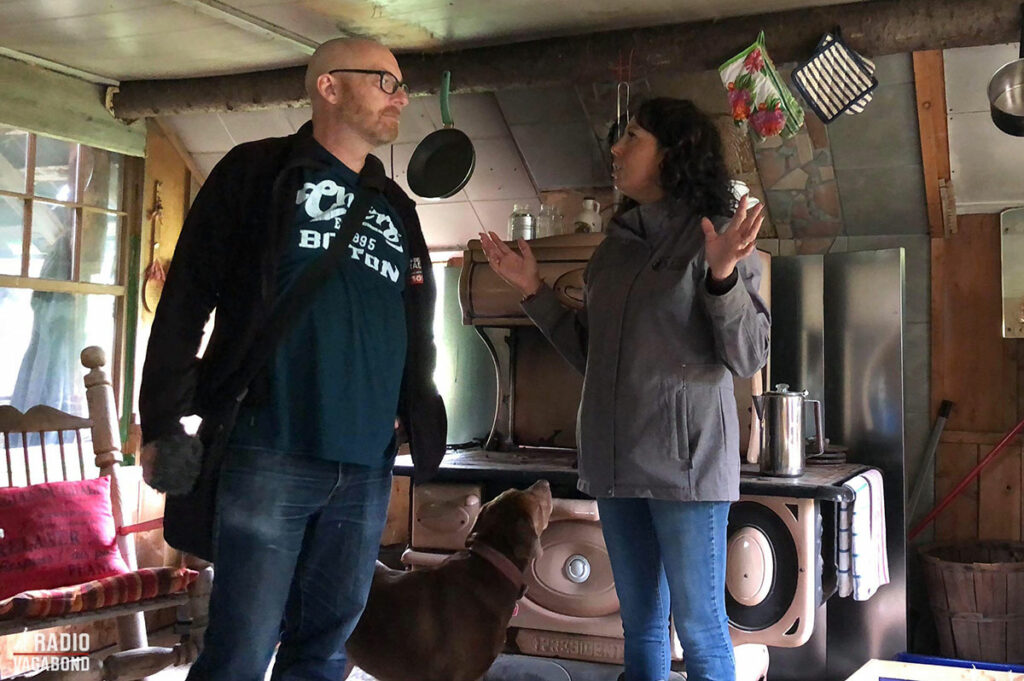 Patricia explained that the core purpose of the shack was to bring students up to source maple syrup. And for those just looking for a peaceful retreat, she explains, "It's like a visit back in time, no noise around, no humans (you can bring your dog if you want), you can hear the sound of the bird and you leave the hustle and bustle of the world behind you." 
Most people spend 3-5 days at the sugar shack, and Patricia says that most of her guests return to the main house looking relaxed. "You can actually see it in their body language, their shoulders are relaxed, and their laugh lines seem more visible," laughs Patricia.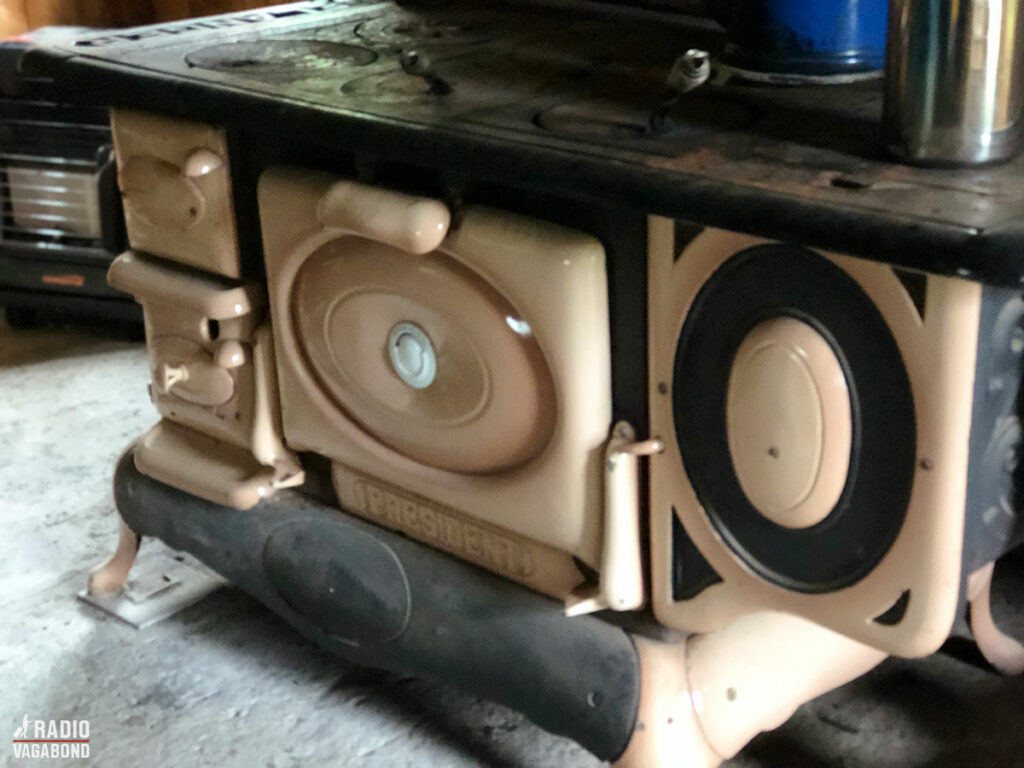 Inside the shack, you do feel like you've stepped back in time. The finishes are old wood with gas lamps hanging from the roof, and the centrepiece is an old wood-fired stove. 
Horses are great therapists
As part of the services offered at Jardins d'Eden, you can go therapeutic riding. Patricia adapts the sessions according to your needs so you can have a personalised care plan. I was lucky enough to meet some of these fantastic therapists.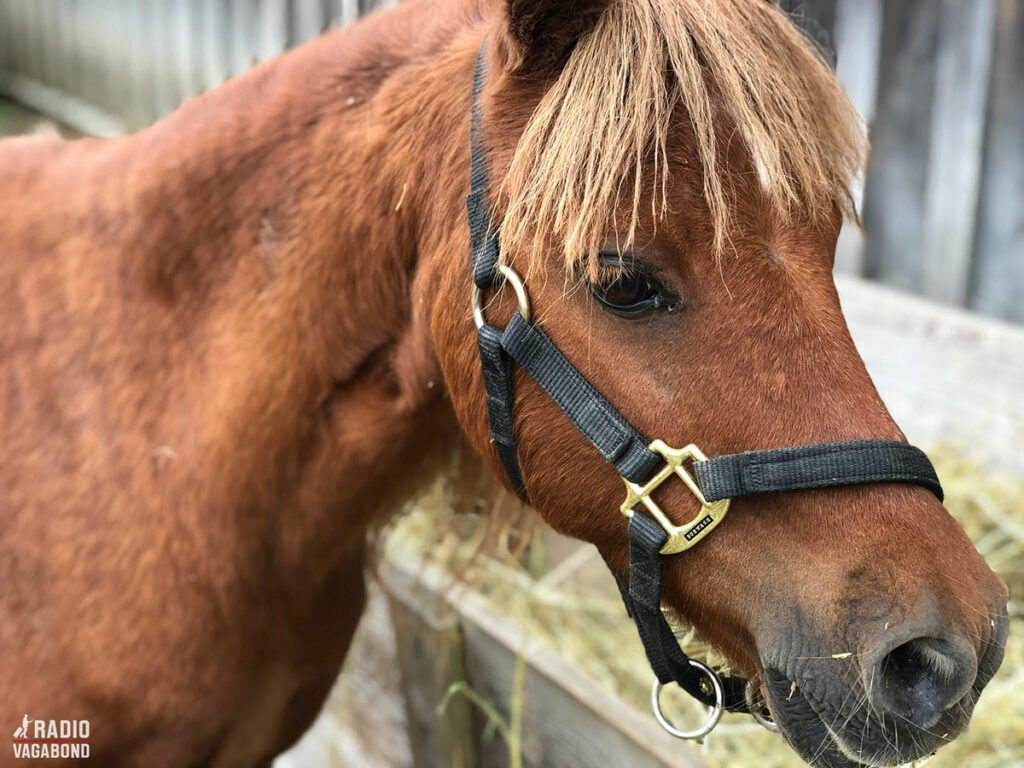 I am treated to the story of each horse's background and how they came to be at the ranch. Patricia explains that some of the horses come to her badly neglected or hurt from their professional careers. She uses massage and Reiki on the horses to help them recover and become rehabilitated, even managing to take one of her horses from having broken legs to going on hikes with guests who come to the ranch. 
"Most people who come to the ranch, come with some mental or physical difficulties and the horses know that. They aid in the recuperation of our guests. It's a wonderful thing to see," explains Patricia, "People can be themselves and feel all their feelings and the horses let them just be."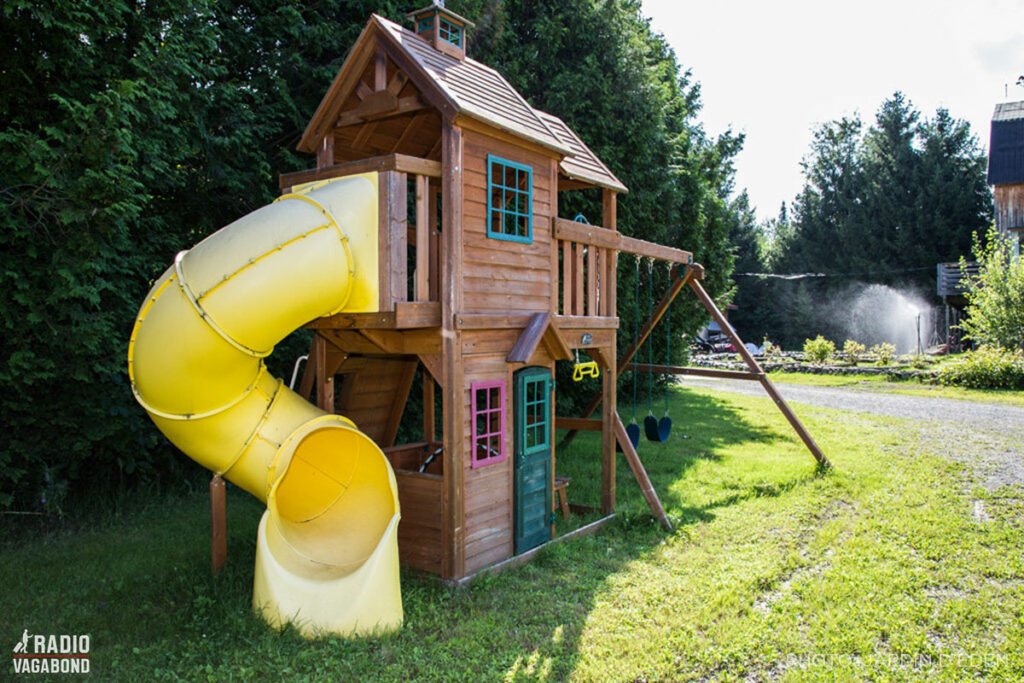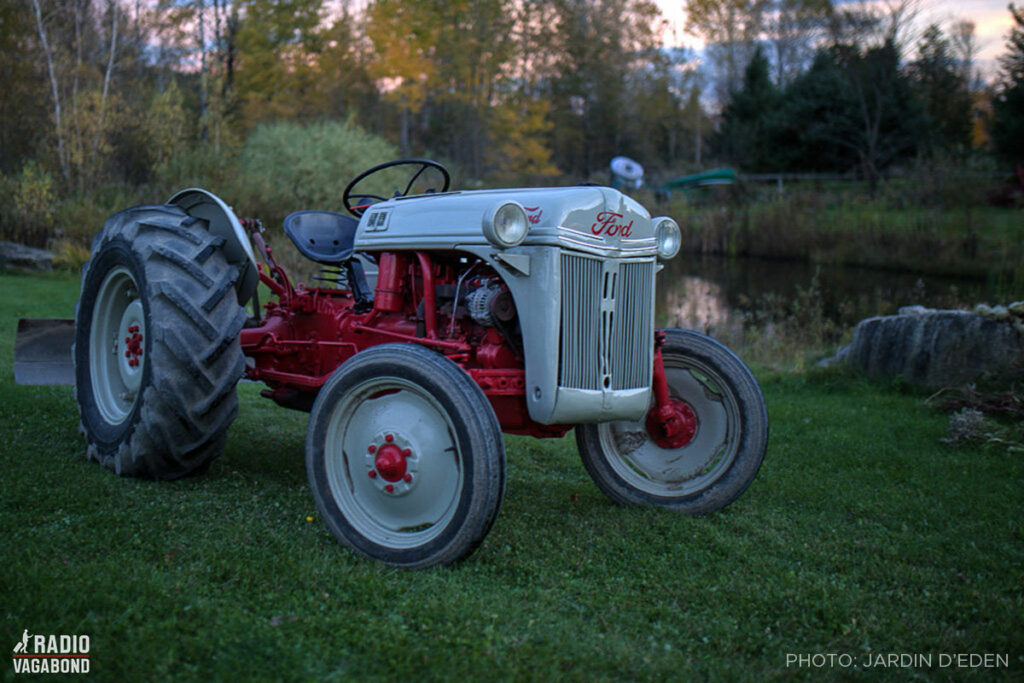 According to Patricia, horses are intuitive animals and can feel what you're feeling. "They are able to provide you with connection and they want to help."
She explains that every horse has its own personality and listening to her explanation is simply the best way to understand. Each has its healing property, including one who seems to be a bit of a jester who goes out of his way to make you laugh. 
Living the dream
There is no doubt this is a peaceful place with the calming and healing at its centre. They also offer unforgettable hikes, and apart from the off-the-grid Sugar Shack, there are some luxurious loft apartments above the stable. There is a lot to do in a place like this, which translates into a lot of work. But Patricia says it doesn't feel like work at all.
"Sure, at the end of the day I'm tired and I sleep well but it's simply not the same as when I was teaching or working at the hospital. I feel richer inside than I ever have before, and I look forward to my days."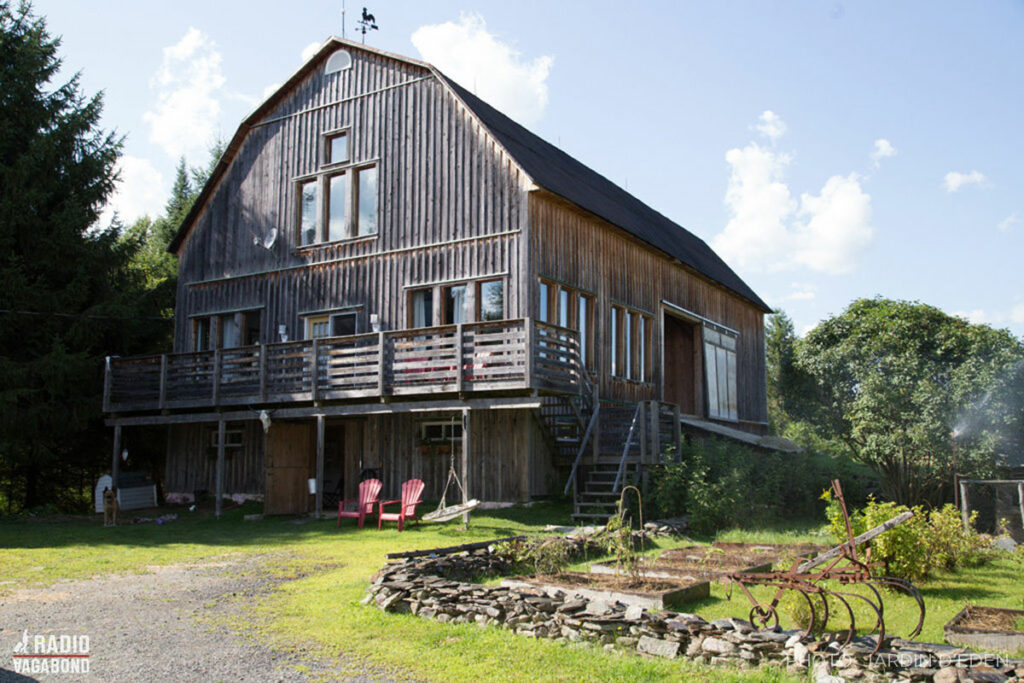 If you're in the area and looking to put your life on pause for a few days, I recommend Patricia's "Sugar Shack". Or if you'd still like some modern conveniences, one of the luxury lofts above the apartment surrounded by ten horses, five ponies, a goat, and two dogs, you can find the link to her Airbnbs here. 
I'd like to say a special thanks to Patricia Senécal, who took the time to show me around the  Garden of Eden in Bromont and educate me about the wonderful life with horses.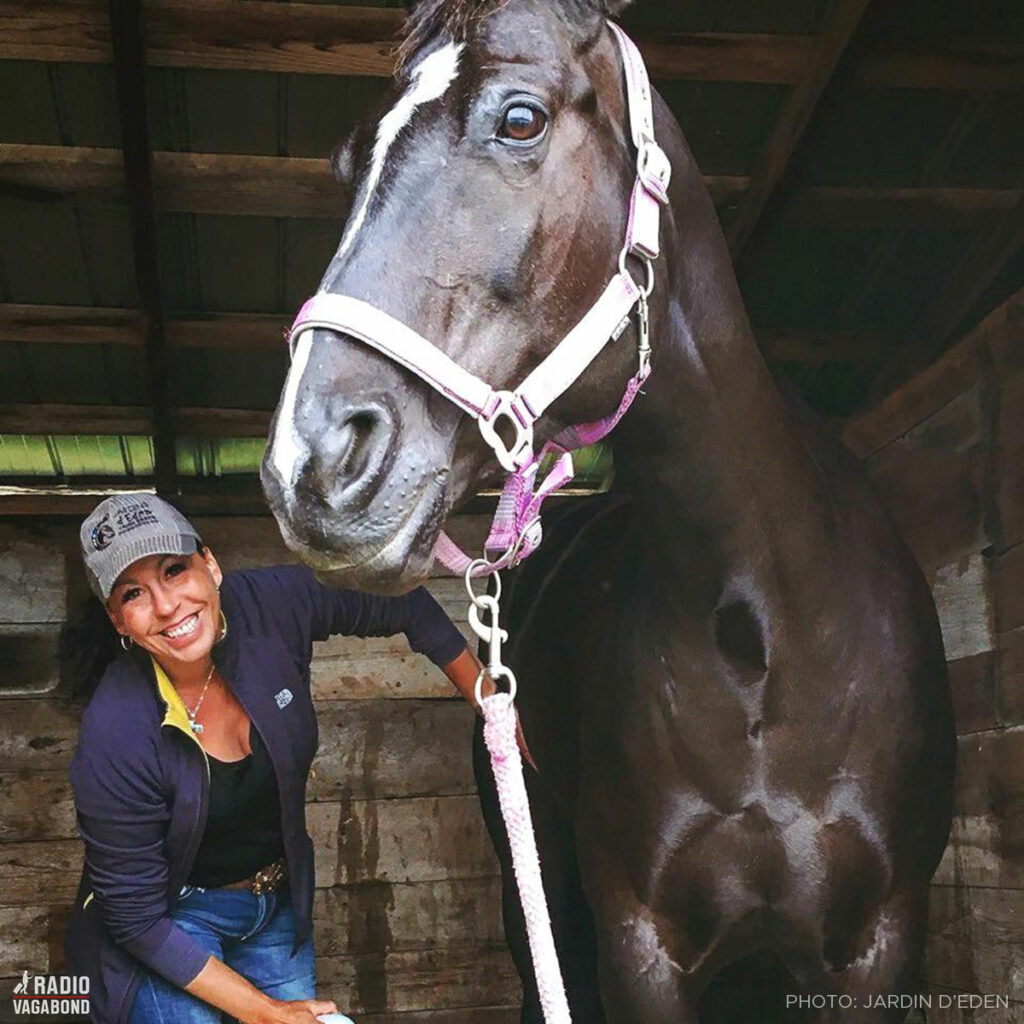 After a few days in Bromont, Montreal and Toronto, I plan on visiting the beautiful Finger Lakes in upstate New York. As I've already hosted episodes on Montreal and Toronto I won't be recording any episodes there and I'll just be enjoying time with friends I met on my last visit, but if you'd like to hear more about these exciting places just click on the links above. Until next time…
My name is Palle Bo, and I gotta keep moving. See you.
I WOULD LIKE TO HEAR FROM YOU!
I really would like to hear from you. Where are you and what are you doing as you listen to this episode? You can either send me an email on listener@theradiovagabond.com or go to TheRadioVagabond.com/Contact. Or send me a voice message by clicking on the banner.
Either way, I would love to hear from you. It's so nice to know who's on the other end of this.
SPONSOR
A special thank you to my sponsor, Hotels25.com, who always provide me with the best, most affordable accommodation wherever I am in the world.
Hotels25 scans for prices on the biggest and best travel sites (like Booking.com, Hotels.com, Agoda and Expedia) in seconds. It finds deals from across the web and put them in one place. Then you just compare your options for the same hotel, apartment, hostel or home and choose where you book.
When you book with Hotels25, you get access to 5,000,000 hotel deals. And it's best price guaranteed.