Welcome back to Maine and my stay at Ben's Blueberry farm!
In this episode, I put a chilli finger in my eye and my foot in my mouth. So, this is not my proudest episode. You can stop reading now. But if you're brave enough to continue, just don't say I didn't warn you…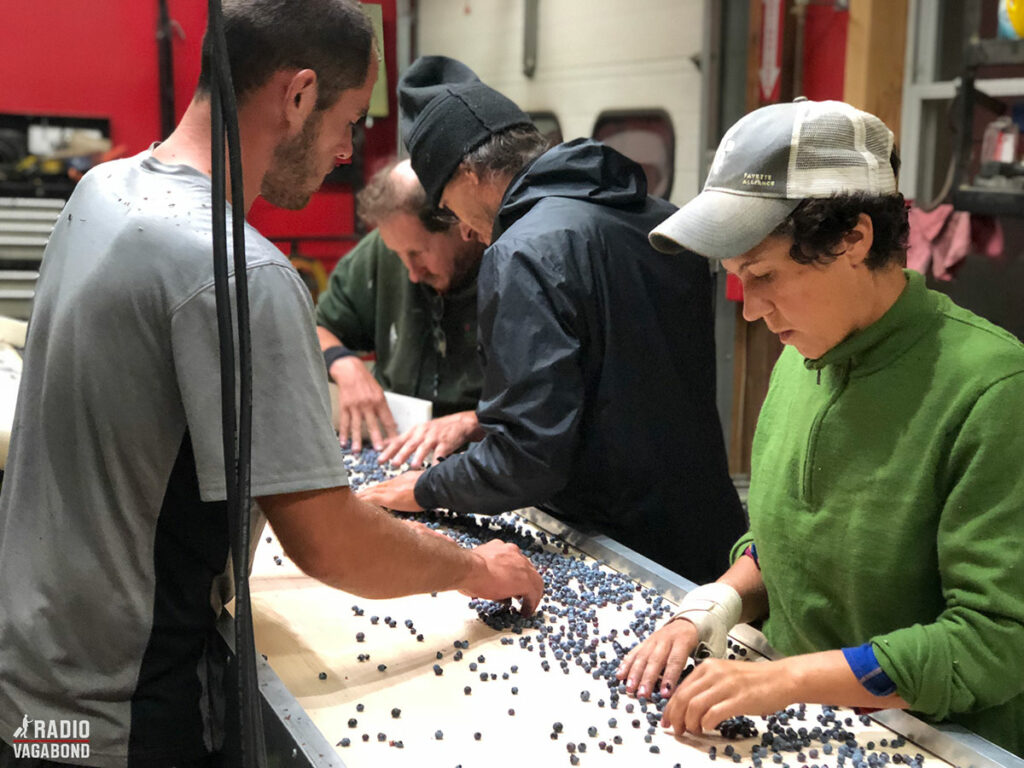 Previously on The Radio Vagabond
In the previous episode, I arrived at Ben Perrin's blueberry farm in the middle of nowhere in Maine, USA. I got to hang out with him and his crew and saw how they sort their first-class organic blueberries and get them ready for shipping to stores.
I also went to a place called The Pickled Wrinkle to eat pickled sea snails (gross) and walked around in the beautiful Acadia National Park. If you missed Part I of my time in Maine, be sure to listen to the episode before you continue.
BEN AND HIS BLUEBERRIES
For my last night in Maine, Ben invited me to go to a small local concert. He knew the singer and wanted to go see her … and grab a few beers. So, I offered to be the designated driver.
We piled into Ben's truck and headed out at dusk. As I was driving along the small, winding forest roads, I pulled out the microphone and asked Ben to tell me about how he ended up becoming a blueberry farmer.
Ben tells me he has spent the past 15 years working on farms all around the United States, seeking out blueberry farms in particular as they are his favourite to work on. 
"When the machines started taking over our jobs, I started Burke Hill Farm as a way of protecting our jobs," says Ben. He was a roaming worker back then, and when he eventually arrived in Maine, he saved up enough to buy the land and build the farm.
Ben's farm sees a lot of people coming to help out during the harvest season each year. "Every kind of person walks through our doors. Every different kind, and then some," he says.
He's had people over the age of 80, and a few as young as 14 come to work on the farm over the years. This kind of work and lifestyle appeals to a wide variety of people, which makes each season different.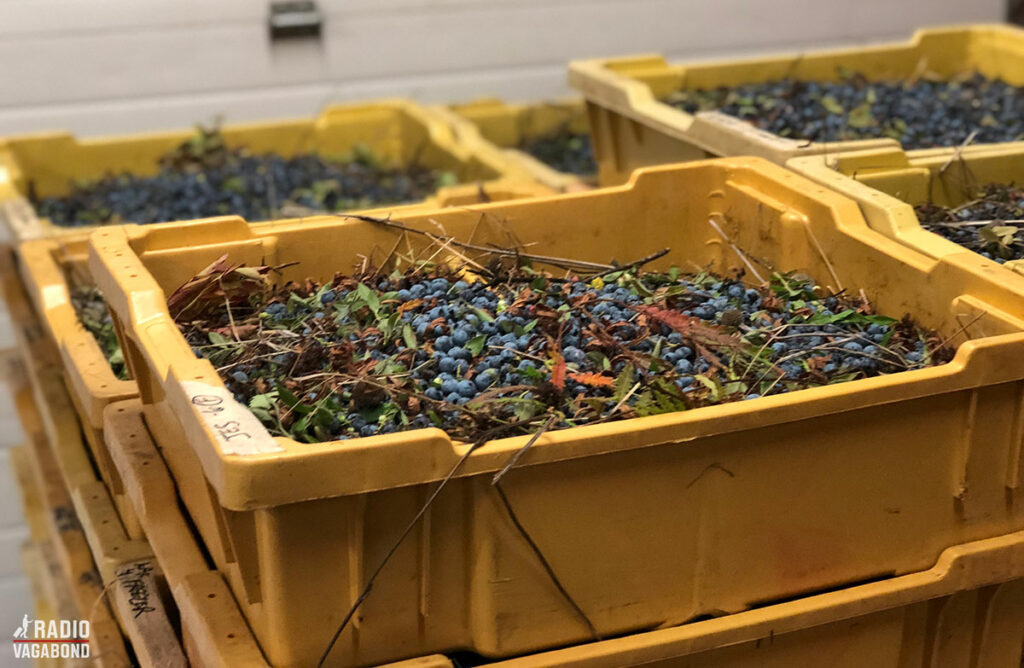 Jason and Ben are the only people who work at the farm all year round. But during various times of the pre and postseason, he fires a small team to help carry the load. But Ben isn't one to shy away from hard harvest work. 
After around 15 years of working on farms for 20 hours a day non-stop for months, it eventually took its toll on Ben, and he found himself in hospital suffering from chronic fatigue. At that time, Ben wasn't eating for 15 days straight and getting around 30 minutes of sleep each night. After recovering, Ben realised he needed help, so he hired Jason, who helps out a lot.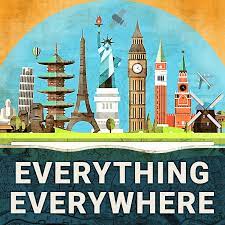 PODCAST RECOMMENDATION
I want to give you a podcast recommendation. It's a short daily podcast called Everything Everywhere by a guy called Gary Arndt. It's a nice daily dose of random knowledge. Be sure to give him a listen.
FOOT IN MOUTH 
On the first night staying with Ben, he made us some home-cooked spicy chicken. It really was delicious but very spicy. At the height of my gastronomic euphoria, I accidentally rubbed my eye with my spicy finger, and wow… it was violently unpleasant. Note to self: never extend hands above the mouth when consuming heavily spiced chicken limbs.
After that, we had a beer and started talking about a bunch of things: and politics came up. I should have known that the US is very politically divided, unlike Denmark. Back home, we often talk about these things openly. But I wasn't in Denmark. I was in Maine, USA. On a blueberry farm. With spicy eyeballs. 
Then, I put my foot in my mouth like an idiot. For some reason, I assumed that being farmers in Maine, Ben and his friends would naturally be Trump supporters. Boy, was I wrong. After talking about the topic of immigration and comparing the situation in Denmark to that of the United States, things got awkward. After I started my standpoint, someone tried to stop the conversation by calmly letting me know that what I was saying sounded similar to what Trump's viewpoints were at the time. 
I was surprised that I was not in the right-leaning company here on a farm in Maine, but in fact, a very left-leaning crew occupies these barn walls. I was super embarrassed that suddenly, among these people, I sounded like a Trump supporter. Wow, along with my foot firmly wedged in my mouth, I thought about poking my spicy fingers in my eyes for good measure! We changed the subject quickly…
BEN'S PHILOSOPHY
Back in Ben's truck on the way to the gig, Ben tells me why he likes living in Maine so much. "Maine has the lowest APSM ratio (Assholes Per Square Mile) of the country, and that is in large part due to the fact that not many people live here to begin with, which significantly reduces the APSM".
Ben plans to immigrate to Ecuador or Colombia sometime in the future. He isn't entirely happy with the way the country is being run. He doesn't seem to think the country is going to be very inhabitable in the future.
These countries have a powerful military presence, according to Ben. He thinks the countries in the region are very safe, and there is a renewed sense of hope which he is attracted to.
As we continue our drive to the bar, Ben tells me more about his views about South American countries and his plans to eventually settle there. He thinks he will start in Medellín, Colombia, first. 
BEN, BEERS, AND A BLUES BAR
We eventually made it to the music venue after a long ride made to feel short thanks to the interesting chat with Ben. I parked Ben's truck, and we went inside – it seemed like Ben knew everyone there. 
The place was more like a garage than a music venue, but it was so cool to be hanging with the locals for an hour or so before Ben's friend – that he called "one hot chick" went up with the band and started playing. Nothing like some live smooth blues rock 'n roll in the middle of nowhere in Maine. 
Later that night, as I was trying to drive back home in the dark, Ben fell asleep in the passenger seat and without anyone to direct me, I got hopelessly lost.
But all these experiences — from hanging around with blueberry rakers, eating chilli chicken and sea snails, meeting the locals, and learning a few things about myself — were all parts of another unique Couchsurfing experience. It was a lot compressed into a few days.
Would I have gotten that had I used a chain hotel and just had my own private room? I doubt it.
Next stop: Vermont
Next, I'm off to Vermont, the last of the six states in New England, before continuing north across the border. I'll be on the lookout for another Ben … and maybe his buddy Jerry, too. Or at least their ice-cream factory where it all began. 
My name is Palle Bo, and I gotta keep moving. See ya…
I WANT TO HEAR FROM YOU!
I really would like to hear from you. Where are you and what are you doing as you listen to this episode? You can either send me an email on listener@theradiovagabond.com or go to TheRadioVagabond.com/Contact.
Or send me a voice message by clicking on the banner.
Either way, I would love to hear from you. It's so nice to know who's on the other end of this.
SPONSOR
A special thank you to my sponsor, Hotels25.com, who always provide me with the best, most affordable accommodation wherever I am in the world.
Hotels25 scans for prices on the biggest and best travel sites (like Booking.com, Hotels.com, Agoda and Expedia) in seconds. It finds deals from across the web and put them in one place. Then you just compare your options for the same hotel, apartment, hostel or home and choose where you book.
When you book with Hotels25, you get access to 5,000,000 hotel deals. And it's best price guaranteed.