Greetings from Maine, USA!
After leaving the scandalous and oh-so-intriguing story of Belinda Rathbone and The Boston Raphael behind in Boston, I jumped back into my trusted steed of steel and headed for Portsmouth, New Hampshire for a 2-night stay with a Couchsurfing buddy. I needed to visit a medical clinic here to get my blood pressure checked after consulting my doctor back in Denmark. The saga continues…
UNDER (BLOOD) PRESSURE
After a thorough examination from a friendly physician, I was advised on how to improve things in my life to better my situation, like diet, exercise, etc. I was also given some medication to assist, which turned out to help me tremendously. Portsmouth was great, despite my stay being short and my medical tests taking up most of my time. Not one to dwell, my spirits remained high as I hit the road on the way to Maine for another Couchsurfing experience – this time on a farm.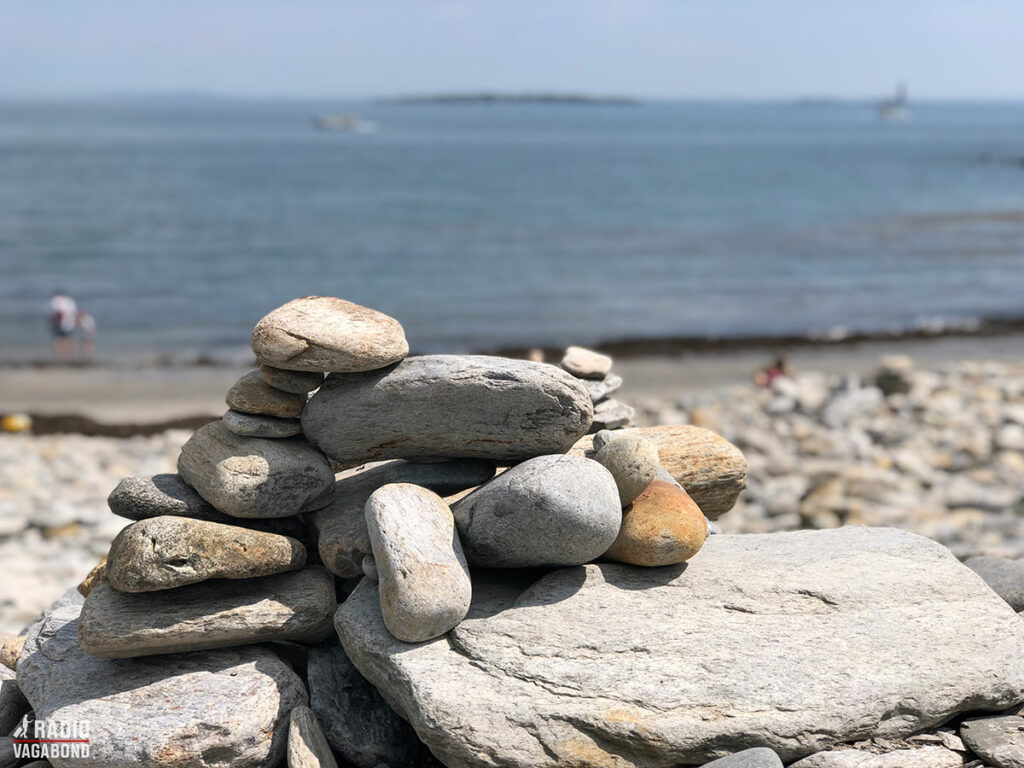 THE MAINE PRIZE
Every single day since then – and probably for the rest of my life – I've been taking a small pill every morning to keep my BP levels in check. So, it was a "new me" with low blood pressure that was heading North towards a state with a lot of forests. 
In fact, 89.5% of Maine is covered in forest. That puts them at number one on the list in the US, and actually, number two on that list is where I am right now… New Hampshire with 84%. Both of the two states have a population of around 1.3 million – but Maine is around four times as big as New Hampshire.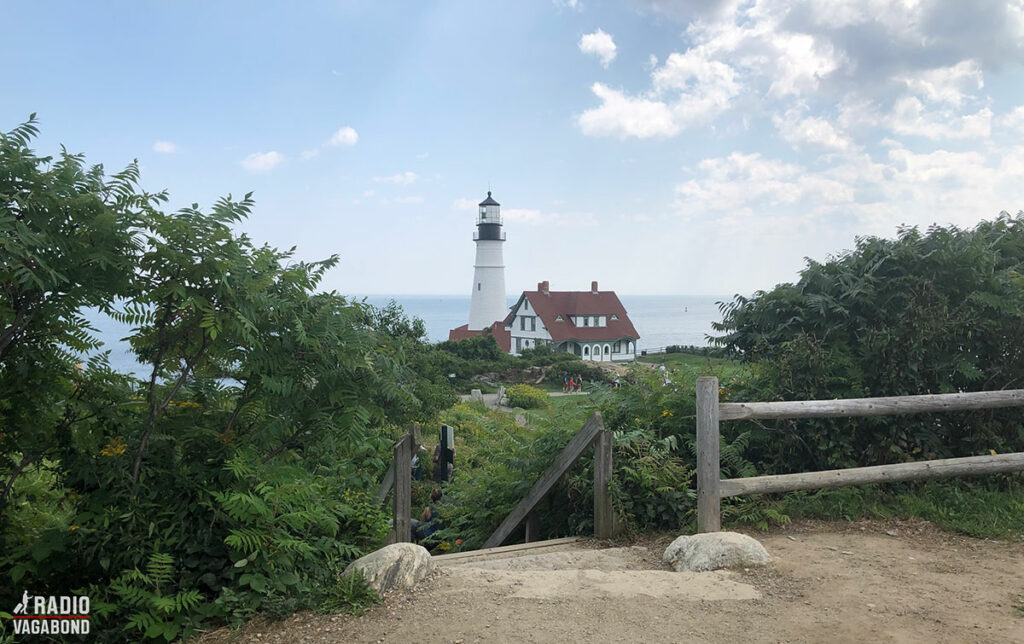 I then drove from Durham, New Hampshire to my next Couchsurfing host Ben's Blueberry farm in Burke Hill Farm in Cherryfield, Maine. It's a drive of 240 miles/386 kilometers, so I made a stop on the way at the iconic Portland Light Head (not to be confused with Portland, Oregon that was actually named after this Portland here in Maine).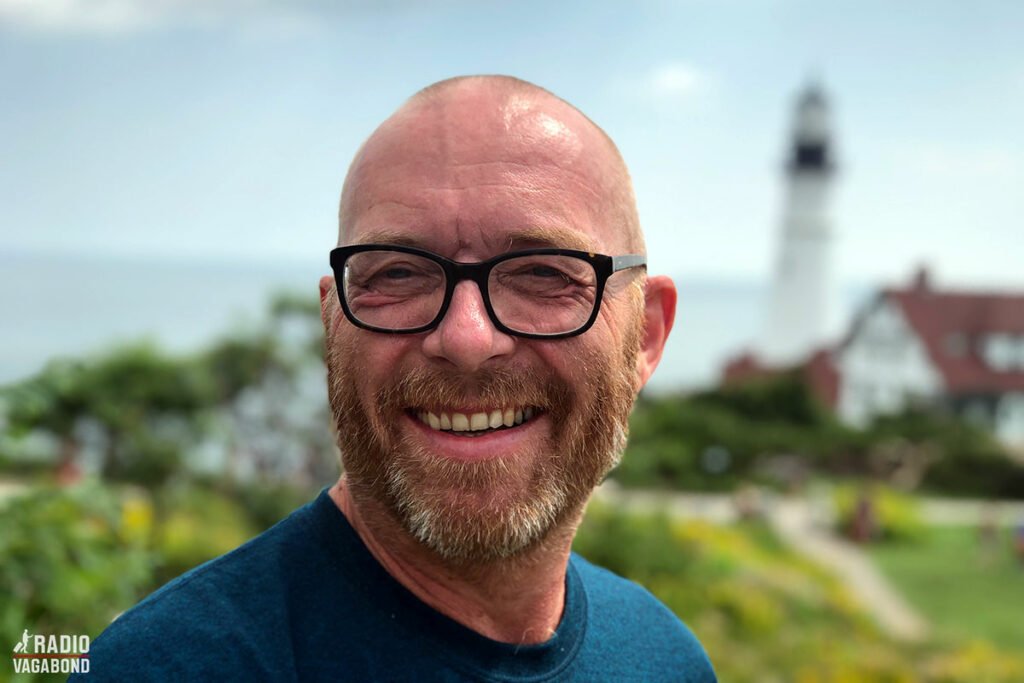 FUN FACTS ABOUT MAINE
The official state animal of Maine is the moose. The state is home to approximately 76,000 moose, the highest moose population in the lower 48 states.
The official state insect of Maine is the honeybee. The Maine Beekeepers Association was founded in 1976 to promote understanding of the insect's importance. 
Maine is the only state that shares its borders with only one other US state. That state is New Hampshire. The rest of the border is to Canada in the north.
Maine is the only state in the United States whose name has one syllable.
Maine is the single largest producer of blueberries in the United States. In fact, Maine produces 99% of all the blueberries in the country. So, very appropriate that I'm heading to a blueberry farm to learn more about this.
BEN'S BLUEBERRY FARM
The reason why I chose to stay in the Northeastern corner of the USA in the countryside is that when I travel Southwest from here I will pass the Acadia National Park, nestled on a small island. It is described as a beautiful 'must-see' part of the area so I planned to spend a full day there.
The drive up to Ben's farm is really beautiful, with lots of farms and lakes and nature. He told me that it can be tricky to find his farm as it is really secluded, so he'd given me a long description on how to find it. We're so far away from anything that I can't rely on getting a signal and use Google Maps like I normally do.
His directions included this special note: "You just need to aim the sextant at the North Star and go from there… you'll be fine." It had been a long time since I used a sextant…
My alpha male innate sense of direction didn't let me down and I eventually managed to find the farm and met Ben and his dogs. He welcomed me into his newly built wooden house and I was welcomed with a fresh cup of coffee made by Ben's friend, Jezebel. Nothing like a good cup of coffee to forge new friendships over. When I mentioned, I come from Denmark, Ben impressed me with his limited handle on Danish numerals.
Ben's farm is called Burke Hill Farm and it's a certified organic wild blueberry farm in Cherryfield, Maine, the heart of Maine's blueberry country.
Here, Ben and his team farm about 200 acres of organic wild blueberries the traditional way, harvesting by hand to provide high-quality wild blueberries. Ben Perrin started raking blueberries in 1991 and started Burke Hill Farm in 2001.
Inside the wooden house, you can almost smell the fresh wood and the sawdust. Ben built "every f@cking piece" of the house with his bare hands over 15 years, and only just moved in 3 weeks prior. So, there are few things that still require fixing.
Ben tells me that it is a quiet and peaceful place for the most part until the team starts working on the blueberries downstairs… Later that day, Ben took me downstairs to show me the sorting process of sorting freshly picked blueberries.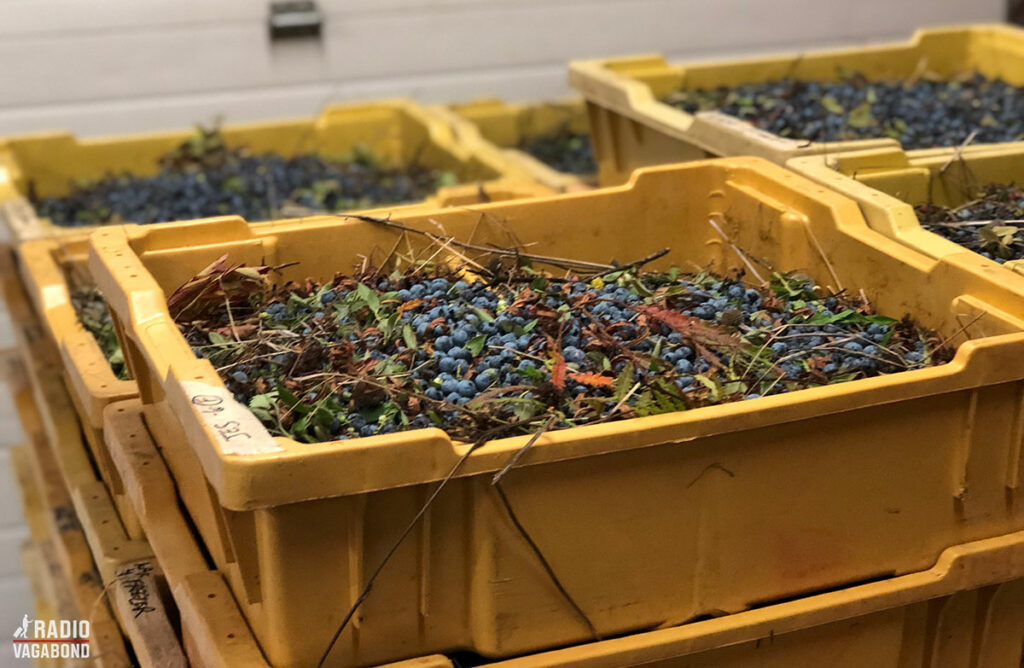 SORTING BLUEBERRIES
Once the freshly hand-picked blueberries are harvested and brought to the farmhouse, they are placed on a conveyor belt. First, the leaves get blown away by a big fan, then the blueberries are sorted by a grainer (small ones fall through the holes and get placed in a separate area). Then, the soft/mushy ones are removed by a tilt belt, leaving the only best blueberries for the picker belt to be packaged and sold. Such a simple and neat operation!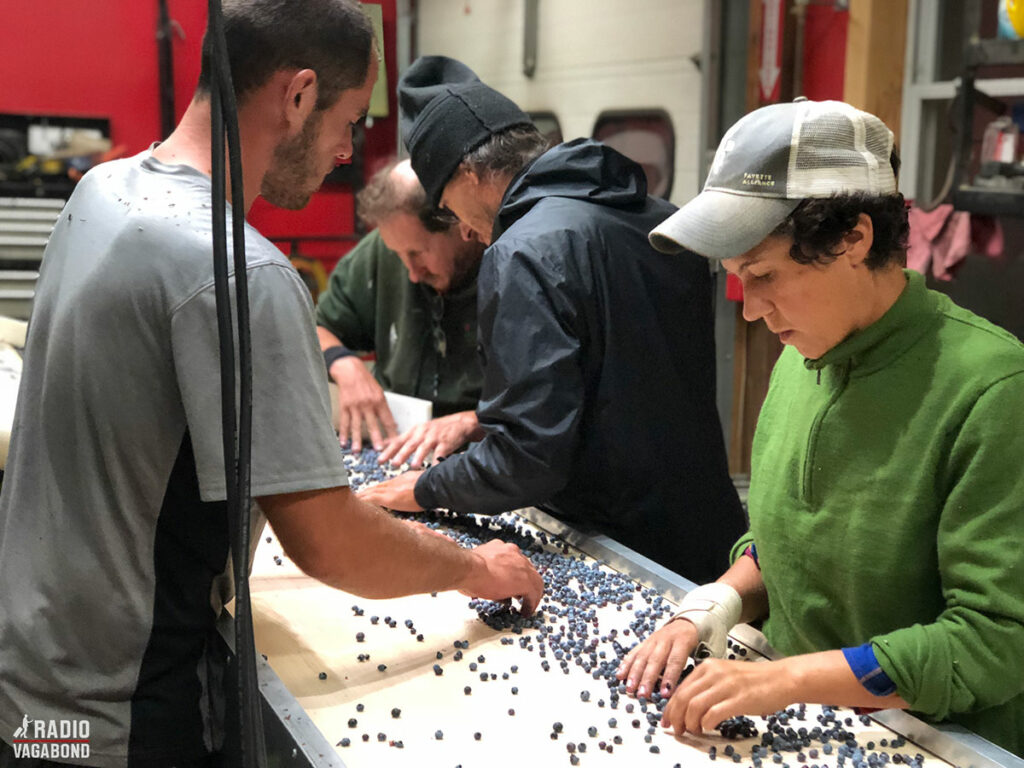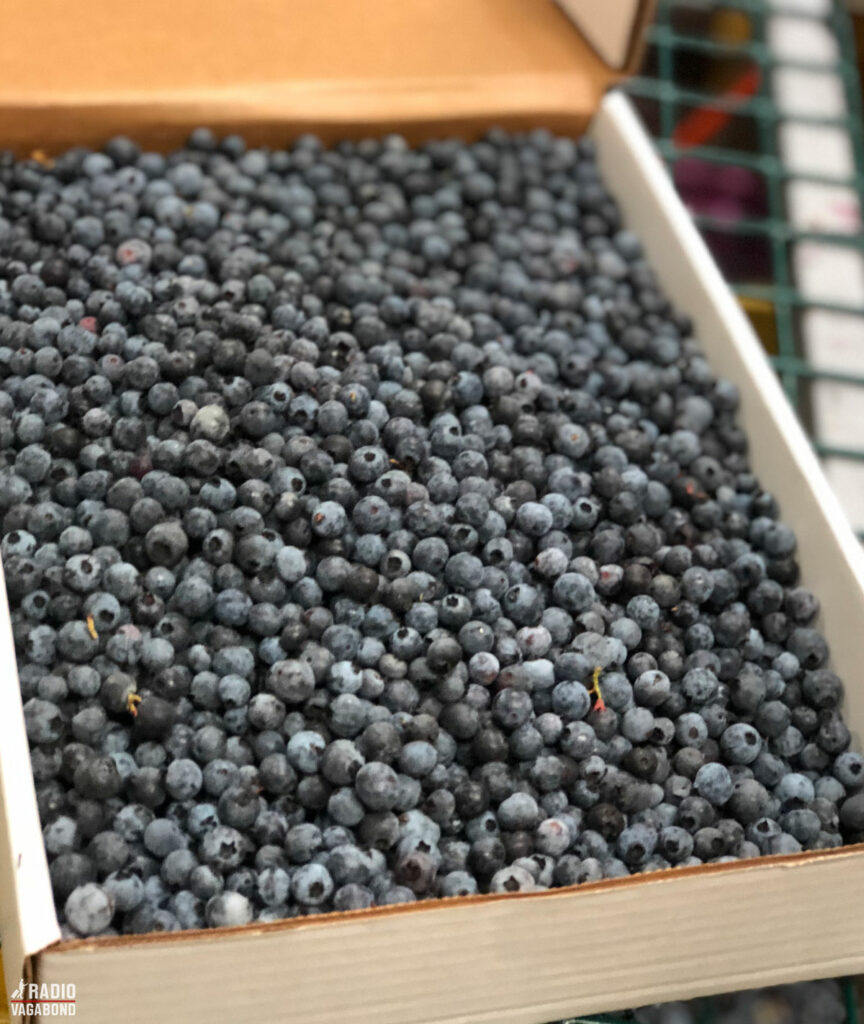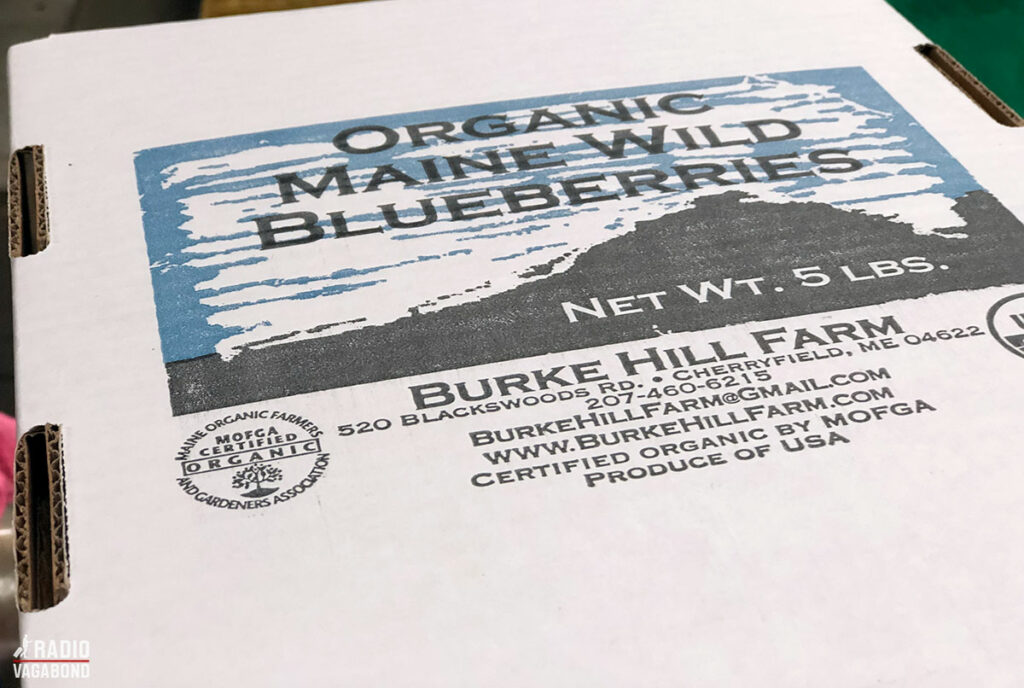 PICKLED WRINKLES
The next morning, I planned a day drive a short distance from Ben's farm to Acadia National Park. But on the way, I made a stop to eat sea snails, or as the locals call them, "pickled wrinkles". Yummy. Ben recommended I try them out to get a real taste for the area.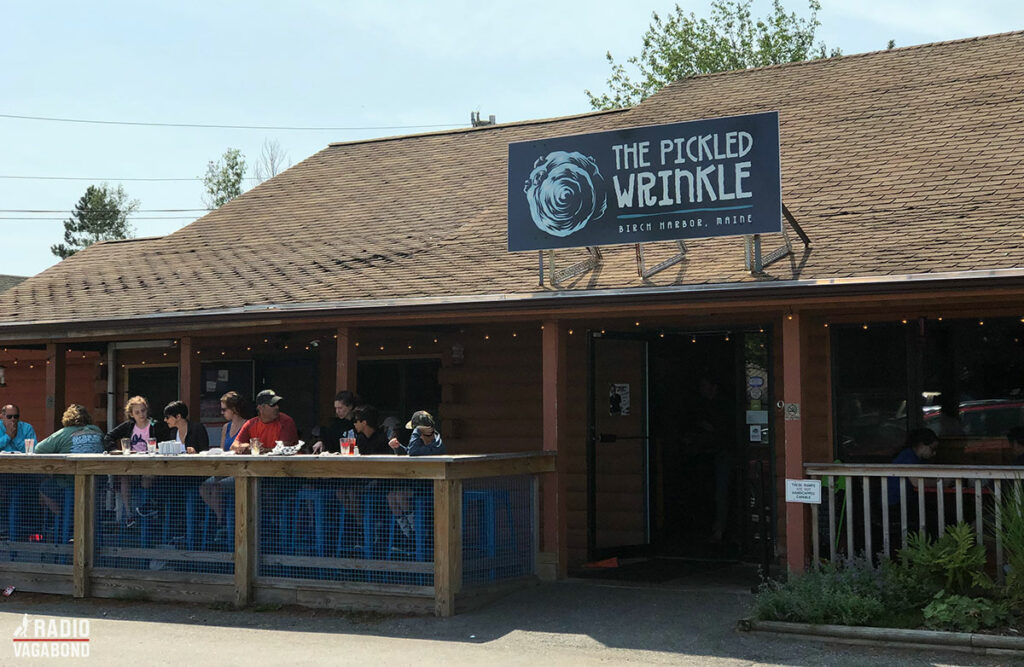 Pickled Wrinkles are an old East Maine Delicacy. They are large sea snails, or whelks, which are pickled and marketed locally as Pickled Wrinkles. Lobster fishermen find the wrinkles in traps they haul from the ocean floor. The waitress told me a bit about the pickling process, that they use a mixture of vinegar and spices to preserve the snails.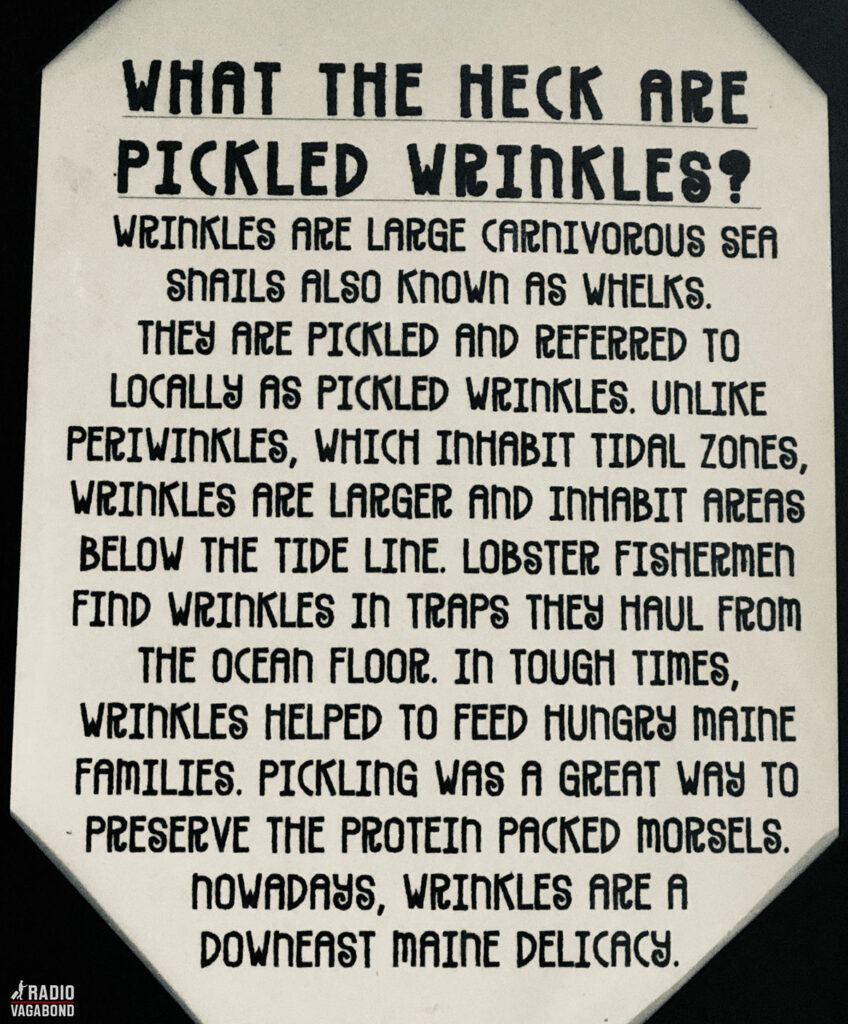 Eating them goes back to the old tough times when wrinkles were relied on to help feed Maine families, and they started pickling them because it was a great way to preserve the protein in them. The plate came with 3 sea snails, and they were very chewy (like octopus) and not bad at all, although I won't be in a hurry to eat more…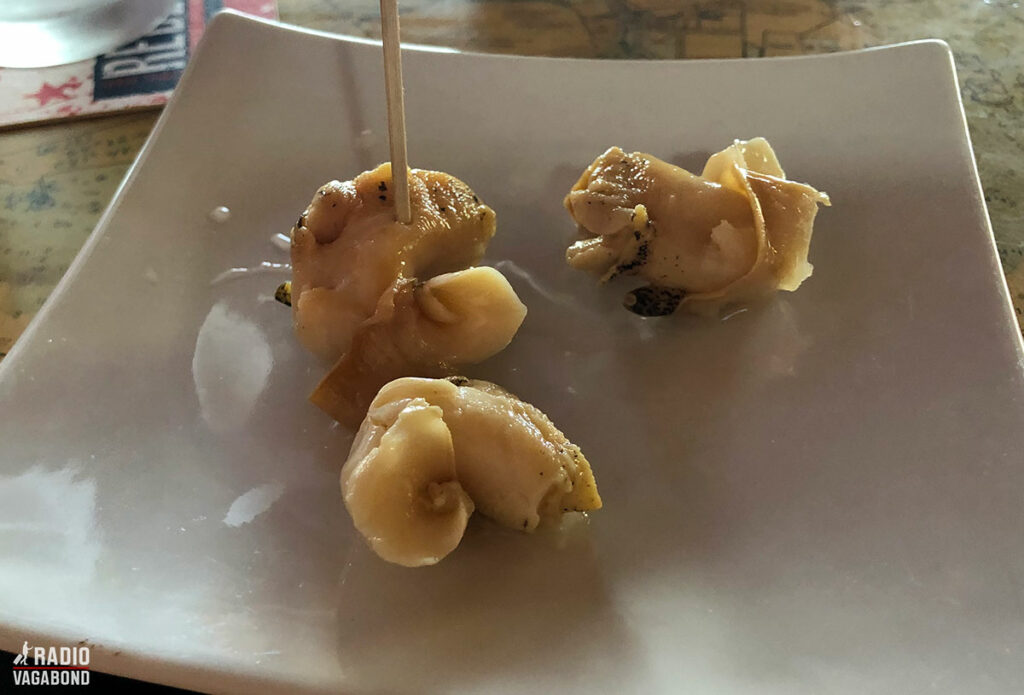 ACADIA NATIONAL PARK
After my pickled wrinkle gastronomic adventure, I jumped back in my car and made my way to Acadia National Park, known as the Crown Jewel of the North Atlantic Coast. It protects the natural beauty of the highest rocky headlands along the Atlantic coastline of the United States and forms an abundance of habitats, including rich cultural heritage.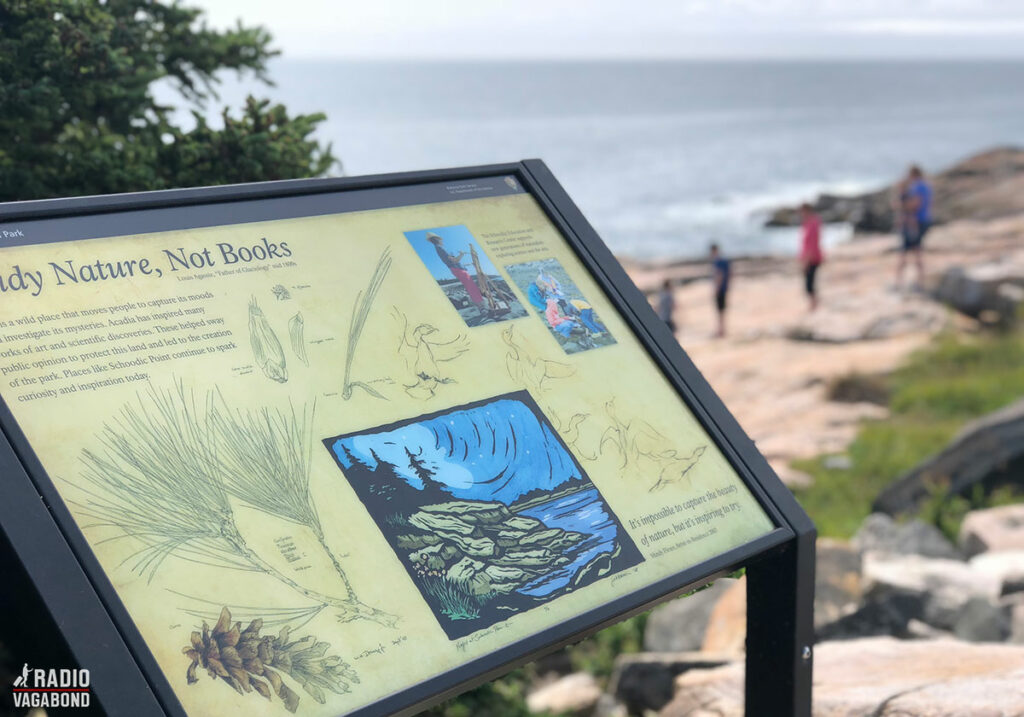 At 3.5 million visits a year, it's one of the top 10 most-visited national parks in the United States. I got to enjoy the park by driving around on parts of the historic motor roads, and I walk on a little part of the 158 miles of the hiking trail, and I got to sit on a rock by the ocean to reflect on my travels so far.

That's all we have time for in this episode, but I have more to share here from Maine in the next episode of The Radio Vagabond travel podcast. Be sure to be on the lookout for Part II.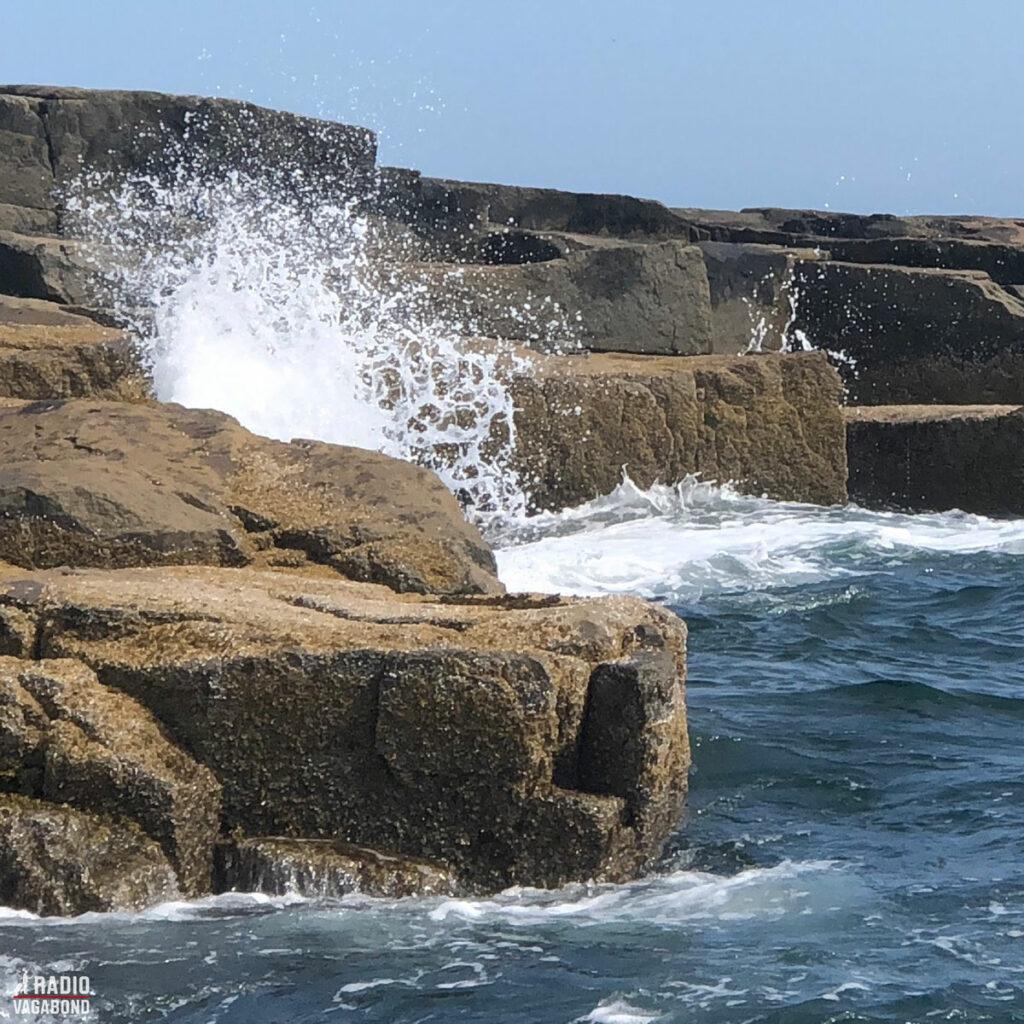 My name is Palle Bo, and I gotta keep moving. See ya!
LET ME HEAR FROM YOU!
I really would like to hear from you. Where are you and what are you doing as you listen to this episode? You can either send me an email on listener@theradiovagabond.com or go to TheRadioVagabond.com/Contact.
Or send me a voice message by clicking on the banner.
Either way, I would love to hear from you. It's so nice to know who's on the other end of this.
SPONSOR
A special thank you to my sponsor, Hotels25.com, who always provide me with the best, most affordable accommodation wherever I am in the world.
Hotels25 scans for prices on the biggest and best travel sites (like Booking.com, Hotels.com, Agoda and Expedia) in seconds. It finds deals from across the web and put them in one place. Then you just compare your options for the same hotel, apartment, hostel or home and choose where you book.
When you book with Hotels25, you get access to 5,000,000 hotel deals. And it's best price guaranteed.