Before you click play on the podcast, have a listen to this song. I speak to this guy in the episode.
I speak to Dat Boy Mreppa when I get to Durban.
Molweni!
Welcome to Part 3 of my epic road trip across beautiful South Africa. In this episode, we pick up where I left off in Part 2, leaving local bungy jumpers at Bloukrans Bridge on my way to Port Elizabeth. But not long after I hit the N2 national highway I made a scheduled stop at one of South Africa's rare gems.

Tsitsikamma National Park
The exquisite Tsitsikamma National Park is nestled along the southern coast of South Africa and forms part of the Garden Route National Park.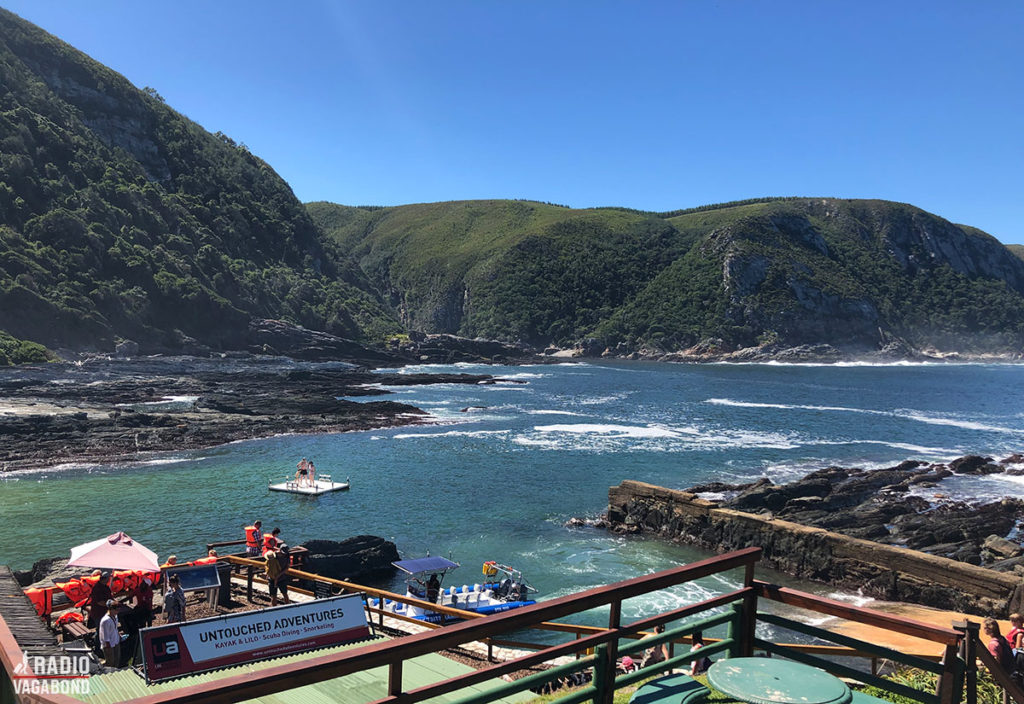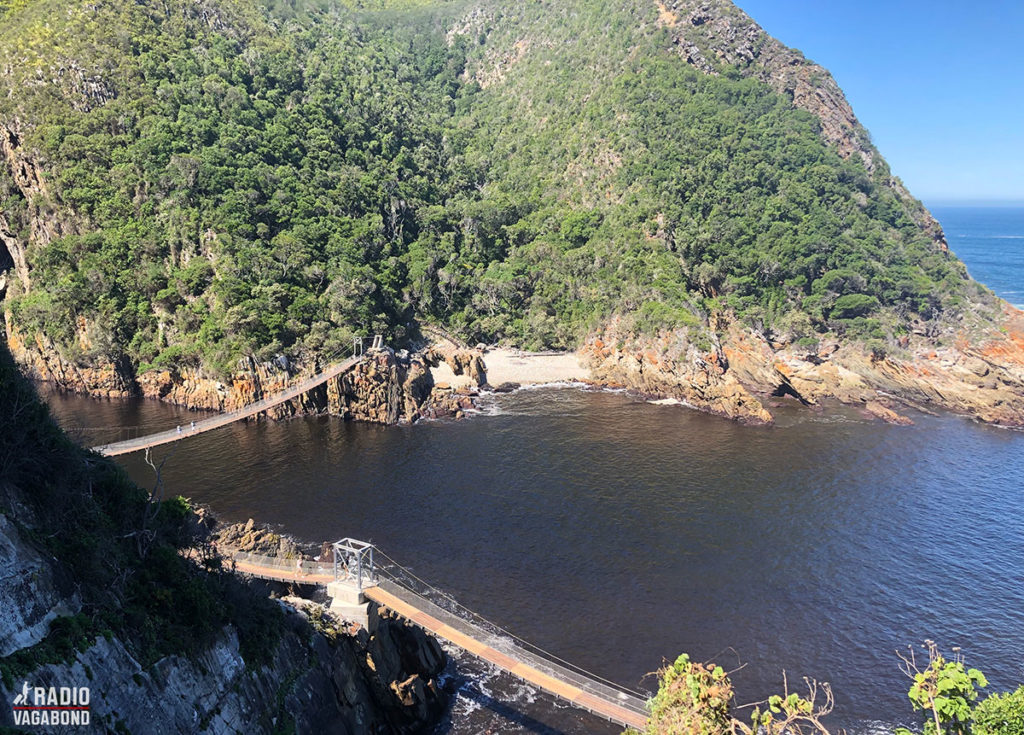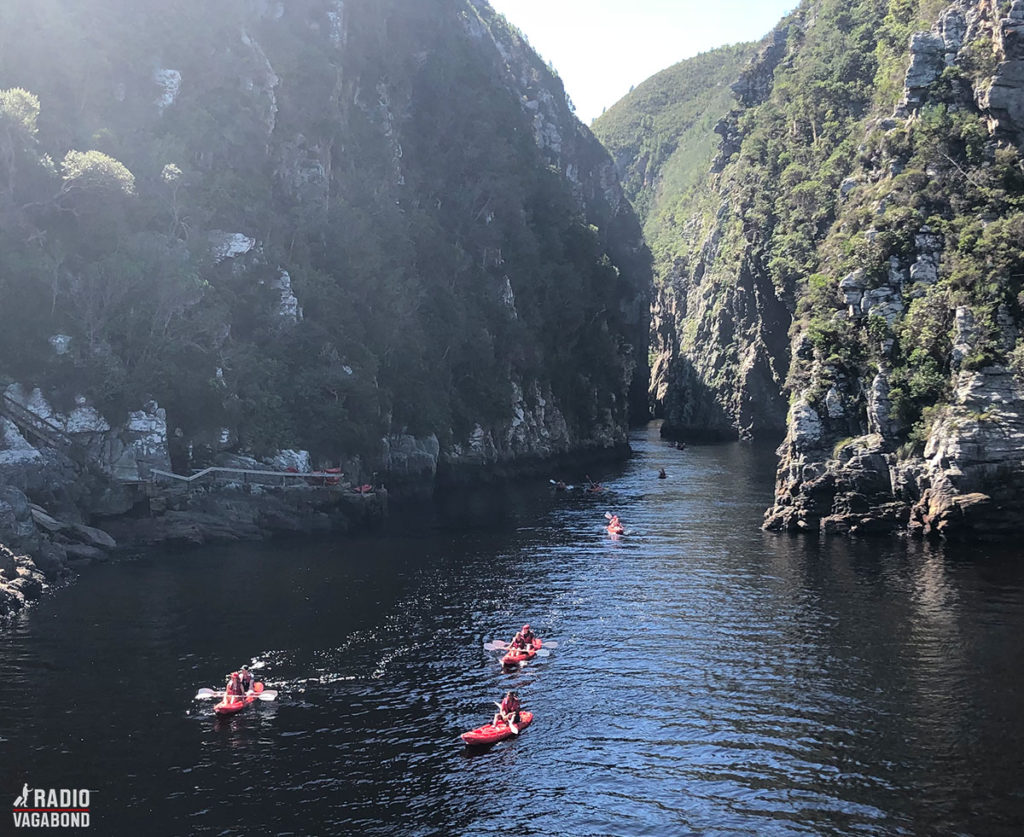 With dramatic coastlines of towering mountains meeting the pulsating tides of the warmer Indian Ocean, this is truly a beautiful place. So, I decided to get out of my car and take a quick hike to explore some of the raw natural scenery.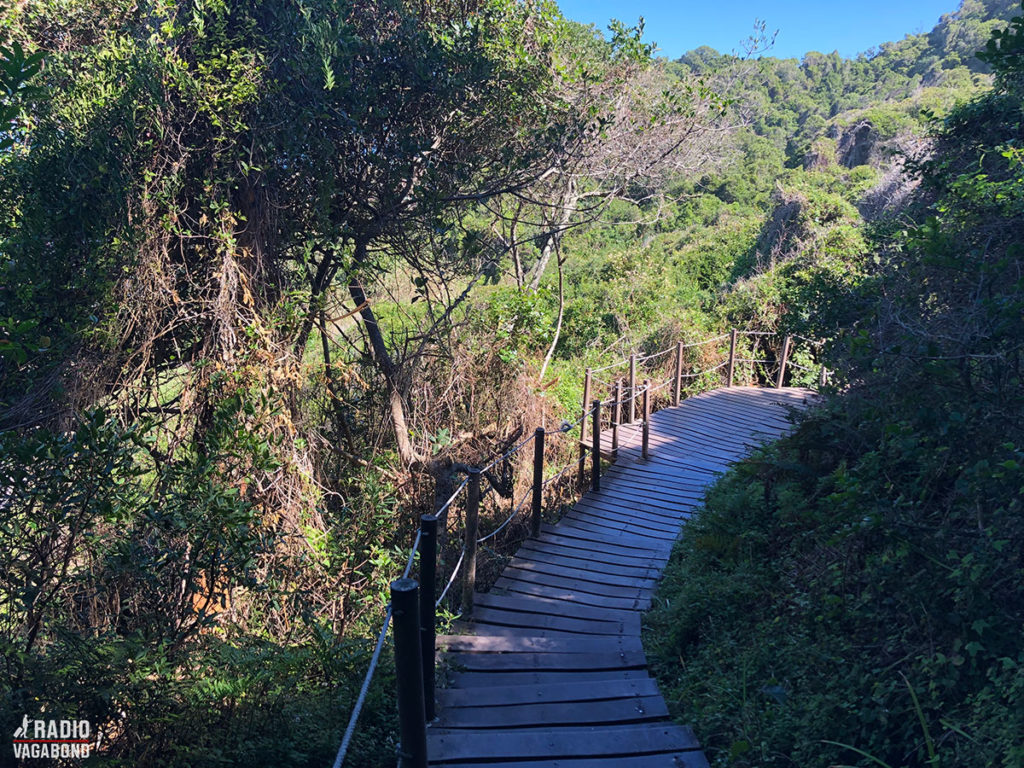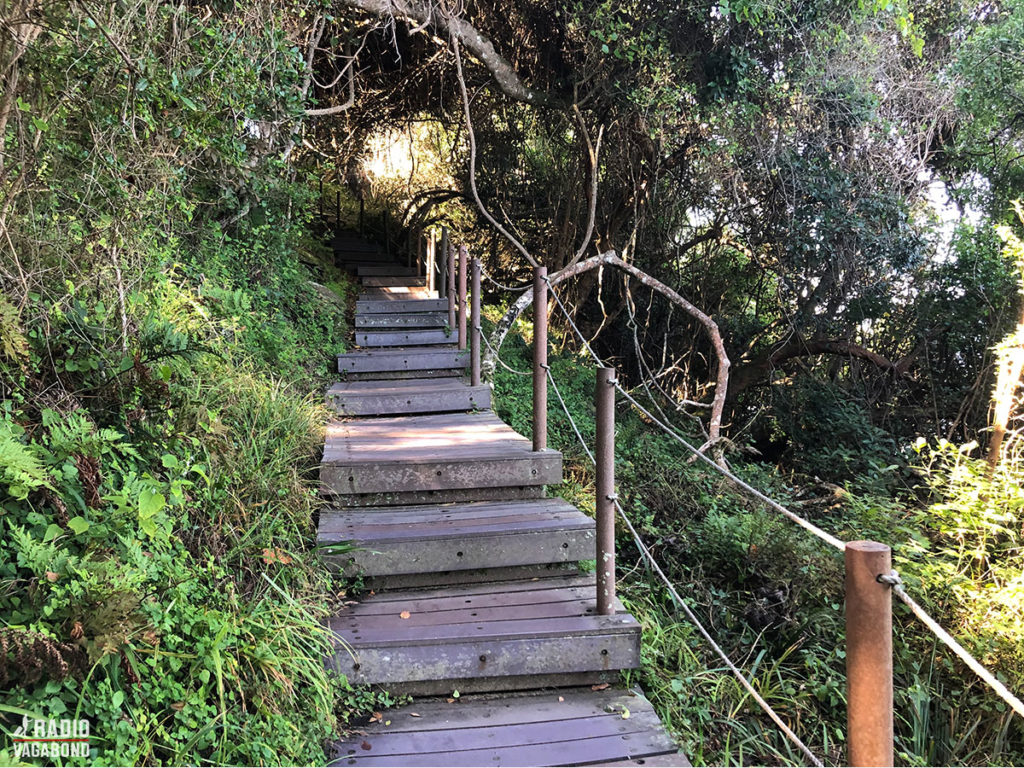 The drive to Port Elizabeth
After my hike I got back into my car and continued towards Port Elizabeth, almost 200km away along the East coast.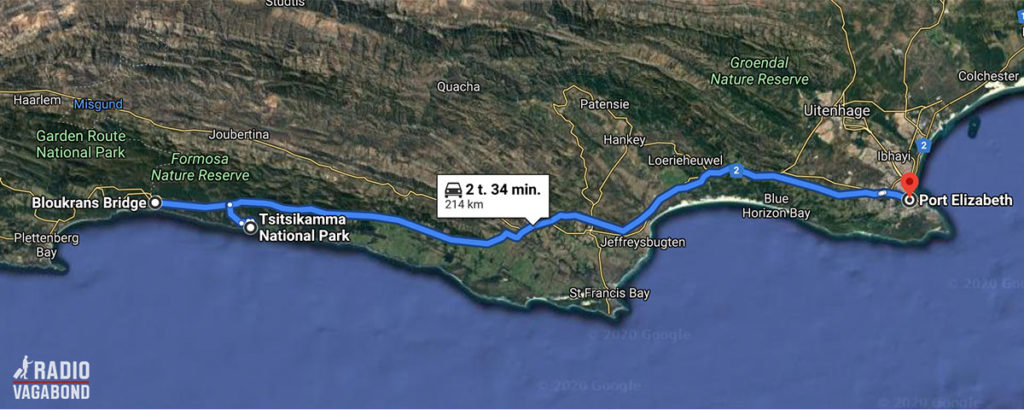 Port Elizabeth is a quaint city with friendly people and a beautiful coastline. It gets rather windy in these parts I am told, so I wore a hat so I wouldn't have a bad hair day!  
INTERESTING FACTS ABOUT PORT ELIZABETH
Port Elizabeth is in the Nelson Mandela Bay municipal area.
It's actually South Africa's second largest city – with regards to its area at least. If you go by the population count – 1.2 million, it's the 5th largest city in the country.
The city is nicknamed "PE" by South Africans and is also known as 'the Friendly City'.
The city has 40 km of unspoiled coastline (consisting mostly of beaches).
Forget about Route 66 – PE has something they call 'Route 67'. Spread out around PE, you can experience a collection of 67 artworks symbolising Nelson Mandela's 67 years of work.
Although my time in PE was short and sweet, I still managed to come away with a good feeling about the city and its people. In the afternoon I handed my trusty steed (Toyota Corolla) back to the car hire shop and jumped on a flight headed for Durban.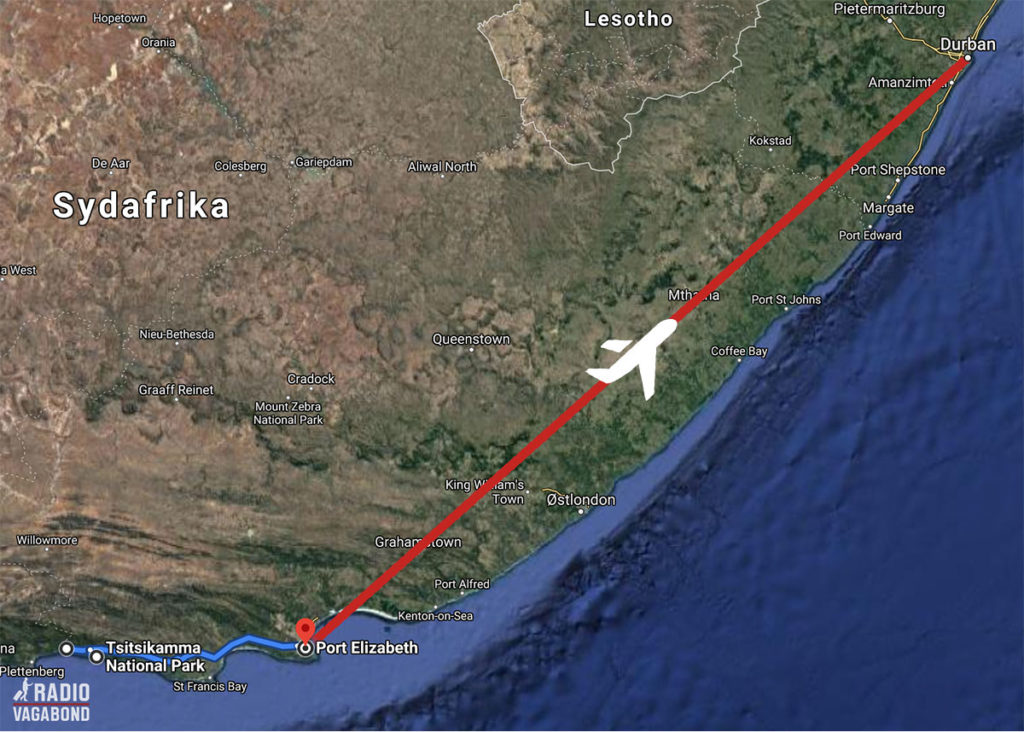 Yes, I know that flying is technically 'cheating' on a road trip, but the distance from PE to Durban is almost 1,000km/12-hour drive. My time here is short, so I made the decision to cut out a few cities and towns along the coast to instead have more time for the last bit towards Johannesburg – and to play around in Durban. And it turned out to be a good decision.
DURBAN, HOME OF THE ZULU
I landed at King Shaka International Airport just outside of Durban in the evening, jumped in my hired car (another Toyota Corolla), and made my way to my hostel in the city. Everyone here dispenses with friendly reminders and warnings about driving cars in South Africa at night. For instance, a few people told me that if I get to a red robot (they call traffic lights 'robots' here for some reason) at night, and if nobody is around, I should just drive through. Why? Because hijacking is common in South Africa, and when your car is stationary at a red light is when potential hijackers take chances. With that sobering thought, I cautiously entered the city of Durban – but with more excitement than intimidation.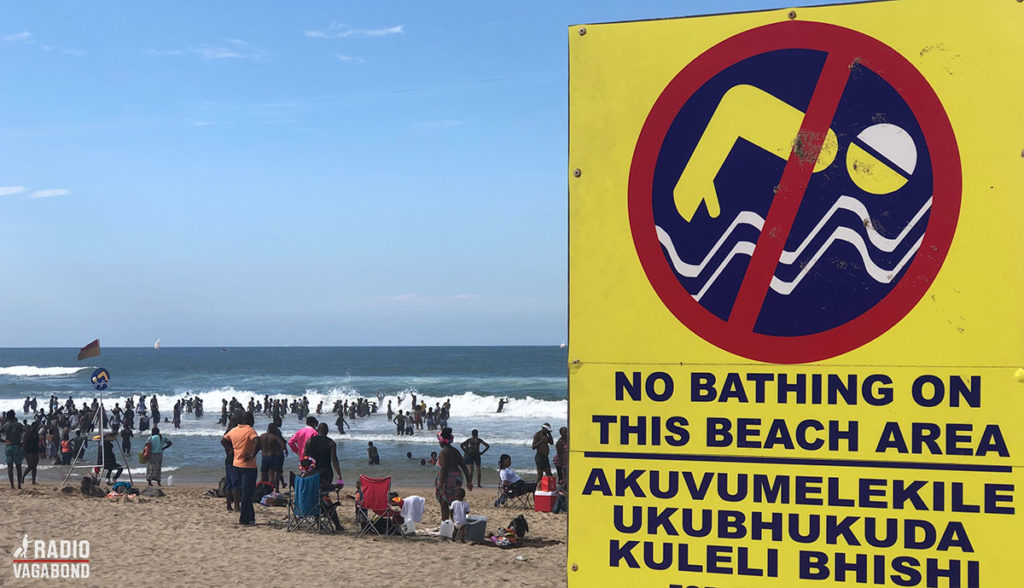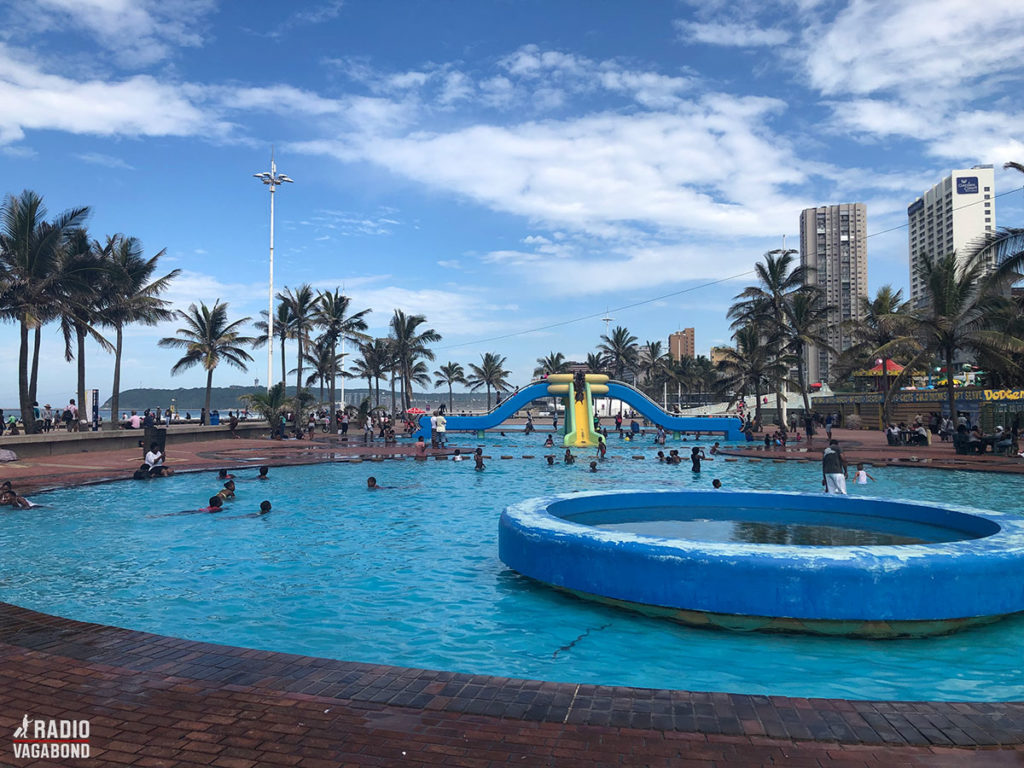 While on the plane, I read that Durban is considered South Africa's 'middle child', with Johannesburg being ambitious and soulful, and Cape Town is picture-perfect and the apple of everyone's eye, and Durban, despite many charms, is often overlooked by tourists. 
Durban, the biggest city in the KwaZulu-Natal province and the 3rd largest city in South Africa, is situated on the Eastern coast of the country. It is a vibrant, multicultural city and home to the largest container port in Africa. With a population of almost 3.4 million people in the metro area, Durban is also home to the largest population of Indian people outside of India. 
KwaZulu-Natal is home to Zululand, a traditional region in the north-eastern section of present-day KwaZulu-Natal (formerly Natal) province. It is the home of the Zulu people and is the site of their 19th-century kingdom. 
Durban is also home to the majestic Moses Mabhida Stadium, the city's iconic soccer stadium built for the 2010 FIFA World Cup, dominates the Durban skyline from afar.
The stadium has a capacity for 56,000 people (expandable up to 85,000) and the most recognisable thing about this stadium is the arch. It's a 350-meter (1,148 ft) long arch that holds up the roof of the stadium. The top of the arch rises to 106 meters (348 ft) above the pitch. They offer a lot of different attractions when you visit: stadium tours, Segway tours, adventure walks (where you walk up to the top of the arch), and they also have The Big Rush Big Swing, and the Sky Car tram that takes you to the top of the icon rooftop arch of the stadium.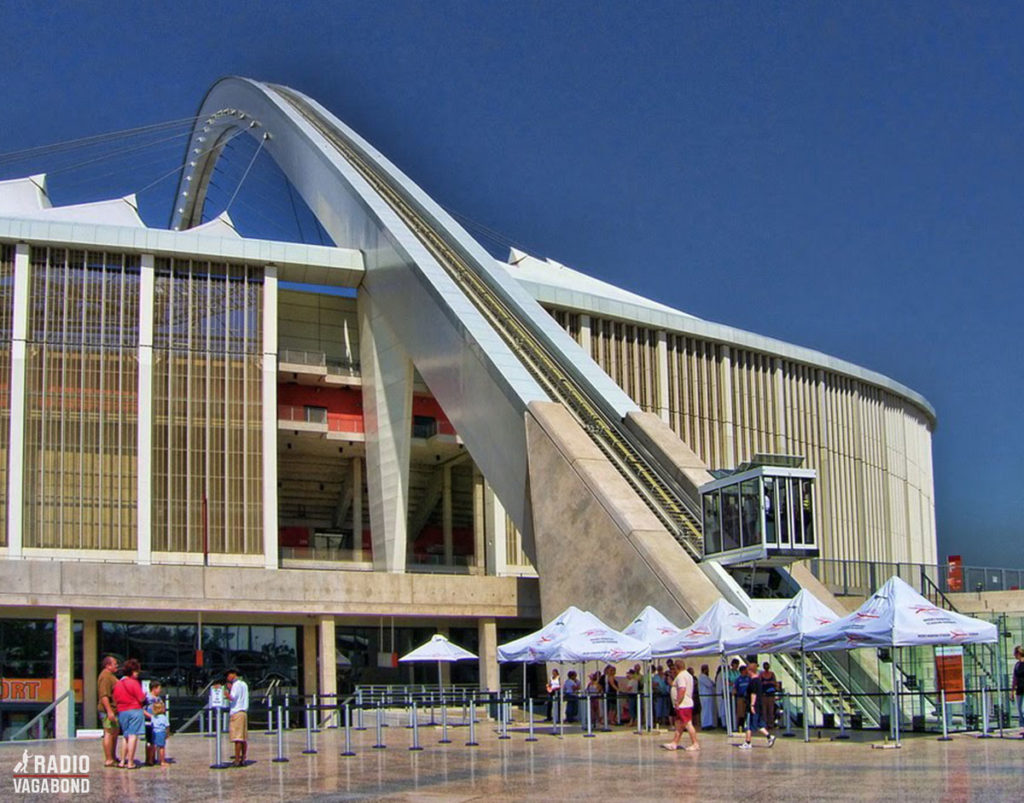 ROOFTOP CHATS WITH A VIEW
After a cup of coffee, I jumped in the Sky Car and made my way to the summit. Here, I got to chat more with my guide, Nkonzo.
Perched at the top of the stadium arch overlooking the vast Indian Ocean and sprawling city of Durban, Nkonzo tells me about how far his city has come in the last 10 years. But there are still many things that require further development.
As a good example, Nkenzo mentions that the former president, Jacob Zuma was removed from power without violence in the street.
POLARISING POLITICS
Let me tell you a bit about Jacob Zuma, the former president of South Africa, who was forced to resign his presidency under a cloud of corruption and a lengthy rape trial. In fact, he resigned just a few weeks before I recorded this podcast episode. 
A deeply polarising figure of South African politics, he was once known as 'the people's president' but for many, Jacob Zuma's name has now become synonymous with the word "corruption".
As a teenager, he joined the ANC (African National Congress) and spent ten years as a political prisoner on Robben Island, alongside Nelson Mandela. After his release, he rose through the ranks of the ANC's military wing, Umkhonto weSizwe (Spear of the Nation). He was a part of the negotiations that brought the end of Apartheid in 1994.
In 1999, he became Deputy President of the ANC but was soon kicked out of office by then-president Thabo Mbeki over allegations of corruption in 2005. These charges were later dropped, and like any comeback kid, he eventually became president of South Africa only four years later in 2009. But his presidency was not without a number of high-profile scandals.
In 2016, while Zuma was still president of South Africa, the High Court ruled that he should face corruption charges over his involvement in a secret government arms deal back in 1999.
He also faced corruption charges over his relationship with the politically shady and powerful Gupta family. The Guptas are a wealthy Indian-born family with numerous business interests in South Africa, forming a clandestine business empire spanning computer equipment, media, and mining. The Gupta's are just as synonymous with corruption and have been the focus of widespread scrutiny because of their close ties to Jacob Zuma during his presidency. They were accused of having a big influence over politics in South Africa, and a lot of that was through Jacob Zuma.  
During his 8-year rule as president of the newfound democracy of South Africa, it is estimated to have cost the South African economy R1 trillion (approximately $60 billion) in corruption and illicit dealings, and to this day he is still going in and out of court to face these charges.
PRESIDENT AND… RAPIST?
In 2005, Zuma was charged with raping a woman in his home and stood trial for several months in early 2006. 
The woman accusing him was a girl less than half his age and a daughter of a close friend – and he knew she was HIV positive. During the trial he said that 'she was wearing a short skirt and was asking for it'. And then he was asked if he used any protection, to which he said that he didn't. Then, he said that after having the supposedly 'consensual' sex with the victim he took a shower to lessen his chances of contracting the virus. Yes, you read that correctly.
Imagine that, this is a country battling a terrible HIV/AIDS epidemic more than any other country, and their leader says something this dumb. It showed how little he knows about the transmission of HIV/AIDS. What makes this even more outrageous is that Zuma was the Head of the National AIDS Program when he was deputy president.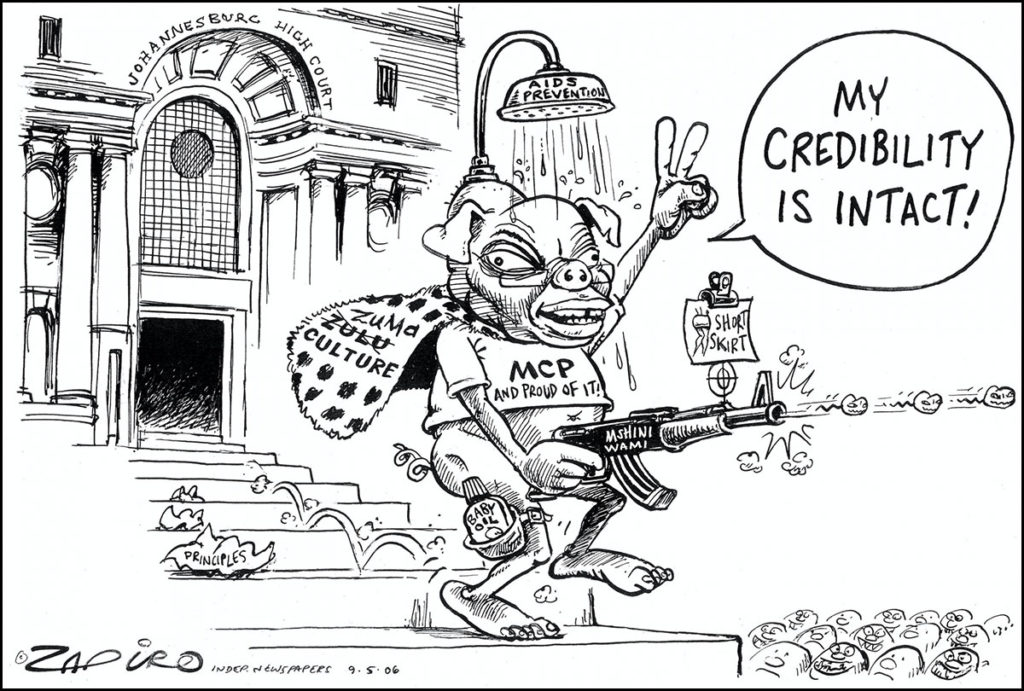 This stupidity made South Africa's most famous political cartoonist, Zapiro, sketch a showerhead over Zuma's head to illustrate just how stupid this was. From then on, Zuma was depicted like this in every single Zapiro cartoon – even to this day. 
Although he ended up getting acquitted from the rape charges, many people see this as blatant injustice. But, over the next few years the mounting corruption charges against him became too much for his own party, which he 'served' for 60 years, and so they began nudging him out of office. 
ZUMA MUST FALL
For weeks he defied those orders, showing no indication that he will resign which further infuriated the already-angered public. But sanity prevailed soon enough, and Zuma got his marching orders – a few weeks before my visit to Durban.
Actually, the day before my visit the Director of Public Prosecutions announced that Zuma was facing prosecution for 18 charges of corruption, including more than 700 counts of fraud, racketeering, and money laundering.
So, as you can imagine this was all over the news when I was in Durban. And everyone was speculating if Zuma would go to jail. The public made their opinions known with the formation of the Zuma Must Fall campaign which garnered not only national but global attention.
BACK TO THE ROOF, WITH A VIEW OF THE FUTURE
Now that the political dust has somewhat settled (although Zuma is still being summoned to courtrooms to face corruption charges), locals like Nkonzo are trying to make sense of it all, and how the country needs to surge forward rather than dwell on the past. He tells me South Africa is a country that still has its challenges. But what does that look like on an individual level? 
Nkonzo is Zulu, the largest indigenous tribe in the country with Zulu being the most common language spoken as a first language by 23% of South Africans (followed by Xhosa, and Afrikaans). In fact, English is only the fourth most common first language in the country but is the dominant language in government and the media. There are ten official languages in South Africa and at least thirty-five indigenous languages.
"I have to be able to speak English to be able to find employment in this country. Which is difficult for many people who grow up poor without access to education. My mother-tongue is Zulu. So, in the country of my birth I have had to learn a different language in order to make my way" he says.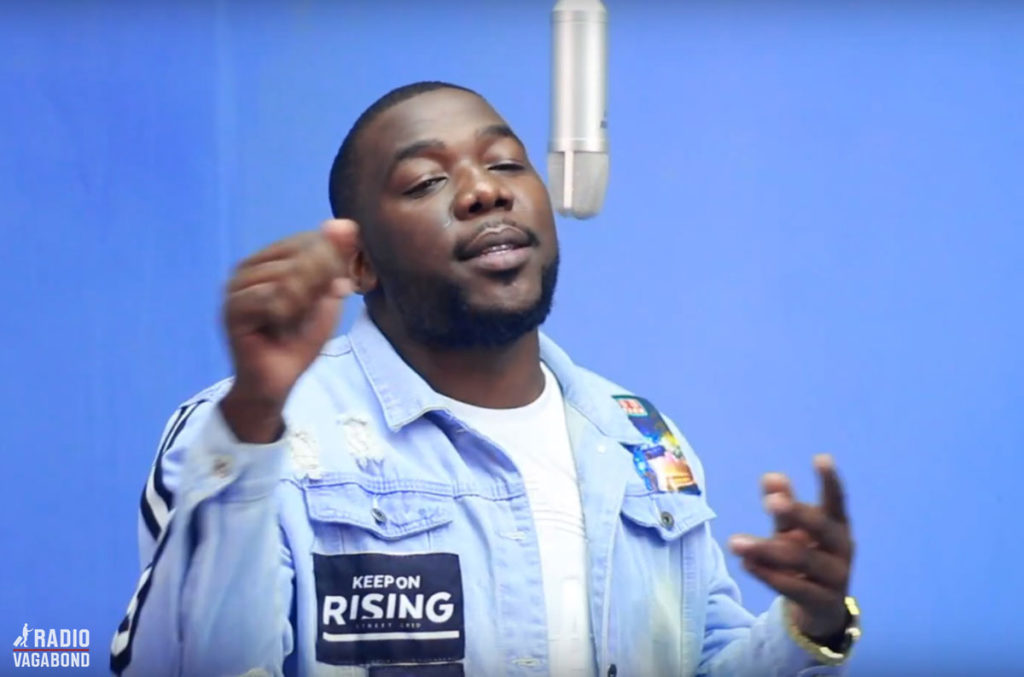 But Nkonzo has bigger dreams than speaking to Danish nomads on top of iconic football stadiums. He hopes to dedicate his life to music as a rapper. Nkonzo goes by the stage name Dat Boy Mreppa and his rhymes are tight! 
Update:
After recently catching up with Nkonzo, he told me that he's in the process of recording a full album that will be released in November of this year. He also told me that he will be dropping a few singles before then so be on the lookout for one of Durban's freshest musical talents.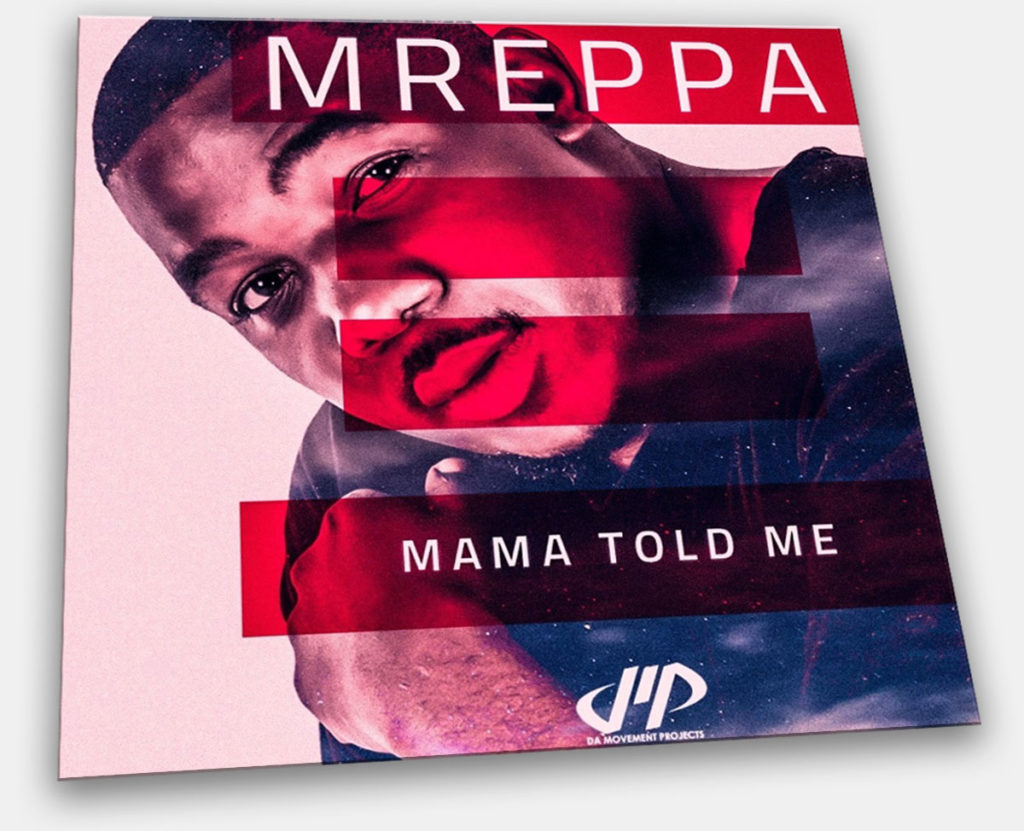 That's all for this episode. In the next episode I jump off the roof of the Moses Mabhida Stadium on the world's tallest swing. Yikes! 
TRAVEL MATTERS
If you are interested in travel blogging and other content creation about travel, you might be interested in listening to the TBEX podcast called Travel Matters. It's another podcast I produce and co-host with TBEX CEO, Rick Calvert. 
In the latest episode we have legendary travel writer Tim Leffel on the show. Tim recently just did a survey about when and how travel content creators will start traveling again – and when destinations are going to start hosting us again. 
I WANT TO HEAR FROM YOU!
I really would like to hear from you. Where are you and what are you doing as you listen to this episode? You can either send me an email on listener@theradiovagabond.com or go to the form right here on TheRadioVagabond.com.
Or you know what would be fun? Send me a voicemail on WhatsApp and I can play it on the next episode. My WhatsApp number is +4540105105. Either way I would love to hear from you. It's so nice to know who's on the other end of this… 
SPONSOR
A special thank you to my sponsor, Hotels25.com, who always provide me with the best, most affordable accommodation wherever I am in the world.