مرحبا بكم في المملكة العربية السعودية
Join us as we explore the stunning landscapes, rich culture, and fascinating history of KSA. From the towering sand dunes where we get stuck many times to the vibrant cities of Riyadh and Jeddah, and literally to the Edge of the World (yes, that is the name of a place in this country), I'll take you on a journey driving more than 4,000 km through one of the most misunderstood and least-visited countries in the world.
Along the way, we'll meet some locals and experts who will share their insights and experiences, and delve into the customs, traditions, and daily life of the Saudi people.
This is the first of many episodes from KSA, where we explore the capital, Riyadh and go quad biking in the Red Sand Dunes – after a struggle to catch the flight from Dubai.
Road tripping with "Cynthia Globe"
I'm travelling to Saudi Arabia with my good friend, Cynthia. She is a lawyer, a CouchSurfing Ambassador, and a big-time traveller – and calls herself "Cynthia Globe".
When I met her in her home state, Florida, I did an interview with her. We got along so well, that we ended our meeting with talking about going on a trip together. Maybe doing a "2.0 in Nairobi". Fast forward just four months we meet again on the other side of the planet in Dubai.
We are there because we booked a cruise going from Dubai to Cape Town, via Seychelles, Reunion, Madagascar, and a few other places. All in all, a cool cruise. But then the Omicron Variant of the Corona Virus was discovered in South Africa. It didn't come from there; the South African scientists were just the first to find it. I guess they were just smarter than in other countries. Nevertheless, the whole southern part of Africa was hit by travel restrictions, and we had a feeling that it would affect our cruise.
But Norwegian Cruise Line didn't say anything about this. We heard several rumours of changes, but nothing from NCL. They didn't even change it on their website, and just for fun, I tried calling them one day, to see if they were still selling it. And they were.
Then as I was on my flight to Dubai a few days before departure, I got an email saying that it was cancelled. I did get all my money back and even a 25% discount on my next cruise, but still. They could have told us a long time before.
Cynthia was also on her way to Dubai, and we ended up spending a few weeks there, and even spent several days going to the World Expo that was held in Dubai at the time.
At the same time, we were discussing where to go. We were seconds away from booking a flight to Kenya – and actually doing the 2.0 in Nairobi. But then Cynthia said: "Hey, why don't we go to Saudi Arabia".
And so, we did. But before we get there, we had to go through a stressful day in Dubai Airport.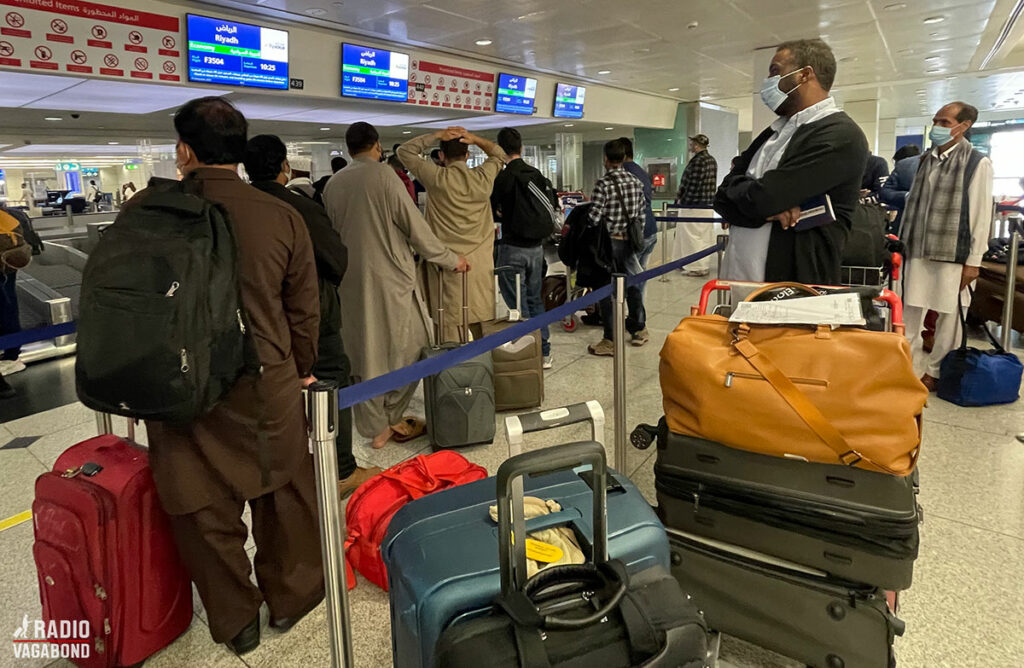 Stressful day in Dubai Airport
We flew "FlyADeal" for 2 hours to Riyadh, Saudi Arabia, from Dubai. It was not much of a "deal" at 364 USD/340 EUR. Plus, the service was very poor, even for budget airlines.
We waited in line at check-in for 15 minutes and found out that we were in the Saudi national's line. We then switched to a big line, and it hardly moved. We stood in that line for 2.5 hours (!!) to finally get checked in.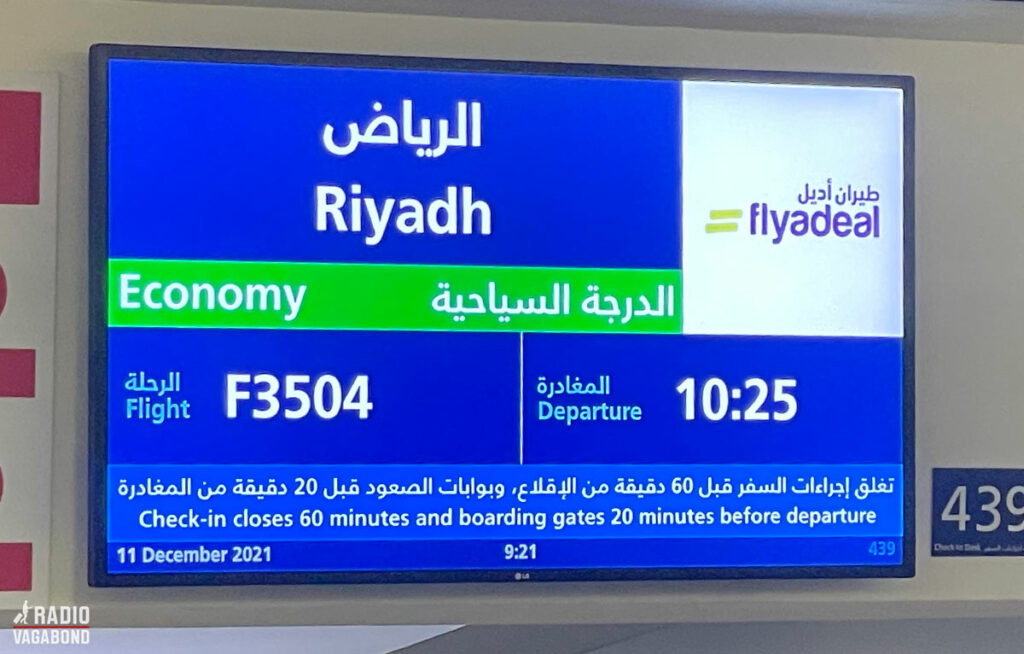 There are lots of steps to entering Saudi: VISA (which was very hard to get until a few years ago), a Covid test, register your visa and covid test, print these first three requirements, and download a special monitoring app, that we needed to enter shops, restaurants, and other places in the country.
Cynthia's app didn't work for four days, but she used her vaccine card or showed the app – and was never denied entry even without the QR identifier, that didn't work.
She had done her registration and printed it but back at the airport at check-in, the gate agent said it wasn't right, as there was no QR code. She didn't know there was another step to the ones she had done; it was tense at the airport as she was doing the final step there at the check-in counter – with many people behind us in the line.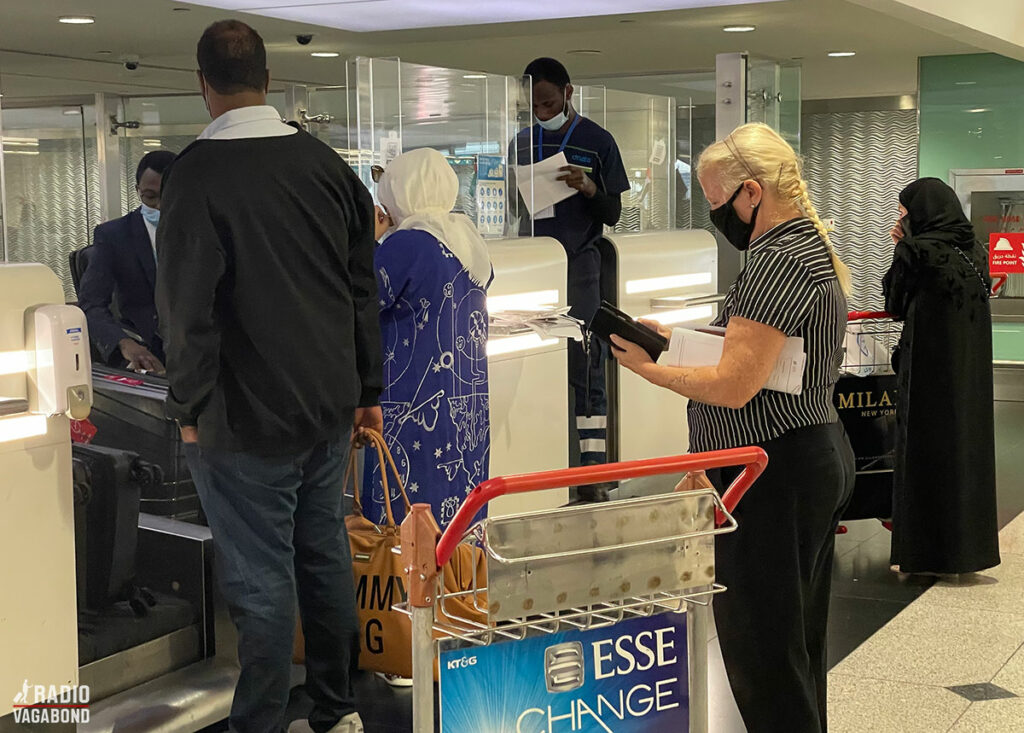 The Gate Agent said there was no rush, as the flight was late due to check-in not being completed. When we asked, "for how long", they didn't know. You would think that someone could have called the check-in people, so they could inform the stressful passengers.
We also asked if we were able to make it in time for the flight – now that check-in was so slow. And all they said was "we will try…" So, once we finally got our boarding passes, we sprinted through the airport, arriving at the gate at 10:29 for the 10:30 am flight.
On the plane, Cynthia was upgraded to the "Ladies Only Row" with a Saudi Mom and her four Daughters.
"They were so sweet to me – helped me store my bag, travel tips; and when they thought I was cold: they wrapped me up in a black fur coat."
She also says that this was a wonderful encounter with Saudi women – we would soon find out that Saudi's are warm, welcoming, polite and enjoy meeting foreigners.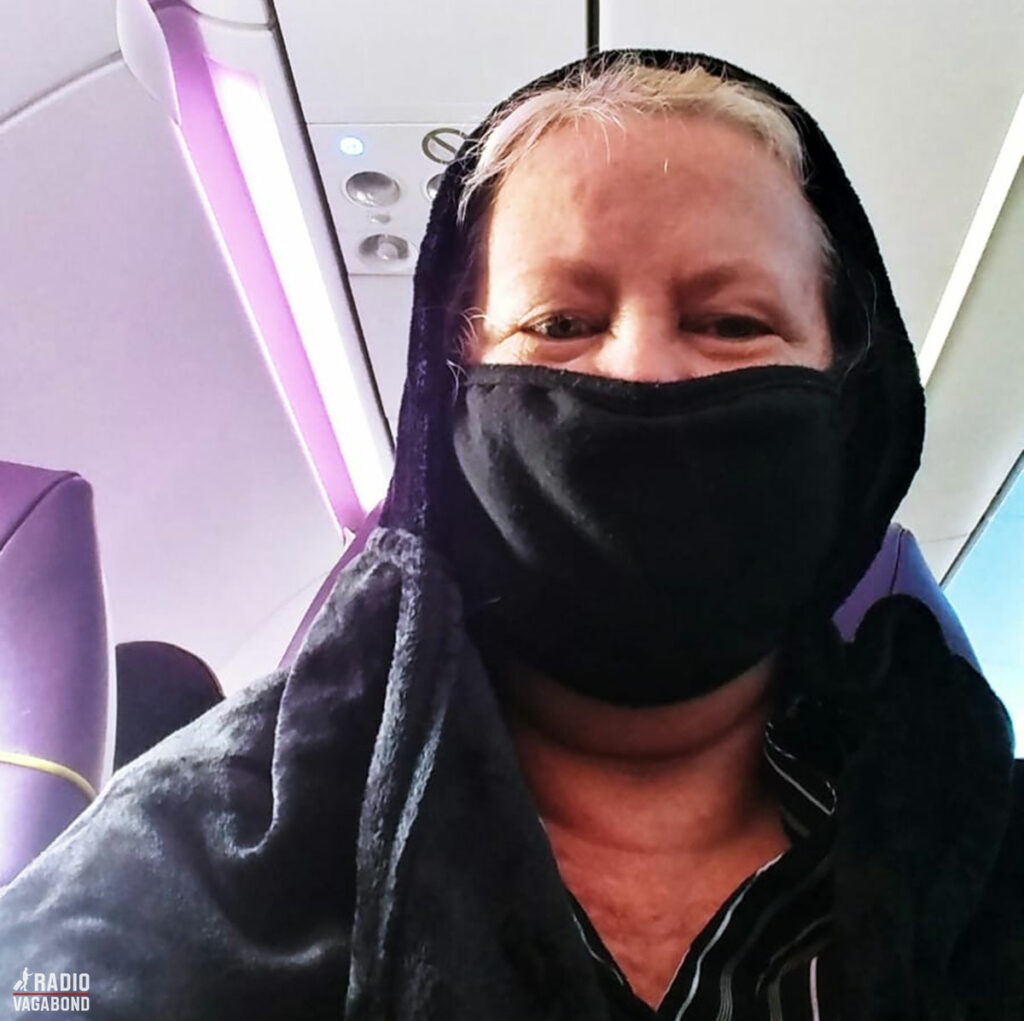 Yes, flight delayed
The flight took off 1.25 hours late. The pilot apologized twice with a lame excuse:
"We are delayed 15 minutes as a passenger forgot a bag at security; it is out of our control."
Ahhh, what about the extra 1 hour, as check-in took 2.5 hours?!
We finally arrived in Saudi Arabia or "KSA" – the Kingdom of Saudi Arabia as it's officially called.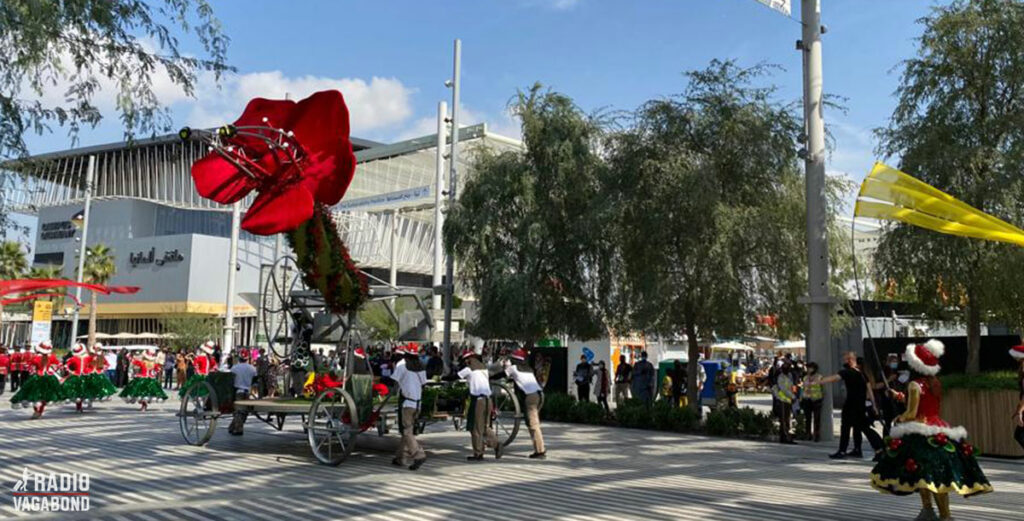 The Riyadh Metro
On the first day, we decided to take the metro to the center, but when we got to the station, we discovered that it's so new that it wasn't running yet. I even asked our Airbnb host if it was close to the Metro station, and he just said, "yes, it's very close". Not "but it's not working yet".
Who needs a Metro that isn't working? Since we were there the Metro in Riyadh should be running – or at least most of it. It will have six lines that serve the city and its suburbs and is designed to help avoid traffic congestion and improve mobility in the city.
The Riyadh Metro has a total length of 176 kilometres (109 miles) and serves 85 stations. It's fully automated and features state-of-the-art trains and stations, and is equipped with advanced security and safety systems. The metro system is also accessible to people with disabilities, and then it's eco-friendly. The stations come with solar cells that will contribute to 20 percent of the entire station's energy. The service once up and running will contribute to the decrease of nearly 250,000 car journeys a day, thereby reducing the city's fuel requirement of 400,000 litres.
A project like that isn't cheap: Around 22.5 billion US dollars or 21 billion Euros. But that's possible when money's not an issue.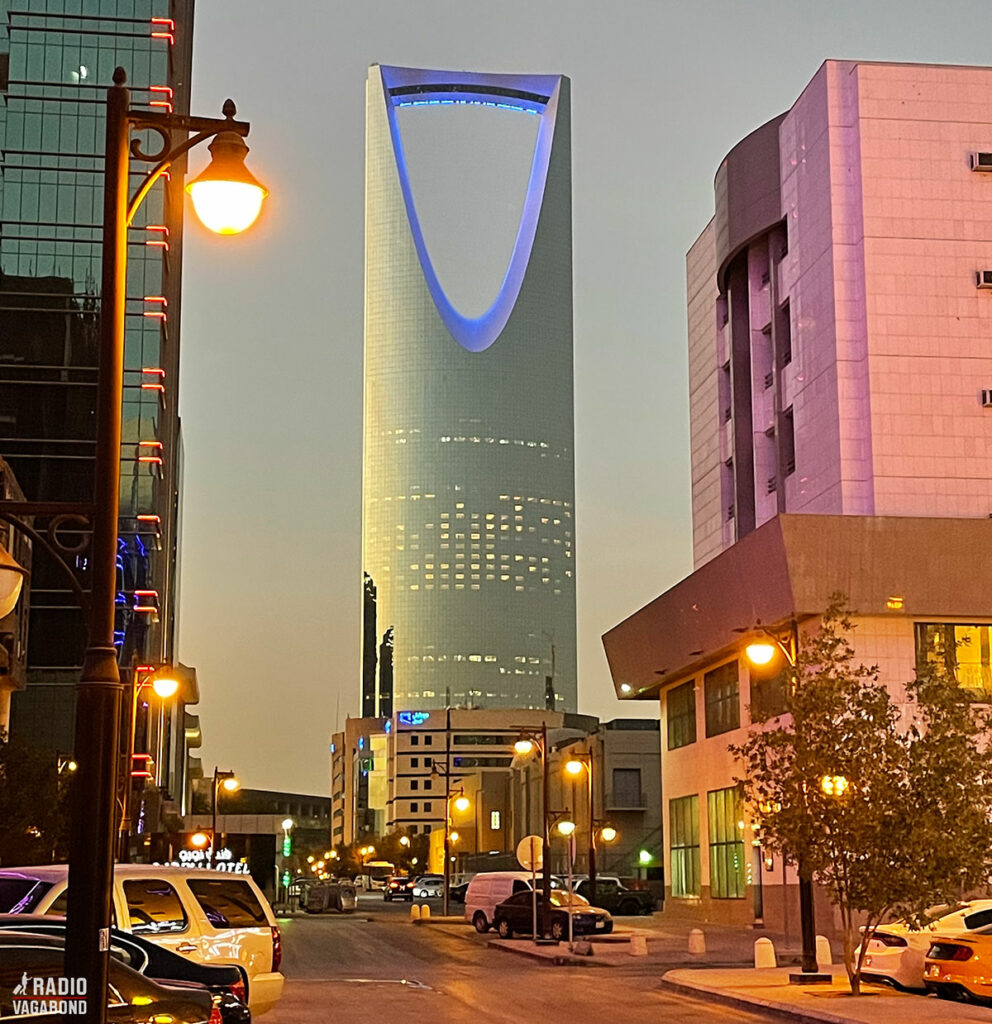 Saudi Arabia's 2030
All of this is a part of Saudi Arabia's 2030 plan also known as Vision 2030.
It was launched in April 2016 by the Saudi Arabian Government as a program aimed at transforming the country into not being so dependent on oil export in the future.
Here are some of the key goals:
Diversification of the economy
The plan aims to reduce the country's reliance on oil exports and encourage the growth of non-oil sectors such as manufacturing, tourism, and small and medium enterprises.
Job creation
The plan aims to create more than 3 million new jobs for Saudi citizens by 2030.
Social and cultural development
The plan aims to improve the quality of life for Saudi citizens by investing in education, healthcare, and cultural initiatives.
Infrastructure development
The plan includes investments in transportation (like the new Metro system in Riyadh), energy, water, and telecommunications infrastructure to support economic growth and development.
Environmental sustainability
The plan aims to reduce the country's carbon footprint and increase its use of renewable energy sources.
Open to tourists
And then the big one for someone like me: Saudi Arabia began welcoming tourists in September 2019, also as part of its 2030 plan. Tourism is seen as a key growth sector in Saudi Arabia.
It can generate significant economic benefits, including jobs, tax revenues, and foreign exchange earnings. By attracting more tourists, Saudi Arabia hope to diversify its economy and reduce its reliance on oil exports. It's also in the plan that tourism also can contribute to cultural exchange and understanding between different countries and regions.
They feel that by welcoming visitors from around the world, Saudi Arabia can promote its culture and traditions and learn from other cultures.
Overall, the decision to open up to tourists is part of Saudi Arabia's broader efforts to transform itself into a more diversified and innovative economy, and to create a more prosperous and dynamic society.
To transform Saudi Arabia into a global hub for trade and commerce, and to create a more prosperous and dynamic society.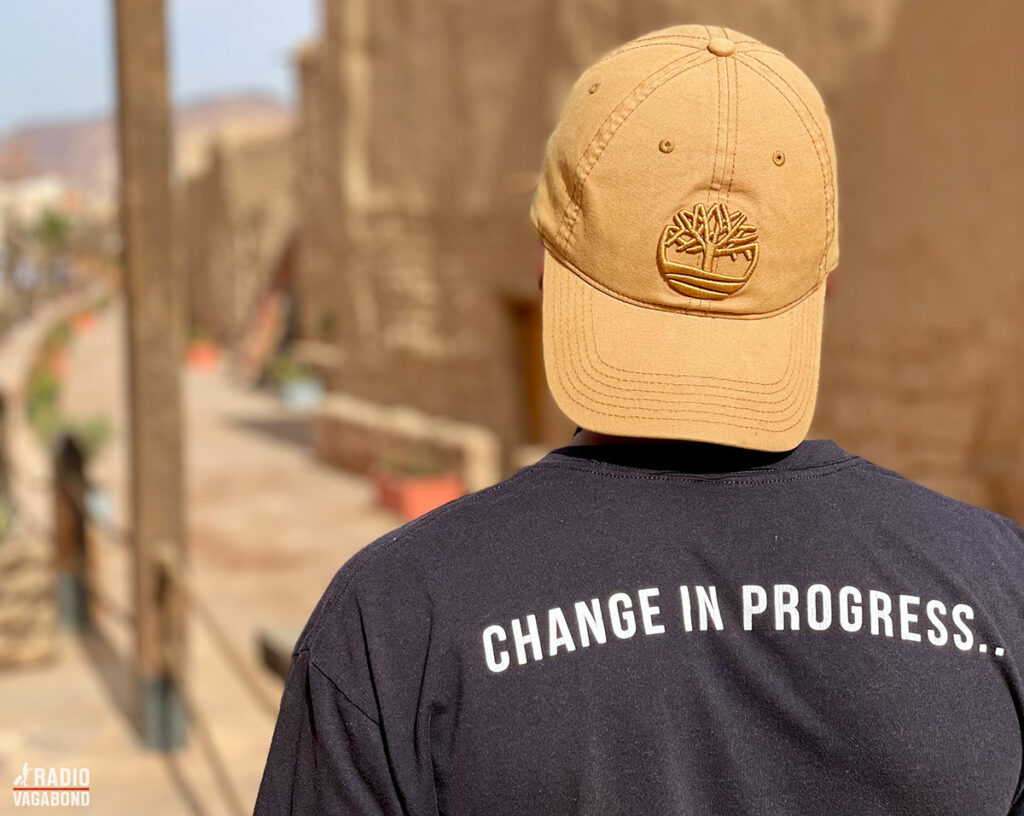 Renting a car and two quad bikes
To see Saudi, a car is a must, so the next day, we picked up a rental car for the next 10 days at a place called Hanco at the Riyadh airport. It was 31 USD (29 EUR) per day, so definitely not too bad.
Then we drove about an hour from Riyadh to the Al-Dahna desert. We came here to drive Quad Bikes in the famous and dramatic Red Sand Dunes. After talking to two vendors and doing a bit of bargaining for the 1-hour rental, we rented a Quad Bike each.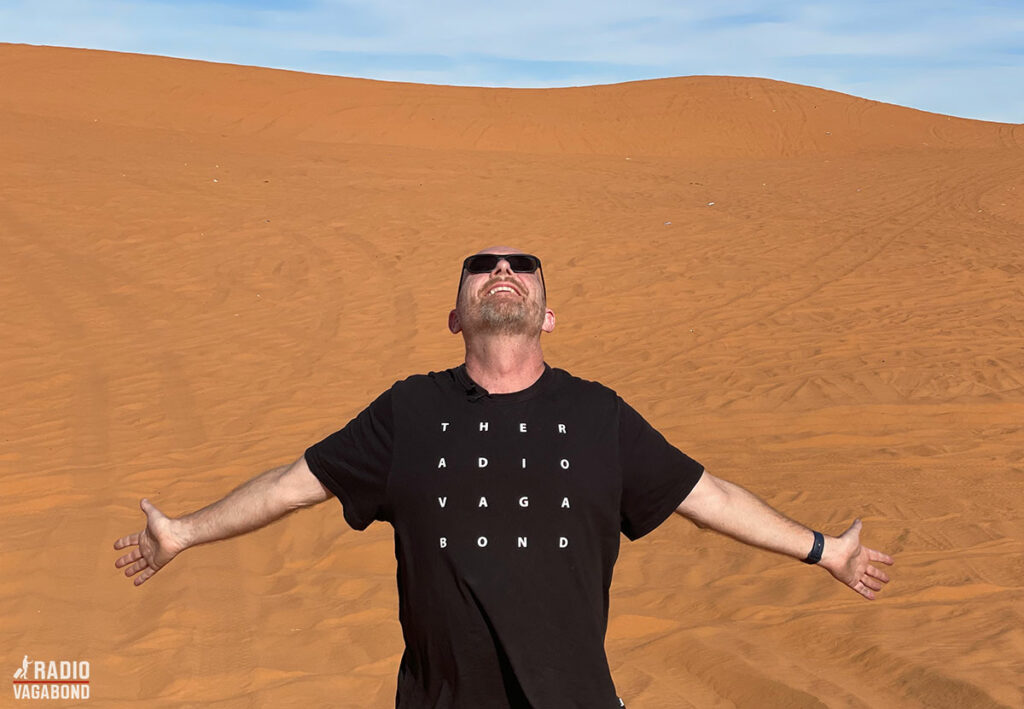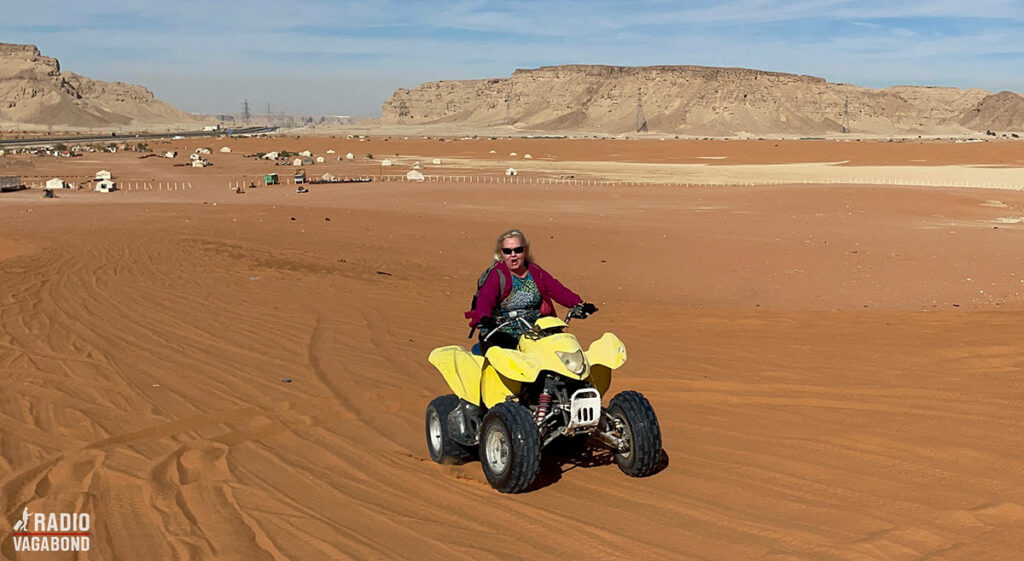 These sand dunes are formed from fine, red sand that has been blown by the wind over the years, creating towering mounds that can reach up to 100 feet in height. The terrain is rough and rugged, with steep inclines and sudden drops that can be challenging to navigate. Except for when we got stuck, it was totally fun.
We were at the far end of the Dunes looking for a route back when our vendor came out to find us.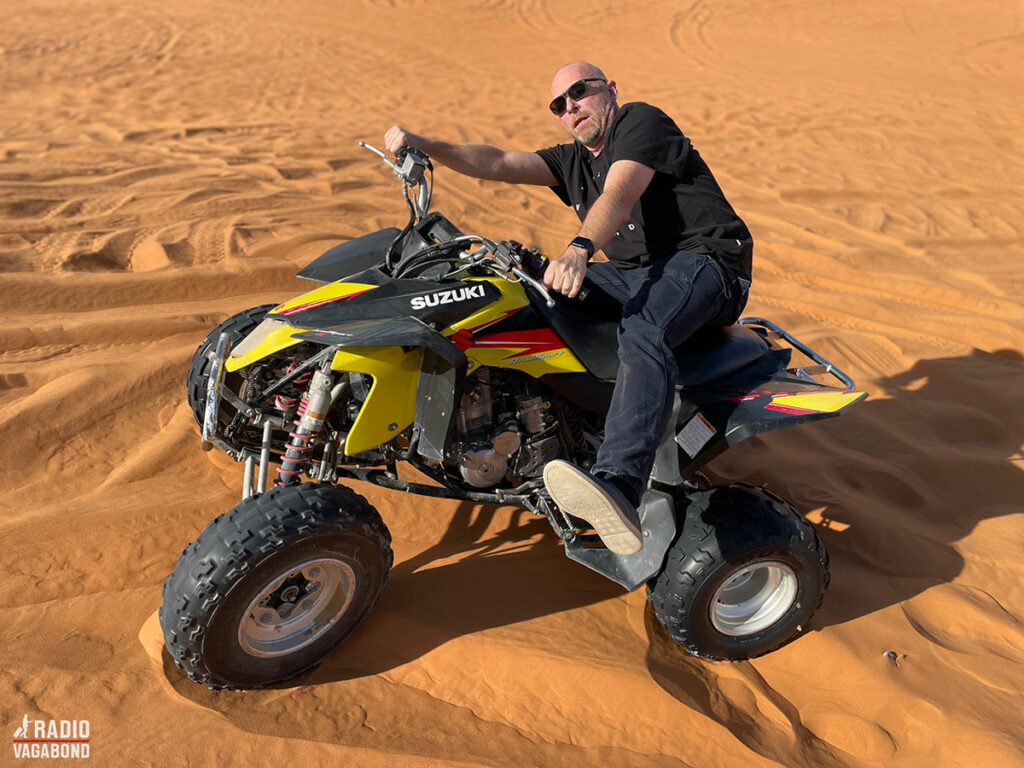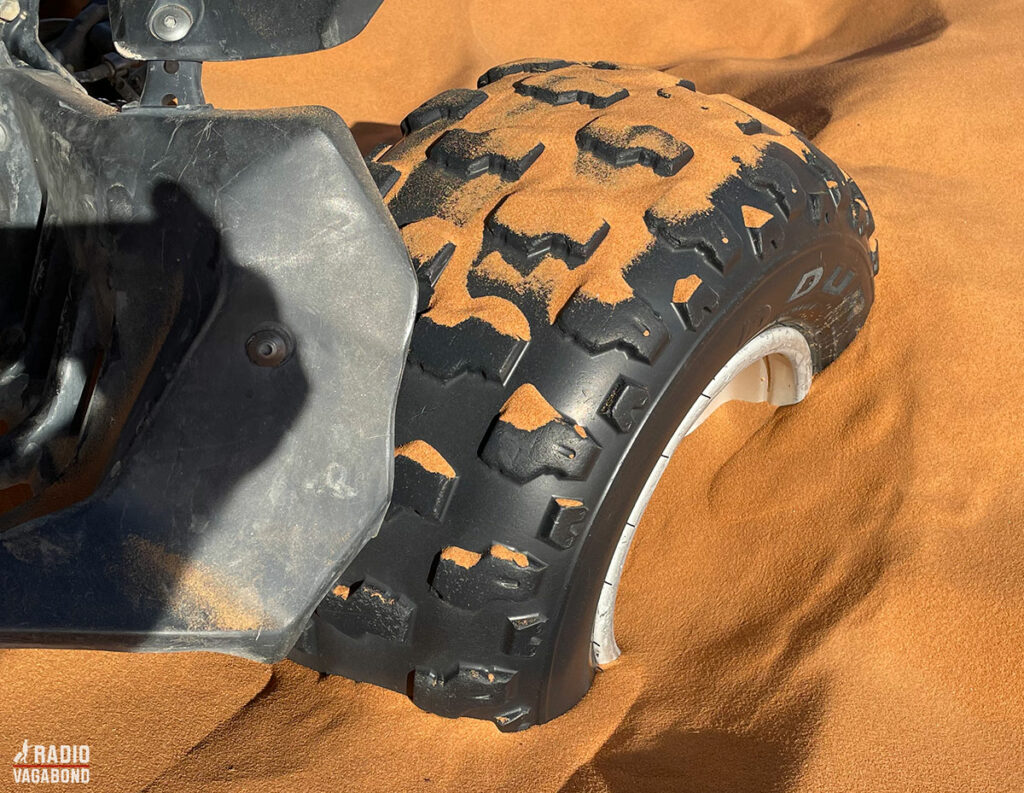 Riyadh is the capital city of Saudi Arabia and is home to over 7 million people.
The city was founded in the early 18th century and has a rich history that can be seen in the many historical landmarks and museums scattered throughout the city.
The Masmak Fortress, a historic castle located in the heart of the city, played a crucial role in the founding of modern-day Saudi Arabia and is a popular tourist attraction.
The city is known for its vibrant nightlife and has a thriving arts and culture scene, with numerous galleries, theaters, and music venues to explore.
Riyadh is also home to some of the world's most luxurious and exclusive hotels, including the Ritz-Carlton and the Four Seasons, which offer breathtaking views of the city and surrounding desert landscape.
The city is also home to many world-class shopping malls, including the Kingdom Centre, which features a rooftop skybridge that offers panoramic views of the city.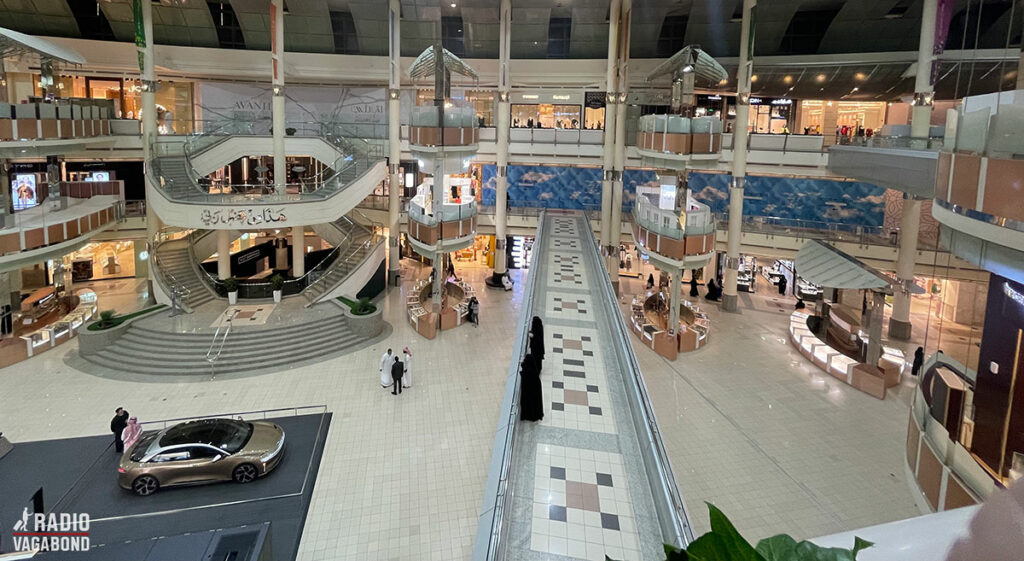 Riyadh has a number of world-class sports facilities, including the King Fahd International Stadium, which is one of the largest football stadiums in the world and has a seating capacity of over 75,000. One that would be put into good use if they win the bid to host the 2030 FIFA World Cup.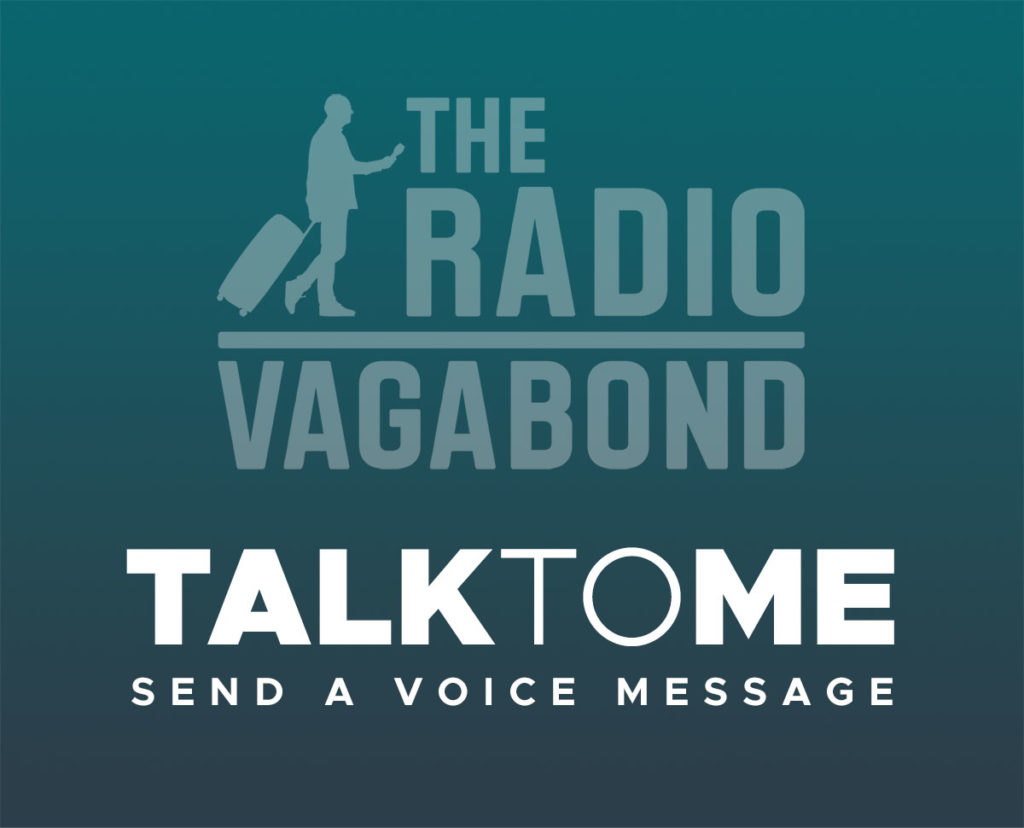 Stuck in Traffic
At 3 pm, we started the drive back in to Riyadh because Ali, one of Cynthia's CouchSurfing friends was leading a walking tour, and we wanted to join in. But that didn't go as planned. We got the outskirts of the city just in time for the glorious rush hour.
One of the main challenges of driving during rush hour in Riyadh is that there are so many cars trying to get ahead at the same time, not always sticking to their lanes.
It is definitely not for the faint at heart and a challenging experience, especially for those who are not used to heavy traffic or driving in busy cities.
We were already getting late for our appointment for the walking tour with Ali, and then we had another challenge. Finding a place to park.
We finally did find one and met for a quick chat with Ali, for just a few minutes.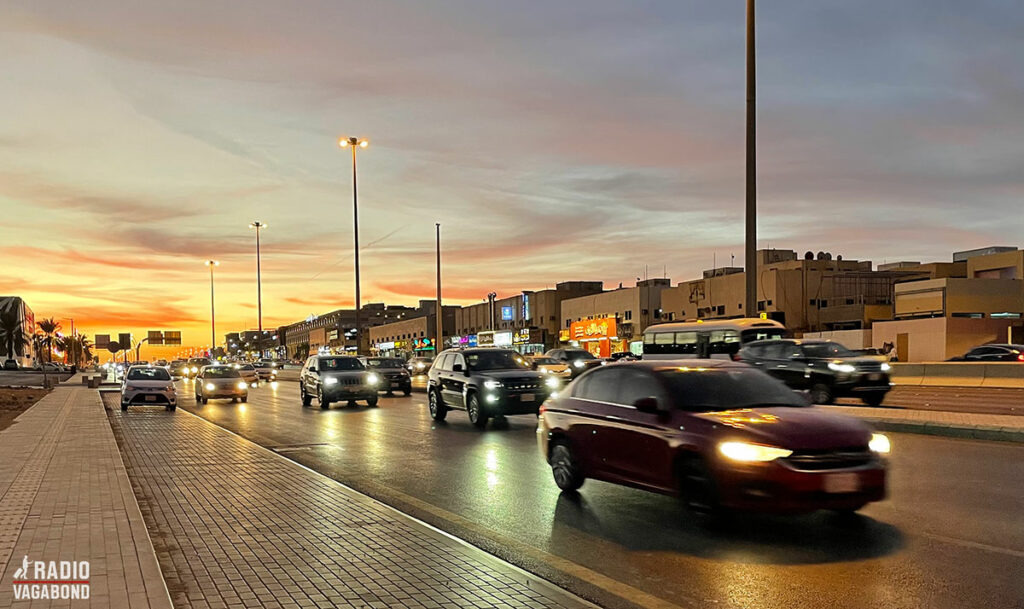 Sunset at Nabd Al Riyadh
Then, we strolled the exterior of the Palace Museum, Fort and an Original City Gate and ended up in "Nabd Al Riyadh," an outdoor courtyard area with coffee shops, live music, and a chalk-art artist.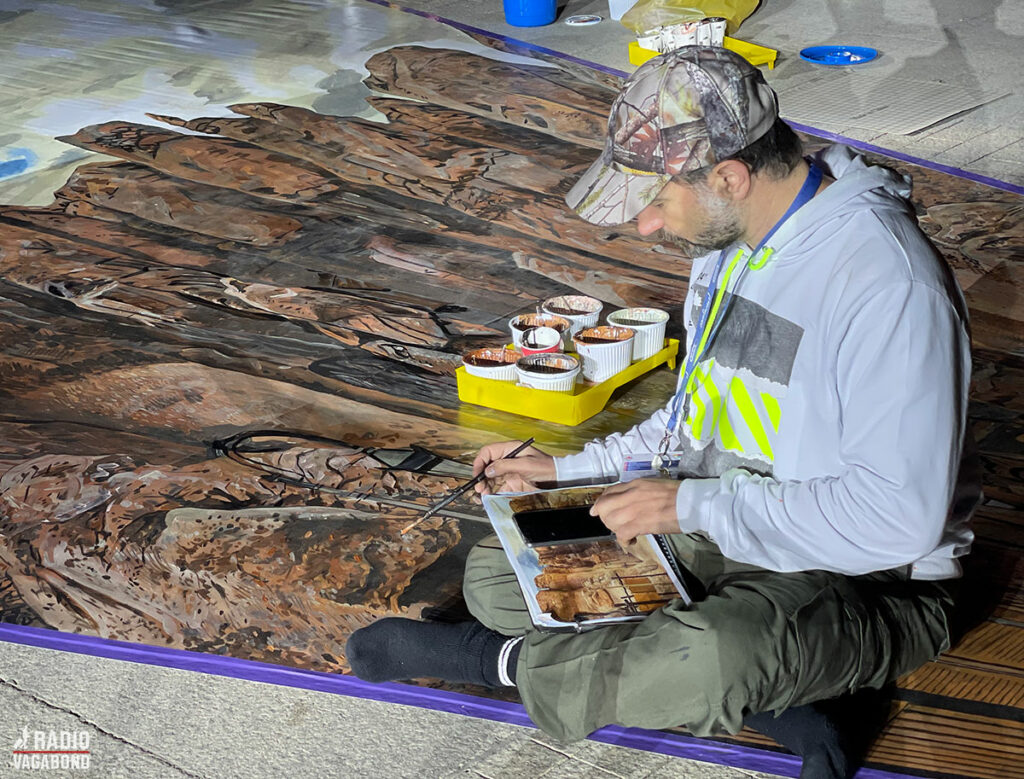 It's a peaceful and pleasant spot to end our day and with a local performer in the background and the sun setting over Riyadh, we sat down and reflected on an adventurous day.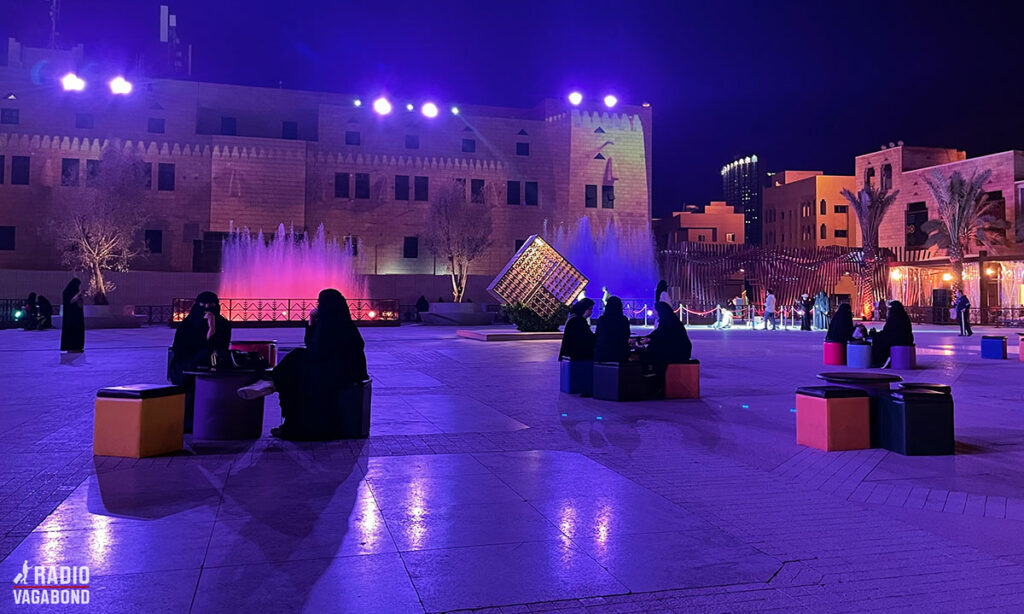 Much more from Saudi Arabia
In the next episode, we literally go to the Edge of The World. But there's much more in that episode /next Tuesday).
You'll get the full travel versions of The Radio Vagabond like this one on Tuesdays (let's call it "Travel Tuesday"), and then Flashback episodes every Friday and the ten-minute diary entry from where I am right now every Saturday.
But there's more: Sometimes, you'll get a short one about the country we're covering in the travel episodes on Thursdays. And this week I have one for you.
Having listened to this episode, you might think that I'm painting a rosy picture of Saudi Arabia. And yes, I did like it. But not all is perfect, they still have some challenges in my eyes; so, on Thursday I'll give you an episode, that I call "The Good and The Bad about Saudi Arabia". Here I'll share what I think is good about Saudi Arabia and also what I think is not so great.
If you like what you hear, please tell a friend about The Radio Vagabond.
My name is Palle Bo, and I gotta keep moving. See you.
Poem about this episode – written by an AI
The Radio Vagabond, Palle Bo,
Took a trip to Saudi Arabia with his friend, Cynthia.
A CouchSurfing Ambassador, and a big-time traveler,
She calls herself "Cynthia Globe," and she's quite the explorer.

They caught a flight from Dubai, but not without a fight,
And soon they found themselves exploring the city of Riyadh at night.
Quad biking through the Red Sand Dunes, they got stuck in the sand,
But they had a lot of fun and made the most of their planned

Adventure, even if it didn't go quite as planned.
But then they hit some traffic, causing them to arrive
At Nabd Al Riyadh, an outdoor courtyard to their delight,
Where coffee shops, live music, and chalk-art artists ignite

Their senses and keep them entertained until the morning light.
In the next episode of this podcast, they set out to see
The Edge of The World, where they meet many camels, wild and free.
The Radio Vagabond continue to travel and explore this land of gold.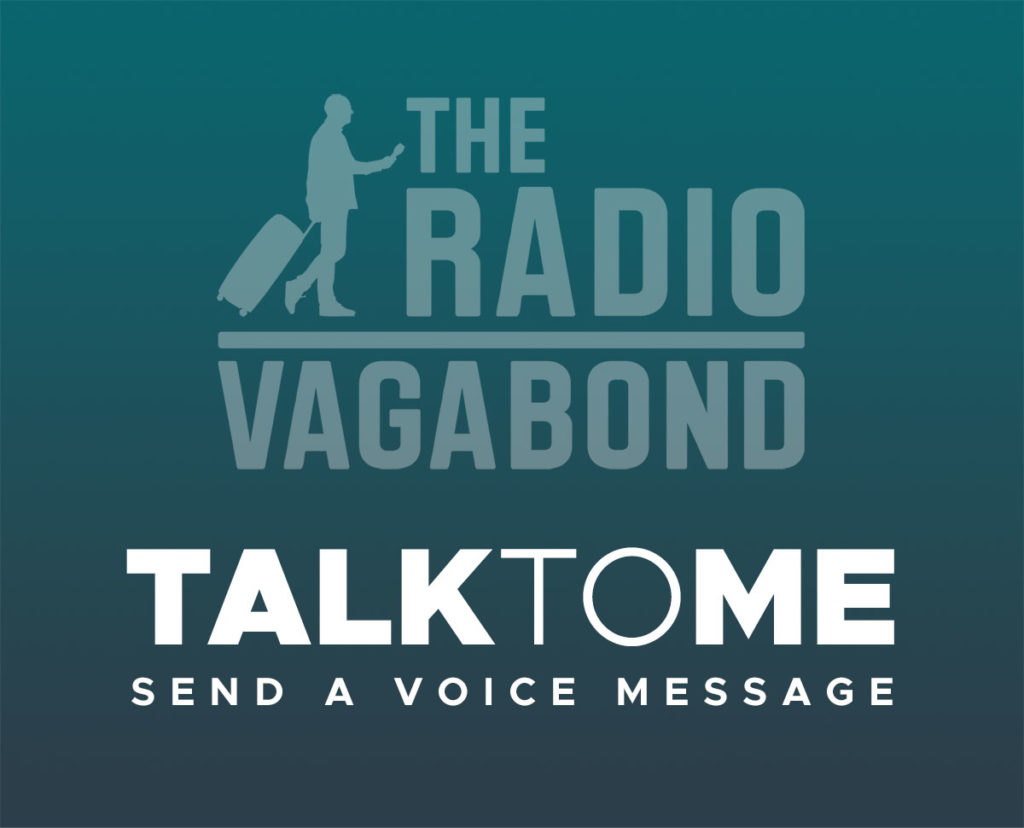 Either way, I would love to hear from you. It's so nice to know who's on the other end of this.
SPONSOR
A special thank you to my sponsor, Hotels25.com, who always provide me with the best, most affordable accommodation wherever I am in the world.
Hotels25 scans for prices on the biggest and best travel sites (like Booking.com, Hotels.com, Agoda and Expedia) in seconds. It finds deals from across the web and put them in one place. Then you just compare your options for the same hotel, apartment, hostel or home and choose where you book.
When you book with Hotels25, you get access to 5,000,000 hotel deals. And it's "best price guaranteed."
PRODUCED BY RADIOGURU
The Radio Vagabond is produced by RadioGuru. Reach out if you need help with your podcast.