Welcome to part 3 of my mini-series about Kenya and The Masai Mara.
Click here to go to part 1 and part 2.
I decided to splurge and go on an early morning hot air balloon safari – very early the morning after New Year's Eve. I wanted to see the beautiful sunrise on the horizon of the savanna with exotic animals below me. So, after our game drive, I spoke to Francis who would arrange pickup for me just four hours after we entered 2022.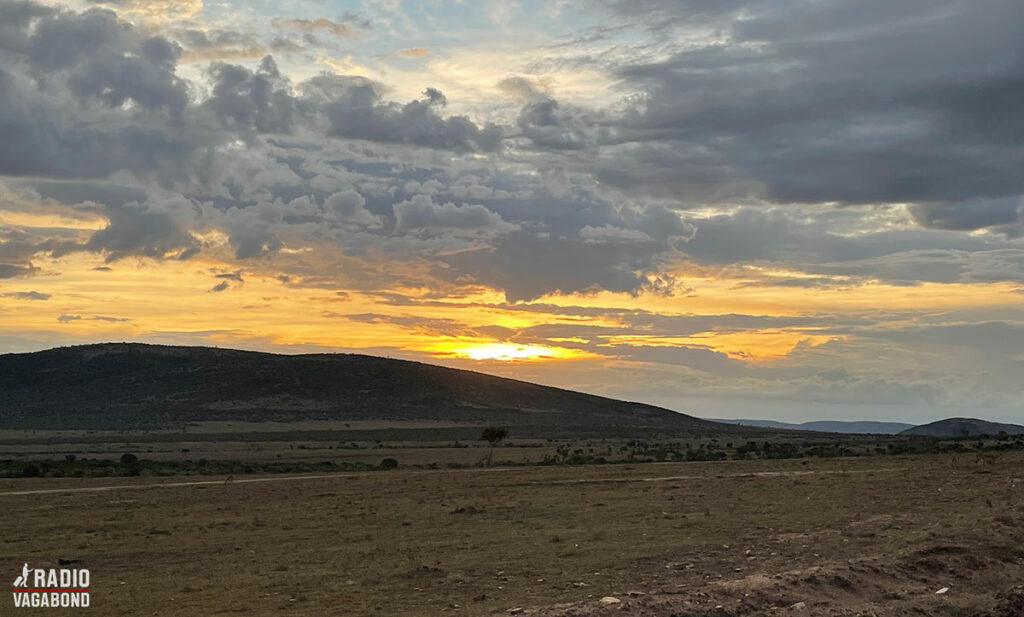 Francis mentiones that the balloon will launch at 06 in the morning and take one hour. On landing we will be welcomed with a champagne bush breakfast. There will be plenty of room for take-off and landing, and he assured me that we would not disrupt any animals during the flight.
He also told us to keep warm because it would get chilly. There would be no guarantee that we would see any animals as this was not during the migration season.
NOT CHEAP
It's something that is not included in the package. It's available as an extra option at 450 USD /408 Euros per person. So, it's not cheap.
This is how I justified the extra expense:
In ten years, I would be able to remember the experience but not the price tag.
After the briefing, Francis mentioned that he would pick me up at 4.20 am. This would not be an easy feat. For the first time since I was three years old, I had to go to bed before midnight on New Year's Eve.
THE RADIO VAGABOND LANGUAGE SCHOOL:
SWAHILI
Meanwhile, let's learn to say a few words that will impress the locals when you get here. As you heard in the previous episodes in this mini-series, Kenyans have English as one of the two official languages. And since you probably understand what I'm saying now, let's have a quick lesson in the other one: Swahili. You can hear the pronunciation on the podcast.
Hello: Jambo

Thank you: Asante sana

You're welcome: Karibu

Okay: Sawa

Don't worry: Hakuna matata
Note that no one says that in Kenya unless you are a tourist. The more common term is "Usijali"

Friend: Rafiki

Goodbye: Kwaheri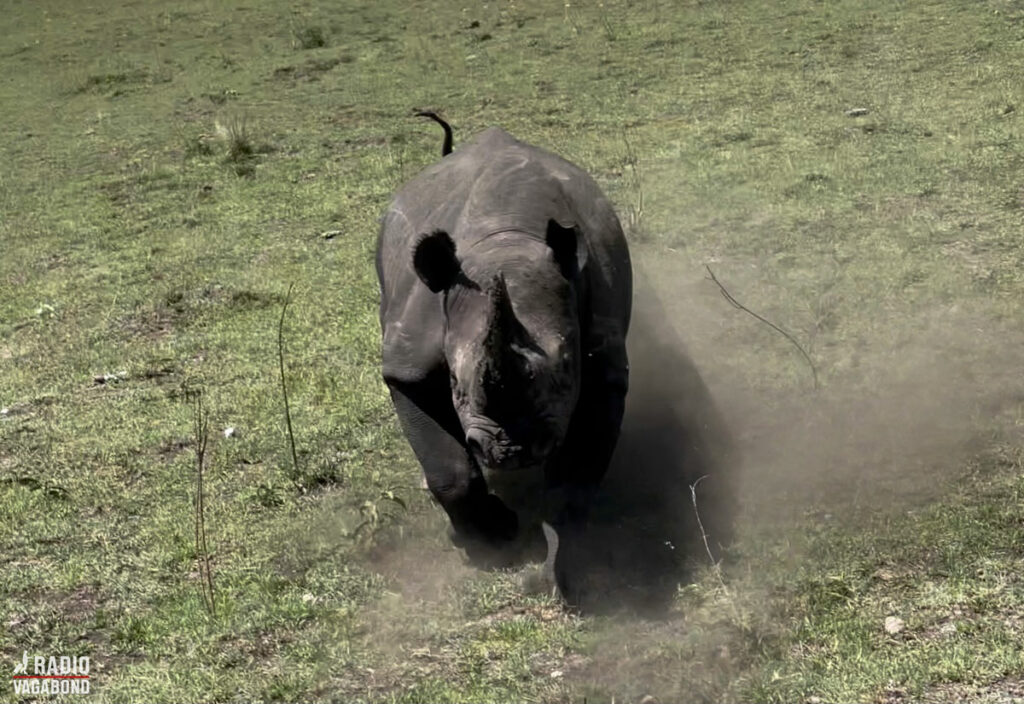 OTHER INTERESTING FACTS:
DANGEROUS ANIMALS
Shane, who you had met the two previous episodes, also took us through the most dangerous animals. It's not lions but much more elephants and hippos. A lone male elephant is very dangerous. Hippos are also animals to keep away from. We added a third one in our previous episode when we were chased by an angry rhino. It is always to have an experienced driver with you as they know the signs of danger. Therefore, Shane says, do not try to self-drive so that you do not put your safety at risk.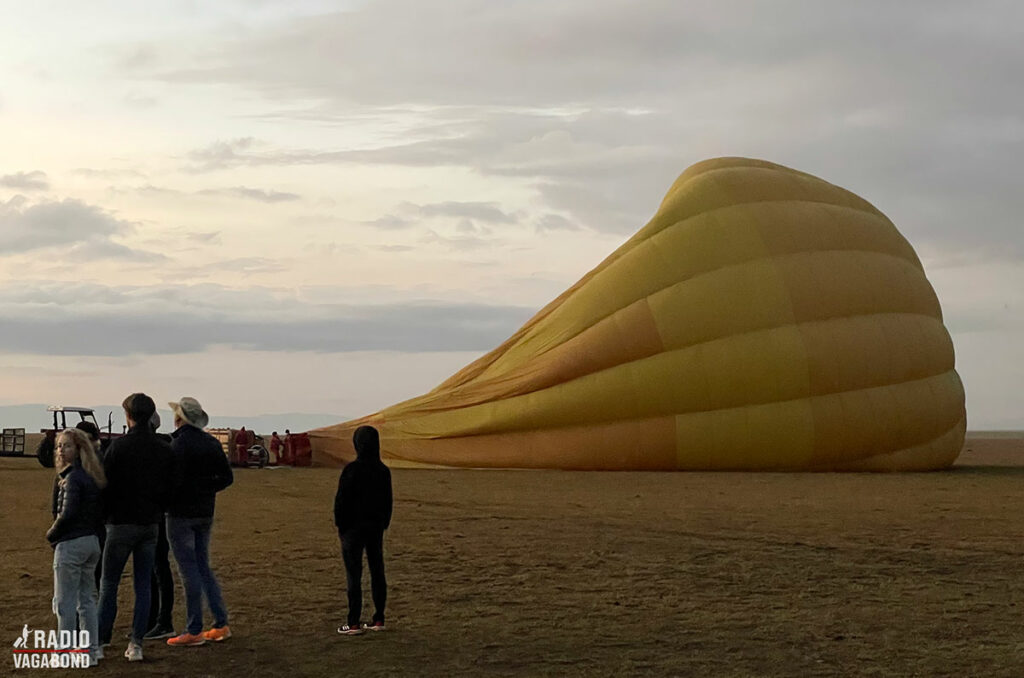 THE ULTIMATE EXPERIENCE
I was picked up at 4.20 as Francis promised on the first day of the year. We drove for about an hour on the bumpy roads (what he called a Kenyan massage) and we went on the savannah in the middle of Masai Mara. We signed a few papers as the team got three hot air balloons ready. The birds were chirping in the morning and the air was crisp and fresh.
The experience began at the launch site in the heart of the Masai Mara National Game Reserve. It was still dark, but you could hear animals grazing close by and the occasional lion roaring in the distance at his early morning kill. There was a lot of activity as the Balloon Safari crew team were bustling around the balloon basket and "the envelope" (as they called the balloon itself) laid out flat on the ground ready for inflation.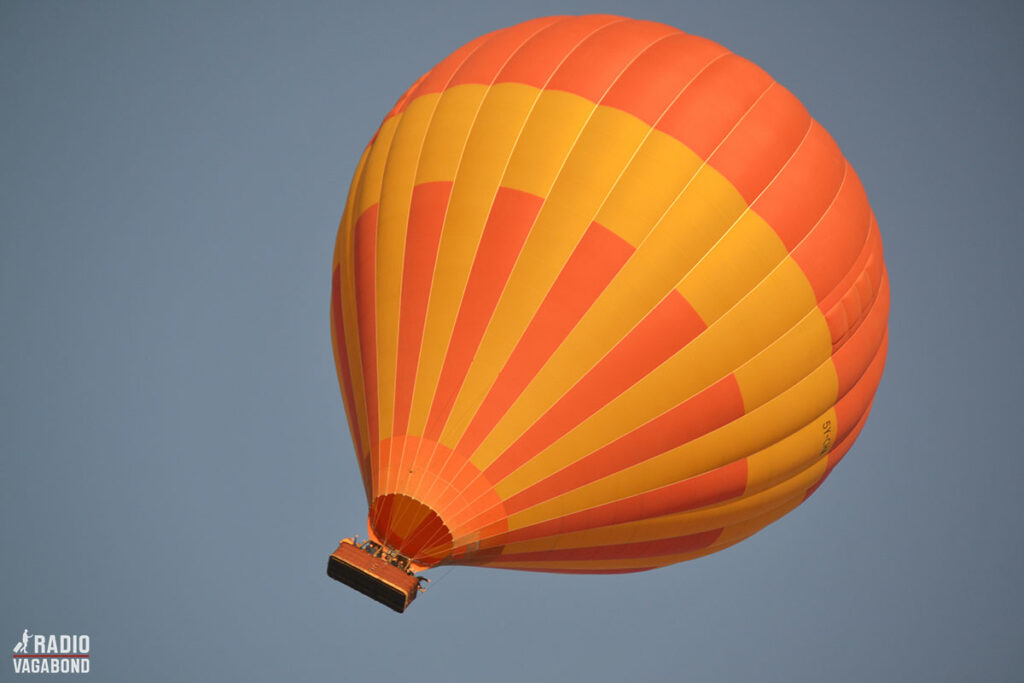 As we checked in at their security desk (the hood of a Jeep), we could hear the fans start and in the pre-dawn light I started to see the billowing of the envelope as it inflated and flames from the hot air balloon burner-test lit up the darkness. With the first glow of sunlight flickering across the skies, the hot air balloon filled and gently rose.
Our Russian pilot, Sergei Nosov gave us a pre-flight safety briefing. He took us through all the safety aspects and landing procedures.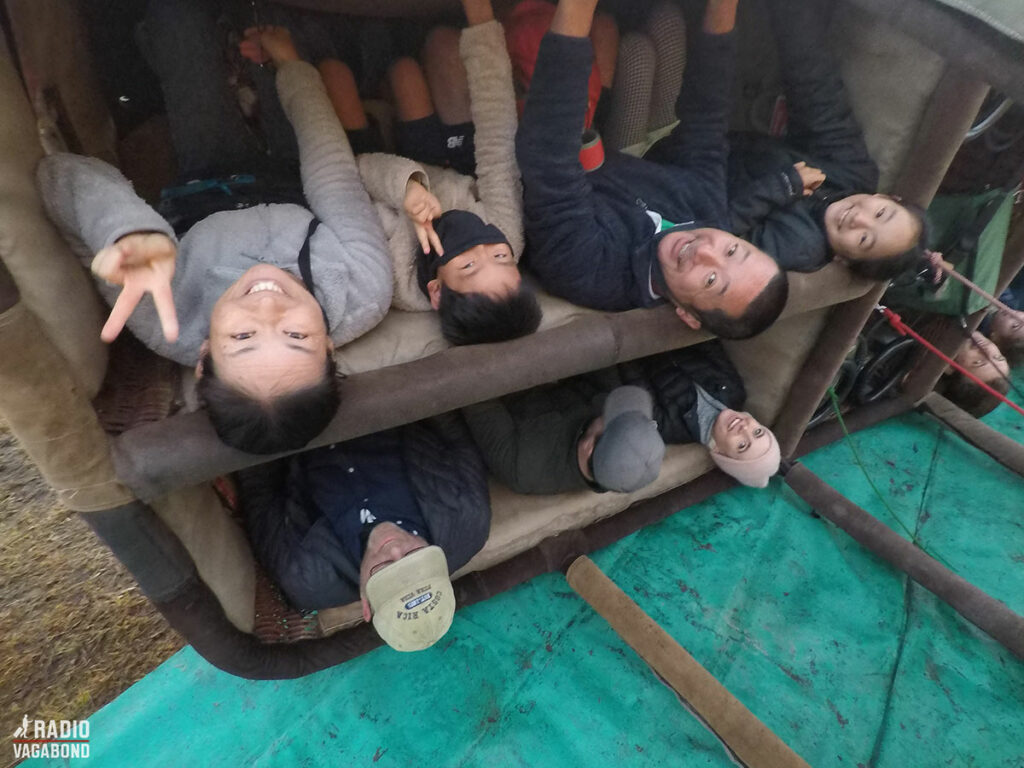 The basket was big and could fit twelve people in four compartments and the pilot in the middle. With the basket still lying flat on the ground, we're asked to climb in and lay down – on what looked like shelfs that would become walls to our hips when we stand up as we went airborne.
Next to me were two Norwegians, Regine and Christian. Regine was a frequent traveller too – with more countries under her belt than me.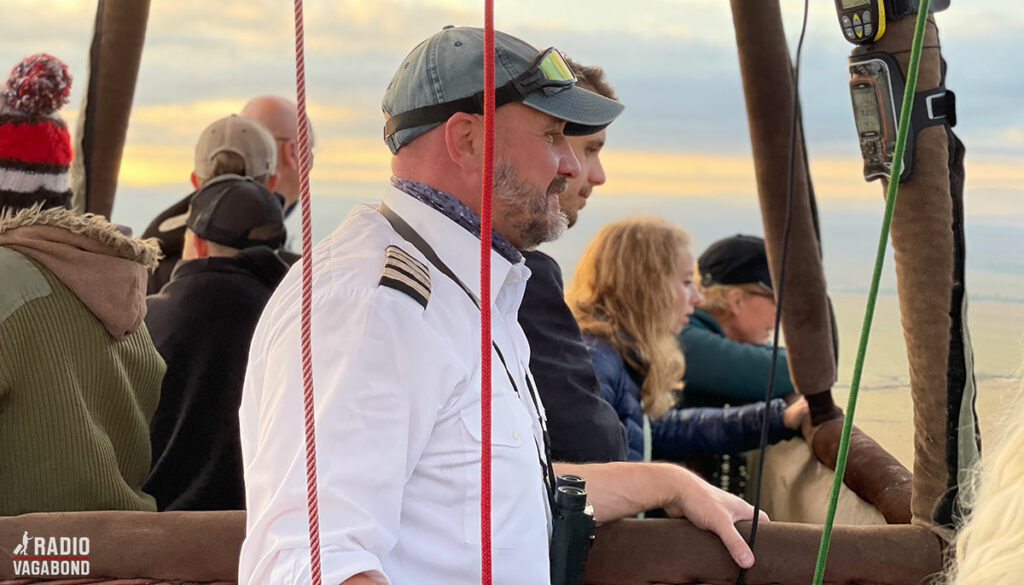 The pilot then blew more hot air in the balloon and slowly the basket with us in it stood up. When it was standing upright, he told us to stand-up, and the adventure began. We slowly took off and gently glided with the wind over the plains of the Masai Mara, the silence, beauty and magnitude were breath-taking!
Flying high up above the Masai Mara is the ultimate safari experience. Against a backdrop of a stunning sunrise, there's really nothing quite like it. The view from a hot-air balloon flight in the Masai Mara was unparalleled and the experience unforgettable.
Sure, the idea of waking up at the crack of dawn the morning after New Year's Eve sounded less than pleasant the previous day but the rewards of embarking on this high-flying adventure outweighed the inconvenience of setting the alarm clock for 3.45. It was magnificent.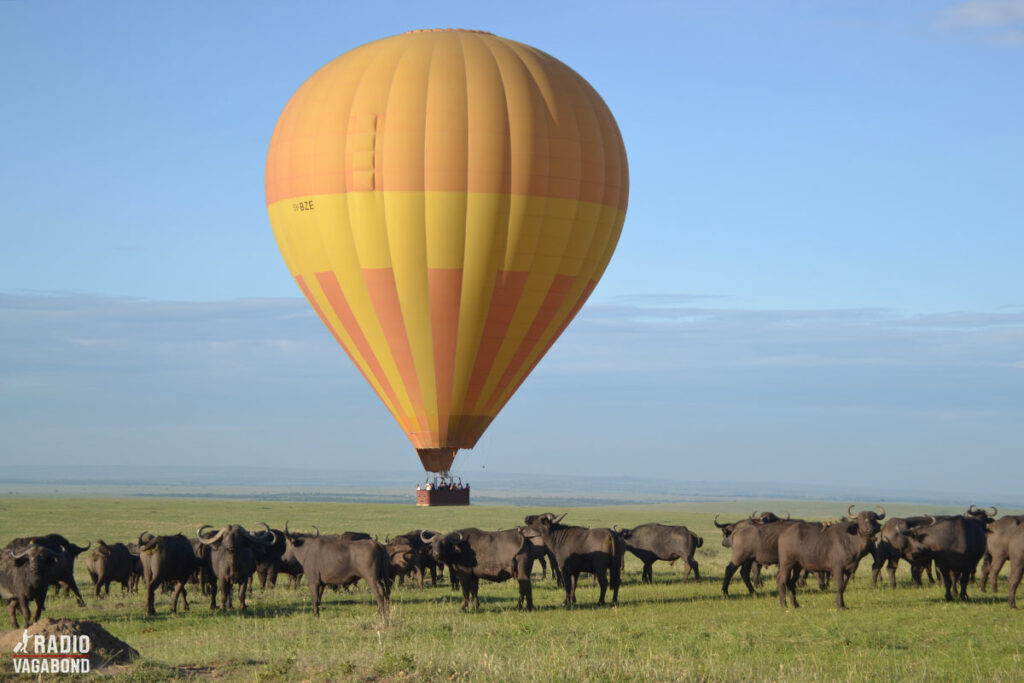 LET'S GET HIGH
At some point one of the other passengers asked Sergei how high we can go, and he just said "Well, let's find out".
He started the burners, and we went up and up and up. Got into the clouds and kept going up. Then above the clouds into the sunlight. He told us that we were 1,500 meters – almost 5,000 feet above ground. At this point Regine felt it was too much for her so she sat down in the basket so she couldn't see. I must admit I also felt we were too high above ground – as if it would mean any different falling 200 meters or 1500.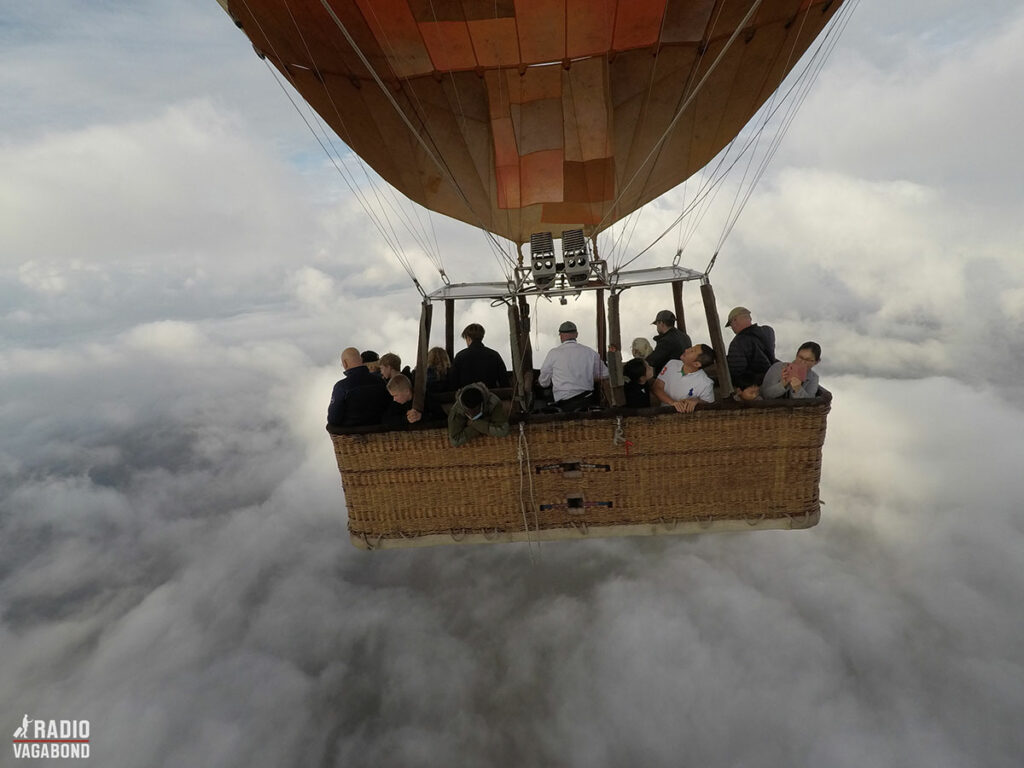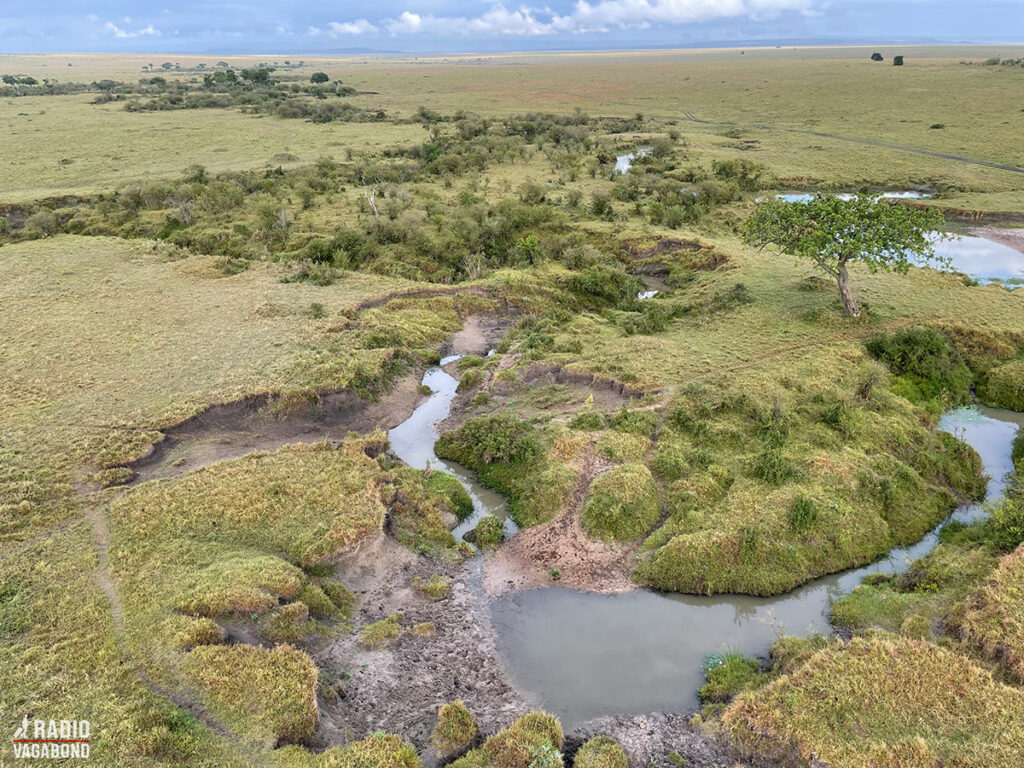 Then Sergei slowly took us down again and in the last part of the flight we saw a group of lions having breakfast. Well Regine and Christian did but I couldn't spot them, so after the landing we drove over there and saw them up close. On the way back we saw another male lion just walking around allowing us to take picture of him. He also just had his breakfast and there was a big chunk of meat just waiting for the hyenas to come and get.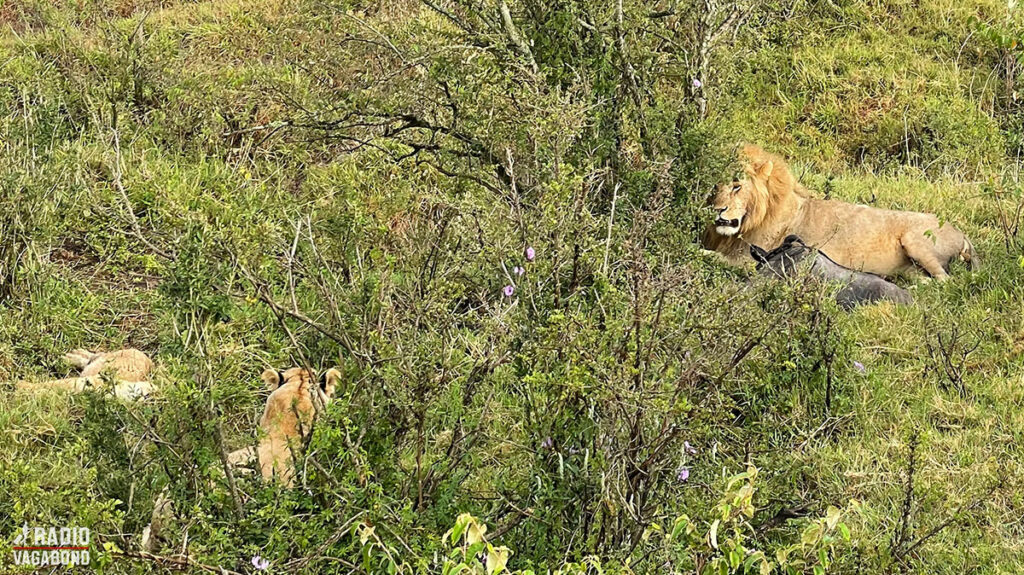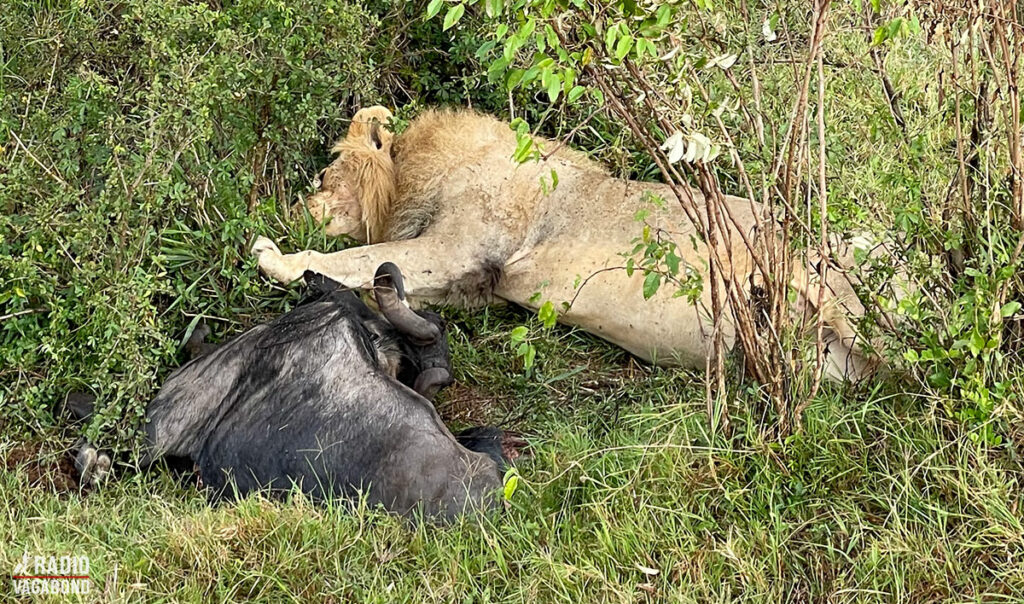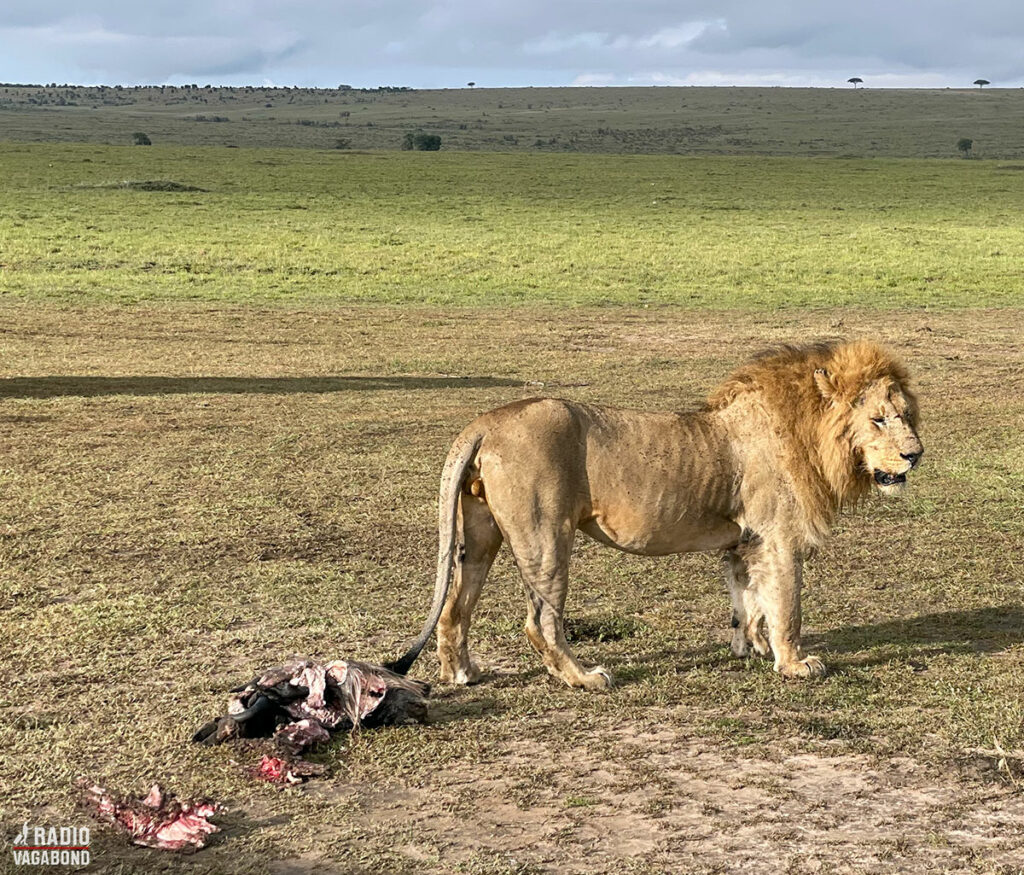 Then it was our turn to have breakfast, and wow – when Francis told me about that he wasn't overselling it. There was everything you could wish for: champagne, fruit, fresh bread, coffee and even a cook making your omelette just the way you like it.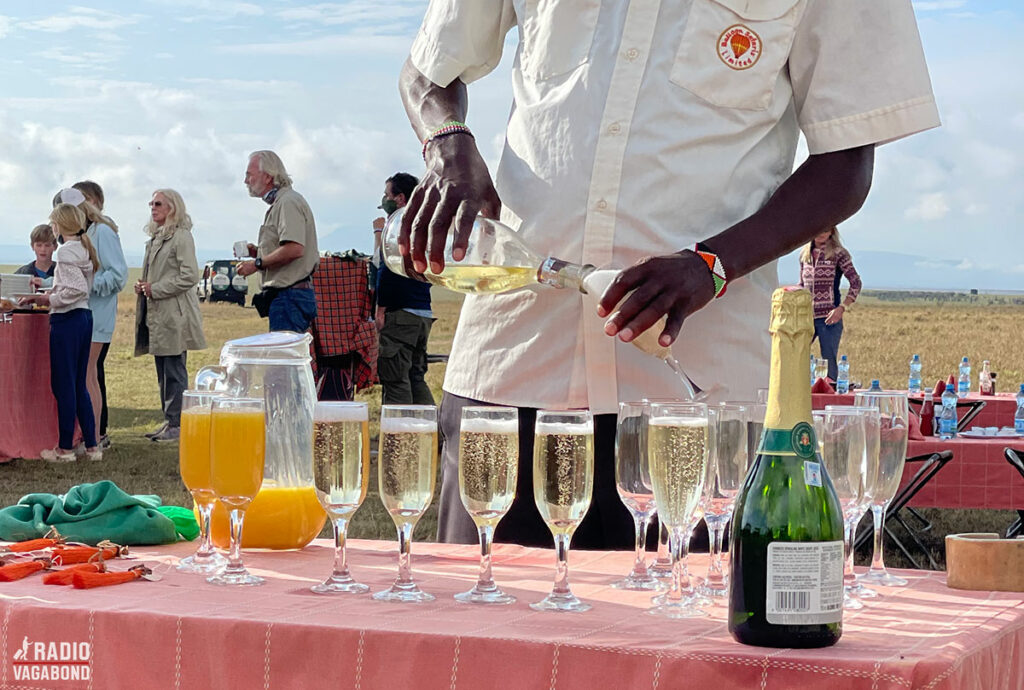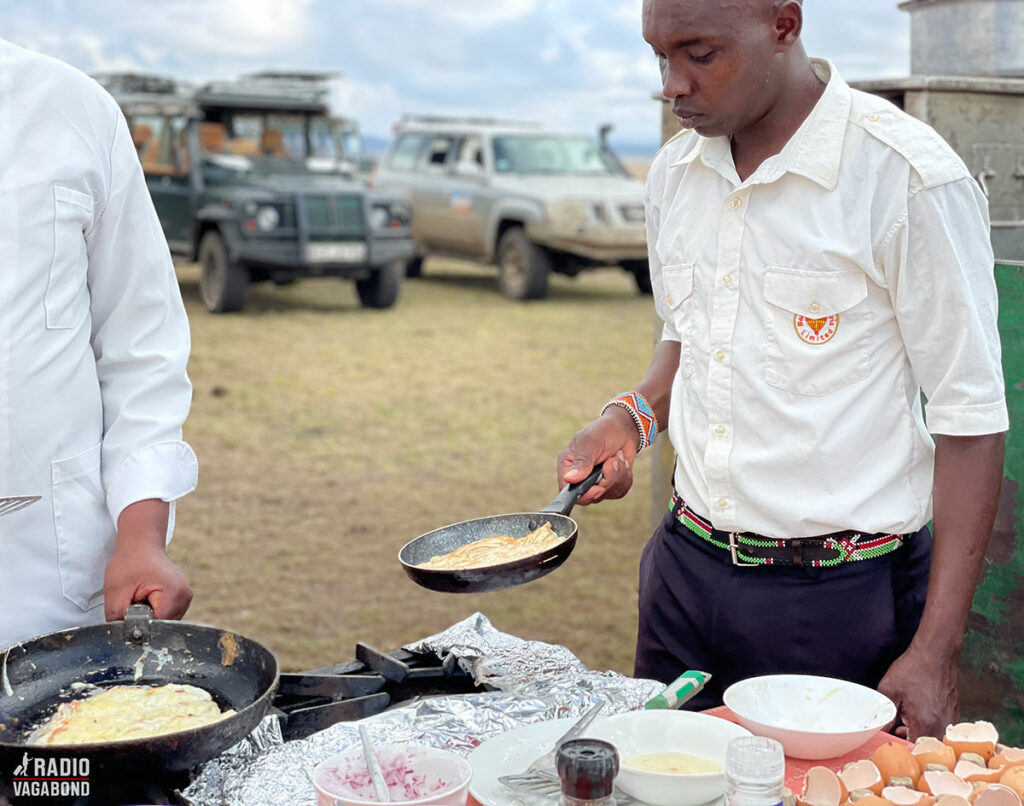 A DREAM JOB
With my senses (and belly) full I went over to Sergei Nosov, our Russian pilot from Balloon Safaris Ltd for a chat. He started working here five years ago and describes Kenya as the "Ballooning paradise" because of the open plains and beautiful places. Sometimes it's windy, but they always have the skills and expertise to steer the balloon. They fly above the clouds from time to time and not too frequently, but also, the level of clouds also changes. It is magical during the migration, and you can see thousands of animals coming from The Mara to Serengeti in Tanzania. The price of hot air ballooning is high, but it is worth every penny.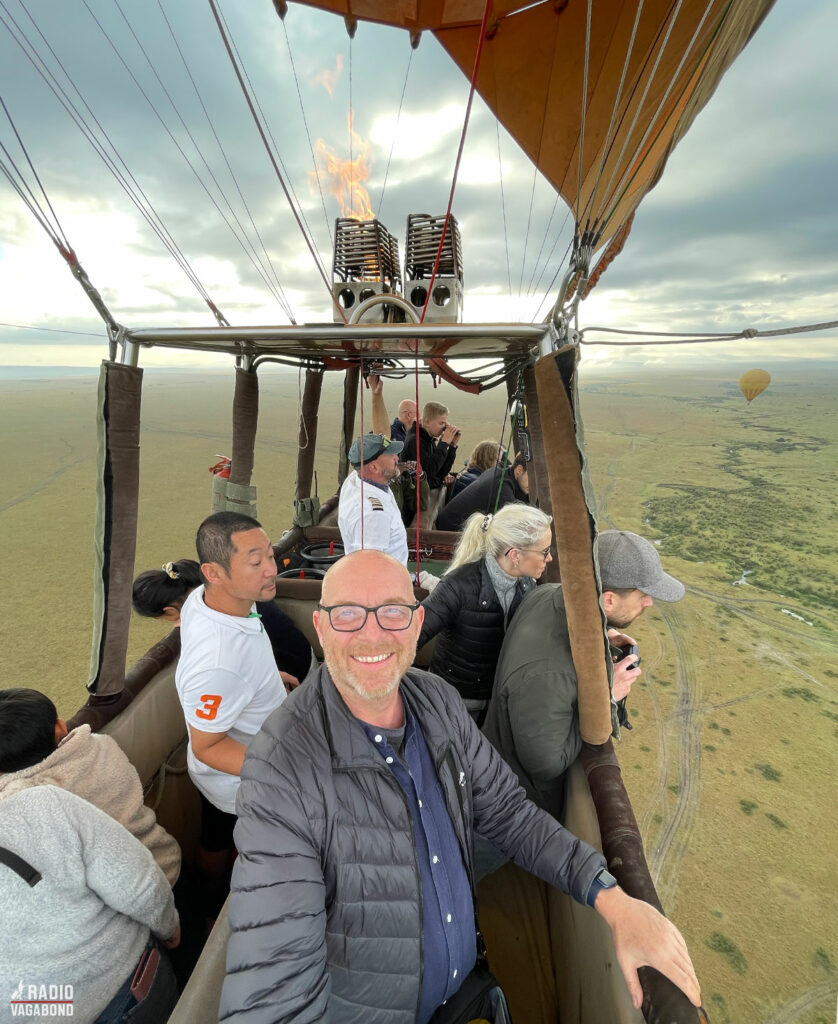 I also chatted with Regine and Christian who said that it was "better than they expected". They loved seeing the lions from above. It was such a unique experience although Regine felt that we went too high. Overall, it was an exciting thing to do. They have been on a longer trip throughout Kenya and after this, they will be visiting the Giraffe Manor as they have been on the waitlist for a long time. We talked about things to do in Nairobi in our previous episode.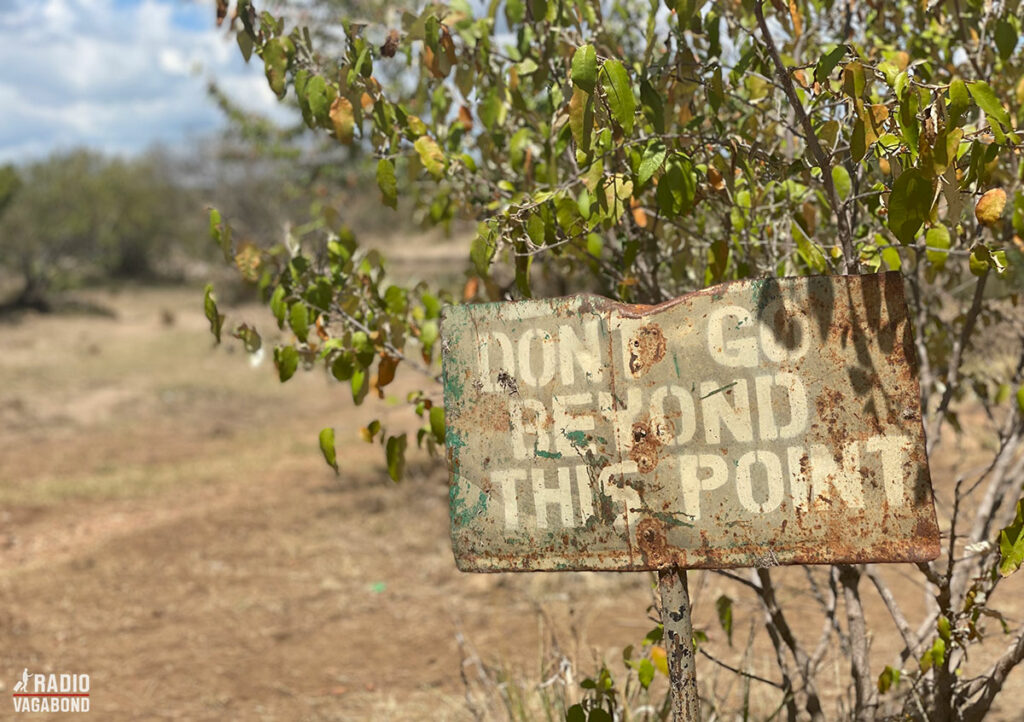 DISCLAIMER
The trip to Masai Mara was made possible by Monica Musungu from Scenery Adventures but everything I've said in this episode is completely my own opinion.
COMING UP NEXT
In the next episode, I'm visiting a Maasai village and get a glimpse of what it's like living in a semi-nomadic tribe.
My name is Palle Bo, and I gotta keep moving. See you.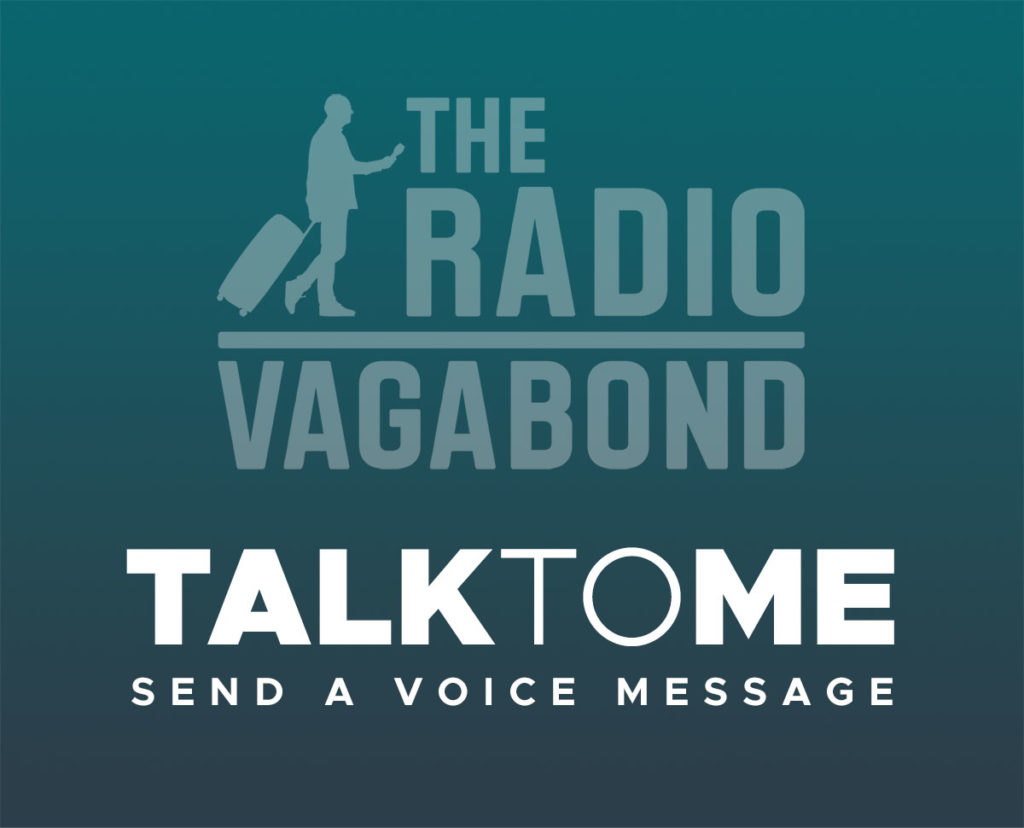 Either way, I would love to hear from you. It's so nice to know who's on the other end of this.
SPONSOR
A special thank you to my sponsor, Hotels25.com, who always provide me with the best, most affordable accommodation wherever I am in the world.
Hotels25 scans for prices on the biggest and best travel sites (like Booking.com, Hotels.com, Agoda and Expedia) in seconds. It finds deals from across the web and put them in one place. Then you just compare your options for the same hotel, apartment, hostel or home and choose where you book.
When you book with Hotels25, you get access to 5,000,000 hotel deals. And it's "best price guaranteed."
PRODUCED BY RADIOGURU
The Radio Vagabond is produced by RadioGuru. Reach out if you need help with your podcast.