In this episode, I'm taking you to the 4th biggest city in the USA — Houston. Here, I'm visiting one of the most iconic places in the city that really put Houston on the map when NASA started going to space. 
I also get to stay with two Texans in a trailer park. But first, I needed a car to get me there. And I thought I might as well go there in style.
I'm in Cedar Park in the northern part of Austin to pick up my rental car. It's in a beautiful residential neighbourhood with nicely trimmed lawns. My Uber drops me off at one of the houses where I meet Gary, the car owner. 
I bet you're wondering why I'm getting a car at a private home and not at Hertz or Avis or one of the other big rental car companies. So, let me explain — pay close attention because this is a cool travel tip: I'm using Turo. 
Turo is like Airbnb for rental cars. It's an online platform where people can rent out their car to strangers. It's a great alternative to traditional car-renting companies. The owners, like Gary, list their cars with Turo and renters like me can search the site and rent them for daily prices set by the owners. 
It's my first time using Turo. I was looking at normal car rental companies, but then I tried looking on Turo's website, and this little cute sports car came up at a fraction of the prices I had just been quoted. It seemed almost too good to be true.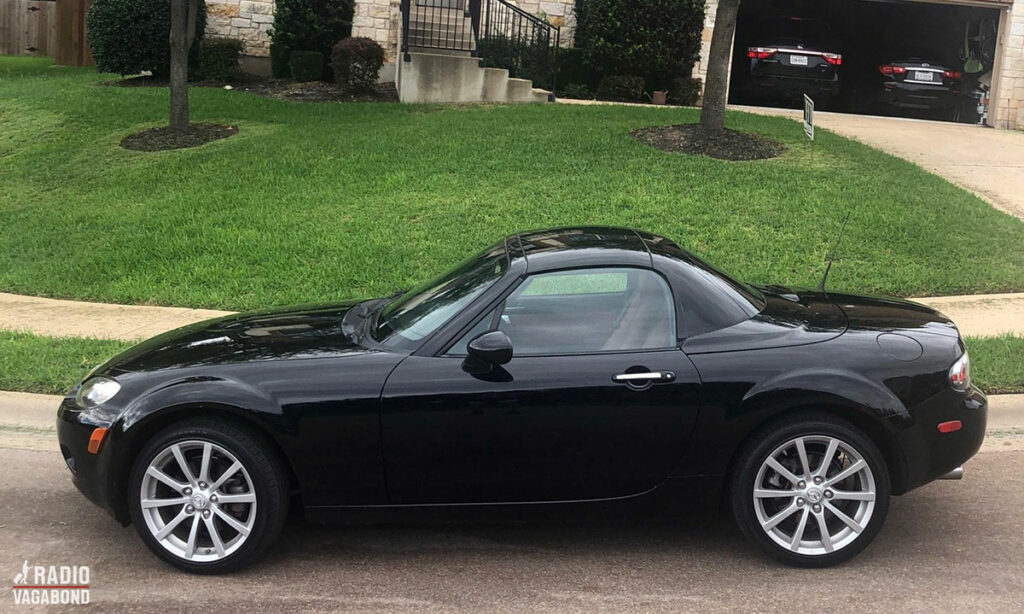 It's a black two-seater sports car where the roof folds back at the push of a button. This was just something I had to try, so I booked, and here I am, in front of the car chatting to Gary. 
"I just bought the car because I wanted to have a fun little car that I can rent out," says Gary. "I've always wanted to own a small, convertible sports car to take advantage of the great Austin weather. Turo made sense because it allows me to rent it out when I am not using it to make a few extra dollars. I bought it specifically to rent out on Turo, so I don't mind it being used by other people."
Just like me, this was Gary's first time using the Turo service. After a brief chat, I was handed the keys and took control of the little black beauty. And boy, was it a great ride.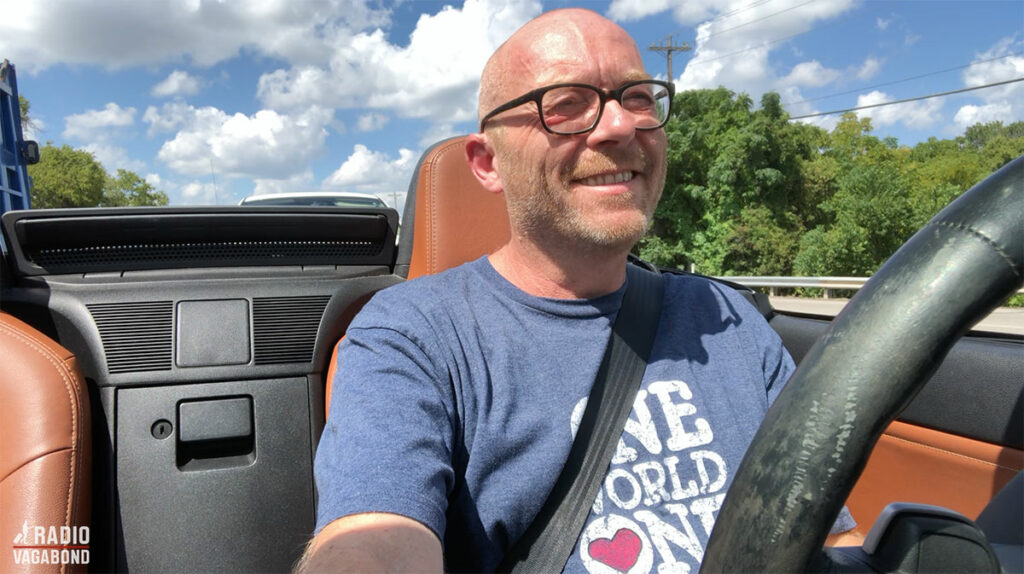 During my first few days in Austin, I attended another travel bloggers conference and one night, over a few beers at one of the social events, I met Ed and Jeanie – a charming couple from Houston. We got along rather well, and at the end of the night, Ed offered for me to stay at their place for a few days when I got to Houston. I wasn't sure if it was the beers talking, but I took him up on his offer and said that I would love to. 
So here I was, heading from Austin to Houston in a little open-top two-seater sports car. It's a 2.5 hours' drive, and I had a blast hitting the open highways, feeling the wind brush through my hair; I felt like a rock star even though it was a bit scary being all the way down that close to the road with the huge 20-ton Texan trucks driving alongside me, hardly being able to see me all the way down there. I felt I was driving a go-kart and could drive under them without any problems… but I decided against it.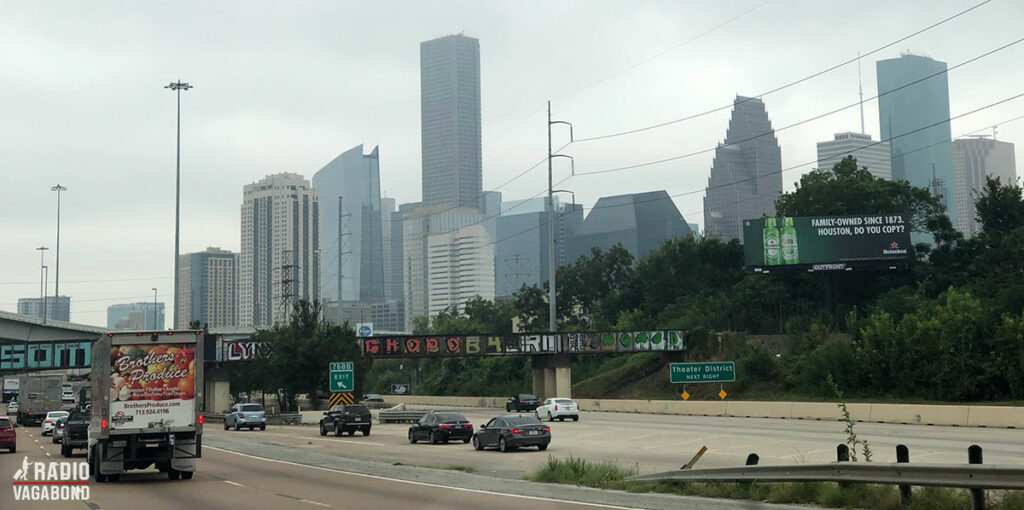 As I'm sure you can imagine, the car made a few heads turn as I was slowly making my way through the trailer park to Jeanie and Ed's trailer — my home for the next couple of days. 
Ed is a tall Texan, so everyone calls him Big Ed. As I arrive, I'm greeted by Big Ed and his friend Randy who were on the front porch having a few cold ones. Keeping them company was a cute little white dog called Yogi Bear. 
"Woah, look at you man. Fuckin' pimpin'. That's great man, I can't believe you found us," says Big Ed as I head over to greet him. 
Jeanie's and Big Ed's trailer is big. It is 16×80 feet (5×24 meters), and if you didn't know it, you would think it's a normal little 120m² house. Especially when you step inside, it's got a corridor and several rooms including two bathrooms. 
So, it's not the kind of caravan that you would hook up to your car and go on a summer vacation. Well, maybe here in Texas with a big-ass truck in front of it, you could. But this one hasn't been moved since it got here a few years ago. 
Big Ed is retired, and since he doesn't have to get up early, he likes to stay up late watching sports or Fox News on their big flatscreen TV — easily until 3-4a m each night. Jeanie usually goes to bed earlier because she still works (or was at the time of the recording, but she just retired in 2021). 
So, for Ed not to wake her up in the middle of the night, they have separate bedrooms. But while I'm there, Ed is letting me have his bedroom and will sneak into her big waterbed, which he doesn't seem to mind. 
As the sun slowly started to set, it started to rain. So, I sat down with Big Ed on his front porch for a chat to find out more about my hospitable host.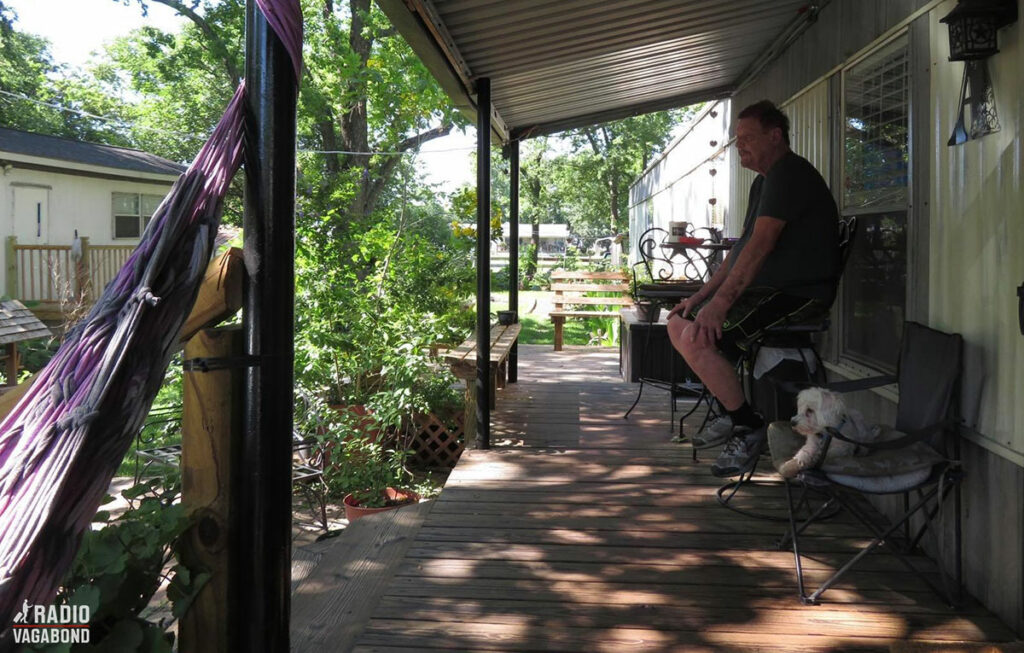 The rain, unfortunately, prevented Big Ed from making his "not-so world famous" BBQ spareribs for us. But he assured me that I would be treated to them the next evening. Big Ed tells me about how he and Jeanie came to live in this trailer park.
"We have a lovely little cottage, if you will, that my wife has put almost $30,000 into making a home. We've put granite countertops in the kitchen and put in new bathtubs among other things. It's a lovely little place for myself and my wife to live with our little puppy dog, Yogi Bear. I built an outside porch area in the back that I turned into a bar where we can have live music and entertain."
You can't really call it a trailer as it has no wheels. Big Ed tells me that they remove the wheels upon delivery of the cottage to ensure people don't pick up and leave in the middle of the night to evade outstanding payments.
TRAVELLING TRAILER PARKERS
Big Ed and his "beautiful Jeanie" travel around the world a lot because Jeanie used to work for United Airlines, which entitles them to free airfares whenever they please. They can simply walk up to the ticket counter and choose any destination, and they don't pay any fees, not even for their luggage. They have certainly made the most of it. When people ask Bid Ed where they have travelled to, he finds it easier to list continents rather than countries as the list would be too long. 
For every New Year's Eve, they like to visit capital cities. Thus far, they have visited most of the major capital cities around the world, from Paris to Phnom Penh. Next up is Quito, the capital of Ecuador.
Big Ed and Jeanie are certainly uncharacteristic: I mean, you don't meet many world-travelling jet setters who live in a trailer park in Texas. And this is just one of many incredible un-stereotypical things about this wholesome couple from Houston.
"Only about 42% of Americans have passports, and of them not many get out and travel. So, not only do we find ourselves in a unique position but many of our friends and widespread acquaintances look to us for interesting stories that we have been lucky enough to experience here, there, and everywhere around the world."
Big Ed is certainly a well-travelled, intelligent, and interesting man. I really enjoyed our chat on the porch, but I had to go to bed because I had an exciting day planned across town. I'm going to the place where they were communicating with the first man on the moon.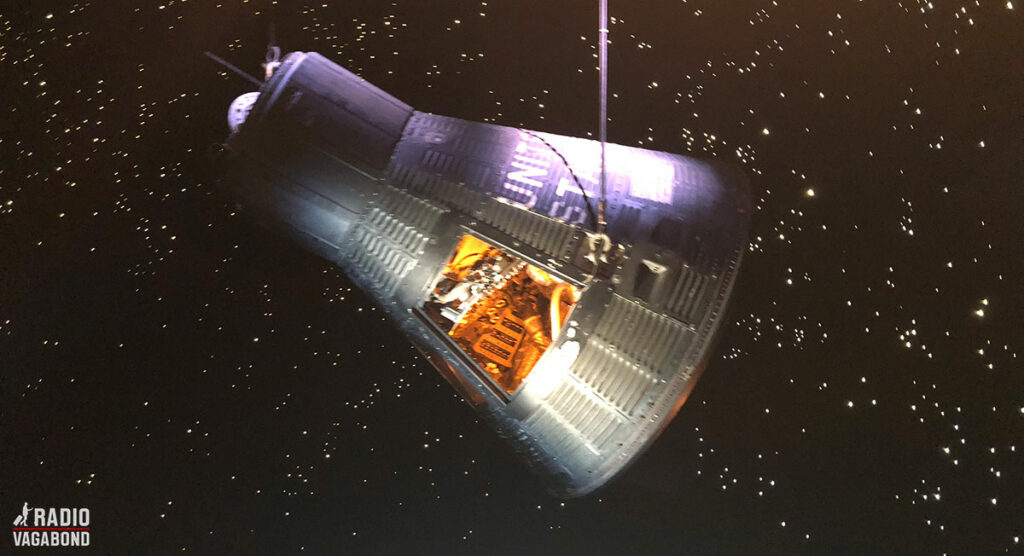 After about a 1.5-hour drive from Big Ed and Jeanie's place, I arrived at the Space Center Houston. I was immediately met with an amazing view of a huge jumbo jet with a space shuttle connected to the roof of it. I was very excited to find out more about American space history.
Houston, The Radio Vagabond has landed…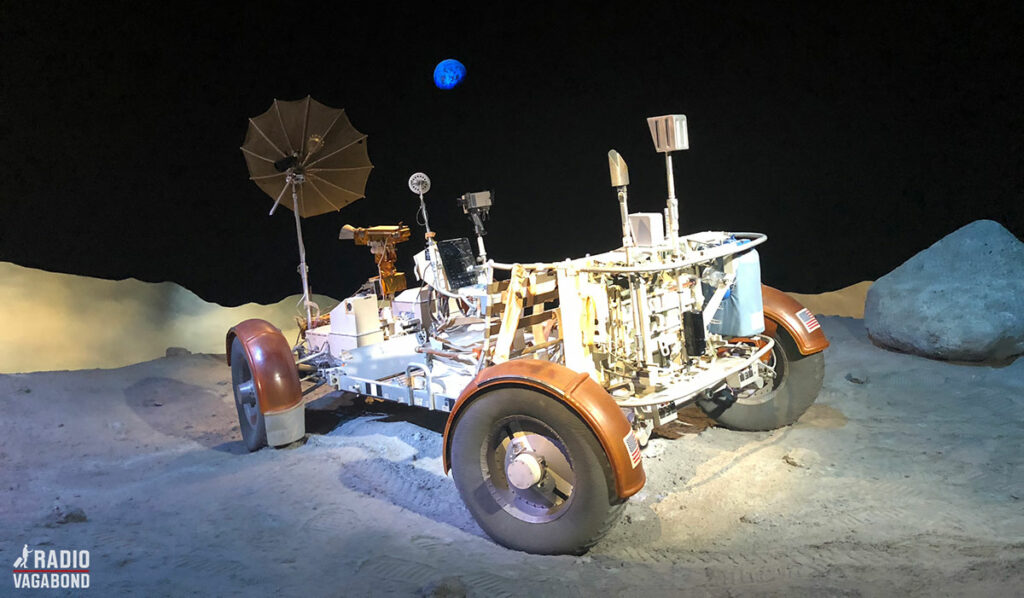 Since opening in 1992, Space Center Houston has welcomed more than 22 million visitors from all over the world — and today, they can add one more dashing Dane to the list. They host nearly 1.25 million visitors each year in its 250,000-square-foot educational complex. That's more than 23,000 square meters. 
Known around the world as the home of NASA Mission Control, International Space Station Mission Control, and astronaut training center, guests are taken behind the scenes to see NASA's Johnson Space Center.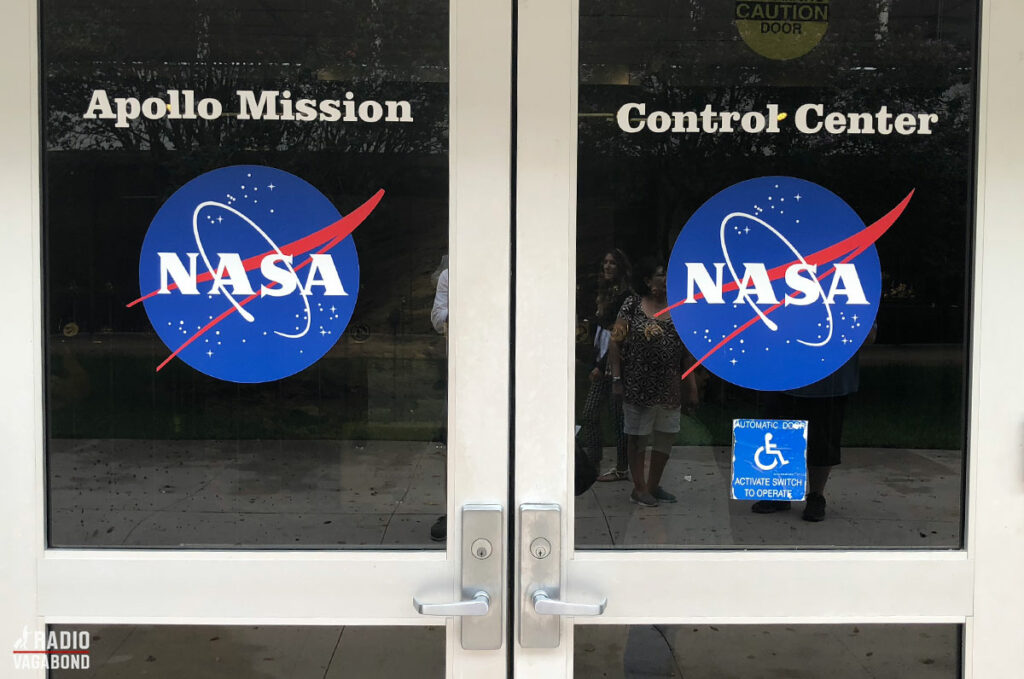 Johnson Space Center (JSC) and NASA have a tremendous story to tell. Before they opened to the public, they had artefacts and models displayed in the hallways of the employee auditorium. Hal Stall, director of Public Affairs at JSC, likened it to "displaying the Hope Diamond in a shoe box."
So, in 1992 they decided to make it public.
Saturn V Rocket
After an introduction film, I went on their NASA Tram Tour where we went around the area and one of the things that impressed me the most was the real Saturn V rocket. It is displayed vertically in a big warehouse. The Saturn V rocket is 111 meters (363 feet) tall, about the height of a 36-story-tall building, and 18 meters (60 feet) taller than the Statue of Liberty. And has the weight of about 400 elephants.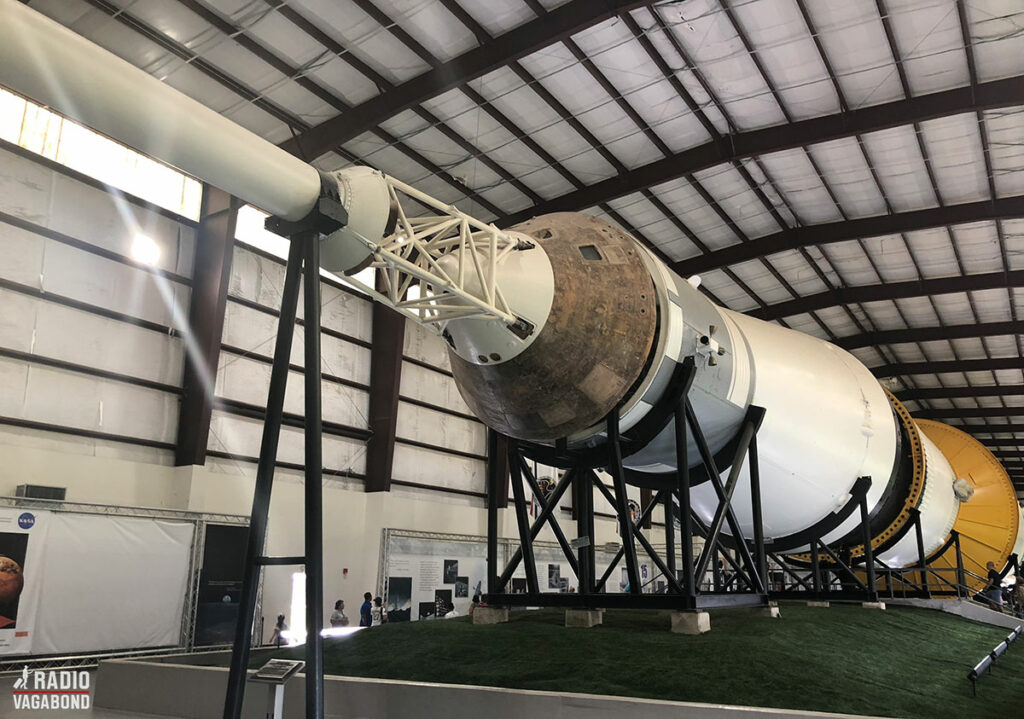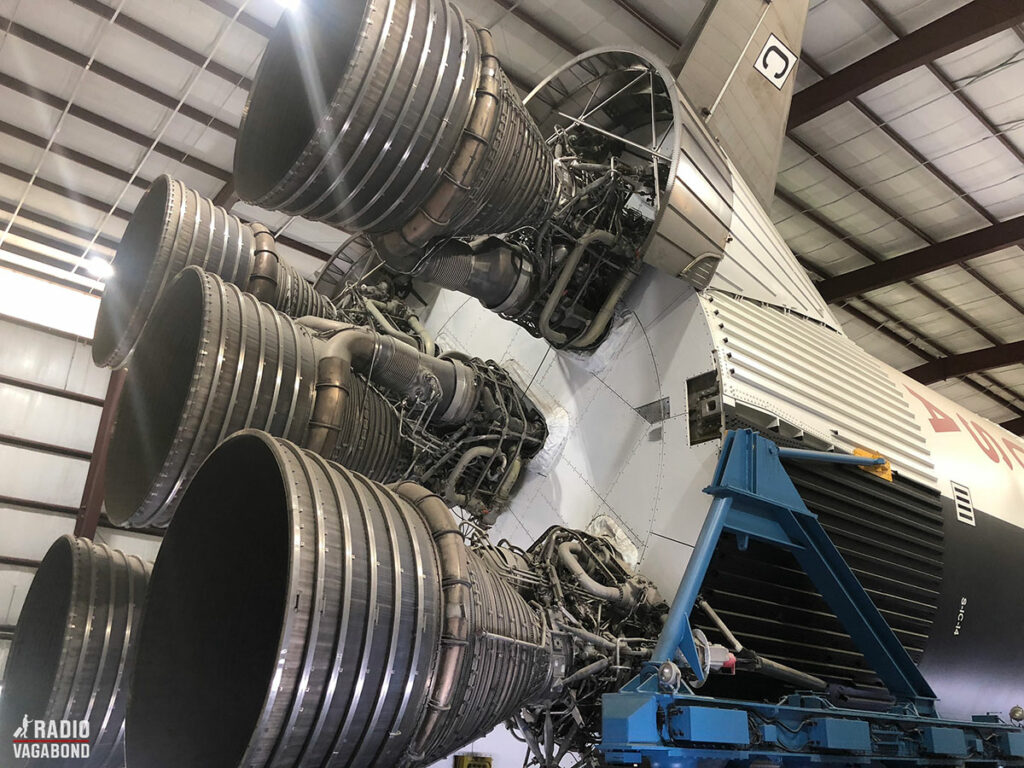 It was the most powerful rocket that had ever flown successfully and was used in the Apollo program in the 1960s and 1970s. Just walking around it from the pointy tip of the rocket on one end to the five big booster rockets on the other end makes you realise the sheer scale of it.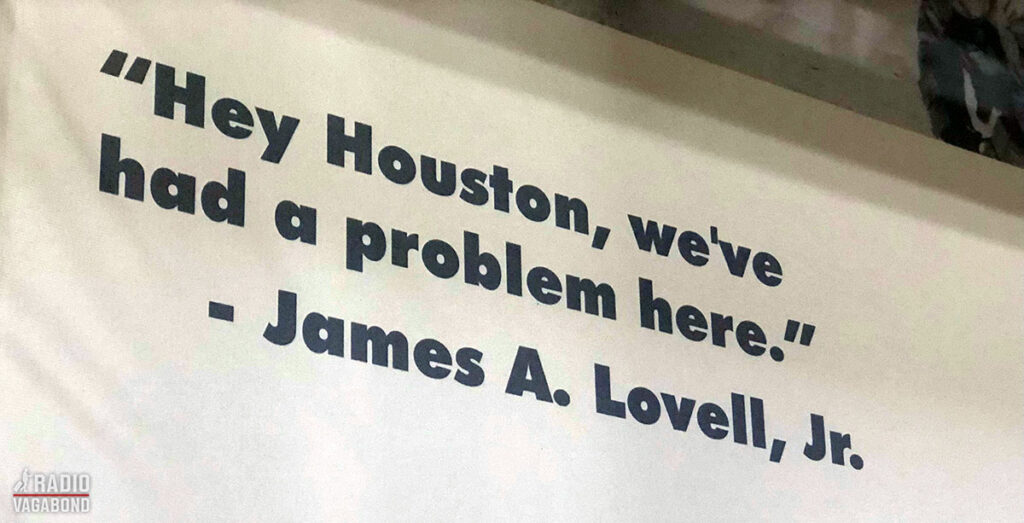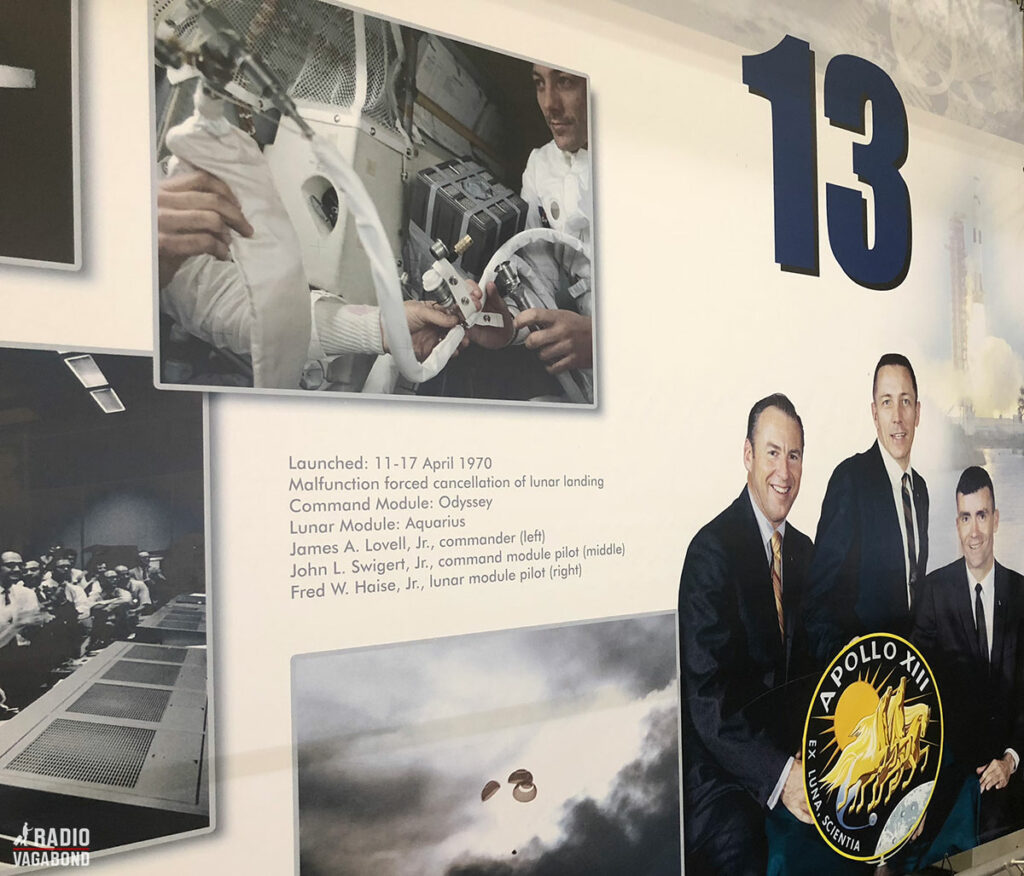 We then walked on an elevated path through the building where NASA astronauts train for current missions. This is also where NASA's scientists and engineers are developing the next generation of space exploration vehicles.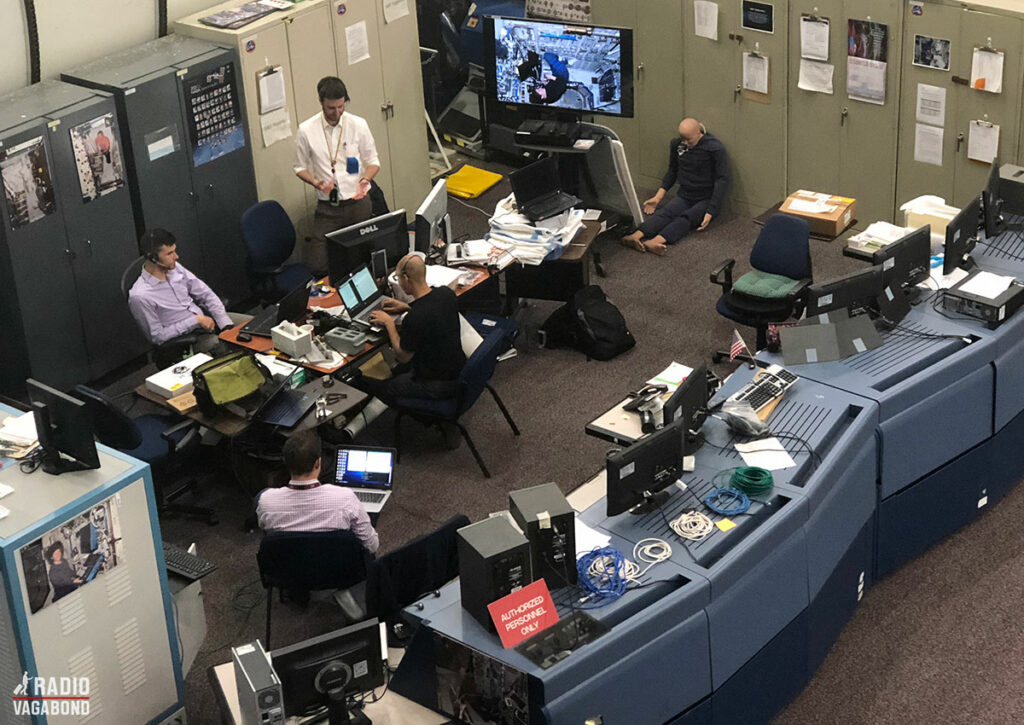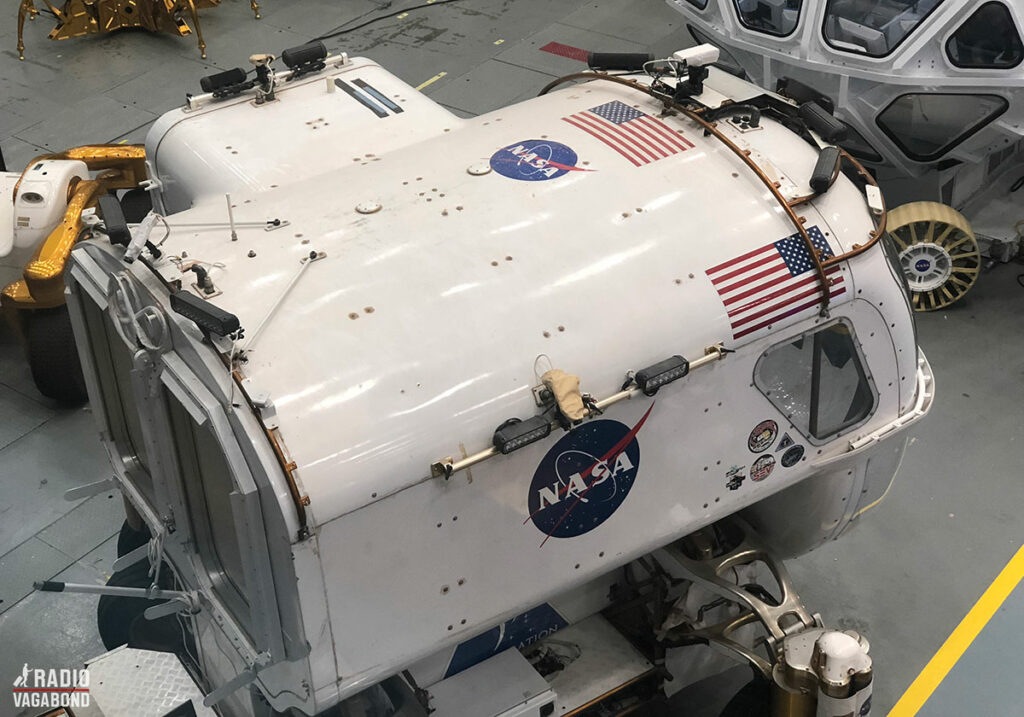 Mission Control
And then we entered possibly the most iconic place: Mission Control. And it's the real deal. This is the exact place where NASA's team led the Gemini and Apollo missions, including when Neil Armstrong and Buzz Aldrin set foot on the moon.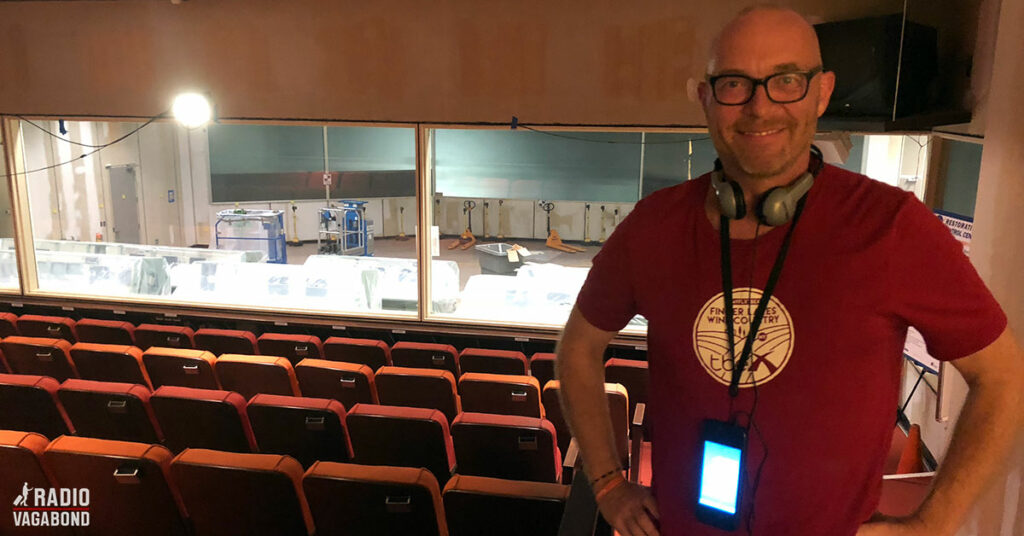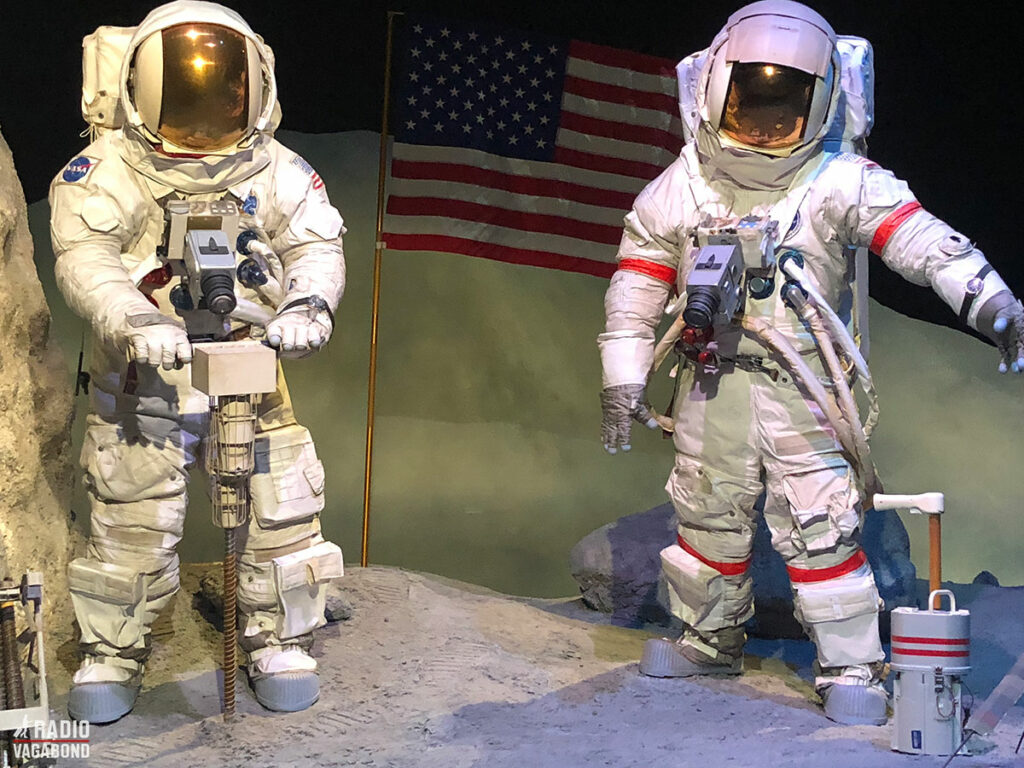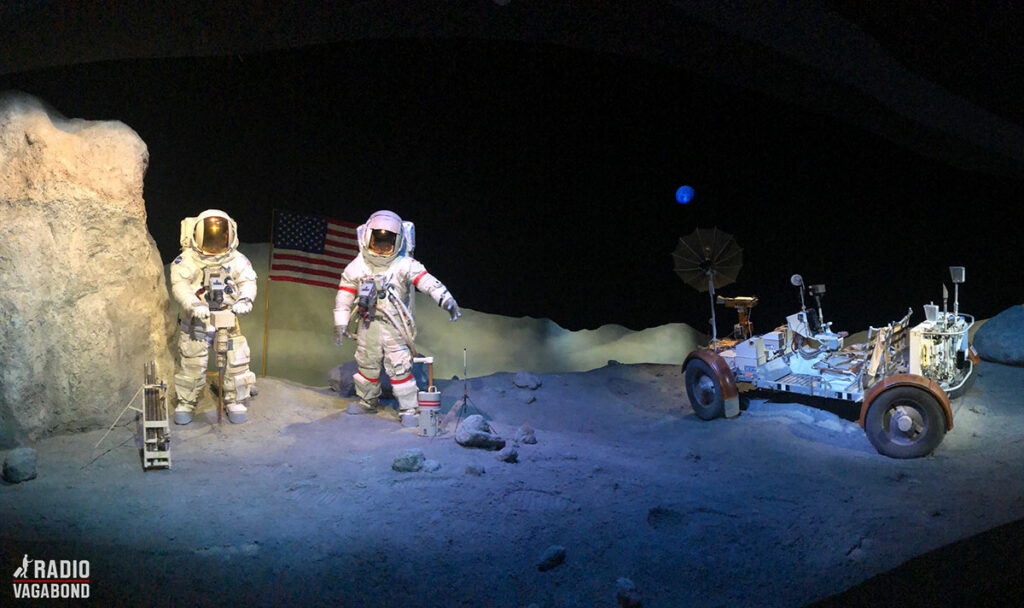 It's also possible to enter the replica of the Independence shuttle, mounted on top of a giant plane, that is the historic and original NASA 905 shuttle carrier aircraft. Inside the jumbo jet, there's a very interesting exhibition. 
But there is so much more: Lunar Modules, space suits, interactive exhibitions, and Space Center Houston also has the world's largest collection of moon rocks and lunar samples on display.
There is so much to see, and it's easy to spend a full day here. You can see more and book tickets on SpaceCenter.org.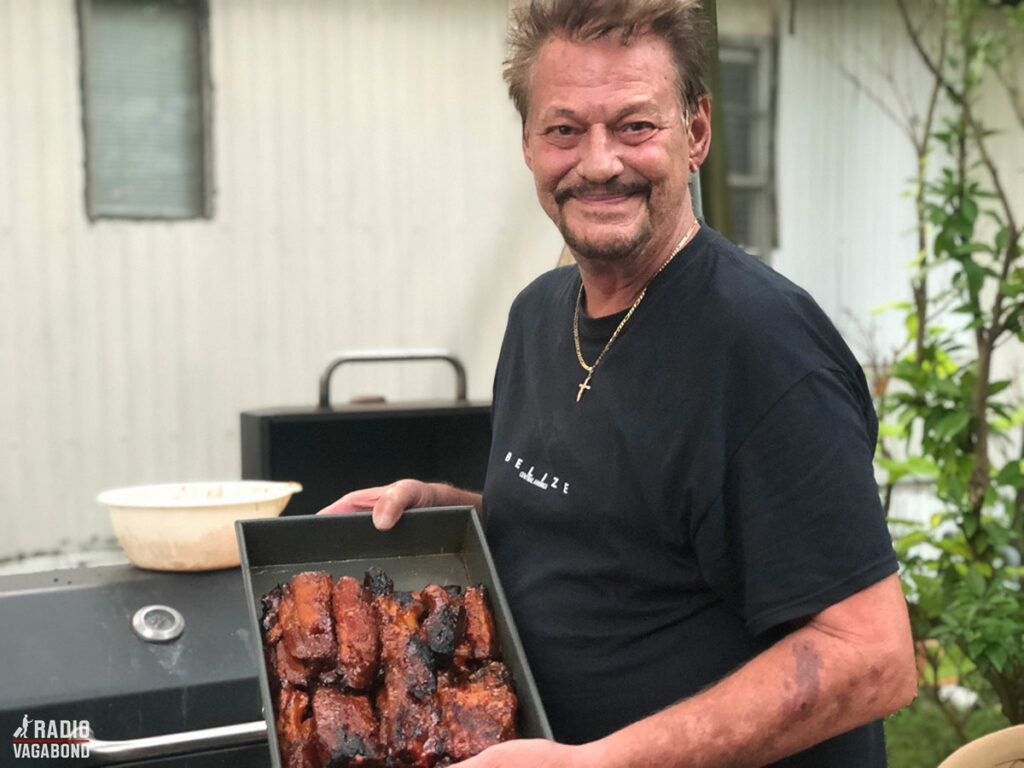 When I returned to Big Ed and Jeanie's trailer, Big Ed was working his barbeque magic, making his "not-so famous" spareribs he promised me the night before. They were so delicious that they should, in fact, be world-famous. After we ate dinner, Big Ed and I resumed our positions on the porch and continued our conversation.
I asked him to tell me a bit more about Houston. Having lived here since 1954 after moving when he was just five years old (still "Little Ed"), he's been here so long and can't really say anything bad about it. 
"Houston has just become the 4th largest city in the US (behind New York, Los Angeles and Chicago) having just surpassed Philadelphia. It's not really a vacation destination per se, it is just a really great city that makes a lot of money. The Space Center Houston created an incredible amount of cash flow for Houston. In the 60's, all the astronauts were our heroes around here and we followed each major NASA mission."
TALKING POLITICS WITH A TRUMP VOTER
Remember the episode from Maine where I got into trouble talking about politics? Herewith Ed, the conversations are interesting and with a lot of respect for each other's points of view. Ed knew that I probably isn't a big Trump fan, and I knew that he probably is. And still, we could talk about what was going on in the world with the respect that we probably won't agree on everything. 
ED AND JEANIE'S MANY JOURNEYS
Obviously, Texas is right here on the border to Mexico, and Ed and Jeanie have been south of it many times. Big Ed tells me about his travels through their southern neighbours and also around the Caribbean. They really love Belize and have returned there 12 times, exploring the coast and the surrounding islands.
One of Big Ed and Jeanie's bucket list items is to visit Easter Island. They are planning to fly to Chile and hop on a 5-hour prop-plane flight to Easter Island, then take another prop-plane flight to Tahiti. The most important thing for this amazing couple is that they don't only place value in the destinations they visit, but also the incredible people they will meet and the interesting things they will learn.
I really enjoyed my stay with Big Ed and all of our great conversations. And I brought a sic-pack of Carlsberg so Ed could get a taste of my home country. 
I'm staying a bit longer here in Houston, and in the next episode, I visit one of the locals and an old friend of mine. His name is Doug Harris, and he is an amazing person that I've known for many years. We've even seen many parts of the world together. 
That's next week on The Radio Vagabond. So, for now, it's goodbye to Jeanie and Big Ed and off to another part of this huge city. 
My name is Palle Bo, and I gotta keep moving. See you.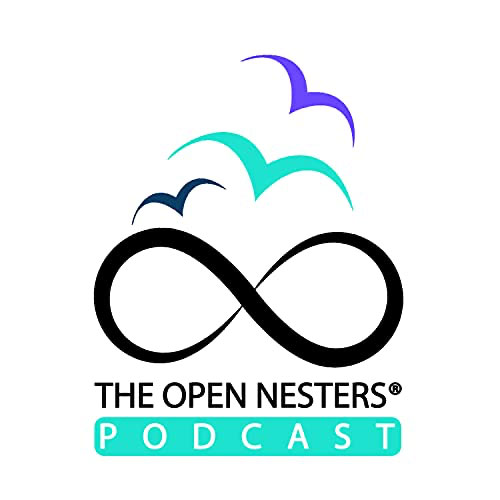 I have a podcast I would like to recommend. This is a podcast that is for someone like me. Someone where the kids have left the house and you've become an empty nester – or as Tessa and Amir call it: An "Open Nester."
RANT ABOUT A (CR)APPLE (CR)APP
Here in the spring of 2021, when I'm editing this episode, Apple announced that they just made the biggest changes to their podcasting app since podcasting began. So, I decided to update to the latest iOS when it was possible for me this week. It's the one called IOS 14.6. I was most of all expecting a better podcast listening experience. 
If you're considering doing the same, please don't. Or, please wait until they have fixed all the bugs. 
First, a lot of my apps don't work in this new iOS… yet. That will probably come soon. But the worst part is the new Apple Podcasting app. 
I don't know how to say it more clearly other than it has become the worst crappy app. Hardly anything works. It is so bad that I actually started using other apps – right now, I'm using Spotify. And who knows if I get so used to Spotify, then I will stay there. 
Apple Podcast is still the top dog in podcasting, but Spotify is number two and gaining many followers. And with this move, I wouldn't be surprised if Apple gets usurped soon. Don't get me wrong; I'm still an Apple fan. I have an iPhone, a MacBook, and an iPad, and I normally love everything they do. But this is so bad. So, if anyone at Apple is listening (and they're probably not able to if they upgraded to the new iOS)… get your sh**… ehh… act together. 
My short message is: 
Don't upgrade just yet. Wait until Tim Apple and the team have fixed all the bugs…
Okay, my rant is over. I just had to get it off my chest.
I WANT TO HEAR FROM YOU!
I really would like to hear from you. Where are you and what are you doing as you listen to this episode? You can either send me an email on listener@theradiovagabond.com or go to TheRadioVagabond.com/Contact.
Or send me a voice message by clicking on the banner.
Either way, I would love to hear from you. It's so nice to know who's on the other end of this.
SPONSOR
A special thank you to my sponsor, Hotels25.com, who always provide me with the best, most affordable accommodation wherever I am in the world.
Hotels25 scans for prices on the biggest and best travel sites (like Booking.com, Hotels.com, Agoda and Expedia) in seconds. It finds deals from across the web and put them in one place. Then you just compare your options for the same hotel, apartment, hostel or home and choose where you book.
When you book with Hotels25, you get access to 5,000,000 hotel deals. And it's best price guaranteed.