WITAMY W KRAKOWIE
Since recording my last episode from Slovenia, I visited a few places in Europe on business which is why I decided not to post any episodes from that time. But just to keep you updated on my recent whereabouts: I've been recording interviews for the follow-up to the first season of The LEGO Technic podcast. In the first season, we chart the journey of the design and build of a 1-8 scale Lego model of the Bugatti Chiron in 9 episodes. And in the second season for The LEGO Group, I went to the large LEGO factory in Kladno, Czech Republic, where they produce all the big scale models for the LEGOLAND Parks and big stores around the world. In the second season of the podcast series, we follow the built of a 1-1 life-size LEGO model of the Bugatti Chiron.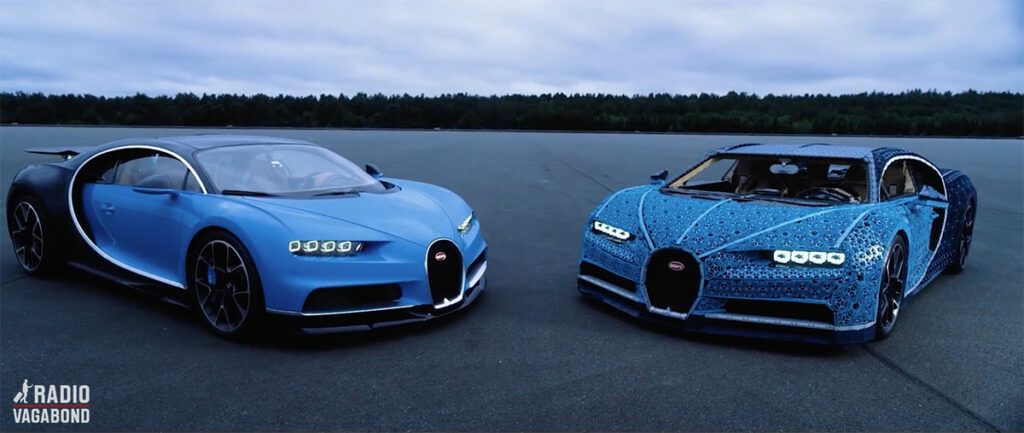 I then travelled to Cannes, France, to attend the Cannes Lions festival and meet more clients and network/"shmooze".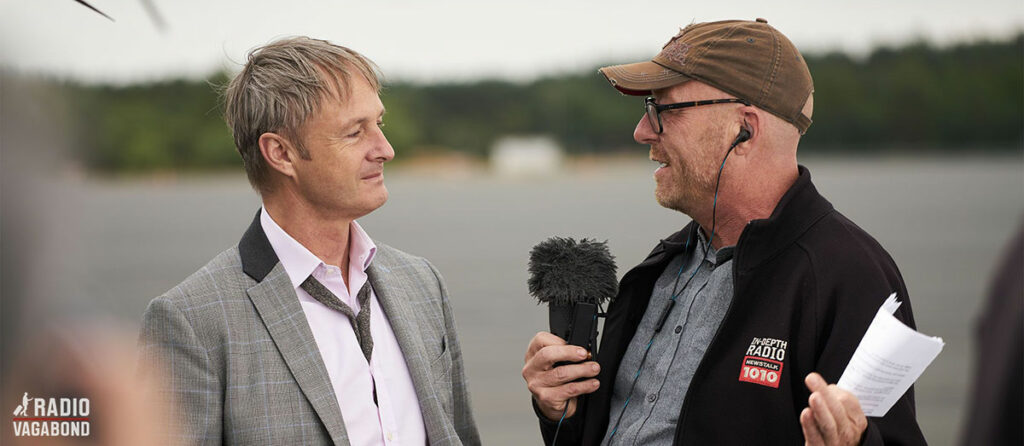 After that Wolfsburg, Germany, was next where I visited the Volkswagen headquarters as part of my work with the LEGO Technic Podcast. Here where we tested the Bugatti Chiron LEGO model on the test track. They shot a film (below) while I was standing at the side of the road with my microphone, recording stuff for the podcast.
Phew, loads of flights! Anyway, after my business was concluded, I made my way to Kraków and this is where this episode begins!
EXPLORING KRAKÓW
My arrival in Kraków happened to coincide with the day the Polish national football team played against Colombia in their Group H match of the 2018 FIFA Football World Cup in Russia. Unfortunately, the Polish team lost the game 3-0 which spelt the end of the World Cup hopes. 
On Sunday morning, I decided to take a much-needed break from a week-long podcast editing binge to take a Free Walking Tour of the old town. You know how much I love a tour like this; they are a really great way to get to know more about a new city and provide you with ways to meet locals and fellow travellers as well. After a quick online search, I decided to go with Walkative! Free Walking Tour.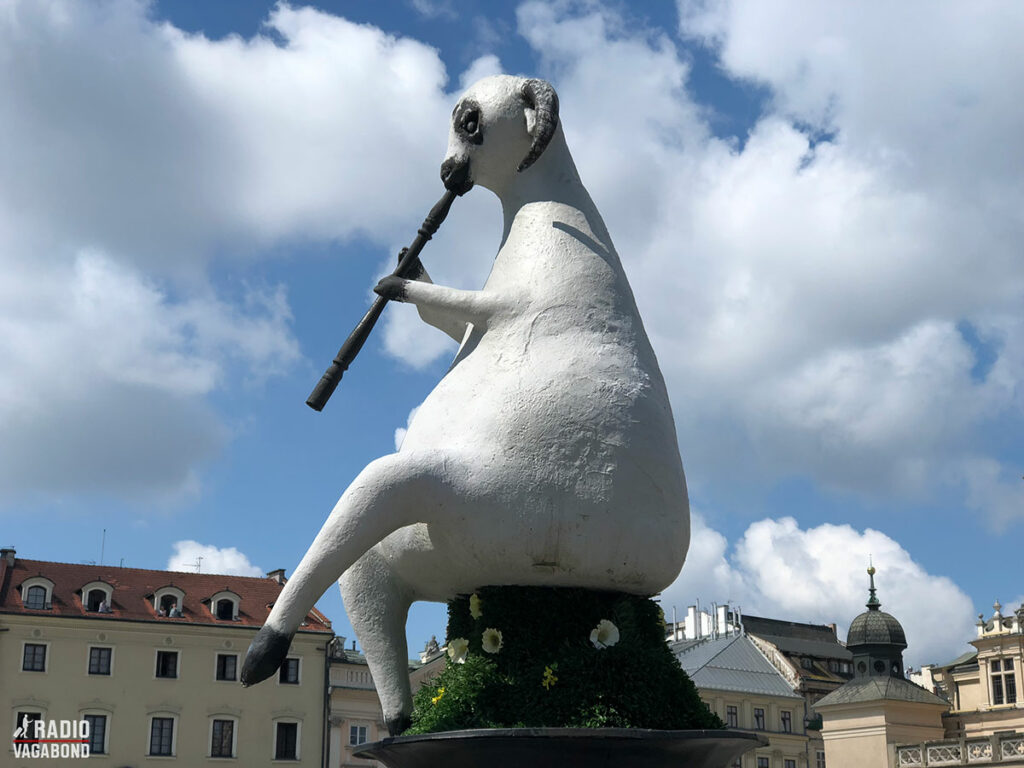 Our tour guide's name was Thomasz but he is known better by his many nicknames: Calen, Big Tom, The Giant. He's really tall, which apart from his bald head and goatee, is his most defining feature: he is the one and only 2 metre (6ft7) tall guide in Kraków.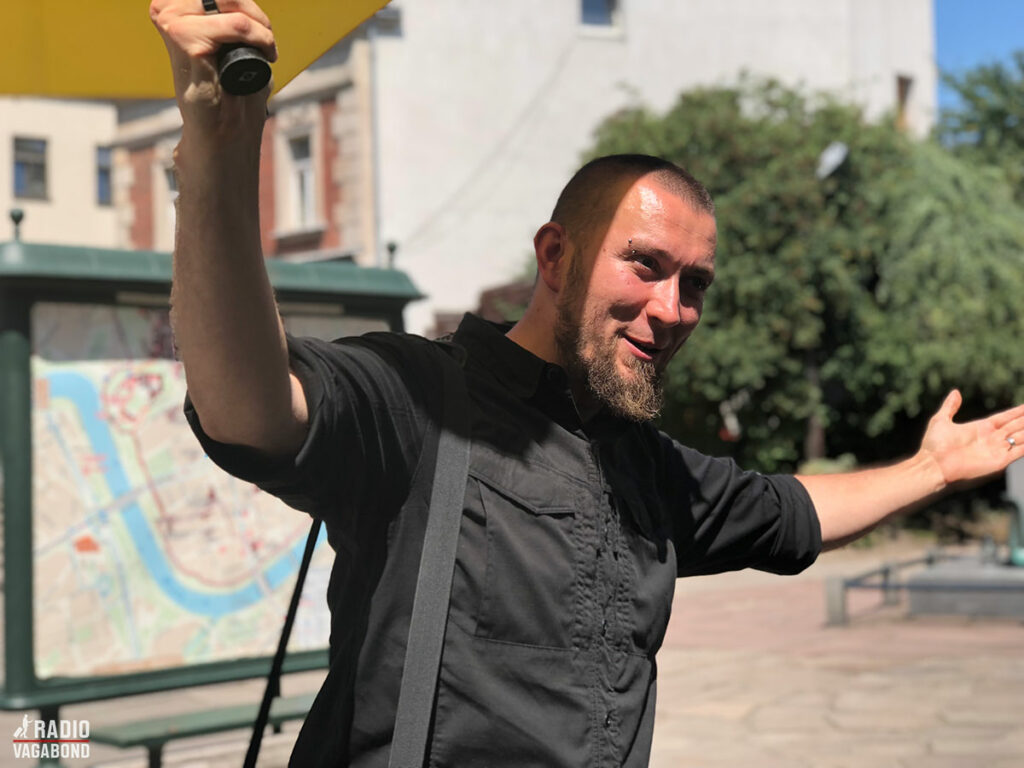 He is born and raised in Kraków and graduated from Jagiellonian University with history as his major subject. His thesis was on Kraków, so he's the perfect person to talk to us about the old town of Kraków. He is a remarkable tour guide who mixes warmth, humour, and interesting facts into his tours to create a magical experience.
Here's what I remember about Thomasz' anecdotes about his home city:
FACTS ABOUT WHERE WE ARE
Kraków's entire old town, including Wawel Castle, the market square, and the Jewish district, was one of the first sites to be added to the UNESCO World Heritage List when it was created in 1978.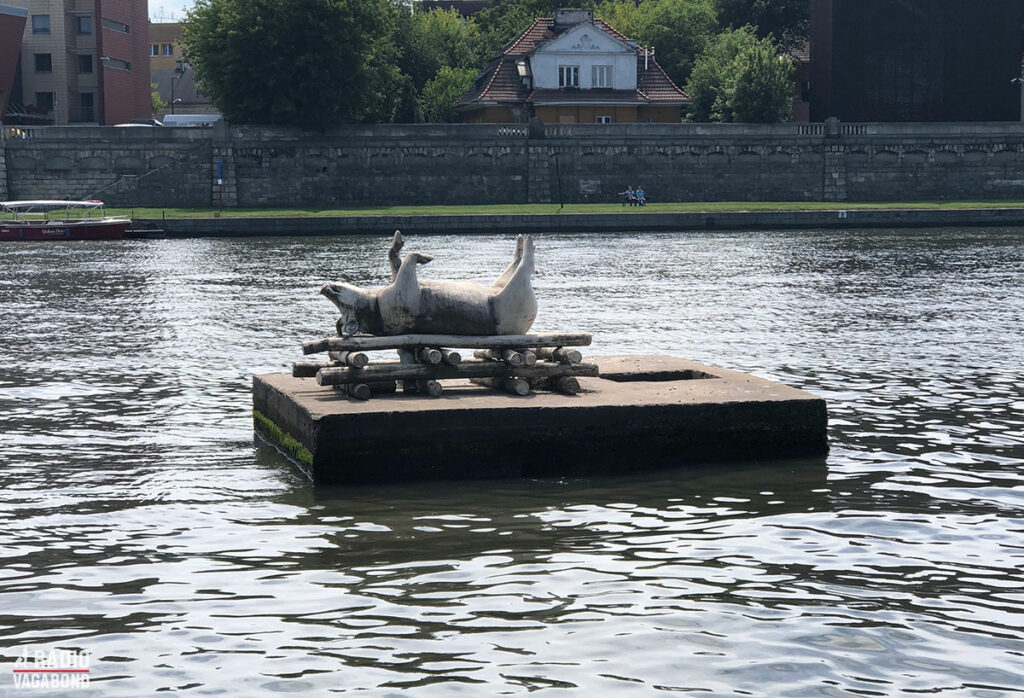 BIGGEST AND BEST MARKET SQUARE
In 2013, Lonely Planet voted Kraków Square the best market square in the world. It's called Rynek Główny in Polish and it's also the largest medieval town square in Europe. It's a square space surrounded by historic townhouses and churches. The centre of the square is dominated by Cloth Hall and it's stunning two towers.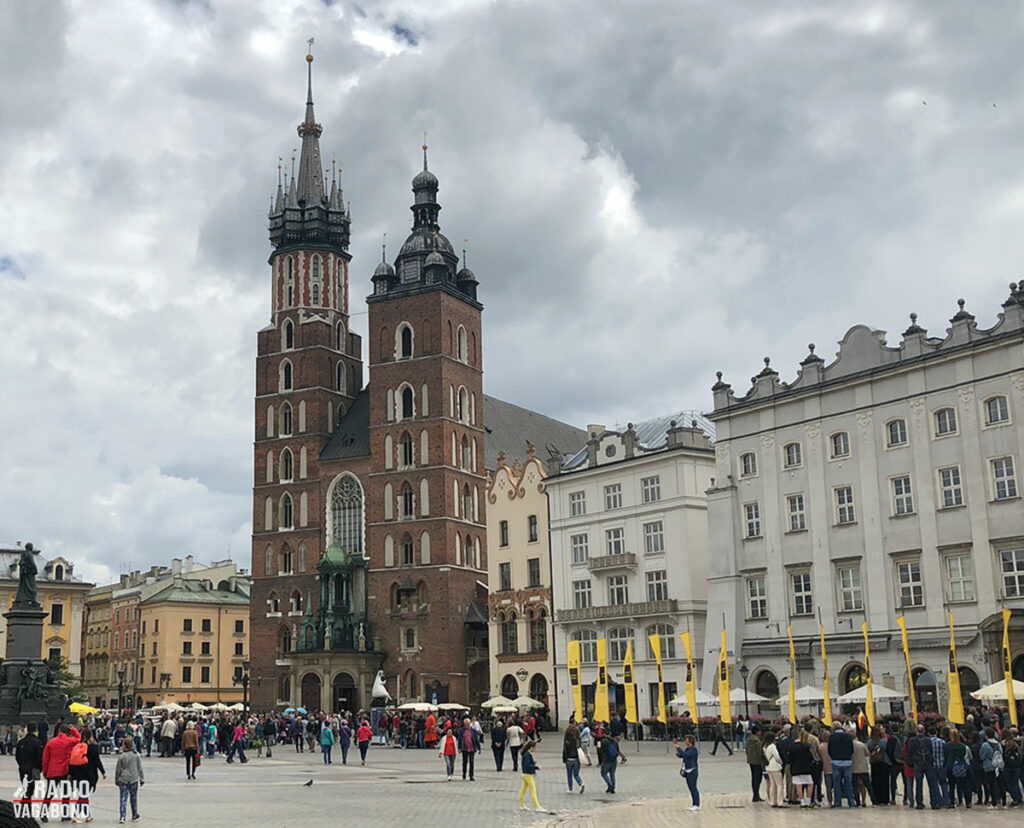 YOUR TOWER IS BIGGER THAN MINE, BRO
There's a knife that hangs from a rope on the wall of Cloth Hall. There is a legend that tells the story of the two brothers who built the towers. When one of them realised that his tower could not be as tall as this bothers' due to weak foundations, he killed his brother with that very knife out of envy. The knife hangs there as a reminder of humbleness.
DRAGON OF WAWEL HILL BREATHES FIRE
According to Polish folklore, a dragon lived at the foot of Wawel Hill which required regular offerings of livestock, so it didn't end up eating the local human inhabitants. The dragon was killed either by the sons of the city's founder, King Krakus or by a cobbler's apprentice, depending on who is telling the tale. There is now a statue of the Dragon of Wawel Hill close to Wawel Castle. It's a bit of an attraction because it breathes fire every few minutes, thanks to a natural gas nozzle installed in the sculpture's mouth.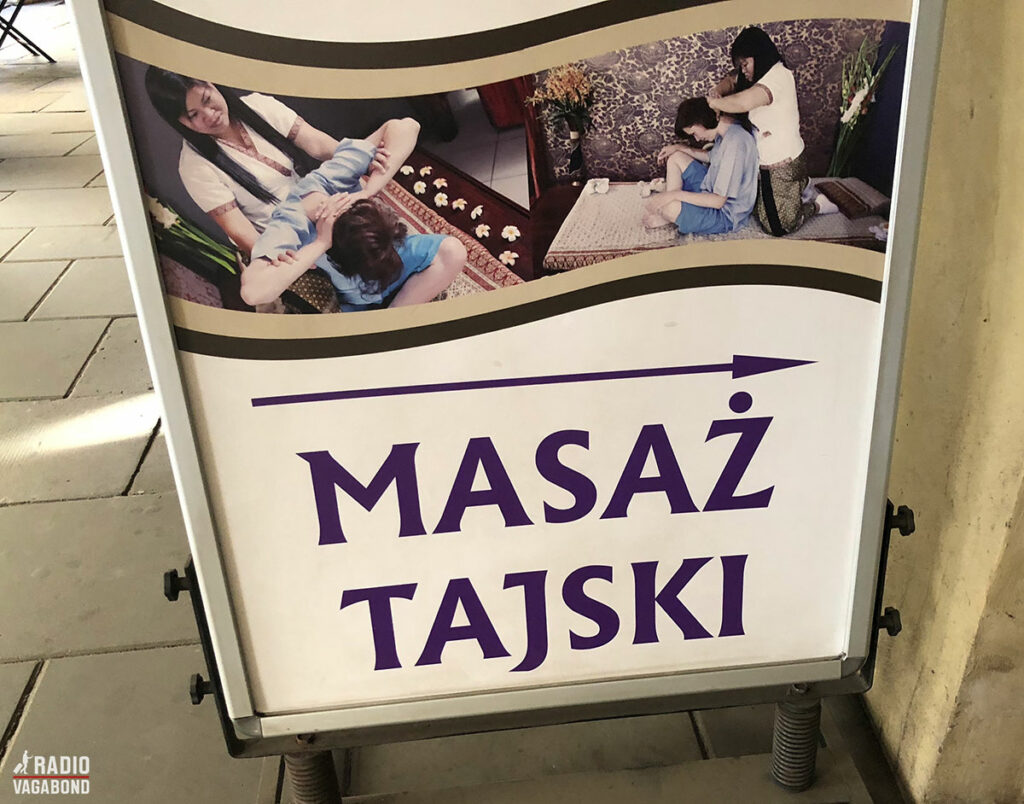 THOMASZ THE GIANT TOUR GUIDE
We finished the walking tour at Wawel Castle and Thomasz was kind enough to spend a little extra time with me for a chat. 
According to Walkative! Free Walking Tour's website, Big Tom is a huge fan of British comedy and coffee and was a full-time guide to his children before becoming part of the Walkative! team in 2015. 
We start our conversation with Thomasz giving me a quick grammar and pronunciation lesson regarding the Slavik roots of his name, telling me about the Portuguese-like vowels in Polish being short and flat, and others being long and deep. He wonderfully ties this into ideas about the history of language and culture around Europe, which only served to show how vast his knowledge spans.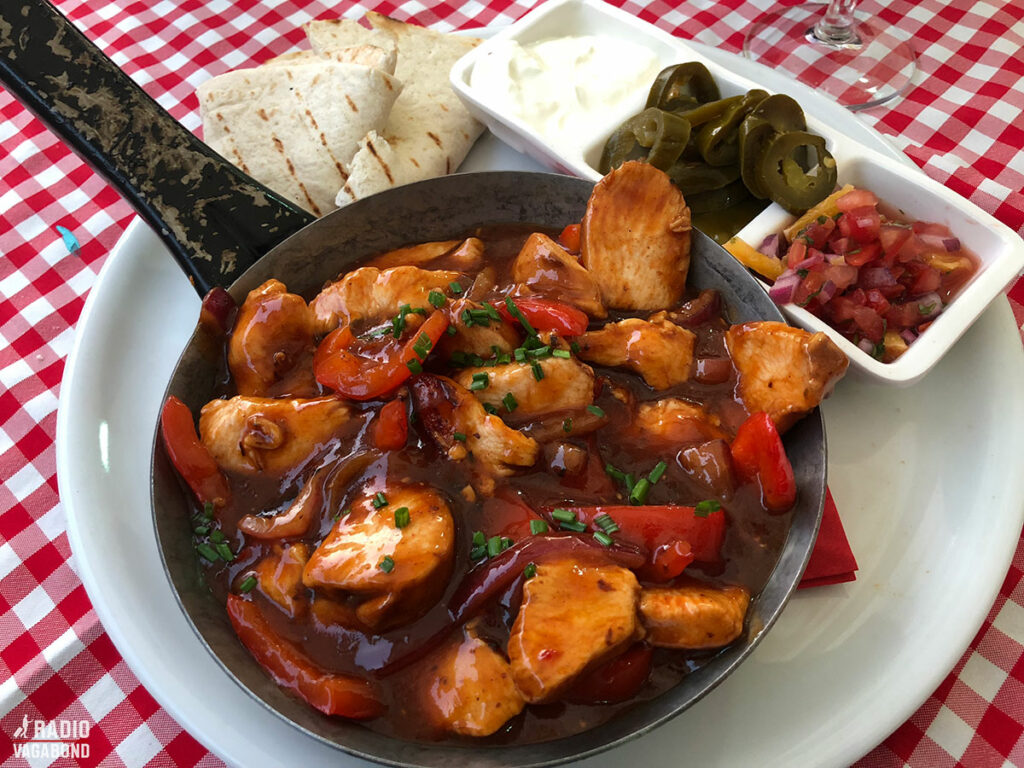 When I asked him why people come to visit Kraków, he responded in a typical Thomasz manner. "There's a difference between why people come here and why I think people should come here" he begins. 
"People come to Kraków because of the recent popularity of Eastern European cities, like Prague for example. In the early 2000's, there was a significant push across Europe to attract travellers to Prague. Luckily, Kraków is very close to Prague which meant that over time, people started adding Kraków to their travel itinerary on the way to or from Prague. Once here, people realise just how incredible these almost untouched Eastern European cities are. I believe Slovenia will experience the next 'burst' in popularity for the same reasons".
"Tourism has changed the way Polish people think about their country, giving them a renewed passion for their culture by realise what it means to have a multicultural society" he says.
Thomasz tells me that the city of Kraków (and it's Old Town in particular) is unique and lucky in the sense that it is a very intact city compared to war-torn Warsaw, where over 80% of the city was flattened. Warsaw was rebuilt, and Kraków only 'renovated' and still has the country's history preserved in its aged walls.
TAKE A TOUR OF KRAKOW
Walkative! Free Walking Tour offers 4 different tours in Kraków: 'Old Town Kraków', 'Jewish Kraków', 'Communist Kraków', and 'Macabre Kraków'.
If you go on a tour with Thomasz, please make sure to say hi from me. This giant among guides is very passionate, excited, and fascinated about Kraków. He loves his city, and it shows.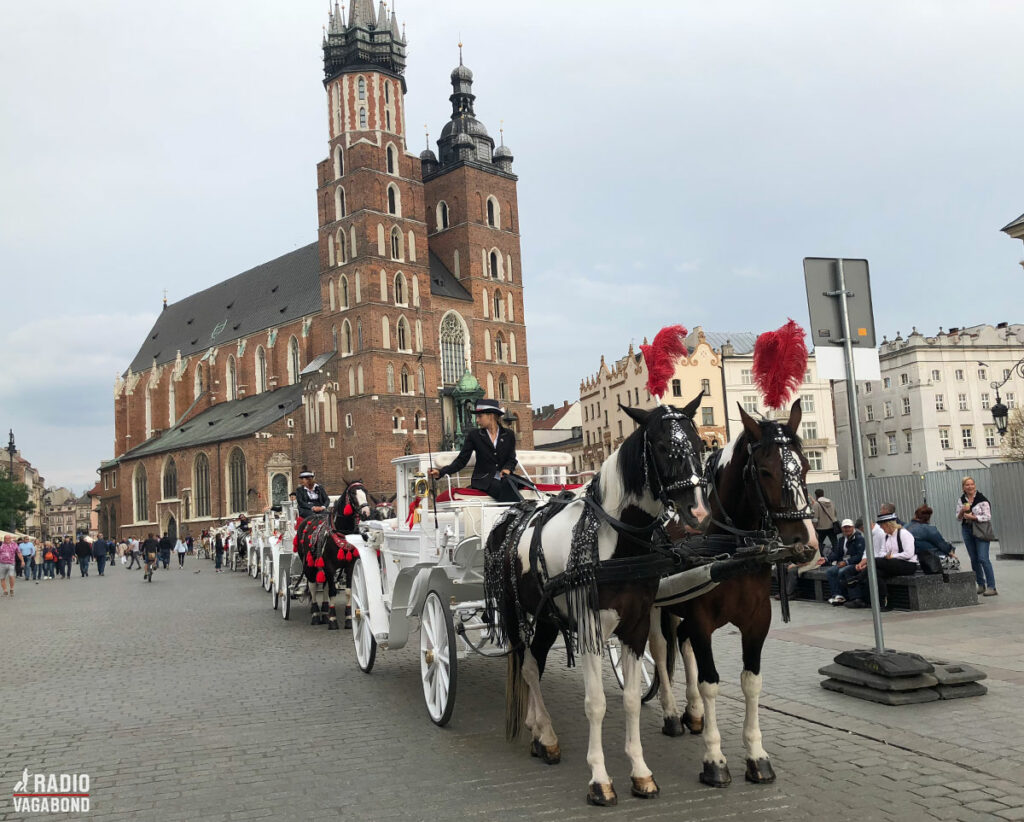 Thomasz explains: "Walkative! is a foundation which uses free walking tours to attract people to the city. We are trying out a new way of tourism hospitality which encourages tourists to pay what they feel a trinket or piece of local memorabilia is worth. We believe that providing great service should come before asking people for their money, and I think walking tours are an incredibly amazing form of service and hospitality. It's a win-win situation: we provide great service, and tourists receive great service and pay what they feel it deserves". People like Thomasz rely on tips to make a living, so please don't take advantage of their good nature: leave a tip, it's the right thing to do! And if you don't remember that karma is a bitch.
NEXT WEEK ON THE RADIO VAGABOND
I'll be back with more from Kraków and the surrounding areas. Next week's episode is going to be both cheerful, and depressing. I'll take you with me on my visit to the former Nazi concentration and extermination camp, Auschwitz-Birkenau Memorial and Museum. And then I'll go partying in the sports bar with hundreds of English fans. 
My name is Palle Bo, and I gotta keep moving. See ya!
SPREAD THE WORD
I'd like to ask you for a favour. If you like this episode, please tell a friend. I'm dead serious… Pick up the phone or send a message to a friend telling him or her about this podcast. 
It's the best way to spread the word about this podcast, and I'll be so happy if you could help me this way. You are the best.
I WOULD LIKE TO HEAR FROM YOU!
I really would like to hear from you. Where are you and what are you doing as you listen to this episode? You can either send me an email on listener@theradiovagabond.com or go to TheRadioVagabond.com/Contact. Or send me a voice message by clicking on the banner.
Either way, I would love to hear from you. It's so nice to know who's on the other end of this.
SPONSOR
A special thank you to my sponsor, Hotels25.com, who always provide me with the best, most affordable accommodation wherever I am in the world.
RADIOGURU
This episode was produced by me and my production company, Radioguru. If you need any help starting a podcast or if you need voice-overs in any language for online videos and other things, please reach out.