PËRSHËNDETJE AGAIN FROM ALBANIA!
It's another day in the Albanian capital of Tirana and I am about to meet Adam and Elira Kadriu, a journalist from the Albanian online media and TV channel, Dritare, at the luxurious Tirana International Hotel. You might recall from Part I that Adam joked he would make me famous…and it looks like he might have been serious!
We met in the café in the hotel and while the TV crew was setting up their lights and cameras, Adam finally let me in on what was about to happen:  I was going to be interviewed about my impressions of Albania as a famous radio podcaster. See me razzle dazzle my way through the video interview, and read the article on the Dritare website. See? I'm famous in Albania! Don't worry, I'm not quitting my day job just yet 🙂
ABOUT KRUJË
After my 15 minutes of stardom was up, Adam and I drive to Krujë, a small historic town about 35km from Tirana. Adam wants to show me the town close to the hearts of all Albanians and made famous by Albania's national hero, Skanderbeg, who built a kingdom there. The town is also host to the country's oldest bazaar (about 300-400 years old).
In 1190, Krujë became the capital of the first Albanian state in the middle ages. And later the capital of the Kingdom of Albania. In the early 15th century Krujë was conquered by the Ottoman Empire, but then recaptured in 1443 by their famous national hero, Skanderbeg.
"When he was 8 years old, Skanderbeg was taken by force to Turkey by the Ottomans and trained to fight for the Ottoman Empire. After training, he quickly became a high-ranking official in the army. In his 30s, he escaped Turkey to return to Albania and was upset at what had become of his native land. He then endeavoured and succeeded to unite all Albanians under Christianity and raised an army to fight the Turkish invaders – and prevented the Ottoman Empire from entering Europe via the Adriatic Sea"Adam tells me.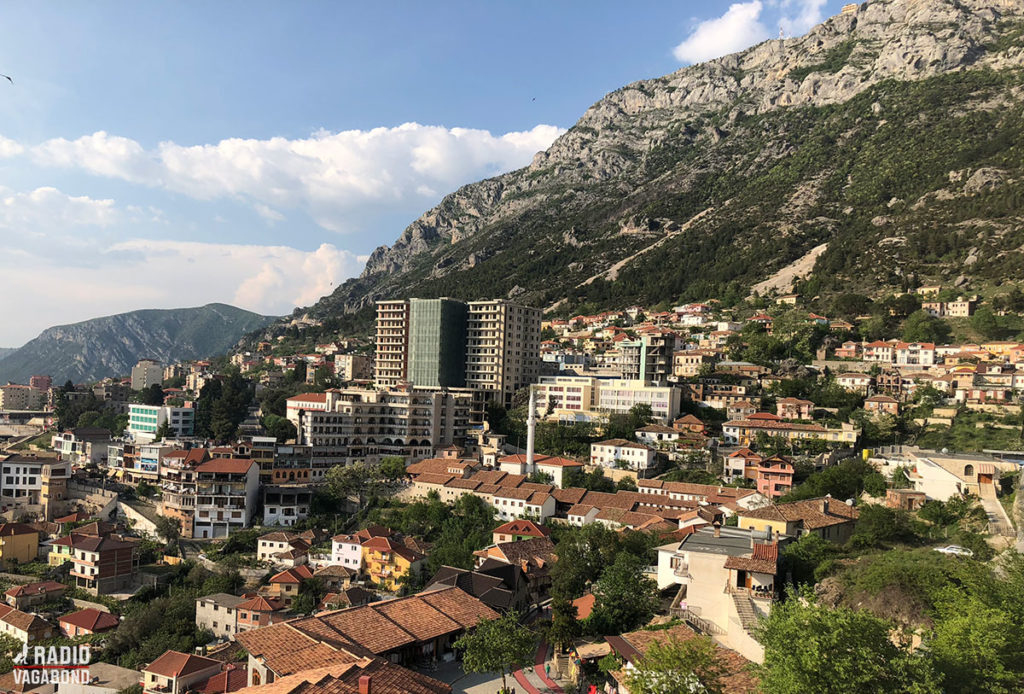 ALBANIA'S COOL FLAG
The Albanian flag (one of the coolest in the world in my opinion), is blood red with a large black double headed eagle sprawled in the center. Adam tells me that it is actually almost the same flag that Skanderbeg used back in 1443. So that makes it one of the oldest flags in the world.
Fun fact: the oldest flag in the world dates back to 1219 and is from the small, humble, and proud nation of Denmark 🙂 #proudlydanish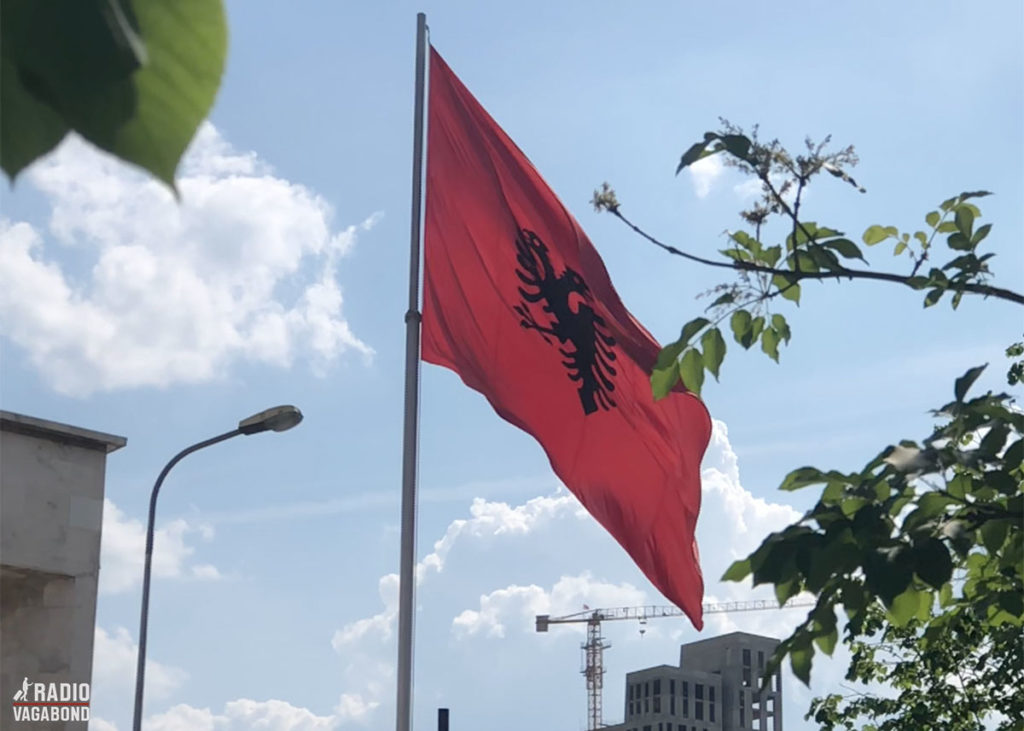 RELIGION FOR EVERYONE
As I briefly mentioned in Part I, Albania used to be an atheist state, the first of its kind in the world. That was during the Communist era, and if you were caught praying or worshiping a God, any God, you would be thrown in jail. Yikes.
Today, however, religion is back, and Albanians enjoy the freedom of a variety of religions. The majority of Albania's population are Muslim but live side by side with people who prescribe to other religions. In this sense, Albania is unique as Adam tells me.
"Albania is unique in the sense that we have a Muslim majority, but our state does not rule according to the faith. We have mixed marriages, we drink alcohol, we eat pork. I am Catholic and many of my friends are Muslim, so I go to church and they go to mosque, and afterward we all meet up and get drunk together" he jokes. "In the end, we are all Albanians".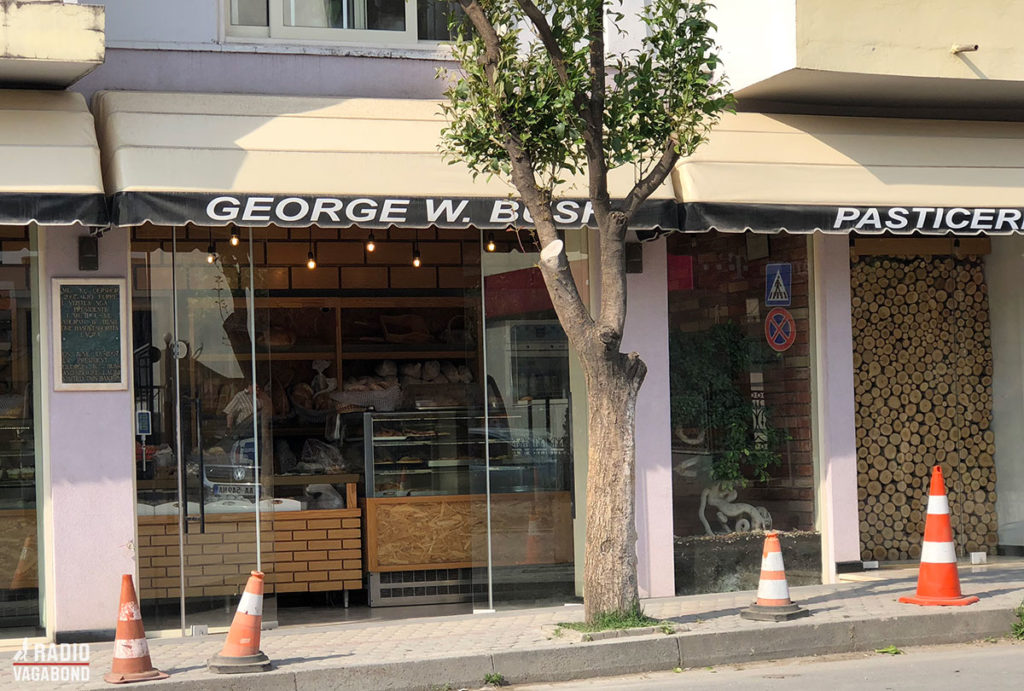 GEORGE W. BUSH IN… ALBANIA?
On the way to Krujë, we drive through Fushë-Kruje, a tiny village that achieved a surprising claim to fame in 2007 when it received a visit from then-sitting American president, George W. Bush. The town is tiny and doesn't offer much and so it is a mystery as to why he came to give a speech here.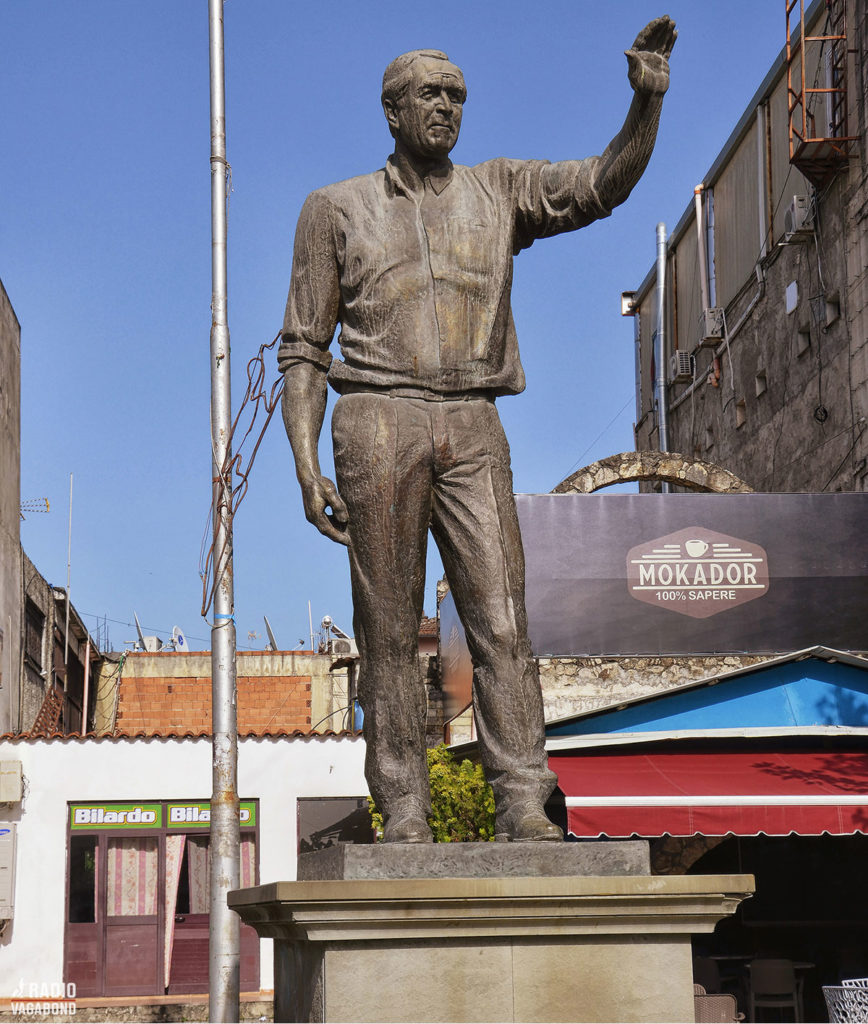 Adam tells me a funny story of how a local stole the president's watch while shaking his hand and remarked to the president that his security was up to shit. He returned the watch obviously, but the point – and joke – was made. Shortly after returning to the USA, Bush replaced his entire security staff.
The town is known for 2 things: a statue of George W. Bush erected after his notorious visit, and a cement factory rumoured to be secret CIA headquarters. The plot thickens…
CASTLE OF KRUJË
We finally arrived in the beautiful historic town Krujë nestled in the mountains boasting incredible panoramas stretching far to the Adriatic Sea.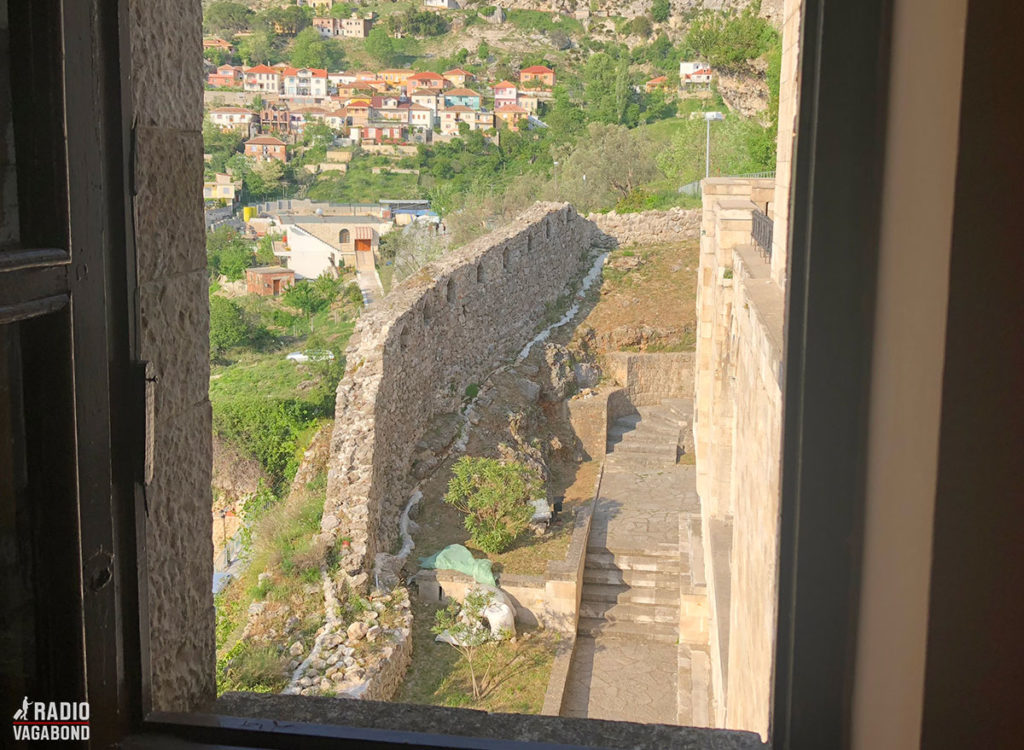 The Old Bazaar of Krujë dates back to the 17th century. Back then, it had about 200 shops, starting from the City Hall through to the entrance gates of Skanderbeg's Krujë Castle. It is perched atop a craggy mountain about 680 meters (2,230 feet) above sea level.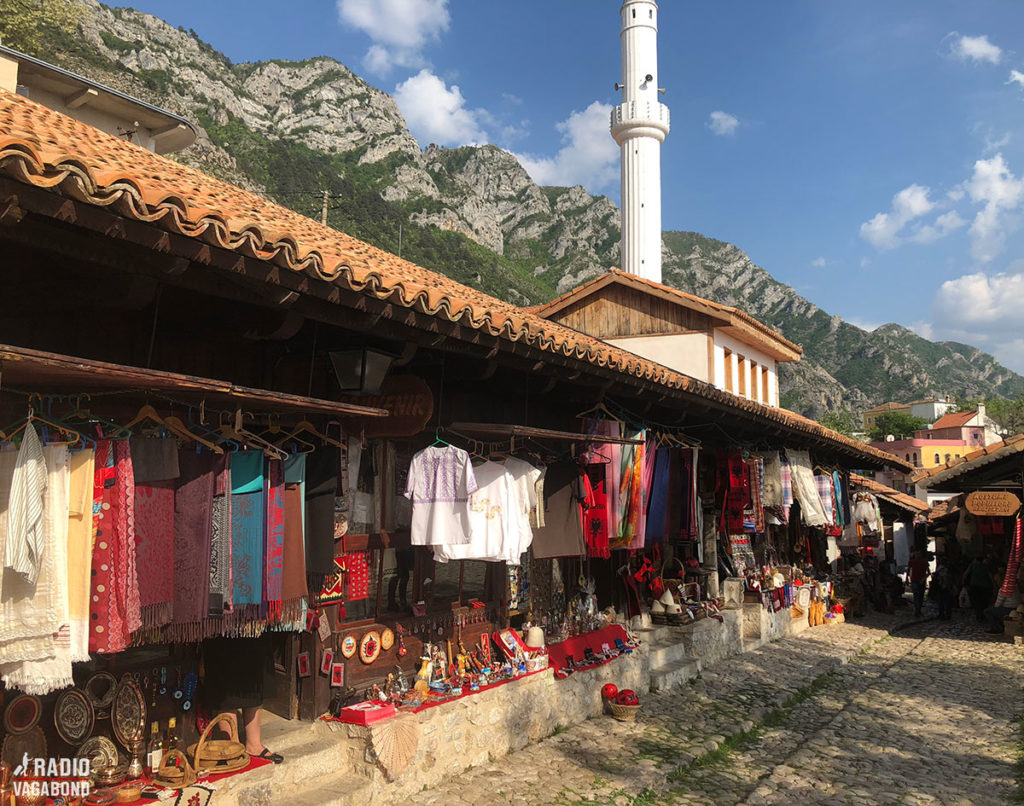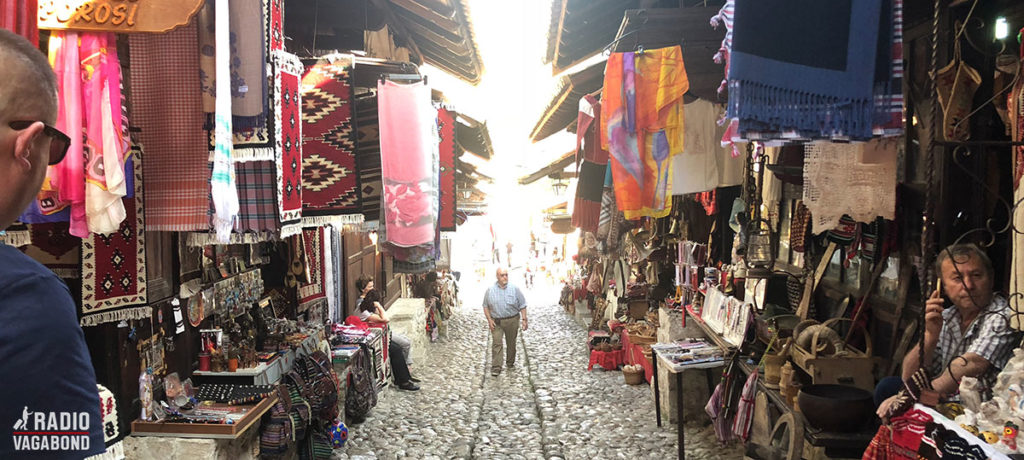 The view from the castle spans from Mount Tomori in the south to Ulcinj in Montenegro in the north (where I plan to go later on in this journey). The castle has an arched tunnel as its entrance and once you're inside you can find old remnants, such as the watchtower, alongside two museums, a few restaurants, and homes that are still occupied to this day.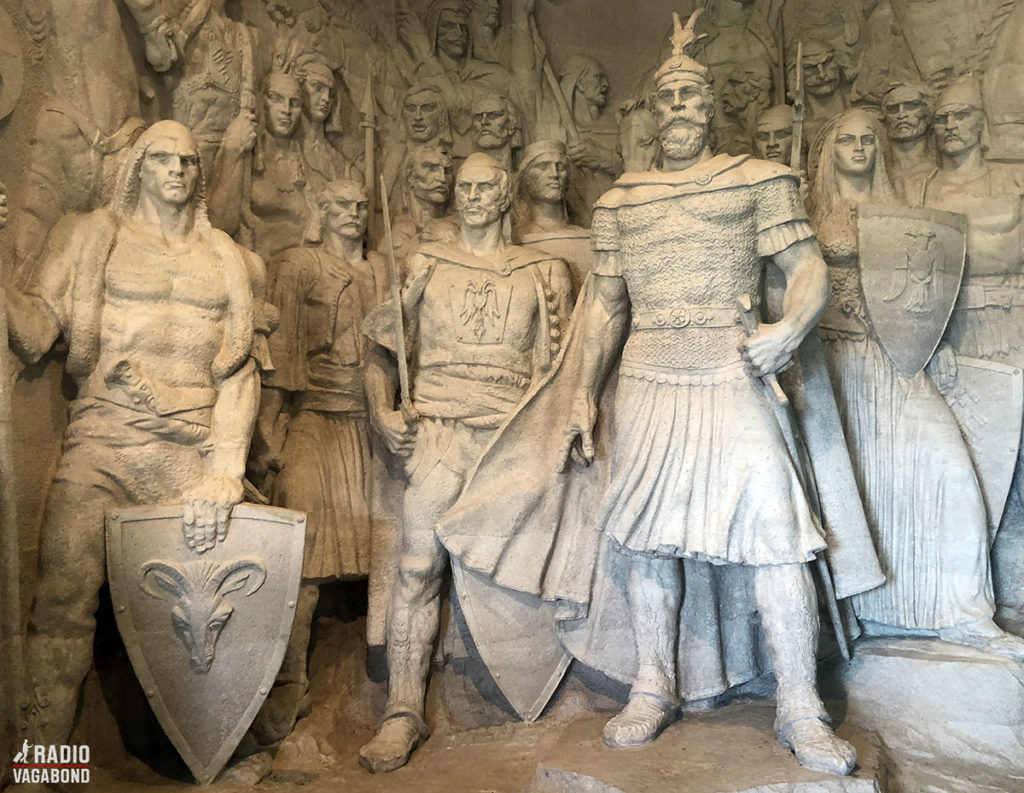 Inside the castle we visit Skanderbeg Museum and here I meet Clod who has worked as a guide in the museum since 2005. So, he knows a thing or two about Skanderbeg. The museum is centred around this epic man of the 15th century who held off the invasion of the Ottoman Empire for 25 years. The museum recognises the lasting strength and subsequent loss of the army of Skanderbeg.
Clod gave me an interesting private tour for almost an hour, and I felt very privileged to be in this historic place with an expert like him. He also told me about the two headed eagle that's on their national flag, and impressed me with knowing which flag is the oldest in the world.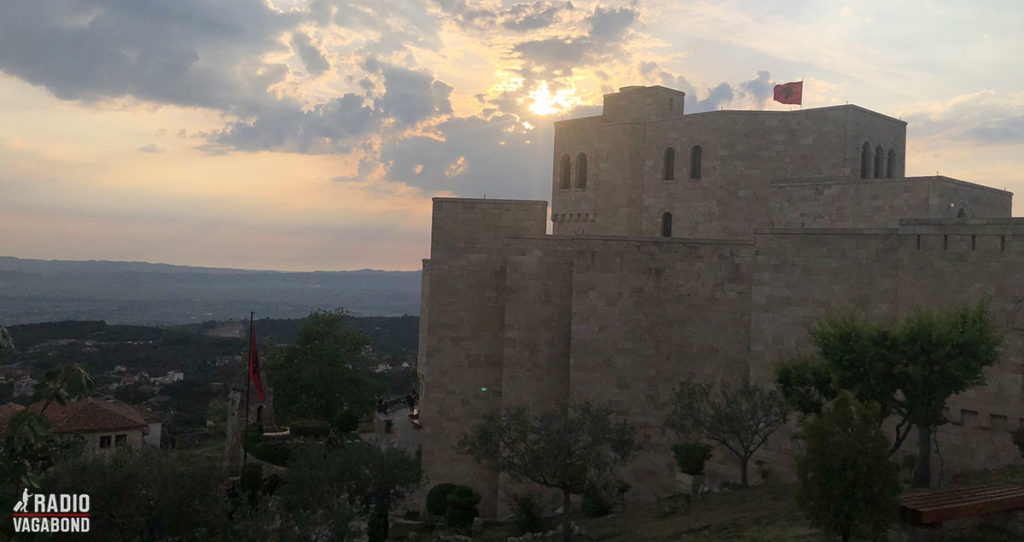 WHAT'S NEXT?
In the next episode Adam tells me a bit more of what it was like being a kid living in a dictatorship. Tune in to hear the full story next week. You will not believe what happened to him for simply wearing a t-shirt that apparently looked 'a bit too capitalistic'.
That's it for now. My name is Palle Bo and I gotta keep moving. See ya!
I WANT TO HEAR FROM YOU!
I really would like to hear from you. Where are you and what are you doing as you listen to this episode? You can either send me an email on listener@theradiovagabond.com or go to my website https://theradiovagabond.com/contact.
Or send me a voice message by clicking on the banner.
Either way, I would love to hear from you. It's so nice to know who's on the other end of this.
SPONSOR
A special thank you to my sponsor, Hotels25.com, who always provide me with the best, most affordable accommodation wherever I am in the world.