Greetings from KwaZulu-Natal!
Welcome back to the next instalment of my enchanting road trip across South Africa. This episode is part 5 of my journey, so if you have missed the previous 4 episodes then I suggest you go back and catch up, otherwise you will never know just how I ended up here.
I left Durban in the rear-view mirror of my hired Toyota Corolla en route to Lesotho – a tiny country completely surrounded by South Africa. It's a country within a country – like a Russian doll of autonomous land, or as I like to say, it is a 'country-ception'. 
It is a small country, around 30,000km² (11,500 square miles), and is about the size of Belgium. It is perched high up in the mountains roughly 3.4km above sea level and was granted independence from the United Kingdom in 1966.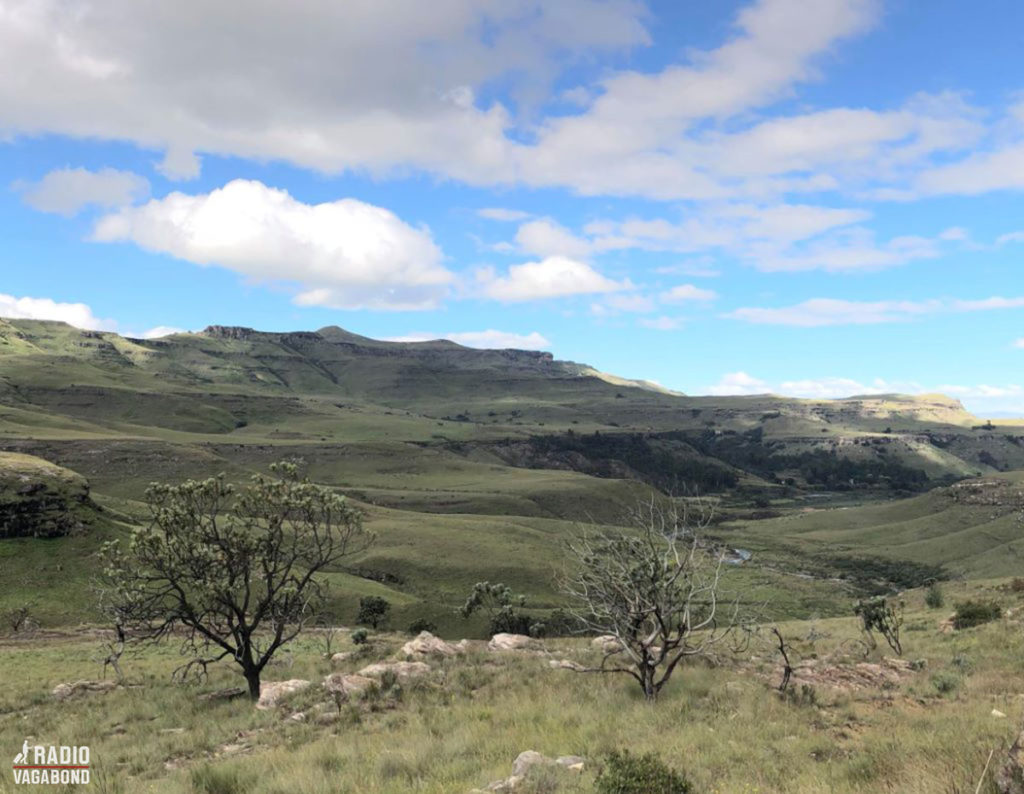 Having the goal to visit every UN Nation in the world, obviously, Lesotho was on my list as one of the 193. It is a fairly short drive up a mountain road to get to Lesotho from Durban, so I decided to book a place to stay for one night and then head back down the same way the next day. I love driving on beautiful mountain roads and taking in the scenery, so I was really excited to get to visit this small African kingdom.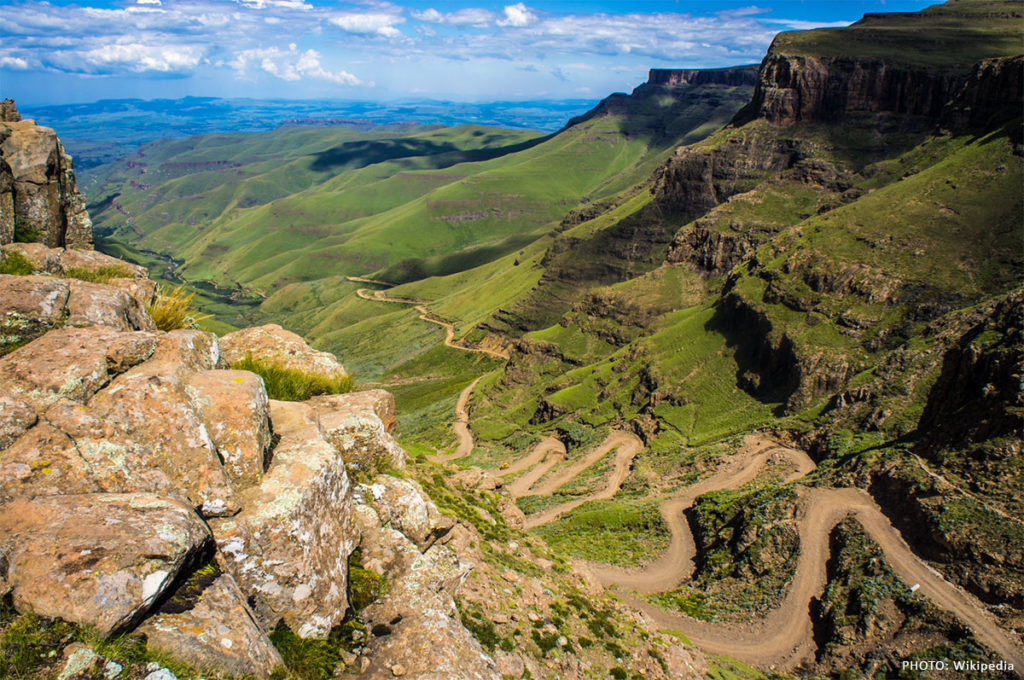 But the day turned out to be much different from what I expected…
YOU SHALL NOT (SANI) PASS
Let me set the scene for you: I'm driving on a mountain pass called Sani Pass that cuts through the peaks of the famous Drakensberg Mountains between South Africa and Lesotho.
The route up Sani Pass starts at 1544m (5,065ft) above sea level, and climbs to an altitude of 2876m (9,435ft). The views up here are out of this world. And, well, so is the road I'm driving on. It feels like I'm driving on Mars. The road is a very steep gravel road, which can be difficult to drive in bad weather and near impossible in the winter where it is sometimes covered with snow and ice.
The Smithsonian Channel: The most dangerous mountain-pass in the world
Sani Pass, the highest pass in South Africa, is known for being a death-defying experience. The Smithsonian Channel calls it one of the most dangerous mountain passes in the world – and that's if you have a 4×4 vehicle like a Jeep or Land Rover. Your favourite Danish vagabond was driving a Toyota Corolla, which is like running a marathon in flip-flops. Little did I know, that it is actually against the law to drive this pass with anything other than a 4×4. I guess that makes me an outlaw…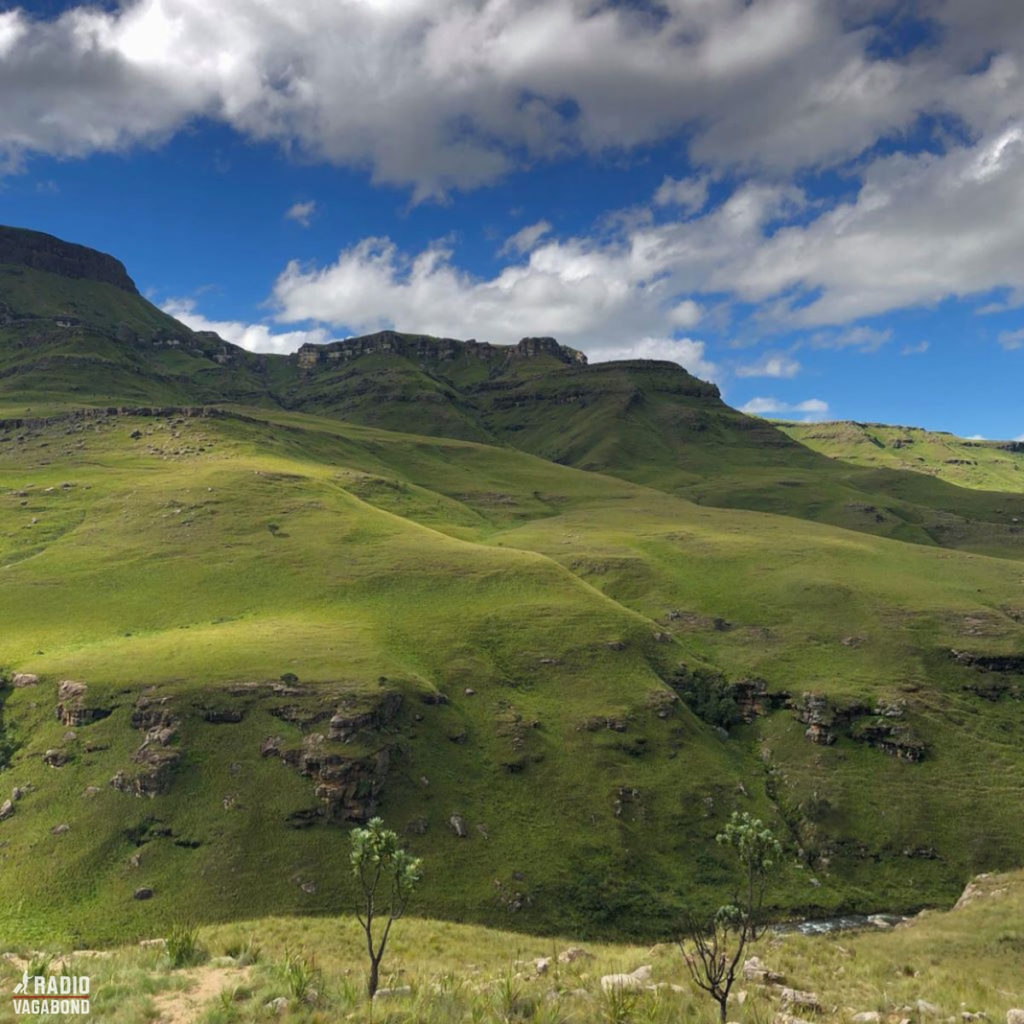 After an intense drive with my Toyota's tiny engine heaving all the way up like an asthmatic at a harmonica convention, I eventually reached the border at 1 pm. I actually passed the border illegally. But my time as an outlaw was up…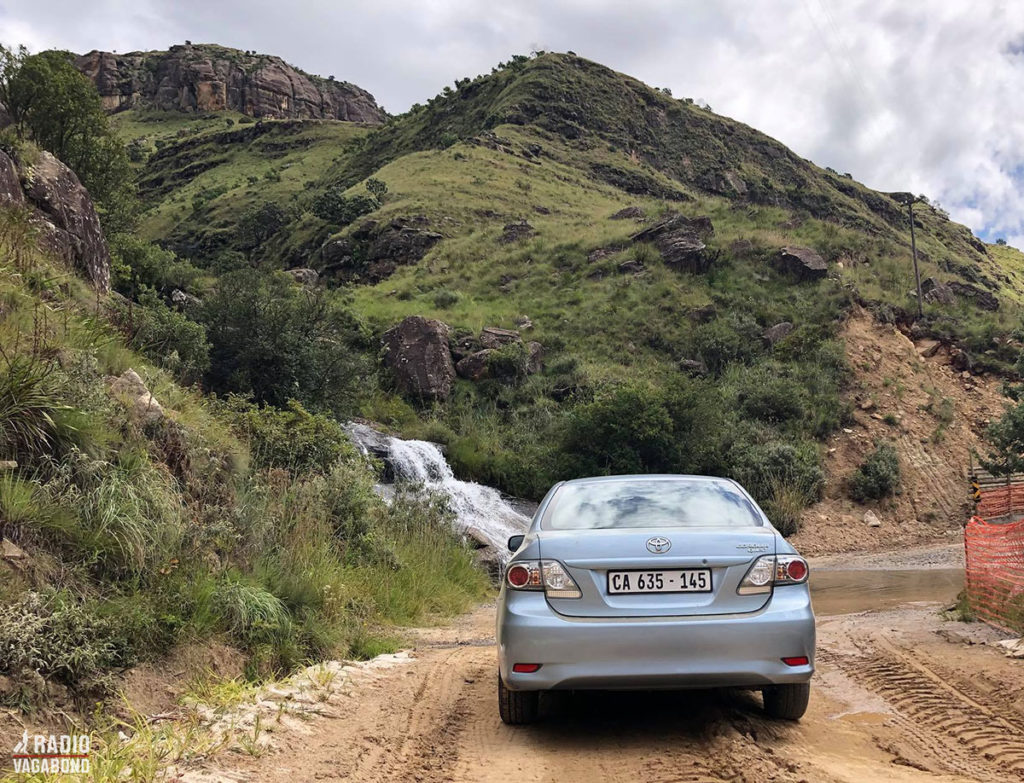 To cross the border, you have to drive through a small river. In a 4×4 this would be an easy task, but my Toyota was having none of it. As I was about to attempt the river crossing, one of the border patrol officers came over and politely enquired what I thought I was doing.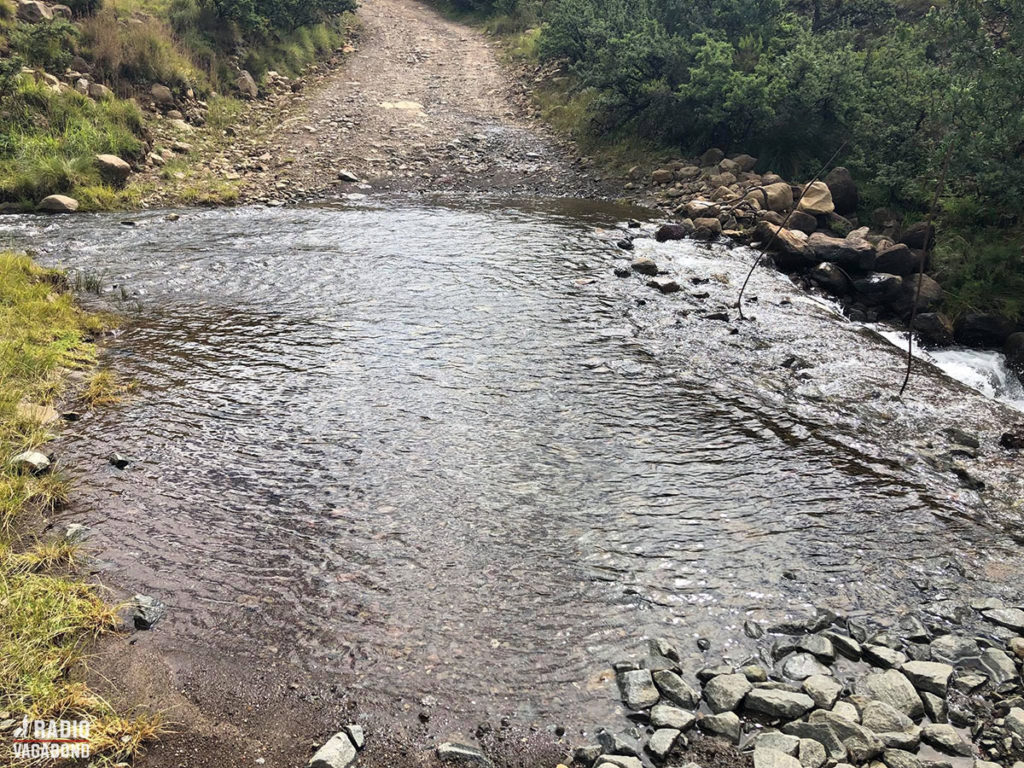 "Your tiny car won't make it much further," he said. "The way from here is much more arduous than where you have come from".
I'm sure he was actually trying to hold his laughter in and probably wanted to say something like "Dude, what the fuck are you thinking?" But he was very polite and didn't make fun of me.
STRANDED AT THE LESOTHO BORDER
There were mountains on my left side and a steep drop on the right side, so turning the car was not an option. So, he got in the car with me and I started backing down – very slowly – down to the border office where I would assess the situation and find out exactly how I would make it to my eco-lodge with a stunning view in Lesotho.
Inside the office, he started speaking to his colleagues in what I assume was probably Zulu – and they were all keeping a straight face. Basically, they were telling me that the prospects of me reaching my accommodation were remote.
But I'm a collector of good stories, so whenever something bad happens I always try to stay positive and remind myself that I'm in the middle of a good story. And I still really wanted to go experience Lesotho and tick off another country on my travel list.
After some convincing from my part, they said that I could wait with them and maybe, just maybe, a 4×4 taxi may pass at some point. One of the border patrol officers kindly phoned a 4×4 taxi company to find out if any taxis were headed in our direction. Luckily, I was secured a spot – the only thing was that we didn't know when it was planning to arrive.
As I was standing outside the office, my new friend comes out and tells me that he's been speaking to a local tour guide who knows the lodge I'm planning on staying at in Lesotho. However, the guide told him that the lodge was very far from where I am and it would be very far to drive, and impossible in my tiny Corolla. I wouldn't make it until sundown, if at all.
So, I had a tough decision to make: I couldn't drive my Toyota due to the road condition, and I would have to take a few taxis to get there. Seeing as though I was only planning on staying one night in Lesotho, I also had to take into account the tough journey all the way back. So, after quickly weighing up the pros and cons, I realised it wouldn't be worth it this time around.
I'll have to come back another time – better prepared. And also, maybe plan to stay longer than just one day to take in all that this tiny African kingdom has to offer. It was a real bummer. But, I did learn a lesson: do a bit more research next time. And don't do a marathon in flip-flops…
I turned the car around and headed slowly back down the rough gravel road and started looking for a place to stay. I ended up staying at Sani Lodge, a cosy backpacker place not too far from the Lesotho border.
A DAY IN THE AFRICAN BUSHVELD
After my spectacular failure trying to visit Lesotho, I decided I needed a win. So I decided to start day 8 of my road trip by making my way to Natal Lion Park for an exciting excursion into the rugged African bushveld.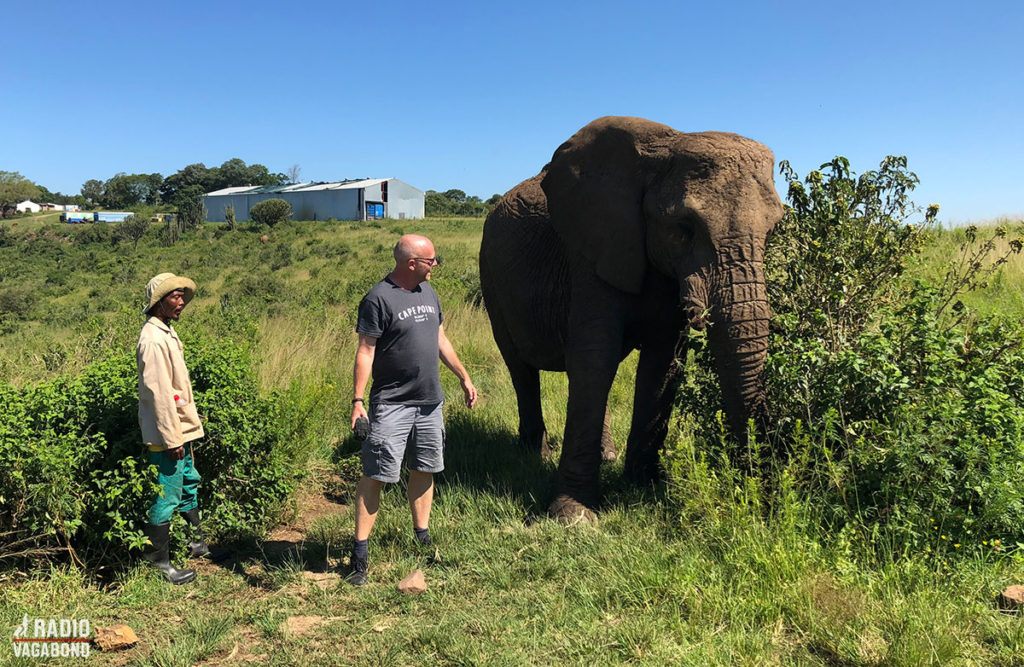 The park is just 25km from Pietermaritzburg where I'm spending the night and about 67km from Durban. The self-driving game drive consists of a 7km loop around the park, with entrance fees ranging at R200 per car (only €10.50/$12). And that seems more than fair, considering I can potentially see 11 species of mammals, 20 species of birds, and 12 species of reptiles.
For me, the main attractions were the lions and the huge African elephants. And I got to see both!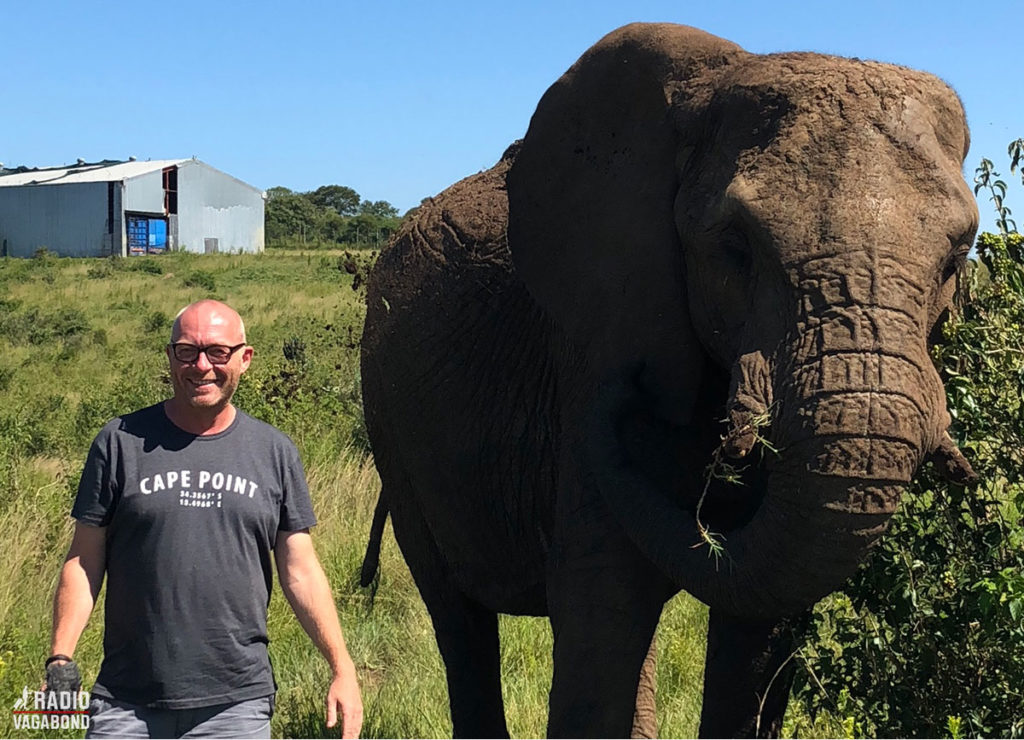 African elephants are the largest land mammals in the world, with some of them standing 4m tall and weighing as much as six tons. I explored the game drive with an elephant keeper, who let me know just how close I was able to get to the elephants without disturbing them…or being trampled on!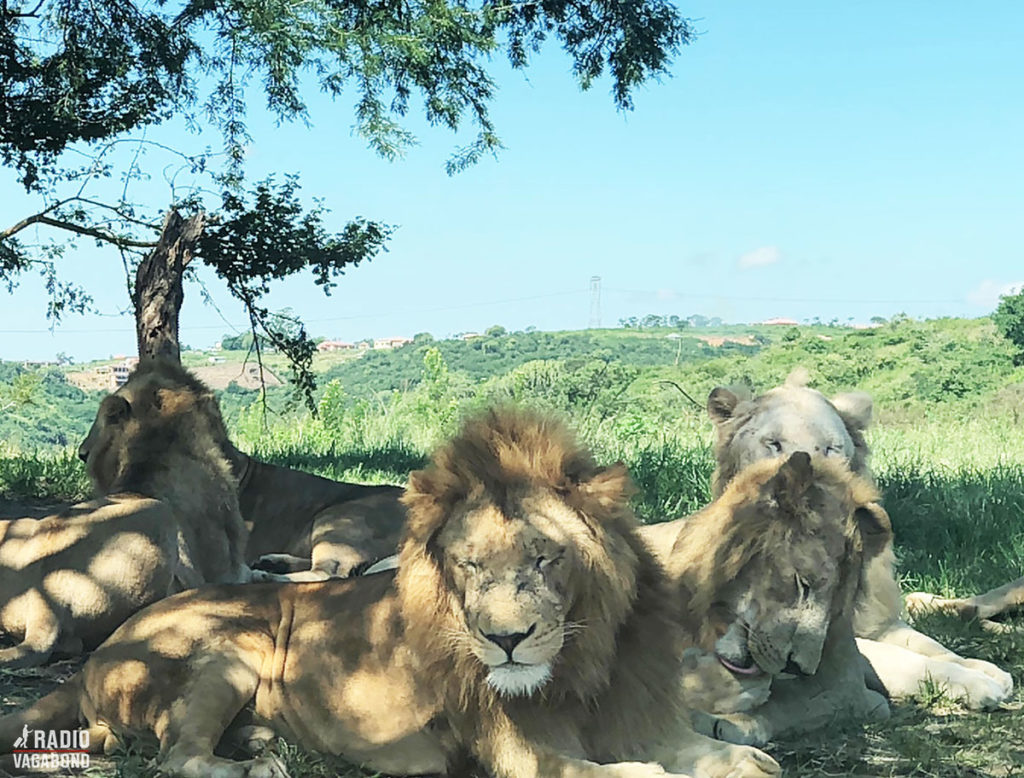 I saw so many lions up close and personal, too. They didn't seem to care about us. In fact, there was one lying on the road I was driving on – so I had to make my way around it without driving over its tail.
That's all for now. Be sure to look out for the next episode where I head back to Durban, then up the coast to St Lucia where I visit a hippo park.
My name is Palle Bo and I gotta keep moving. See ya!
LETTER FROM A LISTENER
This week's email from a listener comes from Anne, a fellow Dane, who lives in Seattle, Washington.
Hi Palle,

My name is Anne and I live close to Seattle, Washington. I just wanted to say that I recently found your podcast and now I'm totally hooked.

It's cool to hear about a fellow Dane with the same wanderlust that I have.

I also travel a lot even though I'm not a nomad like you. My husband and I travel for a month every year to a new country.

Last year we were in Argentina, India the year before that and Bolivia. The list goes on.

I don't think I'll ever visit every country like you have planned to do. I was only on 28 the last time I checked… but who's counting 😉

However, I love hearing about your adventures. Keep up the good work and please let me know if you're ever close to Seattle. Coffee is on me.

Anne Harai
So great to hear from you, Anne! Actually, I'll take you up on that coffee and I can tell you exactly when I'm going to Seattle: August 2021.
You see, just a few days ago it was announced that the next TBEX conference is going to be in Tri-Cities Washington – not that far away from Seattle.
TBEX is this global gathering for Travel Content Creators and since I do their podcast, Travel Matters, I know that I'm going to do interviews for this.
And of course, I have to visit Seattle when I'm that close, so I hope to see you then. I'd like to sit down with you and your husband and share travel stories.
Thank you for sharing your own blog with travel photos! You should absolutely go to TBEX in Tri-Cities. It's in your own backyard so you have to!
I ALSO WANT TO HEAR FROM YOU
I really would like to hear from you. Where are you and what are you doing as you listen to this episode? You can either send me an email on listener@theradiovagabond.com or go to my website TheRadioVagabond.com and click on "CONTACT".
Or you could send me a voicemail on WhatsApp and I can play it on the next episode. My WhatsApp number is +4540105105.
Either way, I would love to hear from you. It's so nice to know who's on the other end of this…
SPONSORS
The Radio Vagabond is produced by RadioGuru. and supported in part by Hotels25.com. A cool place to find the best deals on a place to stay – in one simple search.