We're back in Sri Lanka for the third episode about what this country has to offer.
And now, it's time to leave Colombo.
THINGS TO SEE IN THE EAST AND THE MIDDLE OF SRI LANKA
In this episode I will share (at least) five things, I would recommend you to explore in the central and eastern part of Sri Lanka.
Pineapple Farm
Ridee Viharaya
Koneswaram Temple
Sunrise on the beach in Trincomalee
Riding Bullock Carts and Canoe Catamaran in Habarana
I'm on a press trip, invited by Sri Lanka Tourism, and I'm exploring the country with six other content creators. Let me introduce them to you: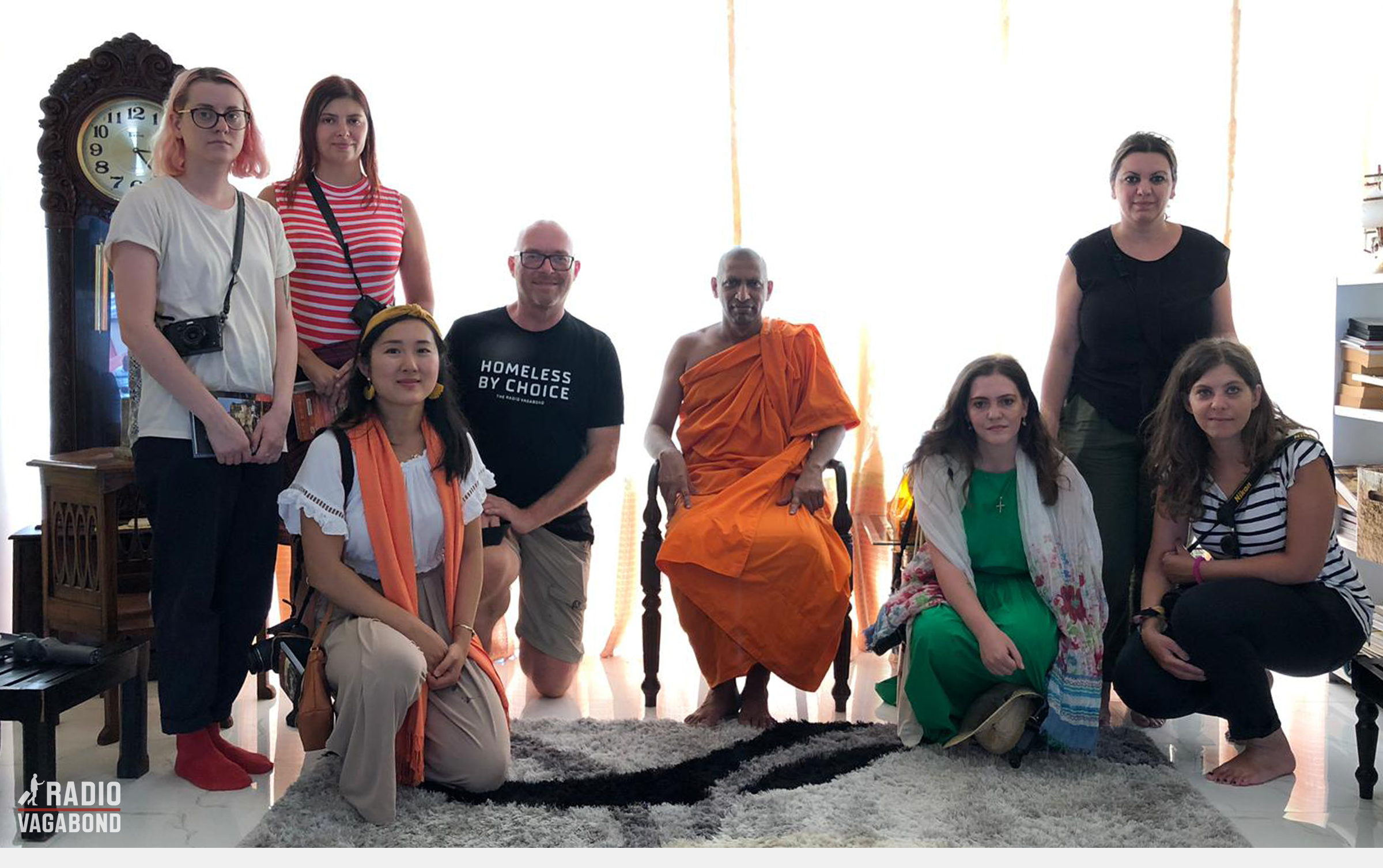 Even though we're only seven people and could easily fit into one minibus, Sri Lanka Tourism have put us in two minibusses, for extra comfort. The two drivers, Fernando and Pradeep, also works as our guides.
The first day on the road we're heading across the island from Colombo in the southwest to Trincomalee in the northeast. Even though the distances aren't that vast, it's going to be a full day of driving – with a few stops on the way.
Trincomalee is a port city on the northeast coast of Sri Lanka.
PINEAPPLE FARM
Our first stop was at a pineapple farm called Pineapple Village. It was the first time I had seen how pineapples are grown and trying to taste them of the tree. What surprised me was that they pit salt and chili on them.
RIDEE VIHARAYA – THE SILVER TEMPLE
Halfway across the island, we stopped at a Buddhist temple, called Ridee Viharaya. Ridee (sometimes spelled Ridi) means silver and Viharaya means Temple, so "The Silver Temple". It's built under a rocky mountainside and looks stunning.
I was amazed that it was possible to build it under this colossal rock more than 2,000 years ago without it crushing it.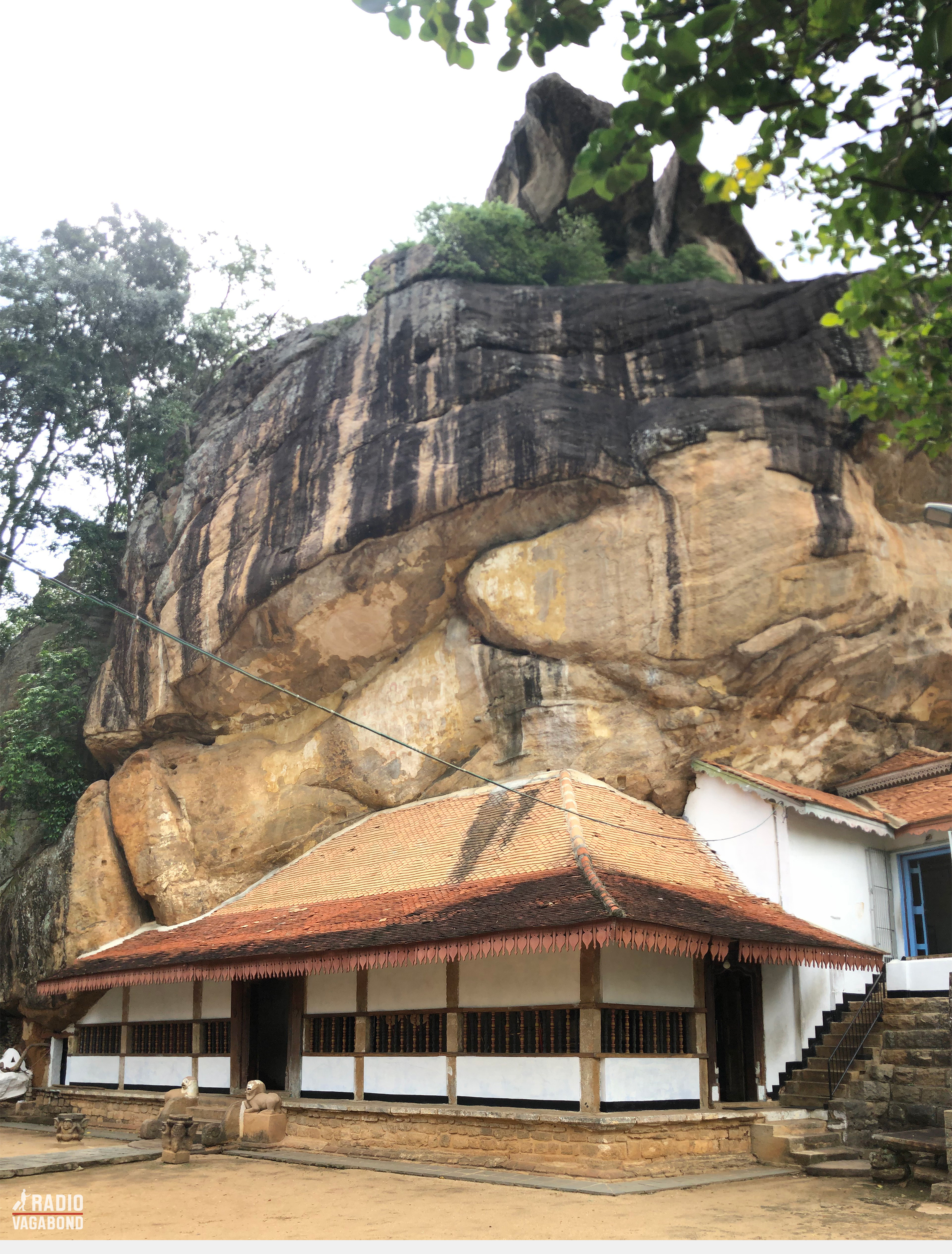 According to the legend this was only possible because the king had two giants to help them carry the mountain. Of course, that makes sense. Why didn't I think of that?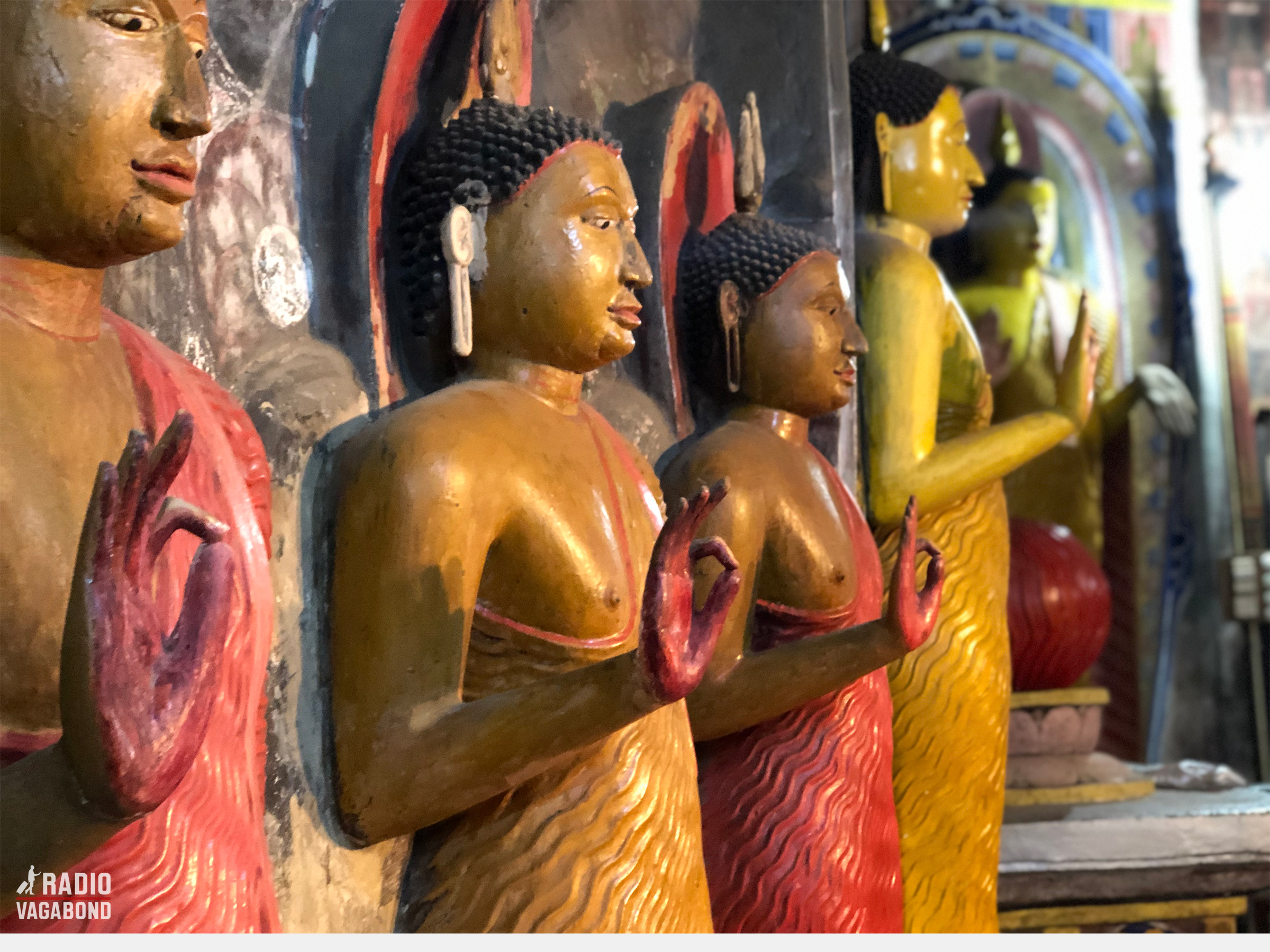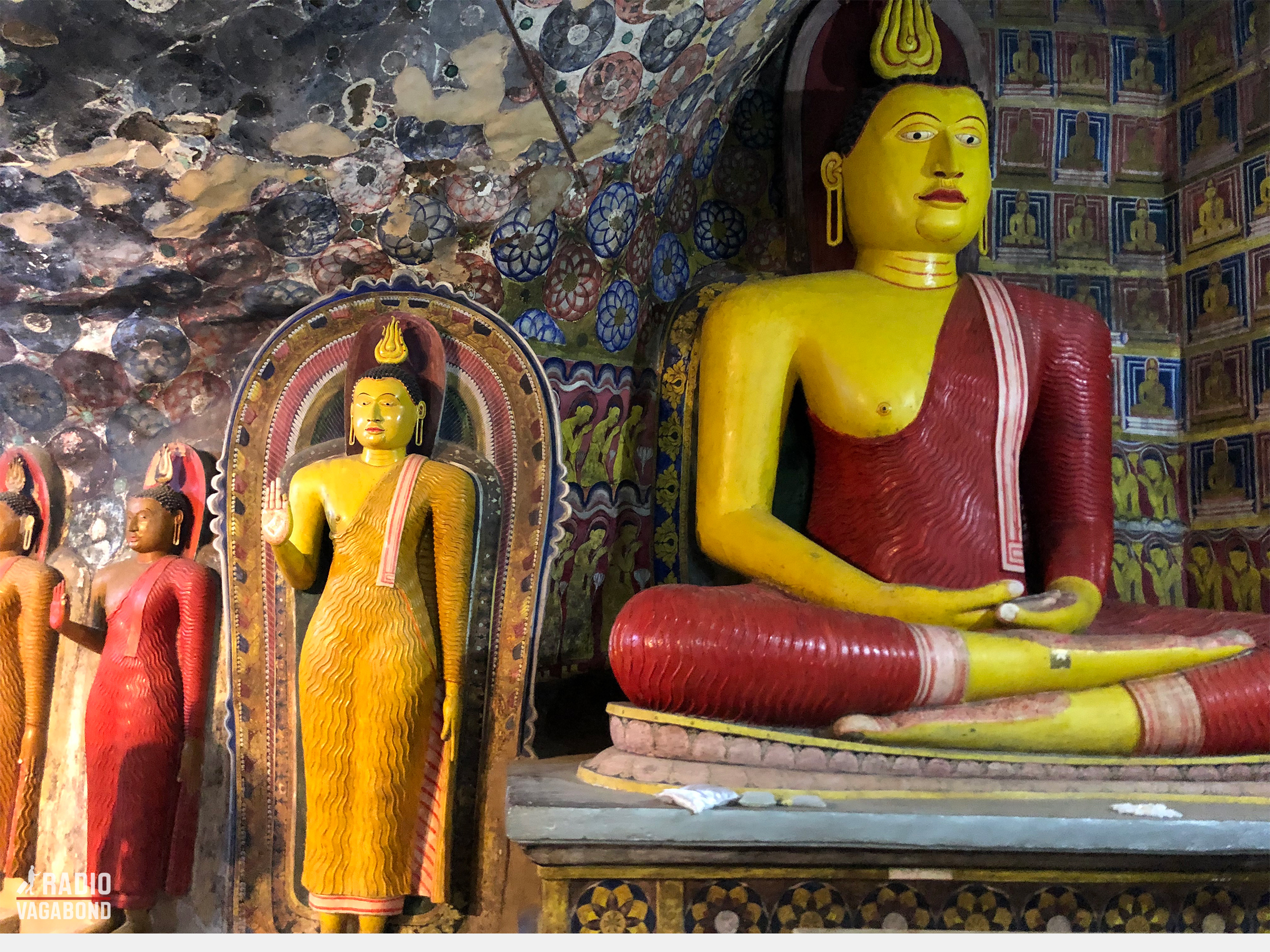 Inside the temple, there were many statues of Buddha and well worth a visit.
Ridee Viharaya has its beginnings in a series of cave dwellings on the rocky hillside. In the early days of Buddhism, these were once inhabited by meditating monks.
And the monks are still here. The main monk had agreed to a meet and greet with us. He looks exactly like you would expect a Buddhist monk. Dressed in orange, completely shaven, and very smiling and welcoming.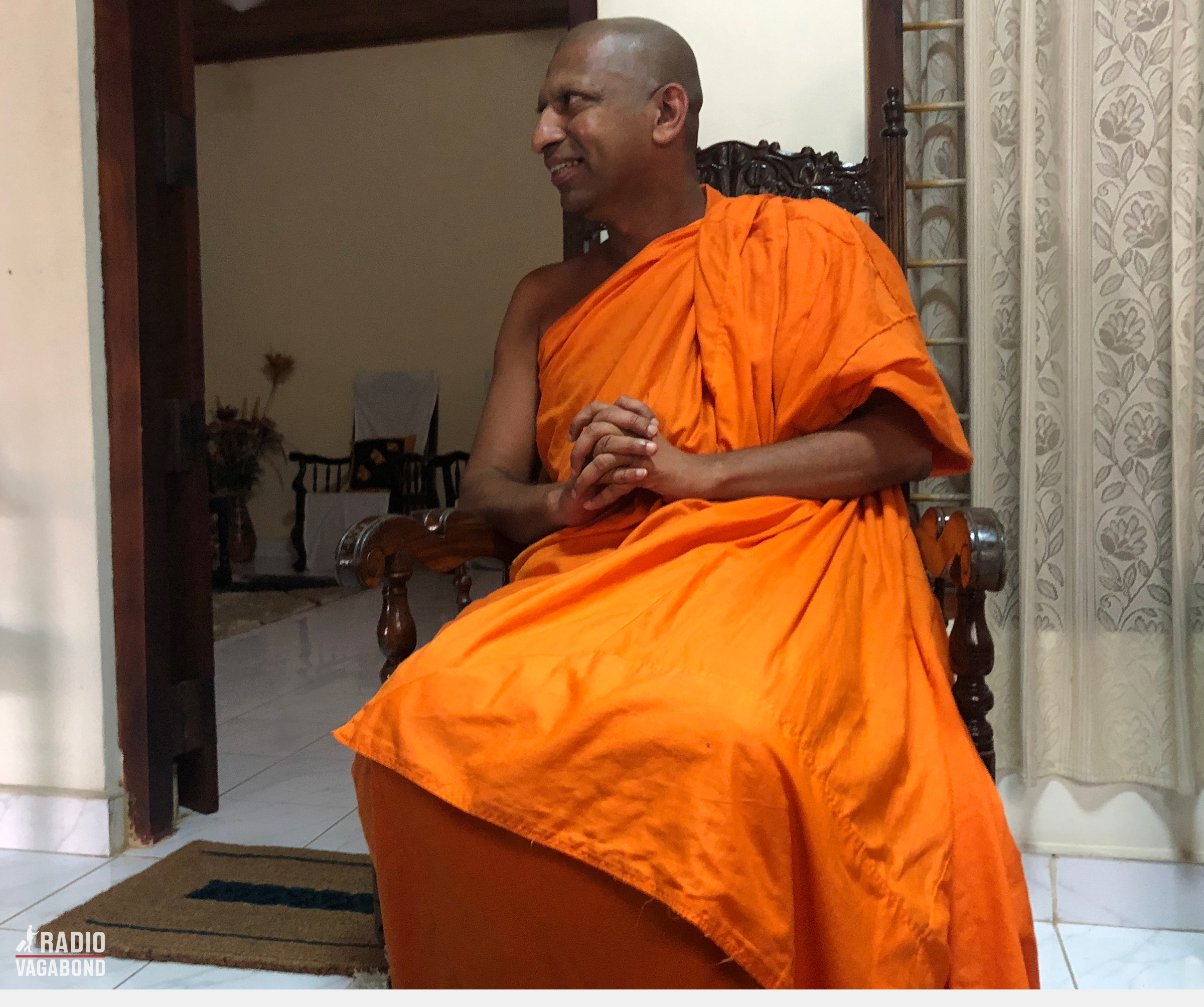 STAY AT THE TEMPLE FOR FREE
This place is unique, and they let people stay here for free if they want to come here to meditate – have a so-called Pilgrim Rest.
Their website says that The Pilgrim Rest equipped with modern facilities with rooms established in the calm and quiet surroundings of the Silver Temple and that it's free of charge for the devotees.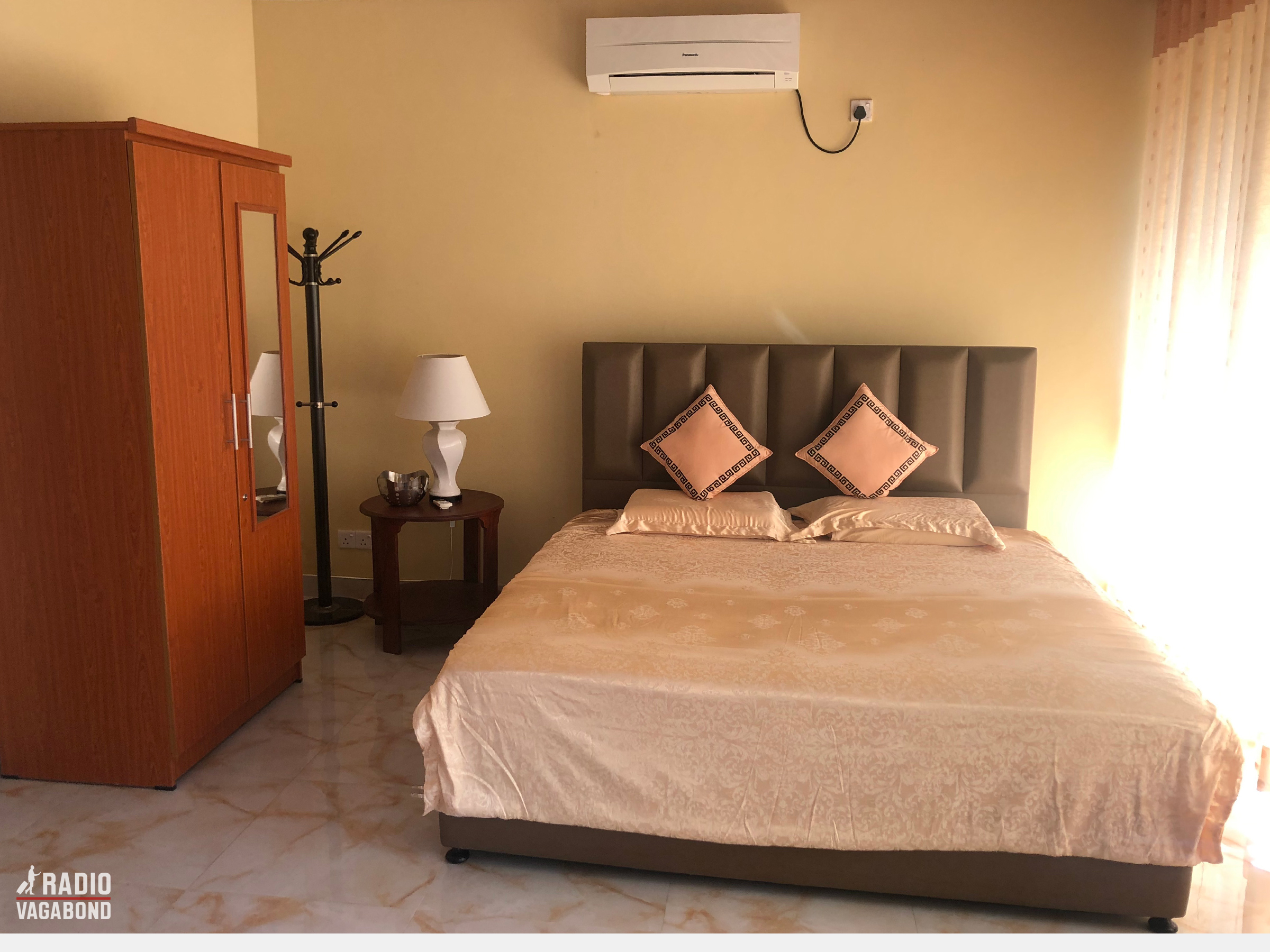 We got to see one of the rooms that people can stay in, and it's like a standard modern hotel room – with a stunning view.
It's the main monk's responsibility that guests are feeling welcome here. After a tour of the grounds, including the temple itself, they served tea and cakes for us. At the end of our visit our guide, Sasa gave the monk some money, but he simply wouldn't take it.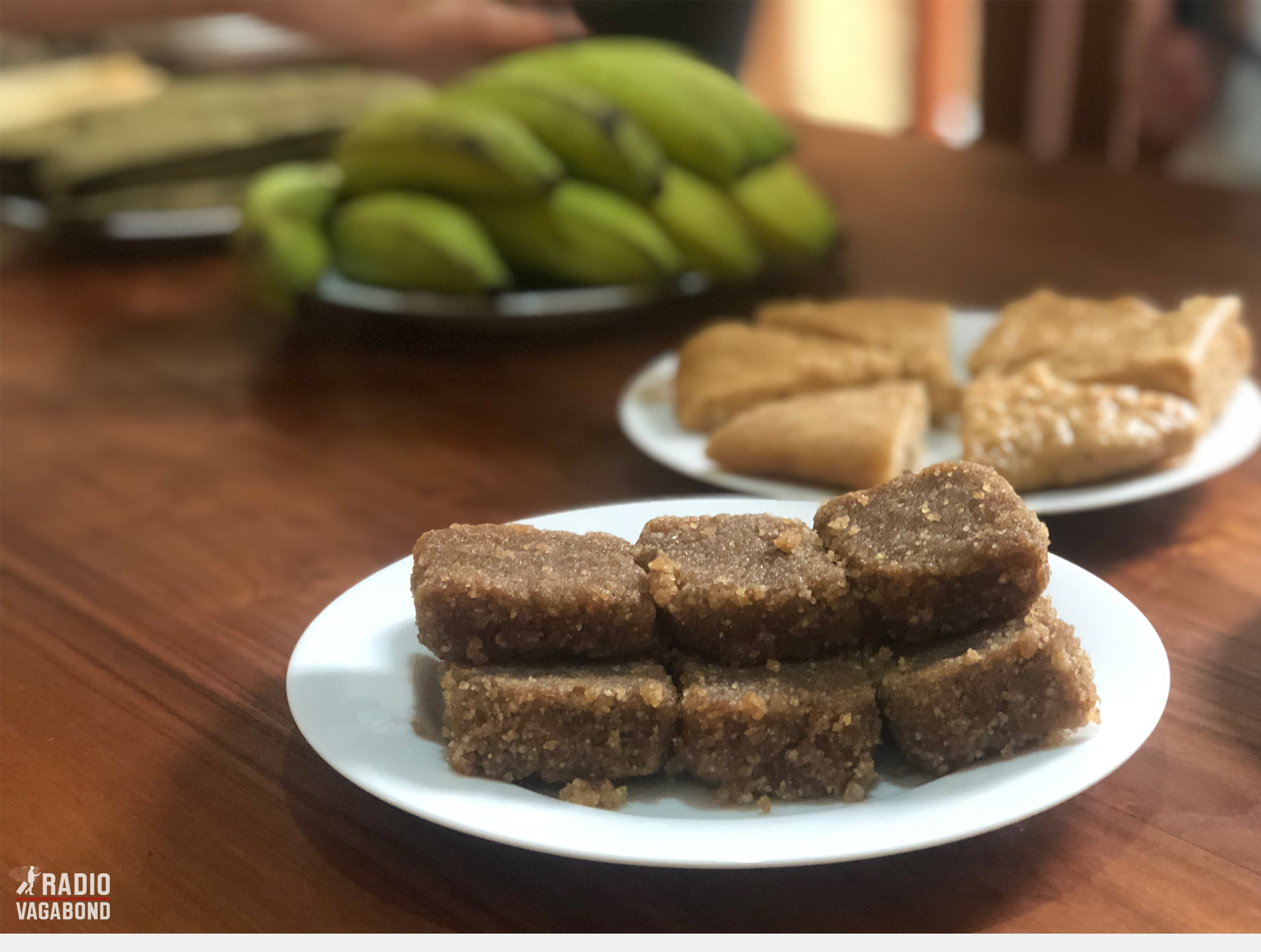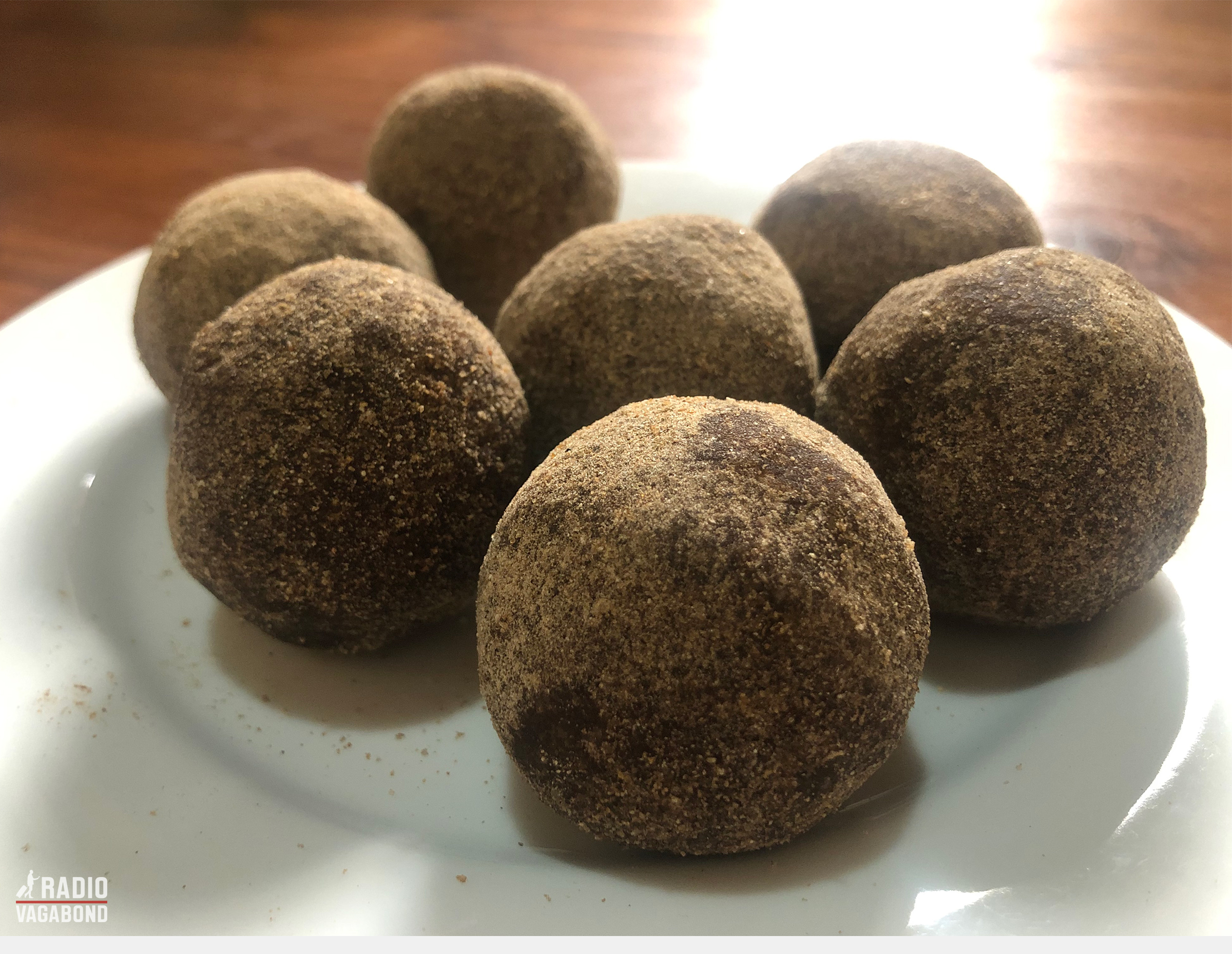 I was wondering how it's funded. Because it can't be inexpensive to maintain, and Sasa tells me that they do get some money from the government, but are also depending on donations. If you stay here, it's free, but you are welcome to give a donation.
If you want to learn more about The Silver Temple – and maybe meet the monk and the small monkeys jumping around everywhere, you can start with a visit to their website RideeViharaya.lk.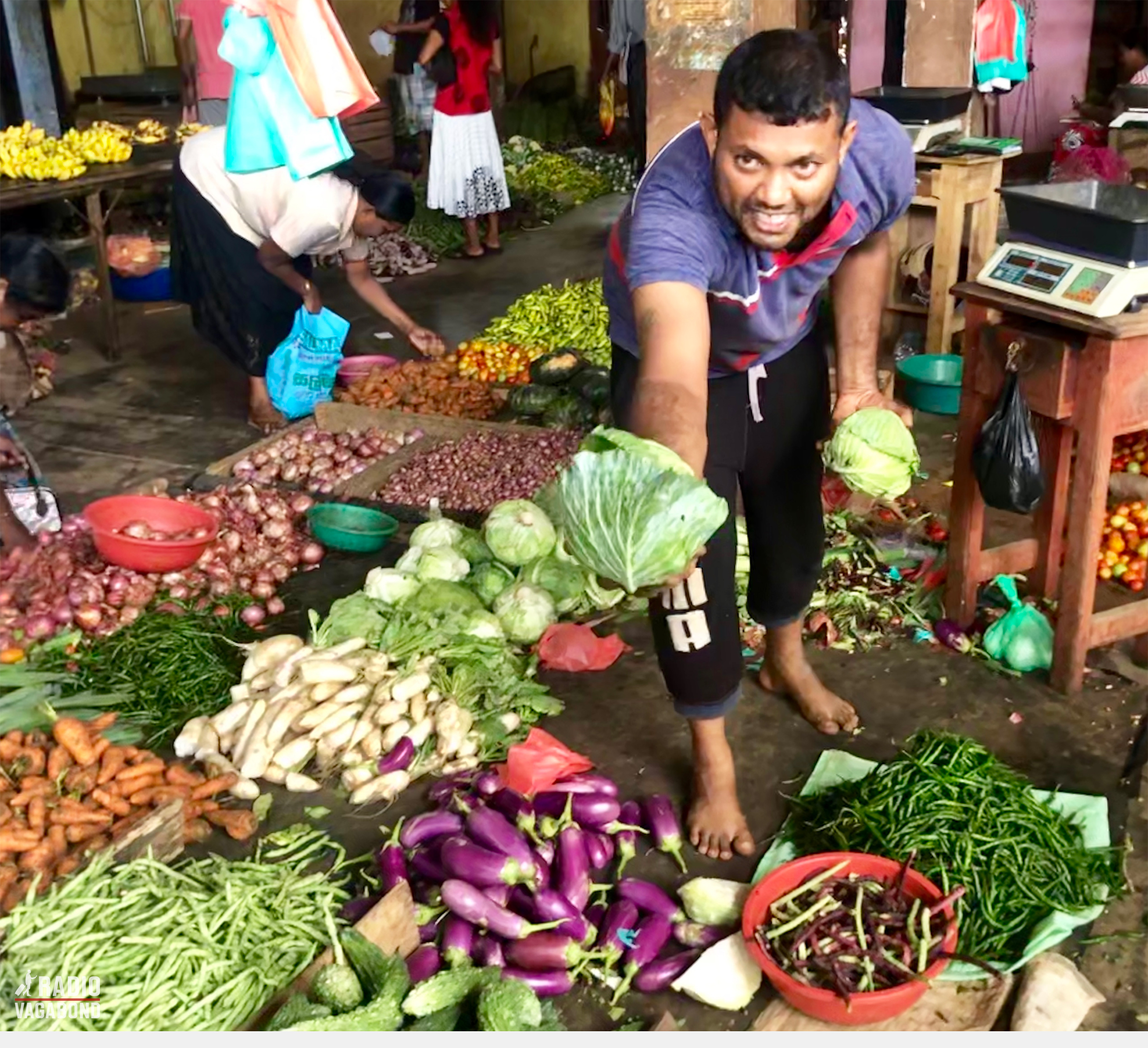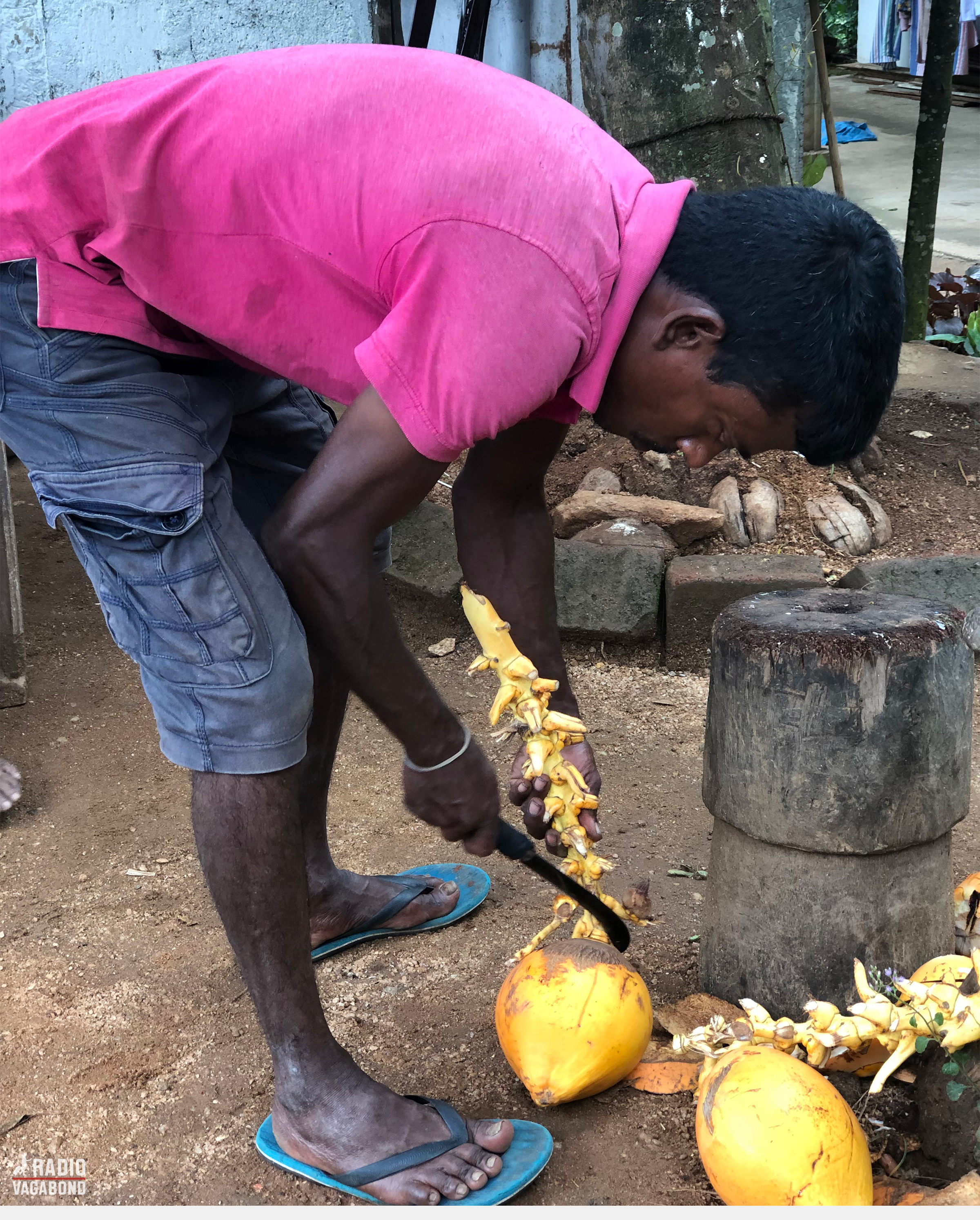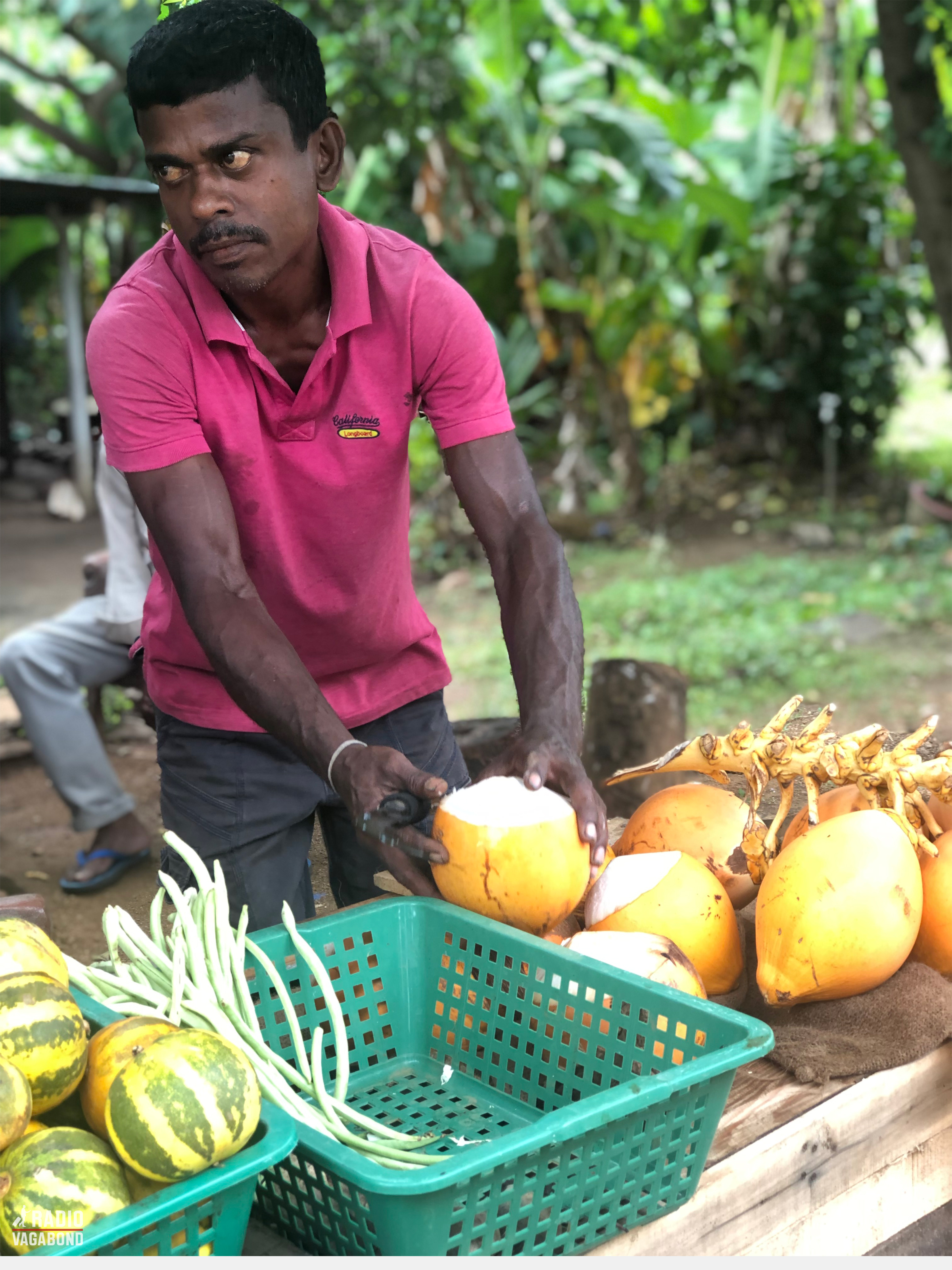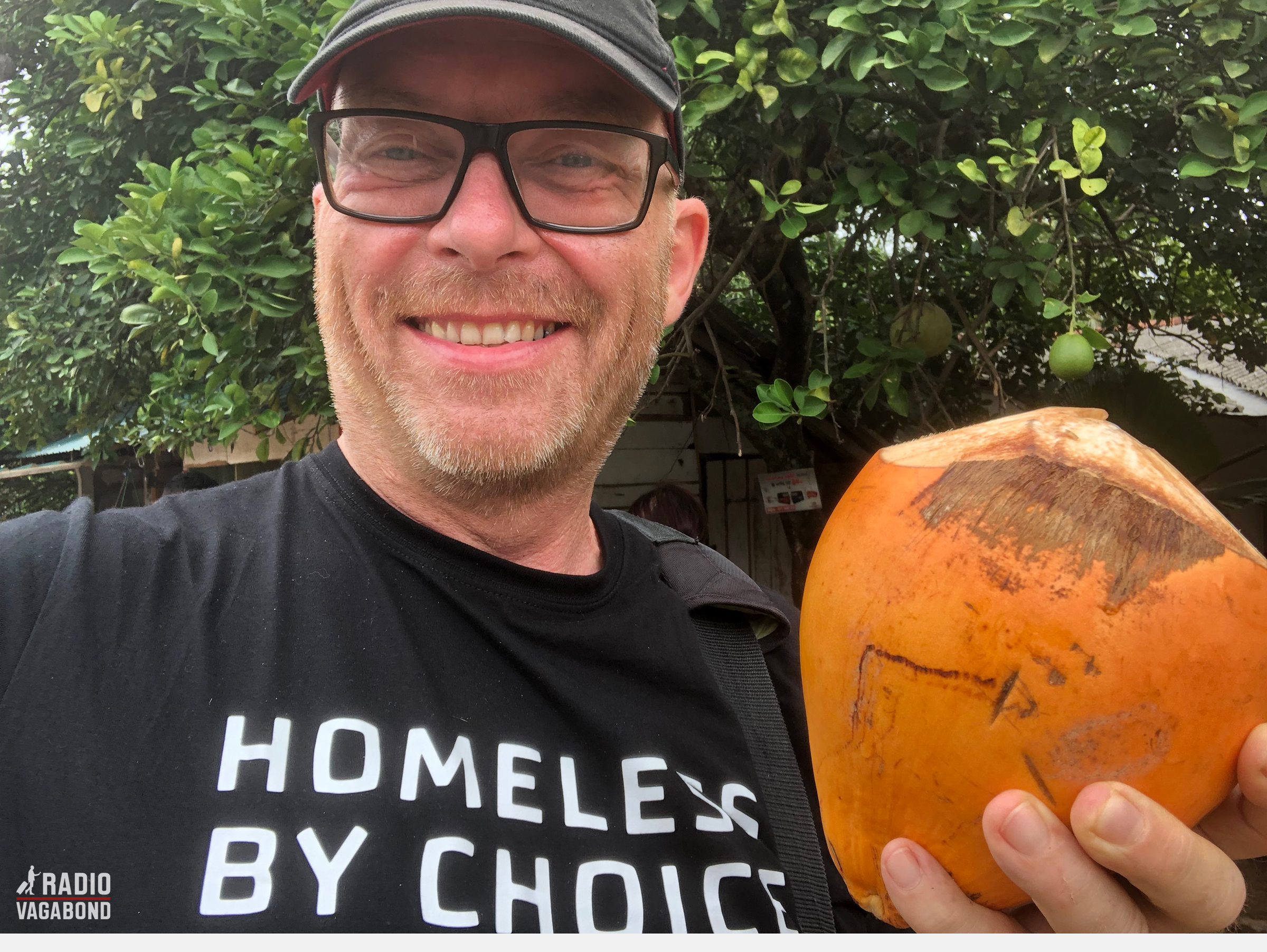 ANOTHER PODCAST FROM RADIOGURU:
TRAVEL MATTERS
Last week I launched another podcast that you might like if you're into travel and especially travel content creation, like blogging, YouTubing, Instagramming or podcasting about travel.
The podcast is called Travel Matters, it's the official podcast from TBEX, and I'm co-hosting with TBEX CEO Rick Calvert.
I was just at TBEX North America in Billings Montana, and we have recorded some interesting interviews that we're going to share with you in future episodes of Travel Matters.
Find Travel Matters wherever you listen to podcasts.

KONESWARAM TEMPLE IN TRINCOMALEE
We're in Trincomalee. A port city on the northeast coast of Sri Lanka and it has the sixth-largest natural harbor in the world.
Friday morning, we're visiting Koneswaram Temple – The Temple of the Thousand Pillars.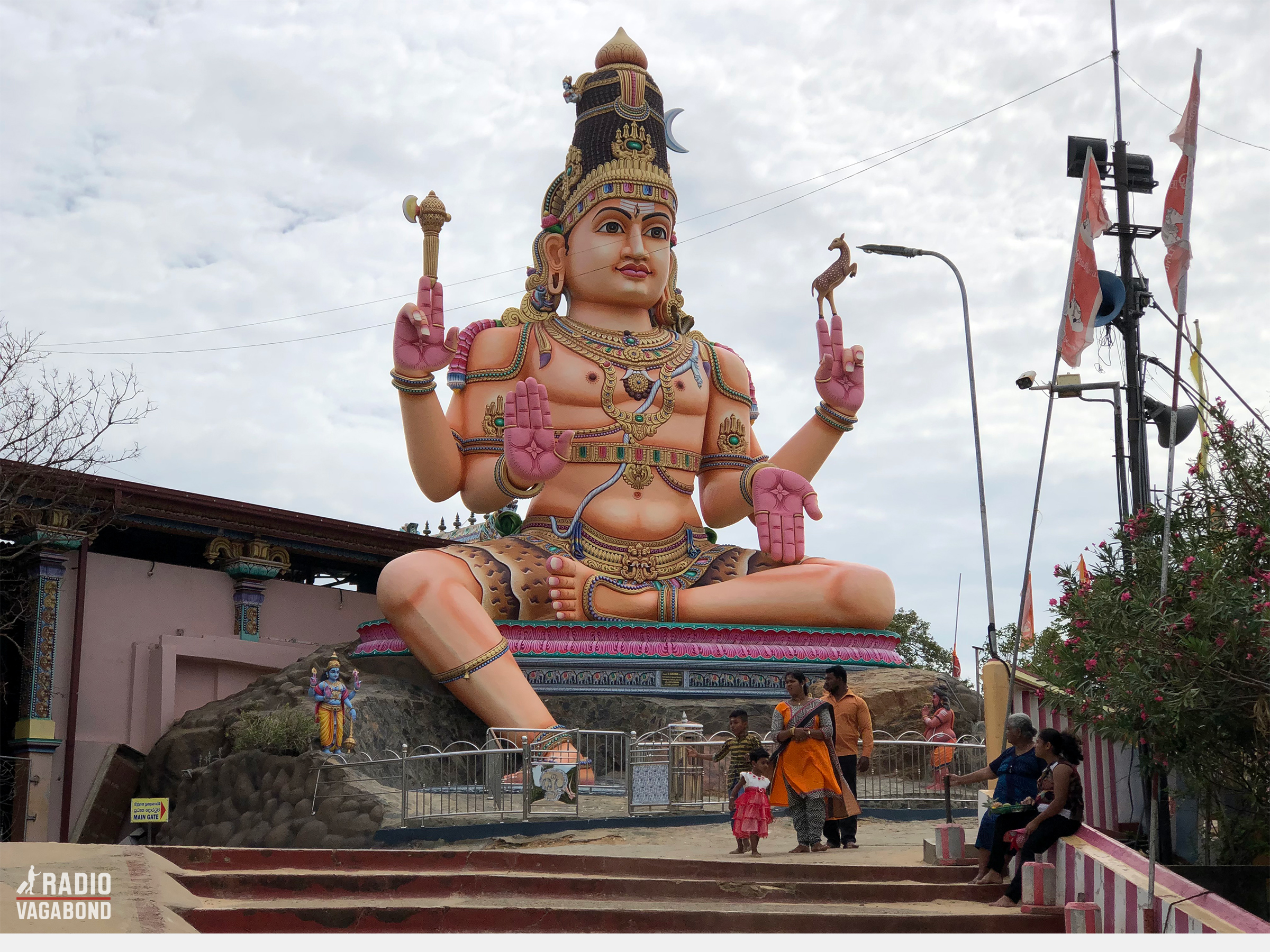 It's a classical-medieval Hindu temple complex, set on a peninsula, where Fort Frederick also was built by the Portuguese in the 17th century.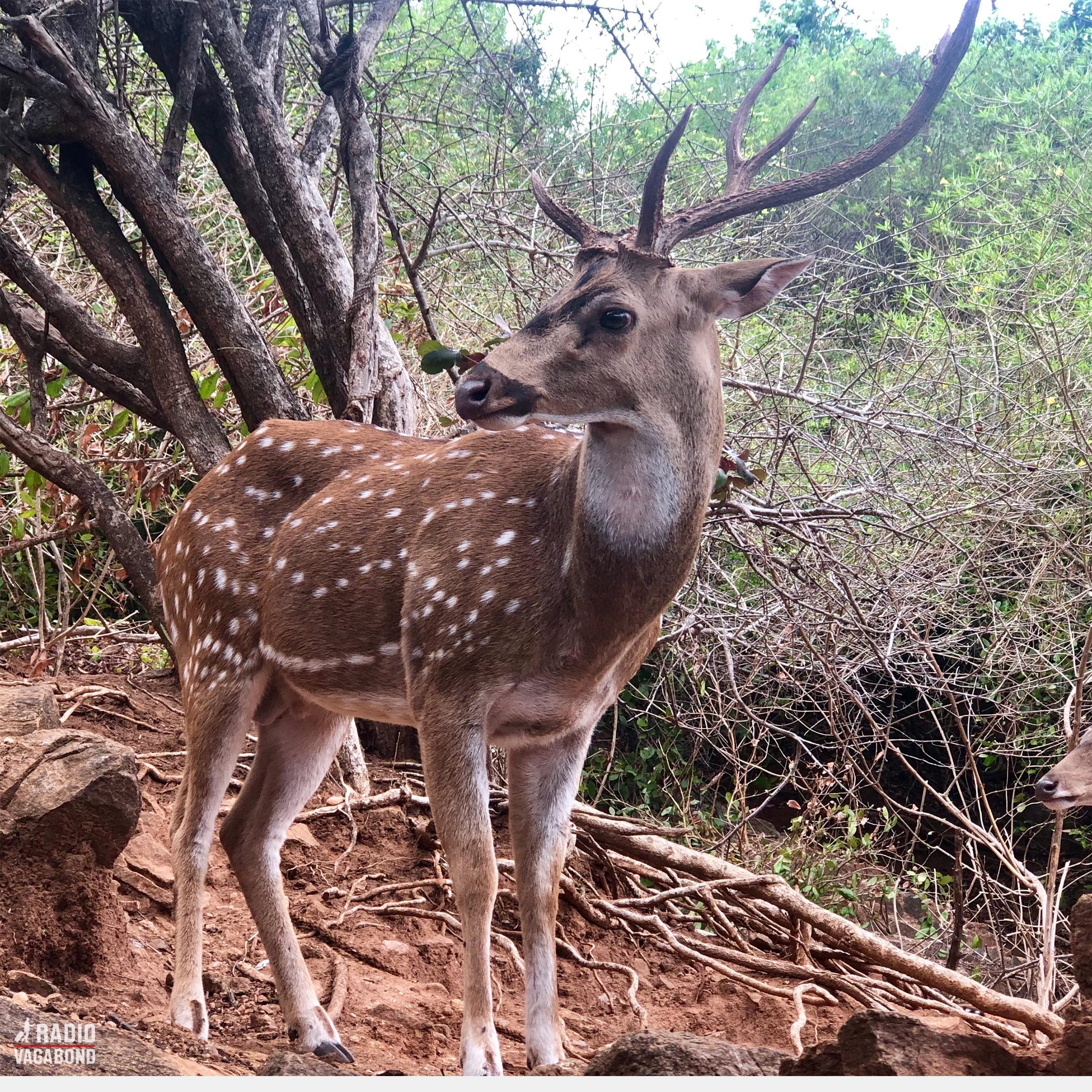 Within its grounds, the grand Koneswaram Temple stands on Swami Rock cliff, a popular vantage point for blue-whale watching. The holy complex contains ornate shrines and a massive statue of Shiva.
The nearby Gokanna Temple has panoramic views over the city and the coastline.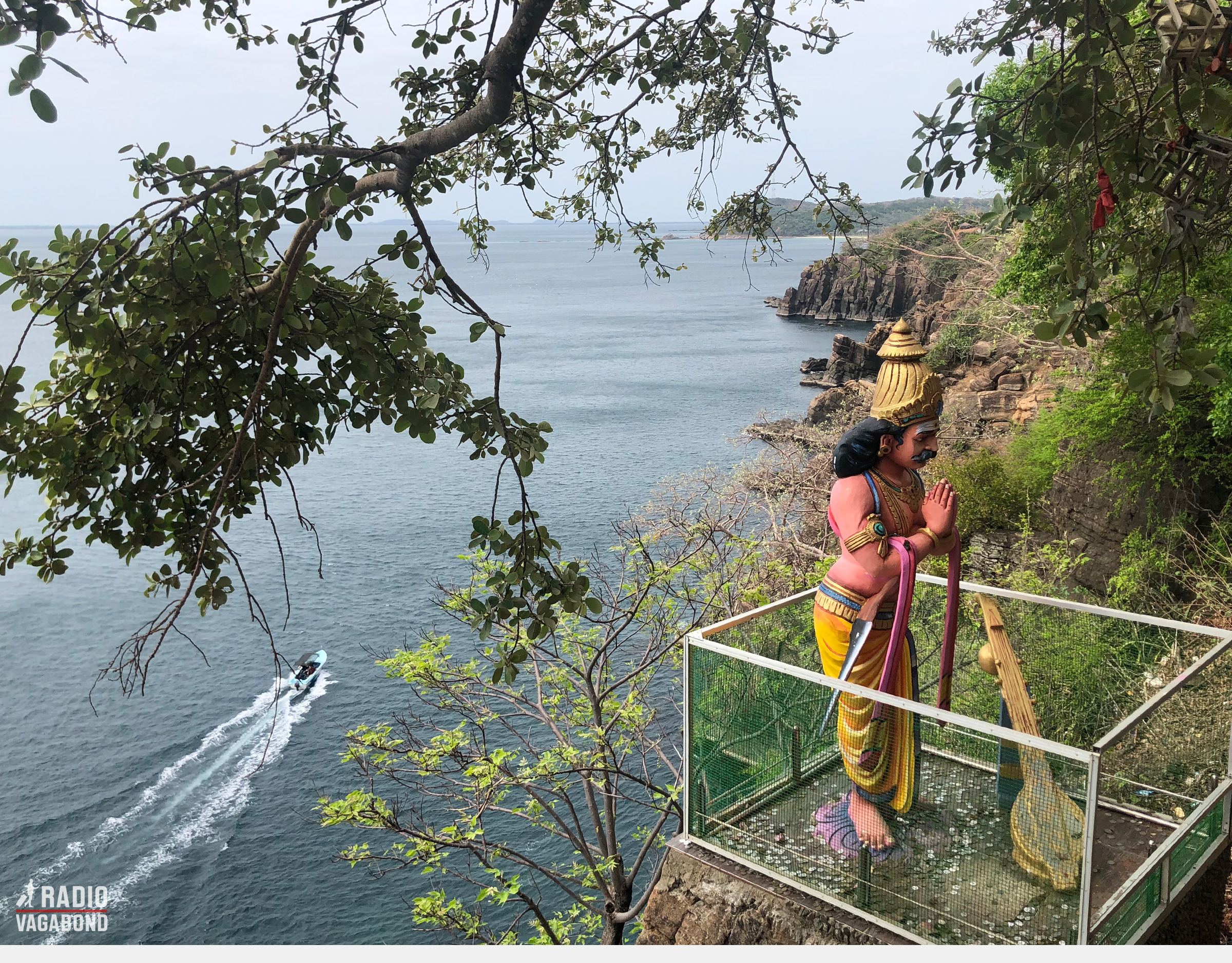 HINDUISM ISN'T THE BIGGEST RELIGION IN SRI LANKA
As you might remember from my first episode here from Sri Lanka, the biggest here is Buddhism for around 69% of Sri Lankans. Approximately 18% are Hindus.
So not the biggest religion, but it is the worlds 3rd biggest religion and has been called the oldest religion in the world.
When you think of it, you probably think of the statues with many arms. And there are a lot of them in this temple. It's like entering a museum.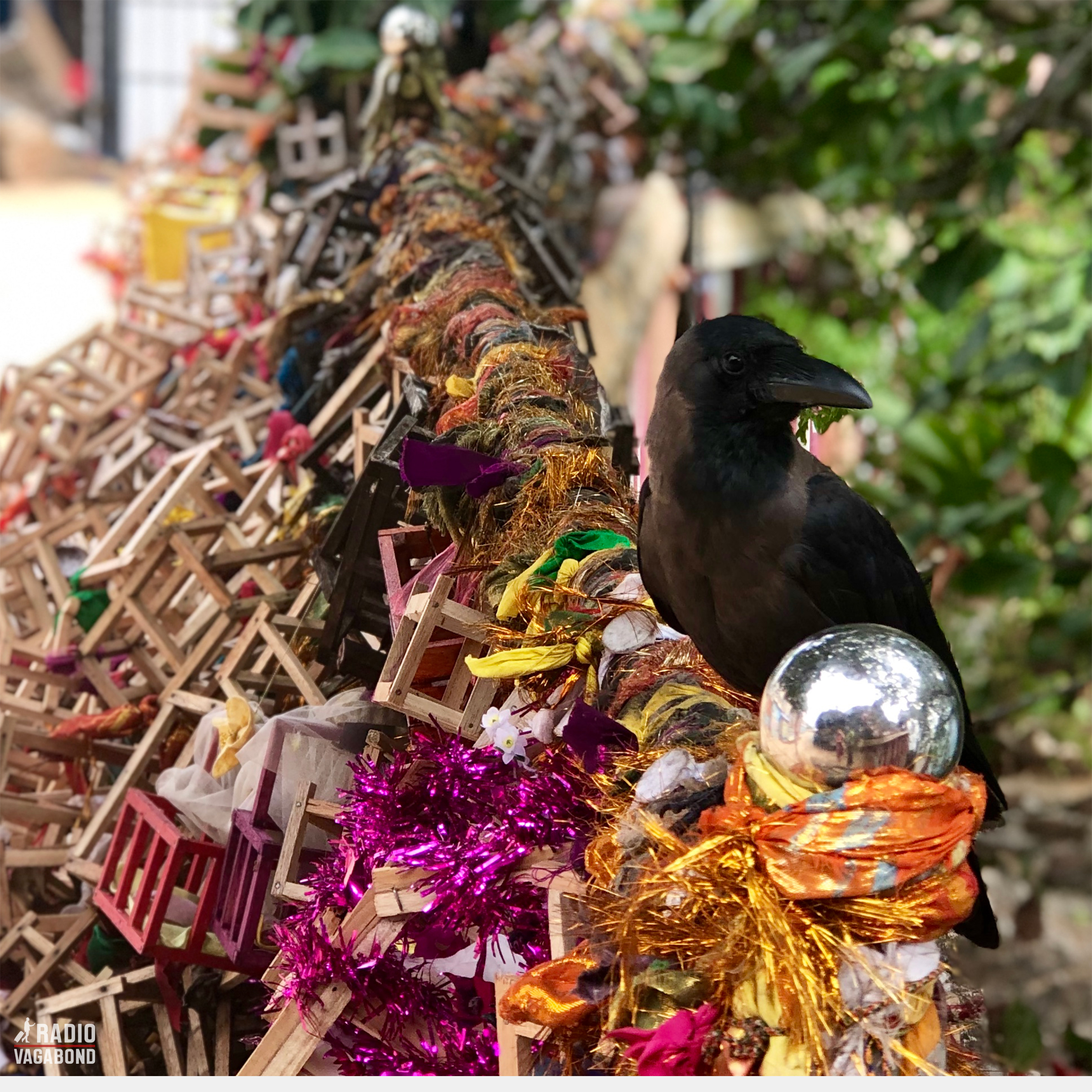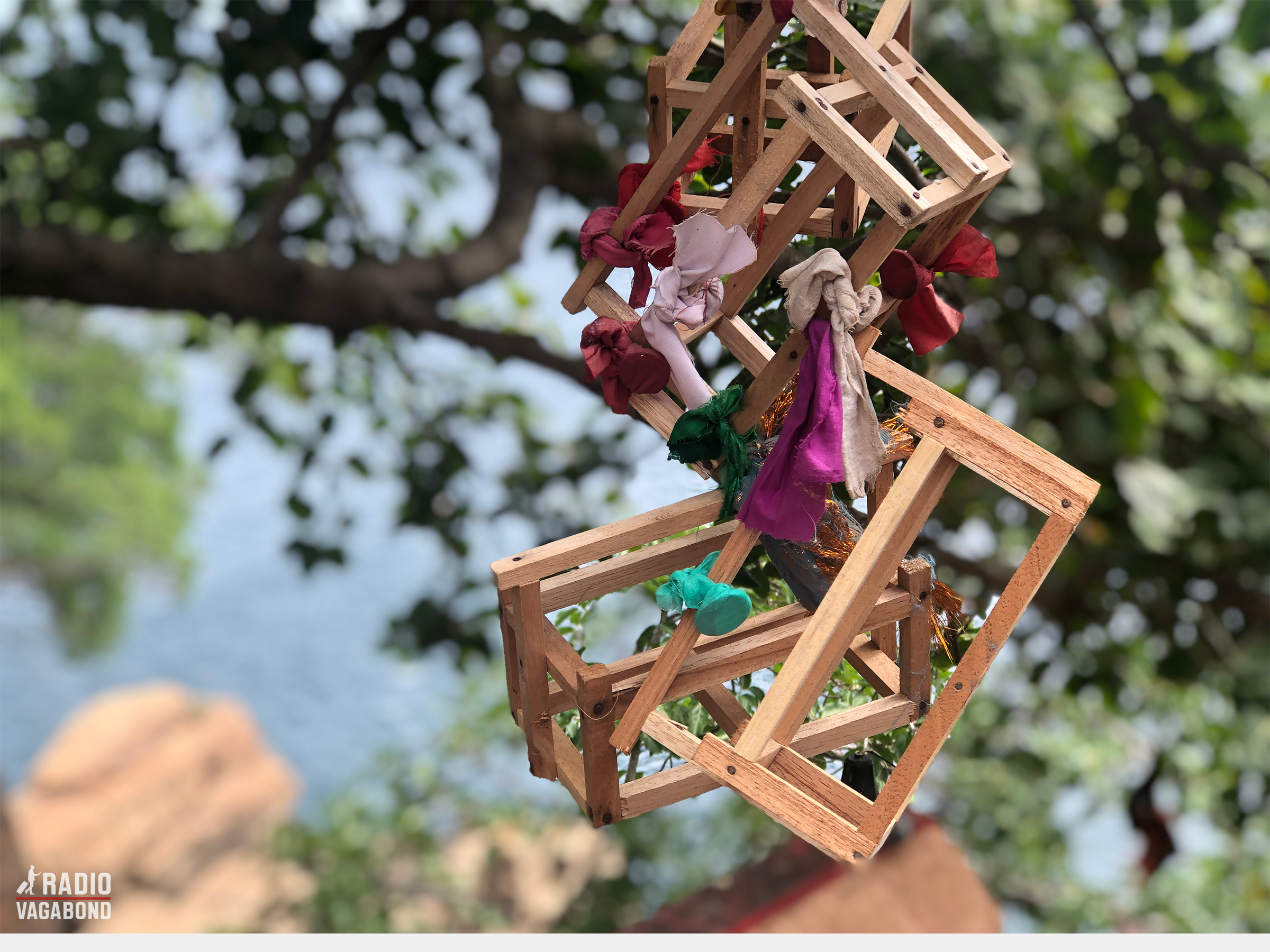 KING RAVANA HAD A HOT TEMPER
A name that kept popping up was King Ravana. He ruled Sri Lanka almost 5000 years ago, and we see him on many paintings and statues inside the temple. He's always got a great mustache and often many arms and even many heads. This is because King Ravana had so many skills, and he could do so many things.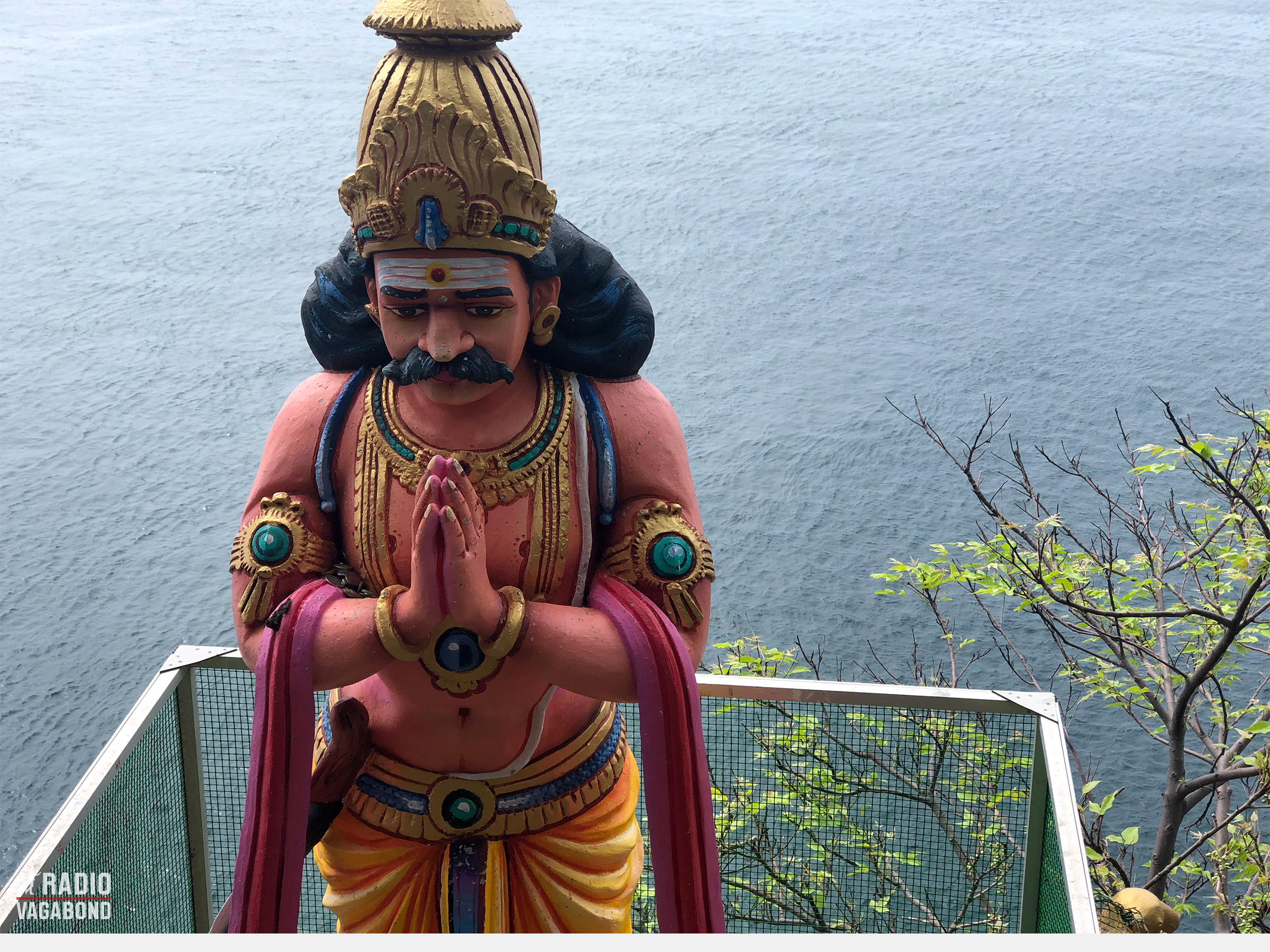 According to our guide Pradeep, he was super-intelligent, a great ruler, and very strong. And he had a hot temper.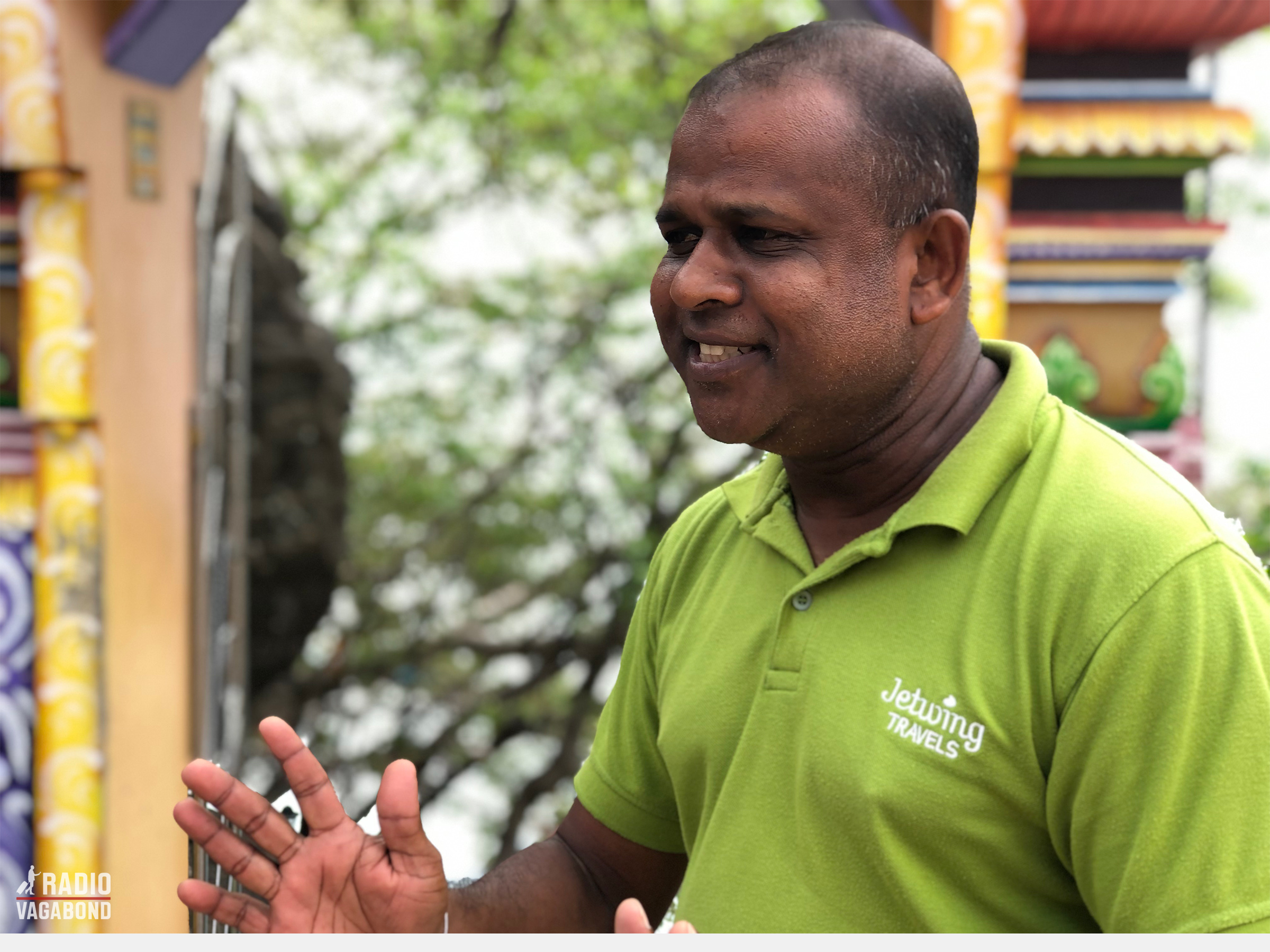 Leaving the temple we were walking on a bridge over a cliff with rocks on both sides – and water deep down below.
The legend says that King Ravana had a bad day and was angry. He swung his sword down to the ground here and created this huge cliff.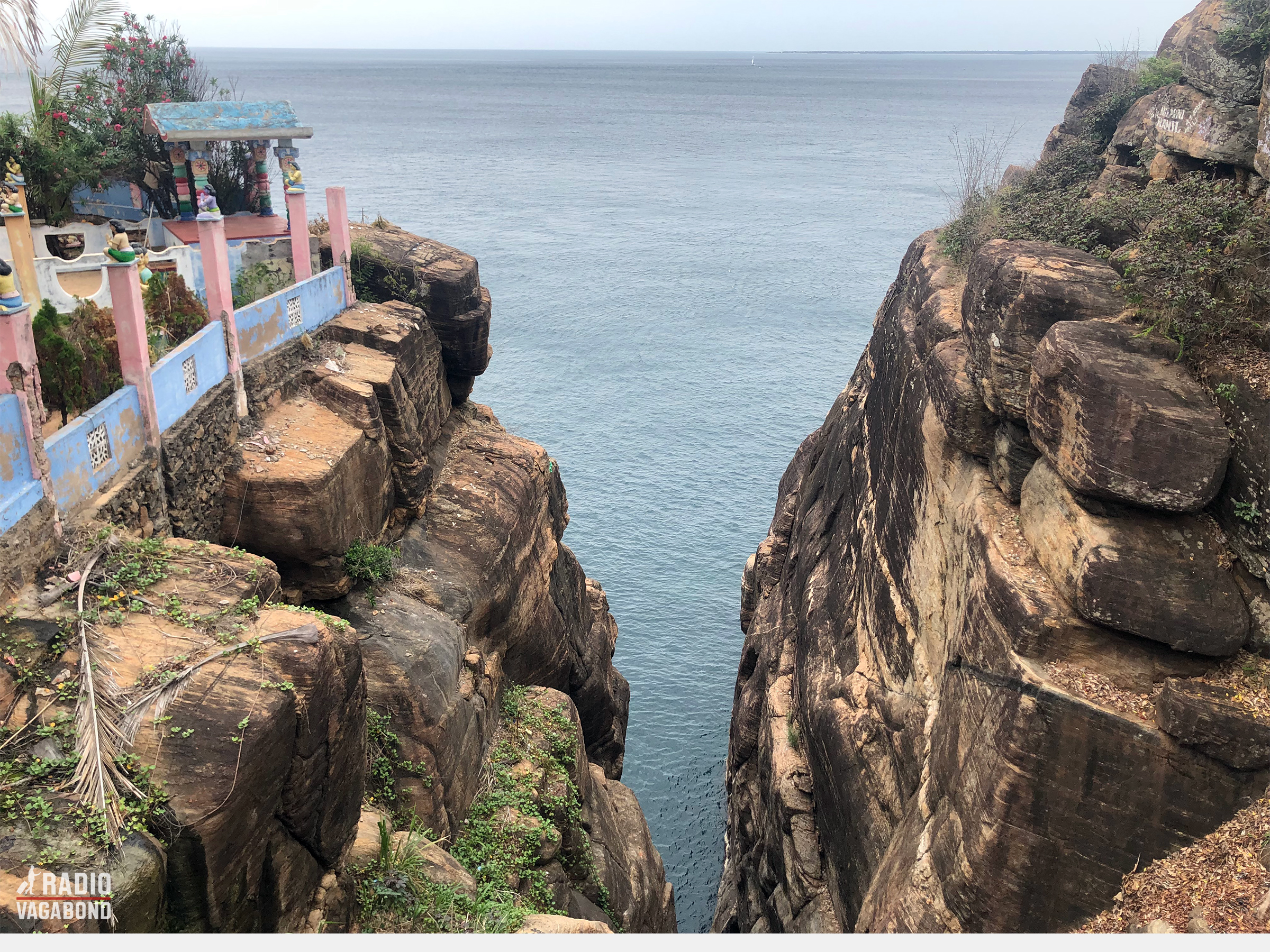 A little later we got to somehow springs – some wells with natural hot water in them.
Again the legend says that King Ravana's hot temper that created this. He poked holes in the ground with his sword and hot water sprung from the ground.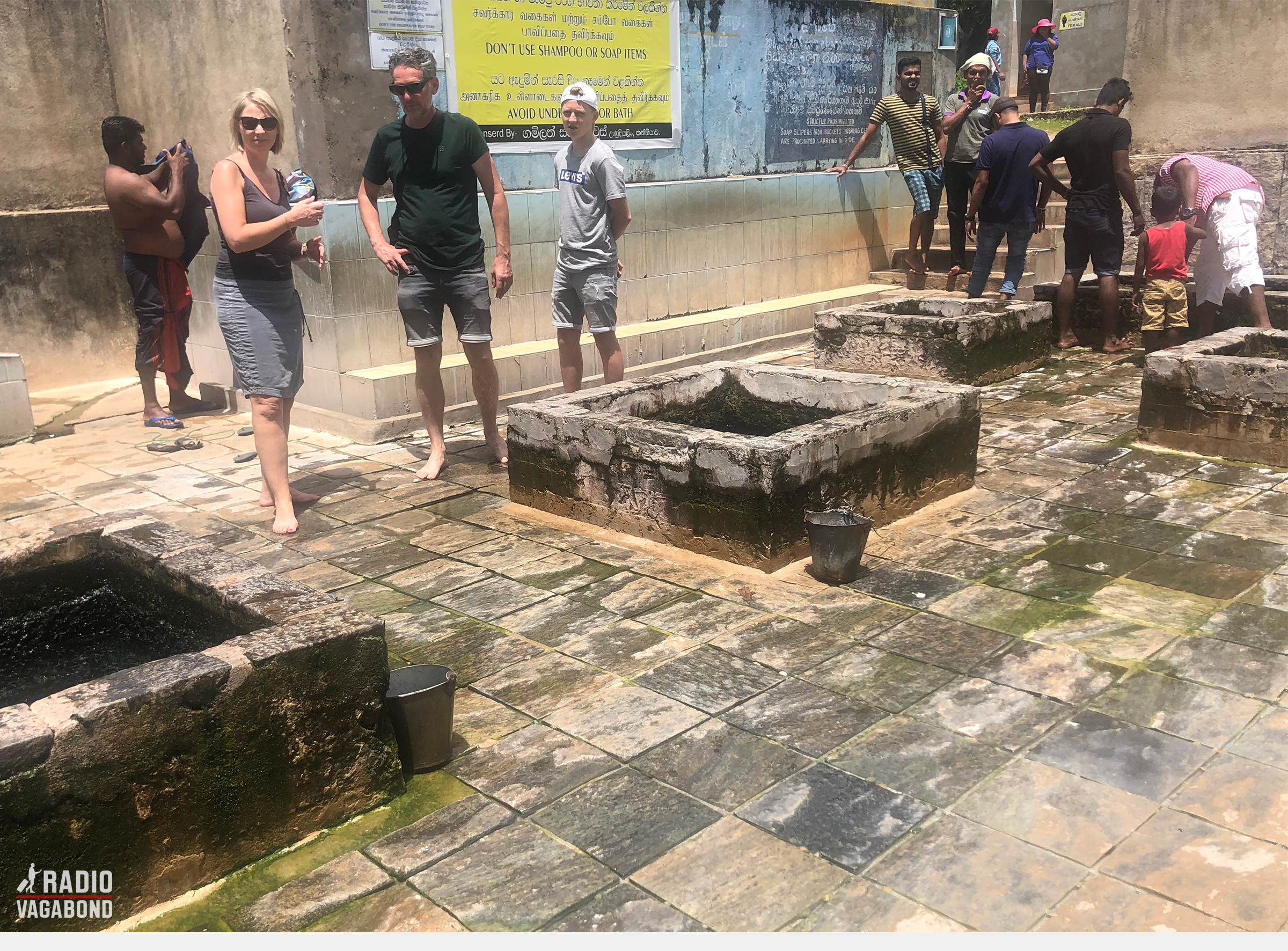 From what I heard, this is seriously a guy that could use a bit of ager management. But Sri Lankan people see him as the best king they'd ever had.
Pradeep tells me that he even invented flying long before the Wright Brothers – almost 5000 years ago.
LETTER FROM A LISTENER
I got another letter from a listener. This one is from one of my listeners in Canada:
Hi Palle,

I just found your podcast today and have been bingeing your west Africa episodes as I was walking along Bloor street west in Toronto at about 7 pm on my way from work to my choir rehearsal this evening 🙂

My brother is about to move from Brussels to Dakar for work in November, so I was looking for podcasts to help me imagine what his life will be like when he moves there. And yours was very helpful for that so thank you.

I hope you are continuing to enjoy your travels and don't hesitate to get in touch if you're passing through Toronto and would like a coffee or even a place to stay for a night or two. We would love to hear about your travels in person.

Take care,
Siofradh.
Thanks, Siofradh. You should go back and listen to my episodes from Toronto – and you will know that it's one of my favorite cities. I'm definitely coming back to Toronto, so I'll take you up on that coffee.
If you also like to send me an email telling me where you are and what you're doing right now, send it to listener@TheRadioVagabond.com Or send or a voice message on WhatsApp on +45 40 105 105.
SUNRISE ON THE BEACH
We're staying at a hotel called Pigeon Island Beach Resort. It's literally on the beach just north of Trincomalee.
The next morning I got up at 5 am so I could go to the beach facing east and record a time-lapse as the sun was rising. Much to my dislike, eleven young men were walking into my shot. Then I realized that they were pulling a rope. They were dragging a net full of fish out of the water, and I went over there and helped them pull it for a while.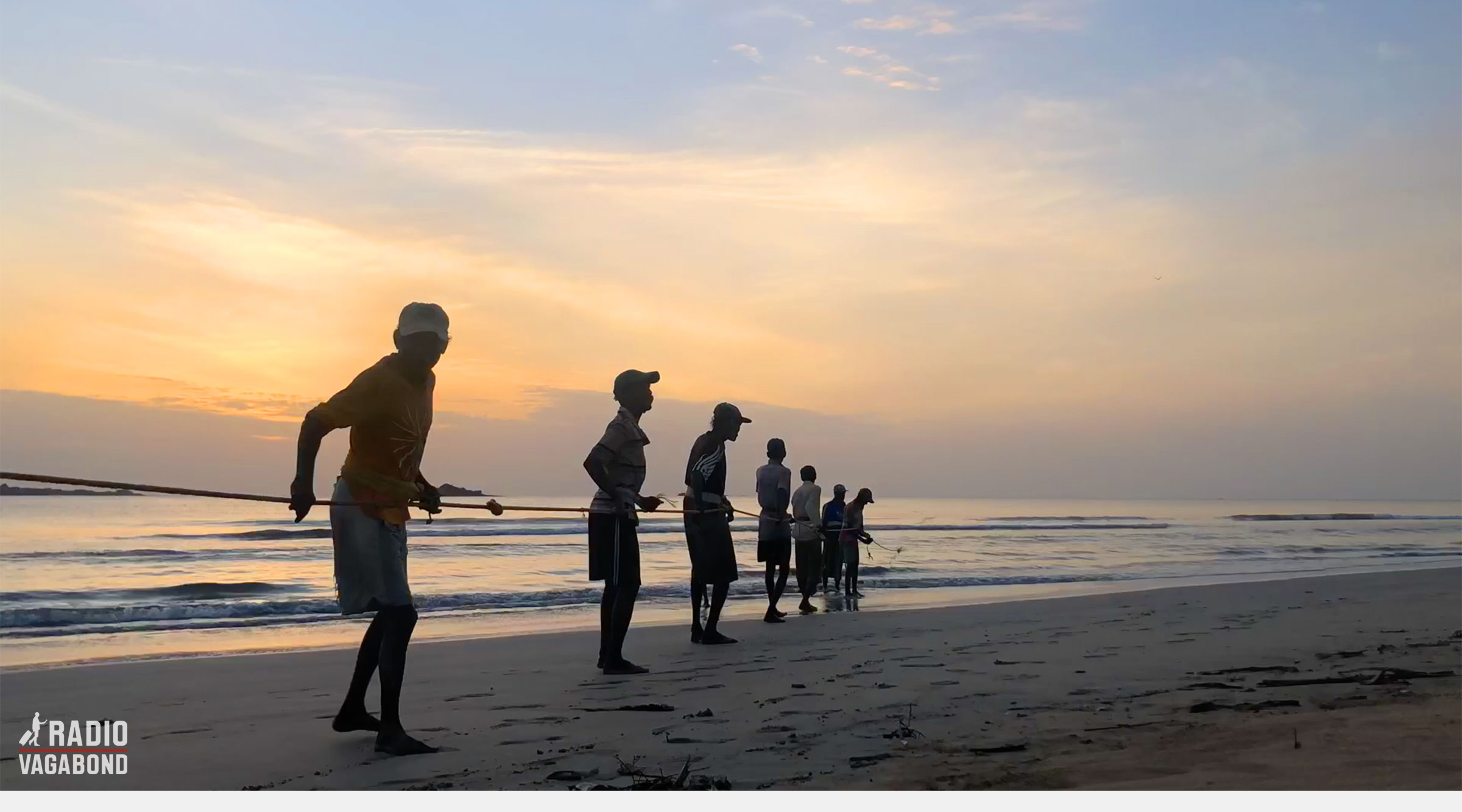 Someone later told me that when tourists do that, they share a few of the fish with the people that have helped them. I didn't stay to the very end, so I never got my fish, because I needed to go and get ready for the next day of exploring.
I want to go back and spend at least a week at Pigeon Island Beach Resort. Especially when I saw that they have a Scuba Diving Centre, and it's just been too long since I've been scuba diving. But the itinerary didn't give me time for that, so I guess that gives me another reason to come back to Sri Lanka.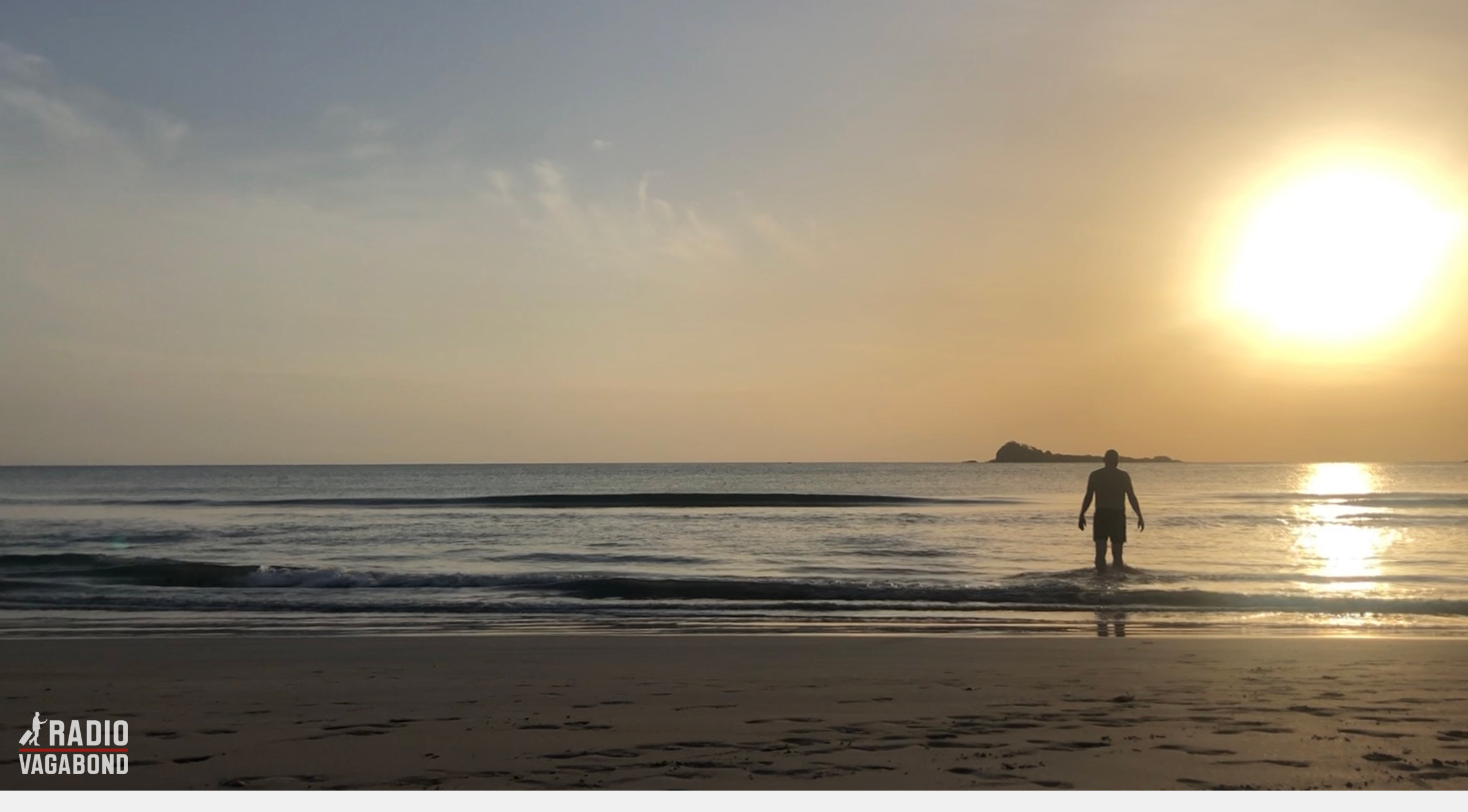 FACTS ABOUT WHERE WE ARE

The highest point in Sri Lanka is Mount Pedro, reaching 2,524 meters above sea level.

With over 400 waterfalls Sri Lanka has perhaps the largest number of waterfalls of any country in the world, in comparison to its size. Bambarakanda Falls is the tallest waterfall in the country, with a height of 263 meters.

There are 22 national parks and 8 UNESCO World Heritage Sites in Sri Lanka.
CONTROLLING BULLS IN A FORREST NEAR HABARANA
It was time to head down to Habarana 100 km (62 miles) southwest of Trincomalee. This is where we're staying tonight and also where we're going into nature.
When we get close to Habarana, we leave the paved road and on a dirt road get to a small clearing in the forest.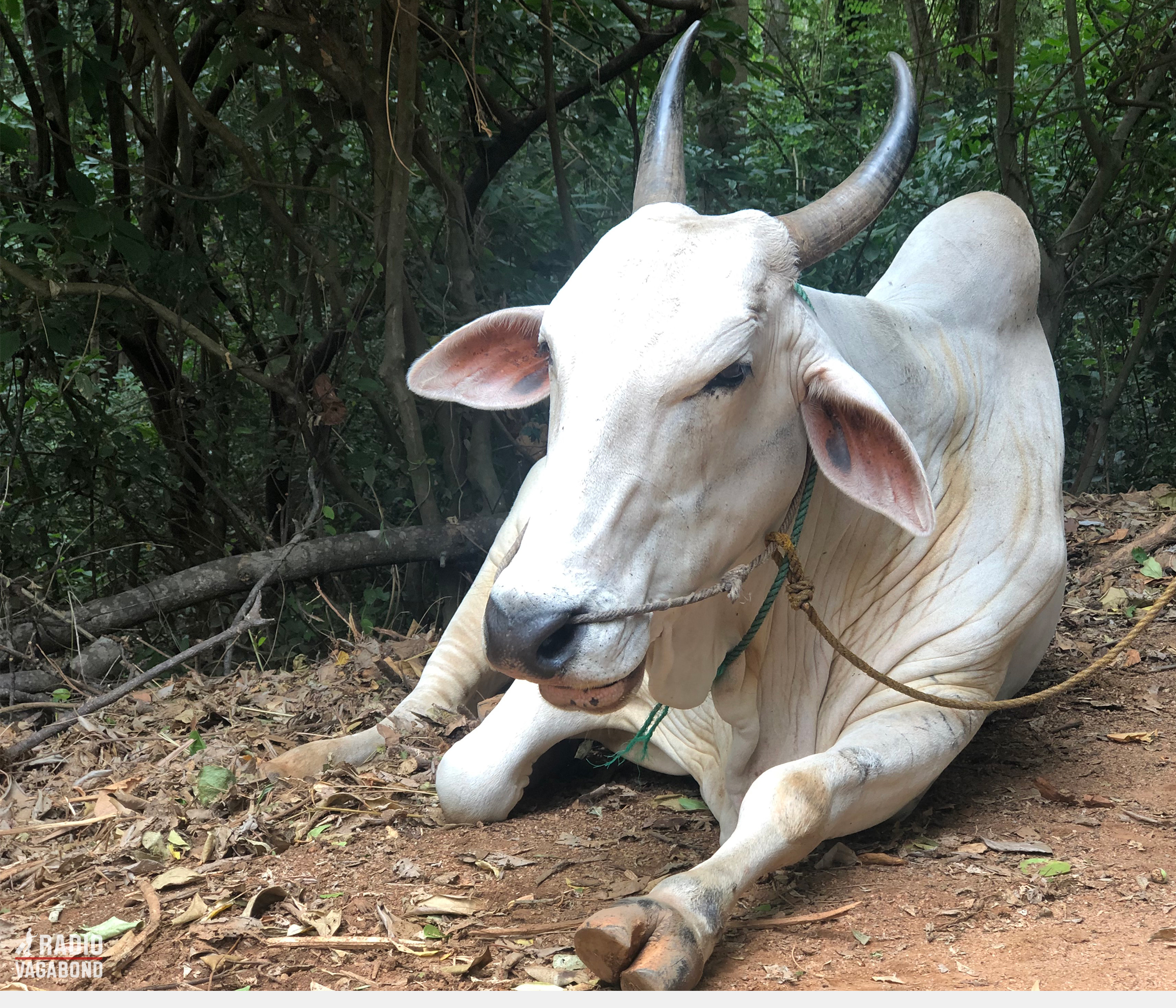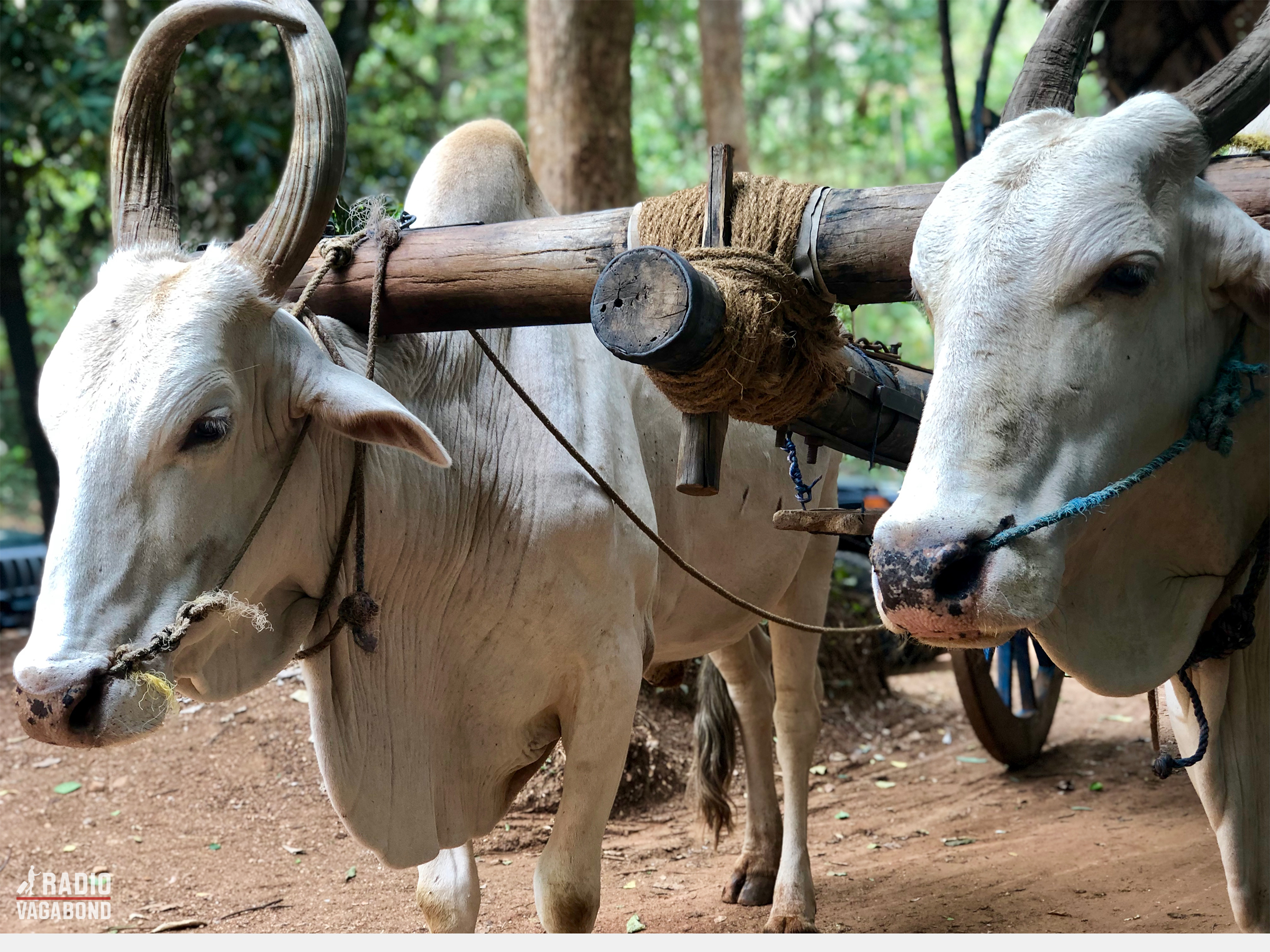 We about to go deep into the forest on small Bullock Carts. Four people in each cart with two white bulls dragging us.
I was in front with the guy steering the cart and controlling the bulls. He had commands for left, right, stop, and go faster.
The bulls seemed quite lazy, but he was sitting right behind them, and if he swung his leg just a little bit, he would give them a gentle kick in the balls. And that would make them go fast.
Halfway he gave me control of the cart and jumped off. So there I was, controlling a bullock cart on a dirt road in a forest in Sri Lanka. Now that was a first for me.
And no, I didn't kick any balls.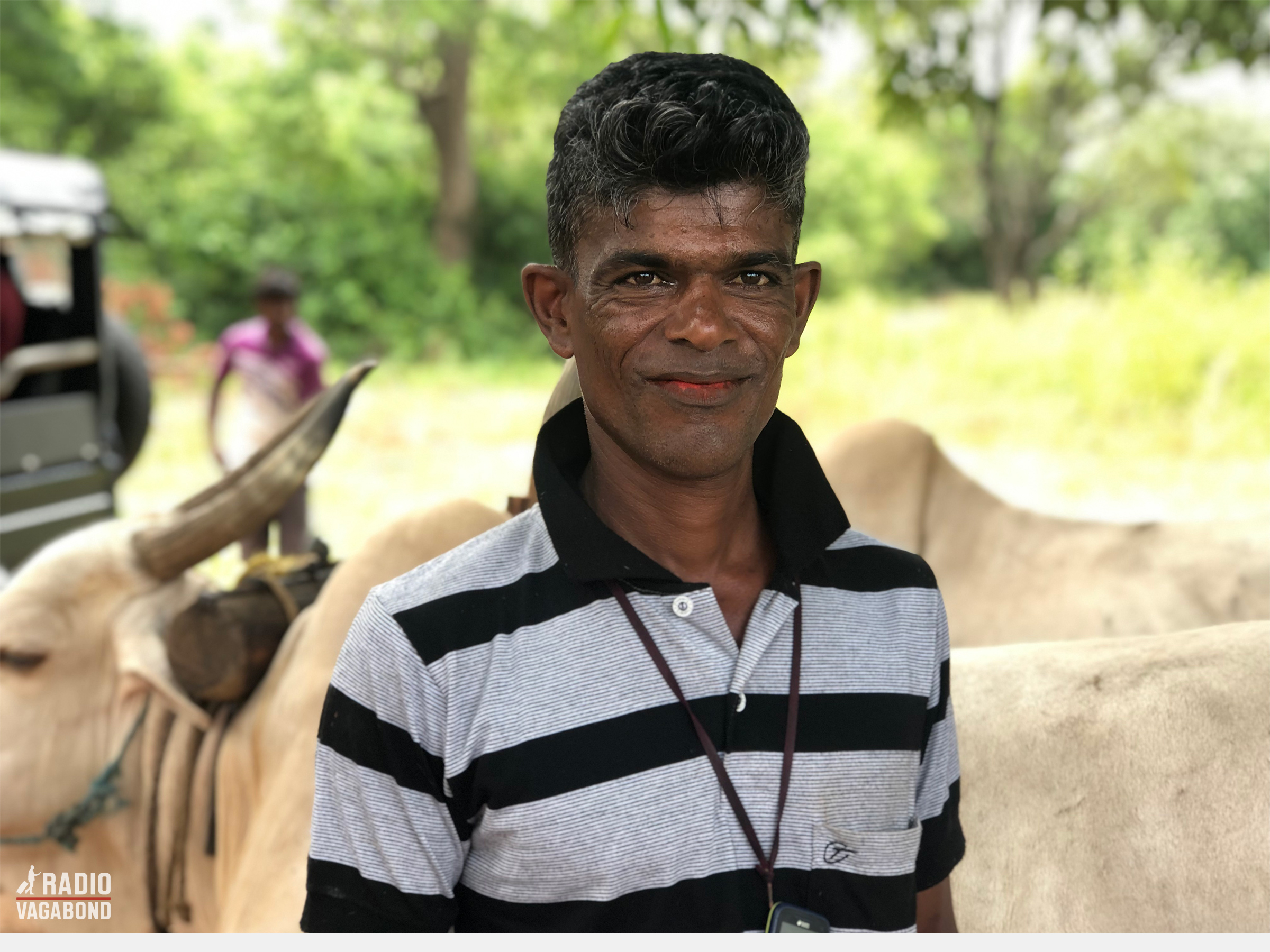 We still had a bit of a walk to do before reaching our destination. On the way, we saw a tree hut close to a rice field. This hut is used for keeping guard at night and scaring animals that might away with firecrackers and drums.
We crossed the river in a double-paired canoe – kind of a catamaran that they use for fishing.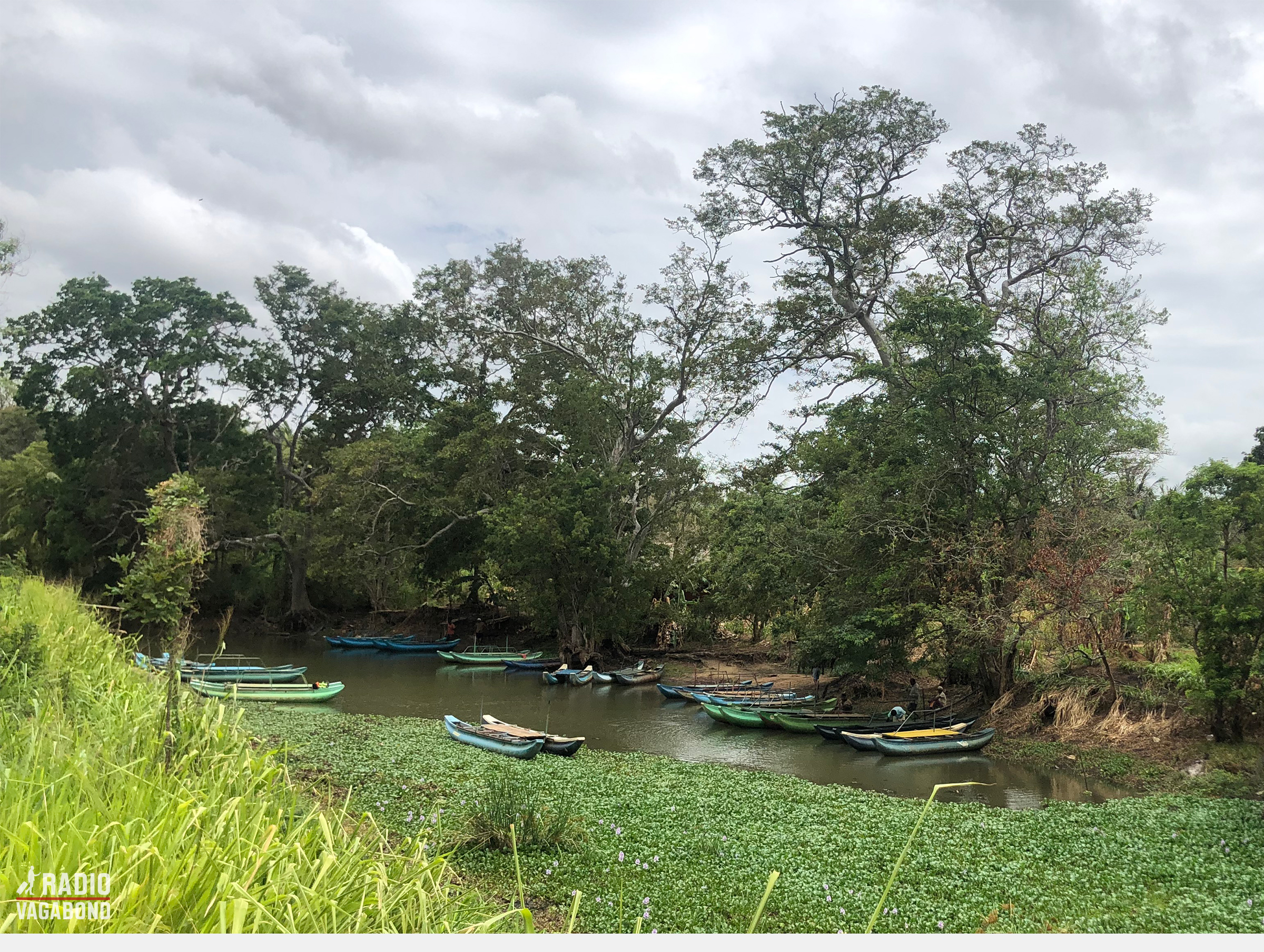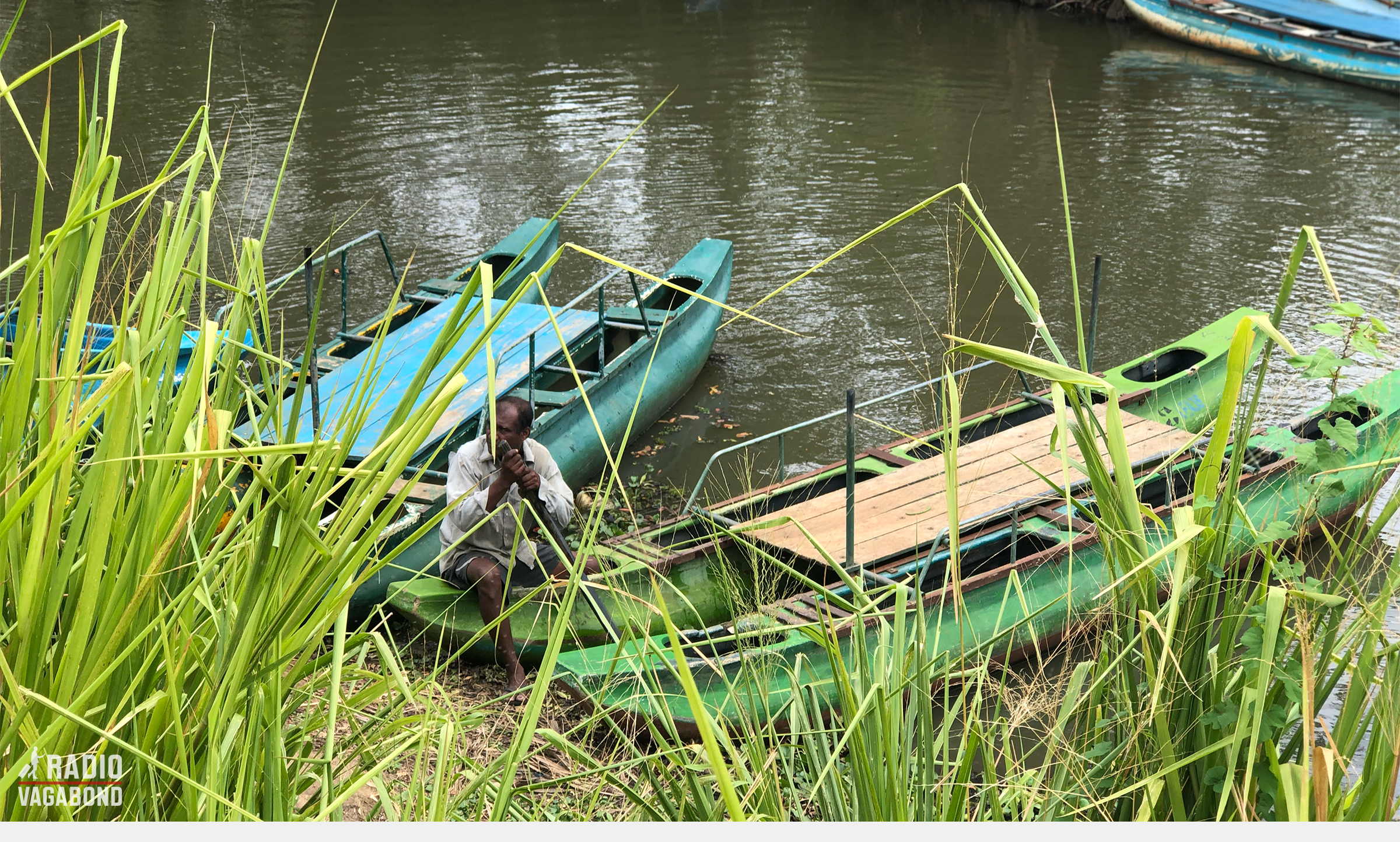 The river wasn't that wide because it's dry season right now. In the wet season, the water level will rise a couple of meters and makes the river much wider.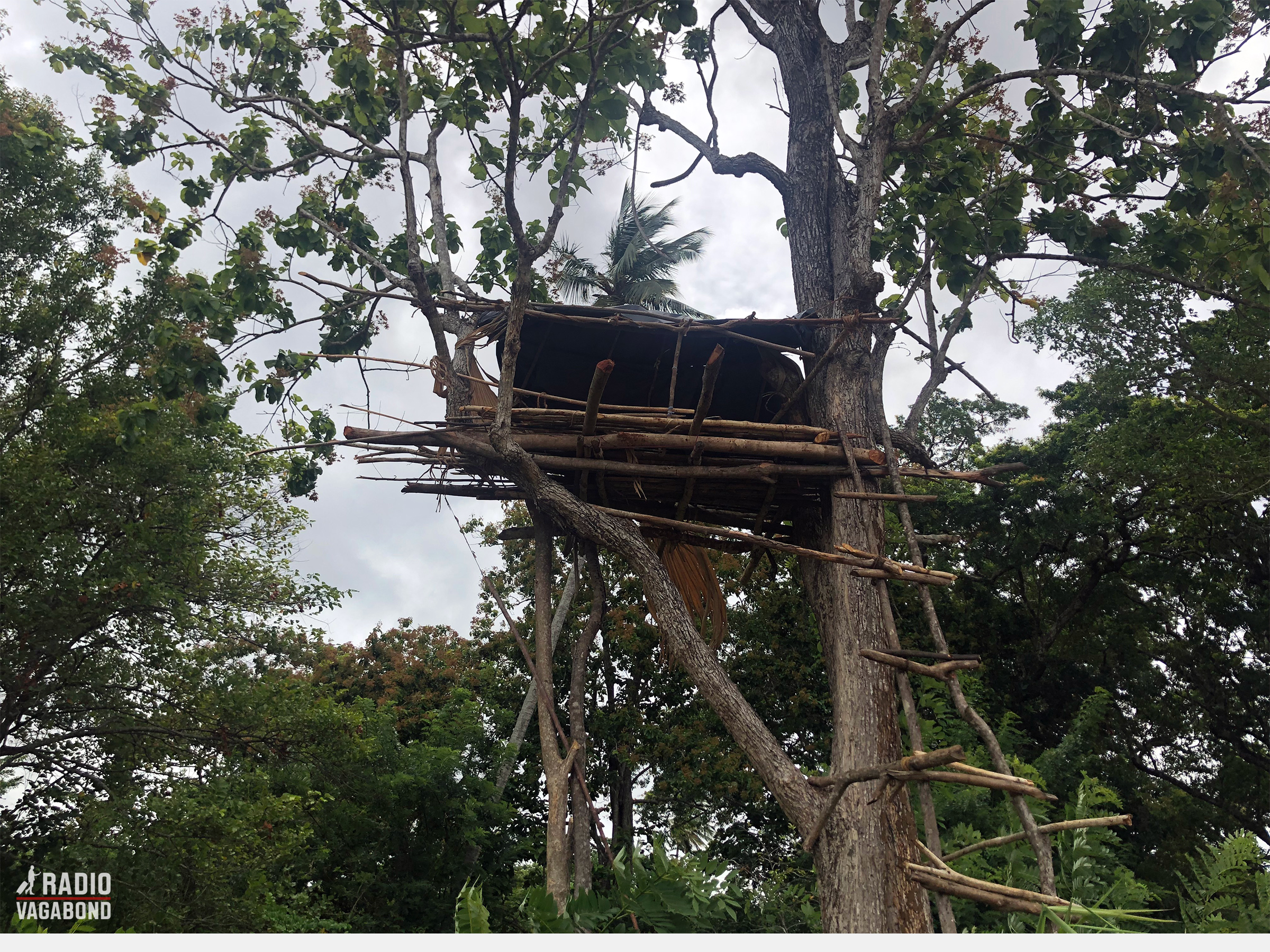 We're heading towards the small village where we will experience a traditional authentic Village Lunch and get a local cooking demonstration. We also go on an elephant safari and see herds of elephants in the wild.
That's in the next episode of The Radio Vagabond.
DISCLAIMER:
The trip to Sri Lanka was made possible by Sri Lanka Tourism, but everything I've said in this episode is my genuine opinion.
LINKS:
Sponsor Hotels25.com
The Radio Vagabond is produced by RadioGuru.
See pictures on TheRadioVagabond.com http://TheRadioVagabond.com/140-srilanka
You can follow The Radio Vagabond on Facebook, Twitter, Instagram og YouTube.