War-Torn Ukraine:
A Journey of Hope, Loss, and Determination
In Ukraine, I uncover the devastating impact of war on individuals and communities. From harrowing tales of survival to the resilience of those providing aid, join me on a journey that reveals the true realities of conflict. But be warned, the shocking accounts I share will leave you questioning the fate of those caught in this ongoing crisis.
In this episode of The Radio Vagabond podcast, I take you on a journey through Ukraine from west to east and explore the impact of war on individuals and communities. I share stories of people I meets along the way, like an older woman in Izyum sewing camouflage nets for the troops and Dimitri, a Ukrainian refugee, I met in Poland.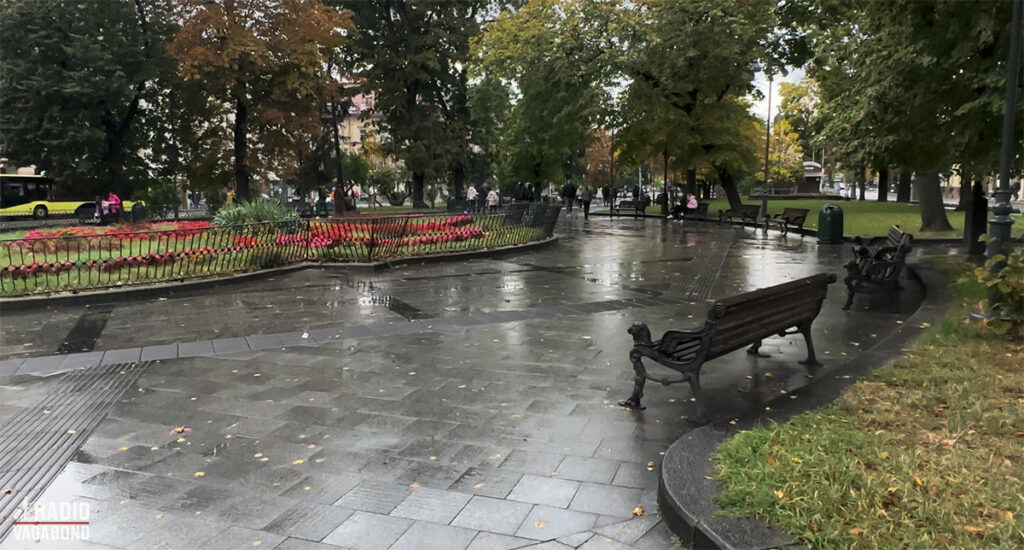 These personal accounts shed light on the resilience and strength of the Ukrainian people amidst the ongoing war. I also join forces with the NGO organization Rescue Now to provide aid to those affected by the war. Through these experiences, the podcast highlights the urgent need for empathy and understanding when discussing the impact of war.
By listening to this episode, you'll gain a deeper understanding of the ongoing crisis in Ukraine and the human side of the conflict. So, grab a cup of coffee, sit back, and get ready to be moved by these powerful stories.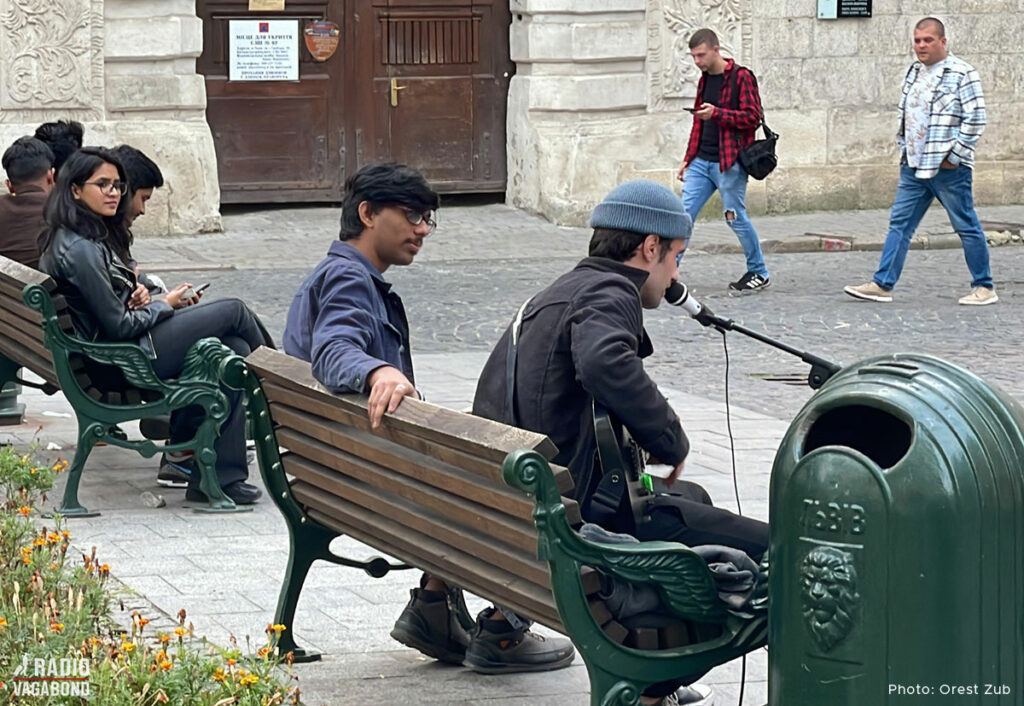 Heading from Little Paris to the Frontline in the East
When I left you in the latest episode, we just got to Lviv, and after the safety briefing, we got a chance to have lunch and explore the city centre for a few hours.
Lviv is a historic and culturally rich city located in western Ukraine close to the Polish border.  It's often referred to as the "Little Paris of Ukraine" because of its charming architecture, artistic traditions, and vibrant cultural scene.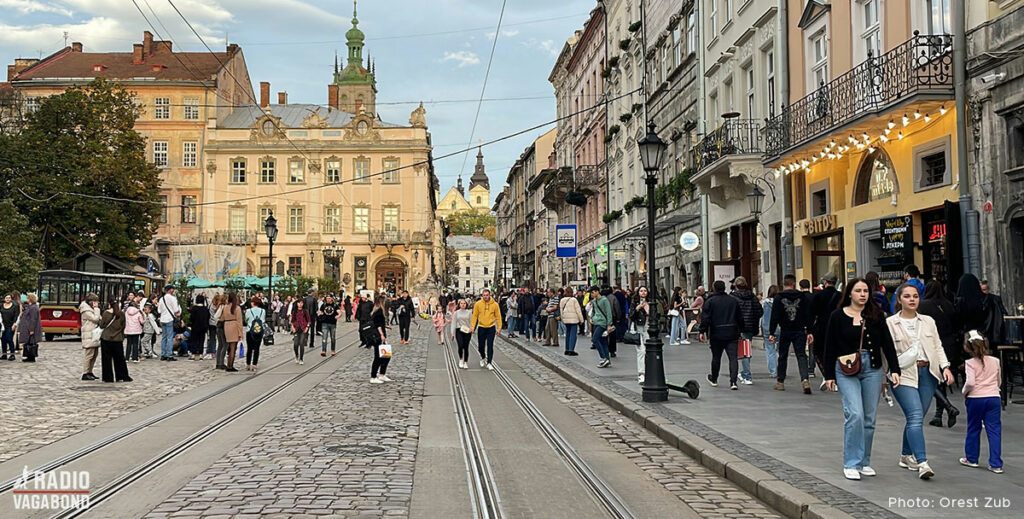 The historic city center of Lviv is a UNESCO World Heritage Site. It is known for its well-preserved medieval and Renaissance architecture, cobbled streets, and numerous churches, making it a popular destination for tourists.
Lviv also has a flourishing street art scene, and you can find murals and graffiti throughout the city. And you really don't feel you're in a country at war. Life goes on and there are thousands of people in the street. And a lot of street performers.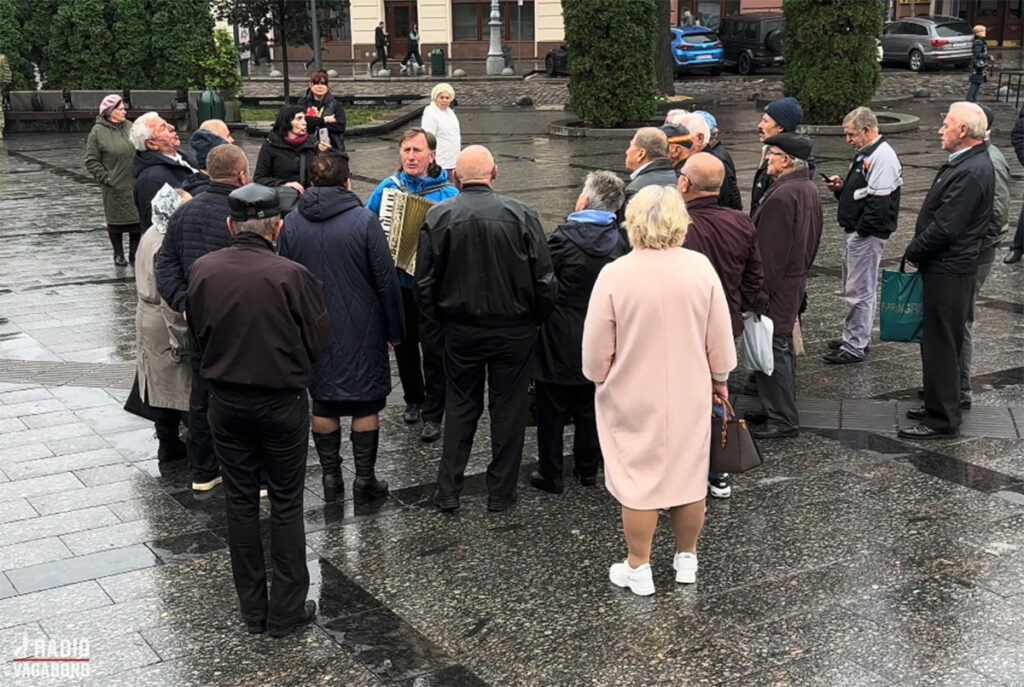 Lviv is also known for its many cultural festivals. One of the most famous is the Lviv International Jazz Festival, which draws musicians and jazz enthusiasts from around the world. And it has a strong coffee culture and is often referred to as the "City of Coffee" or the "Coffee Capital of Ukraine." With a long history of coffeehouses and cafes, some of which date back to the 18th century.
I'm looking forward to being back in Lviv in a few days, but now it's time to head east.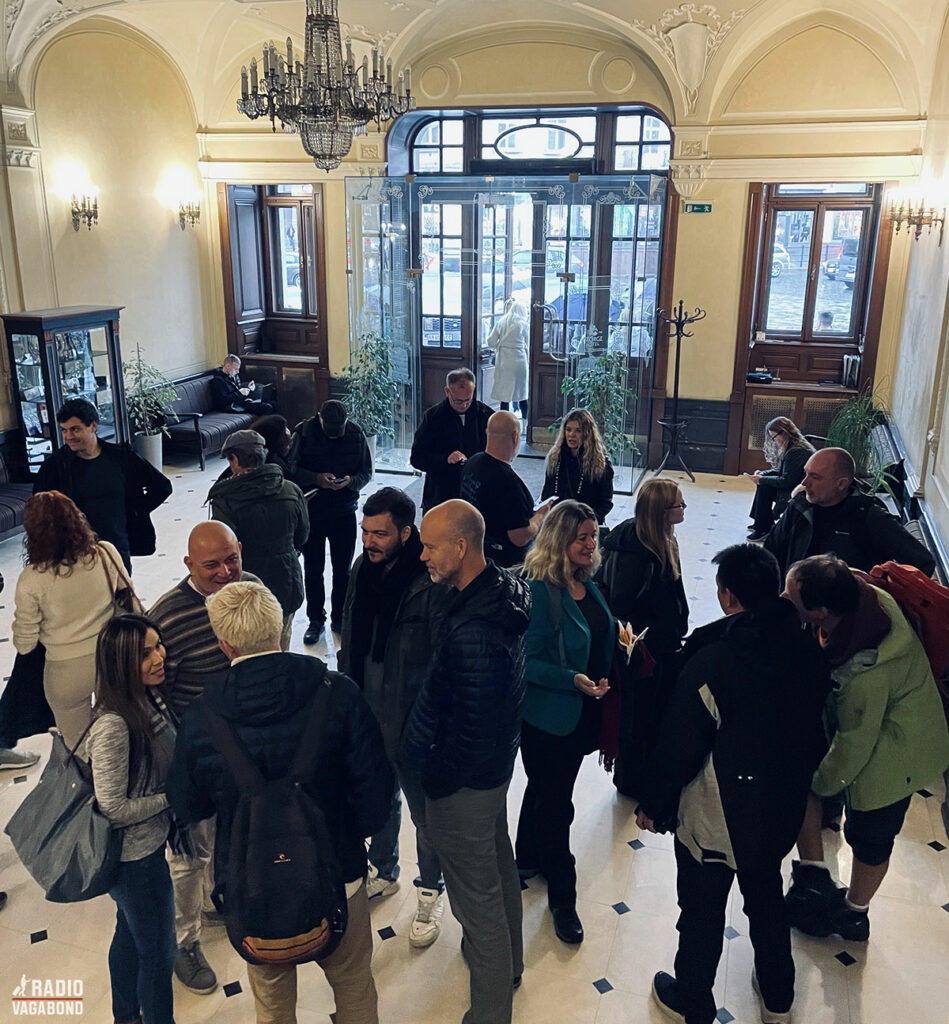 Dimitri a Ukrainian Refugee in Poland
Before going on this tour to Ukraine I was in Krakow in Poland close to the Ukrainian border. And here I met one of the many Ukrainian refugees. His name is Dimitri Salienko and he fled with his wife and 10-year-old daughter. They came here six days before I met him on the Main Market Square and got to spend some time together.
Dimitri is from a Ukrainian city that has been suffering the most. It's and is now under Russian control. So, let's take a few minutes to talk about Dimitri's city, Mariupol.
If I were to describe Mariupol before the war, it would sound something like this. Imagine me saying this in 2021:
Mariupol is a vibrant port city in the Donetsk Oblast, located in south-eastern Ukraine near the border with Russia.
The city was founded in 1778 and has a rich history. Throughout history it's been influenced by various cultural and political shifts over the years, including periods of Russian, Soviet, and Ukrainian control.
Mariupol is important in Ukraine as a major industrial and economic center. It has a significant steel industry, and its port is one of the largest in the Sea of Azov, making it a vital gateway for trade.
In January 2022, the city had an estimated population of around 425-450,000 people and it's known for its diverse population, including Ukrainians, Russians, Greeks, and other ethnic groups. This multiculturalism is reflected in the city's culture and cuisine.
The city has a reputation for hospitality, and many visitors to Mariupol report positive interactions with the friendly and welcoming local residents.
The city has many cultural and historical attractions, including theatres, parks, and museums. The Mariupol Art Museum and the Mariupol History Museum are among the notable cultural institutions. But it's also known for its picturesque seafront promenade. This area features parks, beaches, and recreational facilities and it's a popular spot for locals and tourists, especially during the summer.
Now, that's what it would sound like if I was to describe it before the Russian invasion. And this is where Dimitri and his family was living a comfortable life. Both him and his wife had business. She was doing nails and beauty care, and he had an auto mechanic garage and a car paint shop.
It was going well, and they were able to travel a lot.
"One day my life is completely changed. It's broken. When Putin entered my country my life was turned into rublles."
The siege of Mariupol started in the first days of March, and it was hard and unreal for Dimitri to witness his city and his life turn into rubbles.
Seeking Shelter
Like so many other citizens of Mariupol, they had to seek shelter in basements, and one time Dimitri and his family were underground with another six people for three weeks. During that time, Dimitri lost 11 kilograms (24 pounds.)
Imagine the stress as you're hearing the bombing of your city above you and not knowing if the building would be hit and collapse, trapping you inside, and being there with only 2 kg of potatoes and some water. During those three weeks, Dimitri lost 11 kg.
At the same time, he was trying to stay confident and strong for his then 9-year-old daughter. The whole thing has given them all psychological problems. Dimitri describes how his daughter suffers.
Eyewitness to a War Crime
Dimitri gave me his last name, but I chose not to use it. It wasn't something he asked me to, but for his and his family's safety I'm not. Because what he tells me next is such a big accusation that it could potentially get him into trouble.
Because one day in the early days of the invasion, Dimitri saw something with his own eyes in a small forest in the outskirts of Mariupol. A little girl, his daughters age was tied to a tree and being raped by Russian soldiers laughing and having fun.
Dimitri couldn't do anything.
"There was one girls, maybe nine years old or maybe ten years old. No more. They were raping her in the front of the tree. I saw it with my own eyes, Russian soldiers, I saw it.
Small child, she was crying and the Russian army with guns makeing fun. I saw it. But what can I do that? What can I do? I had to be quiet and escape. Because if I don't escape, they would shoot me in the street. It's hell. It's hell."
Like you, I really don't understand how a group of men – some of them maybe also fathers, would think that it's okay to group-rape an innocent little girl from their neighbouring country.
I told a friend about this and played this clip to him, and he said that it can't be true. That this must be something Dimitri is making up. Honestly, I can't know for a fact. I wasn't there. Thank God, I wasn't there! This is just what he told me, and I could look into his watering eyes, and I felt confident that he was telling the truth.
If you want to see a video with the entire interview with Dimitri, I had that day over a glass of orange juice on a sidewalk café in Kraków, go to the blog post for this episode on theradiovagabond.com. And then, judge for yourself.
Mariupol Fell in March 2022
On 28 March, the mayor went on tv and said: "we are in the hands of the occupiers today" and a spokesman for his office announced that nearly 5,000 people had been killed in the city since the start of the siege. And the Ukrainian government claims that between 20,000 and 30,000 Mariupol residents had been sent to camps in Russia under Russian military control.
After the siege this once beautiful city looked a lot different: The UN estimates that 90% of the residential buildings were damaged or destroyed.
An example of an attack happened on 9 March 2022. The Russian Air Force bombed the Maternity Hospital, killing at least four people and injuring at least sixteen, and leading to at least one stillbirth. Ukrainian president Volodymyr Zelenskyy, the European Union head of Foreign Affairs, Joseph Borrell, and British armed forces minister James Heappey described the bombing as a war crime.
But the most horrific air strike that will go down in history happened a week later when the Theatre was bombed.
It was filled with locals seeking shelter. Men, women, children, young and old people. Even though they had written "Children" in Russian on the ground outside the theatre in big letters that could be seen from the sky. Later after thorough investigations, Amnesty called it a war crime and, in a report, they said that Russian forces "most likely intentionally targeted" the building knowing it was a civilian site.
70% of the population was forced to leave, and among those Dimitri, his wife and their 10-year-old daughter. Once a business owner and upper middle class in a big Ukrainian city. Now living in the railway station in Krakow, Poland.
Mariupol was one of the first cities under attack. Another one being Kharkiv where we're heading now.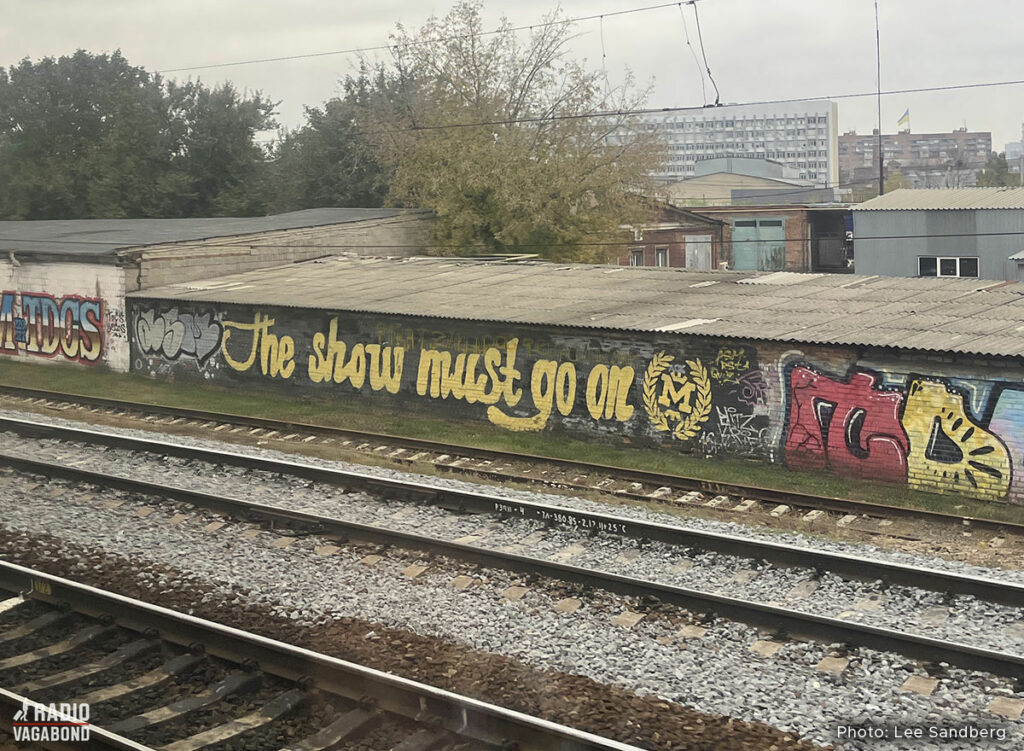 Heading to the Frontline in the East
On the train I get a chance to get to know more of the people on the tour. One of them is a young American from New Jersey called Lee Sandberg. Like Lee, for me it's also my way of showing support to the brave Ukrainian people, and of course also to be able to share what it's like in Ukraine, right here on The Radio Vagabond Podcast.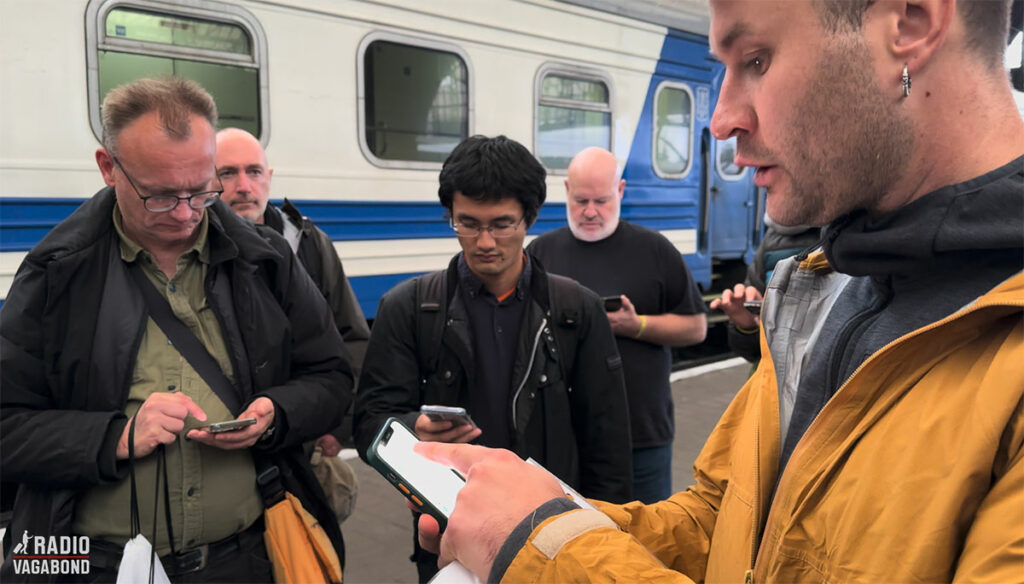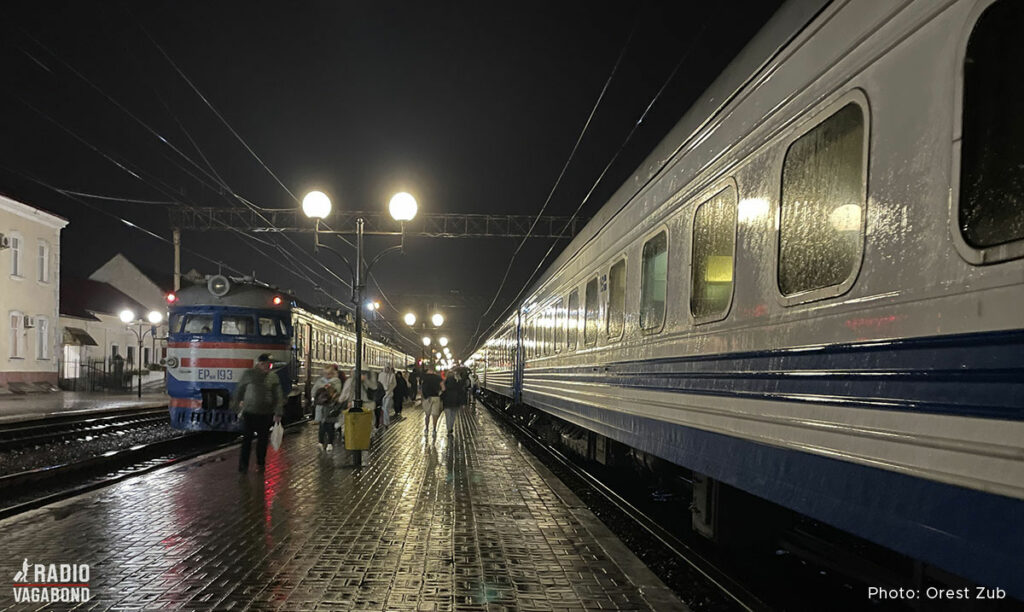 Almost as Big as Texas
Ukraine is big country. Slightly larger than France, 1.5 times bigger than Spain and around four times the size of the UK. If you're more into comparing US states, it's almost the size of Texas and significantly larger than California.
And since we're going from one end of the country it takes a while. This is a 15-hour train ride. It also means that Lviv is far away from the front line of the war, while Kharkiv is much closer.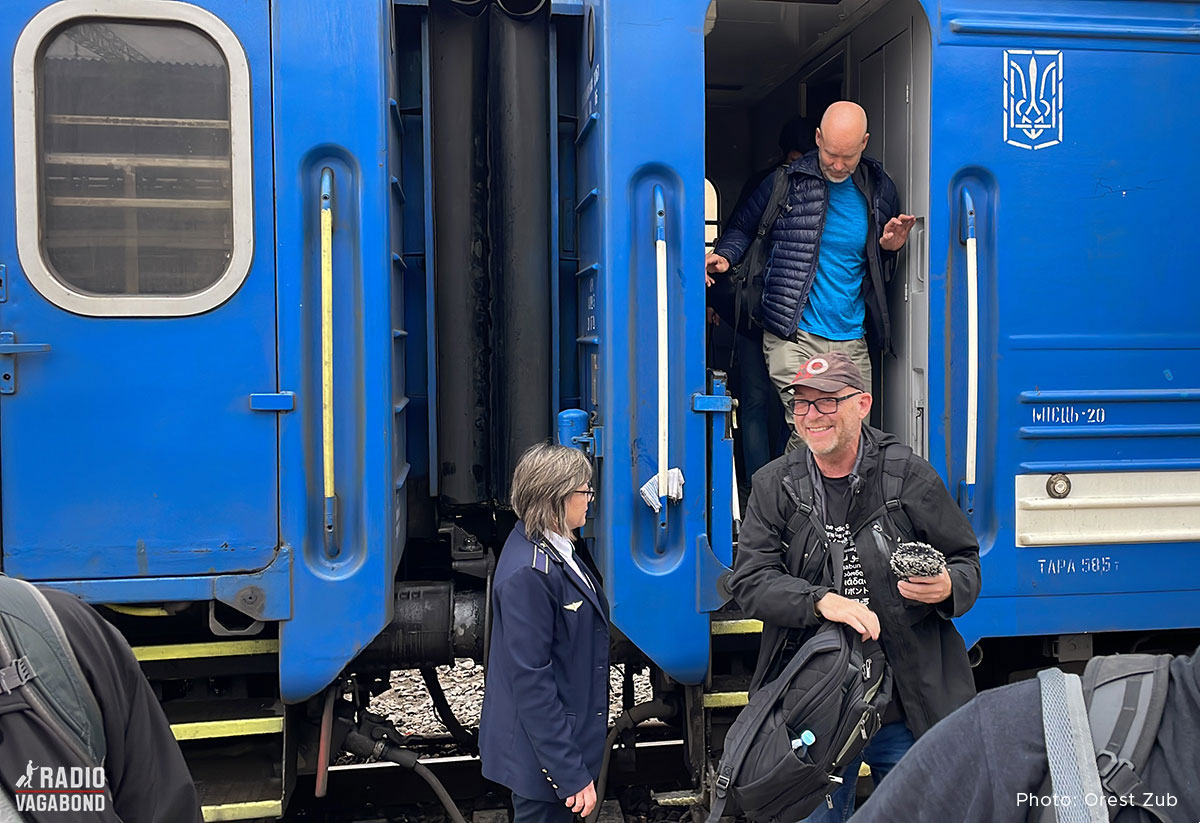 Arriving to Kharkiv
After a long night on the train, we made it to Kharkiv – just 30 km (20 miles) from the Russian border.
Andriy Nimkovych, from the local NGO, Rescue Now met us at Kharkiv station.
Size and Population
Before the war, Kharkiv had a population of around 1.4 million people, making it the second-largest city in Ukraine after the capital, Kyiv. Over a half of the residents left the city at the start of the war, but officials say many have returned to Kharkiv, with an estimated 1.2 million people currently living there.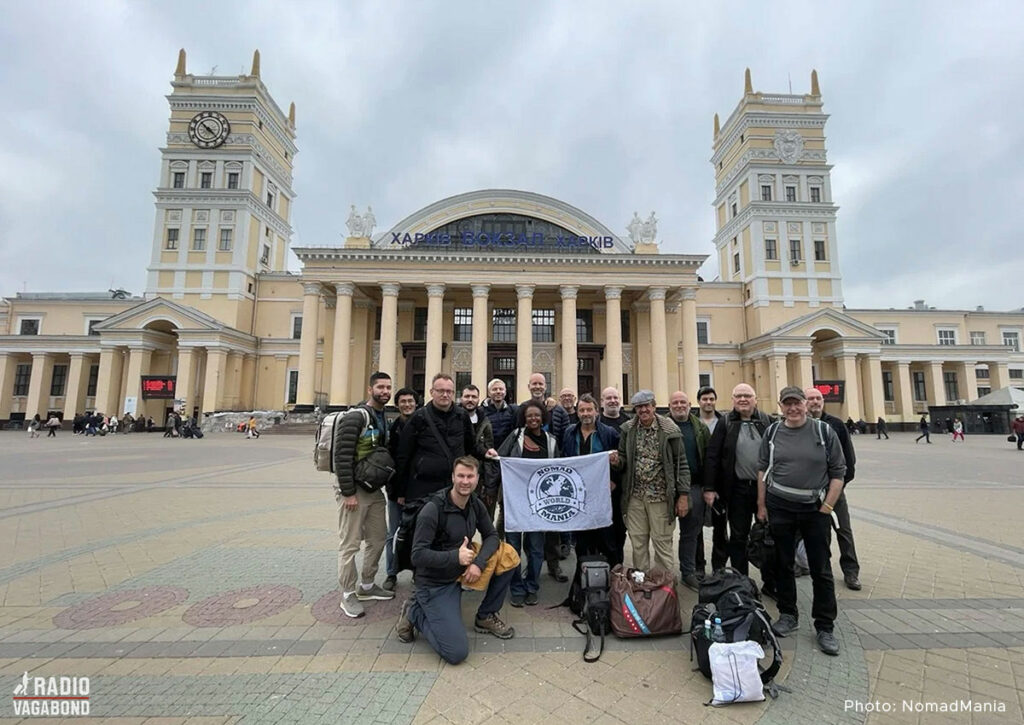 Former Capital
Kharkiv was the capital of the Ukrainian Soviet Socialist Republic within the Soviet Union from 1919 to 1934, and it played a crucial role during the early years of the Ukrainian Soviet government.
Language
Ukrainian is, of course the official language of Ukraine, and the majority of the population in Kharkiv speaks Ukrainian. But being this close to the Russian border, Russian is also widely spoken and understood. In recent years, and especially after the invasion, there has been a stronger emphasis on promoting the use of the Ukrainian language.
Industry and Economy
Kharkiv is an industrial and economic powerhouse in Ukraine. It is known for its aerospace and defence industries, machinery manufacturing, and IT sector. The city hosts numerous technology and innovation parks and is considered one of Ukraine's main IT hubs.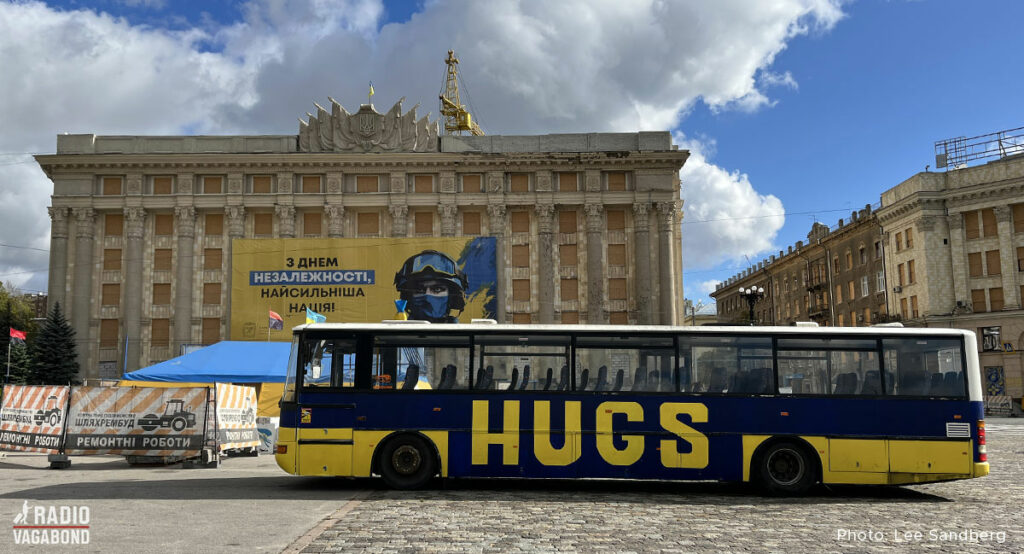 Transportation Hub
Kharkiv is an important transportation hub, with a major railway station and an extensive network of trams, buses, metro, and trolleybuses. Public transport operates on schedule and is free to use.
Metro system
Speaking of the Kharkiv Metro, it was the second in Ukraine (after Kyiv) and it opened in 1975. The metro consists of three lines that operate on 38.7 kilometres (24.0 mi) of the route and serve 30 stations. Many residents moved to the underground metro system to stay safe from the Russian attacks, but in May 2022, Kharkiv mayor announced that the metro would restart operations and that residents should move out of the metro system. In September 2023 small schools were created in five metro station so that education would continue during the ongoing Russian bombing of Kharkiv.
Witnessing the Impact of War in Ukraine
Quite a few buildings in the central area are damaged as a harsh reminder of the war going on right here. But despite everything, the city is surprisingly lively with traffic, shopping, people minding their daily business and other indicators of a "normal life". So, life goes on no matter what.  
After quickly visiting the local Rescue Now headquarters and getting a first glimpse of Kharkiv as a city still alive, we were back on the bus after breakfast. Here, Harry told us to quickly get on and off the bus. There couldn't be any extended time waiting outside.
We're joining the NGO in its three-times-weekly trip to the East, providing vital aid to locals whose homes had been lost or destroyed. The road East of Kharkiv is well-paved but scaringly empty of traffic the farther away from the city we went. We passed several checkpoints, and Orest and Harry reminded us not to take photos.
We largely bypassed Izyum and headed straight to a village called Kam'yanka, five kilometres further. Everything had been flattened here. It's a village without any significance, already poor to begin with, had been mostly reduced to rubble, with the school and hospital destroyed and unusable car wrecks scattered at the edge of the dirt roads of this forgettable village.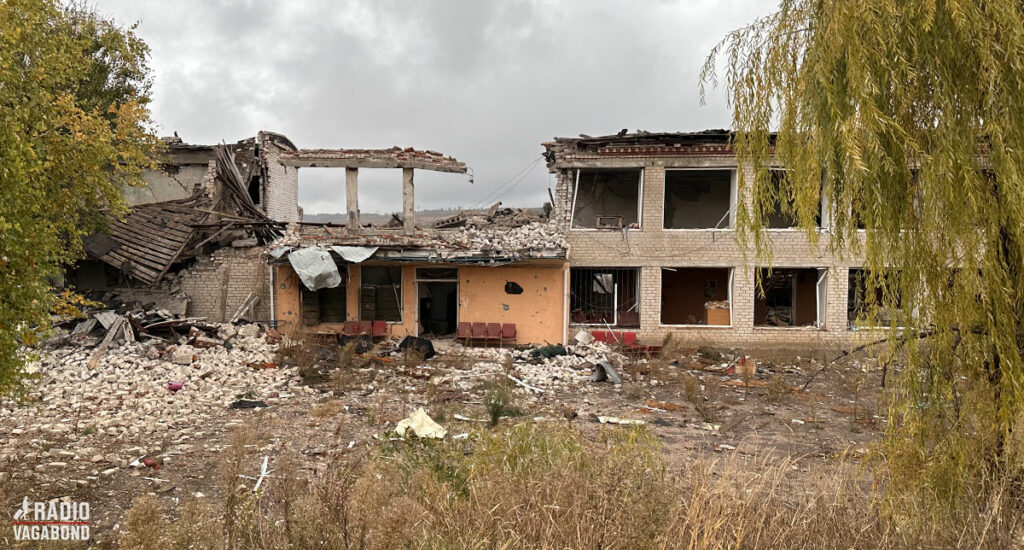 Humanitarian Aid and the Power of Presence
Before the war the village had over 1,000 inhabitants. Only 72 of them have dared to come back. And back to what, I'm thinking. Only ruins here and I didn't see a single building that wasn't destroyed.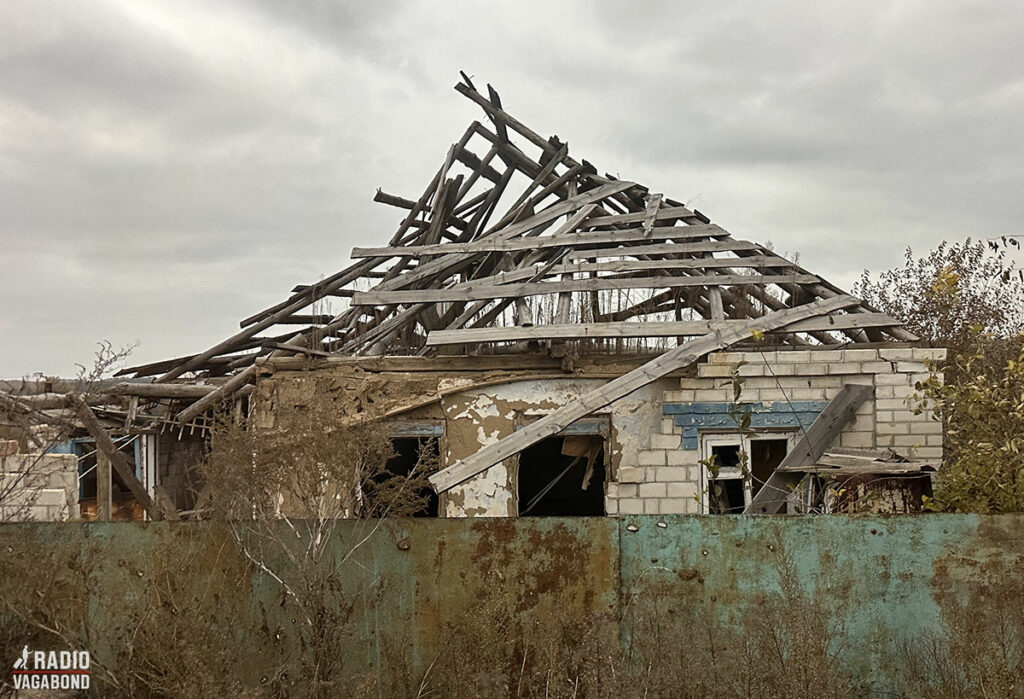 It's in this village, we were told to stay on the roads – as there could be land mines. Just a day before we arrived here a boy stepped on a land mine, so it's a real threat. We met one of these people in front of his destroyed house. The man invites me into his garden to see his destroyed house, and a few followed him. Per reminded them that they shouldn't. That there might be mines there.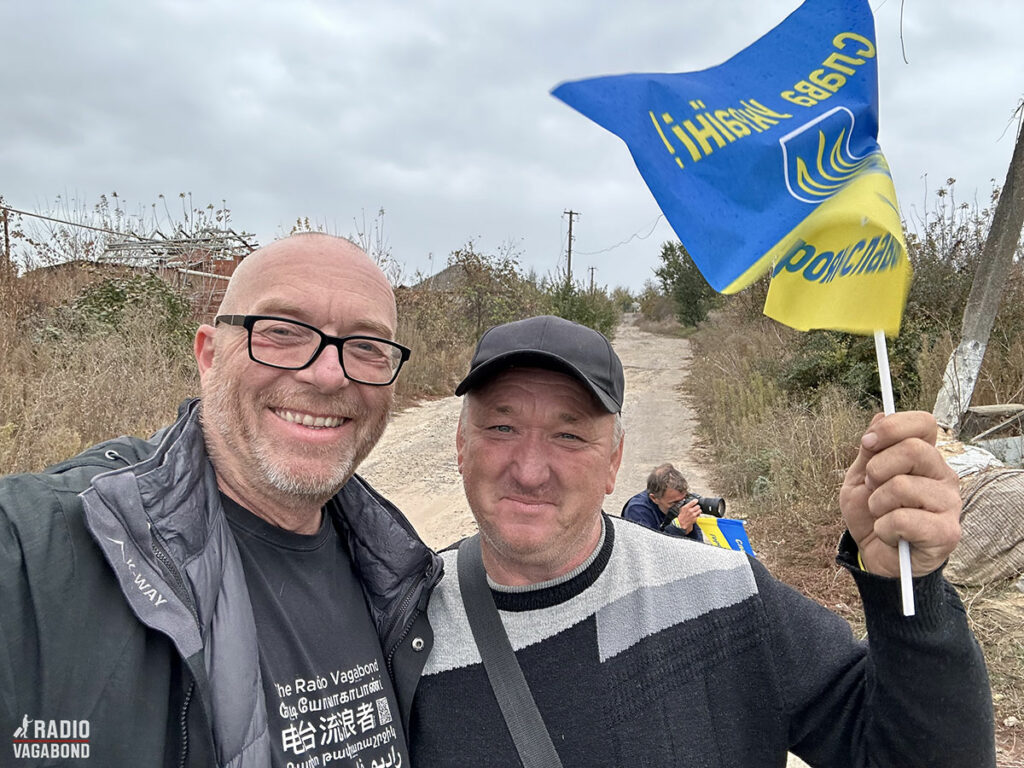 Land mines are a real threat here.
It's in this village we were told to stay on the roads – as there could be land mines. Just a day before we arrived here a boy stepped on a land mine, so it's a real threat. The man invites me into his garden to see his destroyed house, and a few followed him. Per reminded them that they shouldn't. That there might be mines there.
In the side of the streets, we saw many cars that had been run over by Russian tanks and one wonders if there is any future for a village like this. And yet, the aid was delivered, the locals were happy to see a foreign group, and some even gave out Ukrainian flags as gifts.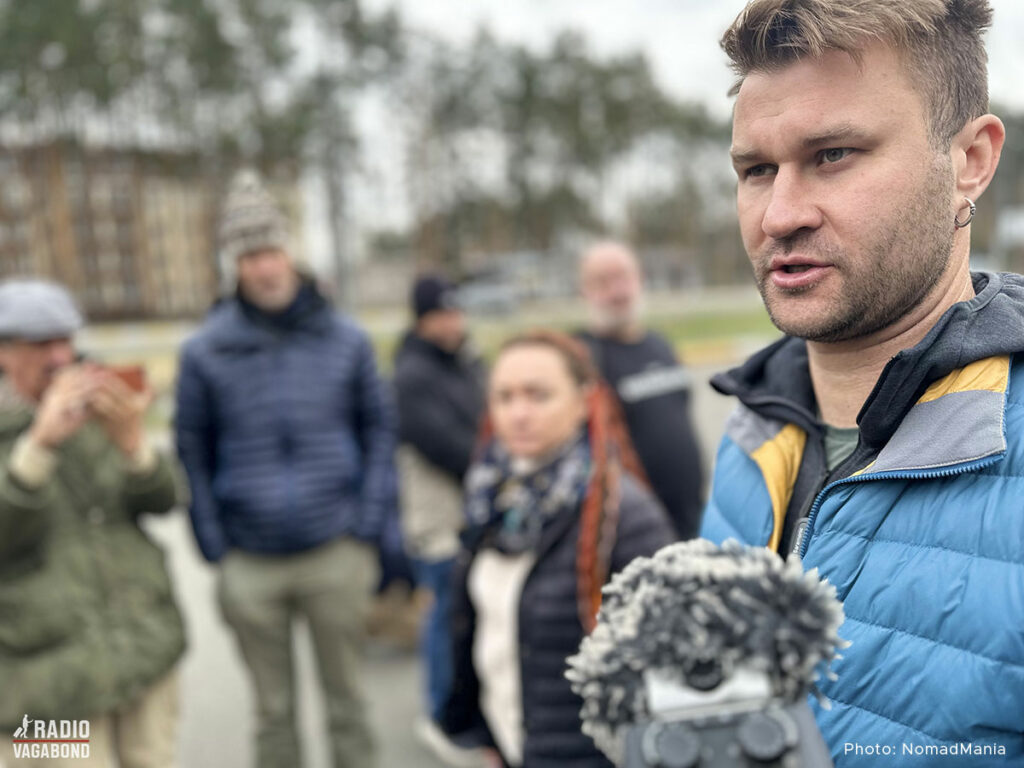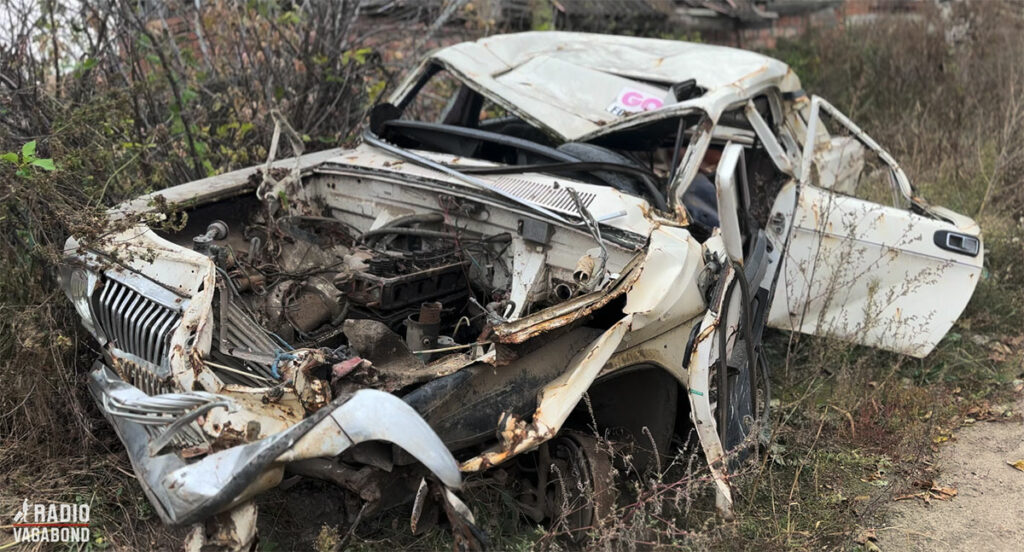 In the side of the streets, we saw many cars that had been run over by Russian tanks and one wonders if there is any future for a village like this. And yet, the aid was delivered, the locals were happy to see a foreign group, and some even gave out Ukrainian flags as gifts.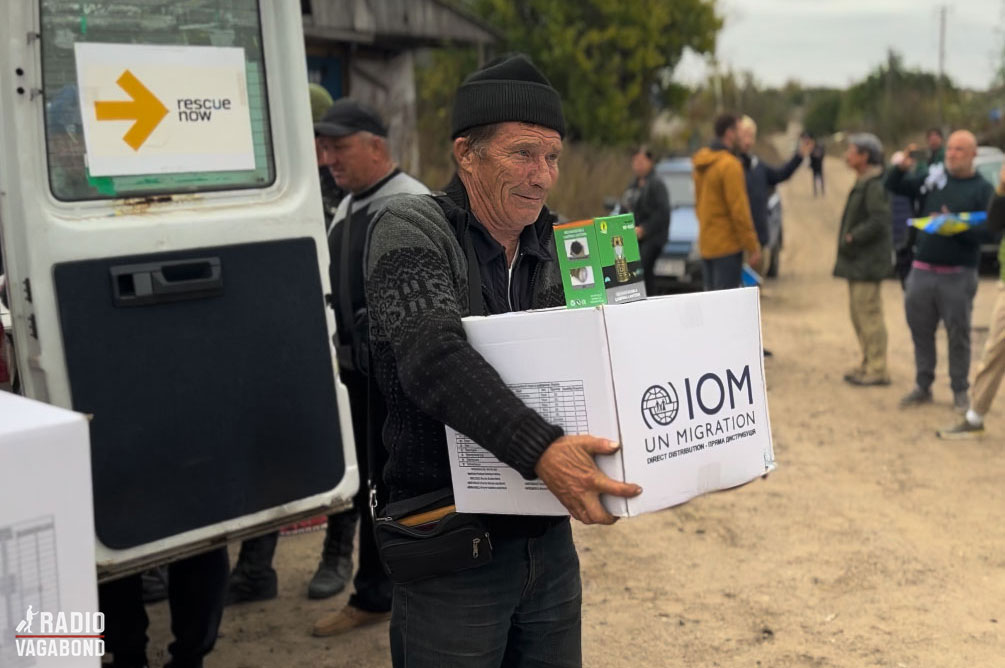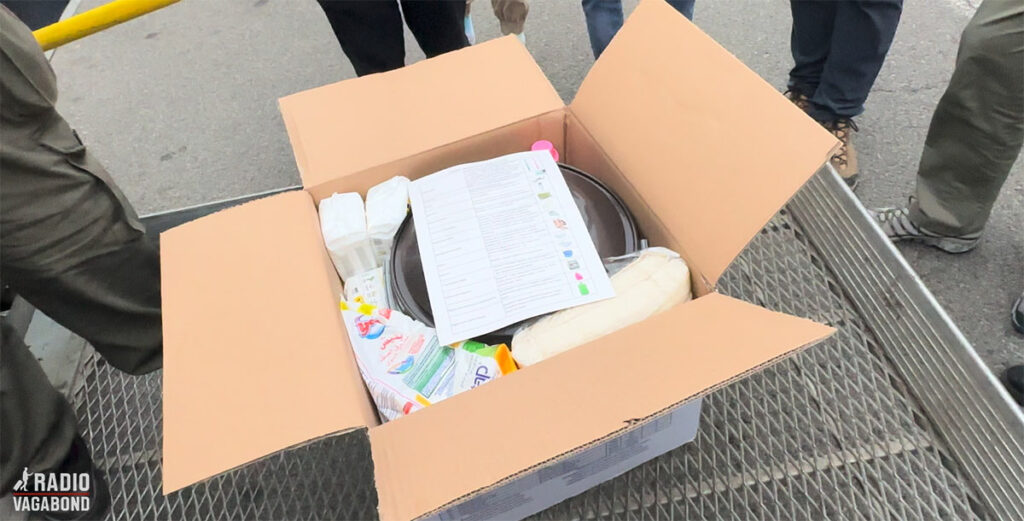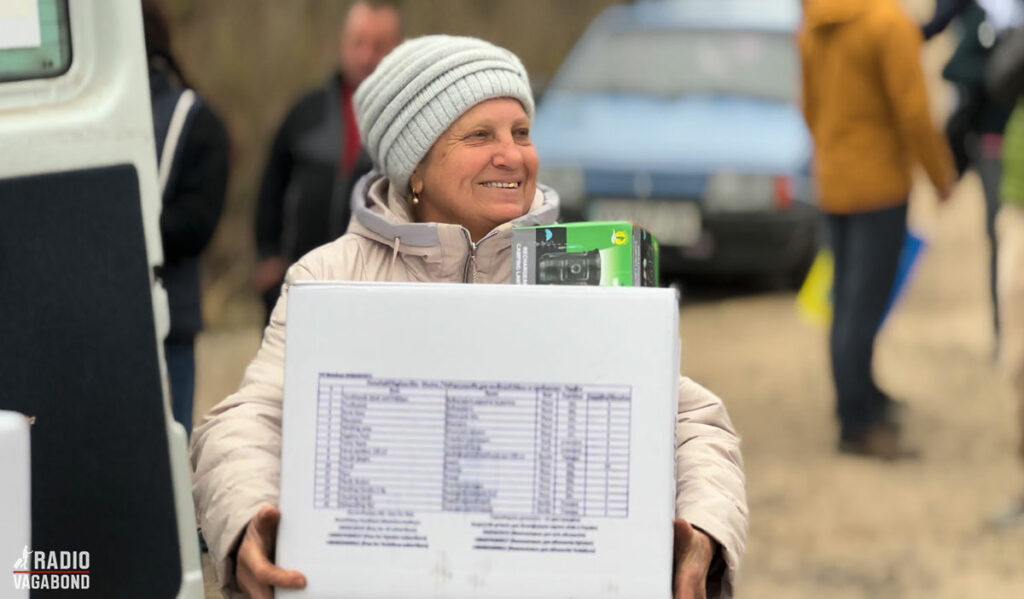 Sewing Camouflage Nets for the Troops
In Izyum, we saw many destroyed buildings that have become tombs for people hiding in the basements, with almost every government building shattered or at least partially destroyed. The 'I Love Izyum' sign stands almost ironically in the middle of the ruins.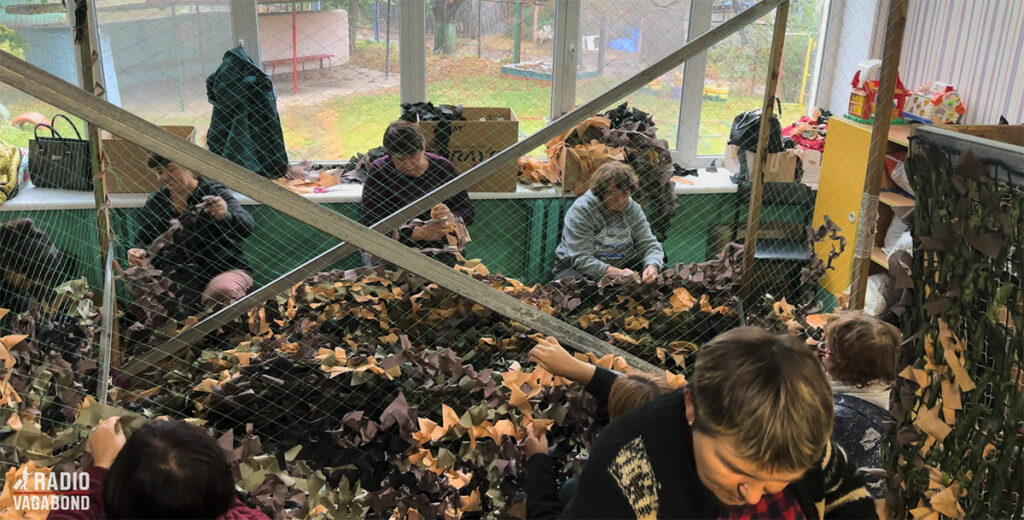 The other meaningful stop in Izyum was visiting a small back building where grannies were sewing camouflage for their soldiers. These women, who could have escaped, chose to stay put or had returned to their hometown and were stoically using their skills for their war effort.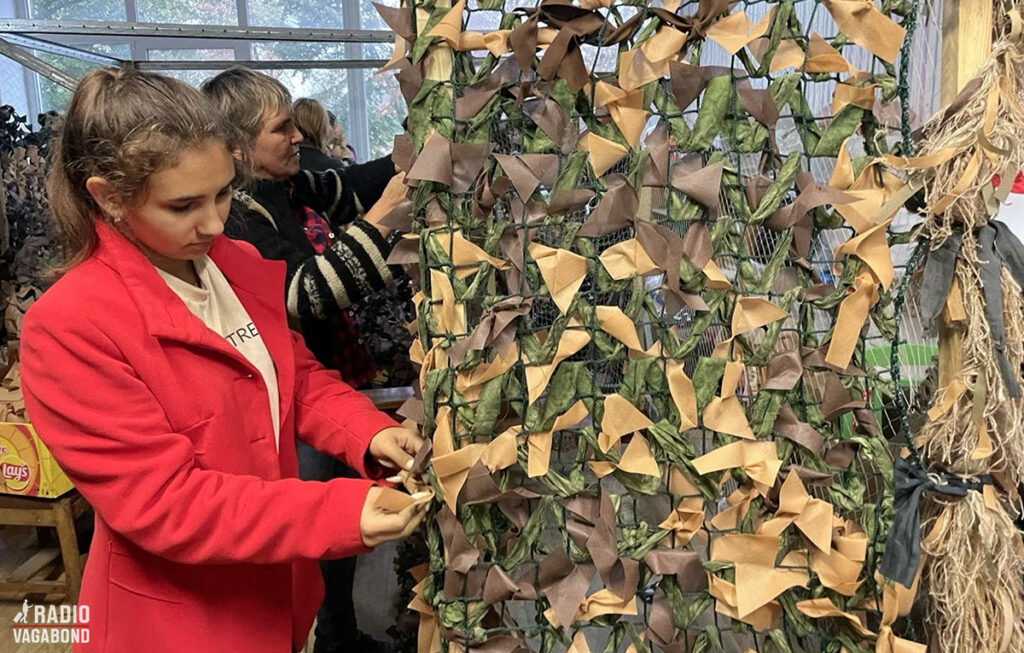 A Journey of Hope, Loss, and Determination
As I mentioned earlier there has been a stronger emphasis on promoting the use of the Ukrainian language. But being this close to the Russian border, Russian is also widely spoken and understood. And for some people it's their mother tongue.
I noticed that they had a jar where it said that they should put in a little money if you accidentally spoke Russian. Kind of a "Swear Jar" … to be used only if you spoke Russian. And you could swear as much as you liked.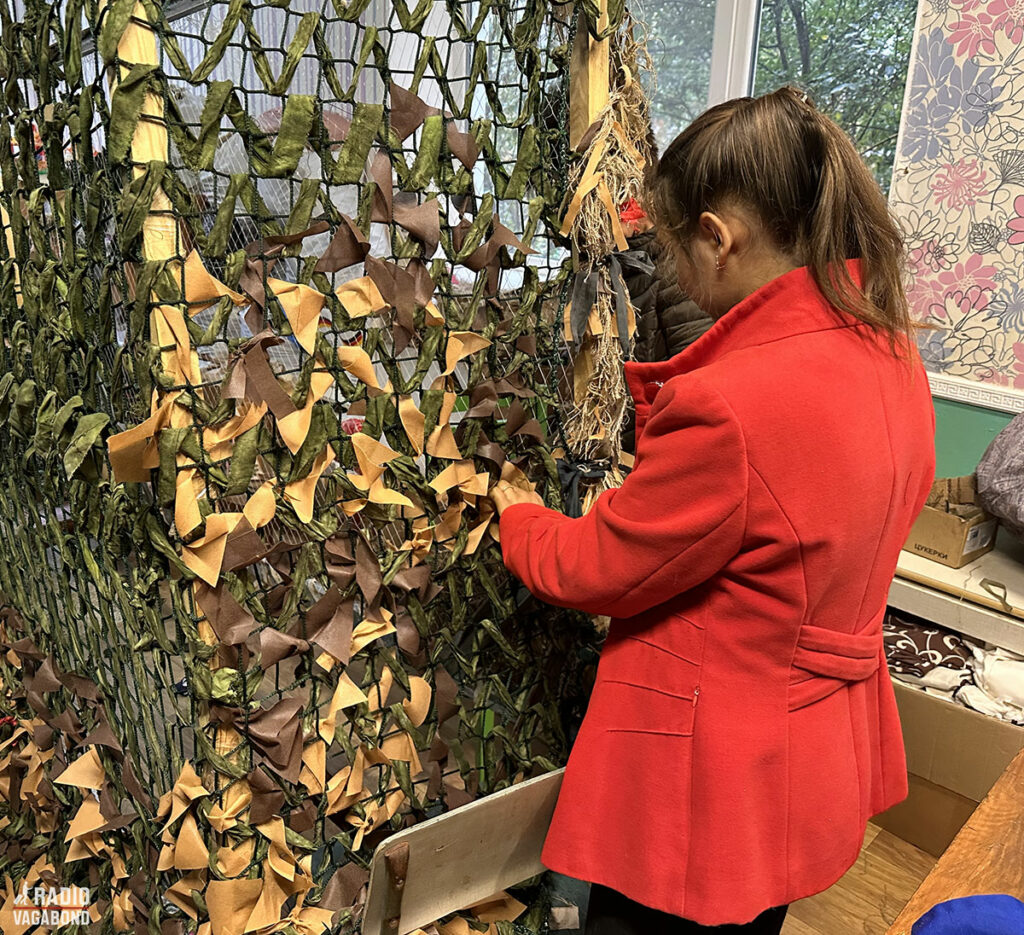 There was a woman in a blue knitted shirt with short grey hair, sitting at one of the tables working on a camouflage net for the troops. She looked at us. She looked at me holding my microphone. I guess she thought that she had an audience – and saw a soapbox. Because she had things to share. And she had a lot on her mind.
She started speaking in Ukrainian, and then she ignored the "Russian Swear Jar" on the table and switched to her native language, Russian – to be able to express herself.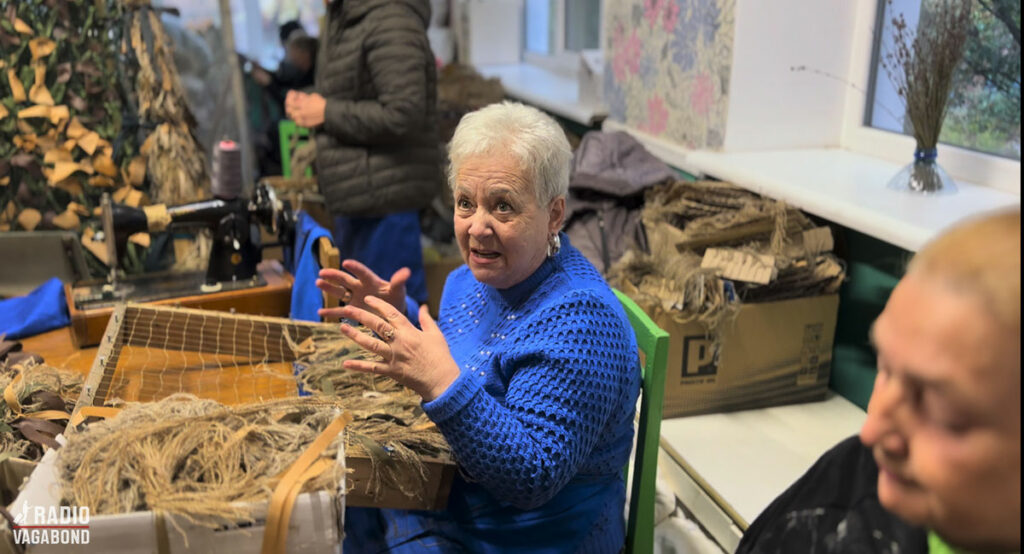 I've had someone translate what she said for me:
"We don't need gold, we don't need money, we need peace. We need our children, grandchildren, relatives to be alive. We have the right to live. 

All people want to live without war. We are Ukrainians. We are not bad people, you know?

We are the people of Ukraine. I want peace in the world. I want peace in the world. I want peace for everyone. I want peace for the English, for the Americans, for the Israelis? I want peace everywhere. 

I think that the whole world needs to help Ukraine. I don't know how. I'm not a politician. I'm just a normal woman, but I know that we need help. We really need help. 

Once Zelensky said: "I want to look Putin in the eyes." I'm a simple human being now, and I also really want to look him in the eyes, because he is lying. It's a lie, it's a lie. Why did he attack? Ukraine is not to blame. We have democracy. We really have democracy. And we appreciate it. Maybe someone doesn't like it. But we shouldn't be touched. Because Ukrainians are such a people that we can't stop halfway. We defend our own, our homeland, defend our children, our wives, our mothers? Please report this to everyone. You have already seen the city, you have seen our city, what a disaster. 

We are afraid. We are afraid. It is natural. It is life.

Why should we be friends with Putin? I don't want to be friends with him.

You see we are not politicians. We are ordinary people. When Russians came here, they walked around our villages, our small town, they came to our apartments, they were surprised how we live. How can Ukraine live so well they said… You have toilets? You have gas? You have a sink?

I'm telling the truth about what happened here. And they say they came to free us. And people said a few years ago, that if Ukrainian is attacked, they will not fight for the land. Yes, they said that. No. We will fight for freedom. Can you imagine? We were in a small town. And I saw people I know, people who died. Families were in the basement, just in the basement. They threw a bomb.

And here is a family … they came back for some reason … such a beautiful family. And they all died. Mother, father, husband, wife, child. They all died. And therefore, I hope that you never feel this way. That you never have this. Never. That you always see your children, your relatives, always be together. Always be together."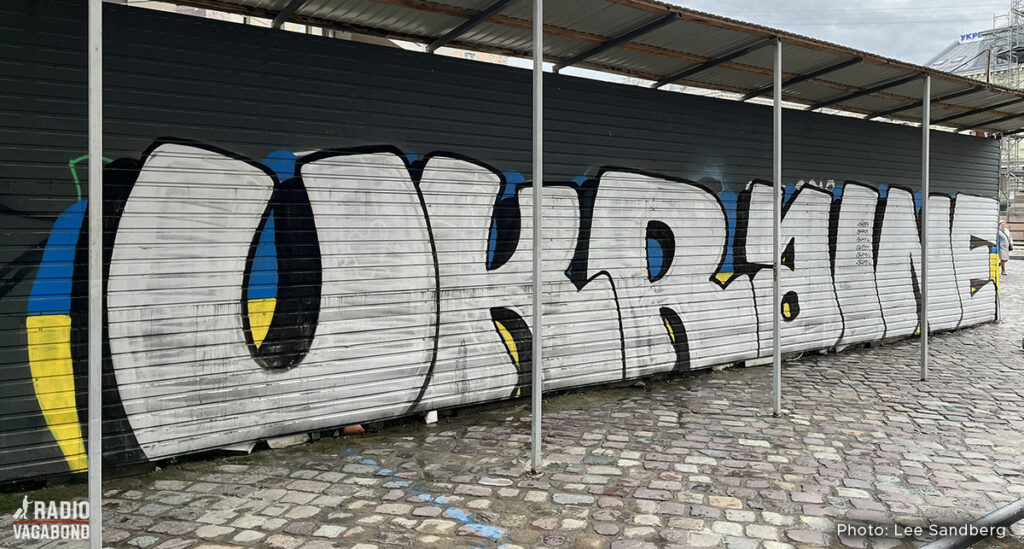 Lost a Part of his Personality
What does war do to a person? For Dimitri, it's not only his house and his company and the loss of lives in his community and his country, but as he says, also a part of his personality.
"I lose my financial. I lose more than €145,000 because I lost a house, I lost my company. In three days more than €145,000. But the financial is not the most important. It's important, but it's not number one. The most important thing is what I lose my ambition and my heart and my personality. I'm feeling like an animal because of Putin. I'm feeling like that."
And when I ask him about the future for himself and his family, Dimitri doesn't really have an answer.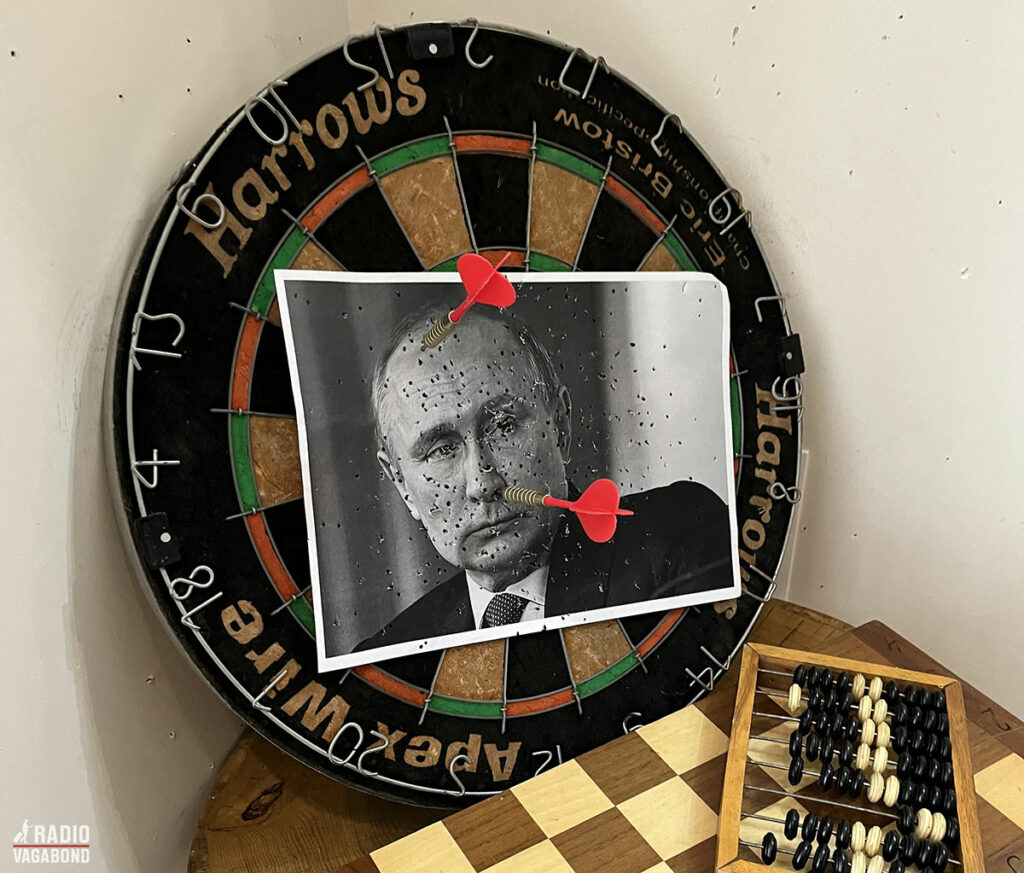 Join me in the next episode, where we continue the eye-opening visit and arrive at Kyiv, the capital of Ukraine.
My name is Palle Bo, and I gotta keep moving. See you.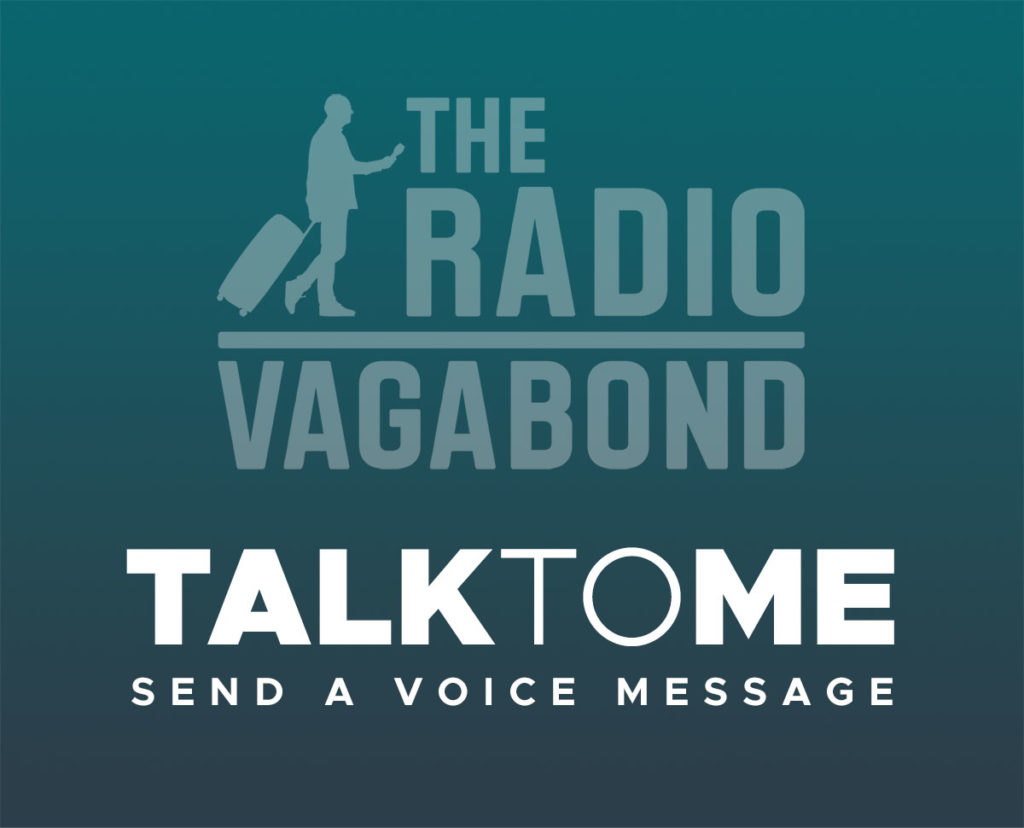 Either way, I would love to hear from you. It's so nice to know who's on the other end of this.
SPONSOR
A special thank you to my sponsor, Hotels25.com, who always provide me with the best, most affordable accommodation wherever I am in the world.
Hotels25 scans for prices on the biggest and best travel sites (like Booking.com, Hotels.com, Agoda and Expedia) in seconds. It finds deals from across the web and put them in one place. Then you just compare your options for the same hotel, apartment, hostel or home and choose where you book.
When you book with Hotels25, you get access to 5,000,000 hotel deals. And it's "best price guaranteed."
PRODUCED BY RADIOGURU
The Radio Vagabond is produced by RadioGuru. Reach out if you need help with your podcast.