I'm late
Before we start, let me apologise for being a week late with this one – and part two of my conversation with my Saudi friend, "J". But there's a good reason for that: The screen on my MacBook stopped working – again. You might remember that I broke it when I was in Uganda less than a year ago. At that time, there was a small crack on it. This time I did nothing. It simply just stopped working. Nobody knows why.
I had it replaced in March in Denmark, so only ten months ago. The Apple warranty only covers 90 days, but the Danish consumer law would give me 12 months. The only thing is that I'm not in Denmark. In fact, I'm halfway across the planet, so it was not an option for me to travel back to get it fixed. And the price of a new screen is more than a thousand dollars or Euros. So, I called Apple Support and was put through to a senior supporter who, after an hour, made an exemption. They would pay for the screen, and I only had to pay for the labour to the authorised computer repair shop in Cairns, Australia. So, while I was scuba diving in the Great Barrier Reef, they worked on it.
Now it's back, and so are the next episodes from Saudi Arabia. When I left you, I was in Al-Ula, where we start in this one.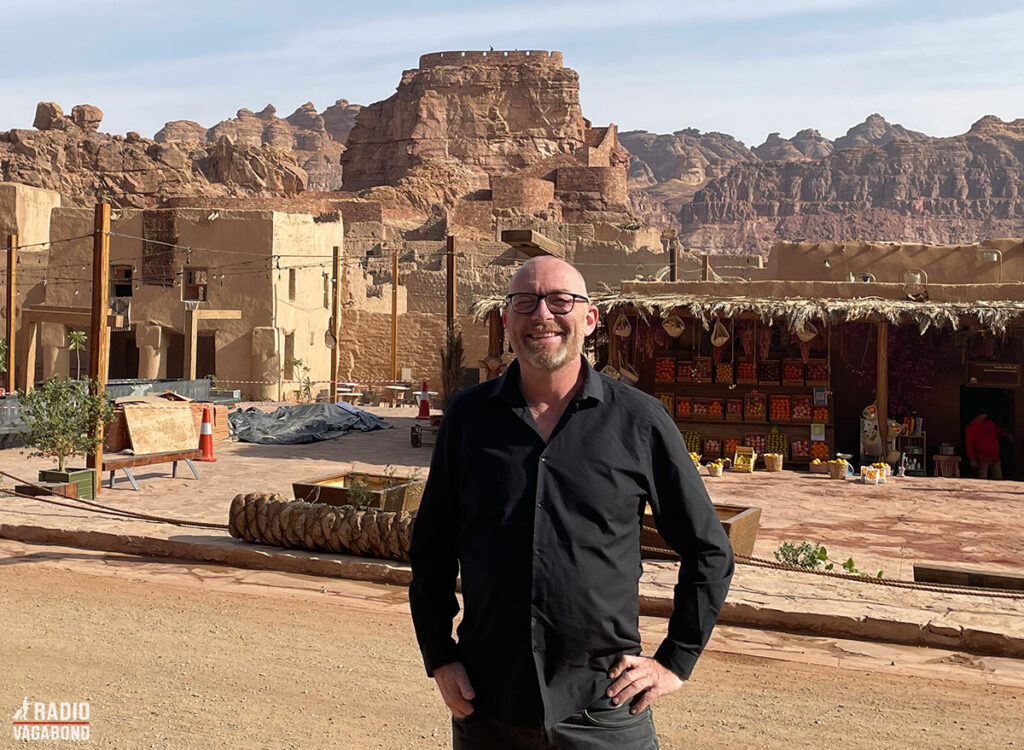 AL ULA: WHERE CULTURE MEETS NATURE
I'm travelling with my good friend Cynthia from Florida. We're in the north-western part of Saudi Arabia in the town of Al Ula. It is a stunning area, one I would like to return to later and spend a couple more days in.
We're only here two nights, and today we have a full day where we're trying to see if we can get a helicopter ride and hopefully also visit the world's biggest mirror building.
Al Ula – like all of Saudi Arabia, still remains largely off the global tourism radar, giving us plenty of space and time for reflection with the vast desert and the monumentality of its natural assets. You heard me in the latest episode tell you about the stunning natural rock formations and canyons, but there are also a ton of adventure sports options and cutting-edge art installations.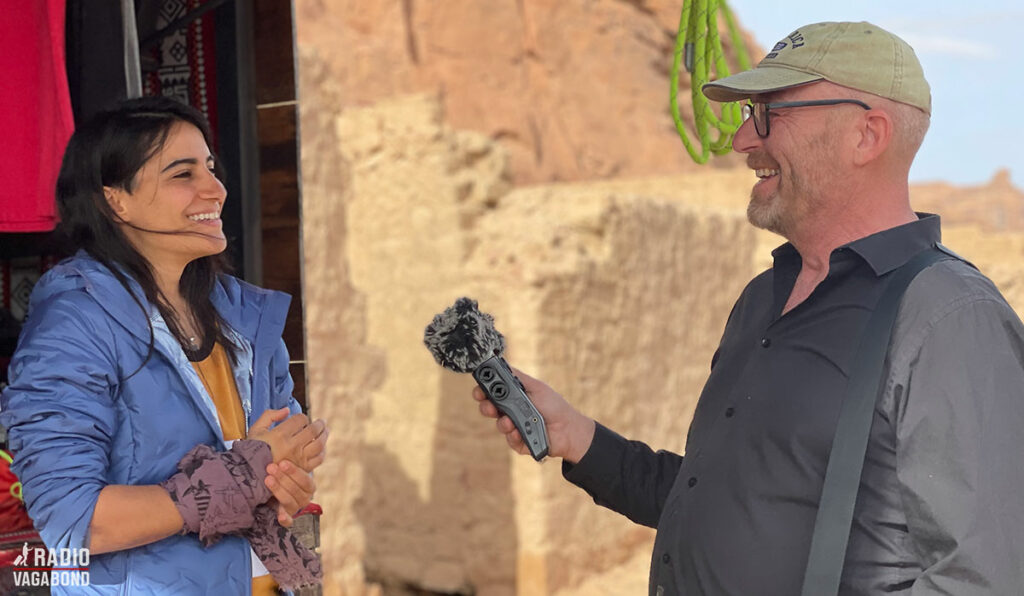 MEETING A HIP SAUDI WOMAN
In the morning headed straight to the vendor street located immediately above the "Old Town" of Al Ula to find a place for breakfast. The street is above the ancient city and looks new, but the construction of the shops and restaurants mirrors the style of Old Town. There were only a dozen tourists as we strolled the street around 10 am. Again, we have it to ourselves.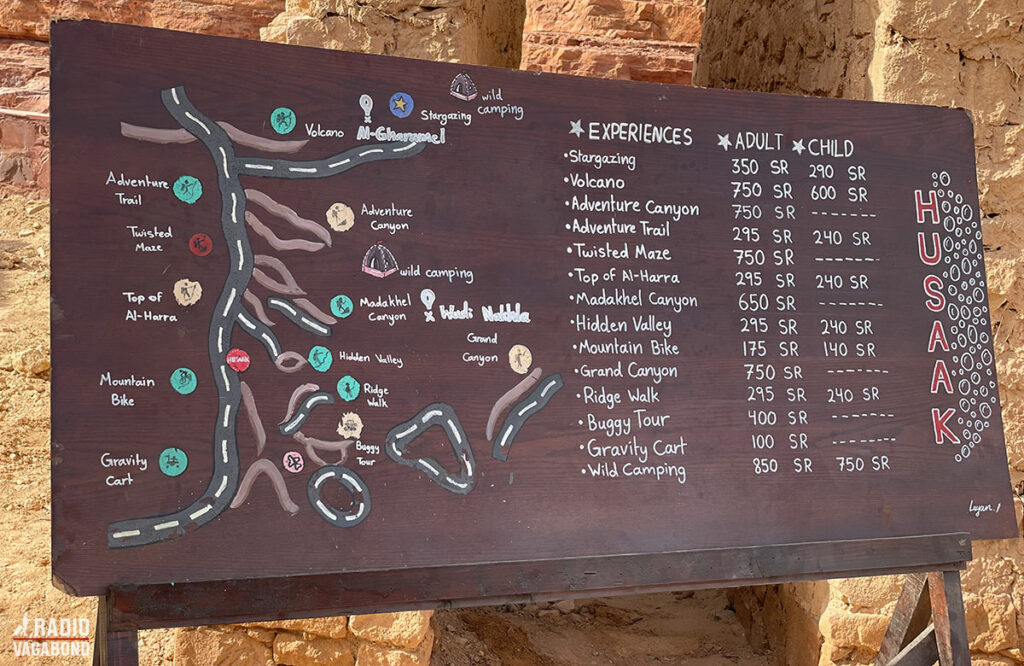 There was a small booth where the young girl, Dalal, was selling trips for an adventure company, Husaak Adventures. She was dressed in jeans and hiking boots and had no hair covering. Even though she didn't look and sound like the typical Saudi woman, she was: born and raised in Al Ula.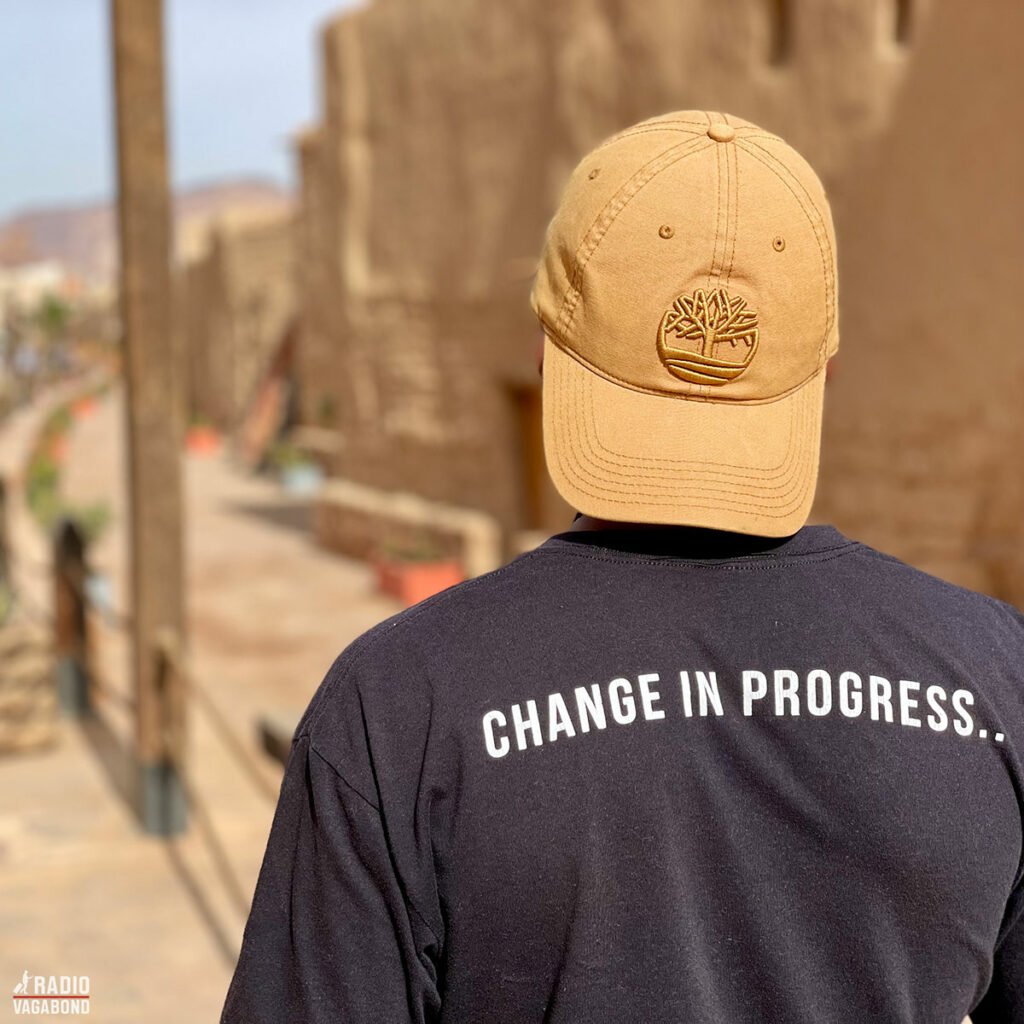 Change in Progress
Dalal spoke freely about how Saudi has been actively changing for five years, and she feels it is for the best and that it will benefit all citizens. She really looks like the next generation of Saudi Arabia. Her colleague was a young man wearing a t-shirt saying "Change in Progress" on the back.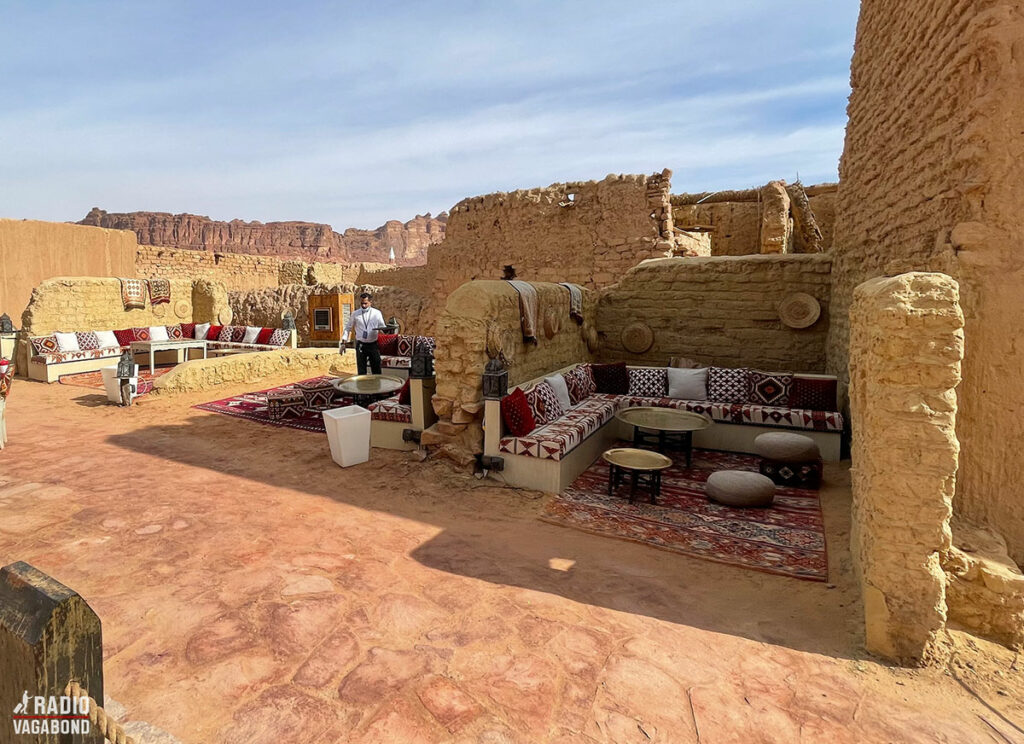 After our chat with Dalal, we were settled in for breakfast at Palm Garden Cafe in a Bedouin-style seating area with big couches in a private 'outdoor' room just for us.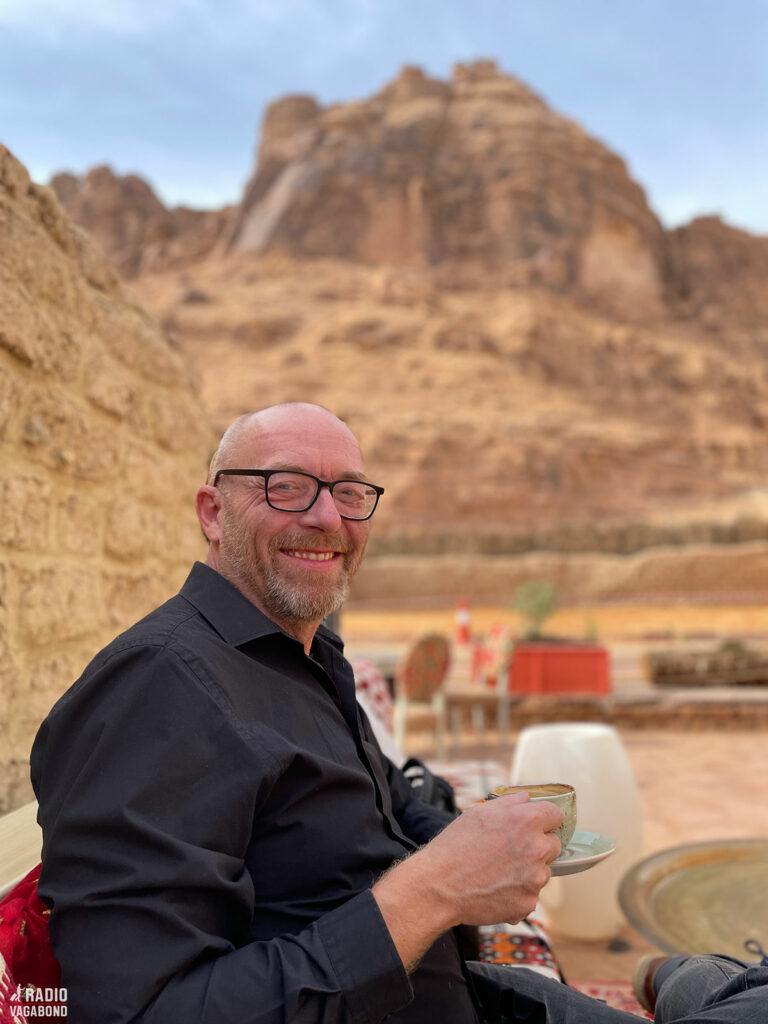 AL ULA OLD TOWN
After breakfast, we left the vendor street and walked down to the original Al Ula Old Town with 1300 mud brick structures that are remarkably intact.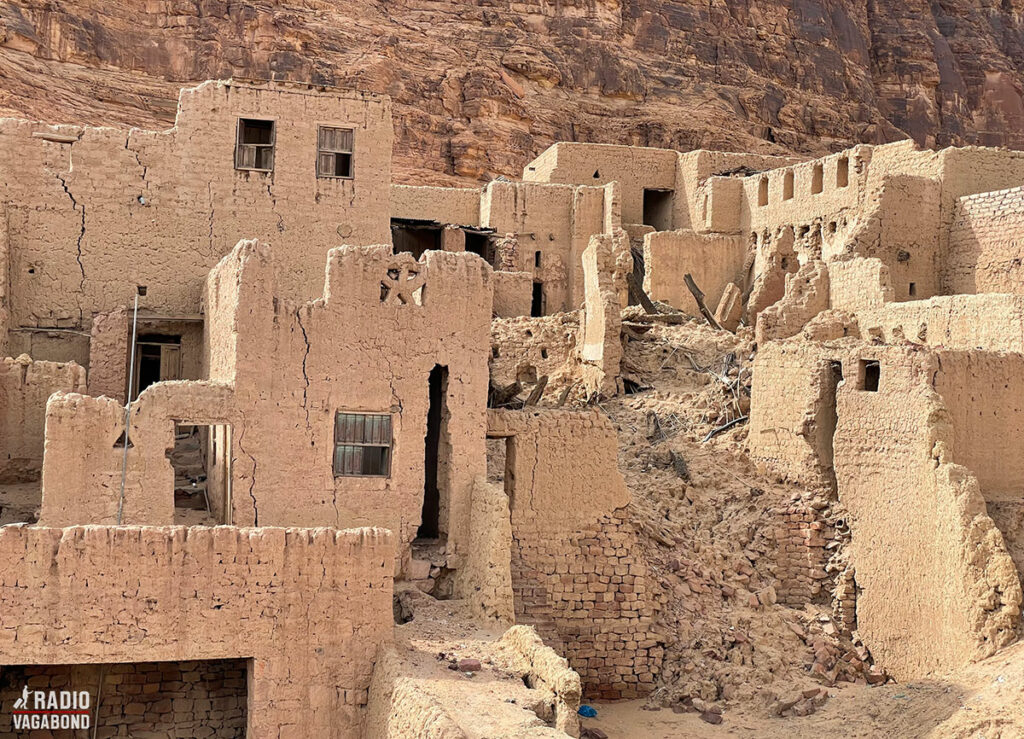 Al Ula is one of the oldest cities in the Arabian Peninsula, and once at the crossroads of The Silk Road and The Incense Route, Al Ula is rich in historical significance. In the 12th century, Al Ula Old Town became an essential settlement along the pilgrimage route from Damascus to Mecca.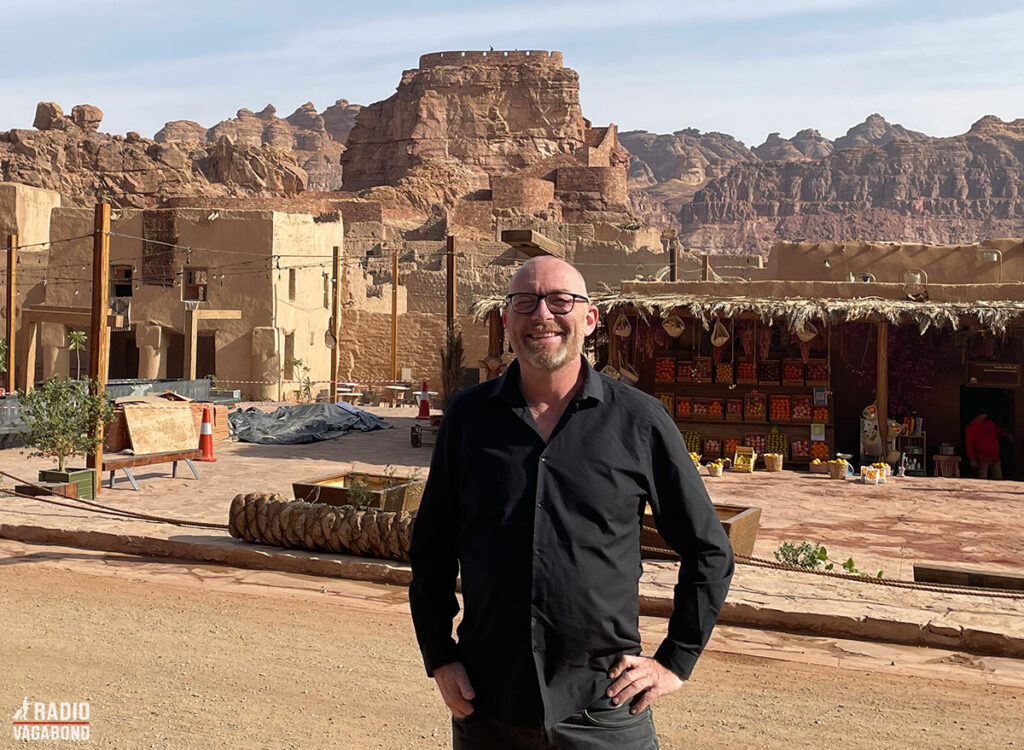 It's built on a slight elevation, and the town is overlooked by the Musa bin Nusayr Castle, a citadel dating back to the 10th century.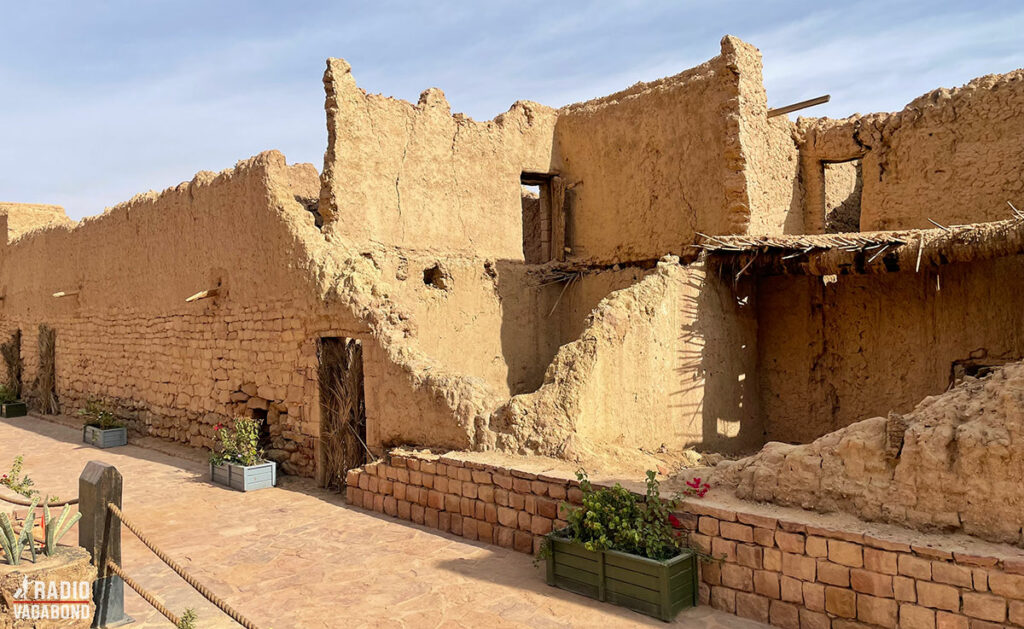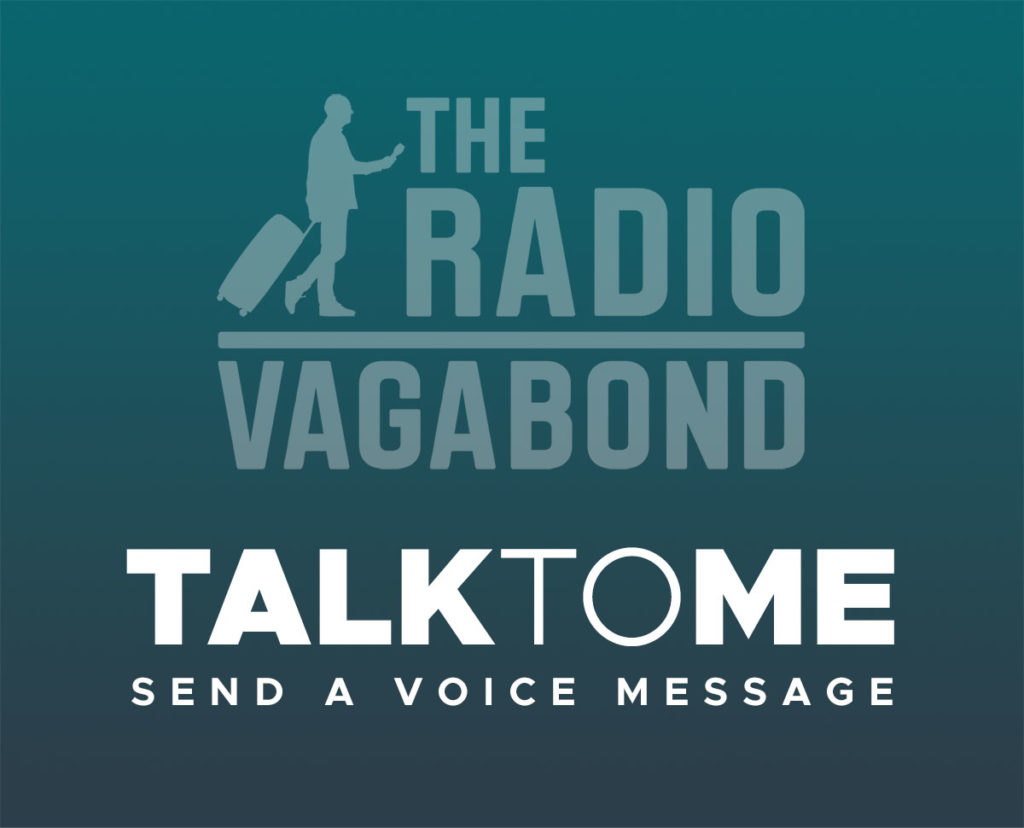 NO HELICOPTER
After leaving Old Town, we went to the office selling helicopter flights over Al Ula. We had a few questions for the nice woman selling the trips, like "are we guaranteed a window seat". She didn't know and said, "I just sell the tickets".
But then we discovered that the next available flight was the next day at 5 pm, and we knew we had to do that another time, as we would be leaving the next morning.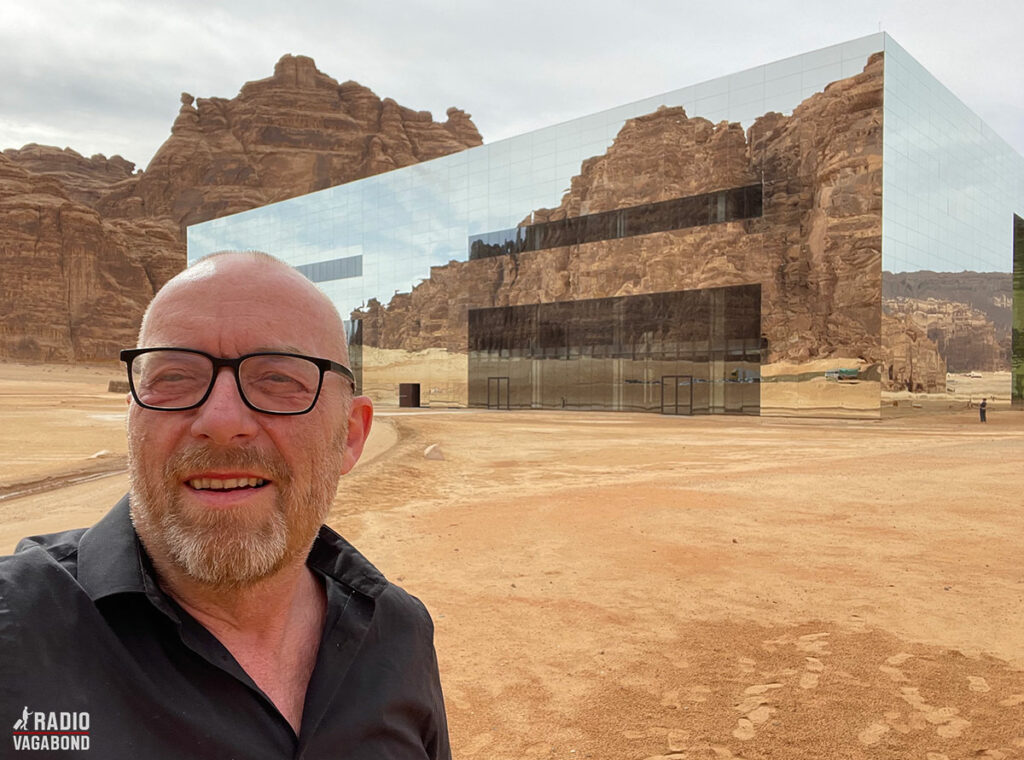 MARAYA MIRROR BUILDING
Instead, we decided to make the drive out to a unique building in the desert called Maraya. Maraya means mirror or reflection in Arabic, which celebrates Al Ula's significant role in history as a crossroads of cultures for centuries.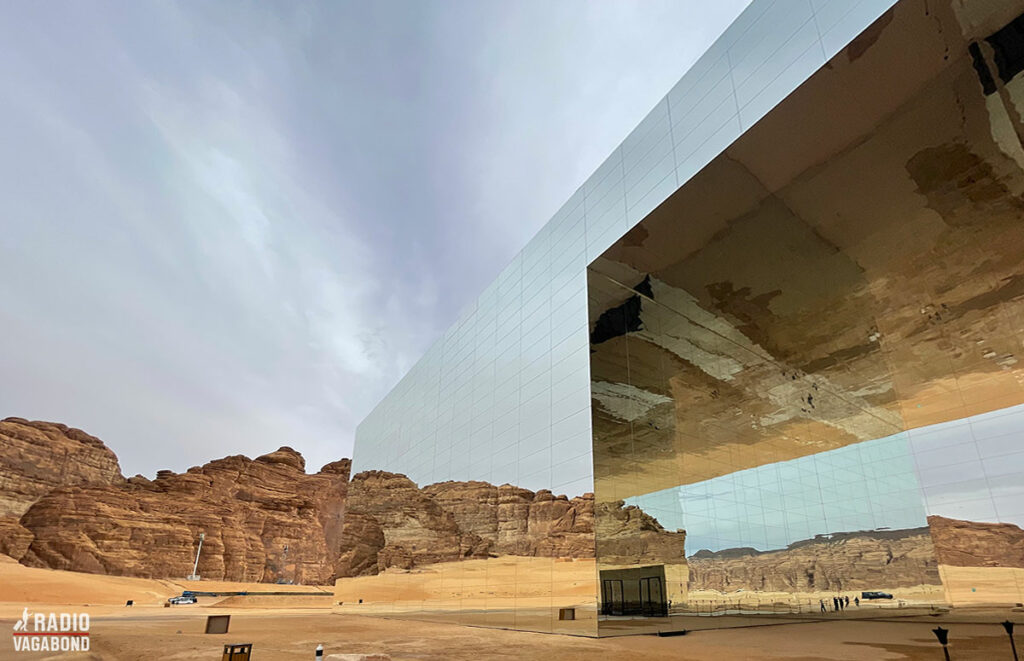 The building is the Guinness World Record Holder as the largest mirrored building in the world.
You cannot see Maraya from the road. And although we heard that there was a major star doing a concert that evening in the area around the building – and entry even to the grounds was unlikely today with the concert, we decided to try our luck. We got to the guard building and access gate, and sure enough, we couldn't get in. While I was waiting in the Cynthia tried to charm us inside. And I'm not sure how but she succeeded.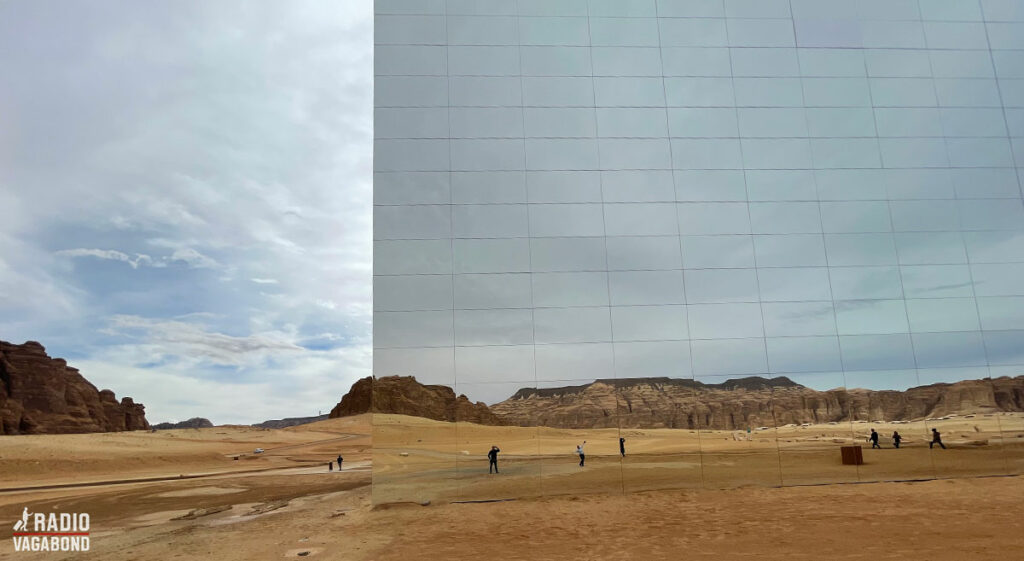 Maraya is a truly breathtaking structure. As the largest mirrored building in the world, it stands as a testament to the country's forward-thinking approach to architecture and design.
The building's unique reflective exterior is made out of thousands of individual panels, each one carefully placed to create a mesmerising optical illusion. The result is a structure that appears to change with the movement of the sun and the sky, creating an ever-changing visual experience for those who take the time to admire it.
Inside, the building houses a concert hall, exhibition spaces, and a state-of-the-art auditorium.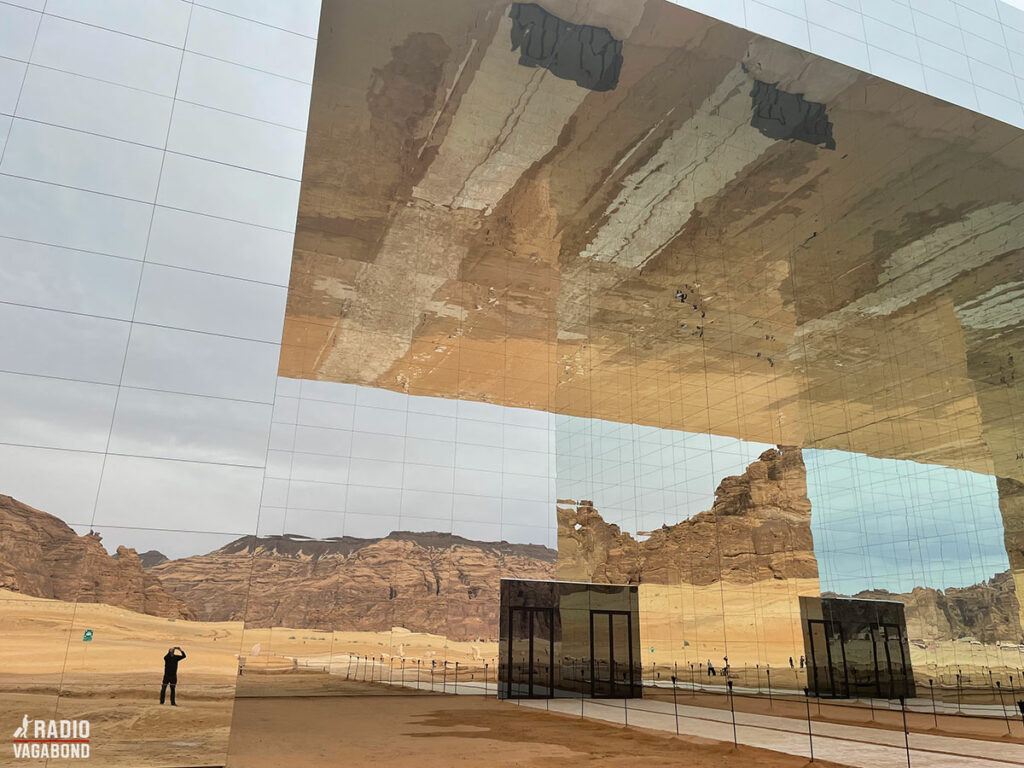 The mirrored building is covered by almost 10,000 m² of the mirrored facade (that's almost 105,000 ft²) and was opened in December 2019. It's located just north of Al Ula. Make sure you try to get in there if you're in Al Ula. And make sure you go and see my pictures of it on theradiovagabond.com.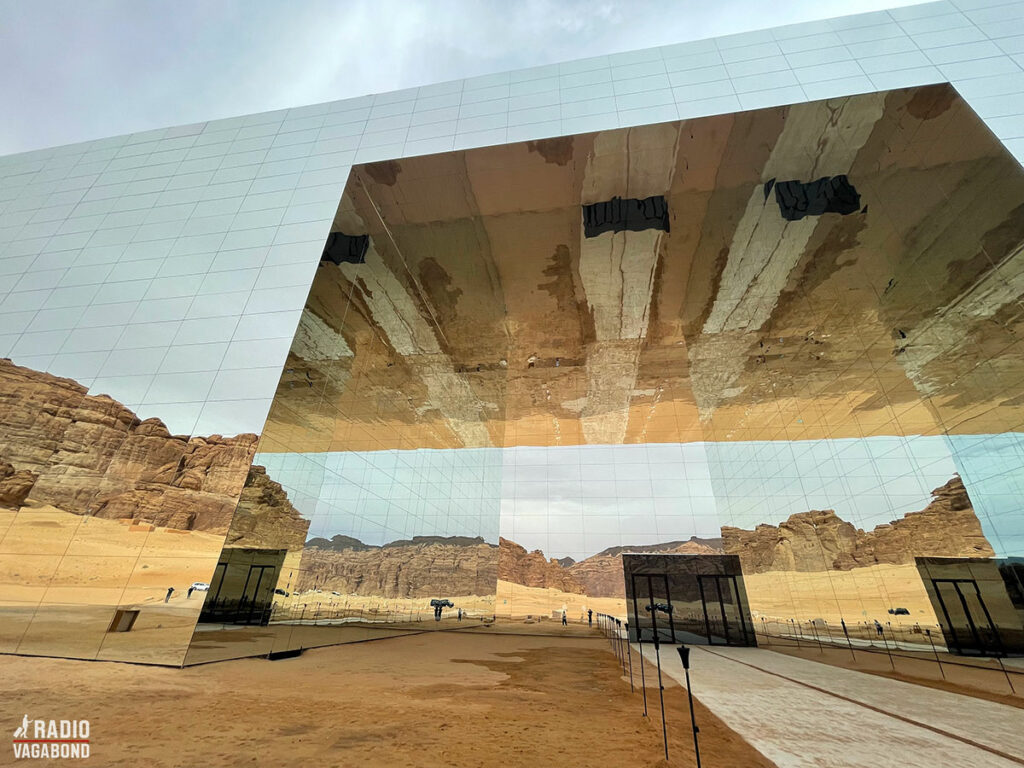 DIGITAL NOMAD CHECK
Saudi Arabia may still not be the ideal destination for digital nomads, but that being said, the country does have a number of modern cities with good infrastructure and a high standard of living, such as Riyadh and Jeddah. However, it is important to remember that Saudi Arabia has a conservative culture and social norms that may differ from those in other countries. It is important to respect local customs and laws and to be mindful of your actions and behaviours while living in Saudi Arabia.
Suppose you are considering living and working as a digital nomad in Saudi Arabia. In that case, it is advisable to research the country thoroughly and make sure you understand the local laws and customs before making any decisions. It may also be helpful to reach out to other digital nomads who have experience living in Saudi Arabia to get their perspectives.
On the plus side: It's a safe and modern country, with decent internet speed in most places. On the downside: It's not exactly cheap but not that expensive either. A lot more expensive than Thailand and a lot cheaper than say, Copenhagen. Around the same price level as Lisbon, which is the third most popular digital nomad hotspot, according to NomadList.com, as of this recording.
So, Saudi Arabia may still not be the most popular destination for digital nomads, but I could see it being attractive in the future.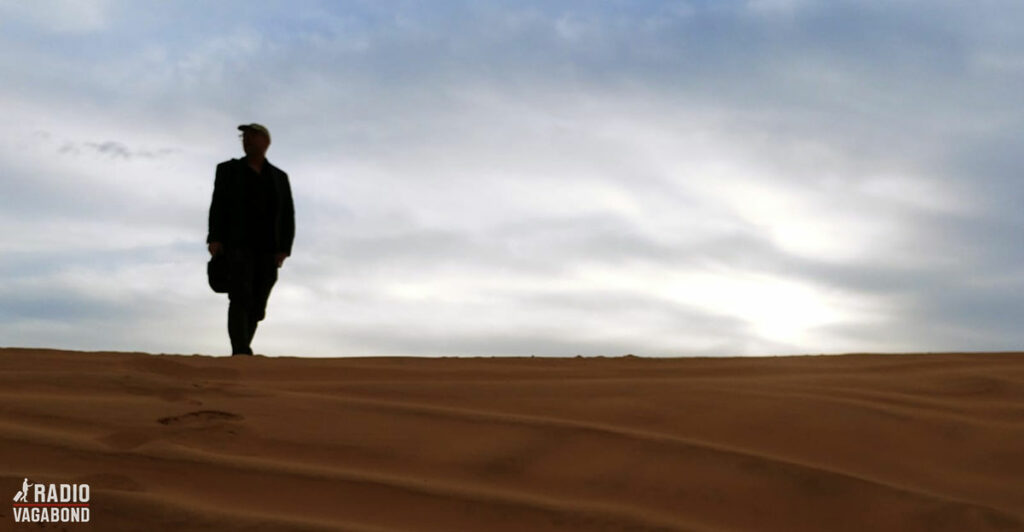 GETTING STUCK IN THE SAND … AGAIN
Dalan had suggested that we go where the locals go for sunset to "Wadi Rum;" she even found it for us on Google Maps. We followed two local 4×4 trucks into the area along one of the sandy 'paths', easily enough. We separated from them at a large, flat area (let's call it a flood plain without water, surrounded by dunes that are backed by dramatic mountains). There were maybe ten cars, as far as we could see, in a very large area. We climbed a dune to watch the sunset, which was not dramatic. A man in a Toyota truck was having a lot of fun "dune bashing" (driving crazy in the sand dunes) and got badly stuck. I went down to help him out of the sand while Cynthia had fun sliding down the sand dunes on a piece of plastic she found.
After that, she wanted to have some more fun driving crazy round patterns and testing the car on the flood plain. But by then, it was getting dark, and we needed to head out. I got behind the wheel and headed towards two trucks on the north side of the flood plain, as we thought we could get out there. But we were wrong.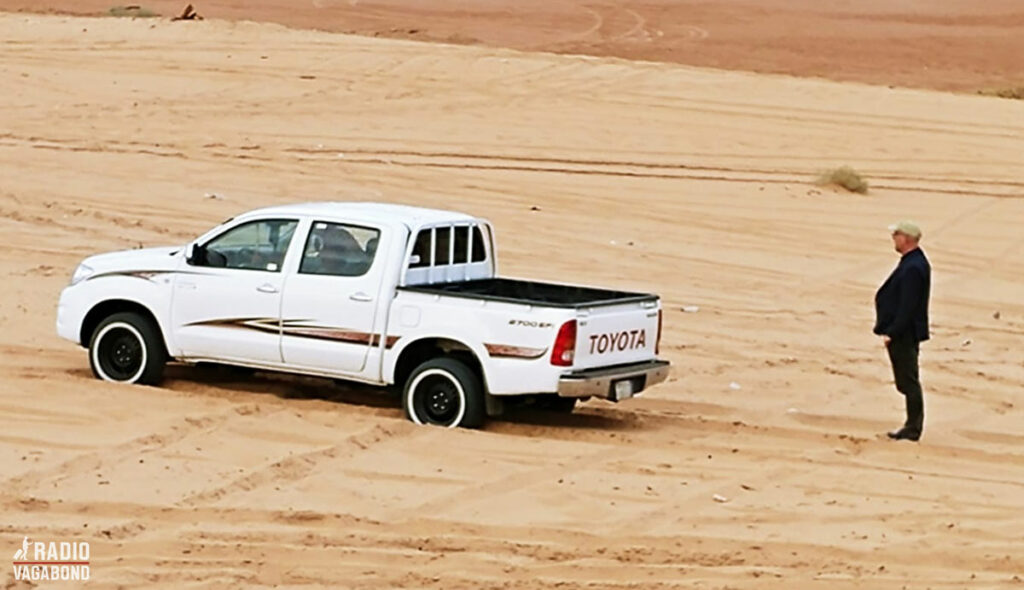 In the episode, you can hear the sound of what happens when you get stuck in the soft sand in Saudi Arabia. Psssssssst. It is the tires of our car being deflated by some locals. As soon as we got stuck, three Saudi men from the trucks came running and helped deflate the car tires and push to get our car unstuck. Apparently, it's much easier to get out with flat tires, and all of them had a little tool in their pockets to do that.
After we got out, they showed us where to go further east in the floodplain to exit safely. As we got back to the pavement, the sky exploded in colour. Truly a dramatic end to an amazing day.
GETTING FREE AIR
The first thing the next morning, before the drive of the day, we needed to get some air back in the tires. We went to a garage because we couldn't find any air at the gas stations in town. I insisted on paying for it, but the nice guys insisted it was free.
All the time, we were meeting nice people in Saudi Arabia. They all want to help and talk to us. And not being able to speak English never seem to be a problem. There's just a curiosity and an interest in who these foreigners are.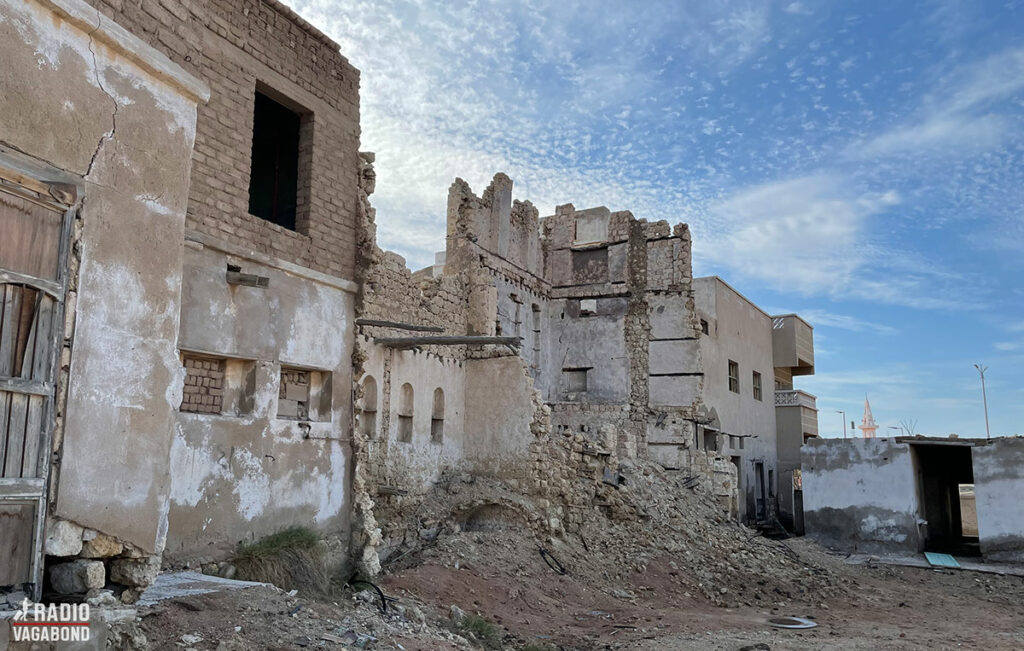 With the tires refilled, we left scenic Al Ula to drive the 365 km (close to 230 miles) to Yanbu on the Red Sea. There is very little traffic – not just today, but really since we left Riyadh four days earlier.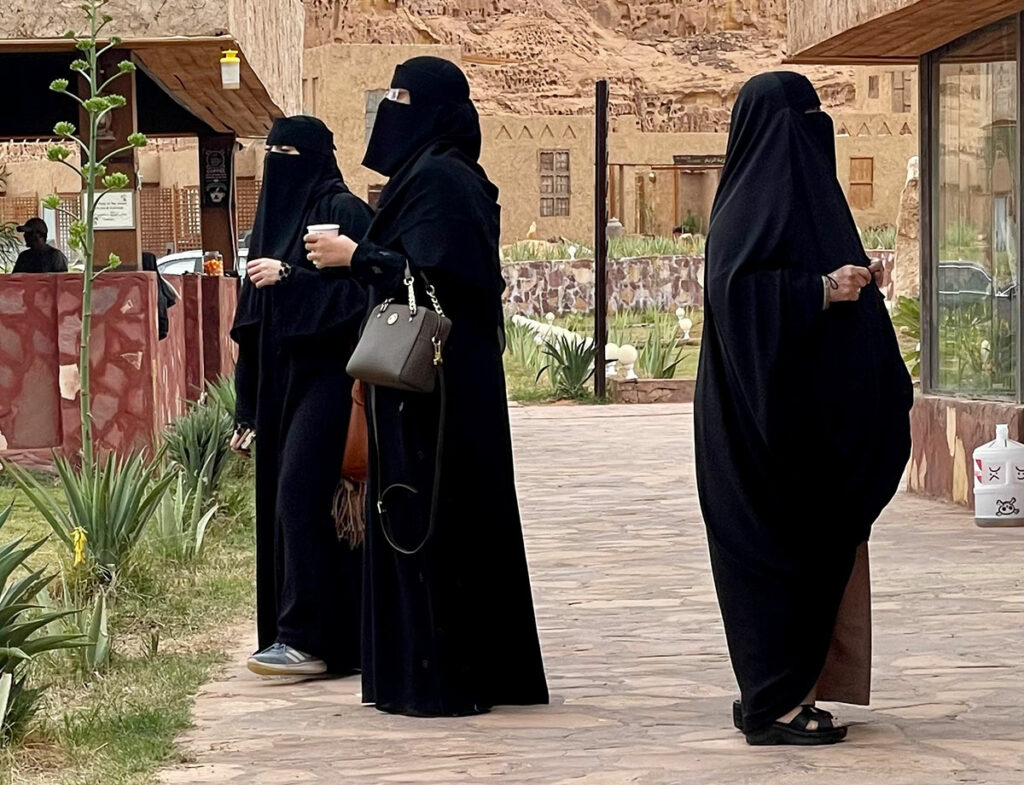 Technically it's just a four-and-a-half-hour drive, but we enjoyed the changing scenery all day and made plenty of stops so it to us 5-6 hours to reach Yanbu. At first, it's volcanic mountains with loose black rock. There are small towns, but nothing large. Mostly, they look poor and half-built. A few towns appear to have grand entrances with trees and pavers on fancy divided lanes – one town had a sign for the "Saudi 2030" campaign.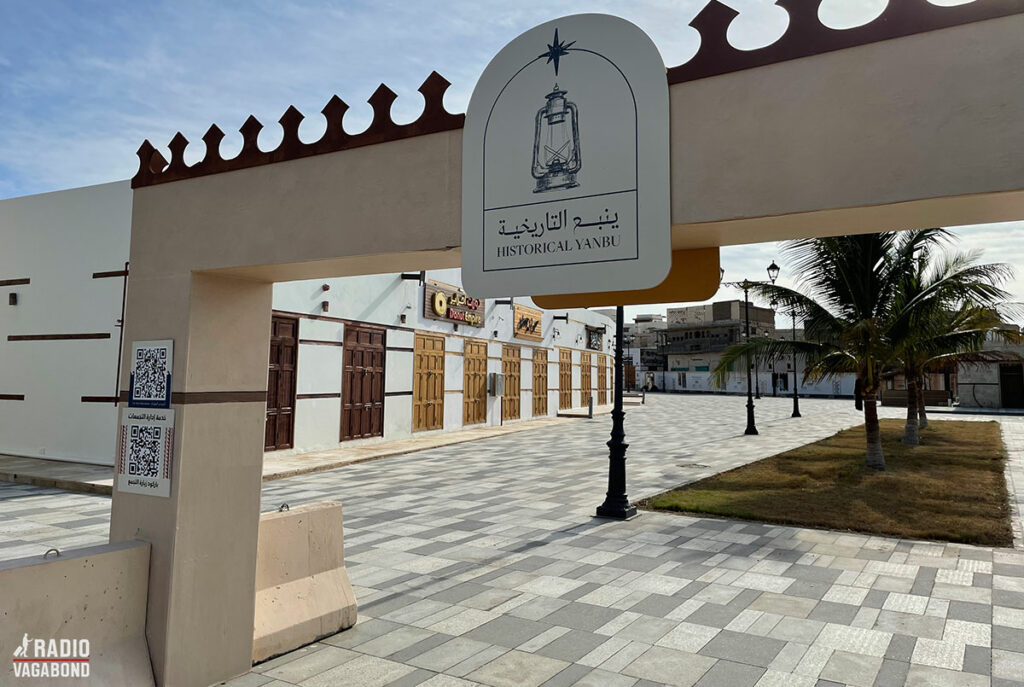 Small groups of friends and families had pulled their cars up to the Red Sea edge. It was a common sight throughout Saudi that small groups always have a carpet and pot of tea for a cosy time after work.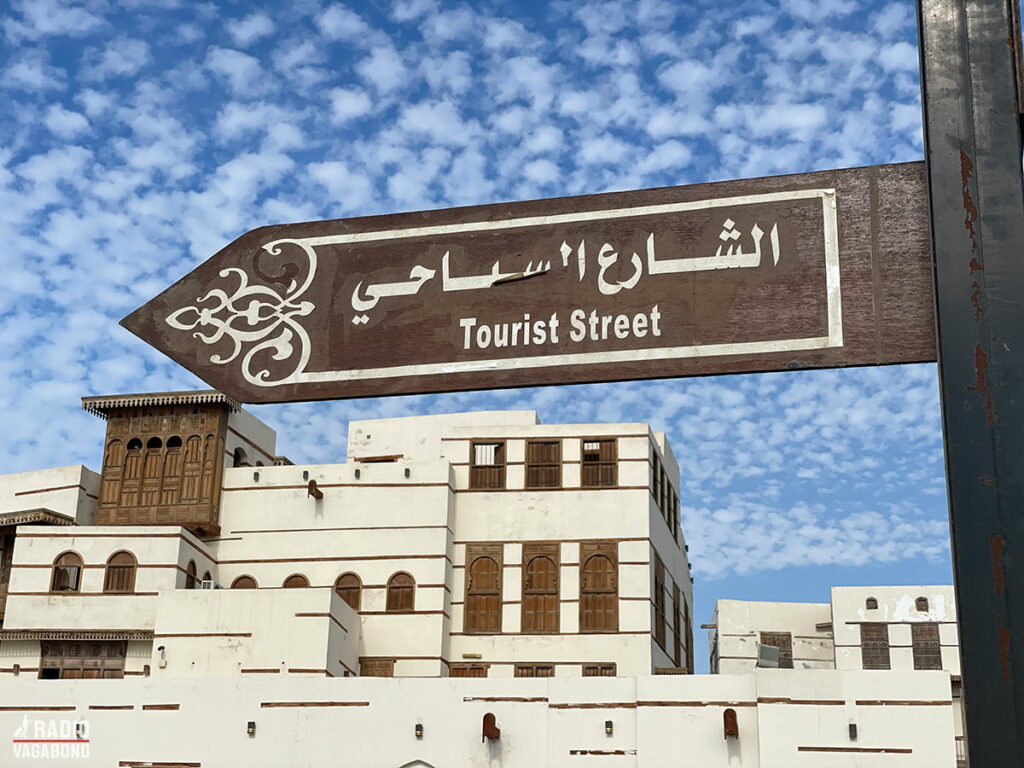 NEXT ON THE RADIO VAGABOND
That's all we have time for in this episode of The Radio Vagabond. We have part two of the interview with my Saudi friend "J" on Thursday, and then we have another travel episode next Tuesday.
In that one, we're going to Jeddah, after a stop in beautiful Yanbu at the Red Sea, and stay with a local and look at a very special construction site standing still. And then, head back to Riyadh to visit The Camel Festival and have a look at some beautiful camels entering the Camel Beauty Contest.
My name is Palle Bo, and I gotta keep moving.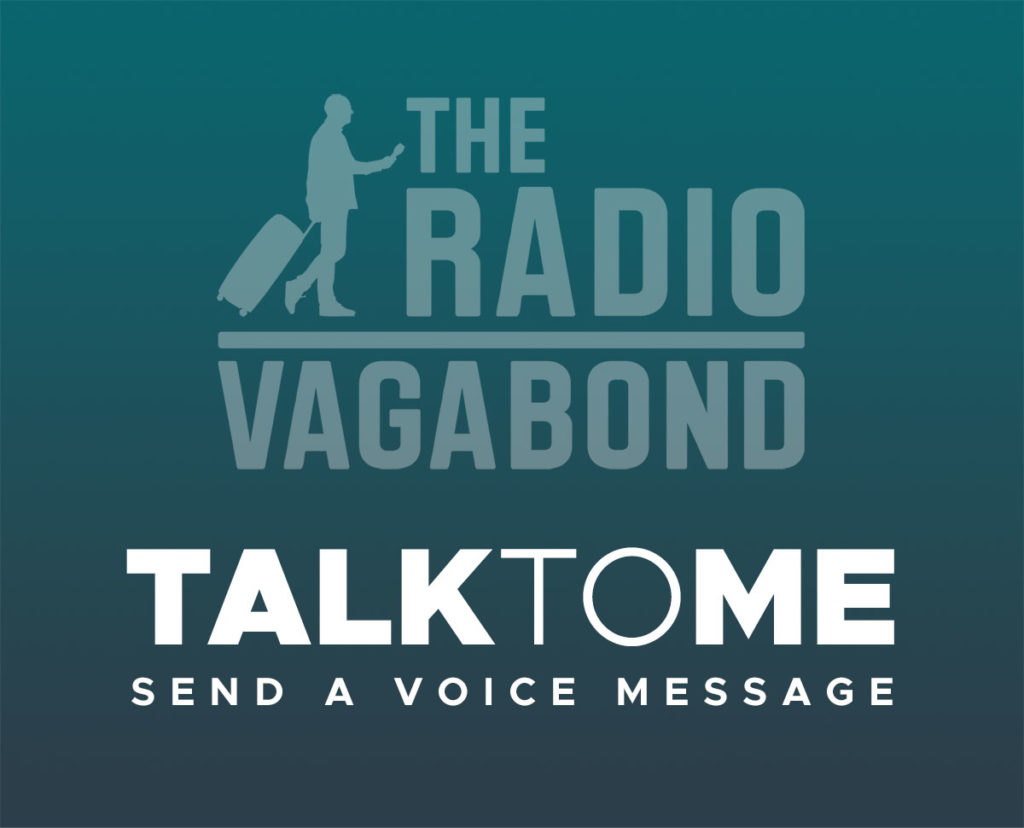 Either way, I would love to hear from you. It's so nice to know who's on the other end of this.
SPONSOR
A special thank you to my sponsor, Hotels25.com, who always provide me with the best, most affordable accommodation wherever I am in the world.
Hotels25 scans for prices on the biggest and best travel sites (like Booking.com, Hotels.com, Agoda and Expedia) in seconds. It finds deals from across the web and put them in one place. Then you just compare your options for the same hotel, apartment, hostel or home and choose where you book.
When you book with Hotels25, you get access to 5,000,000 hotel deals. And it's "best price guaranteed."
PRODUCED BY RADIOGURU
The Radio Vagabond is produced by RadioGuru. Reach out if you need help with your podcast.