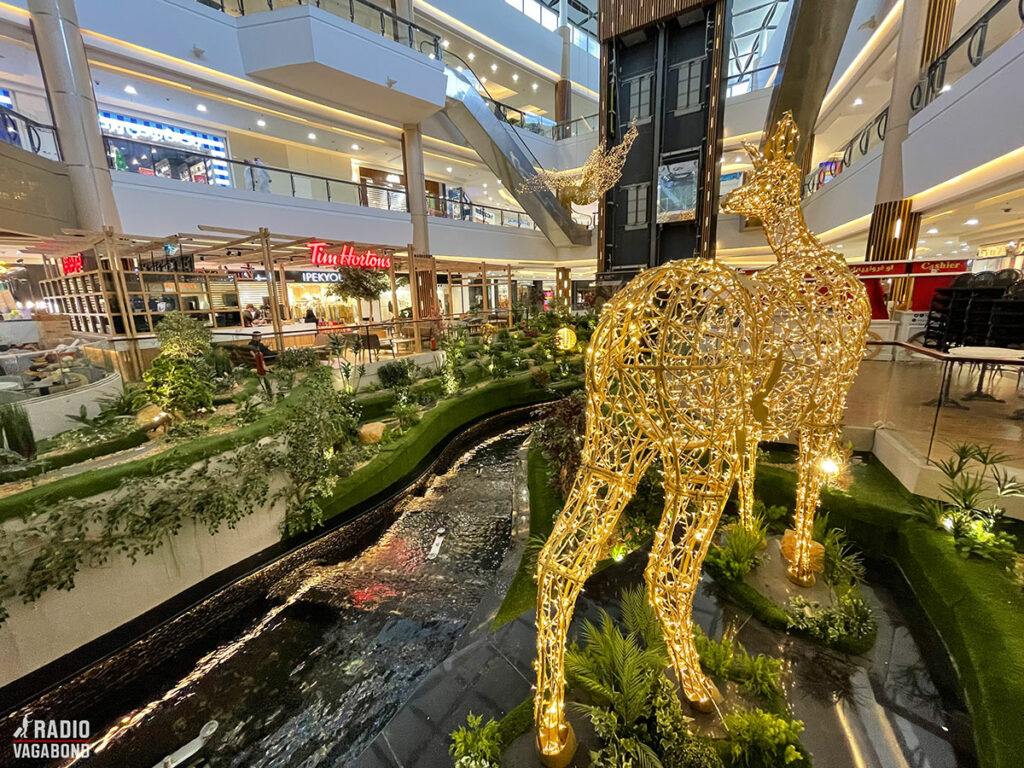 Welcome back to Saudi Arabia
It was the third day in Riyadh, and at 11 am, we left the apartment and our base for four nights. After a stop in a unique and impressive modern mall with a great water feature, I left the capital of Saudi Arabia with my travel friend, Cynthia, in our rental car to find the "Edge of the World".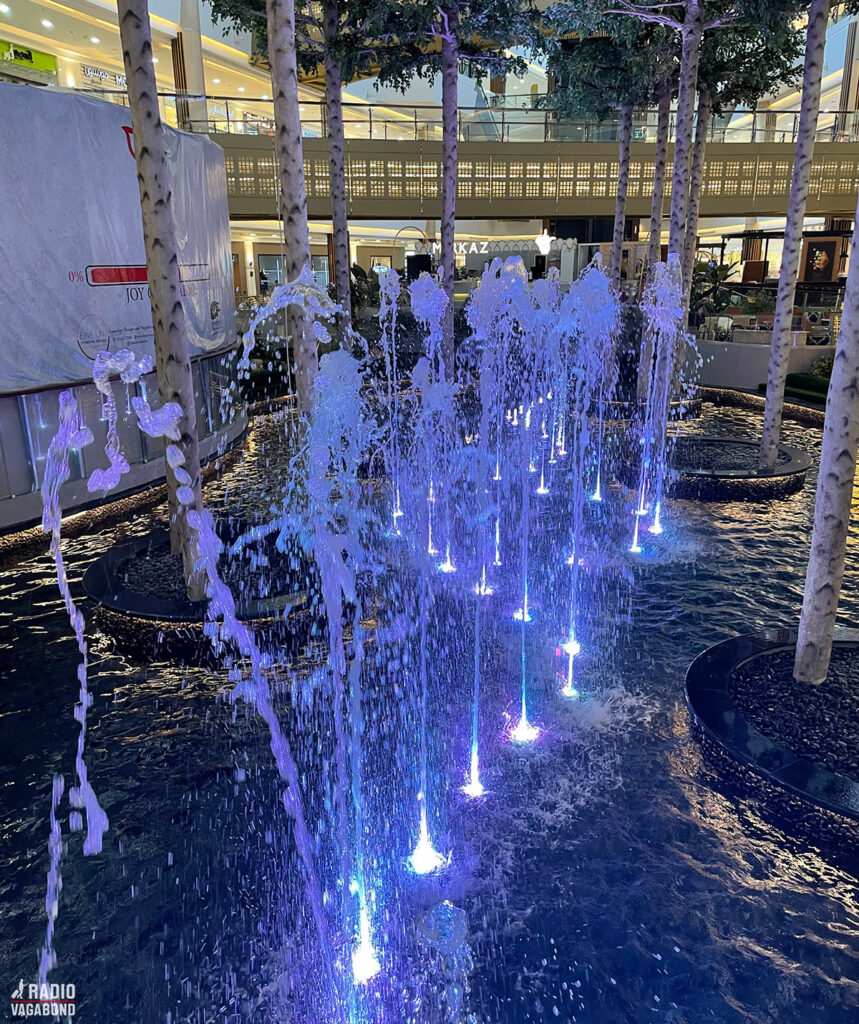 The Edge of the World 
Riyadh is on a plateau. And there's a place on the edge of this plateau called "Edge of the World".
You would normally book expensive tours – at up to $500+US per person, to go there. But we decided to self-drive. There are two access roads to the official point. One is only open on weekends (and not this day), and the other access was in bad condition and currently only good by 4WD.
We got lucky that Cynthia has a local acquaintance from the CouchSurfing community, Mohammad. He told us how to get to the REAL Edge of the World. It is near, but not at the tourist spot.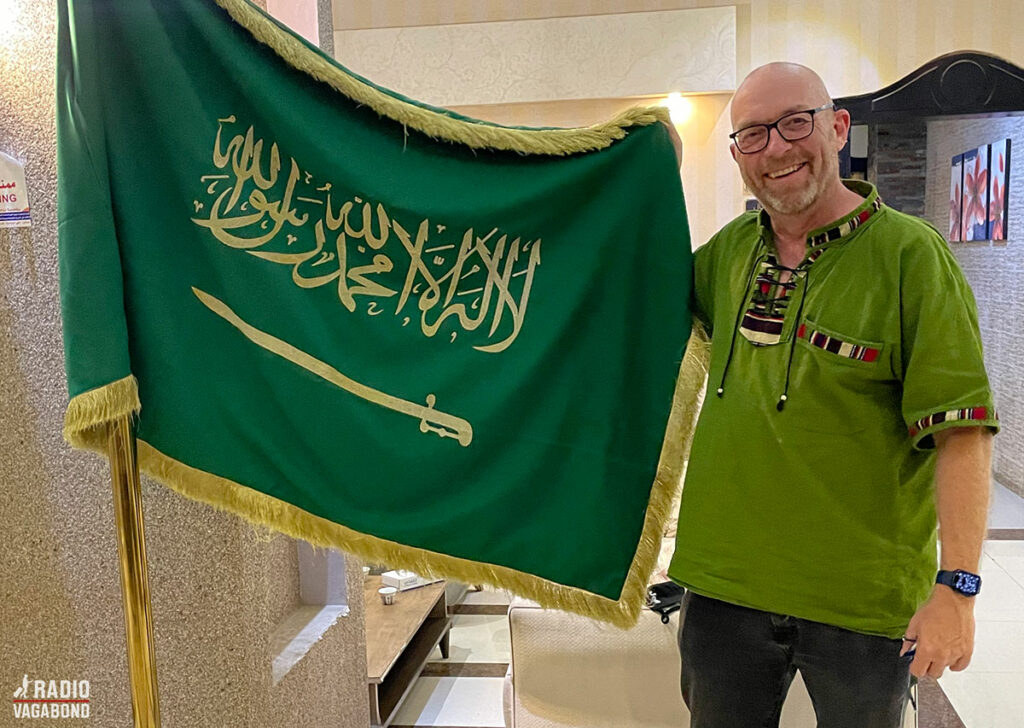 These directions included something like:
"Go to the Mosque"
"Go to End of Road"
"Don't Die".
Here's Mouhammad's full message:
"Go to the Mosque Ammaria Hills. Drive past the Mosque (it is on your right); go to the END of the paved road. Here go left. Then, take the first right. Then you'll start to see the Edge to your left. Pick a spot along the edge and be CAREFUL CAREFUL, as several people died here recently."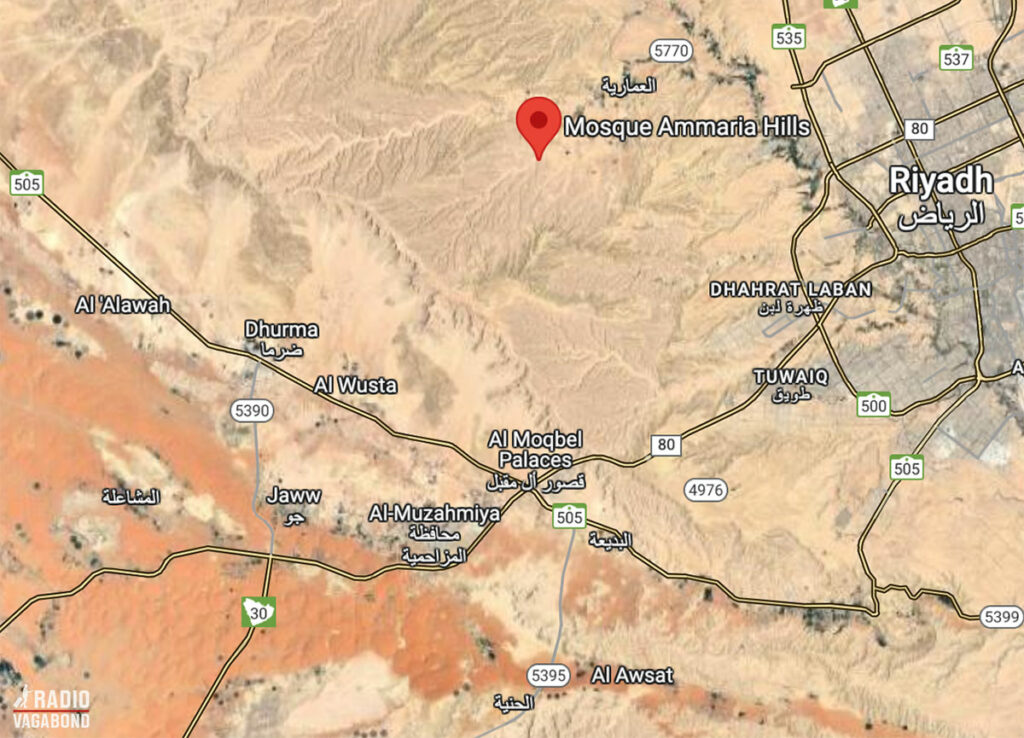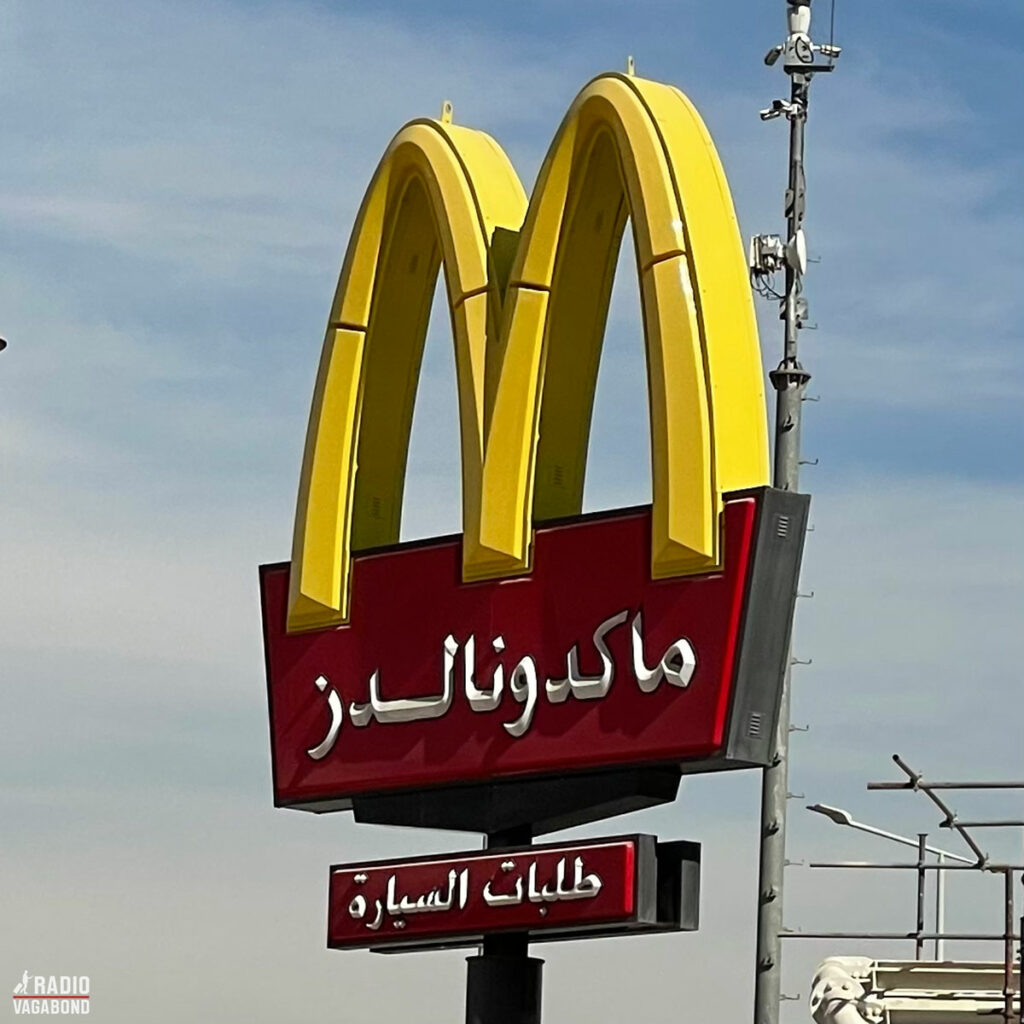 The directions seemed crazy, but they worked smoothly. We even saw our first two camels at the end of the paved road. We saw zero cars or people after the Mosque Ammaria Hills.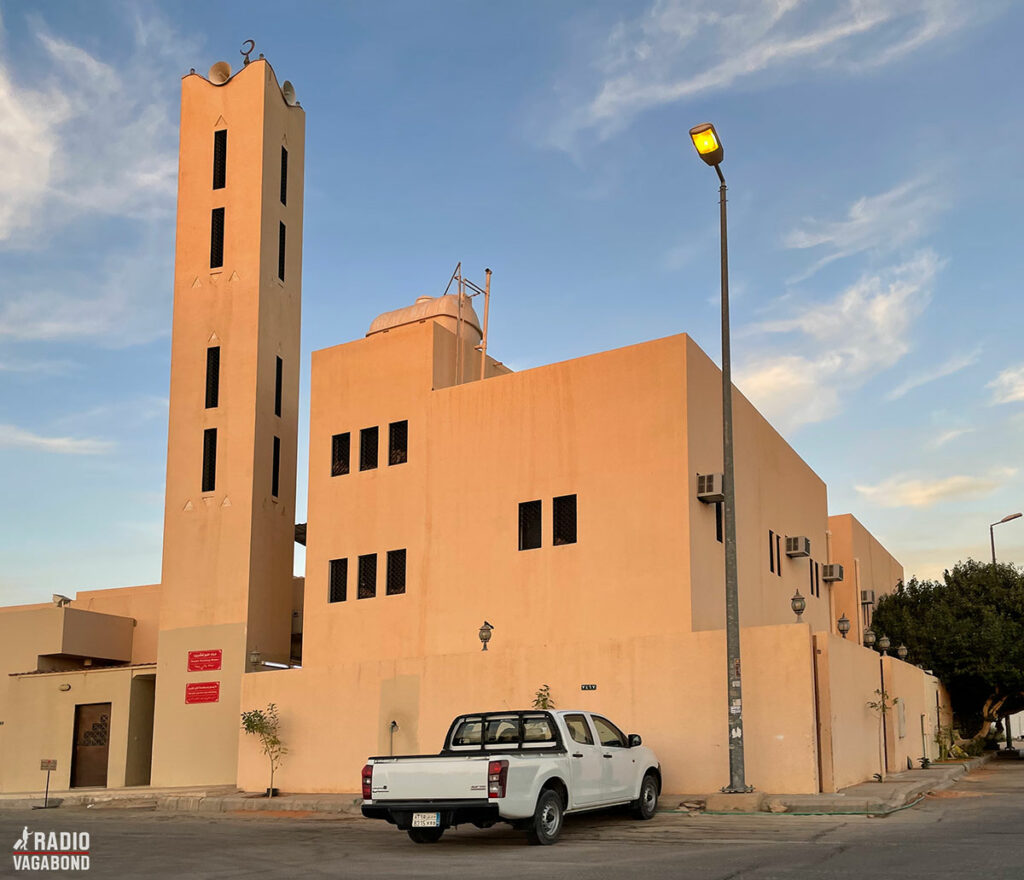 The Edge of the World (also called Jebel Fihrayn) is an unexpected and dramatic geological wonder in the rocky desert. The site earned its nickname because you have an uninterrupted view of the horizon, and it kinda looks like it. It's a 1,131 m2 height cliff that lies some 100 km northwest of Riyadh and a great place to discover the breathtakingly spectacular views overlooking a deep valley and extending barren desert. It's one of the most famous sights in Saudi Arabia, and for a good reason.
THE WEATHER
Saudi Arabia is a large country located in the Middle East, and the climate varies significantly across different regions. But, in general, Saudi Arabia has a hot desert climate with very little rainfall.
The eastern region and the southern areas – just south of where we are now, are one of the largest sand deserts in the world; it is considered one of the driest places on earth. Here rainfall is extremely rare; sometimes, it doesn't rain for years. In the capital city of Riyadh, the average annual rainfall is less than an inch (2.5 cm). They say it only rains two days a year in Riyadh.
Temperatures in Saudi Arabia can be pretty extreme, with average high temperatures ranging from the 30s Celsius (mid-80s Fahrenheit) in the winter to over 50 degrees Celsius (120 degrees Fahrenheit) in the summer.
The hottest temperatures are typically found in the eastern provinces, while the cooler temperatures are found in the western provinces, such as Jeddah and Mecca.
Overall, the weather in Saudi Arabia is characterised by hot temperatures and low humidity throughout the year. It is important to stay hydrated and to protect yourself from the sun when visiting the country.
But we got the rare experience of seeing rain in Saudi Arabia. A very rare experience in the desert.
Driving across Saudi Arabia
We started the road trip across the country and made a stop halfway to Al-Ula in a city called Hail. As soon as we leave Riyadh and head north, it is very flat with yellow sand. It is a big 6-lane divided highway with very little traffic. The roads throughout our trip are the same. They are large, in good condition and often more trucks or camels than cars. And thank God, 95% of road signs are in both Arabic and English.
The locals told us they are not driving as fast and crazy as they used to because the government has installed many speed cameras. The maximum speed is 110 km/h, so travel is slower than we expected, and the distances between cities is big in this huge country.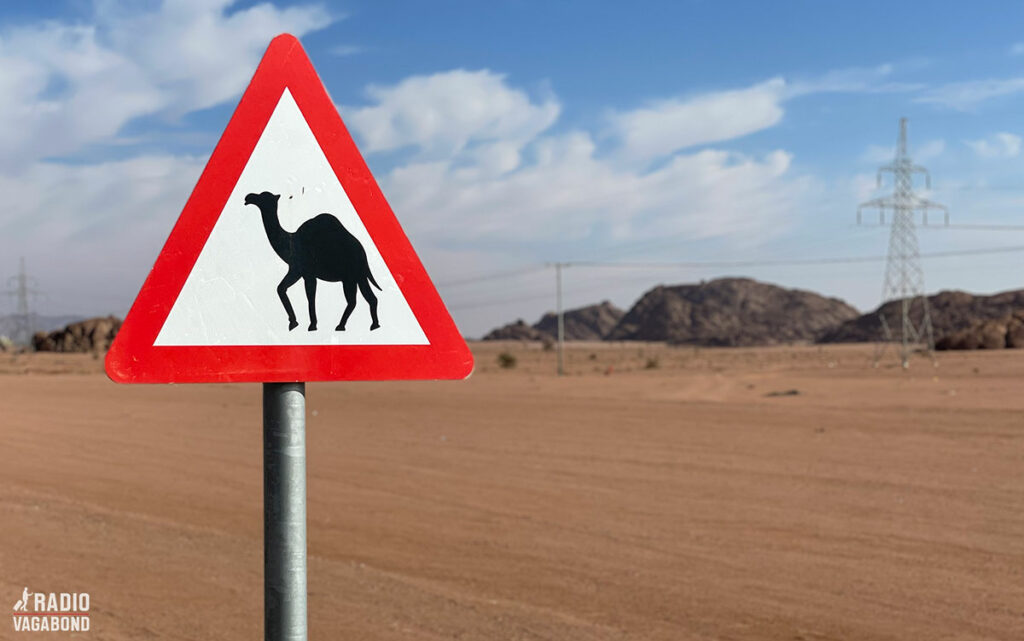 Camel Spotting
After half an hour of driving, we see our first truck with four camels seated in the back. The nearly identical white trucks, often Toyotas, carry one to six camels. Each truck has a crane to lift the animals in and out. The camels look relaxed, almost as if they're enjoying the breeze and the ride.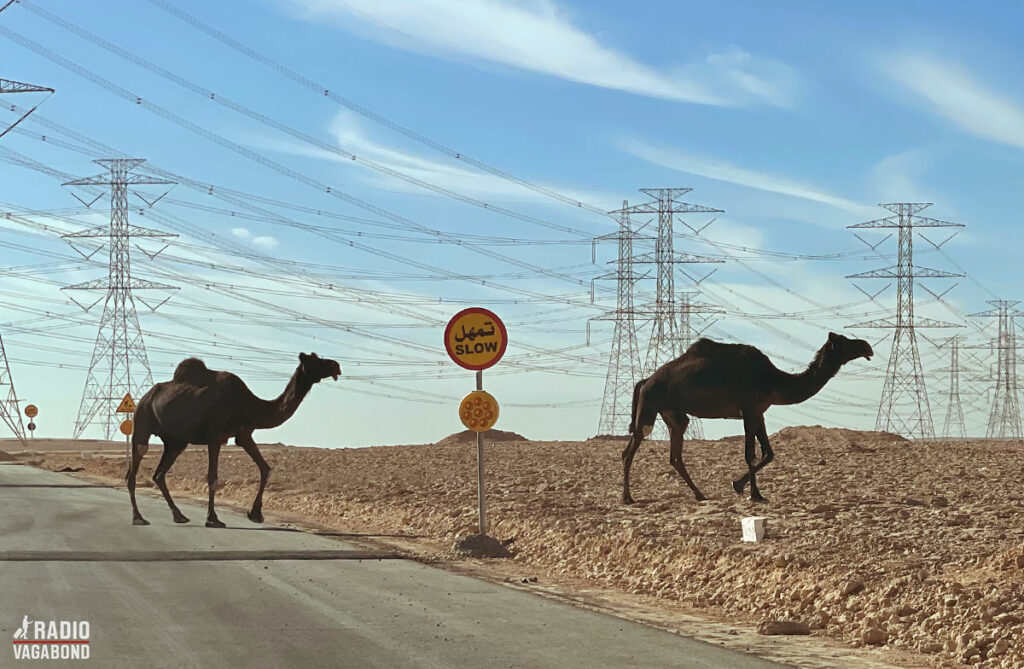 Along the way, we also see three colours of camels: white, brown, and black.  Our first sighting of a larger group of camels was of twelve strolling parallel to the highway. One of the locals had stopped and tried to get them off the road.
Next up, we spotted a huge herd of 100 all-white camels (with one black one.)
Orange Sand Dunes
Then we entered Orange Sand Dunes. They stretch as far as the eye can see. These are much larger than the Red Sand Dunes to the south of Riyadh, where we went quad biking.
The colours of the sand are varied as you look both close to the road and in the distance. We see pink, purple, black, yellow, white, and orange sand on the drive today.
Accommodation in Saudi
Just after 7 pm, we arrive at our accommodation in the city of Hail, nestled between Mount Shammer to the north and Mount Salma to the south. Hail was once the capital of the Arabian Desert.
Consistently throughout Saudi, we easily rent 2-bedroom apartments via Hotels25.com. They average around $100 US a night. This one was $76 for a night. Like the one in Riyadh, this one was also a spacious two-bedroom, two-bathroom unit. But it only contains one towel; there is not a single utensil or pan in the huge kitchen.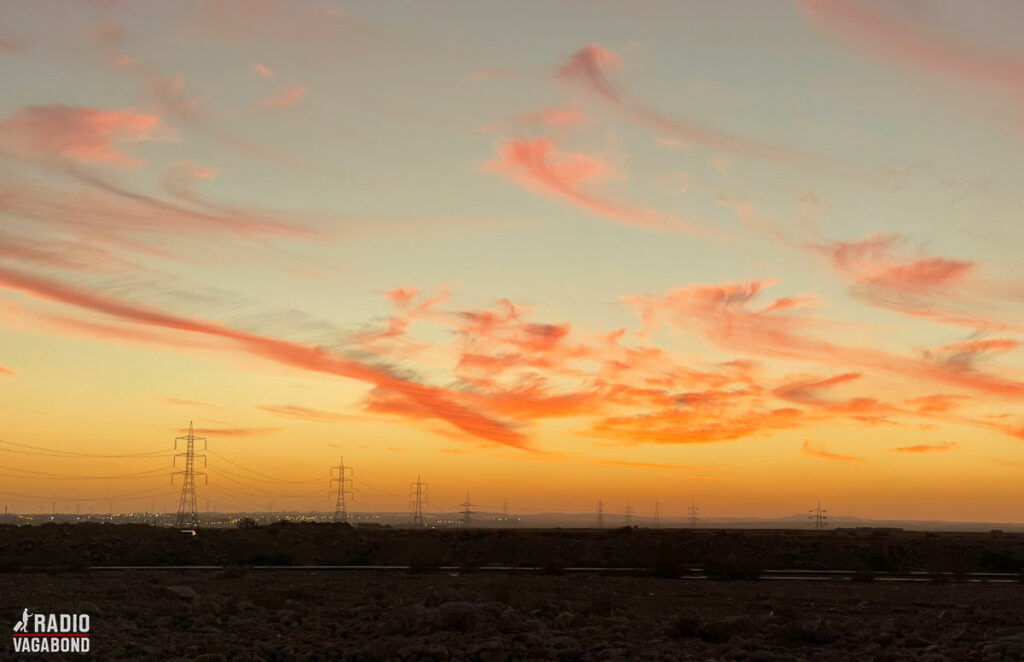 Saudi Arabia is only recently opened to tourists, so it's like they are not really ready for tourists anticipating tourist needs. So, we soon learn to look and ask for: toilet paper, towels, hot water kettle and kitchen utensils. When we ask, the response is always that of extremely high Saudi hospitality: the desk clerk will say something like, "If I have it, it is yours"; then he will rush to go get the requested items.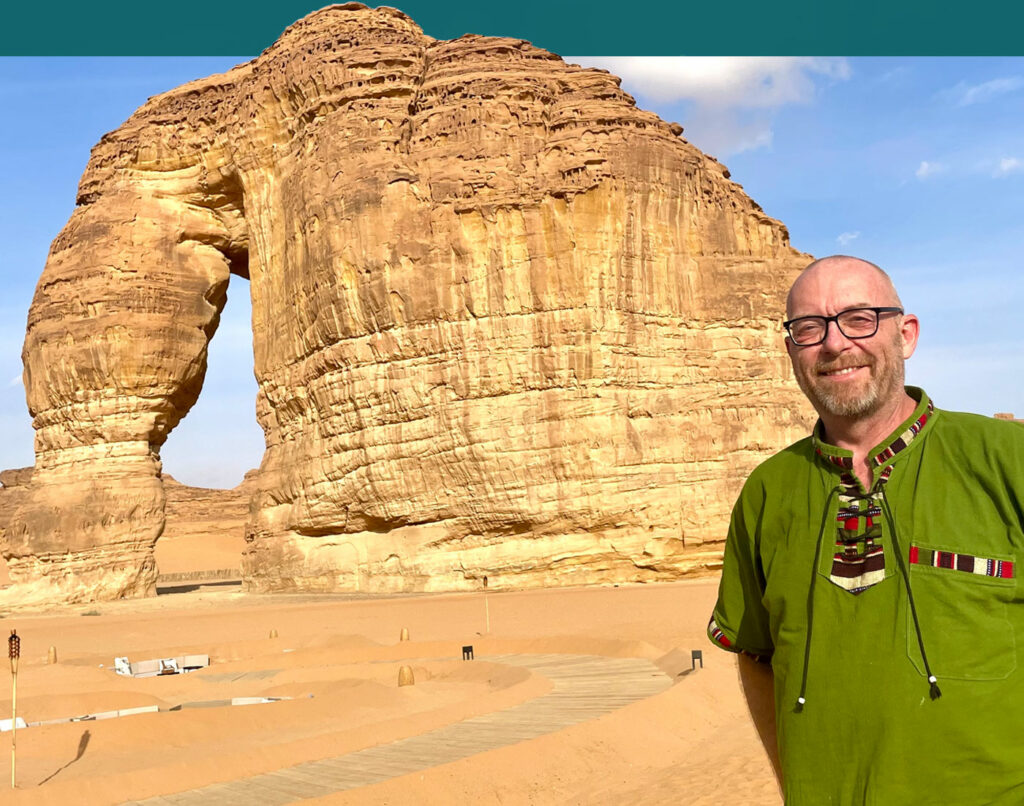 Meeting a Friendly Local
The next morning, we got an early start without having breakfast. I just thought I'd buy something on the way and eat it in the car. But then something happened. Something very strange, surprising, and heart-warming.
They didn't accept Visa or MasterCard (only their local Saudi Mada Card), and one of the other customers offered to pay for me. And he insisted that I fill a bag with lots of stuff. It was a very surprising and nice meeting with a random stranger.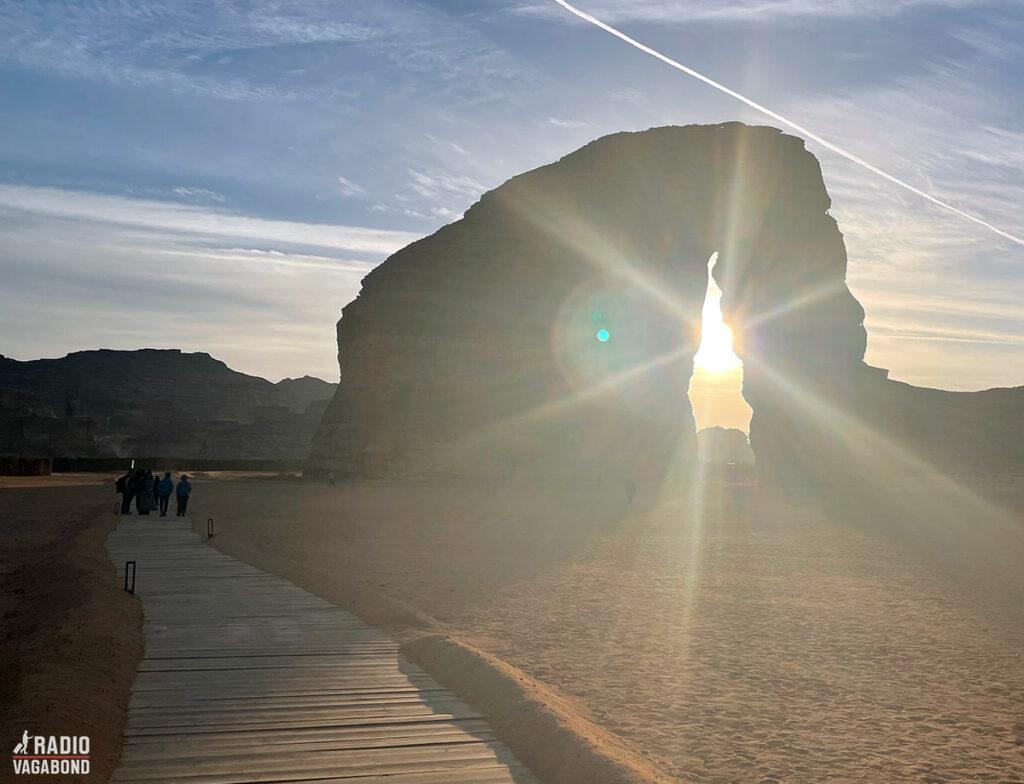 Getting Stuck in the Sand
On the way from Hail to Al Ula, we took a driving break on the shoulder by the road. It looked fine, but too late, I realised that the sand was fine and soft – and we got stuck in the sand by the highway.
And that was just the first time that happened. Getting stuck in the sand will happen four times on this trip. And twice in our next stop, Al Ula.
After a bit of digging, shoving stuff under the tires of our front-wheel drive car, and pushing, we were off driving again.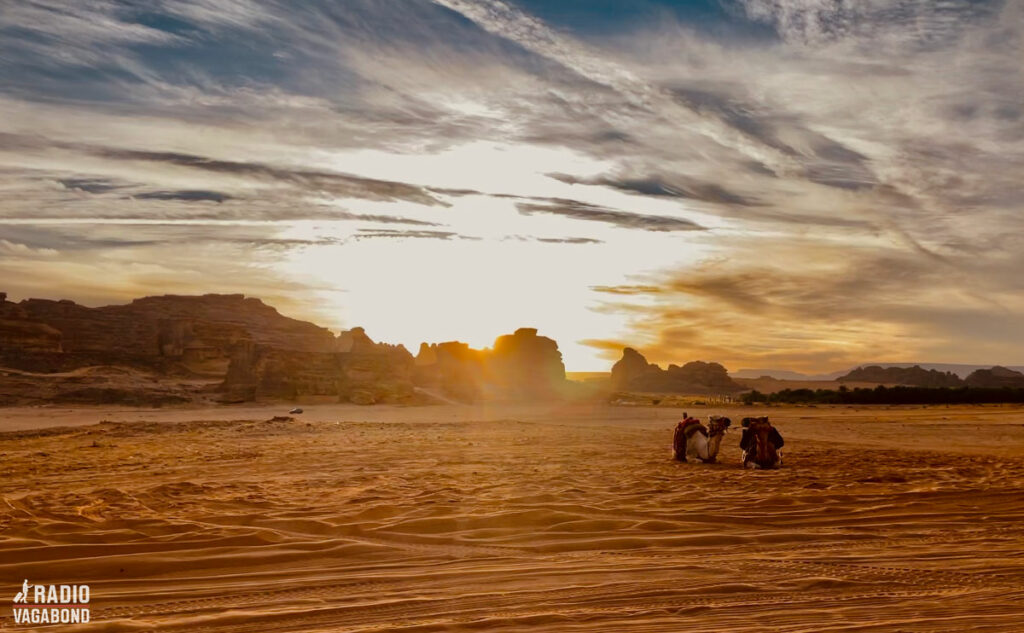 Al-Ula
We arrived in Al-Ula at 3 in the afternoon. It's located in northwest Saudi Arabia and is known for its historical and cultural significance, as well as its natural beauty. It's also known for its ancient rock carvings, tombs, and ruins dating back to the pre-Islamic era.
The area around Al-Ula has been inhabited for thousands of years. The city has been an important cultural and economic centre throughout its history and contains many important archaeological sites. One of them is the Hegra, which features a well-preserved set of tombs carved into the rock, many of which are decorated with incredible carvings and inscriptions.
In recent years, Al-Ula has become a UNESCO World Heritage site, and the Saudi government has been investing in developing the area as a tourist destination with the aim of showcasing its rich history and natural beauty.
Al-Ula is also known for its unique geography with a mix of rocky desert and oasis, uniquely shaped rock formations, and has been a key location for many movies and TV shows.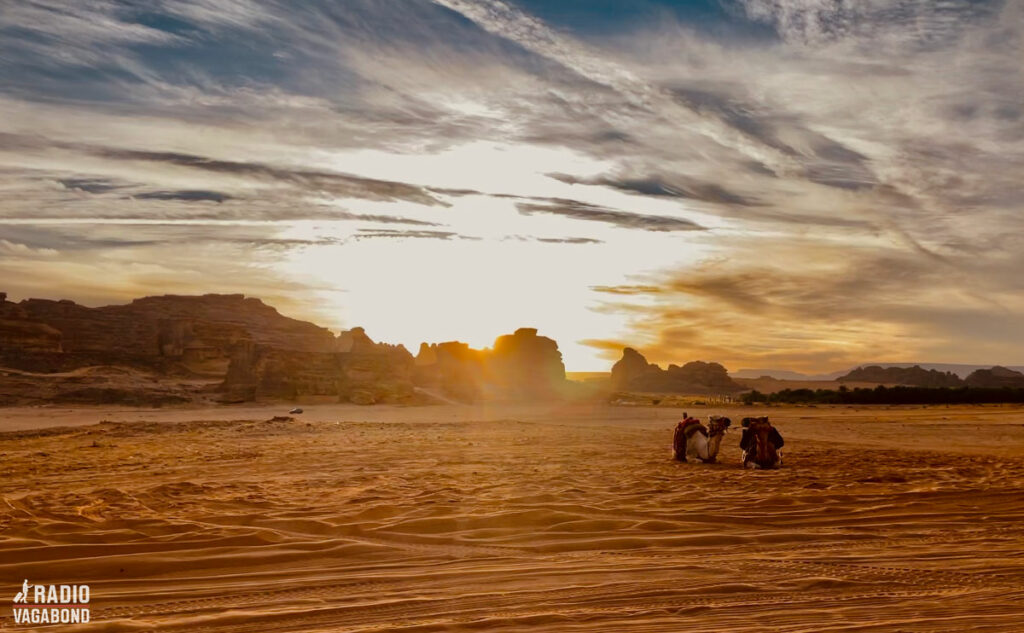 When we got there, we went directly to the most famous natural site and one of these uniquely shaped rock formations: Elephant Rock. It's very quiet here, and more grounds-maintenance workers than tourists. Later, approaching sunset, two information ladies and more visitors will arrive. But we have a relaxed stroll and sit with a drink from the cafe.
Elephant Rock is in front of us and towers at 52 m (171 feet) in the air. It really looks like a huge elephant (see pictures on theradiovagabond.com and on Instagram).
Just before sunset, we head around "Vessel Rock," then pick a sunset spot, surrounded by hundreds of rock monoliths.
Next Week on The Radio Vagabond  
In the next episode, a week from now on "Travel Tuesday", we will speak to a young Saudi woman. She's dressed very western, is not wearing any hair covering and has perfect English.
We'll also head further down the coast of the Red Sea to Yanbu and the big city of Jeddah, where we CouchSurf with a local.
But also, I have an extra episode on Thursday where I speak with my Saudi friend, "J". He's agreed to answer ANY question I have.
Let's end with a poem written A.I.
The Radio Vagabond, Palle Bo,
Went to the edge of the world in Saudi,
Where huge cliffs loomed high and big drops did flow,
And the landscape was beauty to see.

He threw a rock down with care,
Not wanting to drive over like Thelma and Louise,
And across the hot desert they did fare,
Getting stuck in the sand, but not to lose.

They met many camels on the way,
And a kind Saudi man paid for their breakfast,
In the UNESCO site of Al-Ula they did stay,
Where the Elephant Rock and unique formations did impress.

So come and listen to the podcast,
From Saudi Arabia, there's much more to come,
With Palle Bo as your guide, you'll be engrossed,
In the tales of adventure and fun.
My name is Palle Bo, and I gotta keep moving. See you.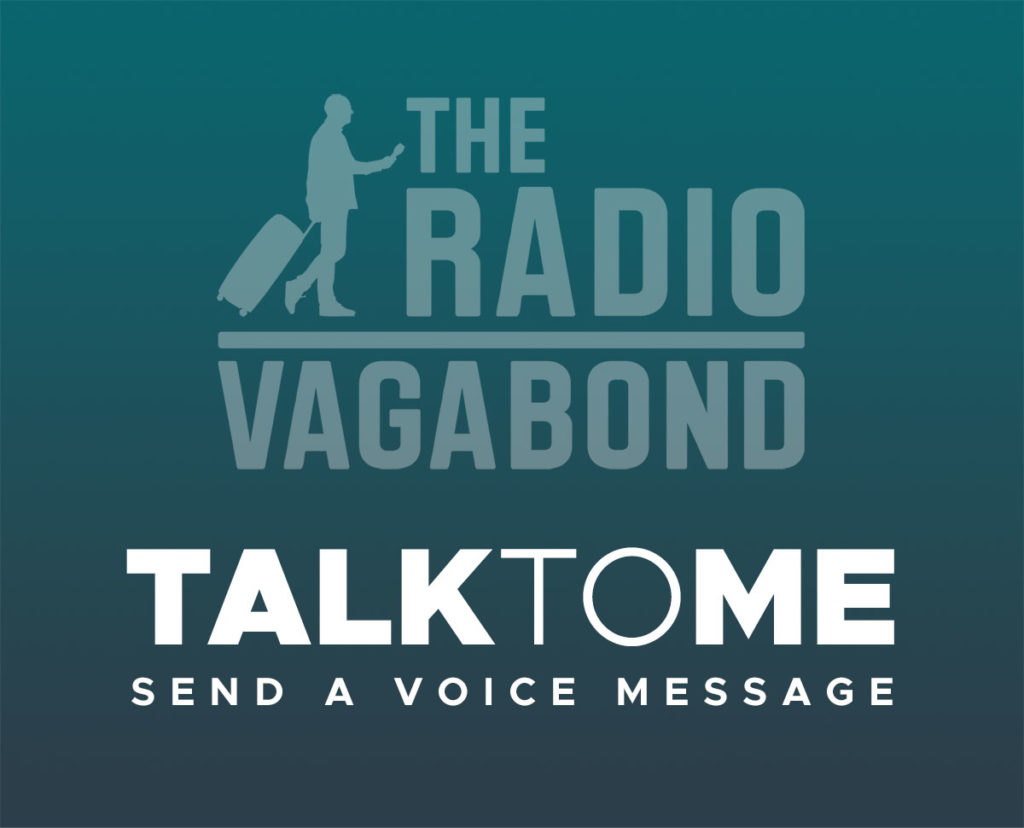 Either way, I would love to hear from you. It's so nice to know who's on the other end of this.
SPONSOR
A special thank you to my sponsor, Hotels25.com, who always provide me with the best, most affordable accommodation wherever I am in the world.
Hotels25 scans for prices on the biggest and best travel sites (like Booking.com, Hotels.com, Agoda and Expedia) in seconds. It finds deals from across the web and put them in one place. Then you just compare your options for the same hotel, apartment, hostel or home and choose where you book.
When you book with Hotels25, you get access to 5,000,000 hotel deals. And it's "best price guaranteed."
PRODUCED BY RADIOGURU
The Radio Vagabond is produced by RadioGuru. Reach out if you need help with your podcast.