In this episode, we travel to Dubai and meet the world at the Expo 2020 Dubai. From canceled Cruises and great lessons and connections from the travel world.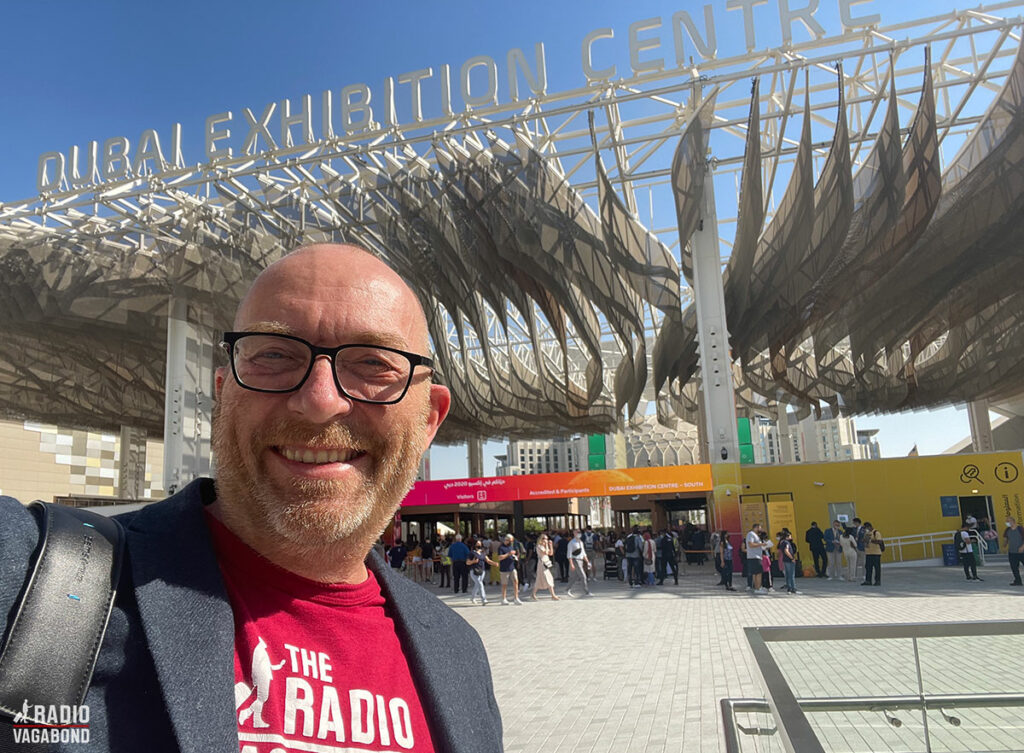 WORLD EXPO DUBAI
I am back in Dubai for the Expo 2020 Dubai. My friend Jason spoke warmly about the event, and I was convinced. If you don't remember, Jason is my Couchsurfing host from Connecticut, and he was also the main organizer of the CouchCrash I had the pleasure of attending a few years back.
He told me that for the last 40 years, he attended every single World Expo. Yes, forty! So, he is an expert.
I'd heard about the event, but I booked my trip and added it to my list when I heard that it was going to be in Dubai. I've always seen Dubai as a place that strives to do everything bigger and better, so this could only be over-the-top amazing.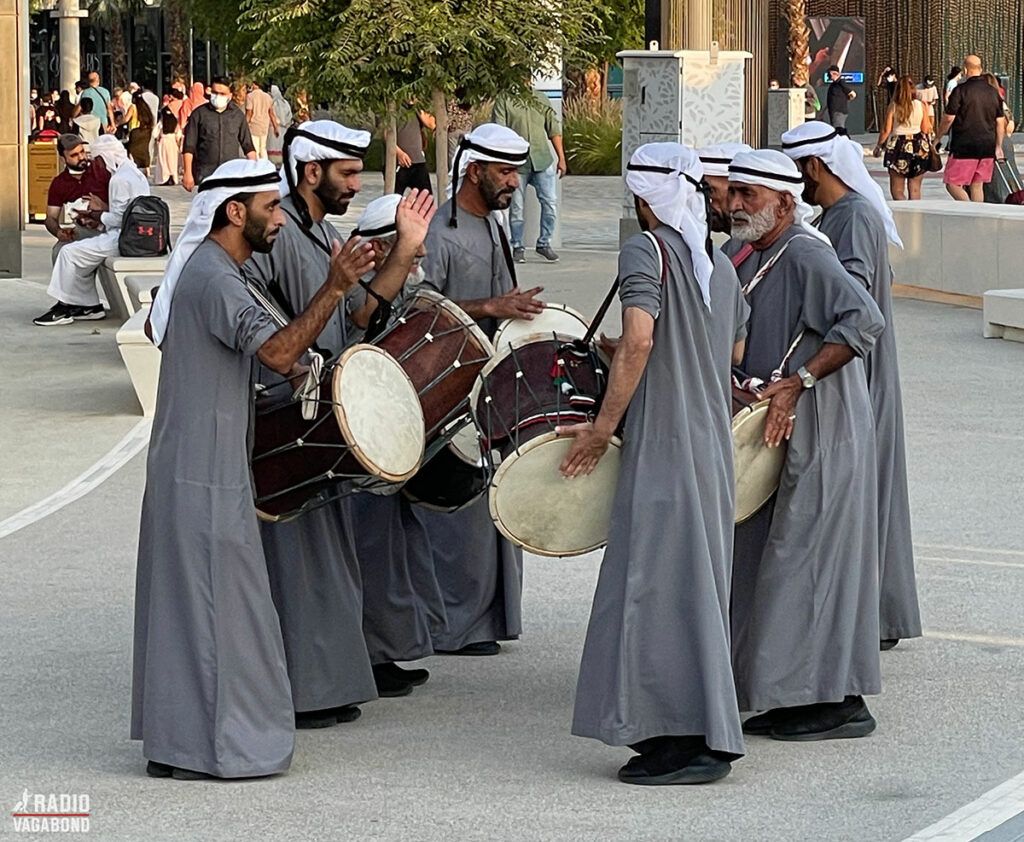 My trip was up to a good start. After the expo, I had planned to go to Cape Town via an exciting cruise. It was an 18-day cruise from Dubai – Oman – Seychelles – Madagascar- Mauritius – 3 places in South Africa – Cape Town. However, after many changes, the organizer decided to cancel the cruise altogether. Although I was disappointed, I just had to look for an alternative and decided to spend some more time at the expo.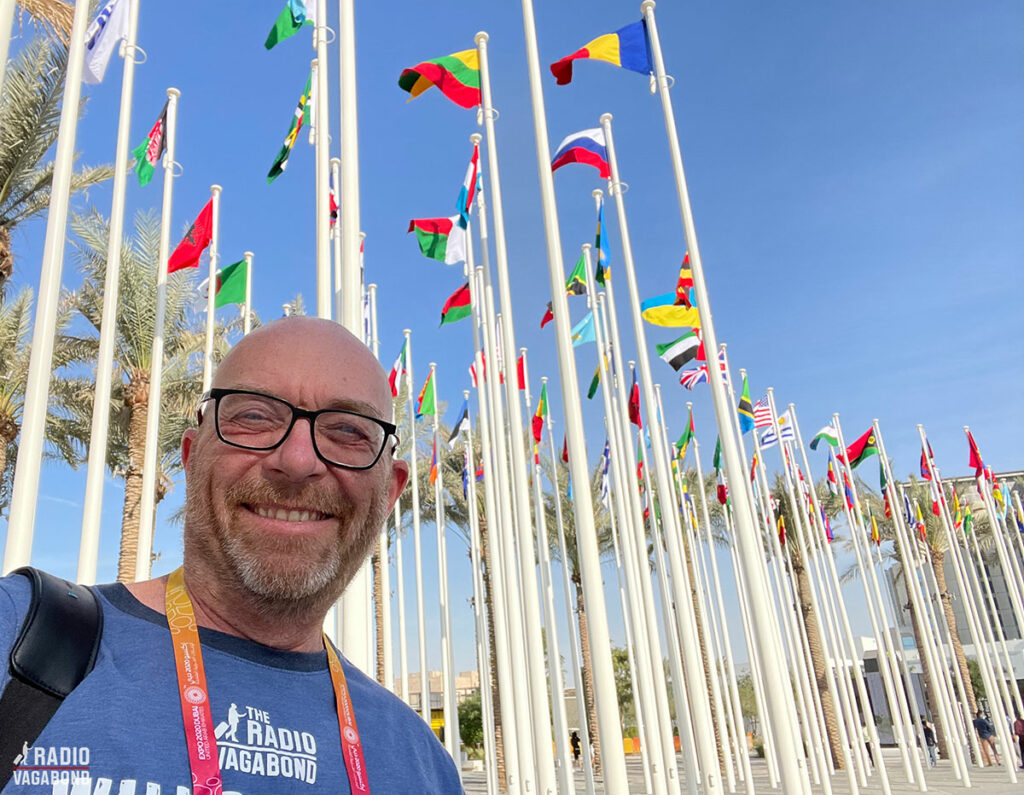 Before we walk through the expo doors, let's start with some interesting hard-core facts about Expo 2020 Dubai:
1. EXPOS have been held every five years
Expos have been held every five years (more or less) across the globe since the first World Fair was held in London in 1851. Expo 2020 Dubai takes place from the beginning of October 2021 to the end of March 2022. Yes, it was postponed for a year because of the pandemic but kept the name Expo 2020 Dubai. This is an excellent fair that typically attracts more visitors than the FIFA World Cup and Olympics put together. The organizers in Dubai expected that a whopping 25 million people would visit the event despite concerns about the pandemic's impact on global travel and tourism.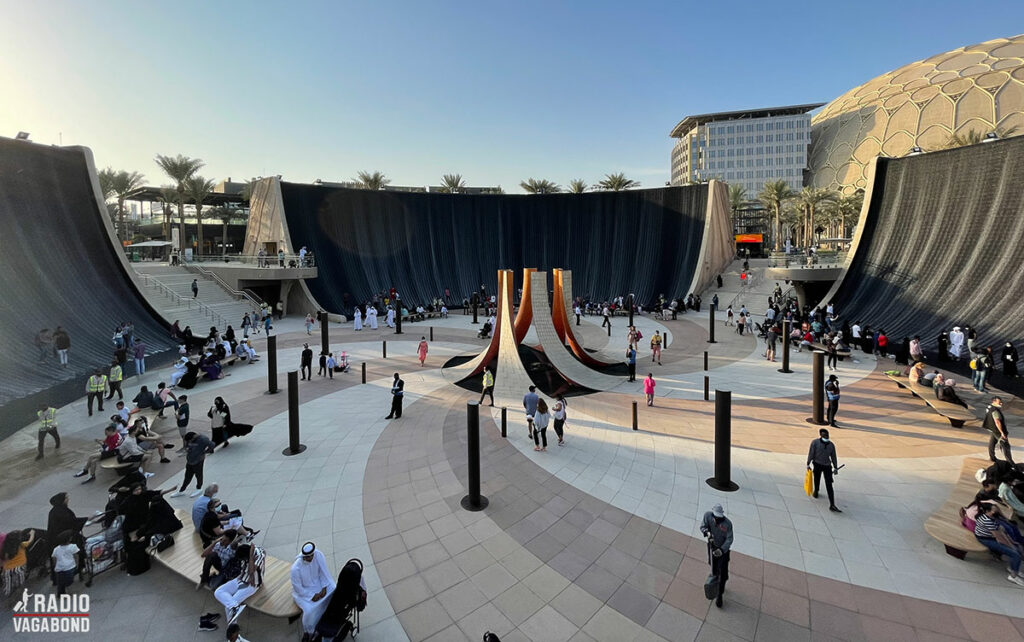 2. Expos connect minds
World Expos are a global gathering of nations to find solutions to the pressing challenges of our time. Dubai won the bid in 2013, beating competition from Russia, Turkey, and Brazil with the theme "Connecting Minds, Creating the Future."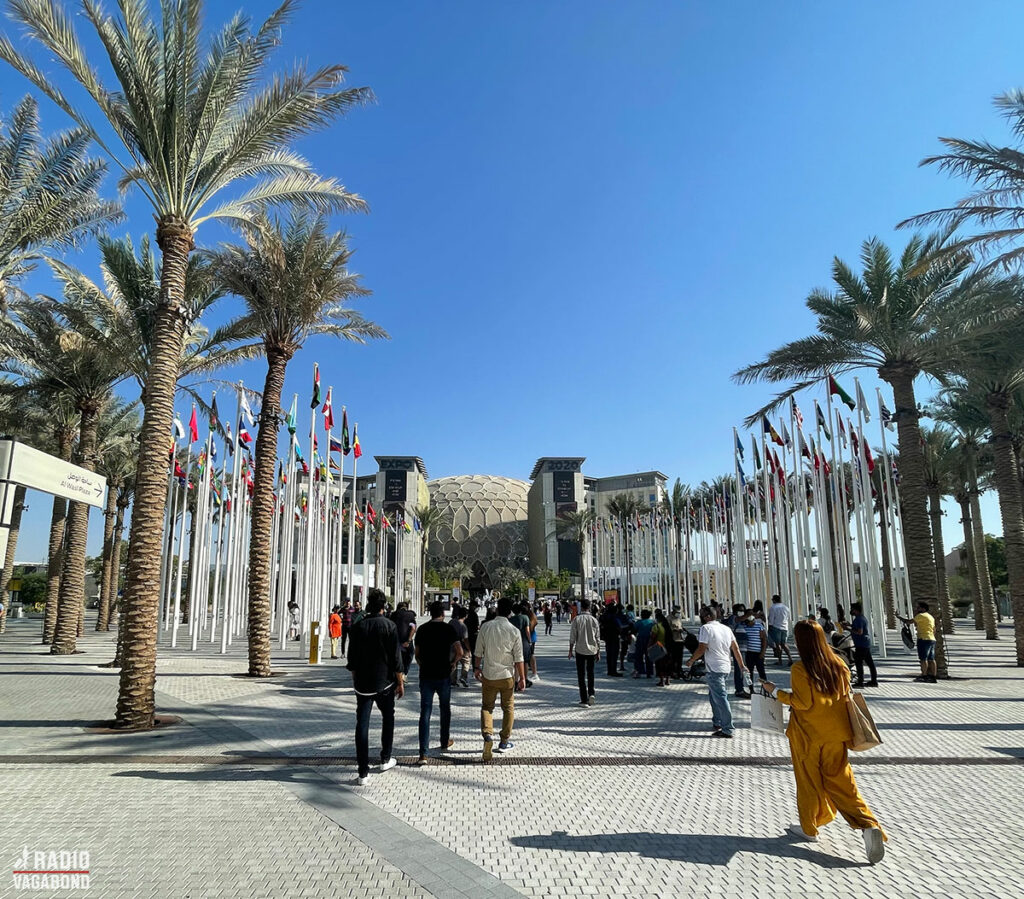 3. Brand new metro station
The site is located in the Dubai South area, and they even made a dedicated metro station. The station is equipped to carry as many as 44,000 passengers per hour, per direction. The station is called Expo 2020, but after the Expo's six-month run, the station will be renamed District 2020.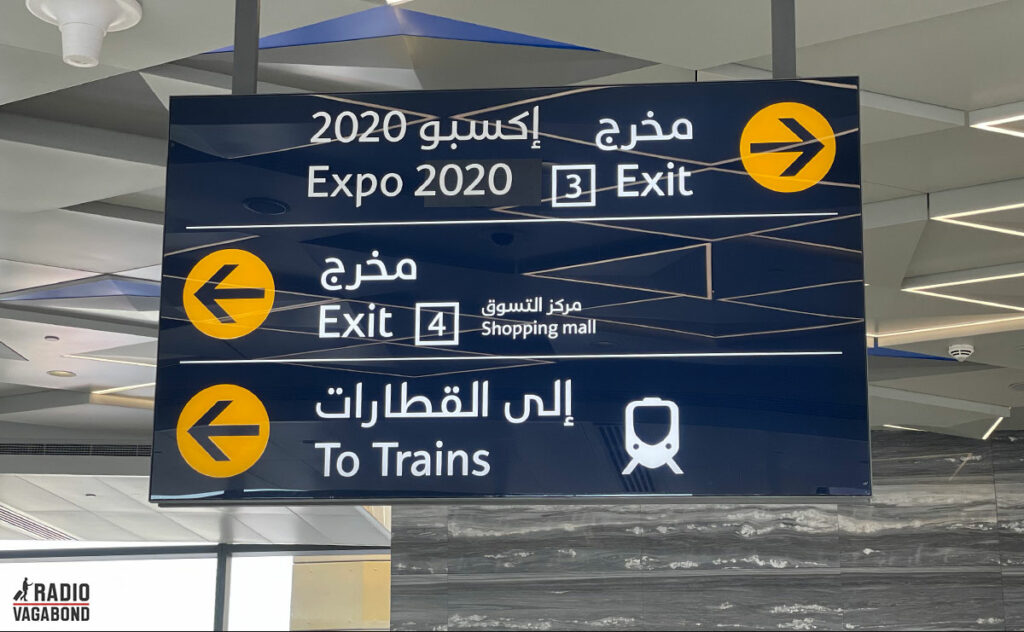 4. The area of the expo is the size of 800 football fields
The area of the expo was 4.4 km2 or 1.7 square miles, and that is around 800 football fields. That is a large area to walk but provides good exercise for people as they move from booth to booth. However, Expo Explorer trains were available with stops at the thematic districts. You could also rent Expo Buggies or jump on the free busses called People Movers.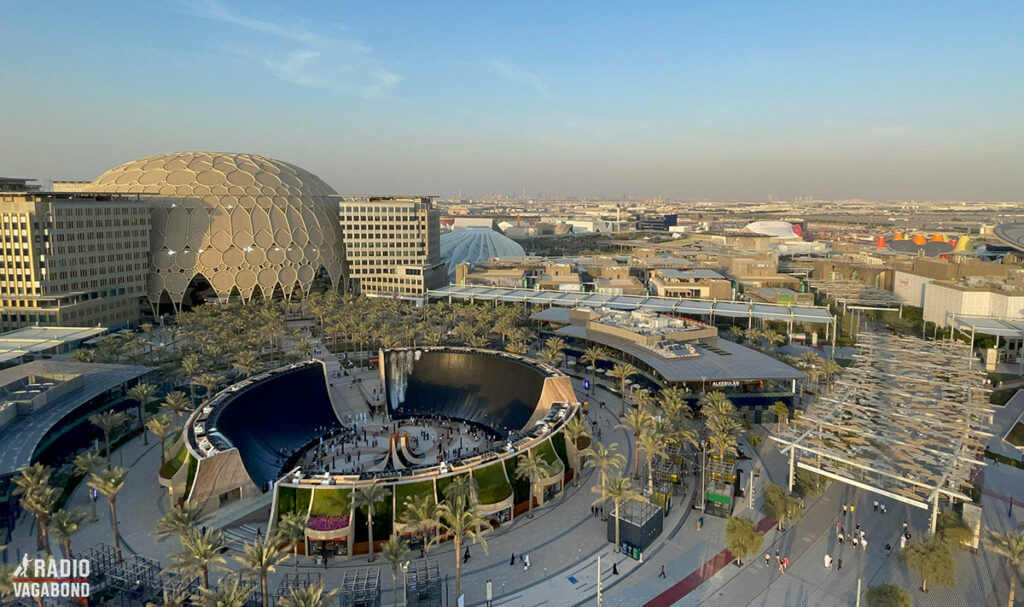 5. The expo has the world's biggest "screen"
The ground was divided into three central thematic districts (sustainability, mobility, and opportunity). In the middle was Al Wasl Plaza. Al Wasl means "connection," and this was Dubai's historical name. There was a huge 360-degree dome that turned into the world's largest projection surface at night. It was almost as wide as two Airbus A380s placed wing-to-wing, taller than the leaning Tower of Pisa, and it was made from 550 tons of molded steel. It also weighed as much as 25 blue whales.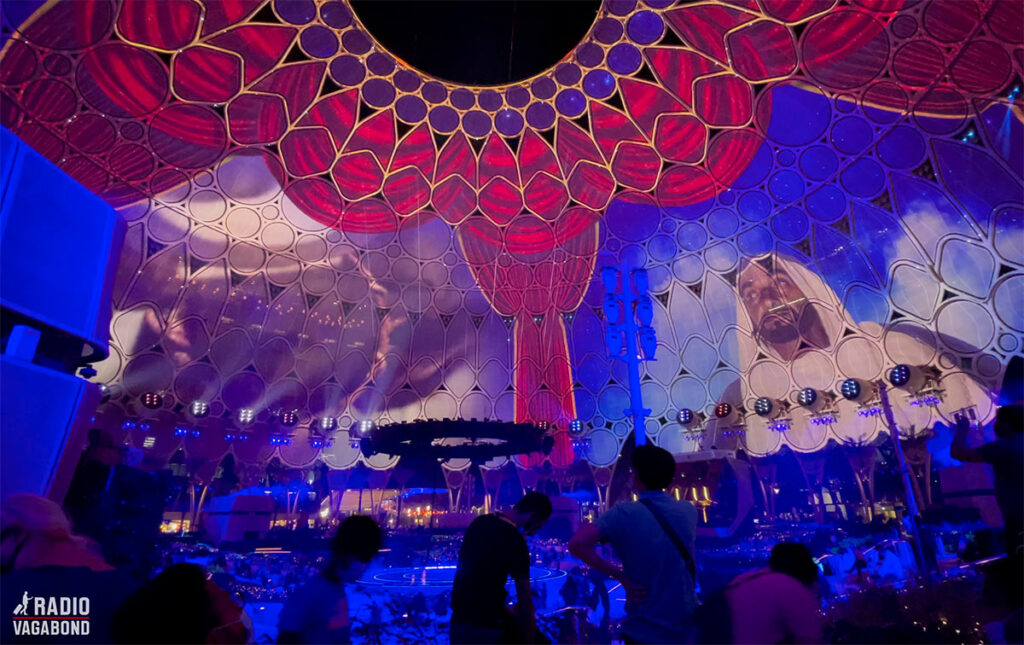 Under the dome, there were also live performances. A few days after my visit, Alicia Keys performed with a white grand piano.
Find a video with a clip from her performance here.
AUSTRALIA PAVILLION
I started exploring the different pavilions at the expo. My first stop was Australia. The Pavilion highlighted the country's diversity, ingenuity, and contribution through 60,000 years of innovation and indigenous connection to land, sea, and sky.
They called it 'Blue Sky Dreaming, ' and they aimed to condense the aspirations and achievements of their nation and harness the Australian spirit of optimism and ideas. It was spectacular and celebrated Australia embracing openness, diversity, harmony, creativity, problem-solving, and collaboration. Visitors enjoyed a series of immersive and dream-like exhibition experiences inspired by aspects of the Australian landscape, culture, and invention.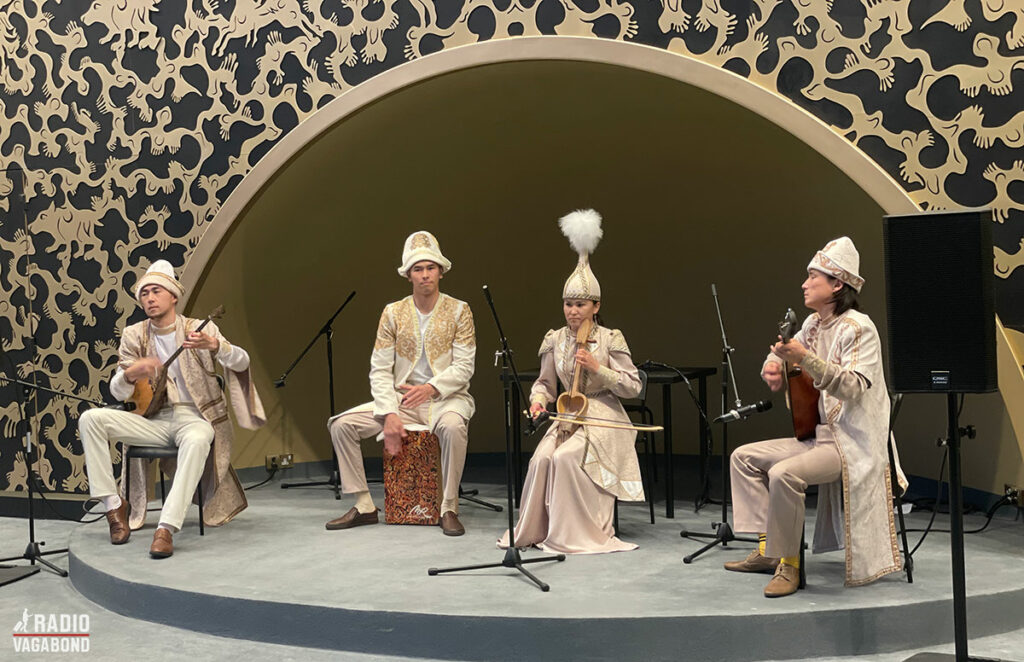 MEETING THE WHOLE WORLD
One hundred ninety-two countries were represented at the expo. Therefore, it felt as you could meet the whole world at Expo 2020 Dubai. And in that sense, it's the biggest Expo ever.
But my friend Jason told me that this one seemed less visited than other expos. I can only imagine how big the expo was in previous years. He mentioned that previously, you had to wait for 45-minutes to get to each pavilion, and here it only happened a few times in peak hours.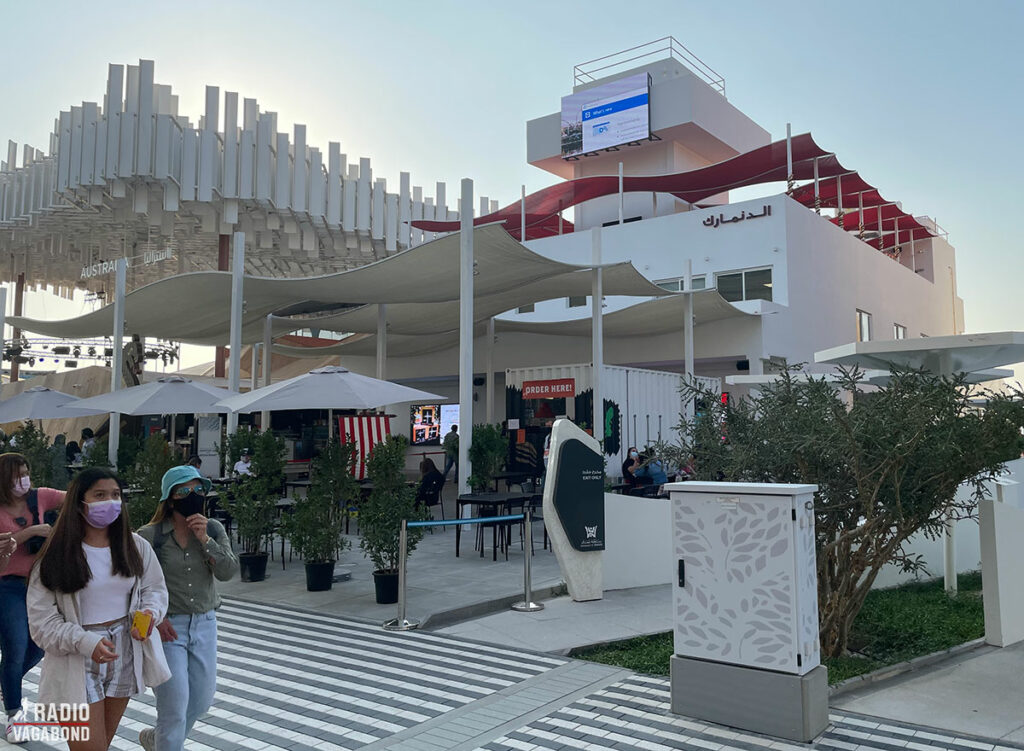 VISITING MY HOME COUNTRY'S PAVILION
Next to the big Australia Pavilion, there was a smaller country, Denmark. Of course (as a proud Dane), I had to check that out. Just outside the booth, I found a stand selling typical Danish hotdogs, which tasted different from how they do at home. I was there with Kim, an American friend, and I persuaded her to try one.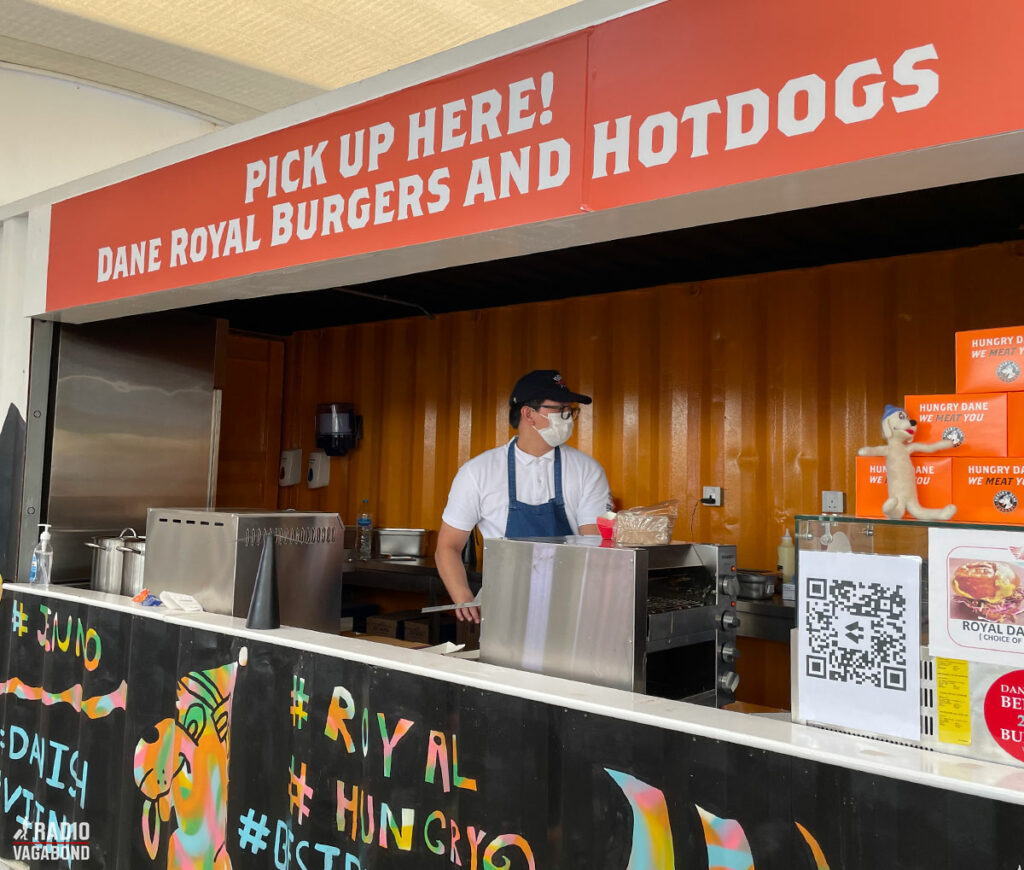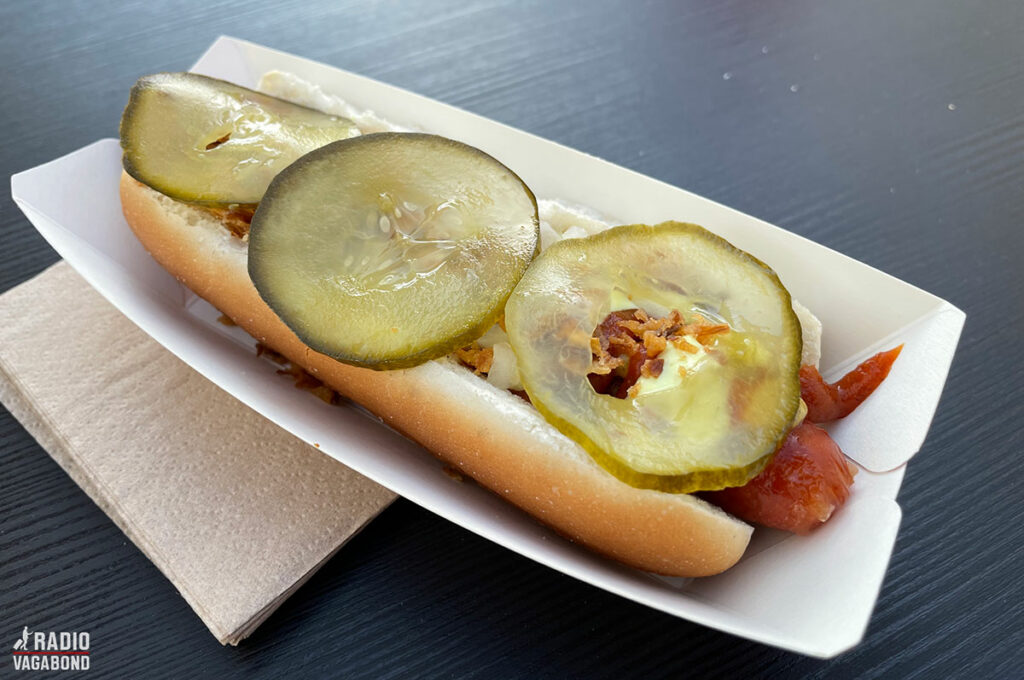 Kim and I sat at a table outside the pavilion right next to a Viking Ship made out of LEGO Bricks (of course). There was also a Troll that you may know from the DreamWorks movies. "Trolls…?" Yes, they are also Danish.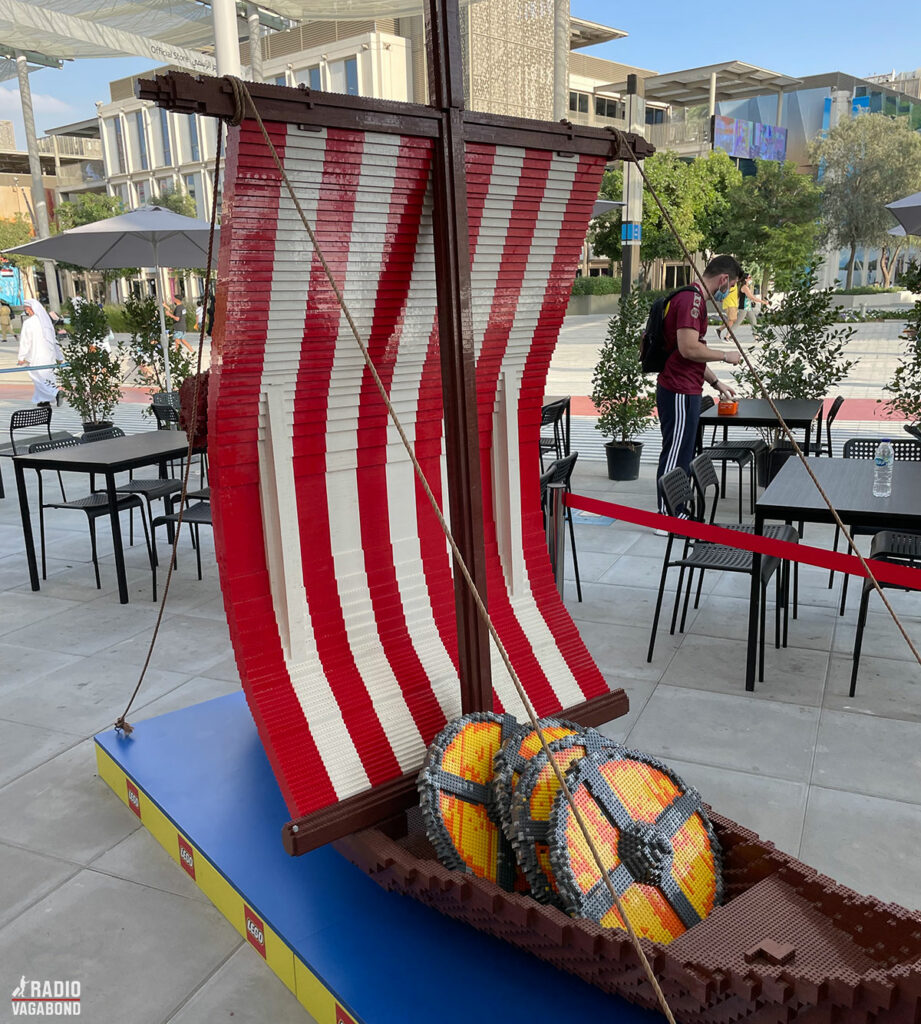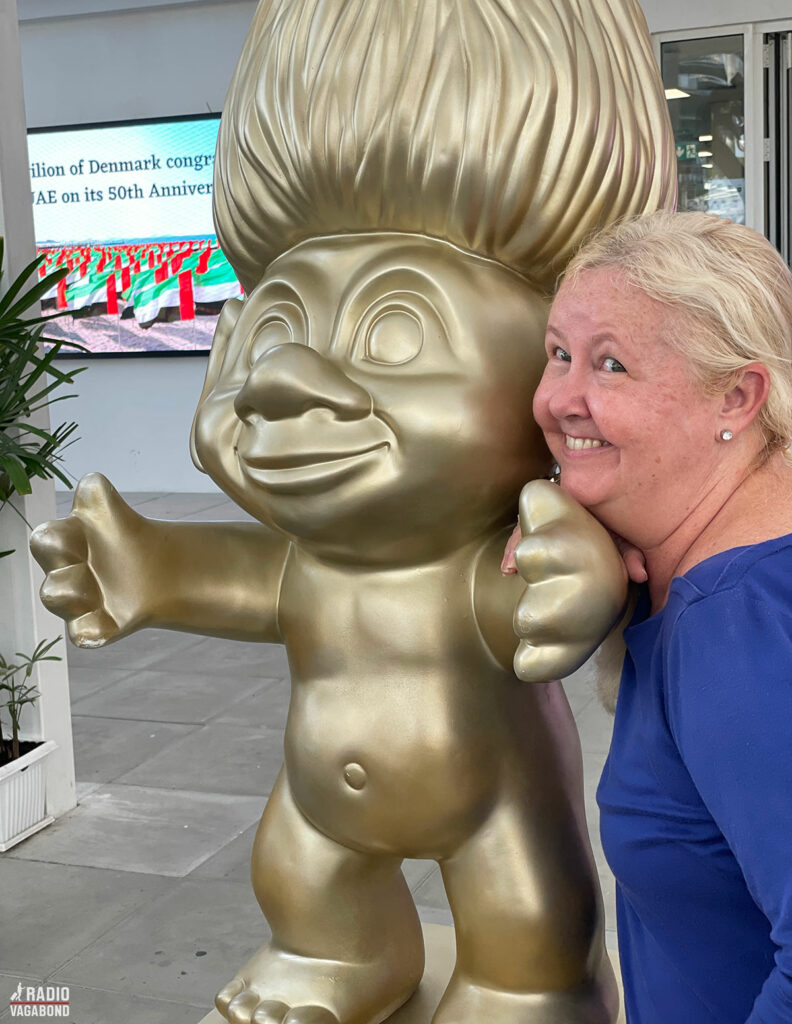 Inside there was a small shop with some typical Danish design products and furniture. It was good to taste typical Danish Lakrids by Bülow (delicious Chocolate Liquorice). There was also a small exhibition from Maersk, one of the world's biggest container shipping companies. Upstairs, we found a rooftop bar and restaurant showcasing delicious cuisine and drinks like Carlsberg beer from Denmark.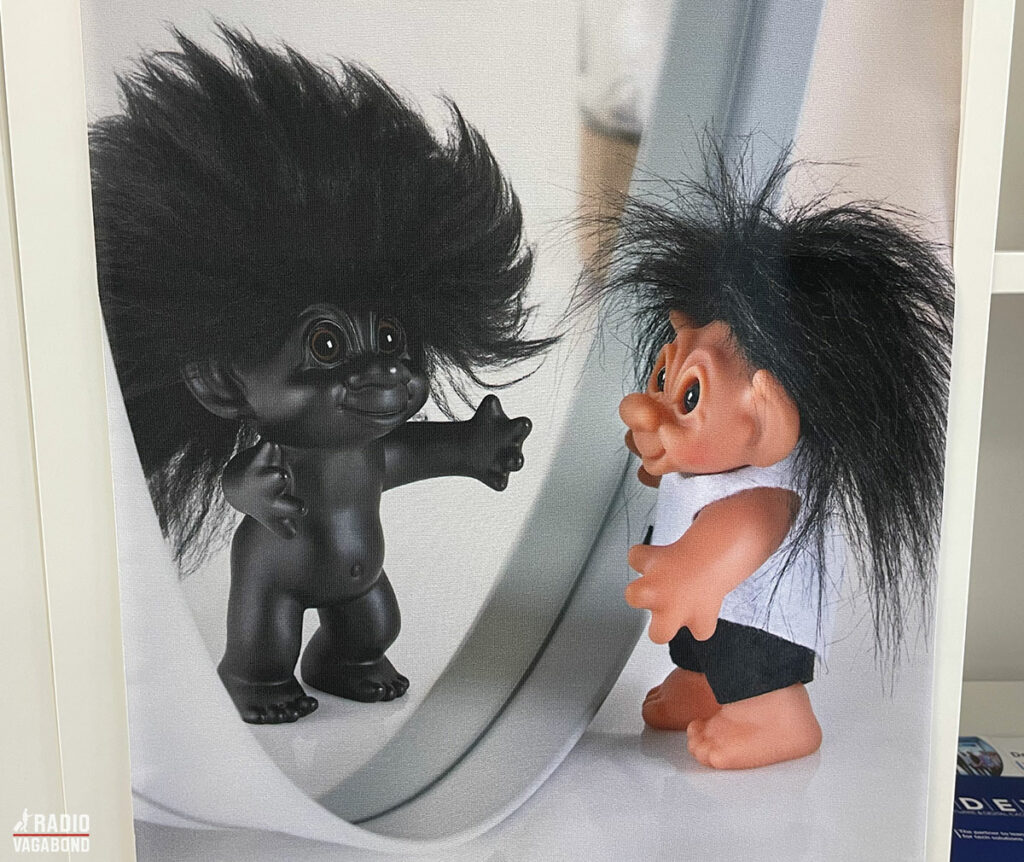 Here is a fun fact about my country.  Denmark is officially one of the happiest countries in the world. The Danish flag dates back to 1219 and is the first flag to be acknowledged, and no matter where you are in Denmark, you'll never be more than 52 km from the ocean.
The rooftop restaurant is run by "Restaurant De 2 Have" – in English, that means Restaurant "The Two Oceans". Usually, they are found at the very top of Denmark in Skagen, where the two oceans (Skagerak & Kattegat) meet.
I left my "home," and as I was passing the El Salvador Pavilion, I caught a glimpse of the biggest and maybe most impressive pavilion of them all, the UAE pavilion. I did not expect them not to show out, and it was shaped like a falcon in flight and looked phenomenal from the outside.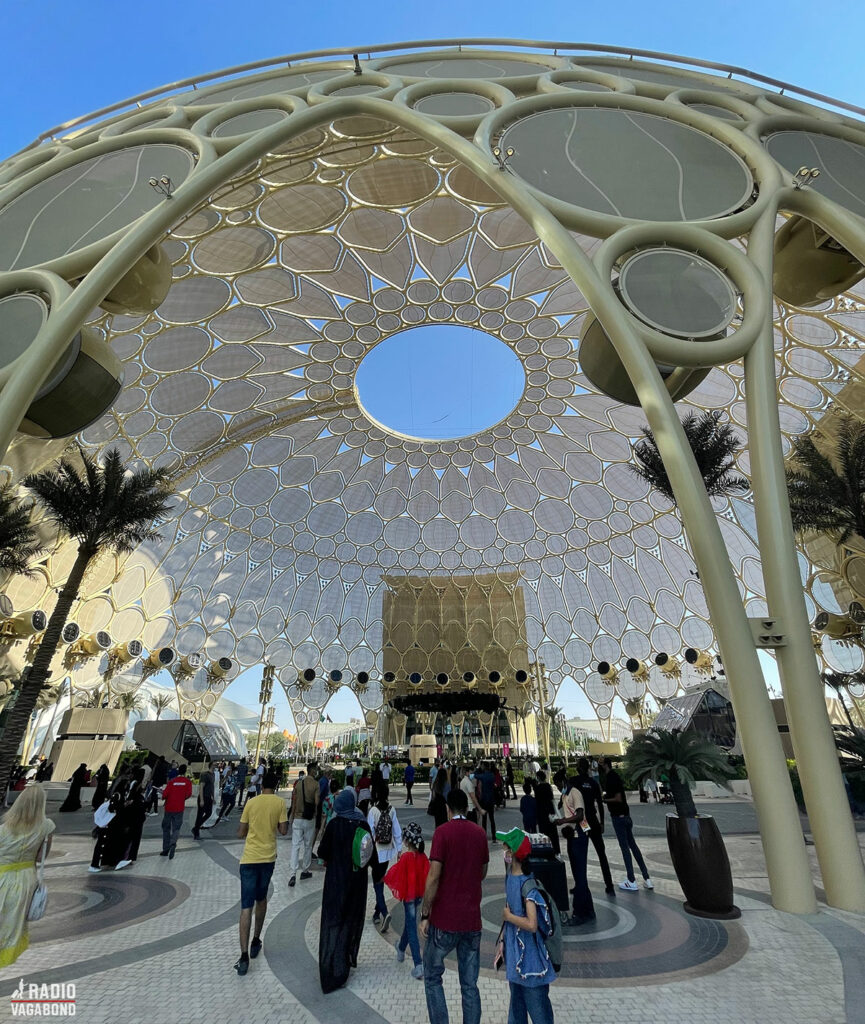 CAMPUS GERMANY
The German Pavilion was designed as a centre of knowledge, research, and human interaction. It resembled a university, and therefore, they branded it as "Campus Germany." As I was going through the building, there were many interactive things to do. As visitors, we got an entertaining, surprising, hands-on digital experience as we discussed global warming, sustainability, and innovation. It was different, interactive, and memorable.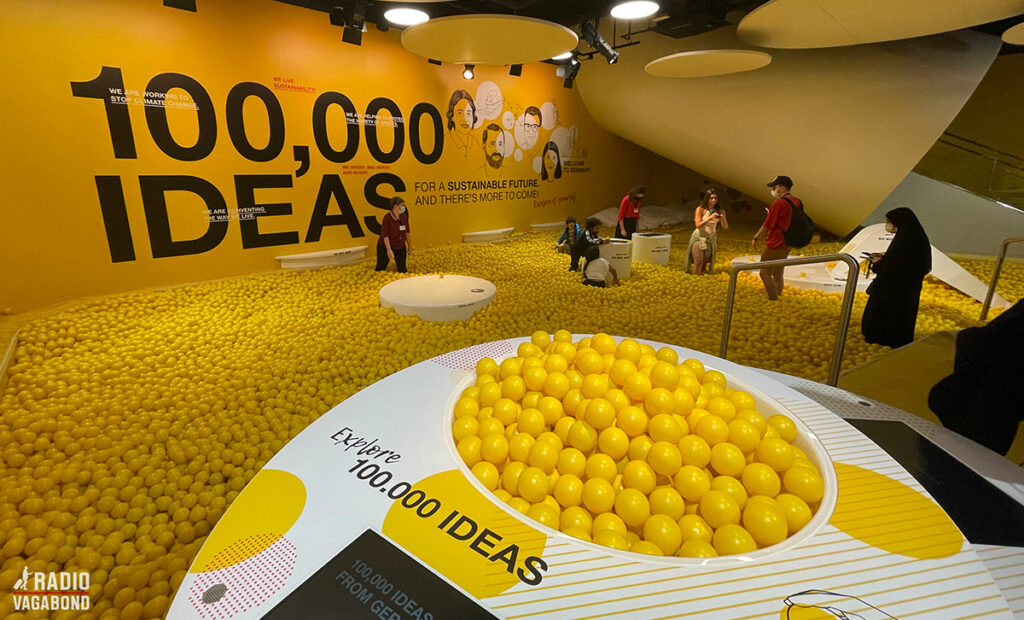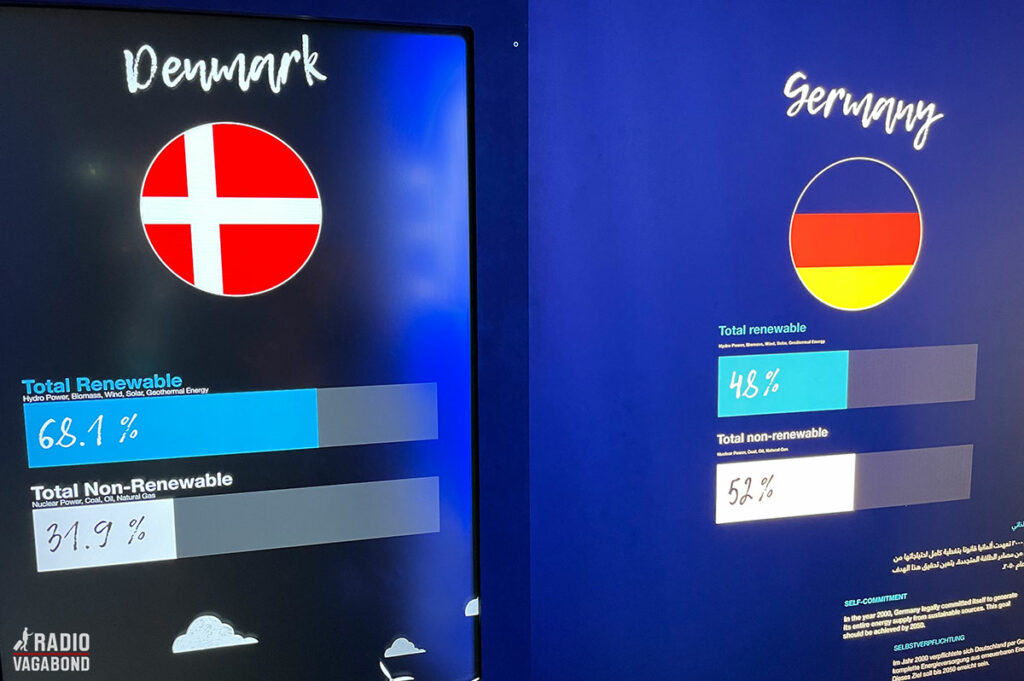 I managed to have a word with Annika Belisle (Head of Communication at Campus Germany):
"The idea was to take people on an education-based journey. We want the visitor to feel like they are in a university. They enrol and go through thematic areas, and they end up in a graduation hall. Throughout their journey, they have an opportunity to learn about sustainability, innovation, and ideas from Germany."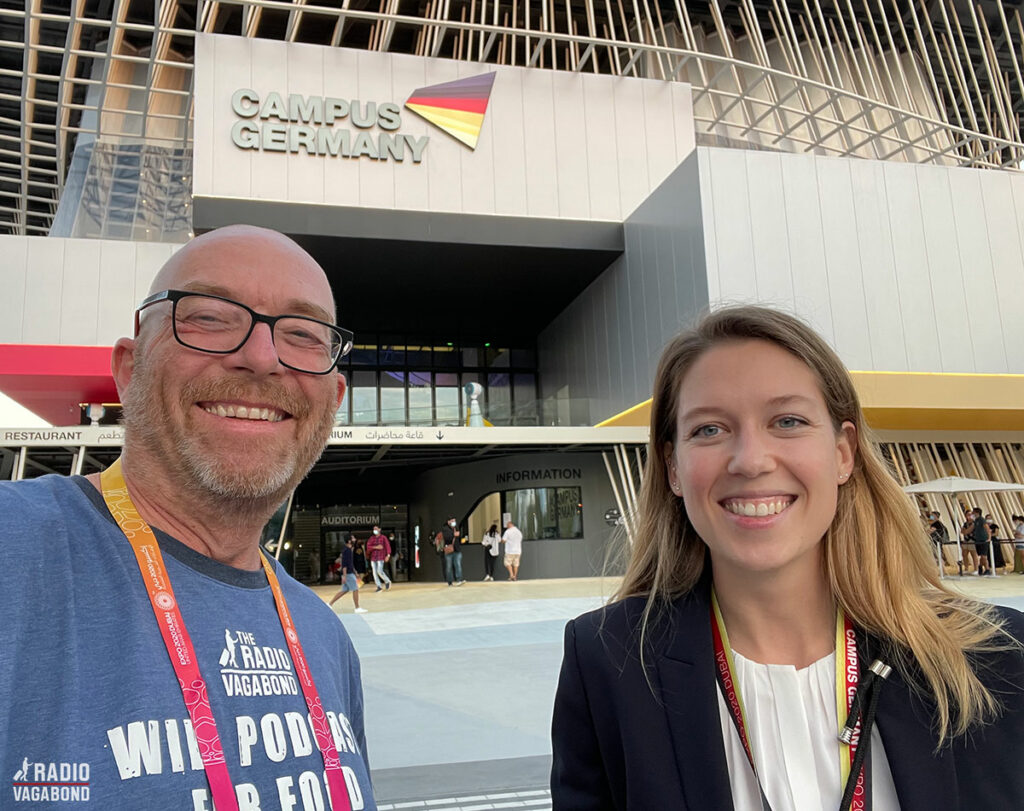 Expo 2022 showcased the newest inventions, and the German Pavilion excelled in this. For me, there were three big WOW items. First, seeing their whole glass building go dark to light for energy efficiency. Secondly, they had an elevator that went sideways, and lastly, they had a personal-sized and computer-driven plane.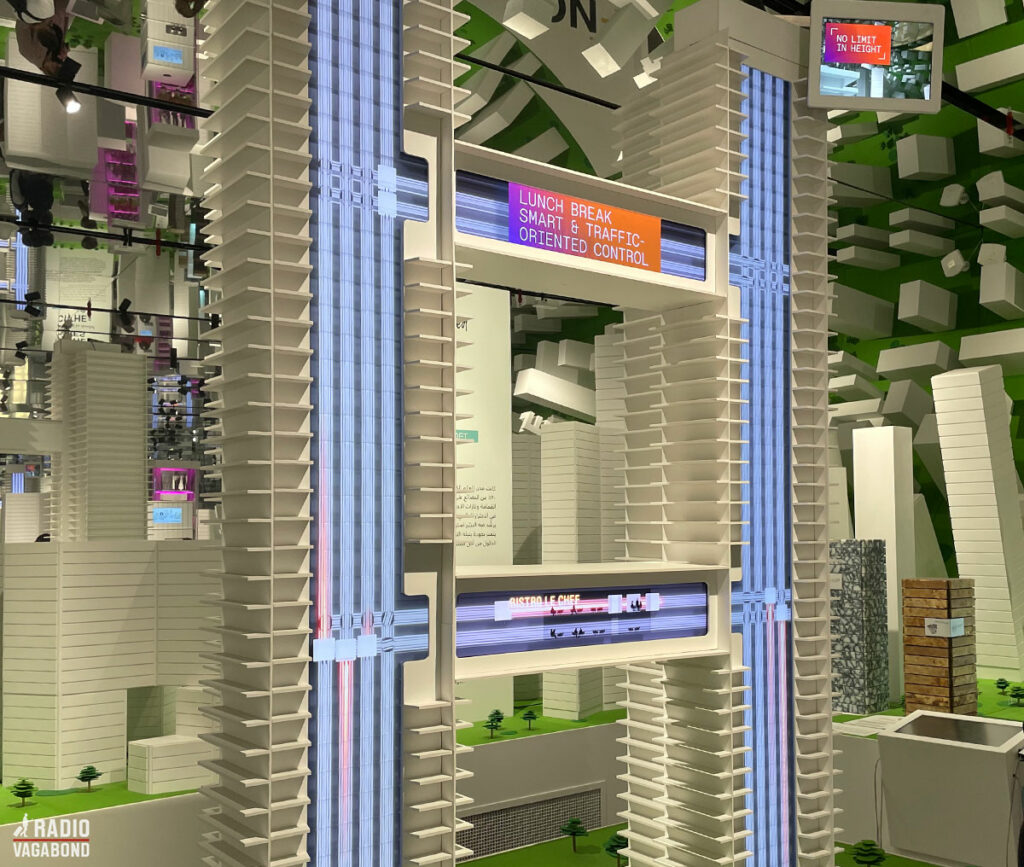 WHAT HAPPENS AFTER MARCH
One of the most exciting places that I visited was a big building and exhibition called the Sustainability Pavilion. It had more than 1,000 solar panels on 18 so-called "energy trees" that captured energy from the sun. This helps generate more than 4-gigawatt hours of alternative energy per year, which is enough to charge more than 900,000 mobile phones.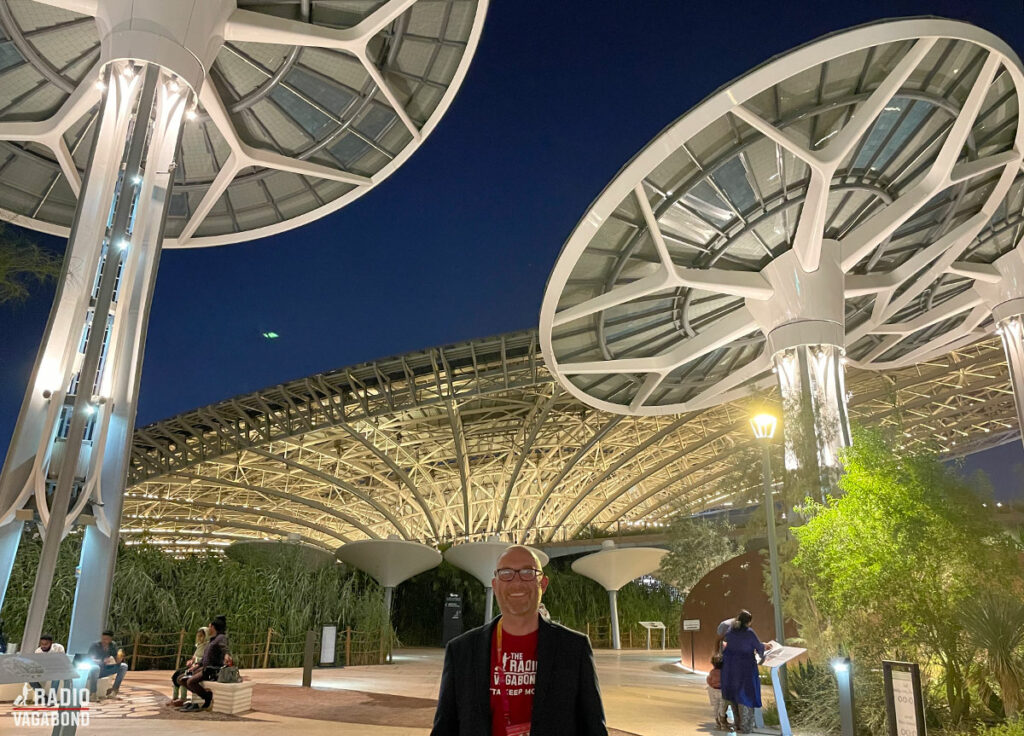 Another exciting thing to see was the Mobility Pavilion that included the world's largest passenger lift that could carry more than 160 people at a time. The Dubai Exhibition Centre, a gigantic conference zone for exhibitions, dinners, and concerts, was equally impressive. The center can be divided into nine halls that can host between 300 to 20,000 people. Yes, everything is just bigger in Dubai.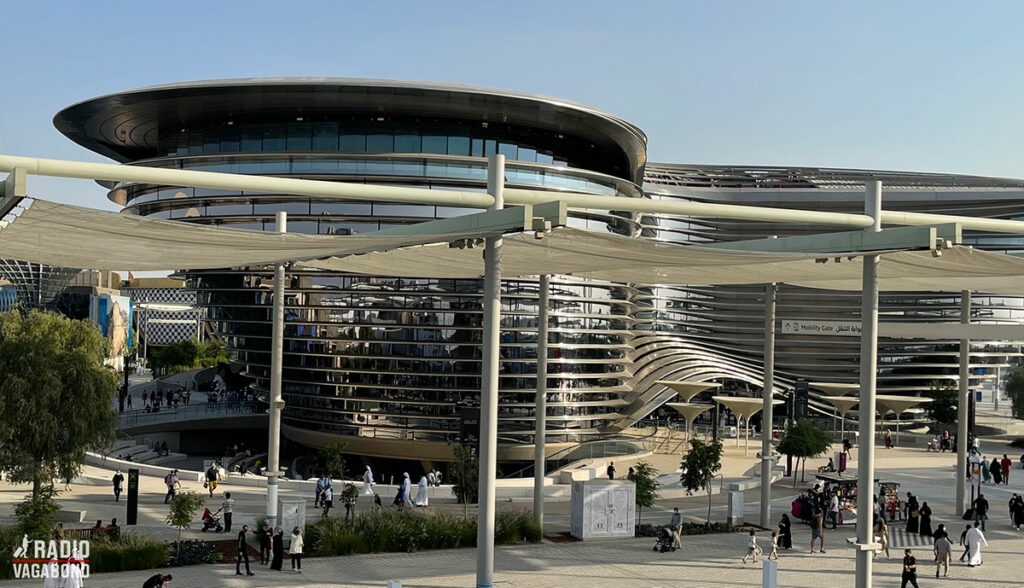 As I looked at all these impressive buildings, I couldn't help but think about what will happen to this space after the expo is over in March 2022.
I learned that they would not tear everything down, and few of them will even stay on as permanent exhibitions. The Sustainability Pavilion, Mobility pavilions, Al Wasl Plaza, and the Dubai Exhibition Centre will remain after the Expo ends. What happens to the other parts? Some of the buildings might be converted into office spaces, and some might be taken down.
But there will be a whole new district that will come to life next October. A smart, future-ready city called 'District 2020'.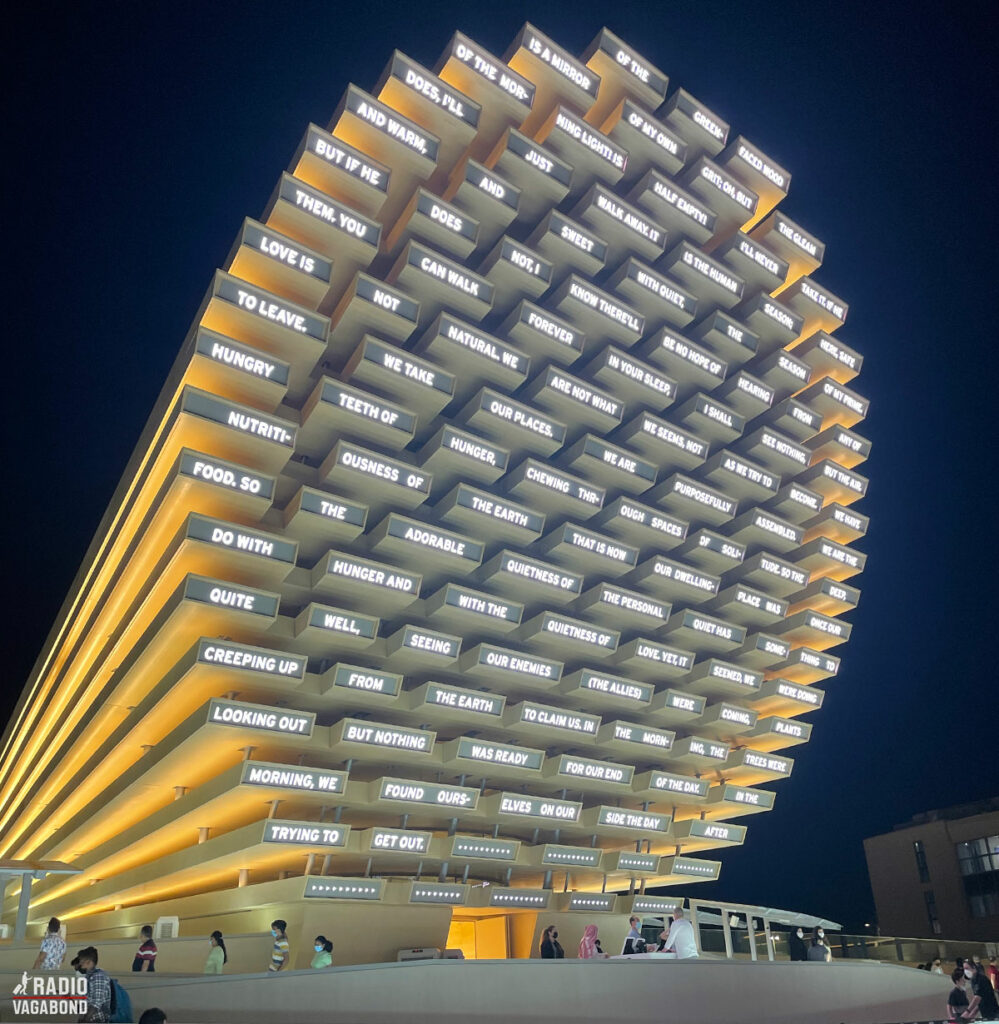 The sustainability and the energy-saving are at the heart of the concerns of this exhibition. 90% of the material used during the construction process will be reused or repurposed to build public buildings. These actions are targeted to decrease the carbon footprint, water, and energy consumption.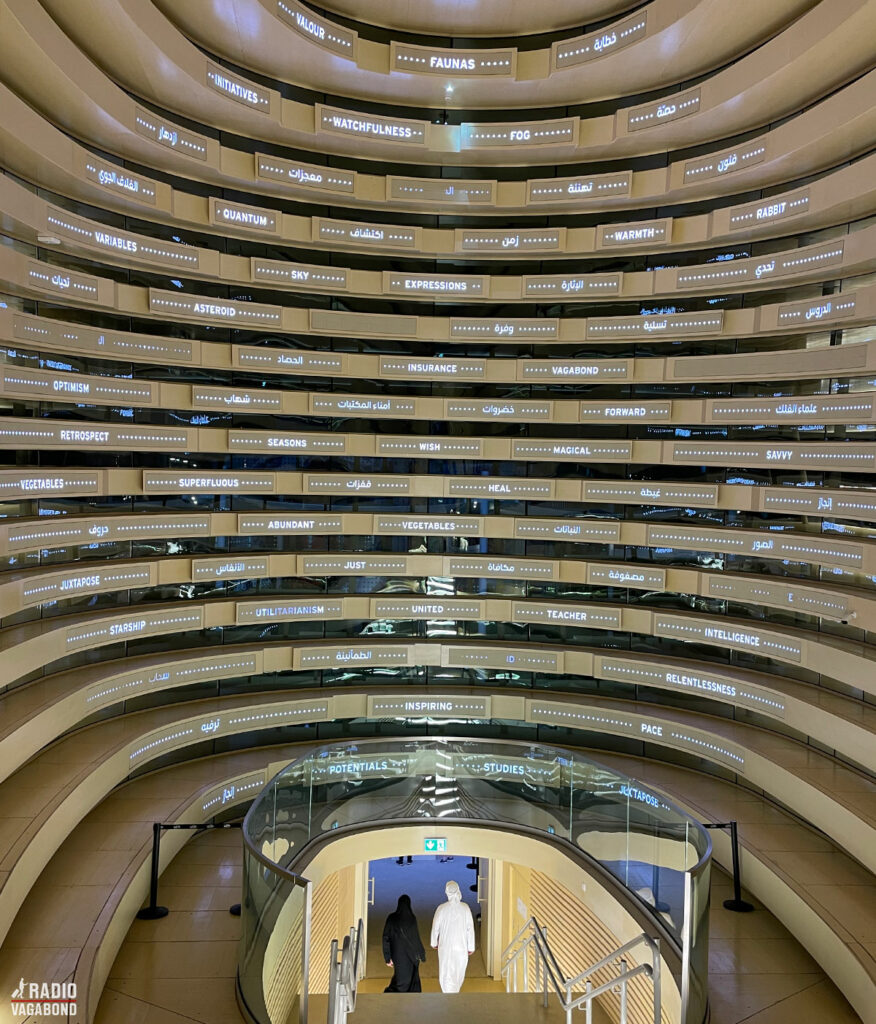 JAPAN PAVILION
I've saved one of the best ones, the Japan Pavilion, for last!
Before we went inside, I was given a bespoke smartphone that would keep track of what I showed interest in when I was in the building. I could hear different sound effects with headphones depending on where I was in the room. At various times, I would be given a choice to go through different doors. For example, when four doors suddenly appear and the question "what's your favorite season of the year?" popped up, I chose "Summer". That choice customized my visit and showed up later on a screen.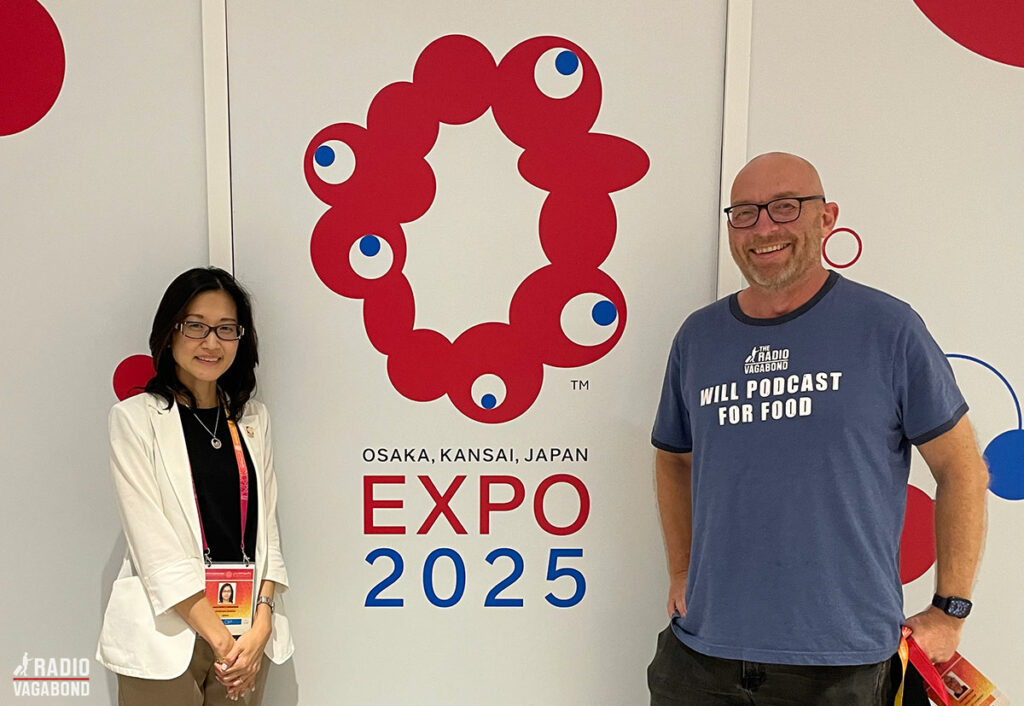 The final round room had video projection all around. In front of me, there was specific info that the smartphone around my neck had collected. We were asked to run around, and then the space was filled with extraordinary, ultra-fine mist that helped visualize three-dimensional art. This was an immersive experience that played on all senses.
When I came out (with my head still spinning), I was greeted by Aiko Ikeno, Secretary-General from the Japan Pavilion.
"We are very happy that this was an immersive experience. The whole story is that we are different; we can all make a better world. In the end, we are living in the same world although we have different choices. This whole experience shows you that you are thoughtful and can contribute to a better world. If we work together, we can combine our varied ideas and innovate.

In Japan, we have a long history and culture that we want to share. We share a bit of Japan in this whole experience. We have a distinct identity in Japan, and we hoped to showcase that."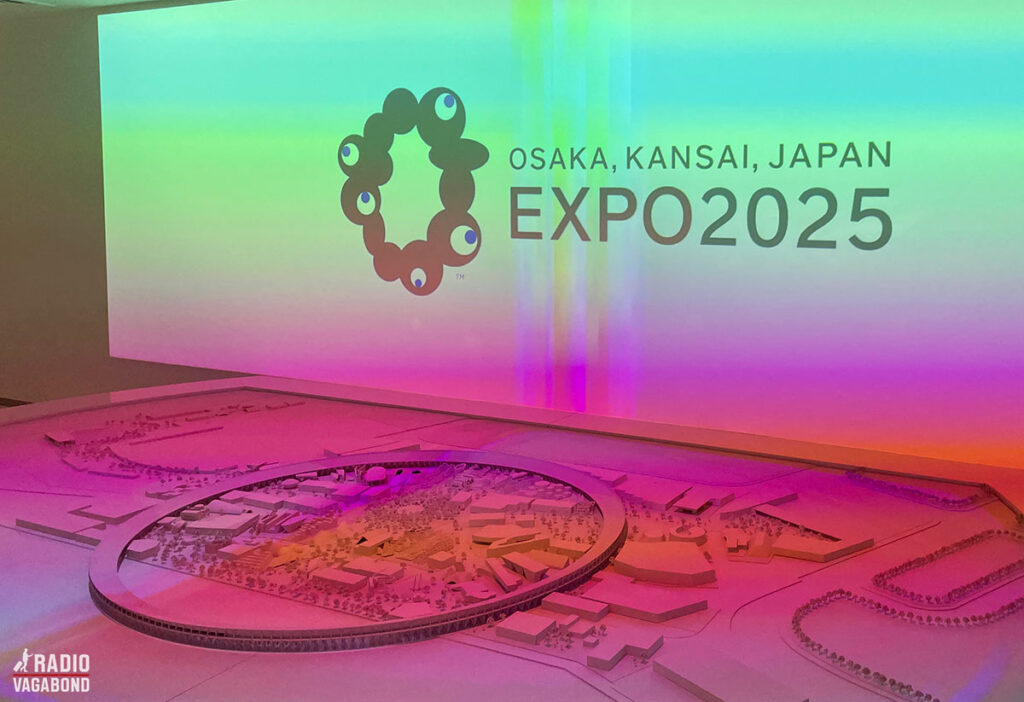 NEXT STOP: JAPAN
The next World Expo is in 2025 in Osaka, Japan, and the focus for that Expo will be designing a future society.
I spent four days at Expo 2020 and only saw a fraction of everything that was on display. I'm actually glad that the cruise got cancelled. If that hadn't happened, I would have seen even less. Now I'm fully sold on going to Osaka in Japan for Expo 2025. And I plan to spend at least a week there.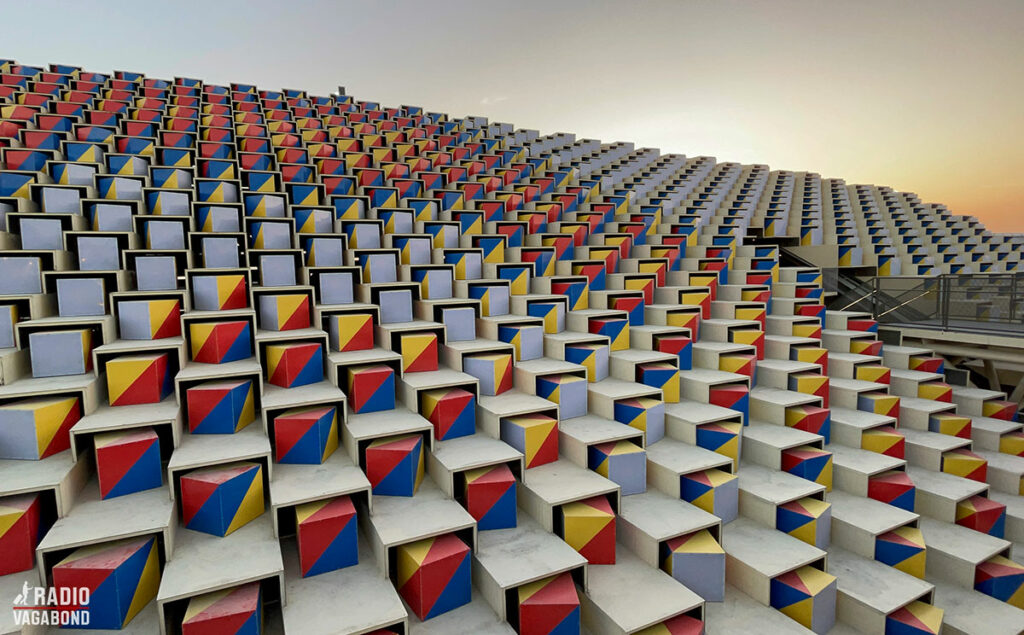 If you want to know more about Expo 2020 Dubai, you should watch a YouTube video from one of my favourited YouTubers, Lost Leblanc.
I hope you liked this episode and if you did, please share it with someone you know that might be interested in a World Expo. 
My name is Palle Bo, and I gotta keep moving. See you.
LETTER FROM A LISTENER
This week, I have a message from "Down Under". I got this one from Nikki in Sydney via Instagram:
Hi Palle, I just listened to your podcast this week. I've been following your journey for the last year – a lot of that time I've been in lockdown in Sydney, so it's been a breath of fresh air to hear your stories of travel and adventure. And so inspiring – giving me the confidence to make a plan.

The end of this year when my youngest child goes off to university, I'm working on making all my work remote, so my husband and I can travel.

I wanted to say thanks – keep doing what you are doing!

Also, I really hope to meet you one day out there!

Nikki
Hi Nikki
Thanks – and that sounds like you're about to do what I did in 2016. Please feel free to reach out if you have any questions about the transition to becoming more or less nomadic.
Good luck – and yes, maybe we'll meet somewhere in the world.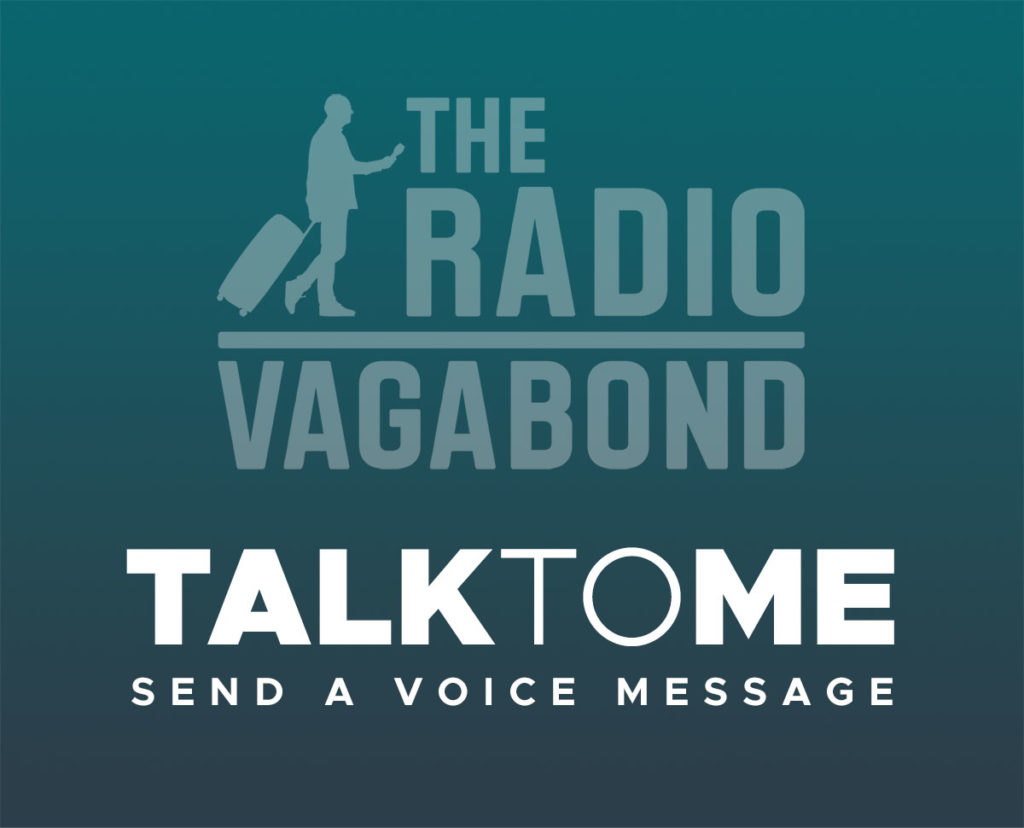 Either way, I would love to hear from you. It's so nice to know who's on the other end of this.
SPONSOR
A special thank you to my sponsor, Hotels25.com, who always provide me with the best, most affordable accommodation wherever I am in the world.
Hotels25 scans for prices on the biggest and best travel sites (like Booking.com, Hotels.com, Agoda and Expedia) in seconds. It finds deals from across the web and put them in one place. Then you just compare your options for the same hotel, apartment, hostel or home and choose where you book.
When you book with Hotels25, you get access to 5,000,000 hotel deals. And it's "best price guaranteed."